You are currently browsing the category archive for the 'Prints' category.
A few days before the Women's March on Washington I attended a screen printing workshop at Art Works Now known as The Art of Resistance. The participants were screenprinting signs and t-shirts that they could use either at the march or use at a later date. I took a few photos during my time there.
ReCreative Spaces, which opened back in 2015, was a studio space for artists and makers located in Mount Rainier, Maryland. Last month I got word that ReCreative Spaces decided to close its doors. I wanted to go to its Farewell Party last month but I decided to scrap that plan when a snowstorm coupled with below-freezing temperatures hit the area and I just didn't want to risk going out too far from my home and risk either getting in a car accident or slipping on some ice on the sidewalk and risk injuring my hip replacement. (Although that storm made some pretty pictures, such as the ones I took that day.)
Ultimately I went to the last ever event at that place, which was basically a going-out-of-business sale where everything must go. Here are a few pictures I took while I was there.
I only found two things that I decided to purchase, both of which had cost me a total of one dollar. I got a pack of inkjet fabric sheets.
I also found this Christmas rubber duck that I thought was cute enough to purchase on impulse.
Here's the rubber duck next to my small collection of Ginger Cottages. This rubber duck is now currently residing in storage with the rest of my Christmas decorations.
Since I'm publishing this post on a Thursday, I'll make this into a Throwback Thursday by highlighting just a few past photos of ReCreative Spaces along with links to the original posts that they appeared in.
The first and only time I ever took part in a vendor show at Recreative Spaces.
Photo originally published in the September 21, 2015 post.
I created this Christmas card during Small Business Saturday at ReCreative Spaces.
Photo originally published in the December 9, 2015 post.
The time ReCreative Spaces sponsored Art in the Park(ing Lot) where local artists painted murals on a soon-to-be-torn down shopping center.
Photo originally published in the August 23, 2016 post.
The time I made this Christmas ornament as part of Small Business Saturday at ReCreative Spaces.
Photo originally published in the December 19, 2016 post.
When I saw this funky Christmas tree made entirely of wood.
Photo originally published in the December 27, 2016 post.
When I colored a page from an adult coloring book.
Photo originally published in the January 12, 2016 post.
I created this postcard-sized collage.
Photo originally published in the March 3, 2016 post
I'll never forget the time after Donald Trump was sworn in as President of the United States where ReCreative Spaces hosted this mural.
Photo originally published in the March 16, 2017 post.
From time to time ReCreative Spaces had musicians and deejays provide the tunes at their events, such as these two musicians.
Photo originally published in the May 22, 2017 post.
I'll definitely miss going to their events because I usually enjoyed myself as I made art and met some new people.
I had a busy day on December 2. First I went to The Doll and Teddy Bear Show in Gaithersburg. I took so many pictures at that one event that I decided to make a separate post about the other things I did on that day after I left the show.
When I went to The Doll and Teddy Bear Show, I noticed that there was a flea market being held, which I don't recall ever seeing before during visits to previous Doll and Teddy Bear Shows. (I hadn't gone to that show since 2011 and I never went to those fairgrounds for any other event.) So after I went to that show, I went to the flea market that was located on the other side of the Montgomery County Fairgrounds.
The flea market had a variety of dolls and action figures on sale as well, except they were all of the more recent variety than the predominantly pre-1960 vintage/antique dolls that were on display at The Doll and Teddy Bear Show. I found a vintage Barbie doll-sized Michael Jackson doll from the 1980's on sale. (This doll even had the sequined glove on one hand, which was Jackson's trademark look at the time.) The doll that's next to the Michael Jackson doll reminded me of Diana Ross. (I have no idea if it was actually a Diana Ross doll or not.)
Like The Doll and Teddy Bear Show, the flea market had a variety of Christmas decorations available for sale, including Santa Claus.
The flea market was a total vintage treasure trove.
The flea market had stuff other than vintage items on sale as well, such as packaged food, hair dye, and even tires.
There were some good prices on a few computer laptops.
Cash-strapped parents of school-aged children can buy school supplies at the flea market.
I've long heard conservative Republican politicians complain about poor people and immigrants who still have consumer goods and they use that argument to favor such things as cutting programs that would help them. When I was at this flea market I heard a lot of shoppers speaking Spanish to each other and many of the vendors are bilingual. I realized that this is how many of these immigrants are able to afford consumer goods on very tight budgets. This particular flea market operates every Saturday and Sunday so cash-strapped shoppers have an affordable place to go when they need to buy something. Heck, if I lived closer to Gaithersburg, I would be shopping at this flea market on a regular basis. (Depending on the traffic, Gaithersburg is about a 30-45 minute drive from my house so it's really not feasible for me to make regular trips to this flea market unless I happened to be in the area for a different reason on the weekend and I decided to make a brief stop while I was there.)
I saw one table that had toothpaste on sale. I bought this tube of Colgate toothpaste for only $2. The package was a little bit bent in one corner but, otherwise, the toothpaste was still usable. In fact, I'm currently brushing my teeth with this toothpaste and it works just as well as the toothpaste I've purchased in the regular supermarkets and pharmacies.
On the way back home I went to the annual Festival of Lights Craft Show that was held at the Greenbelt Community Center in Greenbelt, Maryland. I really wanted to go to that show since I missed the opening ceremony of the Festival of Lights the night before mainly because I had opted to go to the Holiday Warm-Up Party that was held at my church instead. One of my friends was selling her fused glass jewelry and plates. On top of it I ran into several of my other friends who happened to be there at the time. Here are a few of the handcrafted items that were available for sale.
I've gone to previous Festival of Lights Craft Shows but this was the first year I've ever seen a vendor table with a 3D printer. This vendor made items that could be used in spinning yarn.
The Festival of Lights Craft Show was held in the Greenbelt Community Center, which also had this display explaining how some of the earliest Greenbelt residents had celebrated Christmas during the height of the Great Depression.
The Greenbelt Community Center also had a special red mailbox where people can deposit their letters to Santa Claus.
When I was on my way back to my car after visiting the festival, I noticed this hilarious car sticker.
I only purchased soap at the Festival of Lights Craft Festival. I purchased two bars of Lilac Wood soap—one is for me and the other I planned to give to my mother for Christmas.
I bought one additional soap that I also plan to give to my mother. The cupcake in the next photo is actually soap. That's right, it's soap that looks like a cupcake. I think it's cute.
So I spent the day after Thanksgiving engaging in alternatives to the usual Black Friday shopping madness. First I went to Community Forklift, which was having its Green Friday event. Then I went to Riverdale Park and checked out a couple of local stores there. The last thing I did on Black Friday was head on to Hyattsville, where a few of the locally owned businesses were having their own alternatives to Black Friday. All of the businesses were located within walking distance of each other so all I had to do was just park my car then spend the rest of the time walking everywhere.
I initially went to Studio SoHy, which had this really cool table made from a log in the restroom.
Studio SoHy had this skateboarding-themed exhibition featuring photographs of skateboarders and skateboards that were painted with some really cool designs.
Next I went on to the Pyramid Atlantic Art Center. I encountered these items with labels that reminded me of Alice in Wonderland.
They basically offered pecan pie and apple pie.
They had a 10 x 10 show where people can purchase 10 inch x 10 inch prints that were made there.
Then I went on to Tanglewood Works, where I took these pictures.
I ended my Black Friday wanderings by stopping briefly inside the Three Little Birds Sewing Co.
On the Friday before Halloween I wanted to have fun. I found out that there were two events happening on the same night. One was the Final Friday Art Walk in Hyattsville and the other was the Greenbelt Pumpkin Festival. I decided to go to the Hyattsville one first since that one was scheduled to end earlier. Costumes were encouraged for all ages so I put on my Rainbow Dash hoodie. When I arrived in Hyattsville I decided to check my smartphone to see if my camera was even working and—to my surprise—I found that it was working. I decided to use that opportunity to take a rare selfie.
Sadly my smartphone camera stopped working after that selfie. At least I have my Canon camera with me to continue taking photographs with. The only bad thing was that I discovered that I didn't have much battery power left. I managed to take a few pictures nonetheless.
The entire Art Walk trail was marked by orange balloons, such as the one in the next photograph.
I first went to the horn sculpture that is located outside the Hyattsville Court House.
Next I went to Art Works Now, which was all decked out for Halloween.
Art Works Now had this hands-on demonstration in a type of printing process using acrylic paint and glass plates.
Here is what I created.
I briefly visited this new place known as Uzu, which provides Japanese comfort food. (No, I didn't eat there.)
I went to the Artist & Craftsman Supply store, which had a special art exhibit done by the store's employees.
I visited Tanglewood Works, which held a meade tasting by a local supplier who plans to set up shop in Hyattsville soon.
A marching band was playing music as it walked along the sidewalk.
I went inside this haunted house that was created using upcycled and recycled materials.
I went inside this place that housed a recording studio and a tattoo parlor.
The last place I went to on the Final Friday Art Walk was to the Pyramid Atlantic Art Center. By that point my camera battery had died and the art walk was going to officially end soon. So I took these last two pictures before I got back in my car and headed for the other event.
I headed to the Greenbelt Pumpkin Festival, where people were still carving pumpkins. I pulled out my camera in the hopes of being able to get one picture and, miraculously, I managed to take this picture of a pumpkin carving in progress.
But then my camera totally died. I tried my smartphone camera since it had worked earlier only to find that it wasn't working either. I decided to duck inside the New Deal Cafe and make an effort to recharge my battery for a few minutes before I would go back outside and take more pictures of the lit pumpkins. I rested for a few minutes when I suddenly got this urgent Facebook Message from someone whom I've been doing some recent video work for.
On that note, I'm going to violate my own personal policy of never writing in this blog about ongoing projects I do for other people until after the project in question is done because I can't really go any further in this narrative unless I write a little about this project. Here's the thing. The New Deal Cafe is a non-profit cooperatively-run eating establishment that's located in Greenbelt, Maryland. (You can read more about it here and here.) Ever since its inception it has hosted live music (mostly from local bands). The performers don't get paid by the cafe (mainly because it's totally run on a very shoestring budget) but the cafe provides tip jars and that is how the musicians make any money. From time to time I've shot videos there of various acts over the years, all of which I've uploaded on to YouTube and embedded in various posts throughout the seven years that this blog has existed.
A few months ago this filmmaker whom I've known for a few years came up with this idea of doing a documentary featuring the various music acts who have played at the cafe over the 22 years that the cafe has existed. He found out that I had been shooting some video and wanted to use what I've got. I gave him the video footage that I have on my laptop (and it's also the same footage that I've uploaded on to YouTube) and he has been contacting other people who have also shot videos in an effort to obtain their footage as well. He also planned on interviewing various people to get their recollections of what it's like to see these bands or work with them or even play in those bands.
Despite the video footage he received from myself and others and his plans to interview people, he still wanted new footage of recent band performances and he asked for my help in filming. Fortunately I had recently purchased a used Canon digital camera off eBay so I had a more reliable camera than my nearly four-year-old smartphone camera, which only sporadically works these days.
So I shot some recent footage of various bands over the past several weeks, which is why you've been seeing more embedded footage of what I've shot at the New Deal Cafe lately.
So I was sitting in the New Deal Cafe waiting for my camera battery to recharge so I could shoot still photos of the Greenbelt Pumpkin Festival when this filmmaker came over on Facebook Messenger. He decided at the last minute that he urgently needed new footage for two bands—one that was scheduled to perform that very night I happened to be at the New Deal Cafe while getting his message. The other would be scheduled to perform the following night. He couldn't be there for either band but he desperately wanted some footage of both bands. I told him that I was recharging my camera battery and I could try to record that night's band but I couldn't guarantee anything. (I had never tried shooting anything on a half-charged battery before.) He got me to agree to shoot both that night's band and the other band the following night, even though I can't stay too late most Saturday nights these days. (That's because I not only attend church on Sunday mornings at 10 a.m. but I'm currently volunteering with the church's program of teaching English to recent immigrants and those classes run from 1:15-3:15 p.m. On top of it, that Sunday was the Sunday before Halloween and I was among the adults who were involved with the Trunk or Treat event that was scheduled to run between the end of Sunday service and the beginning of English classes.)
By the time I got away from Facebook Messenger, I put the battery back into my camera and darted outside to see the lit pumpkins only to find that volunteers had already taken them away. Yeah, it sucked but I've shot photos and videos of previous Greenbelt Pumpkin Festivals so it's not like I don't know what such an event is like. I went back inside the New Deal Cafe and I managed to film one of the bands in question, The Mojo Priests. I didn't film for too long because I only had a half-charged battery. But I managed to film some footage of the band in action.
On the Saturday during the Fourth of July holiday weekend, I decided to check out this toy show that was being held at the Maryland State Fairgrounds.
It was such a feast for the eyes as the toys and various other vintage items were displayed at various vendor tables. The whole show took on the air of a flea market with an emphasis on vintage stuff dating anywhere from the 1900s to the 1990s.
Someone had a jukebox for sale, which reminded me of my childhood when many of the local restaurants had them and people could choose songs to play for about a quarter each.
The jukebox played music during the entire event. (Which proved that it definitely still worked.) I couldn't help taking pictures of the songs that were available on the jukebox. The majority of them were hits when I was a kid.
And speaking of music players, here's a vintage 8-track player with an Elvis Presley 8-track tape. I once had a stereo system that included an 8-track player but I never owned one like that. But I could've sworn that one of my friends or maybe one of my cousins had a player just like that but I don't know for sure. (Memory is one of those funny things where you remember something but you don't remember when, where, or how you remember it.)
Late last year I did a series of blog posts with accompanying photos known as A Tabletop Christmas (so-named because I limit my Christmas decorating to just a single tabletop in my living room). Among the items I showed off was a small plastic Santa Claus puppet that I've had since I was a child. I didn't know anything about the origins of this puppet. It wasn't until I went to the toy show when I saw a tiny plastic Santa puppet on sale that's identical to mine.
The only difference between the two is that this Santa still had its label at the base while mine doesn't have any labels at all. (I suspect that whatever label it had must've fallen off a long time ago.) My Santa puppet is currently stored in a box with the other Christmas decorations in the attic but here's a picture of my Santa puppet that I took last December.
At first I thought the animal in the next picture was a stuffed animal until I saw the dog move his eyes around. He laid there the entire time I was at that show.
This show also had examples of how the mighty had fallen. I found this book by disgraced former Fox News talk show host Bill O'Reilly on sale for only $1 at one of the tables. (LOL!)
There was one token of something new that I found. Someone was selling glow-in-the-dark versions of the hottest toy of 2017: Fidget Spinners.
By the way, you can check out a video I shot recently where I unboxed and played with one of those Fidget Spinners for the first time (and, no, the one I bought didn't glow in the dark).
Everywhere there were visual treats, many of which harkened back to my own youth.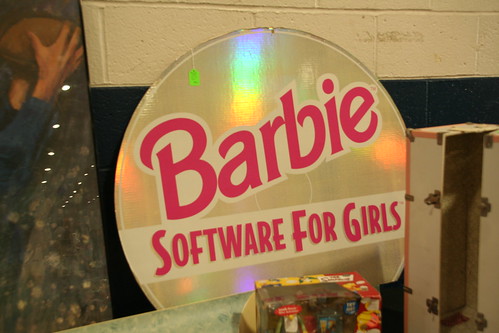 As I was walking back to the light rail stop I shot this photo of The Cow Palace building because it had a nice small garden.
I didn't buy a lot of stuff at that toy show due mainly to tight finances. But I managed to snag a couple of things at bargain rates. I found the second season of The Simpsons DVD set for only $6.
I bought a Monster High doll for only $5. I was attracted to her pretty winter-themed clothes. At first I thought I may have purchased a relative of The Snow Queen until I did an online search and I was able to make a definite identification. Based on this web page, her name is Abbey Bominable and she's described as the 16-year-old daughter of the Yeti.
Here's a closeup of her hair, which looks like it has glittery plastic pellets weaved throughout the strands. It gives a really cool ice/snow effect, especially when the light reflects off of her hair.
Studio SoHy is a relatively new art gallery that opened its doors in Hyattsville, Maryland. On February 18, 2017 it held a reception for its newest exhibit, which was done in partnership with the Pyramid Atlantic Art Center and Soul & Ink. The exhibit is based on the recent Women's March on Washington and it's also being done in conjunction with the many follow-up events that are being held all over the U.S. that coincides with the first 100 days of the Trump Administration.
Studio SoHy is a small gallery that's located next to the Vigilante Coffee Company.
Here is the entrance to Studio SoHy itself.
The gallery is small so it didn't take too many people to fill it up.
The exhibit consisted of protest signs, some of which were actually carried in the march itself while others were created more recently.
Wine was served among the protest signs.
Soul & Ink were printing out posters and t-shirts for sale that said "Resist Hate, Assist Love."
As part of the reception, visitors were encouraged to write postcards to elected officials.
There were two main focus of this postcard writing campaign. One was for Maryland Governor Larry Hogan asking him to oppose President Trump's immigration ban. The other was for the Office of Government Ethics asking that they release all information about any conflicts of interests regarding President Trump's business holdings.
Here is one of the postcards that I wrote while I was at the event.