You are currently browsing the category archive for the 'Prints' category.
On the Friday before Halloween I wanted to have fun. I found out that there were two events happening on the same night. One was the Final Friday Art Walk in Hyattsville and the other was the Greenbelt Pumpkin Festival. I decided to go to the Hyattsville one first since that one was scheduled to end earlier. Costumes were encouraged for all ages so I put on my Rainbow Dash hoodie. When I arrived in Hyattsville I decided to check my smartphone to see if my camera was even working and—to my surprise—I found that it was working. I decided to use that opportunity to take a rare selfie.
Sadly my smartphone camera stopped working after that selfie. At least I have my Canon camera with me to continue taking photographs with. The only bad thing was that I discovered that I didn't have much battery power left. I managed to take a few pictures nonetheless.
The entire Art Walk trail was marked by orange balloons, such as the one in the next photograph.
I first went to the horn sculpture that is located outside the Hyattsville Court House.
Next I went to Art Works Now, which was all decked out for Halloween.
Art Works Now had this hands-on demonstration in a type of printing process using acrylic paint and glass plates.
Here is what I created.
I briefly visited this new place known as Uzu, which provides Japanese comfort food. (No, I didn't eat there.)
I went to the Artist & Craftsman Supply store, which had a special art exhibit done by the store's employees.
I visited Tanglewood Works, which held a meade tasting by a local supplier who plans to set up shop in Hyattsville soon.
A marching band was playing music as it walked along the sidewalk.
I went inside this haunted house that was created using upcycled and recycled materials.
I went inside this place that housed a recording studio and a tattoo parlor.
The last place I went to on the Final Friday Art Walk was to the Pyramid Atlantic Art Center. By that point my camera battery had died and the art walk was going to officially end soon. So I took these last two pictures before I got back in my car and headed for the other event.
I headed to the Greenbelt Pumpkin Festival, where people were still carving pumpkins. I pulled out my camera in the hopes of being able to get one picture and, miraculously, I managed to take this picture of a pumpkin carving in progress.
But then my camera totally died. I tried my smartphone camera since it had worked earlier only to find that it wasn't working either. I decided to duck inside the New Deal Cafe and make an effort to recharge my battery for a few minutes before I would go back outside and take more pictures of the lit pumpkins. I rested for a few minutes when I suddenly got this urgent Facebook Message from someone whom I've been doing some recent video work for.
On that note, I'm going to violate my own personal policy of never writing in this blog about ongoing projects I do for other people until after the project in question is done because I can't really go any further in this narrative unless I write a little about this project. Here's the thing. The New Deal Cafe is a non-profit cooperatively-run eating establishment that's located in Greenbelt, Maryland. (You can read more about it here and here.) Ever since its inception it has hosted live music (mostly from local bands). The performers don't get paid by the cafe (mainly because it's totally run on a very shoestring budget) but the cafe provides tip jars and that is how the musicians make any money. From time to time I've shot videos there of various acts over the years, all of which I've uploaded on to YouTube and embedded in various posts throughout the seven years that this blog has existed.
A few months ago this filmmaker whom I've known for a few years came up with this idea of doing a documentary featuring the various music acts who have played at the cafe over the 22 years that the cafe has existed. He found out that I had been shooting some video and wanted to use what I've got. I gave him the video footage that I have on my laptop (and it's also the same footage that I've uploaded on to YouTube) and he has been contacting other people who have also shot videos in an effort to obtain their footage as well. He also planned on interviewing various people to get their recollections of what it's like to see these bands or work with them or even play in those bands.
Despite the video footage he received from myself and others and his plans to interview people, he still wanted new footage of recent band performances and he asked for my help in filming. Fortunately I had recently purchased a used Canon digital camera off eBay so I had a more reliable camera than my nearly four-year-old smartphone camera, which only sporadically works these days.
So I shot some recent footage of various bands over the past several weeks, which is why you've been seeing more embedded footage of what I've shot at the New Deal Cafe lately.
So I was sitting in the New Deal Cafe waiting for my camera battery to recharge so I could shoot still photos of the Greenbelt Pumpkin Festival when this filmmaker came over on Facebook Messenger. He decided at the last minute that he urgently needed new footage for two bands—one that was scheduled to perform that very night I happened to be at the New Deal Cafe while getting his message. The other would be scheduled to perform the following night. He couldn't be there for either band but he desperately wanted some footage of both bands. I told him that I was recharging my camera battery and I could try to record that night's band but I couldn't guarantee anything. (I had never tried shooting anything on a half-charged battery before.) He got me to agree to shoot both that night's band and the other band the following night, even though I can't stay too late most Saturday nights these days. (That's because I not only attend church on Sunday mornings at 10 a.m. but I'm currently volunteering with the church's program of teaching English to recent immigrants and those classes run from 1:15-3:15 p.m. On top of it, that Sunday was the Sunday before Halloween and I was among the adults who were involved with the Trunk or Treat event that was scheduled to run between the end of Sunday service and the beginning of English classes.)
By the time I got away from Facebook Messenger, I put the battery back into my camera and darted outside to see the lit pumpkins only to find that volunteers had already taken them away. Yeah, it sucked but I've shot photos and videos of previous Greenbelt Pumpkin Festivals so it's not like I don't know what such an event is like. I went back inside the New Deal Cafe and I managed to film one of the bands in question, The Mojo Priests. I didn't film for too long because I only had a half-charged battery. But I managed to film some footage of the band in action.
On the Saturday during the Fourth of July holiday weekend, I decided to check out this toy show that was being held at the Maryland State Fairgrounds.
It was such a feast for the eyes as the toys and various other vintage items were displayed at various vendor tables. The whole show took on the air of a flea market with an emphasis on vintage stuff dating anywhere from the 1900s to the 1990s.
Someone had a jukebox for sale, which reminded me of my childhood when many of the local restaurants had them and people could choose songs to play for about a quarter each.
The jukebox played music during the entire event. (Which proved that it definitely still worked.) I couldn't help taking pictures of the songs that were available on the jukebox. The majority of them were hits when I was a kid.
And speaking of music players, here's a vintage 8-track player with an Elvis Presley 8-track tape. I once had a stereo system that included an 8-track player but I never owned one like that. But I could've sworn that one of my friends or maybe one of my cousins had a player just like that but I don't know for sure. (Memory is one of those funny things where you remember something but you don't remember when, where, or how you remember it.)
Late last year I did a series of blog posts with accompanying photos known as A Tabletop Christmas (so-named because I limit my Christmas decorating to just a single tabletop in my living room). Among the items I showed off was a small plastic Santa Claus puppet that I've had since I was a child. I didn't know anything about the origins of this puppet. It wasn't until I went to the toy show when I saw a tiny plastic Santa puppet on sale that's identical to mine.
The only difference between the two is that this Santa still had its label at the base while mine doesn't have any labels at all. (I suspect that whatever label it had must've fallen off a long time ago.) My Santa puppet is currently stored in a box with the other Christmas decorations in the attic but here's a picture of my Santa puppet that I took last December.
At first I thought the animal in the next picture was a stuffed animal until I saw the dog move his eyes around. He laid there the entire time I was at that show.
This show also had examples of how the mighty had fallen. I found this book by disgraced former Fox News talk show host Bill O'Reilly on sale for only $1 at one of the tables. (LOL!)
There was one token of something new that I found. Someone was selling glow-in-the-dark versions of the hottest toy of 2017: Fidget Spinners.
By the way, you can check out a video I shot recently where I unboxed and played with one of those Fidget Spinners for the first time (and, no, the one I bought didn't glow in the dark).
Everywhere there were visual treats, many of which harkened back to my own youth.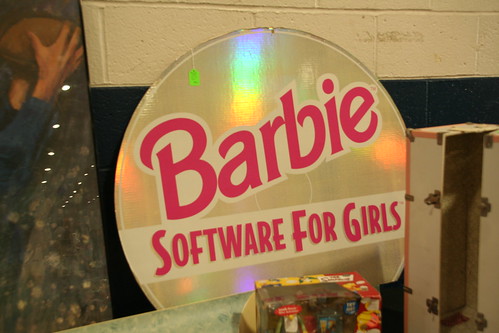 As I was walking back to the light rail stop I shot this photo of The Cow Palace building because it had a nice small garden.
I didn't buy a lot of stuff at that toy show due mainly to tight finances. But I managed to snag a couple of things at bargain rates. I found the second season of The Simpsons DVD set for only $6.
I bought a Monster High doll for only $5. I was attracted to her pretty winter-themed clothes. At first I thought I may have purchased a relative of The Snow Queen until I did an online search and I was able to make a definite identification. Based on this web page, her name is Abbey Bominable and she's described as the 16-year-old daughter of the Yeti.
Here's a closeup of her hair, which looks like it has glittery plastic pellets weaved throughout the strands. It gives a really cool ice/snow effect, especially when the light reflects off of her hair.
Studio SoHy is a relatively new art gallery that opened its doors in Hyattsville, Maryland. On February 18, 2017 it held a reception for its newest exhibit, which was done in partnership with the Pyramid Atlantic Art Center and Soul & Ink. The exhibit is based on the recent Women's March on Washington and it's also being done in conjunction with the many follow-up events that are being held all over the U.S. that coincides with the first 100 days of the Trump Administration.
Studio SoHy is a small gallery that's located next to the Vigilante Coffee Company.
Here is the entrance to Studio SoHy itself.
The gallery is small so it didn't take too many people to fill it up.
The exhibit consisted of protest signs, some of which were actually carried in the march itself while others were created more recently.
Wine was served among the protest signs.
Soul & Ink were printing out posters and t-shirts for sale that said "Resist Hate, Assist Love."
As part of the reception, visitors were encouraged to write postcards to elected officials.
There were two main focus of this postcard writing campaign. One was for Maryland Governor Larry Hogan asking him to oppose President Trump's immigration ban. The other was for the Office of Government Ethics asking that they release all information about any conflicts of interests regarding President Trump's business holdings.
Here is one of the postcards that I wrote while I was at the event.
I have a decoration on my tabletop that reminds me of someone whom I used to be friends with but he's now deceased.
This is a print that I have in a box frame that is currently sitting on my tabletop next to the Christmas tree. It was originally a wood printed Christmas card that was created by my friend based on his own original art.
The friend's name was drex Andrex (he used a lowercase "d" in the first letter of his first name) and he was a very talented artist. My then-husband and I first met him through our Unitarian Universalist congregation and we served on a variety of committees together and frequently met with him and his wife, Ann, at a variety of social events. drex would've loved to have been able to make a living as an artist but, unfortunately, he never made enough money at his art to pay the bills. He had a day job as a federal employee plus there were the years when he and his wife raised three children so he had to limit doing his art to whenever he had some free time.
I remember when he and Ann would hold a series of weekly get-togethers at their home in the summer known as the Carport Studio where we would get together in the carport, socialize, drink beer and wine, eat whatever snacks they put out, and create some art. I had some pretty fond memories of those times.
drex was mainly into painting landscapes and cityscapes based on places where he and his family lived. (They lived in Europe for a few years—mainly Belgium and the United Kingdom—in the 1970's and 1980's.) He painted in an impressionist style and I've always loved his work. He tried selling his paintings to galleries and art dealers but he frequently got turned away. Having seen his work, I never understood why the galleries and art dealers rejected him. He was able to have a few art shows here and there but he really deserved better from the art world.
Fortunately he had his day job so he didn't have to be the stereotypical starving artist.
At one point drex and Ann became involved with a group of people who were keen on starting a co-housing group. It took several years for this group to get off the ground because they had to find and buy the land then there were arguments and discussions over all kinds of issues ranging from what kind of houses would be built there to procedures to accepting new members into that group. By the time the co-housing development was finally built near Frederick, drex and Ann's youngest daughter was midway through her senior year of high school. They waited until the daughter finished school, put their current house on the market, then moved to the co-housing development.
The Carport Studio get-togethers had ceased when they moved but my husband and I visited them in their new home a few months after they moved and they seemed happy. drex was selling his paintings that weekend and my husband and I purchased one of his oil paintings of a boat in a harbor and we hung it in our living room.
Sadly their happiness was short-lived. A year or two after the move drex was diagnosed with pancreatic cancer. drex went through the treatments and did everything he could do to get well but the cancer got the best of him. I remember my husband and I going to Frederick to visit drex one last time. At the time his wife told us that he was so weak that he could only manage visits of no longer than an hour. However, when we arrived something inside of drex gave him enough energy that our originally scheduled one-hour visit was extended to three hours until he became so tired that we left. Even his Ann was amazed by how our visit had given him a new vitality.
Sadly that vitality was short-lived. One of his last pictures showed him with the family after his oldest daughter gave birth to his second grandchild. Six weeks after the birth, drex died. He was only in his mid-50's.
When my marriage broke up and we were haggling over the separation, my husband wanted that painting that drex did. I reluctantly agreed to it because I was getting the house that we had shared together even though I would've loved to have kept that painting. I had foolishly told my husband that I was attending weekly Thursday night meetings of a support group for people who are separated or divorced because, at the time, I still hoped for a reconciliation and I hoped that he would be impressed by my efforts to improve myself. Unfortunately he took advantage of that knowledge to let himself into the home whenever I was out so he could take his things—including drex's oil painting that hung in our living room. My husband was basically a coward throughout the whole separation and divorce in that he didn't tell me he was unhappy until the night he left, he refused to see me in person or talk to me via the telephone, and he only communicated via email and text and that was when he demanded that I adhered to this separation schedule that existed in his head or else he would sue me. Naturally he only went to the house to get my stuff on the one night he knew I would not be home so he wouldn't have to face me.
I was sad that I had nothing that drex had made until I was going through some clutter and I found the woodblock print he made for my husband and I as a greeting card. I found a block frame to put it in. This block frame is thick enough on the sides that it can stand up on its own. This print is now stored with the other Christmas ornaments and decorations in the attic and I take it down to display during the winter holiday season.
There are the occasional times when I still miss drex but I'm glad I have at least one thing to remember him by.
Free Tutorials
Here's a video tutorial on the worst mistake acrylic painters make.
Got any scrap fabric and threads that you hate to throw away but can't think of what to do with them? Try making fabric beads, which you can then use to make jewelry.
Here's a tutorial on how to draw distorted pictures that reveal themselves in a curved mirror.
Browse other free tutorials previously mentioned in this blog (along with pictures) right here.
Miscellaneous Links
If you live in the Washington, DC area or plan to visit soon, there is a new attraction that will open in the city on May 1. It's a museum that's unlike all of the other museums that are currently located in the District of Columbia: the Vector Gallery, a museum devoted to Satan and Satanic worship. It should provide a nice contrast to the Museum of the Bible, a self-explanatory museum that's currently under construction and is founded by the same person who founded the Hobby Lobby craft store chain.
The U.S. has a history of legalized slavery with many slaves coming from Africa. But did you know that there were also Irish slaves as well? This link provides a fascinating detail on this lesser know aspect of slavery in America that you can use in social conversation, especially if you are planning to go to any upcoming St. Patrick's Day parties.
Read the fascinating story about how Adolf Hitler's nephew ended up fighting in the U.S. Navy against his famous uncle during World War II.
And speaking of Adolf Hitler, here's a 1922 New York Times article that documented Hitler's rise and there are some eerie similarities with Donald Trump's presidential campaign.
Here's a bizarre diorama that was created by artist Mark Ryden. If you insert a penny into the coin slot, the diorama will come to life where you get to see things like twin Abraham Lincolns riding on a bicycle built for two and skeletons all over the place. All of it is set against a pastel pink Gay 90's background. You have to see it to believe it.
Here's a fascinating BBC News story about how artists have structurally different brains.
Don't believe the hype: Being a bestselling author on Amazon.com isn't all that it's cracked up to be.
Would you like to have some vintage posters that were made from the 1890's to the late 1930's hanging on your wall? You can now download them and print them out for free, courtesy of the New York Public Library.
Or does your personal taste lie more towards Jan Vermeer? The good news is that you can now download and print all 36 of Vermeer's paintings (including his most famous piece, Girl With a Pearl Earring) for free right here.
Free Tutorials
Here is how you can make a lantern that looks like a fairy has been captured inside.
Remember Furby? There are hackers who have created the Open Furby project whose main goal is to hack Furby to do things like read people's emails out loud. If you want to try this yourself, here's a free tutorial on how to hack Furby into a Zombie Furby.
Most crafty people own at least one hot glue gun. Here's a list of 17 Insanely Cool Things You Can Do With a Hot Glue Gun.
Here are a few free crochet patterns for making superhero character (including Batman, Superman, and Wonder Woman) finger puppets.
Right now it's Lent season, which means it's the perfect time to crochet some Easter Bunny finger puppets.
Browse other free tutorials previously mentioned in this blog (along with pictures) right here.
Miscellaneous Links
Here's a realistic computer animation recreating the 79 AD destruction of the ancient Roman city of Pompeii.
Feeling nostalgic for the clicking of the typewriter keys? Want to show the younger generation what an old fashioned telephone and cash register sounded like in the pre-digital technology age? You can relive those sounds and many others at the Museum of Endangered Sounds.
Need some art for your walls but have a very limited budget? NASA Jet Propulsion Laboratory has these incredibly gorgeous high-resolution posters that you can download and print for free. (All you'll need to provide is a frame.) There are plenty to choose from including planets (I personally like the modern geometric art of the Mars poster), moons, exoplanets, and stars. Can't choose or you have a lot of wall space to cover? Download them all.
Someone has actually built a larger version of the R.M.S. Titanic, known as the Titanic II, which will set sail in 2018.
Here is Dante's Nine Levels of Hell as rendered in Lego bricks.
In 1971 Czech filmmaker Jan Svankmajer made an experimental surreal stop-motion animation called Jabberwocky, which featured the famous Lewis Carroll poem being recited alongside surreal images of dolls eating smaller dolls, a set of clothes that move around by themselves without anyone wearing them, and toy soldiers walking around by themselves. Thanks to Vimeo, anyone can watch this 13 minute short anytime.
It's a well known fact that Disney frequently used fairy tales and legends from all over the world when they created many of their animated features. For a real treat, hear the Disney Princesses sing in their native languages.
Here's a unique art project where people who are currently in prison did a series of portraits of prominent people whom they think should be in prison. Among the people depicted are the Koch brothers and the CEOs of such big corporations as Wells Fargo, Tysons Foods, The Nestle Group, ExxonMobil, and Monsanto.
Last Saturday I decided to go to Crafty Bastards again for the first time since 2014. This event was subtitled "Cabin Fever" because this event was held indoors (which makes a lot of sense when it comes to Washington, DC in February).
I took the Metro to the NoMa/Gallaudet University station then walked along New York Avenue. I assumed that the venue was within walking distance. Actually it turned out to be at least a half-an-hour's walk from the Metro station. Along the way I took some photos, such as this structure which graces the overpass on New York Avenue.
Not too long ago it was considered foolhardy to walk alone anytime in the Northeastern section of DC, especially during the crack epidemic of the 1980's and 1990's. It seemed like there was at least one shooting a week in that area. I still remember when I was taking night classes in an ill-fated effort to study desktop publishing (I finished the certificate but I wasn't able to find a job in the desktop publishing field) back in the 1990's. One class I took included a field trip to this printing plant that was in Northeast at the time. The week before that trip we were instructed to go directly to that printing plant and, what's more, she strongly urged us to drive there instead of taking public transportation because that area as so crime-ridden at the time. We parked in a gated parking lot. The printing plant has since closed and there seems to be a resurgence of Northeast as these pictures show.
I happened to stumble upon a really neat vintage shop known as nomad yard collectiv. I didn't stay too long in that store because of Crafty Bastards but it sells all kinds of really cool vintage stuff.
I did some more walking along New York Avenue as I took these pictures.
After walking for a half-an-hour from the Metro station I finally made it to the venue in the Ivy City section. Hecht Warehouse once served as the warehouse for the Hecht department store chain. All that changed when Macy's purchased Hecht and all of the Hecht stores were either converted to a Macy's store or they were shut down (especially if the stores were located in a mall where a Macy's already existed). Hecht Warehouse had remained empty for nearly 10 years when a developer decided to try converting it into upscale loft apartments along with building a few retail stores.
Right across the street from Hecht Warehouse is a bunch of giant storage boxes with smaller signs announcing the coming of another development known as Hecht Town.
I eventually found a sign leading to the entrance to Crafty Bastards.
Next to the Hecht Warehouse is a MOM (My Organic Market) and a sign announcing the arrival of a Petco that will come soon.
I eventually found the entrance to the Hecht Warehouse.
There were a couple of outdoor food trucks such as this one in the next photo.
The inside of the Hecht Warehouse lobby was amazing to behold. The developer took a gritty warehouse and totally remodeled it so it would look pretty upscale complete with a fireplace in the lobby.
The lobby even had a bar, which is amazing considering that the Hecht Warehouse is supposed to be an apartment complex and not a hotel.
There are a few vestiges of its warehouse past but they have been totally integrated into the new design.
I eventually made it to the area where Crafty Bastards was held. Since I arrived after 3 p.m. I only paid $5 admission fee to get in. (The regular price was $10.) Like previous Crafty Bastards this one was also a feast for the eyes and it provided a major challenge to the wallet as well. Here are just a small sampling of what went on at the Crafty Bastards Cabin Fever event.
I felt really tired by the time I managed to see each vendor booth at least once. Rather than walk for another half an hour in order to get to the NoMa/Gallaudet University stop, I decided to take the Metrobus back. Except the but I got on insisted on going all the way to Fort Totten, which was a half an hour trip. At least I got to sit down that time instead of spending all those 30 minutes just walking.
While I purchased a few things at that event, I was still very careful with how I spent my money since it's pretty tight these days. I forgot to bring one of my cloth shopping bags from home (which is a big deal since DC has those laws where you have to pay in order to get a paper or plastic bag from any store or vendor) so I purchased this reusable souvenir bag for only $2.
I purchased this framed print from fashion designer Jay McCarroll (also known as the winner of the first season of Project Runway). I now have this print hanging in my living room.
I got this bar of fairy cakes soap from Dirty Ass Soaps, which smells wonderful.
I purchased this autographed copy of a book called Goodbye, Penguins by Greg Stones (whom I briefly met at his booth). This book is short but it's full of twisted humor coupled with delicate illustrations.
And, last but not least, I purchased this dark chocolate candy bar from Harper Macaw, which is a chocolate candy maker based in Washington, DC. What's really cool is that every Saturday Harper Macaw offers a guided tour of its factory for only $10 a person and it includes chocolate tastings. How cool is that? By the way, I loved that one chocolate bar I purchased.
On Small Business Saturday a few weeks ago, I went to the open house at ReCreative Spaces in Mount Rainier where I created this card using woodblocks, ink, and pens.
Not long afterwards I found this appeal on the Internet from a young girl named Safyre. Two years ago she survived a horrendous fire in her family's apartment that was set by an arsonist. She lost her father and three siblings in that blaze. She suffered burns over 75 percent of her body and she has been suffering through numerous operations ever since. She told her aunt (whom she now lives with) that the only thing she wants for Christmas is to receive as many Christmas cards as possible.
So I decided to pass on that card to her. I wrote a short note mentioning how I created that card.
I dropped it in the mailbox yesterday.
Today I found that a lot of other people have sent her cards as well. As of this article, she has amassed over 300,000 Christmas cards. What's more, according to this article, she is even getting a free trip to Disney World.
It's nice to see something good happen to someone who has gone through so much loss, pain, and grief.
I don't know if Safyre will ever see my Christmas card or if it will literally get lost in the shuffle of so many other Christmas cards but I hope she's happy that so many people cared enough to send her a card. And I have one less item lying around my own home so it's all good.
It looks like she has more than enough cards but if you want to help her go up to over half a million cards or more, I'll provide her mailing address.
Safyre
P.O. Box 6126
Schenectady, NY 12306
(You'll need to add "USA" if you're mailing from outside of the United States.)
UPDATE (December 24, 2015): President Barack Obama and First Lady Michelle Obama were among those who sent Christmas cards to Safyre. The New York Times have an interesting story on how the arson case behind Safyre's current condition have dragged on for over two years and it had even led to Safyre's mother being jailed for perjury.