You are currently browsing the tag archive for the 'art car' tag.
Recently I found this really cool vintage Volkswagen Beetle that someone had turned into an art car. While I don't know for sure who had done this car, it has the hallmarks of one that was done by A. Clarke Bedford, based on his previous work he did to his home, his van, and one of his other cars.
On the Saturday during the Fourth of July holiday weekend I decided to attend a toy show that was held at the Maryland State Fairgrounds in Timonium. (Which I'll write about in my next post.) Rather than make the long arduous drive, I decided to drive part of the way to the North Linthicum light rail stop and take the light rail train the rest of the way. It was way easier for me because the light rail stop was right at the back gates to the fairgrounds and I only had to walk a few extra minutes to the building where the toy show took place.
I was treated to something extra when I went to the North Linthicum light rail stop. This art truck was parked there and it was really a sight to behold.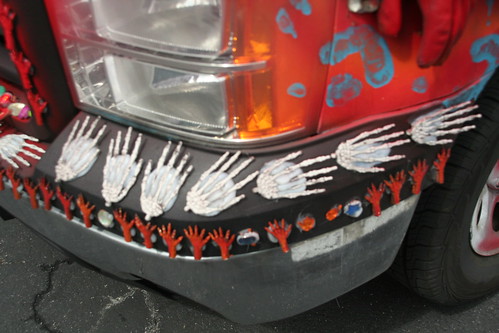 I saw this art car parked in Greenbelt, Maryland. This car is the work of A. Clarke Bedford, a Hyattsville-based artist whom I wrote about in greater length just a few months ago. I wrote about this very same car that's in the photos below back in 2013. Since that previous post, these newer photos show that this car has received more artistic touches and embellishments than before.
For the past few years the town of Hyattsville, Maryland has held a fall arts festival each year. This year the organizers decided to combine it with local breweries and rename the festival the Hyattsville Arts & Ales Festival. It was also moved a few blocks away from its previous location, which was a surprise to me because I had parked my car closer to the festival's former location only to discover that I had to walk a few extra blocks.
That day was an unusually hot September day. After the mild nice sunny weather of the Labor Day holiday weekend, the high heat and high humidity returned with a vengeance. The temperature was in the high 90's when I went to that festival. It was so hot that I ended up cutting my visit short. (That festival was held the same day as the nearby Greenbelt Blues Festival. I ended up skipping the latter festival because I was pretty overheated enough from attending the Hyattsville festival.)
The next few photos features an art car that was done by A. Clarke Bedford who has worked on other art cars like this one, this one, and this one. His home, which is located near the festival site, is also a major work of art.
The one part of the festival that was actually air conditioned was this temporary pop-up gallery that opened its doors for the first time on the same day as the festival. It was known as "Double Down: 22 Years of the 2DK Lab" and it was put on by a group known as the "Double Down Kings of Washington, DC." This show ran until September 17 and there were also workshops and live entertainment that were held during this show's short run.
I happened to be driving past Roosevelt Center in the historic section of Greenbelt, Maryland when I saw this art car parked in the parking lot. This car definitely stands out from the usual assortment of parked cars that people drive on an everyday basis. The numerous details crammed into this car are astounding to say the least. One of the photos had a notice of this URL, vanadu.wtf, which is an actual URL that has a description about this vehicle. This art car is the work of A. Clarke Bedford, who also has a separate website devoted to his art.
Over a week ago I got a notice (via one of the e-mailing lists that I'm currently on) of a Bernie Sanders march that was taking place in Baltimore. It was one of many that have broken out all over the country over the past few months which have drawn many people yet the mainstream media had ignored it. I only knew about these marches because of Facebook and Twitter.
I found out that the march was supposed to start in the Penn-North area of Baltimore, which is the same area where those riots broke out in the wake of the police murder of Freddie Gray last year. (You can see the photos I took during this period of both the May Day protest and my trek through the Penn-North area on Cinco de Mayo, exactly one week after the riots.)
I know from my previous trip to Penn-North that parking can be hard to find plus there are a bunch of boarded up row houses that I really don't feel comfortable in parking my car nearby. I decided to park my car at the North Linthicum station so I could take the light rail into the city. Even though I made every effort to get out early, the downside of relying on public transportation on the weekends is that public transportation runs less often on the weekends. (That's true for both Baltimore and DC.) I arrived just as the light rail left the station so I had to wait another 15-20 minutes for the next train to arrive. In the meantime it was cold outside plus it was raining off and on. I was still determined to press on despite the cold and gloomy weather so I got on the next light rail train going into the city.
I got off at the Lexington Market light rail stop then transferred to the nearby Metro stop that's located just a few feet away. When I entered the station, I noticed these really pretty tile pieces that lined the ceiling.
So I had to wait a bit for the next Metro train to show up. I got off at the Penn-North station. The next photo shows the CVS that was torched during last year's riots. I remember when the news media made a huge deal over what happened with the implication that the people were animals for burning down a pharmacy. Well the same CVS has since rebuilt and re-opened but you won't hear about it on Fox News or CNN.
I was trying to look for a group of people brandishing Bernie Sanders signs and I walked around a bit. The next two photos show boarded up row houses that are literally a stone's throw from the CVS.
Penn-North is such a mix between nice buildings (which I photographed last year) and deteriorating boarded-up row houses. This mural (which includes famous jazz singer and Baltimore native Billie Holliday) is located at the intersection of Pennsylvania and North Avenues.
I caught up with a single man who had a Bernie Sanders sign. He told me that the group had already left. He said that the march would end at Penn Station and he suggested that I get in my car and drive there. Unfortunately for me my car was at the North Linthicum light rail stop so I ended up taking the next MTA bus to the Station North Arts District then walk to Penn Station. When I arrived I didn't see any crowds or marches. I went inside where I did a search on my smartphone and found that the march route wasn't anywhere near Penn Station. In fact, the final destination was the Hollywood Diner Food Truck Park on Saratoga Street, which is nowhere near Penn Station or the Station North Arts District. Yeah, that guy was definitely wrong about the march's destination. Unfortunately it was around 1 p.m. by that point and the march was scheduled to end at 2. By the time I made my way to the North Avenue light rail station and take it to the Charles Center stop then walk a few blocks, the march would be over.
So I sat on a bench and ate the lunch that I had packed with me. Being inside Penn Station brought back a lot of memories for me. For a few years when I was a child my family would take the Amtrak to Ohio to visit my great-aunt who lived in a small town along with her children (my cousins) who all lived in the same area. (Some lived in that same small town while others lived in another small town located just a few miles away.) We would go to Penn Station to catch that train. That station looked really huge to me when I was very young. Seeing it as an adult, I have to say that it's pretty small compared to Union Station in Washington, DC or Grand Central Station in New York City. Yet Penn Station has the same kind of classical Greco-Roman decor that the larger aforementioned stations have, including stained glass ceilings, Roman columns, and little touches of classical art.
After I finished eating my lunch and taking pictures inside, I stepped outside where it started to rain a bit harder. I took a couple of interesting shots outside of Penn Station.
Ultimately I headed back on Charles Street towards North Avenue. I've been to the Station North Arts District enough times (thanks mostly to attending sessions of the Baltimore chapter of Dr. Sketchy's Anti-Art School at The Wind-Up Space) that I know my way around the area. I've noticed some more arty touches that have been added since my last trip to the area a few months ago, such as these painted storm drains.
I walked past the BAMF Cafe, which is a new geek-themed cafe that had opened last year. I last went there just before it opened full time when the windows were loaded with all kinds of cool looking toys. I decided to step inside and see what the place looked like because it intrigued me. (Just the word "BAMF" brought back memories because my then-husband used to collect comics, especially The X-Men. One of the characters in that comic book, Nightcrawler, was capable of doing teleportation and he used to make a "BAMF" noise everytime he used that power.)
I found that the cafe has a very cozy interior that's full of toys, art, and books on all aspects of the geek fandom including comic books, science fiction, horror, anime, and cult movies. It was such a visual treat.
I didn't order any food or drink because I had just consumed my lunch at Penn Station. I plan on doing so the next time I find myself in the Station North Arts District.
The weather started to rain harder so I decided to cut this trip a bit short and head back to pick up my car that was parked at the North Linthicum light rail stop. While I walked towards the North Avenue light rail stop, I saw this really cool looking decorated car that was just parked on North Avenue.
I attempted these two artsy shots when I was crossing an overpass.
The last photo shows this really cool painted mural that's painted on the side of an underpass on North Avenue near the light rail stop. (You can really see the raindrops coming down in the foreground.)
I later found out that there was very little media coverage of the Bernie Sanders march in Baltimore. In fact, the only media story I found was this video that was shot by The Real News.
After I got out of church today I decided to check out the annual ArtsFest that was held today in Riverdale Park, Maryland.
When I first arrived to the area, I was greeted by a display of classic vintage cars and one classic Harley-Davidson motorcycle.
There was also this unique one-of-a-kind art car that looked really cool. The owner/artist is known as Clarke Bedford and he has more visually interesting stuff at his website.
At one point one of the owners of one of those classic cars would periodically get in his car, start the engine, then rev up the motor for at least five minutes. He did this at twice while I was at ArtsFest and it's possible he may have done it more times before I arrived. What was really bad was that it was so obvious that his car didn't have a muffler installed because it was so noisy that it drowned out the music and people's conversations in general. I don't know why he was doing it other than to say "LOOK AT ME! I'M AN ATTENTION-WHORING ASSHOLE IN A VINTAGE CAR WITH A LOUD MOTOR BECAUSE I DON'T HAVE A MUFFLER BECAUSE I THINK THEY ARE FOR EFFEMINATE SISSIES!" I heard several people complain about this guy's antics. All I can say is that I'm glad he doesn't live in my neighborhood.
I basically went there to see if a friend of mine was there and, sure enough, she was. Here are a couple of photos of some of her fused glass jewelry and plates. Her name is Tina Van Pelt and she has her own fused glass studio known as Profusions of Glass.
One strange highlight of ArtsFest came when I was visiting other tables and came across one table that sold porcelain dolls in their original boxes. Some were marked as Madame Alexander dolls. Each doll was on sale for $20. The woman behind the table claimed that her mother, who recently died, was a doll collector and the items on that table were from her personal collection. The woman also claimed that she did an eBay search where, according to her, these same dolls that she was selling in real life for $20 each were selling on eBay for as much as $150. She was trying to get me to buy one of her dolls for $20 while convincing me that I could sell that same doll later on eBay for $150.
I ended up not buying anything from her table because 1) I'm not into porcelain dolls, 2) I'm trying to watch my money these days, 3) I'm trying to avoid cluttering the house with more stuff, and 4) I call "bullshit" on her claim that I can resell those dolls on eBay for a lot more money than the $20 I would've spent. After all, if those dolls were really worth $150 each on eBay, why wasn't she selling them online herself so she could pocket the $150 profit on each doll instead of selling those dolls on that table at ArtsFest for $20 each?
Come to think of it, I wonder if those dolls in the Madame Alexander boxes were really from the doll company or if they were just some clever bootlegs? I didn't take any pictures of that table, which I now regret because I could've done my own online research to see how much of a bullshitter that woman really was. Oh well.
Late last week I was going on some errands when I saw this cool looking art car that was simply parked on the street. Yesterday I happened to pass that same area when I saw a different art car parked in the same area as the last one. This art car had even more decorations on it that the other one. I photographed this car as well. I have no idea if both cars are owned by the same person and he/she is currently visiting the area or have recently moved to the area. Or it could be possible that two different people own each art car and they happened to be friends who decided to visit each other.
A couple of days ago I was on an errand when I came across this really cool looking car I had never seen before. I have no idea if the owner is just visiting or if he/she have recently moved to the area. That car looked so unique that I couldn't help taking pictures of it with my smartphone.
UPDATE (October 12, 2016): Check out the more recent photographs of the same car (which has since become even more embellished than the photos in this post) right here.