You are currently browsing the category archive for the 'Animals' category.
Here are some miscellaneous random photos I recently took, starting with a couple of shots I took at Target.
What do you get when you mix LEGO with the dinosaurs from Jurassic Park? This DVD.
And here's Barbiezilla next to her normal-sized counterpart.
This next one was taken at Third Eye Comics in Annapolis, Maryland. Here are some DC superheroes as sex symbols.
And last, but not least, here is a dragon head wall decoration hanging inside Third Eye Games, also in Annapolis, Maryland.
Last Saturday I went to this event at Tanglewood Works in Hyattsville, Maryland, which was hosting a vintage pop-up event featuring clothes, jewelry, and other items made from vintage items by local artisans. When I arrived at the store, I noticed that it has recently gotten a new colorful paint job.
The next few photos show just a few of the vintage items that were available for sale last weekend.
After I went to Tanglewood Works, I walked across Route 1 where Franklin's General Store is located. The only photo I took while I was there was for this line of wine known as Mommy's Time Out. I have plenty of friends who are moms who could use this, especially when their children become challenging at times.
Given President Trump's very slow reaction to what happened last Saturday in Charlottesville and this bizarre rant he made today where he blamed both sides for what happened, I am now convinced that he is secretly on the white nationalists' side and he is secretly proud of what they did. I wouldn't be surprised if he blames Heather Heyer for her own death, to be blunt.
Which makes this animation I made back in the 1990's sadly relevant once again. I originally created this animation in the wake of the 1995 Oklahoma City bombing. When I remastered it and uploaded it back in 2014, I honestly wanted to believe that it was a relic of a time when things were horrifying but this nation had managed to put it behind although, in reality, there has been a bunch of far-right wing extremists that has risen in the wake of Barack Obama's 2008 election as the first African American president and 2012 re-election. (These are the kind of people who were aghast that a black man was actually elected not once—but twice—to the White House and they probably still believe that he was really born in Kenya instead of Hawaii.) Now I believe this animation is even more relevant now. At least my old 1990's animation does a far superior job of denouncing white supremacy/Nazism/fascism than anything that has come out of President Trump's mouth so far.
So, without further ado, here is The Unicorn With An Attitude #3: Speaking Right.
Last summer I designed a t-shirt for myself using a white t-shirt, Lumi Inkodye, and a beaded t-shirt transfer. I wear it on a somewhat regular basis in warm weather and I even had a stranger on the Metro compliment me on my shirt. I've been wearing it whenever I attend various networking events at the Maryland Workforce Exchange mainly in order to promote myself as a crafty creative person. I began to think about designing more t-shirts so I can wear them at various networking events (especially the ones I learn of through Meetup.com), especially if I end up attending more than one networking event in a week.
I still have a small pile of plain white t-shirts that are leftovers from previous projects. (I purchased the t-shirts in bulk.) I also have a pile of rubber bands that are leftover from previous tye-dye projects. I decided to design two new tye-dye t-shirts.
First I bought two t-shirt transfers and a pack of yellow Rit dye from Michaels Arts & Crafts and Jo-Ann's Fabrics and Crafts.
Then I tied the two t-shirts in rubber bands. After that, I did the washing machine method (as described on the inside package of the Rit dye) of dying my two t-shirts yellow. I removed the rubber bands and let the two t-shirts air dry before I moved on to the next step.
I took an iron and ironing board and placed the two iron-on transfers on the t-shirts. Here are the results. The next two pictures show my yellow tye-dye peacock t-shirt.
Here's a selfie of me modeling the yellow tye-dye peacock t-shirt.
Here are the pictures of my beaded pirate skull and crossbones t-shirt.
And here's a selfie of me wearing my new yellow tye-dye pirate skull and crossbones t-shirt.
I'm happy with the results! 🙂
I went to the German Festival for the first time in three years. I almost missed it until I saw an ad for it on Saturday (which was the first day of the festival). I decided to go on the second and final day on the spur of the moment after I went to church that morning.
The German Festival ran the same weekend as Artscape but I was lured to the former by the fact that it was held indoors in an air conditioned building. (There was a massive heatwave that had been blanketing the area for at least two weeks.) Besides I still have less-than-fond memories of my last attendance at Artscape when I met two people from my childhood in Glen Burnie whom I did not want a reunion with.
I drove to the light rail stop in North Linthicum then took the light rail all the way to the Maryland State Fairgrounds. It started to rain the minute I got off the light rail but I brought an umbrella with me so it was no big deal. (It was another reason why I'm glad I didn't choose to go to Artscape this year.) There were practically no lines so it was no big deal getting inside. It was basically a nice event with many of the same vendors as my last attendance in 2014. I ate sauerbraten with noodles for lunch followed by a slice of black forest cake. Before I left I purchased two freshly baked cinnamon sticks to eat later. I also took a few pictures, which you can see below.
I finally got around to attending a DC Drink and Draw event for the first time since I went to one previous event in 2015. It gave me a rare chance to go to Adams-Morgan, which is one of my favorite neighborhoods in DC. I took the Metro to Dupont Circle and walked north where I took photos of some lovely sights.
The Embassy of Zimbabwe has a couple of interesting sculptures on its front lawn.
The next photo shows the embassy and flag of what is widely rumored to be President Trump's favorite foreign country—Russia.
The Swann Condominiums, located at 1801-1803 Swann St., N.W., has an interesting false door with swan-themed art.
I took a few more pictures of some local businesses.
That small Eiffel Tower on top of the building led me to take a picture of L'Enfant Cafe and Bar. When I took a closer look at the place, I found out that it has recently gone out of business. It's too bad I didn't get a chance to check the place out sooner. (That's what I get for not going to Adams-Morgan too often.) At least I got a chance to take a picture of the small Eiffel Tower since it's probably very likely that it will be removed once a new business takes over the space.
The next photo show some political humor in the window featuring Donald Trump and Russia. (LOL!)
The next photo shows the restaurant Johnny Pistolas, where the DC Drink and Draw event was held. One of the main reasons why that event was held is because Johnny Pistolas has Taco Tuesday where all tacos costs $2 each while certain beers were also on sale for $2 and $3, depending on the brand. (As you can guess, this event took place on a Tuesday night.
Here is what I drew at the DC Drink and Draw event that night. While I was waiting for my own tacos to arrive, I did a drawing of a plate of tacos that two women sitting next to me received.
The only beer I purchased was a can of Tecate beer because it was on sale for $3. I made two drawings of the beer can from two different sides.
And, last but not least, I drew a glass of water that had a lime slice floating in it.
On the Saturday during the Fourth of July holiday weekend, I decided to check out this toy show that was being held at the Maryland State Fairgrounds.
It was such a feast for the eyes as the toys and various other vintage items were displayed at various vendor tables. The whole show took on the air of a flea market with an emphasis on vintage stuff dating anywhere from the 1900s to the 1990s.
Someone had a jukebox for sale, which reminded me of my childhood when many of the local restaurants had them and people could choose songs to play for about a quarter each.
The jukebox played music during the entire event. (Which proved that it definitely still worked.) I couldn't help taking pictures of the songs that were available on the jukebox. The majority of them were hits when I was a kid.
And speaking of music players, here's a vintage 8-track player with an Elvis Presley 8-track tape. I once had a stereo system that included an 8-track player but I never owned one like that. But I could've sworn that one of my friends or maybe one of my cousins had a player just like that but I don't know for sure. (Memory is one of those funny things where you remember something but you don't remember when, where, or how you remember it.)
Late last year I did a series of blog posts with accompanying photos known as A Tabletop Christmas (so-named because I limit my Christmas decorating to just a single tabletop in my living room). Among the items I showed off was a small plastic Santa Claus puppet that I've had since I was a child. I didn't know anything about the origins of this puppet. It wasn't until I went to the toy show when I saw a tiny plastic Santa puppet on sale that's identical to mine.
The only difference between the two is that this Santa still had its label at the base while mine doesn't have any labels at all. (I suspect that whatever label it had must've fallen off a long time ago.) My Santa puppet is currently stored in a box with the other Christmas decorations in the attic but here's a picture of my Santa puppet that I took last December.
At first I thought the animal in the next picture was a stuffed animal until I saw the dog move his eyes around. He laid there the entire time I was at that show.
This show also had examples of how the mighty had fallen. I found this book by disgraced former Fox News talk show host Bill O'Reilly on sale for only $1 at one of the tables. (LOL!)
There was one token of something new that I found. Someone was selling glow-in-the-dark versions of the hottest toy of 2017: Fidget Spinners.
By the way, you can check out a video I shot recently where I unboxed and played with one of those Fidget Spinners for the first time (and, no, the one I bought didn't glow in the dark).
Everywhere there were visual treats, many of which harkened back to my own youth.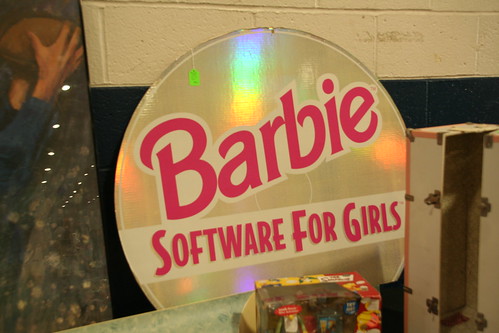 As I was walking back to the light rail stop I shot this photo of The Cow Palace building because it had a nice small garden.
I didn't buy a lot of stuff at that toy show due mainly to tight finances. But I managed to snag a couple of things at bargain rates. I found the second season of The Simpsons DVD set for only $6.
I bought a Monster High doll for only $5. I was attracted to her pretty winter-themed clothes. At first I thought I may have purchased a relative of The Snow Queen until I did an online search and I was able to make a definite identification. Based on this web page, her name is Abbey Bominable and she's described as the 16-year-old daughter of the Yeti.
Here's a closeup of her hair, which looks like it has glittery plastic pellets weaved throughout the strands. It gives a really cool ice/snow effect, especially when the light reflects off of her hair.
Shortly after I visited the dinosaur-themed Laurel Public Library, I happened to be shopping at a local Target when I saw these really cute dinosaur greeting cards.
I attended a workshop on how to use social media to get a job at the Maryland Workforce Exchange office in Laurel. A nasty storm was about to get started when the workshop ended. Rather than make a potentially perilous journey home I decided to head to the nearby Laurel Library so I could wait out the storm. I brought my laptop with me plus there are plenty of books in that library so I had no problem with waiting there. (Besides it's not like I have anyone waiting at home for me to return these days.)
I last visited that library back in December. It had recently opened and I was curious to see what it was like and I found it interesting, especially with the dinosaur motif. On this trip I found some more dinosaur motifs scattered around the place.
That giant dinosaur skeleton is still buried under a plexiglass floor.
This little girl was walking on the floor above the dinosaur skeleton while taking a look at it.
I noticed that there were gardens outside the last time I was there but everything was dead since it was in December. This time everything was lush and growing with all kinds of pretty flowers blooming.
I last saw the glass obelisk outside the library at night, when it was lit up. It was still daylight when I saw it again but it's still interesting to see it with the sun out.
Late last week I finished my latest animation, which is based on the song "Jack Sprat (aka Butcher the Hog)" by The Bachelor and the Bad Actress. Here is the video. I'll write more about how I made it below.
I'm pretty friendly with a few local musicians. (None of them are major stars and all of them have day jobs since they don't make enough money from being musicians to pay the bills.) A few months ago I did a short animation to Phil Shapiro's song "Open Source is Yours and Mine."
Among my musician friends are a husband and wife duo known as The Bachelor and the Bad Actress. (I even went to their wedding that was held during the Crazy Quilt Festival in Greenbelt, Maryland a couple of years ago.) At one point I was communicating with Joe the Bachelor on Facebook (yes, he's married now but he's still known as The Bachelor because, well, old habits die hard [LOL!]) and I linked to the "Open Source is Yours and Mine" and I joked about offering to trash one of his songs the way I "trashed" the "Open Source" song. He really liked the video and was open to the idea of an animated music video to one of The Bachelor and the Bad Actress' songs.
Meanwhile I've been going to the weekly animation meetup at Makerspace 125 and there is talk about all of us collaborating together on one animation but nothing has happened yet along those lines (as of this writing). When I mentioned this to Joe the Bachelor, he offered to let those of us in that meetup to each take one of their songs and animate it.
I brought it up with the meetup group but it was met with indifference. I decided to do one of their songs on my own and show it to the other meetup attendees just to show that it's possible. I picked "Jack Sprat (aka Butcher the Hog)" because the lyrics were straightforward and I figured that I could do a comedic animation that's reminiscent of the old Warner Brothers Looney Tunes and Merrie Melodies shorts from the 1940's and 1950's.
I used Moho Anime Studio Debut for the bulk of the animation. There were a few times when I had to use Adobe Photoshop for some scenes where using Anime Studio would've been frustrating. (Like most graphics programs, Anime Studio Debut uses layers. Unlike the other graphics programs, you literally cannot control the opacity in those layers. So I switched to Photoshop for those times when I needed to control the opacity of certain layers, exported the graphics as a .jpeg, then imported it into Anime Studio Debut. I'm going to stop here on the technical stuff since not everyone is interested in such details.)
This animation was my first foray into actual lip-synching. Anime Studio Debut recommended this free open source software called Papagayo, which churns out lip movements based on both audio recordings and what you type into the application. If you want to know more about this, I suggest getting it yourself, since it is free to download.
I originally planned on doing the entire thing in Anime Studio Debut while I would use iMovie only to put in the opening title and closing credits. There was a snag when I discovered that Anime Studio Debut can't go any further than 3,000 frames and the song lasts longer than that. I was basically using the app's default at 24 frames per second. If you do the math, you'd know that the maximum run time that the software can handle is 125 seconds or two minutes and five seconds. The song runs for two minutes and 31 seconds.
I found a workaround when I brought the song into Audacity and broke it up in two. Then I created two separate animation files, exported them separately, then brought them into iMovie where I managed to patch everything together into one file.
While I was working on this, I found out that Moby had been releasing animated music videos. The first one is a statement about people being addicted to their smartphones. The second one has become controversial because it makes an unflattering statement about President Donald Trump but that's another story altogether. I was influenced by the end titles in both videos and they were my inspiration for how I created the end title in my own animation where I showed people where they can download or stream The Bachelor and the Bad Actress' music.
Speaking of President Trump, I added some imagery of my own about The Donald along with a quote from George Orwell's book Animal Farm. See if you can spot them while you're watching my video.
I have to admit that this was my most ambitious animation to date and there were times when I was on the verge of burnout. And that's because I was also doing some major job hunting using tips from a book that I had recently gotten a hold of.
I finally decided that doing two big things at once wasn't good for my health. With the Fourth of July holiday coming up, I decided that I would finish the animation first then resume reading the job hunting book after the holiday. (If this book works for me and I end up getting a new day job to pay the bills, I will write another post praising this book and urging all my readers of this blog to buy it.) With another finished animation under my belt, I now have something recent I can show to any potential employer interested in my animation skills.
I'm also toying with starting a Patreon page where I would make short animations (meaning less than five minutes) for anyone willing to give me some money. Working on this animation has shown me what I can realistically do for a potential patron while setting a price that's reasonable for the patron while not pricing myself so low that I end up making $1 or $2 per hour (which is impossible to live on anywhere in the United States of America).
By the way, if you like the song, "Jack Sprat (aka Butcher the Hog),"  you can purchase it or stream it through The Bachelor and the Bad Actress' Bandcamp page.