You are currently browsing the category archive for the 'Travels' category.
Yesterday I wrote about attending the grand opening of Third Eye Comics in Annapolis. The event was so well attended that I had to drive around the area to find some parking. While I was driving around I made this really cool discovery.
If you drive just around the corner from Third Eye Comics' new location you'll reach Edgewood Avenue, which has primarily warehouses that are covered with colorful murals, such as this one mural depicting downtown Annapolis.
The more you drive down Edgewood Avenue, the more wall murals you'll see.
These wall murals provide a pleasant diversion to any tourists who want to see something other than historical places and the chicken statues.
Third Eye Comics has been around for a few years. The store had simply moved to larger quarters just around the corner from its former location. The store decided to have a grand opening event to celebrate this. Here's a look at the entrance to the new facilities.
This is a really cool example of trompe l'oeil.
As you can see in the next few photos this event was well attended.
There were all kinds of items available for sale, such as this Weeping Angel tote bag from the Doctor Who TV show.
There were comic books, graphic novels, vinyl toys, coffee mugs, and other kinds of related merchandise available for sale.
Third Eye Comics also has a games store, known as Third Eye Games, whose entrance is located next to Third Eye Comics' space.
As you can guess from the name, Third Eye Games have all kinds of card games and board games available for sale, such as this Ghostbusters game.
There were plenty of people playing games when I was there.
I took advantage of the store's special 20% discount on graphic novels to make my one and only purchase from that store. As you can guess by the cover, Deadpool the Duck is a mash-up between Howard the Duck and Deadpool. Having read it, I can tell you that it's definitely hilarious. I would recommend picking it up if you have the chance.
My support group for people who are separated or divorced was having a pre-Fourth of July get-together at this park in Catonsville which also included a free concert by a local band. I originally intended to go to that event but I got diverted by attending the weekly meetup of this animation group that I've been involved with since last year.
I left as soon as the meetup ended and I decided to check out downtown Catonsville first before going to that park. I remember going to that town on a Saturday every few months when I was growing up because my grandmother's doctor had his offices there. My mother used to drive her there and I would tag along as well. I hadn't been to Catonsville in a very long time so I thought it would be nice to reacquaint myself with the area before I headed off to the park.
I vaguely remembered Catonsville having a lot of shops but we never shopped there. We only went there for my grandmother's doctor and that was it. I wanted to know if I remembered this correctly and, sure enough, I was correct.
The entire downtown area is totally charming to walk around.
I found a sign mentioning the fact that this part of Catonsville is a historic district.
Here's one of the street signs celebrating the upcoming Fourth of July holiday.
I found this gigantic store known as Bill's Music. If it weren't for the fact that I was in Catonsville on a late Sunday afternoon (when many of the stores tend to close early) and I was planning on joining my friends in the park, I would've gone inside that store and checked it out. The next time I'm in Catonsville I definitely plan on going inside, especially since I've been playing the guitar off and on since I was a teenager.
In addition there is another guitar store that's located right across the street from Bill's Music.
I just walked around for a bit taking various pictures. It looks like all of the businesses on this street are locally-owned. (Or at least I didn't see anything resembling a chain store on this street.) It was too bad I wasn't able to go inside any of the stores. The next time I find myself in Catonsville for any reason, I will definitely go inside at least one or two stores while I'm there. (I'll probably wait until the fall before I do this because the area is currently undergoing the usual hot and humid heatwave that always plague this area in July and August and I prefer to walk in more pleasant weather.)
I ended up not going to that park after all. When I arrived I saw huge throngs of people entering the park (and, no, they weren't all from my support group either) and I had a hard time finding parking. I finally found a spot several blocks away but I lost my enthusiasm for going to that park because I would have a hard time finding where my friends from the support group were located due to the huge throng of people who were going to that park for a free concert. (It's not like the band was this nationally recognized recording stars. Not only had I never heard of this band before, I've since forgotten that band's name.) Plus it was hot that day because it was the usual hot and humid day in July.
I ended up driving back home. I still don't regret seeing Catonsville again for the first time as an adult since I now know that I was missing out on such a nice area.
I was in a good mood that day for a few personal reasons (mostly related to my ongoing hunting for a new day job to pay my bills) that I decided to take the Silver Line Metro to Tyson's Corner for the first time in over a year.
I ate dinner at Wasabi, which not only has good sushi but it has such a unique method of delivery that I shot this short video during a previous visit six years ago.
I also visited other stores like American Girl Place. The bad news is that I am currently dealing with the fact that the camera on my three and a half year old smartphone has been acting erratically since Christmas. Sometimes the camera will work and sometimes it doesn't. There are times when I have to haul my older Canon Digital Rebel DSLR camera if I want to go to a place where I want to take pictures in order to ensure that I have at least one working camera. The downside is that the Canon is larger and heavier and it shoots in fewer megapixels than my smartphone and the images are less sharp than my smartphone camera no matter how much I focus the lens.
The phone part still works and money is still too tight for me to get a new smartphone. (If the phone part ever dies, I will have no other choice but to buy a new phone but I'm trying to make my current one last as long as possible.) I have to make do with what I have right now.
On that day I felt lazy so I left the Canon at home. That was a big mistake, especially at American Girl Place because I missed out on taking pictures on some gorgeous new dolls that had arrived in the store since my last visit. Oh well.
I took three pictures of what I purchased while I was at Tyson's Corner after my trip. I found a new book at American Girl Place which focuses on the 1970's historical character Julie Albright. A few summers ago I devoted several weeks of Throwback Thursdays to doing reviews of the Julie books. I plan on doing a review of this new book soon.
I also discovered that since my last visit a Lolli and Pops candy store had opened at Tyson's Corner. I had already been to the one in Annapolis Mall and Westfield Montgomery Mall so it was no big deal that I wasn't able to get any pictures of the Tyson's Corner store. I purchased a small bag full of gummy bears made from champagne. (I found at least three different flavors of champagne in that store.) The last two photographs show my haul from that store.
I had a pretty busy Saturday before the Fourth of July holiday. I drove my car to the North Linthicum light rail station where I saw this cool looking art truck. Then I took the light rail to the Maryland State Fairgrounds in Timonium where I saw this excellent toy show that was literally a trip down memory lane for me.
As I went back to retrieve my car at the North Linthicum stop I decided to make a short drive to my hometown of Glen Burnie since I was in the area anyway. I went to Ann's Dari-Creme because the weather has finally gotten hot enough that I felt a craving for a milk shake from that place. It's a fun place to visit, which you can see in the photos I took for this blog post back in 2015.
The Accuweather app on my smartphone went off notifying me of a major thunderstorm that was passing through the region. The thunderstorm started after I ordered my milkshake and I was drinking it in the car. I decided to just stay in the car consuming my milkshake until the worst of the storm passed.
Afterwards I decided to heat towards Crabtowne USA. I initially thought about eating dinner there then playing its vintage pinball and video arcade games until I saw that the restaurant part was crowded. (I wasn't surprised since it was the weekend before the Fourth of July.) I decided to just stick with playing the games and I had a great time. So did the kids who were riding the one of the mechanical horses in the next photo.
The crab statue outside the place was all ready for the upcoming Fourth of July holiday with its own little American flag.
The next photo shows what the sky looked like outside of Crabtowne USA, which still showed the effects from that short yet intense thunderstorm which passed through the area.
And then there is the next photo, which reminds me that, yes, I am in Glen Burnie and it provided me with yet another reason why I'm not exactly rushing to move back to that town.
"I Don't Brake for Protesters"?!? What the ever loving fuck?!? Has this guy ever had an American Government class in high school? Had he even read the First Amendment to the U.S. Constitution, especially the sections about people having the right to peaceably assemble and allowing the petitioning for a governmental redress of grievances?!?
I don't see this kind of shit in Montgomery County or Prince George's County. I don't see this in Baltimore City or Howard County or Annapolis or Crofton. But I go to Glen Burnie and I see this shit and it makes my blood boil. This comes on the heels of seeing Donald Trump Make America Great Again signs on a few front lawns and that barber shop with a Confederate flag and that former Baltimore City police officer's ill-fated attempt to do a benefit concert in Glen Burnie as Al Jolson in blackface. I wouldn't be surprised if that asshole "I Don't Brake for Protesters" pickup truck driver was among those people who were protesting NPR tweeting texts from the Declaration of Independence on July 4.
That truck provided yet another reason why I am pretty grateful that I no longer have to live in Glen Burnie if I don't want to.
On the Saturday during the Fourth of July holiday weekend, I decided to check out this toy show that was being held at the Maryland State Fairgrounds.
It was such a feast for the eyes as the toys and various other vintage items were displayed at various vendor tables. The whole show took on the air of a flea market with an emphasis on vintage stuff dating anywhere from the 1900s to the 1990s.
Someone had a jukebox for sale, which reminded me of my childhood when many of the local restaurants had them and people could choose songs to play for about a quarter each.
The jukebox played music during the entire event. (Which proved that it definitely still worked.) I couldn't help taking pictures of the songs that were available on the jukebox. The majority of them were hits when I was a kid.
And speaking of music players, here's a vintage 8-track player with an Elvis Presley 8-track tape. I once had a stereo system that included an 8-track player but I never owned one like that. But I could've sworn that one of my friends or maybe one of my cousins had a player just like that but I don't know for sure. (Memory is one of those funny things where you remember something but you don't remember when, where, or how you remember it.)
Late last year I did a series of blog posts with accompanying photos known as A Tabletop Christmas (so-named because I limit my Christmas decorating to just a single tabletop in my living room). Among the items I showed off was a small plastic Santa Claus puppet that I've had since I was a child. I didn't know anything about the origins of this puppet. It wasn't until I went to the toy show when I saw a tiny plastic Santa puppet on sale that's identical to mine.
The only difference between the two is that this Santa still had its label at the base while mine doesn't have any labels at all. (I suspect that whatever label it had must've fallen off a long time ago.) My Santa puppet is currently stored in a box with the other Christmas decorations in the attic but here's a picture of my Santa puppet that I took last December.
At first I thought the animal in the next picture was a stuffed animal until I saw the dog move his eyes around. He laid there the entire time I was at that show.
This show also had examples of how the mighty had fallen. I found this book by disgraced former Fox News talk show host Bill O'Reilly on sale for only $1 at one of the tables. (LOL!)
There was one token of something new that I found. Someone was selling glow-in-the-dark versions of the hottest toy of 2017: Fidget Spinners.
By the way, you can check out a video I shot recently where I unboxed and played with one of those Fidget Spinners for the first time (and, no, the one I bought didn't glow in the dark).
Everywhere there were visual treats, many of which harkened back to my own youth.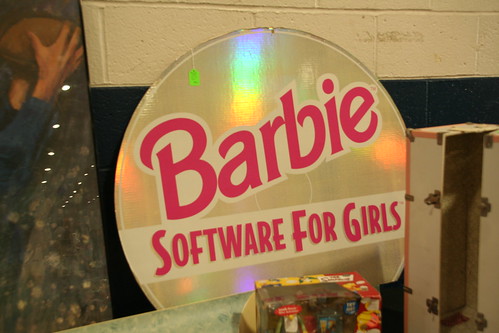 As I was walking back to the light rail stop I shot this photo of The Cow Palace building because it had a nice small garden.
I didn't buy a lot of stuff at that toy show due mainly to tight finances. But I managed to snag a couple of things at bargain rates. I found the second season of The Simpsons DVD set for only $6.
I bought a Monster High doll for only $5. I was attracted to her pretty winter-themed clothes. At first I thought I may have purchased a relative of The Snow Queen until I did an online search and I was able to make a definite identification. Based on this web page, her name is Abbey Bominable and she's described as the 16-year-old daughter of the Yeti.
Here's a closeup of her hair, which looks like it has glittery plastic pellets weaved throughout the strands. It gives a really cool ice/snow effect, especially when the light reflects off of her hair.
On the Saturday during the Fourth of July holiday weekend I decided to attend a toy show that was held at the Maryland State Fairgrounds in Timonium. (Which I'll write about in my next post.) Rather than make the long arduous drive, I decided to drive part of the way to the North Linthicum light rail stop and take the light rail train the rest of the way. It was way easier for me because the light rail stop was right at the back gates to the fairgrounds and I only had to walk a few extra minutes to the building where the toy show took place.
I was treated to something extra when I went to the North Linthicum light rail stop. This art truck was parked there and it was really a sight to behold.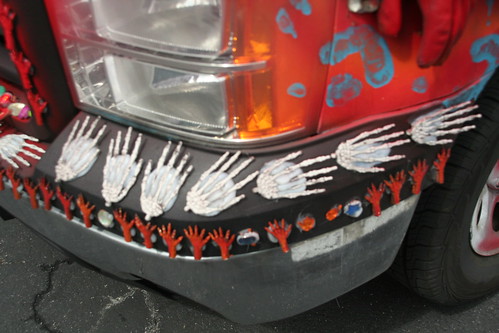 I attended a workshop on how to use social media to get a job at the Maryland Workforce Exchange office in Laurel. A nasty storm was about to get started when the workshop ended. Rather than make a potentially perilous journey home I decided to head to the nearby Laurel Library so I could wait out the storm. I brought my laptop with me plus there are plenty of books in that library so I had no problem with waiting there. (Besides it's not like I have anyone waiting at home for me to return these days.)
I last visited that library back in December. It had recently opened and I was curious to see what it was like and I found it interesting, especially with the dinosaur motif. On this trip I found some more dinosaur motifs scattered around the place.
That giant dinosaur skeleton is still buried under a plexiglass floor.
This little girl was walking on the floor above the dinosaur skeleton while taking a look at it.
I noticed that there were gardens outside the last time I was there but everything was dead since it was in December. This time everything was lush and growing with all kinds of pretty flowers blooming.
I last saw the glass obelisk outside the library at night, when it was lit up. It was still daylight when I saw it again but it's still interesting to see it with the sun out.