You are currently browsing the category archive for the 'Travels' category.
Takoma Park is a town that's literally divided across the Maryland-Washington, DC border. Normally I tend to spend most of my time on the Maryland side to Takoma Park. This post focuses on the DC side. I had decided to attend a Spanish language meetup at a library on the DC side and I decided to take pictures along the way.
One can generally tell which side of Takoma Park he or she is currently in by a few factors. One, the roads on the DC side will have a "NW" (for "Northwest") appended to the name of a street. Two, the traffic lights on the Maryland side tend to be strung on wires across the roads while the traffic lights on the DC side are posted on tall poles. Three, you'll see signs like the one in the next photo.
The DC side of Takoma Park has its own share of interesting architecture, art installations, and decorated windows.
I decided to eat dinner at Horace & Dickies, where I ordered a crab cake sandwich. I found the food to be excellent and the atmosphere to be quite cozy. I also felt at home when the TV in that place was showing President Donald Trump's infamous speech where he said that "both sides" were equally at fault for what happened in Charlottesville and the employees and other customers there expressed disgust at what they were hearing.
I finally arrived at my destination. Due to the fact that Takoma Park is split into two, this town has two libraries on both sides of the border. The one on the Maryland side has the unique distinction of being the only library in Maryland that is not operated by the state or the county. (I have a friend who works there and he told me that they had decided to be completely independent back in the early 1970s and they haven't looked back since.) The one on the DC side is a part of the DC Public Library system.
I've taken pictures of the one on the Maryland side in 2014, March 2015, July 2015, and 2016. The DC library is small compared to the Maryland one and it occupies an older building but it has its own unique charms. According to the Wikipedia, this library was the first neighborhood library that was established in Washington, DC and it's also known as a Carnegie library (meaning that it was built with donations from Andrew Carnegie.)
The interior of the library looks quite cozy with its distinctive wood paneling and furniture. The lights suspended from the ceiling gives it a classy touch.
When I was there the library had a poster on display featuring baseball player Ryan Zimmerman, who plays for the Washington Nationals.
The children's books area is located in an alcove that has a fireplace.
Even though the building is old, this library has a few modern touches, such as these computers for its patrons to use and free Wi-Fi.
This library even has a skylight window on the ceiling. Unfortunately I took this shot late on a cloudy day.
I have to say that it's one of the nicer looking libraries I've actually visited.
I took this last shot of the library's basement. Compared to the upper level, this one is pretty plain. The basement has restrooms, a conference room (where the Spanish language meetup took place), and a small used bookstore (where the proceeds from sales goes towards supporting this library and the programs that it offers.
I was attending a vigil for the victims in Charlottesville at Art Works Now in Hyattsville when I decided to take a few photographs of the area as I was walking back to my car after that event ended. Here's a shot of both the Art Works Now building and its next-door neighbor, Pizzeria Paradiso, at twilight.
Here's another shot of Pizzeria Paradiso taken from another angle.
Art Works Now has this giant Art Box that's located in the back of the building.
Located next to Art Works Now is this used car dealership that has some art on the perimeter of its parking lot. This one is a statue of a bird dressed like a Prince George's County police officer.
Last, but not least, I came upon these gardens that belong to Fields 4 Valor, a non-profit group dedicated to feeding hungry veterans.
Not too long ago I attended a Saturday morning networking event that was held at McLean Bible Church, which is located in Northern Virginia. I was hoping to find contacts who could help me land a new day job in order to pay the bills as well as getting any possible new tips on how to refine my search. Plus it gave me the opportunity to actually step foot inside one of those non-denominational Christian megachurches that have been springing up all over the U.S. since the late 1980s.
Before I go any further I want to explain my own religious background so you'll understand why this post has a "stranger in a strange land" feel. I was raised in the Roman Catholic church. The parish where I attended mass from the time I was a child until I was in college had anywhere from 1,000-2,000 members. The church held mass four times a week (one on early Saturday evening around 6 or 7 p.m. and the other three on Sunday at 9 a.m., 10:15 a.m., and noon). While some people knew who I was growing up, there were times when I felt like I was just a face in the crowd of Catholics. I don't recall too many efforts to have social events for the parishioners so they could get to know each other. Basically people attended mass then headed out the door the moment the last hymn ended.
I left the Catholic church when I was in college and I spent my college years identifying myself as a "secular Christian" (or a gentile equivalent of a secular Jew). When I was in my senior year of college I saw an ad in the Sunday Washington Post for Unitarian Universalism which read "Instead of having to fit in with a church, I found a church that fit me." There was something about that ad that resonated with me in a positive way and it was a contrast to all those fundamentalist Christian groups on campus (such as the Campus Crusades for Christ) who were constantly trying to recruit converts among the student body so often that I began to loathe them because they became such a nuisance. I showed the ad to my boyfriend and he was impressed by it as well. I found out that there were no campus UU groups at the time, the nearest UU church was at least three miles away and I had no car plus the Metrobuses tend to run erratic hours on Sundays. So I forgot about the ad and still considered myself to be a secular Christian who was happily unchurched.
My boyfriend and I were engaged soon after I graduated from college and we began to plan our wedding. My fiancee began to express a preference for a religious wedding out of the blue. (I was always surprised by his preference. He told me that his family was basically nonreligious when he was growing up, with the exception of a few years when his family attended a Quaker congregation only to leave it when that congregation went through a nasty congregational split that disgusted his parents so much that they quit.) He remembered that Washington Post ad I showed him and suggested that we try attending a Unitarian Universalist Sunday service. So we went to our first service and we were really impressed by the format of the Sunday service. We were further impressed when they actually served coffee after the Sunday service ended and we found the congregation to be very friendly and upbeat (which was a welcome contrast to my memories of dealing with the members of my old Catholic parish). We learned that the minister who spoke at that service was only a visiting minister and the regular minister would be speaking the following Sunday. So we attended the following Sunday and we were impressed with that minister and the other members were very friendly towards us during the coffee hour.
Basically we kept on attending because we liked the church and its members and we eventually joined that congregation. A few months later, we were married by the UU minister and we remained active members for many years. I continued to attend Sunday services at that UU church after my marriage fell apart. (It helps that my ex-husband only sporadically attends these days.) Compared to my 1,000-2,000 Roman Catholic parish I attended as a child, the UU church I attend has a room where Sunday services are held that can seat a maximum of 500 people. Despite that, we rarely had to deal with the room overflowing on Sunday mornings. Right now my congregation has around 150 members. I know that it's small but, as an adult, I find that I prefer a smaller congregation. I find it easier to make new friends among the congregation and it's really a good feeling to go to Sunday services at a place where most people know your name.
I know that there are downsides to having a small congregation, mainly when it comes to what programs we can actually offer to fellow members and the wider community. We don't have enough people to offer services that larger churches offer, such as a soup kitchen for the homeless or computer lessons to underprivileged persons. But the feeling I get that I'm not being lost in the shuffle (which is how I felt at times in my old Roman Catholic parish) makes up for it.
For years I had heard of people joining megachurches but it seemed like my then-husband and I bucked the trend by joining a small church instead. There were times when I wondered what a megachurch is like but I wasn't that curious enough to consider visiting a megachurch on a Sunday morning because I really didn't want to deal with people pressuring me to convert to their church. When I found out about this networking event at McLean Bible Church, I found the perfect opportunity to see what this megachurch is like without feeling pressured into converting. I brought a camera with me so I could take pictures.
According to the Wikipedia, McLean Bible Church is spread out over five separate campuses, which draws a total attendance of 13,000 people each week. I went to the church's main campus in Vienna. I parked my car in the church's two-story parking garage (which is definitely the largest parking lot I've ever seen for a house of worship). Seeing that building from the outside for the first time was an eye-opener.
I entered the church on the lower level and I felt like I was in the corridor of a very large hotel or a convention center.
The next photo shows the sanctuary where Sunday services are held. Unfortunately the doors were locked when I was there so I was only able to get a quick shot of the doorway windows giving you a glimpse as to how big this church is.
The networking event was held in a lower-level conference room which is about as big as the room in my UU congregation's Meetinghouse where our Sunday services are held.
Around the corner from that conference room is a full-service coffee bar called Journeys, which was closed when I was there. I got a look at the menu, which offers as many varieties of different coffees as Starbucks. I noticed that Journeys prices its beverages around the same as Starbucks does. This is a far cry from what my congregation serves each Sunday. (We basically offer regular coffee, decaf coffee, and hot water for those who want tea or hot chocolate. It is entirely self-service and we only ask a small donation if you can afford it. It is all wheeled out on a cart after Sunday service ends. I don't see my congregation ever installing its own full-service coffee bar like McLean Bible Church has.)
The women's restroom was also an eye-opener as well. When you enter the restroom, you encounter a rack full of brochures that people can take.
Each stall had a Bible quote hanging on the inside door so you get to read something inspirational while you're doing your personal business.
But that's not all. The women's bathroom has a large room off to the side. It is a lounge that has comfortable seats and a large-screen TV. I've seen the restrooms in some of the really fancy hotels have something like this but this was the first time I ever seen something like this in a church.
After the morning networking event ended, I stuck around a bit longer because I was really curious about this church. I went up to the second floor where I found this giant lobby area.
There are long desks outside the entrance doors to the second floor of the sanctuary where Sunday services are held. (Those doors were locked just like the lower entrances.) To me the area looks more like a hotel or convention center than a church.
The next photo shows a display table publicizing the church's latest project: sending cards to members of the U.S. military who are stationed overseas.
The next two photos show one of two or three tables full of American flags encouraging people to send cards to the U.S. troops.
One of the side lobby had literature promoting the various smaller affinity groups that McLean Bible Church has, such as men-only and women-only spirituality groups and an affinity group that is devoted to people who have recently moved to the area.
The last picture I took was a view from a second story window.
Unfortunately the battery on my camera died after I took that last shot. I found a mall-style fast food eatery where people can order meals and eat them at one of the many provided tables. (That fast food place was closed when I was there. I have a feeling that this place, like the coffee bar, is open only on Sundays.) I've been to a few larger churches that have kitchens with dining areas but these churches only use them for special occasions (such as this one in a Catholic church, which I went to when that church had an Oktoberfest event that was opened to the general public a few years ago). McLean Bible Church's facility definitely had the look of a fast food place that's opened on a regular basis because I saw trays stacked in one area where people grab before getting in line. I saw a full-service menu with prices that were on par with what a typical fast food place charges.
I saw a sign touting a gift shop but I didn't make much of an effort to search for it because of the dead camera battery and the feeling that the gift shop is probably closed on Saturdays as well.
I have to admit that the church is impressive in terms of the amenities it provides but I still prefer my small 150-member church. It means a lot to me to have a place where people recognize me and know my name and it would be harder for me to adjust to a megachurch. So what if my church doesn't offer espressos or other types of fancy coffees like the McLean Bible's coffee stand does. There is a Starbucks located just a short drive away for anyone at my church who feels the urge for a Coconutmilk Moca Macciato.  If you're looking for something to eat, there are a couple of shopping centers located close by where you can have your choice of various restaurants ranging from fast food to a regular full-service restaurant.
I don't mean to offend anyone reading this who has long attended a megachurch. I understand that you may find my preference for smaller churches to be off-putting. Just understand that I was not raised in a megachurch (even my childhood Roman Catholic parish would be considered small compared to McLean Bible Church) and I've grown used to attending a small church as an adult. If you like your megachurch, I'm not going to tell you to switch to a smaller church. I just personally prefer a smaller church for myself. That's all.
Yesterday I wrote about attending the grand opening of Third Eye Comics in Annapolis. The event was so well attended that I had to drive around the area to find some parking. While I was driving around I made this really cool discovery.
If you drive just around the corner from Third Eye Comics' new location you'll reach Edgewood Avenue, which has primarily warehouses that are covered with colorful murals, such as this one mural depicting downtown Annapolis.
The more you drive down Edgewood Avenue, the more wall murals you'll see.
These wall murals provide a pleasant diversion to any tourists who want to see something other than historical places and the chicken statues.
Third Eye Comics has been around for a few years. The store had simply moved to larger quarters just around the corner from its former location. The store decided to have a grand opening event to celebrate this. Here's a look at the entrance to the new facilities.
This is a really cool example of trompe l'oeil.
As you can see in the next few photos this event was well attended.
There were all kinds of items available for sale, such as this Weeping Angel tote bag from the Doctor Who TV show.
There were comic books, graphic novels, vinyl toys, coffee mugs, and other kinds of related merchandise available for sale.
Third Eye Comics also has a games store, known as Third Eye Games, whose entrance is located next to Third Eye Comics' space.
As you can guess from the name, Third Eye Games have all kinds of card games and board games available for sale, such as this Ghostbusters game.
There were plenty of people playing games when I was there.
I took advantage of the store's special 20% discount on graphic novels to make my one and only purchase from that store. As you can guess by the cover, Deadpool the Duck is a mash-up between Howard the Duck and Deadpool. Having read it, I can tell you that it's definitely hilarious. I would recommend picking it up if you have the chance.
My support group for people who are separated or divorced was having a pre-Fourth of July get-together at this park in Catonsville which also included a free concert by a local band. I originally intended to go to that event but I got diverted by attending the weekly meetup of this animation group that I've been involved with since last year.
I left as soon as the meetup ended and I decided to check out downtown Catonsville first before going to that park. I remember going to that town on a Saturday every few months when I was growing up because my grandmother's doctor had his offices there. My mother used to drive her there and I would tag along as well. I hadn't been to Catonsville in a very long time so I thought it would be nice to reacquaint myself with the area before I headed off to the park.
I vaguely remembered Catonsville having a lot of shops but we never shopped there. We only went there for my grandmother's doctor and that was it. I wanted to know if I remembered this correctly and, sure enough, I was correct.
The entire downtown area is totally charming to walk around.
I found a sign mentioning the fact that this part of Catonsville is a historic district.
Here's one of the street signs celebrating the upcoming Fourth of July holiday.
I found this gigantic store known as Bill's Music. If it weren't for the fact that I was in Catonsville on a late Sunday afternoon (when many of the stores tend to close early) and I was planning on joining my friends in the park, I would've gone inside that store and checked it out. The next time I'm in Catonsville I definitely plan on going inside, especially since I've been playing the guitar off and on since I was a teenager.
In addition there is another guitar store that's located right across the street from Bill's Music.
I just walked around for a bit taking various pictures. It looks like all of the businesses on this street are locally-owned. (Or at least I didn't see anything resembling a chain store on this street.) It was too bad I wasn't able to go inside any of the stores. The next time I find myself in Catonsville for any reason, I will definitely go inside at least one or two stores while I'm there. (I'll probably wait until the fall before I do this because the area is currently undergoing the usual hot and humid heatwave that always plague this area in July and August and I prefer to walk in more pleasant weather.)
I ended up not going to that park after all. When I arrived I saw huge throngs of people entering the park (and, no, they weren't all from my support group either) and I had a hard time finding parking. I finally found a spot several blocks away but I lost my enthusiasm for going to that park because I would have a hard time finding where my friends from the support group were located due to the huge throng of people who were going to that park for a free concert. (It's not like the band was this nationally recognized recording stars. Not only had I never heard of this band before, I've since forgotten that band's name.) Plus it was hot that day because it was the usual hot and humid day in July.
I ended up driving back home. I still don't regret seeing Catonsville again for the first time as an adult since I now know that I was missing out on such a nice area.
I was in a good mood that day for a few personal reasons (mostly related to my ongoing hunting for a new day job to pay my bills) that I decided to take the Silver Line Metro to Tyson's Corner for the first time in over a year.
I ate dinner at Wasabi, which not only has good sushi but it has such a unique method of delivery that I shot this short video during a previous visit six years ago.
I also visited other stores like American Girl Place. The bad news is that I am currently dealing with the fact that the camera on my three and a half year old smartphone has been acting erratically since Christmas. Sometimes the camera will work and sometimes it doesn't. There are times when I have to haul my older Canon Digital Rebel DSLR camera if I want to go to a place where I want to take pictures in order to ensure that I have at least one working camera. The downside is that the Canon is larger and heavier and it shoots in fewer megapixels than my smartphone and the images are less sharp than my smartphone camera no matter how much I focus the lens.
The phone part still works and money is still too tight for me to get a new smartphone. (If the phone part ever dies, I will have no other choice but to buy a new phone but I'm trying to make my current one last as long as possible.) I have to make do with what I have right now.
On that day I felt lazy so I left the Canon at home. That was a big mistake, especially at American Girl Place because I missed out on taking pictures on some gorgeous new dolls that had arrived in the store since my last visit. Oh well.
I took three pictures of what I purchased while I was at Tyson's Corner after my trip. I found a new book at American Girl Place which focuses on the 1970's historical character Julie Albright. A few summers ago I devoted several weeks of Throwback Thursdays to doing reviews of the Julie books. I plan on doing a review of this new book soon.
I also discovered that since my last visit a Lolli and Pops candy store had opened at Tyson's Corner. I had already been to the one in Annapolis Mall and Westfield Montgomery Mall so it was no big deal that I wasn't able to get any pictures of the Tyson's Corner store. I purchased a small bag full of gummy bears made from champagne. (I found at least three different flavors of champagne in that store.) The last two photographs show my haul from that store.
I had a pretty busy Saturday before the Fourth of July holiday. I drove my car to the North Linthicum light rail station where I saw this cool looking art truck. Then I took the light rail to the Maryland State Fairgrounds in Timonium where I saw this excellent toy show that was literally a trip down memory lane for me.
As I went back to retrieve my car at the North Linthicum stop I decided to make a short drive to my hometown of Glen Burnie since I was in the area anyway. I went to Ann's Dari-Creme because the weather has finally gotten hot enough that I felt a craving for a milk shake from that place. It's a fun place to visit, which you can see in the photos I took for this blog post back in 2015.
The Accuweather app on my smartphone went off notifying me of a major thunderstorm that was passing through the region. The thunderstorm started after I ordered my milkshake and I was drinking it in the car. I decided to just stay in the car consuming my milkshake until the worst of the storm passed.
Afterwards I decided to heat towards Crabtowne USA. I initially thought about eating dinner there then playing its vintage pinball and video arcade games until I saw that the restaurant part was crowded. (I wasn't surprised since it was the weekend before the Fourth of July.) I decided to just stick with playing the games and I had a great time. So did the kids who were riding the one of the mechanical horses in the next photo.
The crab statue outside the place was all ready for the upcoming Fourth of July holiday with its own little American flag.
The next photo shows what the sky looked like outside of Crabtowne USA, which still showed the effects from that short yet intense thunderstorm which passed through the area.
And then there is the next photo, which reminds me that, yes, I am in Glen Burnie and it provided me with yet another reason why I'm not exactly rushing to move back to that town.
"I Don't Brake for Protesters"?!? What the ever loving fuck?!? Has this guy ever had an American Government class in high school? Had he even read the First Amendment to the U.S. Constitution, especially the sections about people having the right to peaceably assemble and allowing the petitioning for a governmental redress of grievances?!?
I don't see this kind of shit in Montgomery County or Prince George's County. I don't see this in Baltimore City or Howard County or Annapolis or Crofton. But I go to Glen Burnie and I see this shit and it makes my blood boil. This comes on the heels of seeing Donald Trump Make America Great Again signs on a few front lawns and that barber shop with a Confederate flag and that former Baltimore City police officer's ill-fated attempt to do a benefit concert in Glen Burnie as Al Jolson in blackface. I wouldn't be surprised if that asshole "I Don't Brake for Protesters" pickup truck driver was among those people who were protesting NPR tweeting texts from the Declaration of Independence on July 4.
That truck provided yet another reason why I am pretty grateful that I no longer have to live in Glen Burnie if I don't want to.
On the Saturday during the Fourth of July holiday weekend, I decided to check out this toy show that was being held at the Maryland State Fairgrounds.
It was such a feast for the eyes as the toys and various other vintage items were displayed at various vendor tables. The whole show took on the air of a flea market with an emphasis on vintage stuff dating anywhere from the 1900s to the 1990s.
Someone had a jukebox for sale, which reminded me of my childhood when many of the local restaurants had them and people could choose songs to play for about a quarter each.
The jukebox played music during the entire event. (Which proved that it definitely still worked.) I couldn't help taking pictures of the songs that were available on the jukebox. The majority of them were hits when I was a kid.
And speaking of music players, here's a vintage 8-track player with an Elvis Presley 8-track tape. I once had a stereo system that included an 8-track player but I never owned one like that. But I could've sworn that one of my friends or maybe one of my cousins had a player just like that but I don't know for sure. (Memory is one of those funny things where you remember something but you don't remember when, where, or how you remember it.)
Late last year I did a series of blog posts with accompanying photos known as A Tabletop Christmas (so-named because I limit my Christmas decorating to just a single tabletop in my living room). Among the items I showed off was a small plastic Santa Claus puppet that I've had since I was a child. I didn't know anything about the origins of this puppet. It wasn't until I went to the toy show when I saw a tiny plastic Santa puppet on sale that's identical to mine.
The only difference between the two is that this Santa still had its label at the base while mine doesn't have any labels at all. (I suspect that whatever label it had must've fallen off a long time ago.) My Santa puppet is currently stored in a box with the other Christmas decorations in the attic but here's a picture of my Santa puppet that I took last December.
At first I thought the animal in the next picture was a stuffed animal until I saw the dog move his eyes around. He laid there the entire time I was at that show.
This show also had examples of how the mighty had fallen. I found this book by disgraced former Fox News talk show host Bill O'Reilly on sale for only $1 at one of the tables. (LOL!)
There was one token of something new that I found. Someone was selling glow-in-the-dark versions of the hottest toy of 2017: Fidget Spinners.
By the way, you can check out a video I shot recently where I unboxed and played with one of those Fidget Spinners for the first time (and, no, the one I bought didn't glow in the dark).
Everywhere there were visual treats, many of which harkened back to my own youth.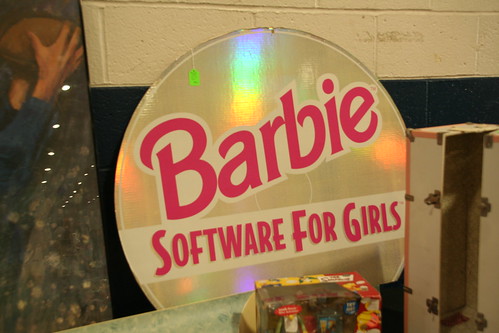 As I was walking back to the light rail stop I shot this photo of The Cow Palace building because it had a nice small garden.
I didn't buy a lot of stuff at that toy show due mainly to tight finances. But I managed to snag a couple of things at bargain rates. I found the second season of The Simpsons DVD set for only $6.
I bought a Monster High doll for only $5. I was attracted to her pretty winter-themed clothes. At first I thought I may have purchased a relative of The Snow Queen until I did an online search and I was able to make a definite identification. Based on this web page, her name is Abbey Bominable and she's described as the 16-year-old daughter of the Yeti.
Here's a closeup of her hair, which looks like it has glittery plastic pellets weaved throughout the strands. It gives a really cool ice/snow effect, especially when the light reflects off of her hair.