You are currently browsing the category archive for the 'Dolls' category.
Here are some miscellaneous random photos I recently took, starting with a couple of shots I took at Target.
What do you get when you mix LEGO with the dinosaurs from Jurassic Park? This DVD.
And here's Barbiezilla next to her normal-sized counterpart.
This next one was taken at Third Eye Comics in Annapolis, Maryland. Here are some DC superheroes as sex symbols.
And last, but not least, here is a dragon head wall decoration hanging inside Third Eye Games, also in Annapolis, Maryland.
Last Saturday I went to this event at Tanglewood Works in Hyattsville, Maryland, which was hosting a vintage pop-up event featuring clothes, jewelry, and other items made from vintage items by local artisans. When I arrived at the store, I noticed that it has recently gotten a new colorful paint job.
The next few photos show just a few of the vintage items that were available for sale last weekend.
After I went to Tanglewood Works, I walked across Route 1 where Franklin's General Store is located. The only photo I took while I was there was for this line of wine known as Mommy's Time Out. I have plenty of friends who are moms who could use this, especially when their children become challenging at times.
I went to the German Festival for the first time in three years. I almost missed it until I saw an ad for it on Saturday (which was the first day of the festival). I decided to go on the second and final day on the spur of the moment after I went to church that morning.
The German Festival ran the same weekend as Artscape but I was lured to the former by the fact that it was held indoors in an air conditioned building. (There was a massive heatwave that had been blanketing the area for at least two weeks.) Besides I still have less-than-fond memories of my last attendance at Artscape when I met two people from my childhood in Glen Burnie whom I did not want a reunion with.
I drove to the light rail stop in North Linthicum then took the light rail all the way to the Maryland State Fairgrounds. It started to rain the minute I got off the light rail but I brought an umbrella with me so it was no big deal. (It was another reason why I'm glad I didn't choose to go to Artscape this year.) There were practically no lines so it was no big deal getting inside. It was basically a nice event with many of the same vendors as my last attendance in 2014. I ate sauerbraten with noodles for lunch followed by a slice of black forest cake. Before I left I purchased two freshly baked cinnamon sticks to eat later. I also took a few pictures, which you can see below.
I spent the morning attending a networking event that was held at McLean Bible Church that ended at noon. Afterwards I decided to drive to Tyson's Corner Mall mainly because I was just a few miles away and I don't get to that mall too often so I decided stop there since I was in the area anyway.
I was last at that mall just a couple of weeks ago but I wasn't able to take too many pictures because of the current problem with my smartphone camera.
For this latest trip to Tyson's Corner, I decided to pack my older and heavier Canon Digital Rebel DSLR camera. I made every effort to charge my battery the night before. So I arrived at McLean Bible Church and took the first couple of photos with my smartphone camera only to have it stop taking pictures while getting one of those dreaded "Camera Error" messages. So I switched to the Canon Digital Rebel and took photos of the church because it was the first time I had even entered a megachurch (you can read more about this in my last post) until the battery in that camera ran out.
So I drove to Tyson's Corner Mall and left my Canon camera in the car. I decided to just take a chance with my erratic smartphone camera since it was at least fully charged.
Miraculously the smartphone camera started to work again. I was able to take a few pictures during my time at the mall, starting with this photo of some interesting looking cologne bottles.
What's really cool is that Art Whino has a store in Tyson's Corner. I still remember going to their original store at National Harbor. It's pretty cool that they have expanded to a second location.
I was able to make a return trip to the American Girl Place, where I was able to take the photos that I wasn't able to take a few weeks earlier. The next photo shows the newest historical BeForever doll. Her name is Melody Ellison and she's supposed to represent the 1960s. The way she wears her hair reminds me very much of the hairstyle that Marlo Thomas wore in the 1960's TV series That Girl. My grandmother used to watch re-runs of that sitcom during the daytime while she babysat me (both of my parents worked outside the home during the day) so I have vague recollections of that series. (I haven't watched it as an adult so I have no idea how funny or even good that series is. I haven't heard that sitcom airing anywhere in years.) The doll was released last year but I haven't been able to make it back to the American Girl Place to see her in person until recently.
Here's Maryellen Larkin, who's supposed to represent the 1950s, next to a pink refrigerator. I've seen real-life vintage photos of pink refrigerators and other pink appliances. (I read on one website that there was this popularity surge in pink items because it was First Lady Mamie Eisenhower's favorite color.) I showed an American Girl catalogue featuring the pink refrigerator to my mother last year and she remembered when pink refrigerators were actually popular.
American Girl has decided to unveil a new line of modern dolls that aren't the Girl of the Year, which means that the dolls in this line will be on sale for more than one year. The first doll released in that line is Tenney Grant, who's an aspiring country singer and musician. (Think of a pre-teen Taylor Swift.)
This new line has also led to the official release of the first male American Girl doll. His name is Logan Everett, he's Tenney's closest friend, and he plays the drums.
The release of Logan Everett has been controversial. One pastor says that the Logan doll is American Girl's attempt to emasculate boys. Some Native Americans are peeved because Logan uses a face mold that was originally designed especially for another American Girl doll—Kaya, one of the historical BeForever dolls who is also the only Native American character that has been released. The face mold with the closed mouth smile was designed especially for Kaya because her tribe discourages showing teeth when smiling. Using the same face mold for a white boy not only removes the cultural impact but it also implies that Native American girls like Kaya are more "masculine" than girls of other races and ethnicities.
Having seen Logan in person, I have to admit that I'm underwhelmed by him. He wears clothes that are reminiscent of the 1990's grunge era but, otherwise, I'm not much impressed by him. He's okay but he doesn't strike me enough to consider saving $115 to buy him.
Tenney is cute but she doesn't impress me enough to consider shelling out $115 for her. Although I do love her turquoise guitar with the cool white floral design motif. If American Girl wasn't charging $34 for that toy guitar, I would seriously consider buying it for one of my other dolls.
There were other new dolls that I wanted to photograph but my smartphone camera started giving out that "Camera Error" message again. I tried rebooting the camera app and the entire smartphone itself but I still kept on getting that same message. At least I was lucky that I was able to take pictures of the various dolls before my smartphone camera app started to act erratic again.
I was in a good mood that day for a few personal reasons (mostly related to my ongoing hunting for a new day job to pay my bills) that I decided to take the Silver Line Metro to Tyson's Corner for the first time in over a year.
I ate dinner at Wasabi, which not only has good sushi but it has such a unique method of delivery that I shot this short video during a previous visit six years ago.
I also visited other stores like American Girl Place. The bad news is that I am currently dealing with the fact that the camera on my three and a half year old smartphone has been acting erratically since Christmas. Sometimes the camera will work and sometimes it doesn't. There are times when I have to haul my older Canon Digital Rebel DSLR camera if I want to go to a place where I want to take pictures in order to ensure that I have at least one working camera. The downside is that the Canon is larger and heavier and it shoots in fewer megapixels than my smartphone and the images are less sharp than my smartphone camera no matter how much I focus the lens.
The phone part still works and money is still too tight for me to get a new smartphone. (If the phone part ever dies, I will have no other choice but to buy a new phone but I'm trying to make my current one last as long as possible.) I have to make do with what I have right now.
On that day I felt lazy so I left the Canon at home. That was a big mistake, especially at American Girl Place because I missed out on taking pictures on some gorgeous new dolls that had arrived in the store since my last visit. Oh well.
I took three pictures of what I purchased while I was at Tyson's Corner after my trip. I found a new book at American Girl Place which focuses on the 1970's historical character Julie Albright. A few summers ago I devoted several weeks of Throwback Thursdays to doing reviews of the Julie books. I plan on doing a review of this new book soon.
I also discovered that since my last visit a Lolli and Pops candy store had opened at Tyson's Corner. I had already been to the one in Annapolis Mall and Westfield Montgomery Mall so it was no big deal that I wasn't able to get any pictures of the Tyson's Corner store. I purchased a small bag full of gummy bears made from champagne. (I found at least three different flavors of champagne in that store.) The last two photographs show my haul from that store.
On the Saturday during the Fourth of July holiday weekend, I decided to check out this toy show that was being held at the Maryland State Fairgrounds.
It was such a feast for the eyes as the toys and various other vintage items were displayed at various vendor tables. The whole show took on the air of a flea market with an emphasis on vintage stuff dating anywhere from the 1900s to the 1990s.
Someone had a jukebox for sale, which reminded me of my childhood when many of the local restaurants had them and people could choose songs to play for about a quarter each.
The jukebox played music during the entire event. (Which proved that it definitely still worked.) I couldn't help taking pictures of the songs that were available on the jukebox. The majority of them were hits when I was a kid.
And speaking of music players, here's a vintage 8-track player with an Elvis Presley 8-track tape. I once had a stereo system that included an 8-track player but I never owned one like that. But I could've sworn that one of my friends or maybe one of my cousins had a player just like that but I don't know for sure. (Memory is one of those funny things where you remember something but you don't remember when, where, or how you remember it.)
Late last year I did a series of blog posts with accompanying photos known as A Tabletop Christmas (so-named because I limit my Christmas decorating to just a single tabletop in my living room). Among the items I showed off was a small plastic Santa Claus puppet that I've had since I was a child. I didn't know anything about the origins of this puppet. It wasn't until I went to the toy show when I saw a tiny plastic Santa puppet on sale that's identical to mine.
The only difference between the two is that this Santa still had its label at the base while mine doesn't have any labels at all. (I suspect that whatever label it had must've fallen off a long time ago.) My Santa puppet is currently stored in a box with the other Christmas decorations in the attic but here's a picture of my Santa puppet that I took last December.
At first I thought the animal in the next picture was a stuffed animal until I saw the dog move his eyes around. He laid there the entire time I was at that show.
This show also had examples of how the mighty had fallen. I found this book by disgraced former Fox News talk show host Bill O'Reilly on sale for only $1 at one of the tables. (LOL!)
There was one token of something new that I found. Someone was selling glow-in-the-dark versions of the hottest toy of 2017: Fidget Spinners.
By the way, you can check out a video I shot recently where I unboxed and played with one of those Fidget Spinners for the first time (and, no, the one I bought didn't glow in the dark).
Everywhere there were visual treats, many of which harkened back to my own youth.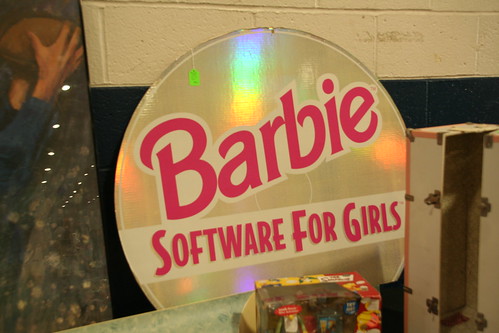 As I was walking back to the light rail stop I shot this photo of The Cow Palace building because it had a nice small garden.
I didn't buy a lot of stuff at that toy show due mainly to tight finances. But I managed to snag a couple of things at bargain rates. I found the second season of The Simpsons DVD set for only $6.
I bought a Monster High doll for only $5. I was attracted to her pretty winter-themed clothes. At first I thought I may have purchased a relative of The Snow Queen until I did an online search and I was able to make a definite identification. Based on this web page, her name is Abbey Bominable and she's described as the 16-year-old daughter of the Yeti.
Here's a closeup of her hair, which looks like it has glittery plastic pellets weaved throughout the strands. It gives a really cool ice/snow effect, especially when the light reflects off of her hair.