You are currently browsing the tag archive for the 'Timonium' tag.
On the Saturday during the Fourth of July holiday weekend, I decided to check out this toy show that was being held at the Maryland State Fairgrounds.
It was such a feast for the eyes as the toys and various other vintage items were displayed at various vendor tables. The whole show took on the air of a flea market with an emphasis on vintage stuff dating anywhere from the 1900s to the 1990s.
Someone had a jukebox for sale, which reminded me of my childhood when many of the local restaurants had them and people could choose songs to play for about a quarter each.
The jukebox played music during the entire event. (Which proved that it definitely still worked.) I couldn't help taking pictures of the songs that were available on the jukebox. The majority of them were hits when I was a kid.
And speaking of music players, here's a vintage 8-track player with an Elvis Presley 8-track tape. I once had a stereo system that included an 8-track player but I never owned one like that. But I could've sworn that one of my friends or maybe one of my cousins had a player just like that but I don't know for sure. (Memory is one of those funny things where you remember something but you don't remember when, where, or how you remember it.)
Late last year I did a series of blog posts with accompanying photos known as A Tabletop Christmas (so-named because I limit my Christmas decorating to just a single tabletop in my living room). Among the items I showed off was a small plastic Santa Claus puppet that I've had since I was a child. I didn't know anything about the origins of this puppet. It wasn't until I went to the toy show when I saw a tiny plastic Santa puppet on sale that's identical to mine.
The only difference between the two is that this Santa still had its label at the base while mine doesn't have any labels at all. (I suspect that whatever label it had must've fallen off a long time ago.) My Santa puppet is currently stored in a box with the other Christmas decorations in the attic but here's a picture of my Santa puppet that I took last December.
At first I thought the animal in the next picture was a stuffed animal until I saw the dog move his eyes around. He laid there the entire time I was at that show.
This show also had examples of how the mighty had fallen. I found this book by disgraced former Fox News talk show host Bill O'Reilly on sale for only $1 at one of the tables. (LOL!)
There was one token of something new that I found. Someone was selling glow-in-the-dark versions of the hottest toy of 2017: Fidget Spinners.
By the way, you can check out a video I shot recently where I unboxed and played with one of those Fidget Spinners for the first time (and, no, the one I bought didn't glow in the dark).
Everywhere there were visual treats, many of which harkened back to my own youth.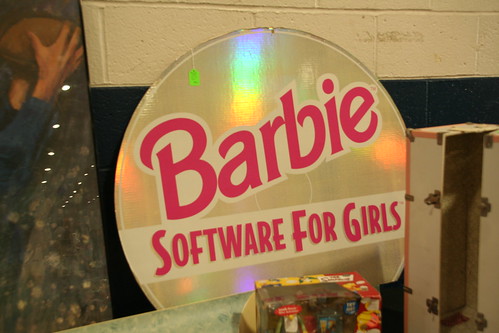 As I was walking back to the light rail stop I shot this photo of The Cow Palace building because it had a nice small garden.
I didn't buy a lot of stuff at that toy show due mainly to tight finances. But I managed to snag a couple of things at bargain rates. I found the second season of The Simpsons DVD set for only $6.
I bought a Monster High doll for only $5. I was attracted to her pretty winter-themed clothes. At first I thought I may have purchased a relative of The Snow Queen until I did an online search and I was able to make a definite identification. Based on this web page, her name is Abbey Bominable and she's described as the 16-year-old daughter of the Yeti.
Here's a closeup of her hair, which looks like it has glittery plastic pellets weaved throughout the strands. It gives a really cool ice/snow effect, especially when the light reflects off of her hair.
Since today is Groundhog Day, I'd thought I'd post some photos I took at last weekend's World of Pets Expo that took place at the Maryland State Fairgrounds in Timonium, Maryland. I last went there in 2014 when I was battling a nasty chest cold. This year I was in much better health so I was able to enjoy myself at the expo even more. There were all kinds of vendor booths for both pets and their owners. There were various competitions for dogs including running through an obstacle course and jumping into a pool. I even went into a stall in the women's restroom that had two toilets in the same stall.
There were all kinds of animals on display including llamas. Here are the pictures I took at that expo.
I once had a cousin tell me about this annual expo for pets that is held at the Maryland State Fairgrounds in Timonium and it sounded really interesting. I've been without a pet since the death of Spike the Hedgehog last September. I thought I would attend the World of Pets Expo while researching potential future pets.
The only bad thing was that I have been battling a nasty chest cold since late on Martin Luther King Day (the day before this snowstorm mixed with yet another Polar Vortex) and I was still feeling congested. But I had been looking forward to going to The World of Pets Expo and Saturday was the only day I could attend. If I didn't attend that day, I would have to either 1) wait a couple of weeks for the World of Pets Expo to open in Hampden, Virginia (which would be at least a four-hour commute for me) or 2) wait a whole year for the expo to return to Timonium.
So I decided to tough it and make the drive to the Maryland State Fairgrounds in Timonium. I quickly found that it was so crowded that it took me a while to find parking. As I walked in the very cold Polar Vortex air, I kept on huffing but I was lucky enough that I didn't have a long walk to get to the entrance to the building where the expo was held. Across the street from the expo building was this trailer that offered dog teeth cleaning.
Here's the banner that graced the box office where one bought admission tickets.
When I entered the expo, I found that the building was warm, which was the good news. The bad news was that I started to wheeze. I have no idea if it was because of the overabundance of pet hair or I'm still suffering from that chest cold or some combination of the two. I tried to take frequent breaks but I constantly felt like I was out of breath. I had such a hard time breathing that I left after about 45 minutes. I managed to take some pictures but I definitely know that going to this event when I was still sick with the chest cold was a major mistake on my part.
It's a shame that I had to get sick because it was a really good expo, which was filled with all kinds of things that one could purchase for Fido or Kitty as well as pet-themed arts and crafts, information tables about the various animal rescue groups, and even jewelry for humans. Many of the visitors brought their animals on leashes so pet and owner could enjoy the expo together.
When I was growing up outside of Baltimore, I can remember a time when many ethnic groups used to have festivals in Rash Field, located in the Inner Harbor throughout the spring, summer, and fall. That was in the days before Harborplace opened in 1980. There were German Festivals, Italian Festivals, Polish Festivals, Irish Festivals, Lithuanian Festivals, Jewish Festivals, African American Festivals, etc. I can remember when I used to go to many of these festivals with my family while I was growing up. The admission was free, there was a lot of entertainment for people of all ages, there were all kinds of food and crafts on sale.
Even after Harborplace opened, the ethnic festivals used to continue in Rash Field. Many people used to go to the festivals then head to Harborplace to cool off (especially on hot and humid days). But when an indoor complex known as Festival Hall opened in the Inner Harbor, many of those festivals shifted to that building. Festival Hall was air conditioned so it was an improvement over Rash Field. I still remember soon after I was married when my husband and I went to the Irish Festival that was held in Festival Hall and we met up with my parents there.
When the Baltimore Convention Center decided to double its original space, Festival Hall was torn down to accomodate the expansion. On top of it, the city of Baltimore began to charge fees for public events like ethnic festivals, so many of them migrated out of Baltimore. I was sad when this happened because the ethic festivals were pretty fun to attend.
Recently I was driving to Lutherville-Timonium. My plan was to go to Sea Breeze Pet Center, where I originally got my pet hedgehog, pick up some food for Spike, then drive south on I-83 to Baltimore so I could drop off my artwork that would be on display in the currently running Station North Arts District Salon Show.
I was pretty disappointed when I saw that Sea Breeze had gone out of business. At that point I decided to head on to Baltimore. I drove past the Maryland State Fairgrounds when I saw a giant banner advertising the German Festival that was being held that weekend starting the following day (Saturday). I began to kick myself for not waiting until the next day to make the trip (the art show also had hours on Saturday where people can drop off their art) where I could've been so disappointed about Sea Breeze's closing that I would've decided to make the short drive to the German Festival, stay there for about an hour or two, then go to Baltimore.
The next day I woke up and I began to think about that German Festival banner I saw the day before. I remember my fond memories of attending the German Festival when it was held in Rash Field and it would be a rare opportunity for me to eat German food and revel in German culture. (That's because I live in an area where Salvadoran, Peruvian, Mexican, Japanese, Korean, Italian and Chinese restaurants are more prevalent.) The downside would be that I would be making another long car commute to the Timonium area for the second day in a row. Despite that downside, I decided to go for it because it has been a long time since I ate anything at a German restaurant and it has been several years since I last attended the German Festival when it was still held in Baltimore.
Besides, I had one great-grandfather, Wilhelm Karle, who immigrated to Baltimore from what was then the German region of Alsace-Lorraine (which is now part of France).
Here's the building on Maryland State Fairgrounds where the German Festival was held.
The rest of the photos show all the aspects of the German Festival. There was plenty of German beer and wine to choose from. There was prepared German food for eating at the festival or for takeout. (I even took a photo of this slice of Black Forest cake that I purchased for myself). There was packaged German food for future meals and snacks. There was German music and dancing. There were information tables about the German American Associations in Maryland. There were German crafts. There were also Polish-style ceramic cookware and Russian matryoshka dolls. There was even a Punch & Judy puppet show for children. I managed to stay around for a few hours and enjoy myself.