You are currently browsing the category archive for the 'Famous People' category.
On the Saturday during the Fourth of July holiday weekend, I decided to check out this toy show that was being held at the Maryland State Fairgrounds.
It was such a feast for the eyes as the toys and various other vintage items were displayed at various vendor tables. The whole show took on the air of a flea market with an emphasis on vintage stuff dating anywhere from the 1900s to the 1990s.
Someone had a jukebox for sale, which reminded me of my childhood when many of the local restaurants had them and people could choose songs to play for about a quarter each.
The jukebox played music during the entire event. (Which proved that it definitely still worked.) I couldn't help taking pictures of the songs that were available on the jukebox. The majority of them were hits when I was a kid.
And speaking of music players, here's a vintage 8-track player with an Elvis Presley 8-track tape. I once had a stereo system that included an 8-track player but I never owned one like that. But I could've sworn that one of my friends or maybe one of my cousins had a player just like that but I don't know for sure. (Memory is one of those funny things where you remember something but you don't remember when, where, or how you remember it.)
Late last year I did a series of blog posts with accompanying photos known as A Tabletop Christmas (so-named because I limit my Christmas decorating to just a single tabletop in my living room). Among the items I showed off was a small plastic Santa Claus puppet that I've had since I was a child. I didn't know anything about the origins of this puppet. It wasn't until I went to the toy show when I saw a tiny plastic Santa puppet on sale that's identical to mine.
The only difference between the two is that this Santa still had its label at the base while mine doesn't have any labels at all. (I suspect that whatever label it had must've fallen off a long time ago.) My Santa puppet is currently stored in a box with the other Christmas decorations in the attic but here's a picture of my Santa puppet that I took last December.
At first I thought the animal in the next picture was a stuffed animal until I saw the dog move his eyes around. He laid there the entire time I was at that show.
This show also had examples of how the mighty had fallen. I found this book by disgraced former Fox News talk show host Bill O'Reilly on sale for only $1 at one of the tables. (LOL!)
There was one token of something new that I found. Someone was selling glow-in-the-dark versions of the hottest toy of 2017: Fidget Spinners.
By the way, you can check out a video I shot recently where I unboxed and played with one of those Fidget Spinners for the first time (and, no, the one I bought didn't glow in the dark).
Everywhere there were visual treats, many of which harkened back to my own youth.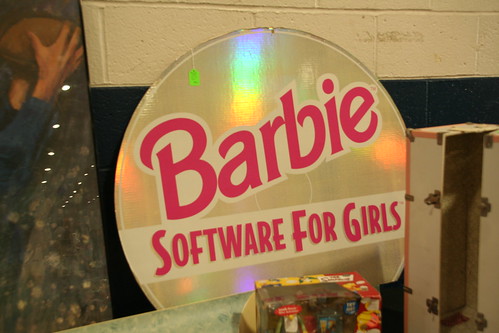 As I was walking back to the light rail stop I shot this photo of The Cow Palace building because it had a nice small garden.
I didn't buy a lot of stuff at that toy show due mainly to tight finances. But I managed to snag a couple of things at bargain rates. I found the second season of The Simpsons DVD set for only $6.
I bought a Monster High doll for only $5. I was attracted to her pretty winter-themed clothes. At first I thought I may have purchased a relative of The Snow Queen until I did an online search and I was able to make a definite identification. Based on this web page, her name is Abbey Bominable and she's described as the 16-year-old daughter of the Yeti.
Here's a closeup of her hair, which looks like it has glittery plastic pellets weaved throughout the strands. It gives a really cool ice/snow effect, especially when the light reflects off of her hair.
As you may have heard, Bill Cosby was accused of raping up to 60 women (the earliest allegation took place in the mid-1960's) but, due to statue of limitations, prosecutors were only able to charge him with one of the rapes. In time Cosby's original deposition from a 2005 lawsuit was unsealed where he admitted sneaking drugs to women so he could have sex with them.
This week his criminal trial ended in a mistrial. You'd think that with such an outcome Bill Cosby would decide to lay low for a while. Well, you'd think wrong for Bill Cosby is planning to go on tour. As The New York Times reports:
Bill Cosby is planning a series of town hall meetings this summer to educate people, including young athletes and married men, on how to avoid accusations of sexual assault, two of his representatives said Wednesday.
WTF?!? This is just like Adolf Hitler giving talks on how to avoid being accused of anti-semitism. This is totally unbelievable.
I'm going to save you the time, money, and effort that it would take to attend one of Bill Cosby's town hall meetings and just tell you about how you can avoid accusations of sexual assault.
1) Don't slip mickeys in other people's drinks with any kind of drug—regardless of whether the drug is legal or illegal.
2) Always get the other person's consent before starting sex. If the person says "NO" either before or even during sex, stop immediately.
3) Don't even THINK about having sex with anyone who's legally incapable of giving consent, such as underaged minors and people who are passed out from being drunk and/or stoned.
4) Try not to be the only adult who's alone with a minor, especially one who's not related to you. (That includes hosting unsupervised sleepovers in your home.)
That's it. Now you won't have to go to one of Bill Cosby's town halls to learn about how to avoid sexual assault accusations. You're welcome.
Like I wrote yesterday, I decided to devote a separate post to my attendance at the latest installment of Dr. Sketchy's Anti-Art School in the Dupont Circle area of Washington, DC because it would have made my last post extremely long otherwise.
This event was held during DC Pride Weekend and it was also held on the same day as a big demonstration on the Mall for LGBTQ rights. I wasn't able to make it because I attended Sunday service at my church that morning, Dr. Sketchy's was supposed to begin at 3 p.m., and there's the issue of Metro's unreliable weekend service where you typically have to wait between 15 minutes to a half-an-hour for the next train. I wasn't too bitter about missing the march because it was very hot outside. (The temperature went as high as 95 degrees with high humidity.)
I saw rainbow flags everywhere in Dupont Circle as I was walking to the Bier Baron, where the event was held. Even the Bier Baron itself was decked out in rainbow colors.
Once I was inside I even got in on the act by laying out my pencils in a rainbow pattern.
Once again Reverend Valentine hosted the event. I gave her this toy dinosaur that I found outside Makerspace 125 in Greenbelt, which was among the items that the STEM center invited the general public to take for free. (Makerspace 125 is currently undergoing some major spring cleaning and reorganization of the space.) I knew she was into dinosaurs so I figured what the hell since it was free and everything. (Besides, it gives me the excuse to post this picture right here.)
She loved it when I gave it to her. She said that it will live with the other toy dinosaurs that she has on display in her kitchen.
The event was pretty well-attended despite the fact that it was scheduled during DC Pride Weekend and that big march was still going on at the Mall just a few miles away. The model for this event was a burlesque performer named Amira Jade and some of these drawings are definitely NSFW.
There was only one contest at that event. This one was a beach theme. She said that she would also give extra points for including a dinosaur. So I had Amira Jade with Dino the Dinosaur.
I also decided to ad Batman surfing on a surfboard in the ocean as my personal tribute to Adam West, the actor who played Batman in the 1960's TV series who had died the day before. It was based on this incredibly campy clip from the TV show.
My drawing made it among the finalists but I didn't win. Oh well. You win some and you lose some.
I did a couple of more drawings of Amira Jade before the event ended.
For all the times I've been to Dupont Circle, I've never went there during DC Pride Weekend, even though I've lived in the Washington, DC area for years. The only reason why I went this year was because Dr. Sketchy's Anti-Art School was held at the Bier Baron that day. I originally planned on writing one post until I looked through the pictures and realized that I had taken so many that it really warranted writing two separate blog posts about my one day in Dupont Circle during DC Pride Weekend. This post will focus on the photographs I took that day while the Dr. Sketchy's post will have to wait until the next one.
DC Pride Weekend had a big parade and party that took place in Dupont Circle the previous day. I wasn't able to make it because of tight finances (the Metro system is not only getting more expensive but yet another fare increase is set to take place by the end of this month) and this heatwave has settled in the area so the temperature reached a high of around 95 degrees F.
The following day it was still very hot and humid with highs reaching 95 once again. At least the Metro trains are air conditioned and I spent as much time in the various air conditioned stores as possible. While Saturday was the big party and parade in Dupont Circle, Sunday was slated as a day of protest on the Mall. I wasn't able to make it to that protest mainly because I attended church in the morning and Dr. Sketchy's started at 3 p.m. so there was literally no way I could squeeze going to the National Mall in between (especially given Metro's flaky weekend schedule where you could wait anywhere from 15 minutes to a half-an-hour or even longer depending on which stop you're at and if Metro is doing any kind of maintenance work on a certain line at a certain station). I saw this couple who were clearly on their way to the Mall march.
I arrived at the Dupont Circle Metro station, which was definitely decorative for the occasion by having its list of scheduled trains arranged like the rainbow flag.
It was also fitting that the same station had this banner ad for Cher's upcoming concert at the MGM casino in nearby National Harbor.
I didn't mind missing the big march on the Mall, especially when I stepped outside and felt the high heat and high humidity smack me in the face. There were people milling around in Dupont Circle but I suspect that there were far more people protesting at the Mall. The first thing I did was head over to Kramerbooks & Afterwords Cafe where I saw these LGBTQ-friendly signs.
There was also this excellent sign that made fun of Donald Trump's notorious "covfefe" tweet by announcing a new Covfefe cocktail featuring White Russian while providing quotes from former FBI director James Comey's recent testimony that introduced the phrase "honest loyalty" into the English language.
I browsed among the books at Kramerbooks & Afterwords Cafe while noticing this prominent shelf towards the front of the store featuring LGBTQ books.
I also saw rainbow flags and store patrons who were all decked out in rainbow and/or LGBTQ-themed attire .
After Kramerbooks & Afterwords Cafe I walked along the streets of Dupont Circle where I noticed rainbow flags everywhere and people dressed in rainbows. I took the bulk of these pictures before and after Dr. Sketchy's. (Hooray for longer daylight hours!)
I eventually made my way to the Bier Baron, where Dr. Sketchy's took place. Even that place was decked out in rainbows.
I even got into the rainbow festivities by taking pictures of my colored pencils all lined up in a loose Roy G Biv rainbow pattern (which also included colors one usually don't see in a rainbow like brown and white) before Dr. Sketchy's began.
Like I wrote earlier, I'll devote my next post to what I drew at Dr. Sketchy's.
While there were rainbow colored palettes everywhere in Dupont Circle, I found this one interesting non-rainbow thing that I photographed. This is a tiny statue (which reaches no higher than my calf) of a baby sleeping on top of a baby elephant. How cute!
I ended my time at the fountain that's located right in the middle of Dupont Circle. There were a few people chilling out even though it was dinnertime and the temperature was very hot and humid. Strangely the fountain was turned off that day plus the basin had no water in it. (I honestly don't know what is going on with that fountain.)
That's it for now. Stay tuned for my next post on attending Dr. Sketchy's Anti-Art School at the Bier Baron during DC Pride Weekend. 🙂
Right now the big scandal is whether President Donald Trump was elected with a little help from his friend, Russian Premiere Vladimir Putin. Then-FBI Director James Comey was investigating the matter until President Trump abruptly fired him.
I could write a long separate blog post about this scandal except for the fact that there have already been so much written about this matter that anything I write here would be redundant. I'll keep this post short by saying that James Comey was subpoenaed to testify before the Senate on his investigation, which began at 10 a.m. on June 8, 2017. I live outside of Washington, DC so naturally this scheduled testimony became the big talk of the town. In fact, some of the local bars decided to open way earlier than usual so people can watch the proceedings live on the TV screens while drinking alcohol. (Only in DC would the bars do something like this for a Senate hearing.)
The Greenbelt Theater decided to get in on the action by opening at 10 a.m. so it can broadcast the proceedings on the big screen. (The big difference is that the theater doesn't serve alcohol.) I wasn't able to get to the theater right at 10 because I was busy getting ready for another job hunting-related event at the state-run Maryland Workforce Exchange that was being held at the Laurel office that afternoon. I managed to arrive around noon. I set the alarm on my smartphone because I could only devote a half-an-hour to watching this because I had to get to Laurel. It turned out that I arrived at the tail end of the proceeding and it ended after I was there for 20 minutes. I managed to take a few token pictures to give you an idea of what it's like to see something like this on the big screen.
In case you've missed it, you can read a summary of Comey's testimony right here.
A new shopping center has just been opened a few months ago in Riverdale Park, Maryland but I decided to wait a few months until the crowds drawn by the novelty of a new place have died down. In addition, I decided to go on a weeknight because I've seen the parking lot filled with cars on the weekend. Here are the photographs I took.
The new shopping center's main draw is a Whole Foods Market.
In the middle of the new shopping center is this really interesting statue of a blue bear.
If you look up close at that statue you'd see the statue is composed of little blue butterfly-shaped pieces.
Behind the bear statue is this low-level fountain where the water seems to spout from the ground. I can imagine kids splashing around in that fountain once the summer heatwave begins in earnest.
The new shopping center is located on what was once a farm. Here is some background. Riverdale Park was originally a big plantation known as Riversdale Park (note the additional "s"), which was founded by descendants of the original Lord Baltimore, George Calvert (who founded what eventually became the state of Maryland). One of his descendants, Charles Baltimore Calvert, inherited a portion of the original Riversdale Park plantation and he named it MacAlpine Farm after his wife's family home in Scotland. While Riversdale Park grew tobacco using slave labor, MacAlpine Farm was more of a general farm that grew a variety of crops and raised livestock while using paid labor.
Eventually much of the land surrounding both Riversdale Park and MacAlpine Farm were sold to developers. The original Riversdale mansion still stands with just a small portion of the original grounds remaining. (Last summer I took extensive photos of the place while I was attending a drawing event there.) Much of MacAlpine Farm was razed with the exception of this building in the next two photographs.
This building is the remains of a 19th century icehouse that once served MacAlpine Farm. The sign in the next photo provides information about this icehouse. Basically icehouses were once common prior to electricity being widely adopted. Ice would be harvested further north from either freshwater rivers and lakes or ice manufactured by electrically powered factories. The ice would be stored in an icehouse, whose foundation ran several feet below the earth. Icehouses like this one became obsolete when government-supported rural electrification programs started in the 1930's. This icehouse can be found on the perimeter of the shopping center parking lot.
So far there are only two places opened at this new shopping center. One is Whole Foods Market and the other is a Starbucks that's located directly around the corner from Whole Foods.
A few people decide to socialize and eat al fresco outside one of the Whole Foods side entrances. (It was pretty balmy weather that evening.)
This Whole Foods have a few nice touches, such as this place where bicyclists can inflate their tires and maker other minor repairs.
Not only does this store promotes composting and recycling but it even provides a special water fountain for pets.
There are designated parking spots for electric cars along with a recharging pump.
This Whole Foods Market has only been opened for a few months so everything is still brand-new.
I walked around it and I basically limited my purchase to a couple of cookies because the store is a bit on the pricey side. (There's a reason why many detractors refer to this store as "Whole Paycheck.") There was an area where people can order artisanal hearth baked pizza for either consuming on the premises (there were tables provided nearby) or to take home. I really liked that large blue-tiled oven in the background that had "RIVERDALE" in written in white tile.
Next to the area where you can order pizza there is a baking area that's behind transparent plexiglass so shoppers can see various baked goods made on the premises.
This new shopping center is still a work in progress (so far Whole Foods and Starbucks are the only places currently opened). The last two photos show addition store space currently under construction. I have no idea when the construction will be finished or what stores are scheduled to move in there.
UPDATE (June 16, 2017): Who could've predicted that just a few months after this particular Whole Foods opened and a mere two days after this post went live that Amazon.com would buy the entire Whole Foods chain? Not me, that's for sure. That announcement came from out of the blue since I hadn't previously heard of Amazon even publicly expressing any kind of interest in Whole Foods. It'll be interesting to see whether this merger will have an effect on prices at Whole Foods since that chain has long had a reputation for prices so high that it's been dubbed "Whole Paycheck" while Amazon has long been into keeping prices as cheap as possible.
Last fall I started a separate YouTube channel after a friend of mine urged me to do so. It's supposed to be a "professional channel" that's designed to build my personal brand. He was saying that doing everything that he told me to do would result in my getting hired. He wanted me to start doing book reviews where I would check nonfiction books (preferably with "uplift") out of the library, read them, and do video book reviews just like what he does on his channel. I also added some videos I did using the MySimpleShow.com platform plus one video that I shot when the local shopping center started playing Christmas music the day after Halloween. (Yeah, that one was strange.)
I started to lose enthusiasm for that channel after the first few tries. I think the problem is that I had created that channel to someone else's specifications instead of my own, even though it's supposed to be my channel in theory. I attempted to put my own personal touch by doing this video review for this book I found in the library—a book on the history of 20th century fashion called Dressing the Decades by Emmanuelle Dirix. I enjoyed working on that book review the most because it was on a topic that interested me. While that video review got more hits than the others I've done, I decided to stop doing the video book reviews because it wasn't worth the effort I had put into those video book reviews only to get very anemic responses.
But then last month I got a message through Facebook from Emmanuelle Dirix herself saying that she liked what I did. I was so thrilled with the response that I wrote a blog post about it.
At the same time this happened I had just started reading the latest library book I had checked out. It's called Lonely Boy: Tales From a Sex Pistol and it's Steve Jones' memoir about his life and career as The Sex Pistols guitarist. I originally had no intention of doing any kind of book review—I just wanted to read it because I've been a Sex Pistols fan since I was a teen.
But after hearing from Emmanuelle Dirix about my review of her book, I decided to try doing a video book review of Lonely Boy just to see what kind of response I'll get from it. I may or may not do more video book reviews depending on the response I get to this one. It takes a lot of effort to make these videos (including using Post-It Notes to mark excerpts that I need to digitally copy, writing a script, and making the video itself).
So, without further ado, here is my video review of Lonely Boy: Tales From a Sex Pistol written by Steve Jones and Ben Thompson.