You are currently browsing the category archive for the 'Plushies' category.
Previous in This Series
The Day Before the Greenbelt Labor Day Festival
I really got into shooting a bunch of photos with my new Canon PowerShot ELPH 190IS camera (which I purchased used on eBay for $80) throughout the entire weekend-long Greenbelt Labor Day Festival. My time began when I submitted my artwork to be shown at the Art Show portion of the festival.
The one thing I noticed about this year's festival was the weather. Usually the weather tends to be on the warm to hot side with some years being in the 70's with low humidity while other years the temperature rises somewhere between 85-95 degrees with high humidity. This year's weather was really unusual in that the temperature was in the 60's and it was so cool outside that I wore long pants for the first night instead of the usual shorts.
On my way to and from submitting my art I shot the very early phases of the festival as it was opening to the general public for the very first time.
The most memorable food booth was this one which not only sold funnel cakes but also fried Oreos, fried Rice Krispies treats, fried cheesecake, and even fried Twinkies.
For the many years that I've appeared at the annual Greenbelt Labor Day Festival, the one thing I have never done before is sit in on the opening ceremony. I decided to finally do this for the first time ever. As I sat in the stands, I took a photo of these nice textured clouds that were floating over our heads.
The opening ceremony included an appearance by the color guard and we all stood as they played the national anthem.
Here's a photo of one of the photographers who was shooting the opening ceremony.
I managed to figure out how to use the zoom button on my new camera so I can take a few close-up shots of the stage, which was just in time for the next part of the opening ceremony. For the first time I actually saw the awarding of the annual Greenbelt Outstanding Citizen. Paul Downs, a local artist and environmental activist, won this year's award. Here he is on the right receiving the award.
Paul is flanked by Greenbelt Mayor Emmett Jordan (second from left) and the members of the Greenbelt City Council.
Paul's friends and family were invited to go on stage so they can have their photograph next to him.
Paul Downs gave a short acceptance speech.
The general public was invited to a reception for Paul at the nearby Greenbelt City Hall, which would begin in about 15 minutes after the opening ceremony ended. I killed some time by taking a few more photos of the various festival attractions at twilight.
I arrived at the reception, which was well attended.
Cake and punch were served at the reception.
Paul Downs can be seen taking to a well-wisher on the right in the next photo.
Greenbelt Mayor Emmett Jordan (on the right) hosted another ceremony to honor Paul Downs.
Paul was awarded a miniature replica of Greenbelt's iconic Mother and Child statue.
Paul Downs posed with some of the winners of the previous years' Greenbelt Outstanding Citizen award.
Here's a closeup shot of Paul with his miniature Mother and Child replica.
Up until this point I had the camera set on the automatic function. By the time I stepped outside again I found that the sun had set. I decided to change the camera settings to night so I could continue to take pictures of the festival.
I spent some time at the bingo table while I played a couple rounds of bingo.
This next photo shows a bingo variant where the winner was required to simply spell the letter "P" on the bingo card. Instructions were handed out on the acceptable way of spelling that letter.
Greenbelt Mayor Emmett Jordan (left) stands next to a couple of Greenbelt police officers.
I purchased two items at the festival that night. Both of them were at the used book table that was run by the Greenbelt Elementary School PTA. One was a DVD set of the first season of Monty Python's Flying Circus, which I only purchased for $4.
The other is this book titled Songs of the Gilded Age. It's a music book full of songs that were written between 1890-2000 that I only purchased for $2. I can't wait to plug some of these tunes into MuseScore, just like what I did with a few vintage sheet music that I purchased for 25 cents each at a yard sale last summer. This book also has some very lovely watercolor illustrations, such as what you see on the front cover.
Next in This Series
Greenbelt Labor Day Festival (Day 2)
Greenbelt Labor Day Festival (Day 3)
Greenbelt Labor Day Parade
Greenbelt Labor Day Festival (Day 4)
I went to the German Festival for the first time in three years. I almost missed it until I saw an ad for it on Saturday (which was the first day of the festival). I decided to go on the second and final day on the spur of the moment after I went to church that morning.
The German Festival ran the same weekend as Artscape but I was lured to the former by the fact that it was held indoors in an air conditioned building. (There was a massive heatwave that had been blanketing the area for at least two weeks.) Besides I still have less-than-fond memories of my last attendance at Artscape when I met two people from my childhood in Glen Burnie whom I did not want a reunion with.
I drove to the light rail stop in North Linthicum then took the light rail all the way to the Maryland State Fairgrounds. It started to rain the minute I got off the light rail but I brought an umbrella with me so it was no big deal. (It was another reason why I'm glad I didn't choose to go to Artscape this year.) There were practically no lines so it was no big deal getting inside. It was basically a nice event with many of the same vendors as my last attendance in 2014. I ate sauerbraten with noodles for lunch followed by a slice of black forest cake. Before I left I purchased two freshly baked cinnamon sticks to eat later. I also took a few pictures, which you can see below.
On the Saturday during the Fourth of July holiday weekend, I decided to check out this toy show that was being held at the Maryland State Fairgrounds.
It was such a feast for the eyes as the toys and various other vintage items were displayed at various vendor tables. The whole show took on the air of a flea market with an emphasis on vintage stuff dating anywhere from the 1900s to the 1990s.
Someone had a jukebox for sale, which reminded me of my childhood when many of the local restaurants had them and people could choose songs to play for about a quarter each.
The jukebox played music during the entire event. (Which proved that it definitely still worked.) I couldn't help taking pictures of the songs that were available on the jukebox. The majority of them were hits when I was a kid.
And speaking of music players, here's a vintage 8-track player with an Elvis Presley 8-track tape. I once had a stereo system that included an 8-track player but I never owned one like that. But I could've sworn that one of my friends or maybe one of my cousins had a player just like that but I don't know for sure. (Memory is one of those funny things where you remember something but you don't remember when, where, or how you remember it.)
Late last year I did a series of blog posts with accompanying photos known as A Tabletop Christmas (so-named because I limit my Christmas decorating to just a single tabletop in my living room). Among the items I showed off was a small plastic Santa Claus puppet that I've had since I was a child. I didn't know anything about the origins of this puppet. It wasn't until I went to the toy show when I saw a tiny plastic Santa puppet on sale that's identical to mine.
The only difference between the two is that this Santa still had its label at the base while mine doesn't have any labels at all. (I suspect that whatever label it had must've fallen off a long time ago.) My Santa puppet is currently stored in a box with the other Christmas decorations in the attic but here's a picture of my Santa puppet that I took last December.
At first I thought the animal in the next picture was a stuffed animal until I saw the dog move his eyes around. He laid there the entire time I was at that show.
This show also had examples of how the mighty had fallen. I found this book by disgraced former Fox News talk show host Bill O'Reilly on sale for only $1 at one of the tables. (LOL!)
There was one token of something new that I found. Someone was selling glow-in-the-dark versions of the hottest toy of 2017: Fidget Spinners.
By the way, you can check out a video I shot recently where I unboxed and played with one of those Fidget Spinners for the first time (and, no, the one I bought didn't glow in the dark).
Everywhere there were visual treats, many of which harkened back to my own youth.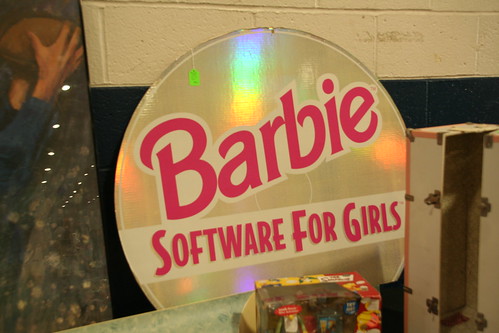 As I was walking back to the light rail stop I shot this photo of The Cow Palace building because it had a nice small garden.
I didn't buy a lot of stuff at that toy show due mainly to tight finances. But I managed to snag a couple of things at bargain rates. I found the second season of The Simpsons DVD set for only $6.
I bought a Monster High doll for only $5. I was attracted to her pretty winter-themed clothes. At first I thought I may have purchased a relative of The Snow Queen until I did an online search and I was able to make a definite identification. Based on this web page, her name is Abbey Bominable and she's described as the 16-year-old daughter of the Yeti.
Here's a closeup of her hair, which looks like it has glittery plastic pellets weaved throughout the strands. It gives a really cool ice/snow effect, especially when the light reflects off of her hair.
During the recent Memorial Day holiday weekend I was invited to a party that was held at the home of a woman I know from my support group for people who are separated or divorced. Since the party was held in Crownsville, I decided to head to Third Eye Comics, which is located on the outskirts of nearby Annapolis since I was going to be in the area anyway. I took a couple of quick pictures of some of the items they have in their store besides comic books.
April 22 was not only Earth Day but it was also the day that a massive March for Science took place in downtown Washington, DC to protest the Trump Administration's official denial of climate change while cutting funds for federal research. I thought about going myself because, as someone who was once married to a NASA software engineer, I know the importance of science in everyday life (even if science was never my favorite subject in school).
But then it rained like crazy and I decided to can that idea. I didn't feel guilt over what I did because I had already previously participated in the Women's March on Washington and the Werk for Peace dance protest. The People's Climate March was scheduled to be held in Washington, DC on the following Saturday. In addition, there are more anti-Trump marches on Washington planned for the future which will focus on immigration, LGBTQ rights, and fans of the hip hop group Insane Clown Posse (that one is because, for some weird reason, the federal government has classified the fans of this group as gangs and terrorists).
And I'm sure that the longer Donald Trump stays in office, the more people will hold massive protest marches.
So I ended up going to Silver Spring where I took place in the second annual Creator Con. At least it was held indoors so I didn't have to deal with being rained on. Here are the photos I took during my time there.
There was one thing that blew my mind. There was a band consisting of teenage boys who did covers of classic rock songs like The Animals' "House of the Rising Sun" and The Rolling Stones' "Miss You." I found it interesting that there were kids who did covers of songs that first came out decades before they were even born.
Creator Con was held at Eubie Blake High School, which had these pro-LGBTQ signs on display. I'm old enough to remember a time when a teen openly admitting that he/she was LGBTQ would not only result in all kinds of bullying and harassment but many teachers would've been indifferent to that student's plight. Now there are official signs making a LGBTQ teen feel welcome.
It's been two years since I last went to this annual event, which traditionally closes the weeks-long National Cherry Blossom Festival. The last time I was there, the Sakura Matsuri was held on Pennsylvania Avenue right next to the Old Post Office Building (which was then undergoing renovation into the Trump International Hotel—you can see those giant blue TRUMP signs in the background of some of the photos I took during that event).
Since that time the event has been relocated. It is now held at the Navy Yards near Nationals Park. I don't know if Donald Trump have had a hand in that festival's relocation or not but it doesn't matter because I don't have to see those Trump International Hotel signs.
Like previous Sakura Matsuri festivals, this one was a celebration of all aspects of Japanese culture including anime, J-pop, J-rock, kendo, and traditional Japanese crafts. There were also a lot of cosplayers walking around. Here are the photos I took of the Sakura Matsuri.
This year is the 60th anniversary of the publication of what has got to be the strangest yet most unique children's book ever published. The Lonely Doll by Dare Wright was a New York Times bestseller right alongside Dr. Seuss' The Cat in the Hat when it was first released but, unlike the Dr. Seuss book, The Lonely Doll has gone out of print only to get reissued years later. It also hasn't aged as well as The Cat in the Hat due in large part to the notorious spanking scene, which I'll get to in a little bit.
Here's a personal confession: I had never read any of The Lonely Doll books as a child. I know that for sure because those books have such a unique design that I would have remembered reading them if I did. I still have memories of reading those Little Golden Books that my mother used to pick up for me when she went grocery shopping, mainly because those books were priced pretty cheap. I also remember reading books written by Dr. Seuss and other books featuring characters like Clifford the Big Red Dog, Curious George, and Babar the Elephant. But I definitely don't recall reading The Lonely Doll.
I first learned about The Lonely Doll as an adult when I read reviews of Jean Nathan's biography of Dare Wright called The Secret Life of the Lonely Doll: The Search for Dare Wright. I read that book years ago and I found it fascinating. That book initially got the cooperation of Wright's sole heir, Brook Ashley, who has since disavowed it. You may want to keep that in mind if you decide to read Nathan's biography.
I finally found The Lonely Doll and one of its sequels, Edith & Mr. Bear, in a store. Having read both books, I'm basically of two minds. Artistically they are lovely but the stories that accompany them basically had me going "WTF?!?"
The Lonely Doll is the spiritual ancestor of all those doll photostories that one can easily find on the Internet in places like SuperInky.com,  DeviantArt's bjd-club, and the Instagram #AGIG group. The big difference is that The Lonely Doll was created in an era when there was no World Wide Web or social media. In fact the forerunner of the Internet—known as ARPANET—wouldn't go online for the first time until 1958 and access to ARPANET was limited only to government workers with high security clearances. That book initially received wide attention mainly because Dare Wright managed to convince a major book publisher to publish and distribute it in schools, libraries, and bookstores.
Film photography was the only photography option that was available at that time, which meant that a photographer was limited to—based on film length—12, 24, or 36 exposures. In addition, a photographer didn't know if a picture turned out correct until after the film was developed. Many photographers routinely took several shots of the same subject from different exposures and different angles in the hopes of getting at least one perfect photograph. Black and white photography was still common in 1957 mainly because it was less expensive than color photography.
The Lonely Doll was published in 1957 and it became an immediate sensation due to its unusual design. Normally a children's book would feature illustrations done in a variety of media (such as ink, watercolor, mixed-media, etc.). What stands The Lonely Doll apart from the others is its use of black and white photography to illustrate the story. The photographs are quite effective in that they bring out an expressive quality in the doll and two teddy bears who are depicted in the story. Here's a typical photograph from the book.
The accompanying story is incredibly full of WTF?!? Here's the basic gist: There was a doll named Edith who lives in a nice townhouse in New York City. She has everything that a doll could ever want except for one thing: friends to share it with. She spends much of her time wishing and praying that God or someone would just send her a friend or two.
One day two teddy bears show up to the front steps of Edith's home out of the blue. The larger teddy bear is known as Mr. Bear while the smaller one is known as Little Bear. The two teddy bears say that they would like to move in with her and be her friends. Edith is so overjoyed that her wish has come true that she never wonders where these teddy bears have come from or how they found out that she existed or how they knew that she needed their friendship. It's obvious that the two bears have a father and son relationship even though Little Bear always calls the bigger one Mr. Bear instead of Dad, Daddy, or Papa.
Little Bear treats Edith as an equal and they frequently play together and have a good time. Mr. Bear, on the other hand, proceeds to take command of the house by bossing Edith and Little Bear around and scolding them if they do something that Mr. Bear does not approve of. Never mind the fact that Edith was the one who had the house first and Mr. Bear is someone who has just moved in instead of the other way around. Edith seems to tolerate Mr. Bear ordering her around.
One rainy day Mr. Bear grabs an umbrella and tells Edith and Little Bear that he has to go somewhere. He doesn't tell them where he's going or why he's going without taking Edith or Little Bear with him. He tells Edith and Little Bear to not get into any trouble then leaves.
Edith and Little Bear are frustrated because Mr. Bear has left the home without them plus they can't play outside because it's raining. Little Bear suggests exploring around the house and they come across a dressing room with a mirror, clothes, shoes, jewelry, and other accessories. Edith and Little Bear play dress up by trying on various clothes and jewelry while making a mess in the room. At one point Little Bear grabs a tube of lipstick and writes "Mr. Bear is a silly old thing" on the mirror. He encourages Edith to put lipstick on even though she says that Mr. Bear had previously told her that she's not allowed to use lipstick. Edith puts on the lipstick at the moment that Mr. Bear has not only returned home but he's standing at the entrance to the dressing room. When Mr. Bear scolds the two for the mess that they've made and especially scolds Edith for trying on lipstick, she briefly gets a backbone and stands up for herself by saying that she has the right to use lipstick while calling Mr. Bear a silly. That brief bit of Edith standing up for herself leads to the notorious spanking scene where Mr. Bear first puts Edith over his knee and whips her bottom then he does the same to Little Bear.
After spanking both Edith and Little Bear, Mr. Bear tells the two to clean up the mess and orders Edith to stop crying before leaving the room. Edith continues to cry to the extent that even Little Bear is getting annoyed. Edith tells Little Bear that she's afraid that Mr. Bear will leave and take Little Bear with him and she'll become (gasp!) a lonely doll again!
Little Bear encourages Edith to help him clean up the mess. Both Edith and Little Bear apologize to Mr. Bear, who says that they can all forget about the incident. Edith asks Mr. Bear if he'll stay and the story ends with Mr. Bear and Little Bear assuring Edith that they'll stay with her forever and ever. Never again will Edith ever have to worry about being a lonely doll.
It may be that story's idea of a happy ending but, for me, it would be a total nightmare.
Ever since my marriage imploded in late 2011 I've gotten involved with a divorce recovery group where we've discussed codependency, how destructive codependency can be, how to identify a codependent relationship, and how to avoid getting into one in the future. This book basically sends a message to kids that it's better to be in a codependent relationship with someone who orders you around and even spanks you if you get too far out of line than to live alone. That's totally messed up thinking.
Then there's the spanking scene itself.
Notice how Edith is dressed in a short slip with her panties showing. Then there's the "ooh-la-la" expression on her face that makes that scene look like a sexy BDSM scene with a doll and teddy bears. And Mr. Bear's face seems totally fixated on Edith's butt.
I once did a photographic parody of that spanking scene for an art exhibition a few years ago. I used a Volks Dollfie Dream as a stand-in for Edith. I picked this doll because she has a very mature sexy body, which is the complete opposite of the child-like Edith doll. I used a panda bear that I once owned but I've since given away when I was downsizing after my marriage collapsed. I even included The Lonely Doll book that was opened to that spanking scene.
At least I had no pretense that I was doing this with children in mind. This photo was part of an exhibition series called Kitsch. (Link is definitely NSFW.)
The success of The Lonely Doll has led to several sequels. I've only read one of them, Edith & Mr. Bear, which was published in 1964.
Once again this book includes photographs that are very well-composed and expressive.
In some ways I think the story in this book is far better than The Lonely Doll because it's a basic morality story that tries to teach a lesson. By this point Edith and the two bears have been living together for a while and they have been joined by another member of the household—a tiny flesh and blood kitten named, well, Kitten, who has a minor role in this book.
The story begins with Edith and Little Bear waiting near the front door for Mr. Bear to return home from a shopping trip. Mr. Bear arrives with three presents. One is a dress for Edith and the other is a toy boat for Little Bear. The third and biggest package is one that Mr. Bear has purchased for himself—a clock. Edith becomes fascinated by the new clock but Mr. Bear decides to put the clock high upon the mantel so neither Edith nor Little Bear can reach it, play with it, and risk breaking it.
Despite Mr. Bear's efforts to keep the clock out of the reach of the other two toys, Edith becomes fascinated by the clock to the point of obsession. One day, while she was home alone, Edith drags a pile of books over to the mantel until the pile is big enough for her to reach the clock. Edith climbs up to the mantel and, at long last, she's able to play around with the inner workings of the clock.
But then she loses her balance and both she and the clock comes tumbling down along with the books. The clock breaks into a lot of little pieces. Edith tries to sweep away the evidence but Mr. Bear finds the pile of broken clock pieces. He brings Edith and Little Bear into the room and demands to know which one of them broke the clock. Edith lies by saying that she didn't break the clock while Little Bear also denies it as well, except he is telling the truth.
Initially Edith thinks she has gotten away with her lie. But then she begins to feel intense guilt over her lie and her efforts to keep the truth a secret starts to weigh in on her. She's afraid that Mr. Bear will hate her if he ever knows that she broke the clock. The guilt stresses her out so much that she isn't able to enjoy her own birthday party and she begins to act cross around Little Bear. Edith attempts to tell Kitten the truth about the broken clock but that wasn't enough to get rid of the guilt because Kitten never had anything to do with that clock and Kitten can't say anything beyond "Meow."
One day the guilt over the clock weighs in so heavy that Edith takes her stress out on Little Bear by ruining his drawing and Little Bear calls her "horrid." After he leaves in a huff Edith realizes that she has become horrid and she decides that the best thing she can do is run away from home.
So Edith runs away and ends up spending the night on the streets. She goes down to the docks the following day and thinks about boarding one of the boats but then changes her mind when she realizes that if she does so, she'll never see Mr. Bear or Little Bear ever again.
Edith decides to return home and tell Mr. Bear the truth. After she comes clean about the clock, Mr. Bear tells her that he suspected that it was her all this time and that he knew that it was an accident that she broke the clock. He tells her that he would never have punished her for an accident. He also decides not to punish her for lying because he feels that she has already punished herself with the constant stress and spending the night on the streets. Edith goes to bed happy that she has come clean about what she did and Mr. Bear has forgiven her.
Had the book ended there, it could've been an excellent morality story for children showing how telling a lie can have a negative effect on the person telling the lie in the form of guilt and additional stress.
But, sadly, the story continues from there. Edith continues to get into various mischief (such as digging up flower bulbs to see if they have sprouted then replanting them upside down). One day Edith decides to bake something special for Mr. Bear and she starts making a mess in the kitchen while she's mixing the ingredients. She gets Little Bear to light a match so they can heat the gas stove, despite the fact that Mr. Bear has forbidden the two from even touching matches. Mr. Bear catches them in the act and it leads to another spanking scene.
You get a clear view of Edith's panties while she's rubbing her freshly spanked butt.
The book ends with the three of them walking to a nearby park with Little Bear bringing his toy boat to float in the pond.
After reading those books, one could be forgiven for wondering what kind of person would write a series of books like this. Looking at Dare Wright's life provides all kinds of insights as to why she would write them.
Dare Wright was born in Vaughan, Ontario, Canada in 1914 as the younger of two children in a dysfunctional and deteriorating marriage. Her father, Ivan Wright, was a theater critic while her mother, Edith "Edie" Stevenson Wright, was an artist.
Her parents' marriage was strained by Ivan's descent into alcoholism and his frequent job switching. Edie tried to make ends meet by painting portraits. The marriage ended in a divorce that grew so divisive that each parent ultimately took custody of only one child while cutting off all further contact with the former spouse and the other child. As a result, Dare would never see her father again since he died a few years later. She wouldn't be reunited with her older brother, Blaine, until after both siblings were well into their 20's.
Basically Dare Wright was raised as an only child of a divorced single parent long before that kind of family unit was common.
Edie and Dare settled in Cleveland when Edie found that she could make a living painting portraits of that city's wealthy elites while Dare attended Coventry Elementary School. At one point Edie purchased a doll for her daughter. It was a felt doll made by the Italian company Lenci. The doll was known as the Lenci 109/14 series and she originally had brown curly hair. The doll was named Edith after the mother but I was never able to find out whether it was a name that Dare gave to the doll or if Edie had insisted that the doll be named after her and Dare went along with it.
Soon after the doll purchase Edie sent Dare to begin the fourth grade at the Laurel School, an all-girls' boarding school in Cleveland. Dare attended that school all the way through high school. After she graduated from the Laurel School in 1933, she migrated to New York City where she attended the American Academy of Dramatic Arts. Her stage acting career reached no further than landing a small part in a touring company production of Pride and Prejudice. She switched to modeling where she had better luck landing jobs. At some point, probably as a result of her modeling jobs, she became fascinated with photography and she obtained her own camera. She became so adept at photography that she became a fashion photographer.
Her career took a new turn when she was reunited with Edith the doll during one of her visits with her mother. By this point she was also reunited with her brother Blaine, who purchased two teddy bears for her from FAO Schwarz. The larger was a Schuco bear while the smaller was a Stieff. The three toys served as the basis for The Lonely Doll books.
Dare replaced Edith the doll's original brown hair with a new blonde wig with bangs that can be worn in a ponytail. That doll wig is similar to how Dare Wright wore her own hair in real life, thus fueling speculation that Edith the Lonely Doll is a stand-in for Dare Wright in these books.
Blaine Wright was a lifelong bachelor who never had children of his own. Dare Wright was once engaged to one of Blaine's friends until her fiancee broke off the engagement. Otherwise, Dare never married nor had any children. Both siblings became alcoholics. One doesn't have to be a psychiatrist to guess that their parents' devastating divorce that separated the siblings for many years may have had something to do with what became of them later in life.
One also doesn't have to be an expert to guess that The Lonely Doll series probably portrayed an alternate reality in Dare Wright's life as she tried to explore what would have happened if she had ended up growing up with her father and brother instead of her mother—including a scenario where she gets spanked by her father whenever she's bad.
Should parents buy this book for their children? My only suggestion is for you to read the book before giving it to your child so you can decide for yourself whether it's something that's appropriate for your child to read. All I can say is that The Lonely Doll books are definitely a far cry from Dr. Seuss.