You are currently browsing the category archive for the 'Television' category.
Third Eye Comics has been around for a few years. The store had simply moved to larger quarters just around the corner from its former location. The store decided to have a grand opening event to celebrate this. Here's a look at the entrance to the new facilities.
This is a really cool example of trompe l'oeil.
As you can see in the next few photos this event was well attended.
There were all kinds of items available for sale, such as this Weeping Angel tote bag from the Doctor Who TV show.
There were comic books, graphic novels, vinyl toys, coffee mugs, and other kinds of related merchandise available for sale.
Third Eye Comics also has a games store, known as Third Eye Games, whose entrance is located next to Third Eye Comics' space.
As you can guess from the name, Third Eye Games have all kinds of card games and board games available for sale, such as this Ghostbusters game.
There were plenty of people playing games when I was there.
I took advantage of the store's special 20% discount on graphic novels to make my one and only purchase from that store. As you can guess by the cover, Deadpool the Duck is a mash-up between Howard the Duck and Deadpool. Having read it, I can tell you that it's definitely hilarious. I would recommend picking it up if you have the chance.
On the Saturday during the Fourth of July holiday weekend, I decided to check out this toy show that was being held at the Maryland State Fairgrounds.
It was such a feast for the eyes as the toys and various other vintage items were displayed at various vendor tables. The whole show took on the air of a flea market with an emphasis on vintage stuff dating anywhere from the 1900s to the 1990s.
Someone had a jukebox for sale, which reminded me of my childhood when many of the local restaurants had them and people could choose songs to play for about a quarter each.
The jukebox played music during the entire event. (Which proved that it definitely still worked.) I couldn't help taking pictures of the songs that were available on the jukebox. The majority of them were hits when I was a kid.
And speaking of music players, here's a vintage 8-track player with an Elvis Presley 8-track tape. I once had a stereo system that included an 8-track player but I never owned one like that. But I could've sworn that one of my friends or maybe one of my cousins had a player just like that but I don't know for sure. (Memory is one of those funny things where you remember something but you don't remember when, where, or how you remember it.)
Late last year I did a series of blog posts with accompanying photos known as A Tabletop Christmas (so-named because I limit my Christmas decorating to just a single tabletop in my living room). Among the items I showed off was a small plastic Santa Claus puppet that I've had since I was a child. I didn't know anything about the origins of this puppet. It wasn't until I went to the toy show when I saw a tiny plastic Santa puppet on sale that's identical to mine.
The only difference between the two is that this Santa still had its label at the base while mine doesn't have any labels at all. (I suspect that whatever label it had must've fallen off a long time ago.) My Santa puppet is currently stored in a box with the other Christmas decorations in the attic but here's a picture of my Santa puppet that I took last December.
At first I thought the animal in the next picture was a stuffed animal until I saw the dog move his eyes around. He laid there the entire time I was at that show.
This show also had examples of how the mighty had fallen. I found this book by disgraced former Fox News talk show host Bill O'Reilly on sale for only $1 at one of the tables. (LOL!)
There was one token of something new that I found. Someone was selling glow-in-the-dark versions of the hottest toy of 2017: Fidget Spinners.
By the way, you can check out a video I shot recently where I unboxed and played with one of those Fidget Spinners for the first time (and, no, the one I bought didn't glow in the dark).
Everywhere there were visual treats, many of which harkened back to my own youth.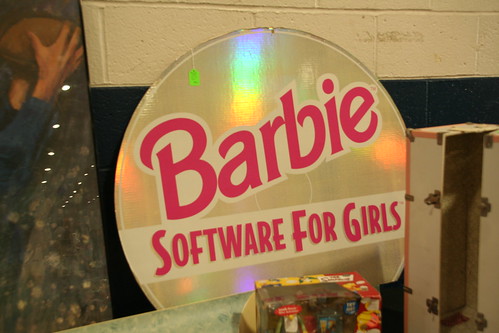 As I was walking back to the light rail stop I shot this photo of The Cow Palace building because it had a nice small garden.
I didn't buy a lot of stuff at that toy show due mainly to tight finances. But I managed to snag a couple of things at bargain rates. I found the second season of The Simpsons DVD set for only $6.
I bought a Monster High doll for only $5. I was attracted to her pretty winter-themed clothes. At first I thought I may have purchased a relative of The Snow Queen until I did an online search and I was able to make a definite identification. Based on this web page, her name is Abbey Bominable and she's described as the 16-year-old daughter of the Yeti.
Here's a closeup of her hair, which looks like it has glittery plastic pellets weaved throughout the strands. It gives a really cool ice/snow effect, especially when the light reflects off of her hair.
Like I wrote yesterday, I decided to devote a separate post to my attendance at the latest installment of Dr. Sketchy's Anti-Art School in the Dupont Circle area of Washington, DC because it would have made my last post extremely long otherwise.
This event was held during DC Pride Weekend and it was also held on the same day as a big demonstration on the Mall for LGBTQ rights. I wasn't able to make it because I attended Sunday service at my church that morning, Dr. Sketchy's was supposed to begin at 3 p.m., and there's the issue of Metro's unreliable weekend service where you typically have to wait between 15 minutes to a half-an-hour for the next train. I wasn't too bitter about missing the march because it was very hot outside. (The temperature went as high as 95 degrees with high humidity.)
I saw rainbow flags everywhere in Dupont Circle as I was walking to the Bier Baron, where the event was held. Even the Bier Baron itself was decked out in rainbow colors.
Once I was inside I even got in on the act by laying out my pencils in a rainbow pattern.
Once again Reverend Valentine hosted the event. I gave her this toy dinosaur that I found outside Makerspace 125 in Greenbelt, which was among the items that the STEM center invited the general public to take for free. (Makerspace 125 is currently undergoing some major spring cleaning and reorganization of the space.) I knew she was into dinosaurs so I figured what the hell since it was free and everything. (Besides, it gives me the excuse to post this picture right here.)
She loved it when I gave it to her. She said that it will live with the other toy dinosaurs that she has on display in her kitchen.
The event was pretty well-attended despite the fact that it was scheduled during DC Pride Weekend and that big march was still going on at the Mall just a few miles away. The model for this event was a burlesque performer named Amira Jade and some of these drawings are definitely NSFW.
There was only one contest at that event. This one was a beach theme. She said that she would also give extra points for including a dinosaur. So I had Amira Jade with Dino the Dinosaur.
I also decided to ad Batman surfing on a surfboard in the ocean as my personal tribute to Adam West, the actor who played Batman in the 1960's TV series who had died the day before. It was based on this incredibly campy clip from the TV show.
My drawing made it among the finalists but I didn't win. Oh well. You win some and you lose some.
I did a couple of more drawings of Amira Jade before the event ended.
I recently added a new experience on my resume and LinkedIn profile because I think it's the most interesting temp job I've ever done. I was an extra at a taping of an upcoming television special that will air on public television throughout the United States later this year.
I unexpectedly got this gig when I was attending a networking event that was held at the state-run Maryland Workforce Exchange. I was searching for a new day job to pay the bills so I decided to go to this networking event to see if my fortunes would change. One of the participants there was currently doing a temporary gig for Central Casting where she was tasked with getting people to go to the taping. (She's currently looking for something more permanent herself.) I spoke with her and we hit it off. I added my name to the list of people willing to attend the taping.
A few days later I got a few emails instructing me where to go, what time I was supposed to show up, and where I can find free parking. The emails also said that the dress code was limited to business and business casual. (In other words, no t-shirts or sweatshirts with slogans, sports teams logos, or a photo of the latest pop music sensation.)
I wasn't sure what to expect other than it would be a talk on financial planning. Since my finances are currently in the toilet (I had incurred some debts in the wake of my unexpected divorce and I've been having trouble with finding a steady day job so I can pay those debts down) I thought that it would be one of those talks that wouldn't be relevant in my current situation. (In fact, I probably would not have gone if it hadn't been a paying gig.) The first night I went I brought my latest knitting project with me thinking that I would at least get that project done while sitting through the talk. I ended up not even touching that knitting until during one of the 10-minute breaks that took place halfway through the taping. That's because the talk was way more interesting than I expected. The second night I left my knitting at home.
The first night as I was walking into the auditorium prior to the taping I overheard a woman tell someone else that she has seen the speaker on television many times in the past. She said that he is someone she always listens to regarding planning for the future.
The TV special featured financial expert Ric Edelman giving a presentation on how technological innovations and economic changes will affect financial planning for the future. He said that the old days where people went to school, got their job working for just one company for 30-50 years, retired, then died anywhere between 65-75 are over.
He mentioned that business will become less like the New York model (where people worked for the same company with the same employees and bosses for a number of years until retirement) and be more like the Hollywood movie studio model (where people gather together to work on one project until that project is done and the people move on to other jobs/projects in other places with new coworkers). He cited the gig economy as one example of that Hollywood-like trend.
He gave numerous examples of technological innovations that will become more prevalent in the future, such as robots taking over more of the jobs that people currently do, the rise of crypto-currency like Bitcoin, finding cures for Alzheimer's and certain types of cancers, and other similar breakthroughs that will result in people living longer and seeing certain types of work going the way of the horse and buggy industry (which was a major employer in the U.S. until cars came along). All this will affect people's financial planning.
His talk reminded me of the film Future Shock, which I had to sit through twice (once in the 7th grade and once in the 12th grade) when I was in school. The big difference is that the movie had a more negative tone about the changing times and the technology that went on at that time (I still remember the scene where narrator Orson Welles spoke disdainfully about people being able to get artificial joints in the future—as someone with a hip replacement, I'm very grateful for that technological breakthrough because I would've eventually ended up in a wheelchair without it). In contrast, Ric Edelman puts a more positive spin on the technological innovations that are either here now or will be coming within the next few years. (I'll admit that some of my pacifist friends would have been horrified to hear him give a positive spin on the increasing use of drone warfare. Edelman talked about how drones can eliminate having to use flesh-and-blood soldiers in battles so it would save them from exposing them to physical and mental trauma. That is the positive side of drone warfare. What he didn't say is what happens to the people who are targeted by these drones—many of whom include children and innocent civilians who happened to be at the wrong place at the wrong time.)
He spoke so positively about the technological changes in the future that I kept on thinking about this 1990's hit song "The Future's So Bright, I Gotta Wear Shades."
Future Shock frequently shows up on YouTube only to have it get taken down. As of this writing, the film is back online right here. (In case this new link gets taken down, you can read Fast Company's article on what Future Shock got right and wrong.) Watching a 1972 film predicting the future is interesting in terms of what the film got right and what it got wrong (despite the film's overall negative tone). I would love to see the video featuring Ric Edelman's talk about the future 10 or 20 years from now in order to learn what he got right and wrong, but I digress.
He gave this presentation as a way of promoting his latest book, The Truth About Your Future, which is also currently a New York Times bestseller.
I took pictures during my two nights I was working as an extra. The event took place at Montgomery College Takoma Park/Silver Spring campus.
I had toyed with arriving at the campus about an hour or two before the taping on the second night so I could explore the campus and grab an early dinner someplace nearby. I had to scuttle that plan when it rained on the second night. The taping took place both nights at the Cultural Arts Center building.
The next shot shows this interesting glass and steel sculpture that hung from the ceiling of the building inside.
The procedures for working as an extra were the same both nights. We were instructed to arrive at the building by 6:30 p.m. (I had to eat an earlier dinner than usual both days so I wouldn't starve through the taping. It was a good thing I did that because the auditorium prohibited food and drinks.) The first thing we had to do was go to one of the tables where a representative from Central Casting was seated and do a check in.
We were given this form where the only thing we had to fill out was our name, address, phone number, Social Security number. We also had to sign it at the bottom. Central Casting filled out everything else.
Once we checked in we basically hung around in the lobby where people chatted among each other or went to use the restrooms.
Around 7 p.m. we lined up outside the auditorium doors and filed into the auditorium.
I took a couple pictures of some of the camera operators who were filming the presentation.
The director took to the stage first where he had us practice clapping and cheering. He instructed us to turn off our cell phones (I ended up putting my phone on vibrate). We were to look in Ric's direction at all times while enthusiastically clapping at the proper time. We could also utter exclamations like "wow!", "oooh!", "aaaah!", "whoah!", and so on.
Once the director left the stage Ric Edelman appeared where he gave his presentation. He talked nonstop for the first 45 minutes. After he said "When we come back…" we clapped and cheered as he left the stage. The director came out on stage announcing that there was a two-minute break while Edelman drank some water backstage. We were allowed to stand up and stretch but we couldn't leave the auditorium.
Ric Edelman returned to the stage while we applauded. He continued his presentation for another half-an-hour or 45 minutes. When he said "When we come back…" we clapped and cheered as he left the stage. The director came back on stage and announced a 10-minute break where we could go to the restroom if we needed to do so. During that time the director looked for 10 people who were willing to ask questions. The questioners lined up towards the back.
When the 10-minute break ended, Ric Edelman returned to the stage where he did the Q & A segment with the 10 volunteers. Once he finished answering all of the questions, the taping ended for the night.
The last picture shows Ric Edelman giving his talk. Unfortunately I was seated in the back of the auditorium on both nights so I wasn't able to get a decent shot of him.
As we left the auditorium we had to turn in our signed form to the nearest Central Casting representative before we could leave the building and go home. I didn't leave the event until it was around 9:30 p.m.
Ric Edelman gave the same presentation both nights. The main difference were the people who asked questions at the end. (Overall a total of 20 people got a chance to ask Ric Edelman a question while one of the cameras focused on the questioner so that person got a brief bit of fame. Of course, I don't know how many of those questioners will actually make the final cut and actually end up being aired on television.) The auditorium was packed the first night with every single seat taken. On the second night I noticed that fewer people had showed up. (I guess some of the participants couldn't show up both nights.) The director focused on filling up the seats closest to the stage. I ended up in the back just like the night before. I noticed that there were empty seats in rows that were further back than where I sat on the second night.
The biggest challenge on the second night was sitting through the same presentation again while pretending that I was hearing it for the first time. It wasn't too bad hearing it for the second time because it was such an engaging presentation and Ric Edelman is such a dynamic speaker. Given my current financial situation, I would've been willing to sit through the same presentation every night for the next six months.
The show is tentatively scheduled to air on PBS in December during Pledge Week. (Which was why Ric Edelman interrupted his presentation twice—just so the local PBS stations can jump in with their own broadcasts begging people to make a generous donation so the stations can keep operating another year.) All in all I found the whole experience fascinating and I really enjoyed the presentation that Ric Edelman gave (even if I had to sit through it twice over a two-night period). I learned a lot from the presentation (especially regarding future technological advances) and, what's more, I got paid $50 per night. So I earned $100 that week. Sweet!
I'm feeling schadenfreude over the firing of Fox News personality Bill O'Reilly. For the past few years I had been growing tired of going to the local Target store and seeing new books with his byline being released every few months that have titles like Killing Lincoln, Killing Kennedy, Killing Jesus, Killing the Rising Sun, Killing Patton, and a whole bunch of other historical books with the name Killing in the title.
One of the reasons why I'm enjoying his downfall is that this piece of shit once threatened one of my friends with assault.
The friend in question works for an organization that's concerned with issues regarding the separation of church and state. From time to time he has appeared on various cable news talk shows where he has discussed these issues. Bill O'Reilly's show is among the shows that he has made more than one appearance. My friend has plenty of stories about Bill O'Reilly, including what went down the last time he appeared on that show.
Since my friend lives and works in the Washington, DC area, whenever he was invited to appear on any Fox News show as a guest, he usually went to the studio of the local Fox affiliate in downtown DC where he made his appearance via satellite. That notorious night he appeared on Bill O'Reilly's show was no different. He appeared via satellite and debated Bill O'Reilly about a certain hot issue at the time. When his segment ended and the show went to commercial break, Bill O'Reilly was still able to communicate with him via satellite, even though their exchange wasn't being aired live at the moment. Bill O'Reilly told my friend if he ever sees him in person he was going to beat him up.
Since that incident wasn't filmed, there is no evidence that Bill O'Reilly has threatened my friend with violence. But I have no problem with believing my friend's account because Bill O'Reilly has a history of less-than-respectable behavior. His daughter has alleged that she saw her father choke her mother and drag her down a flight of stairs by her neck. Of course that marriage ended in divorce but that didn't stop Bill O'Reilly from suing his ex-wife for $10 million last year on the grounds that she had fraudulently misled him into signing a separation agreement while having an extramarital affair.
And then there is this classic video that comes from his pre-Fox News days when Bill O'Reilly was an on-air presenter for the TV show Inside Edition.
It took a bunch of women accusing Bill O'Reilly of sexual harassment to finally get Fox News to cancel his show once and for all.
I'm happy that he's off the air. If he has any common sense, he should keep a low profile. (Of course that's assuming Bill O'Reilly ever had any common sense to begin with.) Maybe he can take advantage of his free time by writing a new book: Killing My Fox News Career.
UPDATE (April 21, 2017): If you think Bill O'Reilly's assault threat against my friend after appearing on his show was an aberration, think again. This link has a couple of paragraphs about how Bill O'Reilly issued a similar assault threat against one of his guests, the son of a 9/11 victim named Jeremy Glick. Why? Because Glick had opposed the Bush Administration's invasion of Afghanistan. That's right, Bill O'Reilly had simply disagreed with Glick's opinion on a certain topic. On top of it, O'Reilly spent months demonizing Glick as a "traitor" on his program. (In contrast, my friend got off relatively easy with just a single assault threat.)
Which proves my point that American discourse will be better off in the long run if Bill O'Reilly simply takes that $25 million severance pay that Fox News gave him and retire in obscurity. I don't ever want to hear about him again until his death.
I did my first podcast last Friday after I learned how to do it through an online course in Social Media Marketing. I did it on Danielle Peskowitz Bregoli a.k.a. the Cash Me Outside How Bow Dah Girl. At the time I did my podcast I knew that Danielle and her mother had taped a follow-up episode of The Dr. Phil Show but all the articles I read said that the show didn't indicate when it would air that episode.
It turned out that the show was aired last Friday, the same day I had completed my first podcast. On that same day The Palm Beach Post had published an exclusive interview with Danielle's biological father who not only denied that he had abandoned his daughter but he also denounced all the attention that had been heaped on his daughter.
So I decided to do a second podcast devoted to this girl. I briefly mentioned the father's interview then I decided to try doing one of those reaction podcasts where I react to what I saw on various video clips from that episode.
While I still plan on making more podcasts in the future, this will be the last one I'll devote to this girl because I feel that everyone needs to leave her alone. I see her not as a celebrity but as a deeply troubled girl who needs professional help before she becomes a teen mom, a jailbird, or dead and I fear that she'll become worse the more people gawk at her like she's some kind of a circus sideshow freak.
So here is my latest podcast: Leave the Cash Me Outside How Bow Dah Girl Alone Part 2
I'm writing this blog post instead of watching the Super Bowl this year. None of my friends and acquaintances were throwing any Super Bowl parties and I've ditched cable a few years ago because I grew tired of Comcast increasing my bill from $79 per month to a whopping $200 per month. (I wasn't watching any pay-per-view shows at all. Comcast likes to lure you with a low "introductory price" bill for the first year or two then start to jack up the rates really high.) I haven't gotten around to buying rabbit ears so I can watch network television. These days I use my TV set to watch videos and play console games. So I'm spending Super Bowl Sunday doing something else.
Yesterday I had a whole bunch of stories crop up in my Facebook newsfeed about this 13-year-old girl named Danielle Peskowitz Bregoli who became an Internet sensation after she appeared on The Dr. Phil Show and uttered this phrase: "Cash me outside, how bow dah!"
Danielle had appeared on an episode titled "I Want To Give Up My Car-Stealing, Knife-Wielding, Twerking 13-Year-Old Daughter Who Tried To Frame Me For A Crime." Having seen video excerpts from that episode posted on that last link, it's obvious that this girl needs help. I've long cringed at Dr. Phil putting minors on his show when these troubled teens would be better off seeing a therapist where they could work out their issues in a private office. That's because I'm not sure putting these kids on television really help them in the long run and there's always the chance that their classmates will see that troubled teen on TV and they'll use that show to taunt and bully the kid at school.
Danielle can be hard to understand because she has chosen to speak what she calls "street talk" where this white middle class girl from the suburbs tries to talk like she's from the inner city hood but she fails miserably because I doubt she has actually had any kind of exposure to real inner city residents. Shoot, I've heard real inner city residents in both Baltimore and DC talk more clearly and eloquently than her! Danielle acts tough but I would be willing to bet that she wouldn't last even fifteen minutes in a really tough hood like this one before she either gets shot, beaten up, or she has a total meltdown because the real hood didn't conform to her fantasy idea of what a hood is like.
Danielle isn't the first troubled teen who has ever appeared on The Dr. Phil Show but, for some reason, her phrase "Cash me outside, how bow dah" resonated with someone enough that this person made a meme with her face and her quote. That led to other people making other memes featuring the girl and her quote and, before you know it, she has become the latest Internet sensation. She is known as The Bhad Bhabie on Twitter, Facebook, and Instagram and she has opened her own store on Shopify where she's trying to cash in on her unexpected Internet notoriety. What's more, she's scheduled to make a return appearance on The Dr. Phil Show this week.
Frankly I just don't get the Internet exalting Danielle like this. She's not some prodigy where she's a whiz at music or dancing or art or chess or some other field. She's just a 13-year-old girl with an average intellect who has serious issues and someone needs to put her in some kind of a therapy situation before she ends up either becoming a teen mom, a jailbird, or dead. Based on what I've read, it seems like she's thrilled with being an Internet celebrity but I hope some responsible adult is telling her not to expect this kind of fame to last forever because she will ultimately be replaced by the Next Big Thing on the Internet. So far she has been seen threatening paparazzi in Hollywood as if she is some kind of a major celebrity.
There is even a video game called Cash Me Outside that's available for iOS and Droid.
The whole thing is just crazy. In fact, I did my own parody meme that I've just unleashed on various social media sites where I used an image of Grumpy Cat.
It may sound tacky for me to post this on Inauguration Day, although it's very fitting considering who is being sworn in as the 45th President of the United States. Heck, I found out that the BBC plans on carrying this event live because this newspaper in Scotland has this hilarious description of the event in its TV listing.
I know I'm going out on a limb here by making this prediction. But I think it's an educated prediction that I'm qualified to make because I graduated from the University of Maryland with a B.S. degree in Journalism and a minor in Government and Politics and I try to keep up with the news as much as possible. I am well familiar with Donald Trump because I'm old enough to remember when he published his first book (The Art of the Deal) and he had the news media portray him as some kind of a business genius. I also remember the first of his multiple bankruptcies. I even watched the first few seasons of both The Apprentice and The Celebrity Apprentice. I still remember that one episode of his reality show where one of the challenges took place at the same Trump Taj Mahal (which The Donald hyped on that episode as being "state of the art") that filed for bankruptcy just a few weeks after that episode aired. (So much for "state of the art." LOL!)
Based on what I know about Trump and U.S. government in general, I not only believe that President Donald Trump will not last past his first term in office but there's a chance that he may be out of office before his first term is up. Here are the reasons why I feel this way, based entirely on facts.
1. Donald Trump has never held any kind of public office before in his life. He has spent his entire career in the private sector where he never had to deal with things like checks and balances or negotiating compromises with lawmakers. To instantly become President of the United States with no public office background will involve a much steeper learning curve than usual for The Donald.
2. Donald Trump has only worked for his family-owned businesses. His first job out of college was with one of his family's businesses and his father was the ultimate boss, unlike the vast majority of Americans who have to work for bosses who aren't related to them. Being President of the United States means that he'll have to learn to deal with Congress, lobbyists, and a whole bunch of other people who aren't family members and that'll take a huge adjustment on his part. He's also going to have to adjust to not always getting his own way, unlike being the head of the Trump Organization, because of the whole checks and balances thing that's built into the Constitution.
3. There are people who are openly questioning whether Donald Trump is even a legitimate president before he even takes the Oath of Office. Usually when a new person is elected president, everyone, including the opposition, have traditionally provided respect for the person until a few months after Inauguration Day. Considering the fact that Trump's approval ratings have sank to a historic low before he has even begun occupying the Oval Office is very telling. Unless Trump can focus on doing what it takes to earn the respect of all Americans, and not just white heterosexual men, he will not last long on the job.
4. Donald Trump seems reluctant to live in the White House. He somehow didn't realize that moving to Washington, DC and living in the White House is one of the requirements of being President of the United States. There's no way he can govern from Trump Tower in New York City since everybody else that's even remotely connected to the Federal Government is in Washington, DC. Heck, he can't even live in his own Trump International Hotel in DC while he's in office. Nope, he has to live in the White House and that can't be negotiated.
5. He was the subject of a civil lawsuit over his failed Trump University until he settled it soon after he became president-elect. This settled lawsuit could give Congress a way to possibly look into criminal charges, thus paving the way for impeachment.
6. There are his recorded admission that he had forced women to kiss them while saying that he had to grab them by the pussy along with the numerous allegations of sexual abuse against Donald Trump ranging from sexual harassment to rape. One woman dropped her lawsuit over the allegation that Donald Trump raped her when she was 13. But it has been replaced by a defamation lawsuit that has just been filed by one of his accusers, a former Apprentice contestant named Summer Zervos. And that's not to mention the incredibly disturbing things he has said about his own daughter, Ivanka, which The Daily Show has compiled into Don't Forget: Donald Trump Wants to Bang His Own Daughter and Again, Don't Forget: Donald Trump Wants to Bang His Own Daughter (which is why so many eyebrows were raised in DC when reports surfaced that Ivanka will serve as First Lady instead of The Donald's own wife, Melania). Trump's past behavior could be a White House sex scandal waiting to happen, especially if he does anything to any of the female White House staffers and interns, which could possibly bring on impeachment.
7. There is the reported conflict of interest between the new President Trump and his continued running of the Trump Organization, which could be another way for Congress to consider impeaching him.
8. Donald Trump is also prone to having major Twitter meltdowns, which could easily bite him in the ass at some point in the future. There are already questions about whether those Twitter tweets he continues to issue around the clock are an indication of some kind of mental health condition that The Donald is suffering from, as explained in this video.
9. There is the speculation about Donald Trump's very cozy relationship with Russian leader Vladimir Putin. Recently BuzzFeed posted this report claiming that the Russians have some embarrassing evidence about The Donald that they could potentially use against him. This could cause Americans to wonder if Donald Trump really has the interests of the United States in mind and would his relationship with Russia be construed as treason.
10. While the Congress will be dominated by Republicans for at least the next two years, there are plenty of Republicans who aren't so enthusiastic over President Trump (especially those who supported Trump's opponents in the Republican primaries). More recently, Republican lawmakers have voiced disdain after Trump went on Twitter to announce that he has more faith in Wikileaks founder Julian Assange than in U.S. intelligence agencies. If Trump does things that further alienates his own party, I can imagine that they would be willing to throw him under the impeachment bus in the hopes of being replaced by President Mike Pence, who's way more palatable to the right-wing than Trump is.
11. If President Trump really screws up his first two years in office, there's a strong chance that progressive people can be elected to Congress in the 2018 mid-term elections—people who are more likely to oppose and obstruct President Trump every step of the way. This might give President Trump an incentive to either resign or decide not to seek a second term.
While there's a part of me that hopes that President Trump will rise to the challenge of being in the Oval Office and actually do something for the large part of the population who are unemployed or underemployed, I am not going to hold my breath on this. I predict that one of four scenarios will happen to President Trump.
1. President Trump resigns halfway through his term in office.
2. President Trump gets impeached by Congress and removed from office halfway through his term.
3. President Trump gets assassinated. Which wouldn't be a major stretch since he has gone out of his way to insult women, LGBTQ people, ex-POWs, disabled people, Muslims, and Latinos on the campaign trail. I could easily see some unhinged person deciding to take matters into his/her own hands and go after President Trump with a gun. I'm not the only one who wouldn't be surprised if President Trump gets assassinated.
4. President Trump simply dies in office. At 70 years old, he is considered to be the oldest person ever elected to the nation's highest office. Being President of the United States is the highest stress job there is and it tends to rapidly age whoever occupies the Oval Office at a faster rate than usual. It's possible that this new job will literally kill him.
5. President Trump either decides not to seek a second term or he is defeated for re-election in 2020.
The only downside to the first four scenarios is that Mike Pence would become president and he's a guy who's not only an extremist when it comes to women's reproductive health but he's also very anti-LGBTQ rights. He's less of a buffoon than Donald Trump, which makes him really scary. The best thing we can all hope for is the fifth scenario where a new President and Vice President can be elected and the Executive Branch can begin 2021 with a totally clean slate.
I would really love to be proven wrong about my low opinions of President Trump and he turns out to be the best president since FDR. I would be ecstatic if that happens. But I'm not going to hold my breath waiting for that to happen.