You are currently browsing the category archive for the 'Television' category.
I never thought I felt the need to write a sequel to Fuck You, George Takei (and Every Other Hollywood Sexual Predator)! so soon but then Al Franken happened.
Like George Takei I had long followed Al Franken's career starting with his days on Saturday Night Live. I read a few of his books and I was thrilled when he was elected to the Senate because I agreed with nearly all of his political positions.
First there was that account about how he had pressured a reluctant television news anchor into French kissing him during rehearsals for an upcoming show for the U.S. troops then had a photo shot of him placing his hands on that same woman's breasts while she was taking a nap.
The good news was that he owned up to that behavior and publicly apologized for it, unlike George Takei, who has blamed Russian bots for his predicament. The bad news is that today a second woman had come forward with her tale about how he was stalking her in her own home soon after the two of them had appeared on a television talk show and they had gotten into an argument on the air about a certain issue.
I'm just as done with Al Franken as I am with George Takei. While I admire both of them for their stands on various political and social issues, I can't support or justify sexual harassment, sexual assault, or stalking. Besides there are a lot of other people out there who have also done admirable things and taken principled stands on certain issues who don't engage in rape, stalking, sexual harassment, sexual assault, or anything similarly disgusting.
FUCK YOU TOO, AL FRANKEN!
P.S. If you're a man or a woman who has survived sexual assault and/or rape and you're having a hard time dealing with it, there is help for you. Contact RAINN either through its hotline (which is open 24 hours a day) at 1-800-656-4673 or online at rainn.org.
UPDATE: (November 20, 2017): And the accusations just keep on coming. A woman has accused Al Franken of squeezing her buttocks as her husband was taking a picture of the two of them together.
I've been watching with dismay over how the Hollywood sexual predator scandal has been unfolding over the past few weeks. Initially it was just Harvey Weinstein, whom I decided to lampoon in an ink drawing since that scandal originally broke during Inktober.
But then some of Weinstein's accusers collaborated on this Google Doc (I have to insert a trigger warning here since it provides the gory details about Weinstein's alleged sexual predatory behavior ranging from sexual harassment to rape) and his reputation is pretty much toast at this point. On top of it, Kevin Spacey, Louis C.K., and a whole bunch of other Hollywood people have been accused of similar disgusting actions.
I saw this post on the Uncustomary blog titled Fuck You, Louis C.K. where she expresses disgust and disappointment to someone whom she had long admired and had even attended a few of his shows. I can understand her feelings, especially since I recently had to take a hard look at a different famous person whom I had long admired. In a way I wasn't too surprised about Louis C.K. since I had long heard rumors that he had a nasty, misogynous streak. However, the person I'm writing about is different because he had been a part of my life since childhood and he seemed to be the opposite of Louis C.K. in terms of temperament and personality. His name is George Takei.
I spent a large portion of my childhood watching reruns of the original 1960's Star Trek series, which included George Takei playing the role of Sulu alongside a multi-racial and multi-ethnic cast. As an adult I watched an older George Takei reprise his role as Sulu in a few of the Star Trek feature films. I'll admit that I mainly saw his acting work in Star Trek. (The only non-Star Trek movie I ever saw George Takei in was The Green Berets, which starred John Wayne. I saw part of that film on TV once and I have to say that it didn't impress me all that much, which was why I either changed the channel or turned the TV off so I didn't see the whole thing.) Like many of the other Star Trek actors, George Takei had a difficult time finding work after the series ended because he not only had to deal with typecasting as being capable of doing only science fiction space epics but he also had to deal with being an Asian American actor in a field that tends to heavily favor white men.
I began to see George Takei in a different, more positive light when he started to speak out about his past. He was born to a Japanese American family that was sent to an interment camp soon after Japan bombed Pearl Harbor. He talked about what it was like being forced to grow up in a place like that and how it affected his family. It wasn't too long ago that there was a Broadway show called Allegiance, which was loosely based on Takei's childhood in that internment camp.
But then he came out as gay a few years ago. I never held it against him that he waited until he became a senior citizen before he came out because I knew that had he come out in the 1960s or 1970s, there was a strong chance that his acting career would've been ended prematurely. (Despite the start of the gay rights movement in the late 1960s, homophobia was still very rampant in those days. In some ways homophobia is still strong in this country but that's another story altogether.) He began to use his celebrity to fight for marriage equality and he publicly married his longtime partner, Brad, back when it was uncertain as to whether same-sex marriage would even be legally recognized in the long-run. I began to really admire him for doing that.
In a way his coming out had renewed his career in the public eye. I began to follow him on social media and I enjoyed his posts. I purchased this ebook, Oh Myyy! There Goes the Internet, which I thoroughly enjoyed.
I even shot this picture of a faded poster featuring George Takei, which was hung in the window of the local Social Security office back in 2013 when I was there filling out forms notifying them of my recent name change (which came about as a result of my divorce).
When George Takei and his husband, Brad, did a short-lived YouTube series called It Takeis Two, I watched it and enjoyed it. I thought it was totally hilarious yet it was every endearing, especially in the scenes that focused on just George and Brad. (Due to recent circumstances, I refuse to link to this series so you'll have to do your own Google search if you're curious.)
It all came crashing down just a few days ago when a onetime male model gave an interview where he claimed that George Takei sexually assaulted him while he was drunk back in 1981. (I have to insert a trigger warning here since it contains a graphic description of that assault.) I felt dismay at first. I found myself wishing that this alleged victim was just a crazy fan who was unusually obsessed with Takei and he was taking that obsession way too far. I know that celebrities have to frequently deal with such crazy fans. I'm old enough to remember when John Lennon was murdered by an obsessed fan outside his own home and Selena was murdered by the president of her own fan club.
But then I had to take another look at this story when this interview George Takei did on Howard Stern's show last month surfaced and, to be blunt, it didn't make him look good at all. I heard that interview and I found it to be too reminiscent of Donald Trump's infamous "grab them by the pussy" Access Hollywood bus recording in that Takei sounded more like a sexually predatory creep.
He dug an even deeper hole for himself when he then claimed on Twitter that Russian bots are behind the sexual assault allegations. He deleted that tweet but not before so many people had made screenshots and they simply re-uploaded that screenshot online.
Now he's saying that he was just playing the role of the "naughty gay grandpa" on Howard Stern's show and he really didn't mean what he said on that show. Had Howard Stern's show been a TV network situation comedy that is scripted by writers, this explanation would've been very plausible. However, Howard Stern's show is basically a talk show (albeit one that's emceed by a shock jock who will say anything outrageous on the air just for pure shock value). People who appear on talk shows tend to tell true-life stories about themselves—including the ones who only make such appearances in order to promote their latest book/movie/TV show/website/etc. Howard Stern's show is no different. Stern may be more raunchy than a typical media interviewer but he is still basically a talk show host.
Given what has happened over the past few days, I wouldn't be surprised if Takei's response to the sexual assault allegation will one day be discussed in a college-level public relations class as a case study on how NOT to respond to a potential career-ending scandal.
But seriously I'm pissed off at him. I used to think he was basically a good guy who was willing to use his celebrity for a good cause (marriage equality). Now I know better. George Takei is no better than the other Hollywood public figures who have been named in this scandal.
The only silver lining is that a couple of years ago I had a chance to actually see George Takei in person when he and fellow Star Trek alum William Shatner made an appearance at Awesome Con in Washington, DC. I knew I would never be able to afford the extra fees required (in addition to the basic admission fee to enter the convention itself) so I could get an autograph and have my picture taken with him. I had hoped to be able to see him from afar and maybe check out any panel that he was participating in. It turned out that I didn't go to Awesome Con at all that year because my finances were too tight to even afford the basic admission. I used to regret missing out on the chance to see George Takei in person. Now I'm no longer regretting it. I'm just glad I wasn't among the throng of people who paid extra money for that autograph and photo because I can only imagine trying to decide what to do with these expensive items in light of that scandal.
The good thing about this scandal is that it is separating the wheat from the chaff in terms of how it is bringing out both the best and the worst in people. I was heartened when Gal Gadot announced that she would not do any more Wonder Woman films unless an accused sexual harasser was permanently removed from that project. While I enjoyed Gadot's role in Wonder Woman, I really respect her stance. It would be a disgusting irony if a film franchise featuring a strong woman superhero that champions female empowerment would continue to employ an accused sexual harasser. One of that accused sexual harasser's victims, Ellen Page, wrote an eloquent yet harrowing Facebook post about how he tried to force her out of the closet before she was ready to do so. (While Page eventually came out as a lesbian, at least she did it of her own volition when she did this. I have LGBTQ friends who told me that coming out is such a long process that requires a lot of mental and emotional preparation. Forcing someone out of the closet before he/she is fully ready to come out have led to major trauma and sometimes that person will attempt suicide as a result.)
Last weekend I pulled out my DVD copy of Clerks, which is the only Miramax movie I currently own, and watched it. I still enjoyed the movie as much as I enjoyed it the previous times. I only flinched when I saw the closing credits where the director, Kevin Smith, thanked Harvey Weinstein for introducing him to the best potato skins he had ever eaten. Recently Kevin Smith announced that he will donate all future royalties from the movies he made for both Miramax and The Weinstein Company—including Clerks—to the non-profit organization Women in Film.
While Gal Gadot and Kevin Smith are trying to do what they can to rectify the ongoing Hollywood sexual pervert scandal, unfortunately there are still people like George Takei who will eventually end up on the wrong side of history. As for me, I'm done with George Takei. I plan on unfollowing him on all social media and I will never again purchase any more ebooks with his byline. I will follow suit with any other famous person whom I had previously admire because sexual harassment/sexual assault/rape against any woman, man, or child has no place in this society. It is not cool or awesome and I don't want my money to support something like this.
FUCK YOU, GEORGE TAKEI (AND EVERY OTHER HOLLYWOOD SEXUAL PREDATOR)!
UPDATE (November 17, 2017): In the midst of writing and uploading this rant late at night, I forgot to include something. If you're a man or a woman who has survived sexual assault and/or rape and you're having a hard time dealing with it, there is help for you. Contact RAINN either through its hotline (which is open 24 hours a day) at 1-800-656-4673 or online at rainn.org.
By the way, check out my sequel to this post: Fuck You Too, Al Franken!
These days I can't go on a news site or social media without hearing about the latest crazy drama that's coming from 1600 Pennsylvania Avenue, N.W. in Washington, DC. Since last week the following has happened:
President Trump hires New York financier Anthony Scaramucci as the new White House Communications director, which results in the resignation of Sean Spicer from his White House press secretary job.
White House press aide Michael Short resigned after Scaramucci threatened to fire him over alleged leaks.
Anthony Scaramucci deletes his old Twitter tweets while saying that he did this in order to be "fully transparent." Other sites have managed to archive his deleted tweets (which proves the adage that once you post something online, it never completely goes away).
Not long afterwards Anthony Scaramucci contacts The New Yorker magazine where he accused White House Chief of Staff Reince Priebus of plotting against him and said that Trump's chief strategist, Steve Bannon, sucks his own cock.
Meanwhile Scaramucci's wife files for divorce because she became fed up with his attempts to suck up to President Trump. (He even blew off the birth of his own son in favor of attending President Trump's infamous speech at the Boy Scouts Jamboree.)
President Trump fires White House Chief of Staff Reince Priebus.
Today President Trump fires Anthony Scaramucci after spending just 10 days at his new job.
Man, you really can't make this shit up if you've tried!
It looks like Donald Trump is running his administration the way that he used to run his reality show The Apprentice. Granted firing people right and left made for great reality TV, such as this compilation of Trump frequently saying "You're fired!" on his old reality show.
Hell, I used to watch The Apprentice and The Celebrity Apprentice as my guilty pleasure until 2011 (when I became totally turned off of Trump's show after Trump talked about running for president while questioning President Obama's birth certificate and blatantly catering to the racist birthers who couldn't stand the fact that an African-American man was actually elected to the White House). I'm willing to admit that frequently firing people makes very compelling TV but, to be blunt, that is no way to run to run a White House administration or even an entire country.
Trying to keep abreast on what's going on at the White House is a really major challenge for journalists. Here's a video of a presenter on BBC News trying to explain to the viewers of what's going on while seeming confused himself at the same time.
Third Eye Comics has been around for a few years. The store had simply moved to larger quarters just around the corner from its former location. The store decided to have a grand opening event to celebrate this. Here's a look at the entrance to the new facilities.
This is a really cool example of trompe l'oeil.
As you can see in the next few photos this event was well attended.
There were all kinds of items available for sale, such as this Weeping Angel tote bag from the Doctor Who TV show.
There were comic books, graphic novels, vinyl toys, coffee mugs, and other kinds of related merchandise available for sale.
Third Eye Comics also has a games store, known as Third Eye Games, whose entrance is located next to Third Eye Comics' space.
As you can guess from the name, Third Eye Games have all kinds of card games and board games available for sale, such as this Ghostbusters game.
There were plenty of people playing games when I was there.
I took advantage of the store's special 20% discount on graphic novels to make my one and only purchase from that store. As you can guess by the cover, Deadpool the Duck is a mash-up between Howard the Duck and Deadpool. Having read it, I can tell you that it's definitely hilarious. I would recommend picking it up if you have the chance.
On the Saturday during the Fourth of July holiday weekend, I decided to check out this toy show that was being held at the Maryland State Fairgrounds.
It was such a feast for the eyes as the toys and various other vintage items were displayed at various vendor tables. The whole show took on the air of a flea market with an emphasis on vintage stuff dating anywhere from the 1900s to the 1990s.
Someone had a jukebox for sale, which reminded me of my childhood when many of the local restaurants had them and people could choose songs to play for about a quarter each.
The jukebox played music during the entire event. (Which proved that it definitely still worked.) I couldn't help taking pictures of the songs that were available on the jukebox. The majority of them were hits when I was a kid.
And speaking of music players, here's a vintage 8-track player with an Elvis Presley 8-track tape. I once had a stereo system that included an 8-track player but I never owned one like that. But I could've sworn that one of my friends or maybe one of my cousins had a player just like that but I don't know for sure. (Memory is one of those funny things where you remember something but you don't remember when, where, or how you remember it.)
Late last year I did a series of blog posts with accompanying photos known as A Tabletop Christmas (so-named because I limit my Christmas decorating to just a single tabletop in my living room). Among the items I showed off was a small plastic Santa Claus puppet that I've had since I was a child. I didn't know anything about the origins of this puppet. It wasn't until I went to the toy show when I saw a tiny plastic Santa puppet on sale that's identical to mine.
The only difference between the two is that this Santa still had its label at the base while mine doesn't have any labels at all. (I suspect that whatever label it had must've fallen off a long time ago.) My Santa puppet is currently stored in a box with the other Christmas decorations in the attic but here's a picture of my Santa puppet that I took last December.
At first I thought the animal in the next picture was a stuffed animal until I saw the dog move his eyes around. He laid there the entire time I was at that show.
This show also had examples of how the mighty had fallen. I found this book by disgraced former Fox News talk show host Bill O'Reilly on sale for only $1 at one of the tables. (LOL!)
There was one token of something new that I found. Someone was selling glow-in-the-dark versions of the hottest toy of 2017: Fidget Spinners.
By the way, you can check out a video I shot recently where I unboxed and played with one of those Fidget Spinners for the first time (and, no, the one I bought didn't glow in the dark).
Everywhere there were visual treats, many of which harkened back to my own youth.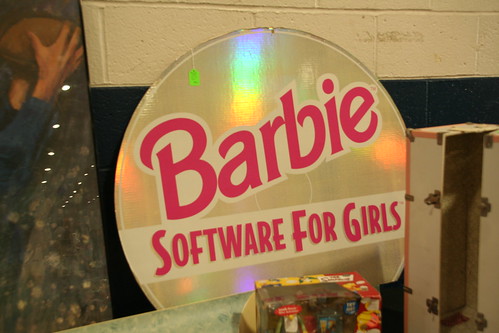 As I was walking back to the light rail stop I shot this photo of The Cow Palace building because it had a nice small garden.
I didn't buy a lot of stuff at that toy show due mainly to tight finances. But I managed to snag a couple of things at bargain rates. I found the second season of The Simpsons DVD set for only $6.
I bought a Monster High doll for only $5. I was attracted to her pretty winter-themed clothes. At first I thought I may have purchased a relative of The Snow Queen until I did an online search and I was able to make a definite identification. Based on this web page, her name is Abbey Bominable and she's described as the 16-year-old daughter of the Yeti.
Here's a closeup of her hair, which looks like it has glittery plastic pellets weaved throughout the strands. It gives a really cool ice/snow effect, especially when the light reflects off of her hair.
Like I wrote yesterday, I decided to devote a separate post to my attendance at the latest installment of Dr. Sketchy's Anti-Art School in the Dupont Circle area of Washington, DC because it would have made my last post extremely long otherwise.
This event was held during DC Pride Weekend and it was also held on the same day as a big demonstration on the Mall for LGBTQ rights. I wasn't able to make it because I attended Sunday service at my church that morning, Dr. Sketchy's was supposed to begin at 3 p.m., and there's the issue of Metro's unreliable weekend service where you typically have to wait between 15 minutes to a half-an-hour for the next train. I wasn't too bitter about missing the march because it was very hot outside. (The temperature went as high as 95 degrees with high humidity.)
I saw rainbow flags everywhere in Dupont Circle as I was walking to the Bier Baron, where the event was held. Even the Bier Baron itself was decked out in rainbow colors.
Once I was inside I even got in on the act by laying out my pencils in a rainbow pattern.
Once again Reverend Valentine hosted the event. I gave her this toy dinosaur that I found outside Makerspace 125 in Greenbelt, which was among the items that the STEM center invited the general public to take for free. (Makerspace 125 is currently undergoing some major spring cleaning and reorganization of the space.) I knew she was into dinosaurs so I figured what the hell since it was free and everything. (Besides, it gives me the excuse to post this picture right here.)
She loved it when I gave it to her. She said that it will live with the other toy dinosaurs that she has on display in her kitchen.
The event was pretty well-attended despite the fact that it was scheduled during DC Pride Weekend and that big march was still going on at the Mall just a few miles away. The model for this event was a burlesque performer named Amira Jade and some of these drawings are definitely NSFW.
There was only one contest at that event. This one was a beach theme. She said that she would also give extra points for including a dinosaur. So I had Amira Jade with Dino the Dinosaur.
I also decided to ad Batman surfing on a surfboard in the ocean as my personal tribute to Adam West, the actor who played Batman in the 1960's TV series who had died the day before. It was based on this incredibly campy clip from the TV show.
My drawing made it among the finalists but I didn't win. Oh well. You win some and you lose some.
I did a couple of more drawings of Amira Jade before the event ended.
I recently added a new experience on my resume and LinkedIn profile because I think it's the most interesting temp job I've ever done. I was an extra at a taping of an upcoming television special that will air on public television throughout the United States later this year.
I unexpectedly got this gig when I was attending a networking event that was held at the state-run Maryland Workforce Exchange. I was searching for a new day job to pay the bills so I decided to go to this networking event to see if my fortunes would change. One of the participants there was currently doing a temporary gig for Central Casting where she was tasked with getting people to go to the taping. (She's currently looking for something more permanent herself.) I spoke with her and we hit it off. I added my name to the list of people willing to attend the taping.
A few days later I got a few emails instructing me where to go, what time I was supposed to show up, and where I can find free parking. The emails also said that the dress code was limited to business and business casual. (In other words, no t-shirts or sweatshirts with slogans, sports teams logos, or a photo of the latest pop music sensation.)
I wasn't sure what to expect other than it would be a talk on financial planning. Since my finances are currently in the toilet (I had incurred some debts in the wake of my unexpected divorce and I've been having trouble with finding a steady day job so I can pay those debts down) I thought that it would be one of those talks that wouldn't be relevant in my current situation. (In fact, I probably would not have gone if it hadn't been a paying gig.) The first night I went I brought my latest knitting project with me thinking that I would at least get that project done while sitting through the talk. I ended up not even touching that knitting until during one of the 10-minute breaks that took place halfway through the taping. That's because the talk was way more interesting than I expected. The second night I left my knitting at home.
The first night as I was walking into the auditorium prior to the taping I overheard a woman tell someone else that she has seen the speaker on television many times in the past. She said that he is someone she always listens to regarding planning for the future.
The TV special featured financial expert Ric Edelman giving a presentation on how technological innovations and economic changes will affect financial planning for the future. He said that the old days where people went to school, got their job working for just one company for 30-50 years, retired, then died anywhere between 65-75 are over.
He mentioned that business will become less like the New York model (where people worked for the same company with the same employees and bosses for a number of years until retirement) and be more like the Hollywood movie studio model (where people gather together to work on one project until that project is done and the people move on to other jobs/projects in other places with new coworkers). He cited the gig economy as one example of that Hollywood-like trend.
He gave numerous examples of technological innovations that will become more prevalent in the future, such as robots taking over more of the jobs that people currently do, the rise of crypto-currency like Bitcoin, finding cures for Alzheimer's and certain types of cancers, and other similar breakthroughs that will result in people living longer and seeing certain types of work going the way of the horse and buggy industry (which was a major employer in the U.S. until cars came along). All this will affect people's financial planning.
His talk reminded me of the film Future Shock, which I had to sit through twice (once in the 7th grade and once in the 12th grade) when I was in school. The big difference is that the movie had a more negative tone about the changing times and the technology that went on at that time (I still remember the scene where narrator Orson Welles spoke disdainfully about people being able to get artificial joints in the future—as someone with a hip replacement, I'm very grateful for that technological breakthrough because I would've eventually ended up in a wheelchair without it). In contrast, Ric Edelman puts a more positive spin on the technological innovations that are either here now or will be coming within the next few years. (I'll admit that some of my pacifist friends would have been horrified to hear him give a positive spin on the increasing use of drone warfare. Edelman talked about how drones can eliminate having to use flesh-and-blood soldiers in battles so it would save them from exposing them to physical and mental trauma. That is the positive side of drone warfare. What he didn't say is what happens to the people who are targeted by these drones—many of whom include children and innocent civilians who happened to be at the wrong place at the wrong time.)
He spoke so positively about the technological changes in the future that I kept on thinking about this 1990's hit song "The Future's So Bright, I Gotta Wear Shades."
Future Shock frequently shows up on YouTube only to have it get taken down. As of this writing, the film is back online right here. (In case this new link gets taken down, you can read Fast Company's article on what Future Shock got right and wrong.) Watching a 1972 film predicting the future is interesting in terms of what the film got right and what it got wrong (despite the film's overall negative tone). I would love to see the video featuring Ric Edelman's talk about the future 10 or 20 years from now in order to learn what he got right and wrong, but I digress.
He gave this presentation as a way of promoting his latest book, The Truth About Your Future, which is also currently a New York Times bestseller.
I took pictures during my two nights I was working as an extra. The event took place at Montgomery College Takoma Park/Silver Spring campus.
I had toyed with arriving at the campus about an hour or two before the taping on the second night so I could explore the campus and grab an early dinner someplace nearby. I had to scuttle that plan when it rained on the second night. The taping took place both nights at the Cultural Arts Center building.
The next shot shows this interesting glass and steel sculpture that hung from the ceiling of the building inside.
The procedures for working as an extra were the same both nights. We were instructed to arrive at the building by 6:30 p.m. (I had to eat an earlier dinner than usual both days so I wouldn't starve through the taping. It was a good thing I did that because the auditorium prohibited food and drinks.) The first thing we had to do was go to one of the tables where a representative from Central Casting was seated and do a check in.
We were given this form where the only thing we had to fill out was our name, address, phone number, Social Security number. We also had to sign it at the bottom. Central Casting filled out everything else.
Once we checked in we basically hung around in the lobby where people chatted among each other or went to use the restrooms.
Around 7 p.m. we lined up outside the auditorium doors and filed into the auditorium.
I took a couple pictures of some of the camera operators who were filming the presentation.
The director took to the stage first where he had us practice clapping and cheering. He instructed us to turn off our cell phones (I ended up putting my phone on vibrate). We were to look in Ric's direction at all times while enthusiastically clapping at the proper time. We could also utter exclamations like "wow!", "oooh!", "aaaah!", "whoah!", and so on.
Once the director left the stage Ric Edelman appeared where he gave his presentation. He talked nonstop for the first 45 minutes. After he said "When we come back…" we clapped and cheered as he left the stage. The director came out on stage announcing that there was a two-minute break while Edelman drank some water backstage. We were allowed to stand up and stretch but we couldn't leave the auditorium.
Ric Edelman returned to the stage while we applauded. He continued his presentation for another half-an-hour or 45 minutes. When he said "When we come back…" we clapped and cheered as he left the stage. The director came back on stage and announced a 10-minute break where we could go to the restroom if we needed to do so. During that time the director looked for 10 people who were willing to ask questions. The questioners lined up towards the back.
When the 10-minute break ended, Ric Edelman returned to the stage where he did the Q & A segment with the 10 volunteers. Once he finished answering all of the questions, the taping ended for the night.
The last picture shows Ric Edelman giving his talk. Unfortunately I was seated in the back of the auditorium on both nights so I wasn't able to get a decent shot of him.
As we left the auditorium we had to turn in our signed form to the nearest Central Casting representative before we could leave the building and go home. I didn't leave the event until it was around 9:30 p.m.
Ric Edelman gave the same presentation both nights. The main difference were the people who asked questions at the end. (Overall a total of 20 people got a chance to ask Ric Edelman a question while one of the cameras focused on the questioner so that person got a brief bit of fame. Of course, I don't know how many of those questioners will actually make the final cut and actually end up being aired on television.) The auditorium was packed the first night with every single seat taken. On the second night I noticed that fewer people had showed up. (I guess some of the participants couldn't show up both nights.) The director focused on filling up the seats closest to the stage. I ended up in the back just like the night before. I noticed that there were empty seats in rows that were further back than where I sat on the second night.
The biggest challenge on the second night was sitting through the same presentation again while pretending that I was hearing it for the first time. It wasn't too bad hearing it for the second time because it was such an engaging presentation and Ric Edelman is such a dynamic speaker. Given my current financial situation, I would've been willing to sit through the same presentation every night for the next six months.
The show is tentatively scheduled to air on PBS in December during Pledge Week. (Which was why Ric Edelman interrupted his presentation twice—just so the local PBS stations can jump in with their own broadcasts begging people to make a generous donation so the stations can keep operating another year.) All in all I found the whole experience fascinating and I really enjoyed the presentation that Ric Edelman gave (even if I had to sit through it twice over a two-night period). I learned a lot from the presentation (especially regarding future technological advances) and, what's more, I got paid $50 per night. So I earned $100 that week. Sweet!