You are currently browsing the category archive for the 'Housewares' category.
Once again I took part in the Changing Focus Yard Sale, which was held on the grounds of the Prince of Peace Presbyterian Church in Crofton, Maryland. Like the previous times I attended, I collected money from people who wanted to buy the used items that were donated from the members of Changing Focus (which is a non-profit organization dedicated to helping people deal with being separated, divorced, and widowed). In-between handling the money and interacting with the customers, I took these photos of a few choice items that were on sale this time around.
This porcelain doll looked like the late Princess Diana having an incredibly bad hair day while wearing a dress that looked a couple of sizes too big for her.
These two Victorian-style dolls were snapped up about a minute or two after I took this shot.
The weather was warm and gorgeous outside. It was the perfect day to hold a yard sale. The flowers were at their peak bloom as well.
These kids were playing under one of the flowering trees while their parents shopped at the yard sale.
This is definitely the epitome of kitsch: a porcelain Avon Lady figurine dressed in Victorian-style clothes.
There were plenty of other things on sale that were definitely kitschy.
Most of the time I participate in these yard sales, I come across at least one item that belongs in a museum. This time it was a film cartridge for the Kodak Pocket Instamatic camera (which was my first camera I ever owned—this post I wrote over two years ago has photos I shot with that camera when I was trying to earn a photography badge in Girl Scouts). What's even more amazing is that this film was still in its original foil cover, which has never been opened.
Here's another view of the wrapped Kodak film cartridge that has the words "Open at Cut." (There's a little cut along the center seam where one is supposed to rip in order to open the package.)
I don't know if anyone bought it. I have no way of knowing if that film would be usable since it was probably manufactured during the Pocket Instamatic's 1970s heyday. When I was doing a quick Google search about the Pocket Instamatic, I came across this website that was not only selling vintage Pocket Instamatic cameras but it was also selling newly manufactured 110 film cartridges just for that camera. (Which proves that there's a market for just about anything these days.)
But that wasn't the only Kodak film product I saw on sale that day. There was also a Kodak 35mm camera gift box set that was definitely for those who miss the days of shooting with 35mm film.
I saw a vintage Soviet Union sports pendant (note the hammer and sickle in the center).
The Prince of Peace Presbyterian Church has a labyrinth on its property. A young boy was walking along the labyrinth while his father was watching the child while sitting on a bench on the far left side of the photograph.
At one point I went indoors where I checked out the Prince of Peace Presbyterian Church's used book sale.
I saw boxes full of vintage Nancy Drew and Hardy Boys mystery series.
The church sold more than just used books. They had boxes full of VHS tapes. (I saw people actually browsing and buying them.)
I purchased two books at the used book sale. One was Dan Brown's Inferno, which is another novel in the historical series featuring Robert Langdon. (I had previously read Angels & Demons, The Da Vinci Code, and The Lost Symbol.)
I also found this book on puppet making, which I bought on impulse. (It only cost $1.)
Both the yard sale and the used book sale were scheduled to coincide with the Festival on the Green, which is usually held on the grounds of the Crofton Country Club that's located next door to the Prince of Peace Presbyterian Church. The festival had all kinds of handcrafted goods made by local artisans while providing entertainment (some of which included people dressed in costumes). I browsed through the various tables but I ended up not buying anything because money was very tight for me.
Many of the items on sale were displayed with the upcoming Mother's Day holiday in mind.
This year is also an election year with the midterm elections coming up in Maryland. There were plenty of political candidate signs on display.
This event was the first time I ever shot a video at the Festival on the Green. There was a woman who wore fox ears and a fox tail who was playing the ukulele and singing "Hickory Dickory Dock."
All in all it was a pretty glorious day. I learned that Changing Focus managed to raise $1,600 from that yard sale. Sweet!
This year I took part in the Greenbelt Spring Maker Festival, which was put on by the Greenbelt Makerspace in Greenbelt, Maryland. The weather was warm yet windy. (At one point a guy who had his table next to mine had mounted his iPad on a tripod. He had to leave his table for a moment and a gust of wind blew over the entire tripod—iPad included—and smashed the glass on the screen.) Here is my vending area at the festival.
Yes, I used Giant's off-brand version of Oreos to entice visitors to my area. (LOL!)
The thrift shop Barbies that I refurbished as Fairy dolls made their appearance along with other arts and crafts I have done in the past.
I brought back the doll couch that I made from a broken Dance Dance Revolution dance pad. I had two American Girl dolls—Julie Albright and Addy Walker—sit on the couch along with a stuffed lion that I got from Build-a-Bear Workshop. (I wanted to show that this couch could seat stuffed animals as well as dolls.)
A Barbie doll models this "fur" coat that I knitted using fur yarn.
I attempted to do a live demonstration at my booth where I would crochet a small amigurumi bunny rabbit. I had this ambition that I would finish the rabbit by the end of the festival. Well, I ended not finishing it mainly because I had to tend to people who were browsing my table and there were times when I toured the rest of the festival. I would finish it later on.
Here are my photos of the rest of the festival which I took while I was going to and from the bathroom. There were 3D printers that printed various 3D items, musicians playing live on stage, children playing with Legos, woodworkers, a sewing demonstration, numerous computer demonstrations, and an information table that dealt with things like composting. There were vendors that sold jewelry, knitted hats with matching knitted scarves, and ceramics.
This boy was checking out a table where one can play music with oranges that were connected with some kind of an interface with a computer.
When I first started going to these maker events, I saw 3D printed items in only one color. At this event I saw 3D printed items based on Winnie the Pooh and Snoopy and they were 3D printed in more than one color, which was cool.
This year there was an attempt to include the Greenbelt Library in the festival even though the building is located a few feet outside of Roosevelt Center (where the festival took place). Phil Shapiro brought his portable wind tunnel where he enticed families with young children to check it out. I happened to take this photo of him during downtime where he was reading.
He had me use his phone to film him sending paper streamers through the wind tunnel. He later uploaded the footage I shot on YouTube while he added some music in the background.
Instead of crowding into some suburban shopping mall on Black Friday, I decided to check out some local alternative festivities that were going on with some locally owned businesses. I took so many photos that day that I decided to divide them into separate entries with each entry representing a different town or business that I went to.
I began Black Friday with a trip to Community Forklift, a warehouse store that specializes in used/upcycled/recycled items like appliances and hardware, which was having an alternative Green Friday celebration.
When I first arrived I noticed a few signs indicating that they welcome everyone no matter who they are. More and more locally owned businesses have been putting up such signs in their shops since Donald Trump moved into the White House.
Santa Claus was there that day.
One of the Community Forklift employees offered to take my picture with Santa so I allowed it.
There were all kinds of Santas that were available for sale at Community Forklift that day.
I really liked this cast-iron vintage oven and stovetop that was on sale. If I lived in a bigger house, I might consider buying it. But I have a small kitchen so I really don't have the space. This oven would be an asset to anyone who is looking for vintage items.
There was a craft show at Community Forklift as well where local artisans were selling ornaments, jewelry, locally made honey, and other items.
Local musicians provided live music.
They had face painting for kids.
They had a couple of free make and take demonstrations. One was on making wreaths using natural materials.
The other was making coasters from recycled tiles. I've made such coasters in the past but this one had a technique I've never used before where you decoupaged backing paper on the tile first.
Then you selected a photo that you decoupaged on top of both the backing paper and the tile.
Afterwards you place a piece of cork on the table and add Modge Podge on the top.
Then you placed the tile on top of the cork and let everything dry for a few minutes.
I now have a new coaster with a blue-patterned background and a photo of the U.S.S. Constellation (which is docked at the Inner Harbor in Baltimore) on top.
After I went to Community Forklift, I headed to similar celebrations that were going on in Riverdale Park and Hyattsville but I'm going to write about them in separate posts.
Once again I volunteered to handle the money transaction for the yard sale that was held by Changing Focus, a nonprofit group that helps people deal with separation, divorce, and being widowed. The yard sale took place on the grounds of the Prince of Peace Presbyterian Church in Crofton, Maryland, where the weekly Changing Focus meetings take place.
The weather was cloudy and it veered between being warm and cool. When the sun was behind the clouds, I felt cool enough that I would wear my hooded sweatshirt that I brought with me.
However when the sun emerged from behind the clouds, the temperature would suddenly shoot up and I would end up removing my sweatshirt.
The weather was crazy at times but at least it didn't rain so people were more likely to come out and do some shopping.
The yard sale gave me an opportunity to take pictures of some oddities that were on sale. I have to admit that the organizers' decision to no longer accept certain electronics and other outdated items have had an effect. Like the spring yard sale that took place earlier this year, there were far fewer oddities that really belong in a museum than in the past. (My all-time personal favorite is the time when someone donated a Westinghouse vacuum tube that was still in its original box.) There were still a few items that were worth photographing but they were more of a cool vintage sort than something that was totally outdated. Some of the vintage items could easily belong in a museum.
These fuzzy slippers were obviously meant to resemble an animal but I wasn't able to figure out which animal. (I couldn't tell whether it was a bear or a pig with that snout.) In any case, I saw someone purchase it so it all worked out.
This plate had the pictures and names of Canadian songbirds written in English and French. The one thing I learned is that Canada has the same songbirds as in the United States.
Those Depression-era pink glass plates looked pretty nice. If it weren't for the fact that I'm trying to live a more simple life with fewer possessions, I would've definitely bought the whole set.
I never knew there was such a thing as a Never Clog Sugar Shaker.
This one really caught my eye because it looks like something that belongs in a museum. It's a cookbook called Frances Lee Barton's Cooking School of the Air and it also has the name General Foods on it. Many of the pages had the date July 5, 1934 printed on the bottom of each page. I later did a Google search and found that this cookbook was based on a radio show that aired on the NBC Red Network from 1932-1935. After reading that, I found myself wishing I had actually bought it for myself because it would've been interesting to try some of the recipes from a long time ago. Oh well. I found that Amazon.com has a few used copies of that book so if I ever feel the need to cook any meals from that cookbook, I can buy it online.
There was one customer who asked about what kind of furniture it was and it had me stumped. Someone else with the Changing Focus group figured out what it was. Apparently it was something that was used in the days before indoor plumbing became common. Basically one would draw water from a well then place some of the water in a pitcher on the top shelf level of the furniture. A bowl would be placed on the lower shelf while soap and other washing supplies would be placed in the cabinet below. Anyone wanting to wash up would take the pitcher of water, pour it into the bowl, then wash his/her hands or other body parts.
There were a set of two wine glasses that also had seven colored 3 LED lights. The photos on the boxes made it look like one could drink liquids while the glass glowed a variety of different colors.
This set of vintage 1948 crochet baby bibs looked really nice. It's amazing that something that was handmade for a baby nearly 70 years ago has survived being spat upon and enduring other food stains.
I came upon a postcard that caught my attention. It was for an ice cream parlor known as the Sugar Bowl. I remember when, during one of our numerous trips to Arizona, one of my husband's step-sisters encouraged us to try going for ice cream at the Sugar Bowl in Scottsdale because that was one of her favorite places. We ate there once and I liked it. (I think my husband liked it as well but we only ate there once.) I looked on the back of this postcard and saw that it was the same Sugar Bowl that is in Scottsdale. That is pretty ironic that I would find this postcard at a yard sales held thousands of miles away from Scottsdale.
The Changing Focus yard sale is usually held in conjunction with the Festival on the Green, a craft show that's held on the grounds of the Crofton Country Club (which is located next to the Prince of Peace Presbyterian Church). At one point I managed to walk over to the festival where I saw all kinds of neat stuff.
There was even a boxing demonstration.
At one point I shot this photo of the mascot for the Washington Capitals NHL hockey team.
Someone who was in that same booth where the mascot was located had offered to take a picture of me with the mascot using my own camera. I only went along even though I wasn't in the mood to have my picture taken. Here's the shot.
I helped with the yard sale until 2 p.m. when a truck arrived to take the unsold items to a nearby thrift store. I helped with packing the inventory in boxes, loading them onto the truck, then dismantling the folding tables (which belonged to the church). It was sometime around 3:30 or 4 p.m. when I finally left Crofton.
I only purchased two things for myself and they were both from the yard sale. One was the first book in J.R.R. Tolkien's Lord of the Rings trilogy, The Fellowship of the Ring. Among the numerous things that my ex-husband left behind when he abruptly ran away from home three days after Christmas in 2011 (and three months after I had hip surgery) were The Hobbit and two of the Lord of the Rings trilogy. I tried looking for that third book but I couldn't find it. (It would be weird if my husband had taken only the first book in that trilogy but none of the others but he's been doing weird stuff ever since he ran away from home. In the process he has not only alienated me but many of our long-time friends as well.) It turned out that the yard sale only had one of the books and it was exactly the one that was missing from my home.
I also purchased this book because it has some neat craft ideas that I wouldn't mind trying in the future.
Third Eye Comics has been around for a few years. The store had simply moved to larger quarters just around the corner from its former location. The store decided to have a grand opening event to celebrate this. Here's a look at the entrance to the new facilities.
This is a really cool example of trompe l'oeil.
As you can see in the next few photos this event was well attended.
There were all kinds of items available for sale, such as this Weeping Angel tote bag from the Doctor Who TV show.
There were comic books, graphic novels, vinyl toys, coffee mugs, and other kinds of related merchandise available for sale.
Third Eye Comics also has a games store, known as Third Eye Games, whose entrance is located next to Third Eye Comics' space.
As you can guess from the name, Third Eye Games have all kinds of card games and board games available for sale, such as this Ghostbusters game.
There were plenty of people playing games when I was there.
I took advantage of the store's special 20% discount on graphic novels to make my one and only purchase from that store. As you can guess by the cover, Deadpool the Duck is a mash-up between Howard the Duck and Deadpool. Having read it, I can tell you that it's definitely hilarious. I would recommend picking it up if you have the chance.
On the Saturday during the Fourth of July holiday weekend, I decided to check out this toy show that was being held at the Maryland State Fairgrounds.
It was such a feast for the eyes as the toys and various other vintage items were displayed at various vendor tables. The whole show took on the air of a flea market with an emphasis on vintage stuff dating anywhere from the 1900s to the 1990s.
Someone had a jukebox for sale, which reminded me of my childhood when many of the local restaurants had them and people could choose songs to play for about a quarter each.
The jukebox played music during the entire event. (Which proved that it definitely still worked.) I couldn't help taking pictures of the songs that were available on the jukebox. The majority of them were hits when I was a kid.
And speaking of music players, here's a vintage 8-track player with an Elvis Presley 8-track tape. I once had a stereo system that included an 8-track player but I never owned one like that. But I could've sworn that one of my friends or maybe one of my cousins had a player just like that but I don't know for sure. (Memory is one of those funny things where you remember something but you don't remember when, where, or how you remember it.)
Late last year I did a series of blog posts with accompanying photos known as A Tabletop Christmas (so-named because I limit my Christmas decorating to just a single tabletop in my living room). Among the items I showed off was a small plastic Santa Claus puppet that I've had since I was a child. I didn't know anything about the origins of this puppet. It wasn't until I went to the toy show when I saw a tiny plastic Santa puppet on sale that's identical to mine.
The only difference between the two is that this Santa still had its label at the base while mine doesn't have any labels at all. (I suspect that whatever label it had must've fallen off a long time ago.) My Santa puppet is currently stored in a box with the other Christmas decorations in the attic but here's a picture of my Santa puppet that I took last December.
At first I thought the animal in the next picture was a stuffed animal until I saw the dog move his eyes around. He laid there the entire time I was at that show.
This show also had examples of how the mighty had fallen. I found this book by disgraced former Fox News talk show host Bill O'Reilly on sale for only $1 at one of the tables. (LOL!)
There was one token of something new that I found. Someone was selling glow-in-the-dark versions of the hottest toy of 2017: Fidget Spinners.
By the way, you can check out a video I shot recently where I unboxed and played with one of those Fidget Spinners for the first time (and, no, the one I bought didn't glow in the dark).
Everywhere there were visual treats, many of which harkened back to my own youth.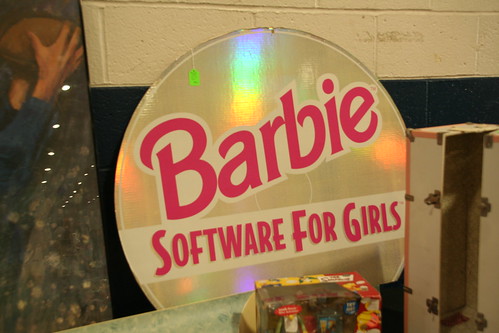 As I was walking back to the light rail stop I shot this photo of The Cow Palace building because it had a nice small garden.
I didn't buy a lot of stuff at that toy show due mainly to tight finances. But I managed to snag a couple of things at bargain rates. I found the second season of The Simpsons DVD set for only $6.
I bought a Monster High doll for only $5. I was attracted to her pretty winter-themed clothes. At first I thought I may have purchased a relative of The Snow Queen until I did an online search and I was able to make a definite identification. Based on this web page, her name is Abbey Bominable and she's described as the 16-year-old daughter of the Yeti.
Here's a closeup of her hair, which looks like it has glittery plastic pellets weaved throughout the strands. It gives a really cool ice/snow effect, especially when the light reflects off of her hair.
During the recent Memorial Day holiday weekend I was invited to a party that was held at the home of a woman I know from my support group for people who are separated or divorced. Since the party was held in Crownsville, I decided to head to Third Eye Comics, which is located on the outskirts of nearby Annapolis since I was going to be in the area anyway. I took a couple of quick pictures of some of the items they have in their store besides comic books.
This is the fourth year that a maker event took place in Greenbelt, Maryland. (It used to be known as the Greenbelt Mini-Maker Faire until this year, when the organizers decided against renewing the license with Make magazine, which holds the rights to the name "Maker Faire". One of the reasons I heard is that the organizers of this event has always insisted on it being a non-commercial, non-profit community event which is the opposite of most Maker Faire events, which tend to have all kinds of corporate sponsorships.) After sitting out last year, I decided to return as a participating vendor with my own table.
Makerspace 125 is the main spearheader of this event. This is what it looked like on that day all decked out in balloons and hoops wrapped with yarn.
Someone draped the nearby Mother and Child statue with long strings of beads.
Here is my vending area at this year's event.
A few days earlier I created a video slideshow of my sketchbook drawings I made over the years (I only admitted the ones that depicted partial or full nudity because this festival is an all-ages family-friendly event). I made a little brochure explaining about myself. I also offered free Oreo cookies.
This section shows the comic book coasters I made by cutting up the comic book collection that my ex-husband left behind. (I attempted to sell them but comic books are worth squat these days, especially if they were published after 1985.) I first debuted them at the 2015 Greenbelt Mini-Maker Faire and I still had a few left mainly because I haven't worked as many art shows and craft fairs in recent years as before the economic meltdown of 2008.
Last, but not least, here is my Barbie doll section.
The one in the front is the Barbie that I customized into the Unbeatable Squirrel Girl (which I also documented in my four-part DIY video series).
The three other dolls in the back are ones I originally found in thrift stores and I converted them into fairy dolls.
Since this event took place the day before Easter Sunday, there were plenty of eggs on display this year.
Here are my photos of the rest of the festival. The day started off cloudy and cool but then the sun came out and it got progressively hotter until I took off my hooded sweatshirt and just walked around in a t-shirt instead. The cream in the middle of the Oreo cookies I was giving away started to ooze from the middle of each cookie. (I ultimately had to put the entire pack in the refrigerator when I returned home.)
Even though the weather was ideal, the event drew a smaller crowd this year than in previous years. I have a feeling that the fact that this event was scheduled on the day before Easter had something to do with it. I only made a total of $25 in sales throughout the entire six-hour event. I was sort of disappointed because I really wanted to get rid of some excess crafts that have been stored in my home for the past few years while earning extra money. Oh well. At least I got to see a lot of my friends at this event so that's something.
I also shot a short video of some parts of the festival, which you can view below.
A few weeks ago I mentioned that there was A Day Without Women strike that took place on International Women's Day (which was March 8). Women were encouraged not to work (either at their jobs or doing housework in their homes) or shop. If someone needed to buy something on that day, that person was encouraged to buy it at a local woman or minority-owned business.
I learned on Facebook that Tanglewood Works was sponsoring a craft-in on that day for any striker to drop in and do a quick craft project for $5. So I headed there and I found that I was the only one who arrived at the store. (I was told that a family stopped by a few hours earlier.)
The basic set up went like this. First you picked which decal you like the best.
Then you take a tile (all of which came from Community Forklift, a hardware store specializing in selling appliances and home improvement items that have been recycled from construction projects) and you apply the decal to the tile.
Next you take alcohol-based inks and just apply them on the tile surface. It's okay if you cover the decal.
When the ink dries, remove the decal then spray the fixative on it. Here's the result.