You are currently browsing the tag archive for the 'Peanuts' tag.
One early Thursday evening I decided to make a stop at Homestead Gardens on the way to attending my weekly support group meeting for people who are separated or divorced. They had their Christmas shop open and they decorated the grounds with all kinds of gorgeous lights. That store sold a variety of Christmas decorations along with plants like poinsettias. Here are the pictures I took.
Once again Homestead Gardens had its giant train layout where one can see toy trains travel past the various Department 56 ceramic buildings.
After I went to Homestead Gardens I went to Wegman's where I purchased dinner to eat before I headed to my meeting. I also took some photos of interesting Christmas display, which I'll write about in my next post.
On the Saturday during the Fourth of July holiday weekend, I decided to check out this toy show that was being held at the Maryland State Fairgrounds.
It was such a feast for the eyes as the toys and various other vintage items were displayed at various vendor tables. The whole show took on the air of a flea market with an emphasis on vintage stuff dating anywhere from the 1900s to the 1990s.
Someone had a jukebox for sale, which reminded me of my childhood when many of the local restaurants had them and people could choose songs to play for about a quarter each.
The jukebox played music during the entire event. (Which proved that it definitely still worked.) I couldn't help taking pictures of the songs that were available on the jukebox. The majority of them were hits when I was a kid.
And speaking of music players, here's a vintage 8-track player with an Elvis Presley 8-track tape. I once had a stereo system that included an 8-track player but I never owned one like that. But I could've sworn that one of my friends or maybe one of my cousins had a player just like that but I don't know for sure. (Memory is one of those funny things where you remember something but you don't remember when, where, or how you remember it.)
Late last year I did a series of blog posts with accompanying photos known as A Tabletop Christmas (so-named because I limit my Christmas decorating to just a single tabletop in my living room). Among the items I showed off was a small plastic Santa Claus puppet that I've had since I was a child. I didn't know anything about the origins of this puppet. It wasn't until I went to the toy show when I saw a tiny plastic Santa puppet on sale that's identical to mine.
The only difference between the two is that this Santa still had its label at the base while mine doesn't have any labels at all. (I suspect that whatever label it had must've fallen off a long time ago.) My Santa puppet is currently stored in a box with the other Christmas decorations in the attic but here's a picture of my Santa puppet that I took last December.
At first I thought the animal in the next picture was a stuffed animal until I saw the dog move his eyes around. He laid there the entire time I was at that show.
This show also had examples of how the mighty had fallen. I found this book by disgraced former Fox News talk show host Bill O'Reilly on sale for only $1 at one of the tables. (LOL!)
There was one token of something new that I found. Someone was selling glow-in-the-dark versions of the hottest toy of 2017: Fidget Spinners.
By the way, you can check out a video I shot recently where I unboxed and played with one of those Fidget Spinners for the first time (and, no, the one I bought didn't glow in the dark).
Everywhere there were visual treats, many of which harkened back to my own youth.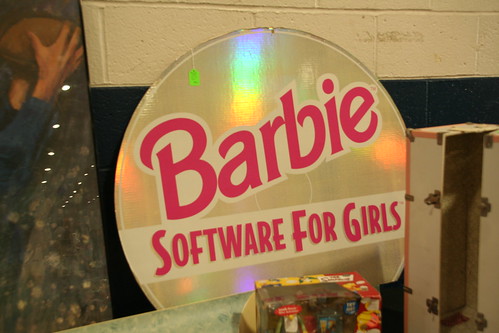 As I was walking back to the light rail stop I shot this photo of The Cow Palace building because it had a nice small garden.
I didn't buy a lot of stuff at that toy show due mainly to tight finances. But I managed to snag a couple of things at bargain rates. I found the second season of The Simpsons DVD set for only $6.
I bought a Monster High doll for only $5. I was attracted to her pretty winter-themed clothes. At first I thought I may have purchased a relative of The Snow Queen until I did an online search and I was able to make a definite identification. Based on this web page, her name is Abbey Bominable and she's described as the 16-year-old daughter of the Yeti.
Here's a closeup of her hair, which looks like it has glittery plastic pellets weaved throughout the strands. It gives a really cool ice/snow effect, especially when the light reflects off of her hair.
While nearly evey year I make at least one visit to Homestead Gardens (which I did a few weeks ago), there's another nursery that has a Christmas shop that's just as grand as Homestead Gardens. It's called Valley View Farms and I still have memories of the time that my parents made a family visit to that place when I was a child. As an adult I don't go to Valley View Farms as often mainly because Homestead Gardens is closer to my home. A few weeks ago I decided to attend another session of the Dr. Sketchy's Anti-Art School at the Wind-Up Space in the northern part of Baltimore and I also wanted to make a trip to the nearby pet store to stock up on more supplies for Spike. I figured that while I was going to be in the area, I might as well visit Valley View Farms so I did so.
At the front door I was greeted by this giant nativity scene that's available for sale.
According to Valley View Farms' Christmas page, this store displays over 125 decorated Christmas trees decorated with a selection of over 6,000 ornaments under a canopy of 50,000 twinkling lights. The result is a very bright and festive shop that provides tons of eye candy.
Each decorated tree has a different theme. The ornaments used in each themed tree are sold under each tree.
There was even a tree with a theme based on the rock band Kiss. I never knew there were so many different Kiss ornaments to choose from.
You know that the video game Angry Birds have become extremely popular when you can purchase Christmas ornaments based on the characters in that game.
If there were any ornaments most destined for the bargain bins next year, my vote would go for these ornaments based on Snooki and The Situation from The Jersey Shore, which MTV has recently announced that it will cancel after this season ends.
I've always loved looking at Department 56 buildings. I've never purchased one for myself partly because they are a bit on the pricey side and partly because I don't have the space in my home to do a really awesome miniature village layout. But I like looking at them on display in the stores.
This year Valley View Farms had two unique Department 56 nativity sets on sale in two different sizes. They feature Peanuts characters doing a live nativity scene and both are based on a scene in the annual TV Peanuts Christmas special where the Peanuts gang put on a Christmas pageant.
I purchased a nativity scene for myself because it looked more traditional while, at the same time, it was very uniquely made. It's a wooden piece and I just love the look of contentment on the faces of Mary, Joseph, and Jesus. It's small enough for my home and it's a one-piece nativity set so I don't have to worry about keeping track of small parts. Like many other things sold in America these days, this one was made in China but I think it was very well-made.
I also found some hedgehog ornaments at Valley View Farms, which was cool since I now own a pet hedgehog. Despite the fact that I had recently gone through great effort to downsize my Christmas ornament collection, I couldn't resist buying two of the hedgehog ornaments to celebrate the fact that I brought Spike home to live with me nearly 11 months earlier. I bought two hedgehogs because I couldn't decide which one I liked better. The left hedgehog in the picture below was made in the Phillippines by a company called Brushkins and it's made out of bristle brush. The right hedgehog looks like it's made from resin or some similar material and it was made in China and distributed by Kurt S. Adler. Both of them are very cute.
There was a third hedgehog ornament I saw that I could've purchased but I didn't because this one was more expensive than the other two hedgehog ornaments combined. This type of ornament was made out of glass and it looked lovely enough that I took a photo of the glass hedgehogs available for sale.
The last few photos are ones of the parking lot light displays at sunset, which were pretty lovely.
So after visiting Valley View Farms, I made the short trip to the pet store where I originally purchased Spike back in January in order to stock up on his Ultra Bites fruit and vegetable treats and his cage litter so I won't have to make any more shopping trips on Spike's behalf before Christmas. (I wanted to avoid the increased traffic congestion that usually occurs closer to the holiday.) I ate a quick dinner at the pizza place next door then drove to The Wind-Up Space in the northern part of Baltimore where I attended another session of Dr. Sketchy's Anti-Art School.
It's a necklace. It's a pin. It's BOTH!!! The photos are based on the ones that I actually took myself using my digital camera. I edited each photo in Photoshop, printed it out on Shrinky Dinks that are especially made for ink jet printers, cutted out the image, punched a hole on top of the image, baked the item for 3 minutes (when it shrinked to 1/3 of its original size), sealed the printed item in an acrylic varnish, placed a necklace loop on top, then glued a pin backing on the back. Regardless of whether you decide to wear it as a necklace or as a pin, it's the ultimate in wearable art!
This particular photo is of a store window display full of Snoopy plushies in Washington, DC that was taken on December 24, 2006.
Approximate size is about 2 inches x 2 inches (5 cm x 5 cm). There is a necklace loop at the top so you can add your favorite chain and a pin backing in case you want to wear it as a brooch. I currently have it on sale right here in my Etsy shop but, if you're looking for last-minute holiday gift ideas, I'll warn you that I can't guarantee that it will arrive on time. (If necessary, I will head to the post office for the final time before Christmas tomorrow morning but I still can't guarantee that it will arrive promptly.)