You are currently browsing the category archive for the 'Books' category.
Third Eye Comics has been around for a few years. The store had simply moved to larger quarters just around the corner from its former location. The store decided to have a grand opening event to celebrate this. Here's a look at the entrance to the new facilities.
This is a really cool example of trompe l'oeil.
As you can see in the next few photos this event was well attended.
There were all kinds of items available for sale, such as this Weeping Angel tote bag from the Doctor Who TV show.
There were comic books, graphic novels, vinyl toys, coffee mugs, and other kinds of related merchandise available for sale.
Third Eye Comics also has a games store, known as Third Eye Games, whose entrance is located next to Third Eye Comics' space.
As you can guess from the name, Third Eye Games have all kinds of card games and board games available for sale, such as this Ghostbusters game.
There were plenty of people playing games when I was there.
I took advantage of the store's special 20% discount on graphic novels to make my one and only purchase from that store. As you can guess by the cover, Deadpool the Duck is a mash-up between Howard the Duck and Deadpool. Having read it, I can tell you that it's definitely hilarious. I would recommend picking it up if you have the chance.
On the Saturday during the Fourth of July holiday weekend, I decided to check out this toy show that was being held at the Maryland State Fairgrounds.
It was such a feast for the eyes as the toys and various other vintage items were displayed at various vendor tables. The whole show took on the air of a flea market with an emphasis on vintage stuff dating anywhere from the 1900s to the 1990s.
Someone had a jukebox for sale, which reminded me of my childhood when many of the local restaurants had them and people could choose songs to play for about a quarter each.
The jukebox played music during the entire event. (Which proved that it definitely still worked.) I couldn't help taking pictures of the songs that were available on the jukebox. The majority of them were hits when I was a kid.
And speaking of music players, here's a vintage 8-track player with an Elvis Presley 8-track tape. I once had a stereo system that included an 8-track player but I never owned one like that. But I could've sworn that one of my friends or maybe one of my cousins had a player just like that but I don't know for sure. (Memory is one of those funny things where you remember something but you don't remember when, where, or how you remember it.)
Late last year I did a series of blog posts with accompanying photos known as A Tabletop Christmas (so-named because I limit my Christmas decorating to just a single tabletop in my living room). Among the items I showed off was a small plastic Santa Claus puppet that I've had since I was a child. I didn't know anything about the origins of this puppet. It wasn't until I went to the toy show when I saw a tiny plastic Santa puppet on sale that's identical to mine.
The only difference between the two is that this Santa still had its label at the base while mine doesn't have any labels at all. (I suspect that whatever label it had must've fallen off a long time ago.) My Santa puppet is currently stored in a box with the other Christmas decorations in the attic but here's a picture of my Santa puppet that I took last December.
At first I thought the animal in the next picture was a stuffed animal until I saw the dog move his eyes around. He laid there the entire time I was at that show.
This show also had examples of how the mighty had fallen. I found this book by disgraced former Fox News talk show host Bill O'Reilly on sale for only $1 at one of the tables. (LOL!)
There was one token of something new that I found. Someone was selling glow-in-the-dark versions of the hottest toy of 2017: Fidget Spinners.
By the way, you can check out a video I shot recently where I unboxed and played with one of those Fidget Spinners for the first time (and, no, the one I bought didn't glow in the dark).
Everywhere there were visual treats, many of which harkened back to my own youth.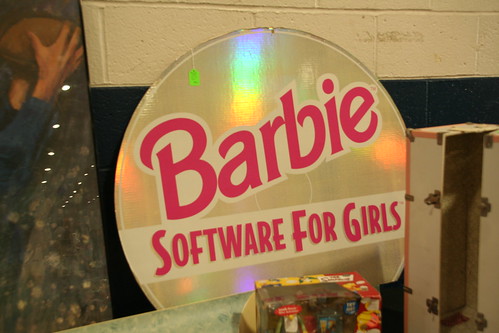 As I was walking back to the light rail stop I shot this photo of The Cow Palace building because it had a nice small garden.
I didn't buy a lot of stuff at that toy show due mainly to tight finances. But I managed to snag a couple of things at bargain rates. I found the second season of The Simpsons DVD set for only $6.
I bought a Monster High doll for only $5. I was attracted to her pretty winter-themed clothes. At first I thought I may have purchased a relative of The Snow Queen until I did an online search and I was able to make a definite identification. Based on this web page, her name is Abbey Bominable and she's described as the 16-year-old daughter of the Yeti.
Here's a closeup of her hair, which looks like it has glittery plastic pellets weaved throughout the strands. It gives a really cool ice/snow effect, especially when the light reflects off of her hair.
Late last week I finished my latest animation, which is based on the song "Jack Sprat (aka Butcher the Hog)" by The Bachelor and the Bad Actress. Here is the video. I'll write more about how I made it below.
I'm pretty friendly with a few local musicians. (None of them are major stars and all of them have day jobs since they don't make enough money from being musicians to pay the bills.) A few months ago I did a short animation to Phil Shapiro's song "Open Source is Yours and Mine."
Among my musician friends are a husband and wife duo known as The Bachelor and the Bad Actress. (I even went to their wedding that was held during the Crazy Quilt Festival in Greenbelt, Maryland a couple of years ago.) At one point I was communicating with Joe the Bachelor on Facebook (yes, he's married now but he's still known as The Bachelor because, well, old habits die hard [LOL!]) and I linked to the "Open Source is Yours and Mine" and I joked about offering to trash one of his songs the way I "trashed" the "Open Source" song. He really liked the video and was open to the idea of an animated music video to one of The Bachelor and the Bad Actress' songs.
Meanwhile I've been going to the weekly animation meetup at Makerspace 125 and there is talk about all of us collaborating together on one animation but nothing has happened yet along those lines (as of this writing). When I mentioned this to Joe the Bachelor, he offered to let those of us in that meetup to each take one of their songs and animate it.
I brought it up with the meetup group but it was met with indifference. I decided to do one of their songs on my own and show it to the other meetup attendees just to show that it's possible. I picked "Jack Sprat (aka Butcher the Hog)" because the lyrics were straightforward and I figured that I could do a comedic animation that's reminiscent of the old Warner Brothers Looney Tunes and Merrie Melodies shorts from the 1940's and 1950's.
I used Moho Anime Studio Debut for the bulk of the animation. There were a few times when I had to use Adobe Photoshop for some scenes where using Anime Studio would've been frustrating. (Like most graphics programs, Anime Studio Debut uses layers. Unlike the other graphics programs, you literally cannot control the opacity in those layers. So I switched to Photoshop for those times when I needed to control the opacity of certain layers, exported the graphics as a .jpeg, then imported it into Anime Studio Debut. I'm going to stop here on the technical stuff since not everyone is interested in such details.)
This animation was my first foray into actual lip-synching. Anime Studio Debut recommended this free open source software called Papagayo, which churns out lip movements based on both audio recordings and what you type into the application. If you want to know more about this, I suggest getting it yourself, since it is free to download.
I originally planned on doing the entire thing in Anime Studio Debut while I would use iMovie only to put in the opening title and closing credits. There was a snag when I discovered that Anime Studio Debut can't go any further than 3,000 frames and the song lasts longer than that. I was basically using the app's default at 24 frames per second. If you do the math, you'd know that the maximum run time that the software can handle is 125 seconds or two minutes and five seconds. The song runs for two minutes and 31 seconds.
I found a workaround when I brought the song into Audacity and broke it up in two. Then I created two separate animation files, exported them separately, then brought them into iMovie where I managed to patch everything together into one file.
While I was working on this, I found out that Moby had been releasing animated music videos. The first one is a statement about people being addicted to their smartphones. The second one has become controversial because it makes an unflattering statement about President Donald Trump but that's another story altogether. I was influenced by the end titles in both videos and they were my inspiration for how I created the end title in my own animation where I showed people where they can download or stream The Bachelor and the Bad Actress' music.
Speaking of President Trump, I added some imagery of my own about The Donald along with a quote from George Orwell's book Animal Farm. See if you can spot them while you're watching my video.
I have to admit that this was my most ambitious animation to date and there were times when I was on the verge of burnout. And that's because I was also doing some major job hunting using tips from a book that I had recently gotten a hold of.
I finally decided that doing two big things at once wasn't good for my health. With the Fourth of July holiday coming up, I decided that I would finish the animation first then resume reading the job hunting book after the holiday. (If this book works for me and I end up getting a new day job to pay the bills, I will write another post praising this book and urging all my readers of this blog to buy it.) With another finished animation under my belt, I now have something recent I can show to any potential employer interested in my animation skills.
I'm also toying with starting a Patreon page where I would make short animations (meaning less than five minutes) for anyone willing to give me some money. Working on this animation has shown me what I can realistically do for a potential patron while setting a price that's reasonable for the patron while not pricing myself so low that I end up making $1 or $2 per hour (which is impossible to live on anywhere in the United States of America).
By the way, if you like the song, "Jack Sprat (aka Butcher the Hog),"  you can purchase it or stream it through The Bachelor and the Bad Actress' Bandcamp page.
Here's my latest book review about Planet Heartbreak by Vikki Stark, which is a companion piece to Stark's previous book, Runaway Husbands, which really resonated with me on a personal level. I decided to write a text-only review because I know I would totally lose it if I even attempted to do a video review.
In September, 2011 I underwent hip surgery. My loving husband took great care of me before and after my surgery. He took a temporary leave from his NASA job so he could take care of me while I recuperated. He drove me to my outpatient physical therapy sessions. Once he had to return to work a couple of months later, he lined up various friends who drove me to and from physical therapy. One of my friends later told me that when we went to their home for a Christmas party they threw we seemed so happy together. On Christmas Day he made a lovely dinner for the two of us where he said he used beer as a themed ingredient while he made French onion soup and a seafood dish in a beer broth.
Imagine my surprise when, just three days after Christmas, my husband arrived home from work. He had a wild-eye look on his face as he blurted out "I'm moving out," said that he had rented a room, and threw three pieces of paper in my direction before bolting out the door. I looked at the three pieces of paper. One was my first alimony check. One was a schedule to separate our finances he had written out that would culminate in our eventual divorce. The third was a letter where he essentially blamed the fact that I had purchased a doll the day before my hip surgery as a reason why he had to leave home because the doll added to the clutter of our home.
At first I thought he had just snapped. I knew he was under stress from my surgery, the stresses at his job (he was working on a major satellite project at the time), the fact that he was battling bronchitis, and he had just been diagnosed with high blood pressure. But he refused to speak with me even though I tried leaving voice mail messages (he refused to pick up when I called his phone), text messages, and emails. I found out through friends that he had left me for one of our friends who has been battling severe depression for most of her adult life (she had just been granted SSI disability shortly before he left me).
In the wake of his leaving me, I did a Google search on "my husband ran away from home" and I was directed to this website that also served as the promotion for a book written by Vikki Stark called Runaway Husbands. I ordered that book from Amazon and even paid extra to have it rush-delivered to my home. I read and re-read that book so many times over the past few years that I think I have gotten it memorized by now. It was such a great help to me as it helped me to brace myself for whatever horror my husband threw at me (such as the fact that nearly a year after he left home he sent a divorce petition in a .PDF format that was attached to an email he sent on Christmas Eve). My ex-husband married the other woman just two months after our divorce was final.
In one of our very rare and brief face-to-face conversations my husband said that it was my fault that he had to leave home and hook up with that mentally ill woman. I later found out through friends that they saw him flirting and actively pursuing that woman at the cafe where she used to work two nights a week while I was home recuperating from that surgery. Given his current state of mind, I wouldn't be surprised if he blames me for the fact that he married this woman soon after our divorce was final.
Not too long ago I found out that Vikki Stark had published a companion volume to Runaway Husbands, which I have recently finished reading. This one is called Planet Heartbreak and it's a series of essays written by women whose spouses have abruptly left them. While the original Runaway Husbands book had testimony written by women whose husbands had left them, they were interspersed with Vikki Stark's writings about her research into not only the abrupt demise of her own marriage (her husband suddenly walked out on her the day after she returned home from a tour promoting her first book that she wrote about sister relationships) but other women's marriages that had also met a similar quick end.
Planet Heartbreak is different in that it consists entirely of essays written by women whose marriages had ended with no advanced warning that their marriages were even in trouble. Vikki Stark included women who had young children, women with adult children, women who never had children, young adult women, middle-aged women, even senior citizens who had been married for a few decades. There is even an essay written by a woman who had been in a long-term same-sex relationship with another woman until her spouse abruptly left her and their two adopted children. In short, there are essays written by women who come from all walks of life.
The one thing that struck me as I read these essays is that all of the husbands are depicted as suddenly switching from being kind and loving spouses to being incredibly cold, indifferent, distant, and even nasty. This fits my ex-husband perfectly. He has gone from being a very sweet, friendly guy who had a great sense of humor to being this totally distant unfriendly stranger—the kind of person I would never even consider dating in the first place let alone marry him.
The only silver lining is that many of our longtime friends have noticed a change in him as well. They have told me about how unhappy he looks these days and his second wife also looks unhappy. Sadly I can't do a thing about this, especially since he divorced me. He was the one who left me for a mentally ill woman. He was the one who sued me for divorce and married her just two months after our divorce was final. It's like what Dr. Phil frequently says on his TV show, "When you choose the behavior, you choose the consequences."
At the beginning of the book Vikki Stark advises the reader to try not to read the entire book in one sitting, which I personally think is good advice. Many of the stories in these essays are gut-wrenching to read at times. Some women had to sell their marital home because they couldn't afford to keep it. Some women with minor children still had to deal with the minefield of coparenting with a now-hostile ex. One of the women wrote about how her husband has not only cut her out of his life but has also cut out their adult son and 8-year-old grandson as well.
There were two essays where the husbands regretted what they did and wanted to reunite with their wives. One of the women decided to remain separated for the time being and just take things slowly by seeing her ex once or twice a month. The other woman, who's a devout Christian, welcomed her husband back into their home as he told her that Satan made him leave her and she has basically forgiven him for what he did to her. Those two essays are a far cry from the fairy tale ending "And they all lived happily ever after."
Vikki Stark wrote that Planet Heartbreak is meant to be a companion volume to her previous book and people should really read the first book before reading her latest one. For me Runaway Husbands helped me deal with what to expect regarding my husband. Planet Heartbreak only further drove the point that what happened to my marriage wasn't really 100% my fault and there was absolutely nothing I could say or do to get my husband to change his mind and return home.
While Planet Heartbreak isn't required reading for those who are dealing with their own runaway spouses, I would recommend it for anyone who's still reeling from an unexpected divorce and has read Runaway Husbands so many times that they have memorized it because reading other people's stories does provide a chance for healing and hope for the future.
I have one minor quibble with the book. At the beginning of each essay there is a mention about how long each woman had been separated from her husband (which ranges from two months to over 10 years). I wished the essays had been better organized according to the length of the separation (meaning that the essays written by the newly separated would be in front of the book while the longer separations being located towards the end) because it would've been easier for someone who's been separated for—let's say—three months to find the essays from the recently separated while people who've been separated longer can find the essays from the women who have also been separated for over a year or more. I think grouping the essays according to length of separation would provide one with an idea of how it's possible to recuperate from something as traumatic as a spouse who has ran away from home.
For me reading Planet Heartbreak has helped me to accept the fact that the man I once knew is gone for good and some stranger with an unfriendly personality is currently inhabiting his body. I don't regret getting this book.