You are currently browsing the tag archive for the 'Snoopy' tag.
This year I took part in the Greenbelt Spring Maker Festival, which was put on by the Greenbelt Makerspace in Greenbelt, Maryland. The weather was warm yet windy. (At one point a guy who had his table next to mine had mounted his iPad on a tripod. He had to leave his table for a moment and a gust of wind blew over the entire tripod—iPad included—and smashed the glass on the screen.) Here is my vending area at the festival.
Yes, I used Giant's off-brand version of Oreos to entice visitors to my area. (LOL!)
The thrift shop Barbies that I refurbished as Fairy dolls made their appearance along with other arts and crafts I have done in the past.
I brought back the doll couch that I made from a broken Dance Dance Revolution dance pad. I had two American Girl dolls—Julie Albright and Addy Walker—sit on the couch along with a stuffed lion that I got from Build-a-Bear Workshop. (I wanted to show that this couch could seat stuffed animals as well as dolls.)
A Barbie doll models this "fur" coat that I knitted using fur yarn.
I attempted to do a live demonstration at my booth where I would crochet a small amigurumi bunny rabbit. I had this ambition that I would finish the rabbit by the end of the festival. Well, I ended not finishing it mainly because I had to tend to people who were browsing my table and there were times when I toured the rest of the festival. I would finish it later on.
Here are my photos of the rest of the festival which I took while I was going to and from the bathroom. There were 3D printers that printed various 3D items, musicians playing live on stage, children playing with Legos, woodworkers, a sewing demonstration, numerous computer demonstrations, and an information table that dealt with things like composting. There were vendors that sold jewelry, knitted hats with matching knitted scarves, and ceramics.
This boy was checking out a table where one can play music with oranges that were connected with some kind of an interface with a computer.
When I first started going to these maker events, I saw 3D printed items in only one color. At this event I saw 3D printed items based on Winnie the Pooh and Snoopy and they were 3D printed in more than one color, which was cool.
This year there was an attempt to include the Greenbelt Library in the festival even though the building is located a few feet outside of Roosevelt Center (where the festival took place). Phil Shapiro brought his portable wind tunnel where he enticed families with young children to check it out. I happened to take this photo of him during downtime where he was reading.
He had me use his phone to film him sending paper streamers through the wind tunnel. He later uploaded the footage I shot on YouTube while he added some music in the background.
One early Thursday evening I decided to make a stop at Homestead Gardens on the way to attending my weekly support group meeting for people who are separated or divorced. They had their Christmas shop open and they decorated the grounds with all kinds of gorgeous lights. That store sold a variety of Christmas decorations along with plants like poinsettias. Here are the pictures I took.
Once again Homestead Gardens had its giant train layout where one can see toy trains travel past the various Department 56 ceramic buildings.
After I went to Homestead Gardens I went to Wegman's where I purchased dinner to eat before I headed to my meeting. I also took some photos of interesting Christmas display, which I'll write about in my next post.
On the Saturday during the Fourth of July holiday weekend, I decided to check out this toy show that was being held at the Maryland State Fairgrounds.
It was such a feast for the eyes as the toys and various other vintage items were displayed at various vendor tables. The whole show took on the air of a flea market with an emphasis on vintage stuff dating anywhere from the 1900s to the 1990s.
Someone had a jukebox for sale, which reminded me of my childhood when many of the local restaurants had them and people could choose songs to play for about a quarter each.
The jukebox played music during the entire event. (Which proved that it definitely still worked.) I couldn't help taking pictures of the songs that were available on the jukebox. The majority of them were hits when I was a kid.
And speaking of music players, here's a vintage 8-track player with an Elvis Presley 8-track tape. I once had a stereo system that included an 8-track player but I never owned one like that. But I could've sworn that one of my friends or maybe one of my cousins had a player just like that but I don't know for sure. (Memory is one of those funny things where you remember something but you don't remember when, where, or how you remember it.)
Late last year I did a series of blog posts with accompanying photos known as A Tabletop Christmas (so-named because I limit my Christmas decorating to just a single tabletop in my living room). Among the items I showed off was a small plastic Santa Claus puppet that I've had since I was a child. I didn't know anything about the origins of this puppet. It wasn't until I went to the toy show when I saw a tiny plastic Santa puppet on sale that's identical to mine.
The only difference between the two is that this Santa still had its label at the base while mine doesn't have any labels at all. (I suspect that whatever label it had must've fallen off a long time ago.) My Santa puppet is currently stored in a box with the other Christmas decorations in the attic but here's a picture of my Santa puppet that I took last December.
At first I thought the animal in the next picture was a stuffed animal until I saw the dog move his eyes around. He laid there the entire time I was at that show.
This show also had examples of how the mighty had fallen. I found this book by disgraced former Fox News talk show host Bill O'Reilly on sale for only $1 at one of the tables. (LOL!)
There was one token of something new that I found. Someone was selling glow-in-the-dark versions of the hottest toy of 2017: Fidget Spinners.
By the way, you can check out a video I shot recently where I unboxed and played with one of those Fidget Spinners for the first time (and, no, the one I bought didn't glow in the dark).
Everywhere there were visual treats, many of which harkened back to my own youth.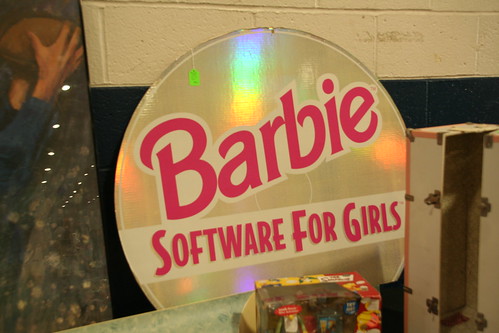 As I was walking back to the light rail stop I shot this photo of The Cow Palace building because it had a nice small garden.
I didn't buy a lot of stuff at that toy show due mainly to tight finances. But I managed to snag a couple of things at bargain rates. I found the second season of The Simpsons DVD set for only $6.
I bought a Monster High doll for only $5. I was attracted to her pretty winter-themed clothes. At first I thought I may have purchased a relative of The Snow Queen until I did an online search and I was able to make a definite identification. Based on this web page, her name is Abbey Bominable and she's described as the 16-year-old daughter of the Yeti.
Here's a closeup of her hair, which looks like it has glittery plastic pellets weaved throughout the strands. It gives a really cool ice/snow effect, especially when the light reflects off of her hair.
I spent Thanksgiving Day visiting my mom at my cousin's house. Other relatives were there as well. It was a pretty nice occasion and I enjoyed myself.
Someone brought this card game called Game of Phones, which requires using a smartphone to play. I took a brief look at the cards but I left before anyone decided to actually play the game.
One of my cousin's neighbors likes to decorate his home for all of the holidays. Here is what it looked like during the day when I first arrived.
Here is a final shot of the same home at night.
This year I checked out the Greenbelt Pumpkin Festival where the festival provides free pumpkins for the general public to carve into jack o'lanterns. The finished pumpkins are displayed with lit candles. They are then moved to a nearby wooded area where they become part of the annual Greenbelt Pumpkin Walk the following evening. Here are my photos from the Greenbelt Pumpkin Festival itself.
I went on the Pumpkin Walk the following evening but, unlike other years, I have no pictures because I left my smartphone at home and I didn't realize that I did this until after I arrived at the walk. This year's walk wasn't really all that different from the photos I took of the Pumpkin Walk in 2012, 2014, and 2015.
I recently took part in the yard sale which was organized by Changing Focus, whose support group meetings I have been attending since the early days after my husband abruptly walked out on me. I managed to get rid of some more unwanted clutter around my home and I managed to have fun hawking some wares to the general public. I stopped by the Prince of Peace Presbyterian Church to drop off my stuff the day before the yard sale and I took a couple of photos.
The crucifix in the next photo is one that I've owned since I was around 7 or 8 and I was raised in the Roman Catholic Church. (I think it may have been a First Communion present but I don't remember for sure.) The cross is made from a very light wood (the crucifix is literally light as a feather) and the rest of the parts are made from plastic. My parents sent it to me along with other items from my old bedroom after I got married and moved in with my husband but I never hung it up on the wall like I did in my parents' home. By that point my husband and I started attending a Unitarian Universalist church and that faith places less emphasis on crosses and crucifixes. In addition, my husband was never really crazy about crucifixes and I didn't want to hang it up in our bedroom out of respect to him. Yet I somehow couldn't bear to let it go so I put it in storage for a number of years. With my husband being gone and with leaving my Roman Catholic past very far behind me, I finally decided to let it go to a new home. That crucifix was sold so I'm hoping that the new owners enjoy it.
The next photo shows the remnants of my ex-husband's old comic book collection that he never picked up. I used some of the issues to make my comic book coasters, which I sold at the previous weekend's Greenbelt Mini Maker Faire. I sold half of the uncut comic books at the same event. All I did was transfer the remainders to a smaller box then donated them.
As I was leaving the church, I noticed that it was a warm sunny day with the tulips being in full bloom.
The following day was a different story altogether. The day was very cloudy and it was cold. (I don't think the temperature ever got beyond 50 degrees Fahrenheit.) At times the weather forecast called for rain but, fortunately, the rain held off until the evening when everything had already closed down hours earlier. Despite the lack of sun and warmth the yard sale was well attended. There were plenty of interesting stuff on sale, such as these three inflatable Christmas lawn decorations. All three of them were sold that day. Someone in the group told me that these decorations, along with other smaller Christmas ornaments and decorations, were donated by a woman who had suddenly become homeless. I don't know what her story is but it really sounds sad.
I found this lamp that was so kitschy that, if it weren't for space issues in my home, I would've bought it for myself. On the surface it looks like someone had placed these two stuffed mother and child teddy bears next to the lamp.
Until you looked on the back and saw that the lamp pole was fitted through a hole on top of the teddy bear's head.
What's more, there was a wind-up mechanism on the back so if you wind it up, it would play music. It's a lamp! It's a teddy bear mother and child plushie set! It's a wind-up music box! It's all of them! That lamp was definitely a hoot!
It's a black cat candy dish. Granted it was made for Halloween but that cat really looks scary as hell and it would definitely induce nightmares.
I saw a TiVo on sale. I can remember when those things were a big deal years ago. My late mother-in-law and her second husband were given a TiVo by one of his children for Christmas and they used it frequently to record PBS shows and Rachel Maddow's MSNBC show. I don't really hear much about TiVo anymore so I have no idea if it is even relevant these days or if it's one of those items that should be in a museum somewhere.
I saw this really lovely doll and I came close to buying her. But then I found that one of her feet is broken. (You can see it in the photo as one of the feet seems unusually twisted.) I ended up not buying her because she has no joint movements at all. I tried moving her arms and legs but they just would not budge. Plus she was made from porcelain. I once owned a porcelain doll that also had no joint mobility so she just stood there on the shelf for years gathering dust. I grew tired of dusting her so I ultimately gave her to Goodwill, American Rescue Workers, or some similar group.  At one point a man who has repaired dolls in the past was interested in buying her to refurbish her until he got a good look at her foot and he found that the foot was broken into a bunch of pieces and he couldn't remove her show because it was glued to her foot.
That doll ultimately ended up in a thrift shop that sent a truck to pick up all of the unsold sale items at the end of the yard sale.
The Changing Focus Yard Sale was held as part of a larger event that's held in the spring and the fall in Crofton that's called the Festival on the Green. The yard sale was held on the lawn of the Prince of Peace Presbyterian Church. The church itself was holding its own book sale inside the church where it sold a variety of used books, periodicals, CD's, DVD's, and even VHS tapes. I found a section dedicated to Stephenie Meyer's Twilight series. For a total of $8 anyone could get all four books in the original Twilight saga, which was a fraction of the cost of just buying the first book in a regular book store or on Amazon.com.
I also walked over to the craft show that was held on the grounds of the Crofton Country Club. It was a relatively small show but there were a variety of nice items on sale.
Despite the gloomy cold weather I took a photo of one of the flowering trees that was in full bloom that day.
It's a necklace. It's a pin. It's BOTH!!! The photos are based on the ones that I actually took myself using my digital camera. I edited each photo in Photoshop, printed it out on Shrinky Dinks that are especially made for ink jet printers, cutted out the image, punched a hole on top of the image, baked the item for 3 minutes (when it shrinked to 1/3 of its original size), sealed the printed item in an acrylic varnish, placed a necklace loop on top, then glued a pin backing on the back. Regardless of whether you decide to wear it as a necklace or as a pin, it's the ultimate in wearable art!
This particular photo is of a store window display full of Snoopy plushies in Washington, DC that was taken on December 24, 2006.
Approximate size is about 2 inches x 2 inches (5 cm x 5 cm). There is a necklace loop at the top so you can add your favorite chain and a pin backing in case you want to wear it as a brooch. I currently have it on sale right here in my Etsy shop but, if you're looking for last-minute holiday gift ideas, I'll warn you that I can't guarantee that it will arrive on time. (If necessary, I will head to the post office for the final time before Christmas tomorrow morning but I still can't guarantee that it will arrive promptly.)