You are currently browsing the tag archive for the 'trading cards' tag.
On the Saturday during the Fourth of July holiday weekend, I decided to check out this toy show that was being held at the Maryland State Fairgrounds.
It was such a feast for the eyes as the toys and various other vintage items were displayed at various vendor tables. The whole show took on the air of a flea market with an emphasis on vintage stuff dating anywhere from the 1900s to the 1990s.
Someone had a jukebox for sale, which reminded me of my childhood when many of the local restaurants had them and people could choose songs to play for about a quarter each.
The jukebox played music during the entire event. (Which proved that it definitely still worked.) I couldn't help taking pictures of the songs that were available on the jukebox. The majority of them were hits when I was a kid.
And speaking of music players, here's a vintage 8-track player with an Elvis Presley 8-track tape. I once had a stereo system that included an 8-track player but I never owned one like that. But I could've sworn that one of my friends or maybe one of my cousins had a player just like that but I don't know for sure. (Memory is one of those funny things where you remember something but you don't remember when, where, or how you remember it.)
Late last year I did a series of blog posts with accompanying photos known as A Tabletop Christmas (so-named because I limit my Christmas decorating to just a single tabletop in my living room). Among the items I showed off was a small plastic Santa Claus puppet that I've had since I was a child. I didn't know anything about the origins of this puppet. It wasn't until I went to the toy show when I saw a tiny plastic Santa puppet on sale that's identical to mine.
The only difference between the two is that this Santa still had its label at the base while mine doesn't have any labels at all. (I suspect that whatever label it had must've fallen off a long time ago.) My Santa puppet is currently stored in a box with the other Christmas decorations in the attic but here's a picture of my Santa puppet that I took last December.
At first I thought the animal in the next picture was a stuffed animal until I saw the dog move his eyes around. He laid there the entire time I was at that show.
This show also had examples of how the mighty had fallen. I found this book by disgraced former Fox News talk show host Bill O'Reilly on sale for only $1 at one of the tables. (LOL!)
There was one token of something new that I found. Someone was selling glow-in-the-dark versions of the hottest toy of 2017: Fidget Spinners.
By the way, you can check out a video I shot recently where I unboxed and played with one of those Fidget Spinners for the first time (and, no, the one I bought didn't glow in the dark).
Everywhere there were visual treats, many of which harkened back to my own youth.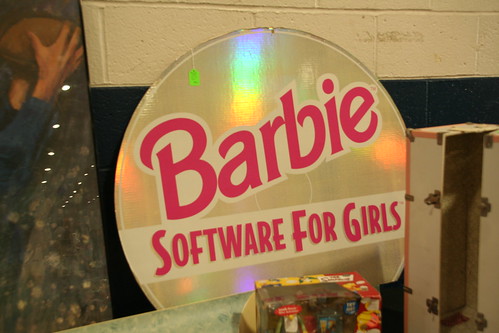 As I was walking back to the light rail stop I shot this photo of The Cow Palace building because it had a nice small garden.
I didn't buy a lot of stuff at that toy show due mainly to tight finances. But I managed to snag a couple of things at bargain rates. I found the second season of The Simpsons DVD set for only $6.
I bought a Monster High doll for only $5. I was attracted to her pretty winter-themed clothes. At first I thought I may have purchased a relative of The Snow Queen until I did an online search and I was able to make a definite identification. Based on this web page, her name is Abbey Bominable and she's described as the 16-year-old daughter of the Yeti.
Here's a closeup of her hair, which looks like it has glittery plastic pellets weaved throughout the strands. It gives a really cool ice/snow effect, especially when the light reflects off of her hair.
Since all of the Major League Baseball teams are currently in spring training as of this writing, I'd thought I'd show off this art piece I made for my husband's birthday a few weeks ago. (On top of that, I watched the first episode of the new installment of Celebrity Apprentice on NBC last night and one of the contestants is baseball player-turned-steroids whistleblower Jose Canseco.) It's a collage that was assembled from baseball cards. It's also the first art piece that has ever grown out of a suggestion from my husband, whose artistic talent is confined mainly to drawing stick figures.
It all started with a conversation we had sometime in early February. I somehow stumbled upon someone's baseball blog where the blogger was showing off this year's batch of Topps baseball cards that he recently purchased. Since my husband loves sports, especially baseball, I showed that particular blog entry full of baseball cards and we started talking about them. I learned that my husband used to collect baseball cards as a kid but he had this tendency to put them in his wallet and he admitted that they all disintegrated so he has no cards left from his childhood. I innocently mentioned that one could make an art collage out of these cards and my husband said that such a collage would work only if it included burned baseball cards. He said that these burned baseball cards would be the ones of players who have been implicated in the steroids scandals of recent years.
I was looking for a birthday gift idea and his suggestion inspired me. So I purchased a blank canvas from a local arts and crafts store. I saw that the local Target store had the latest Topps cards and these were the special 60th anniversary (which referred to when Topps first started making baseball cards, not when baseball as a sport was first established—those roots go back to the 1800's). So I purchased one pack and when I got home, I found that these cards were a total revelation. While most of the cards in the pack were plainly printed carboard cards, there were a few that had some really cool graphic effects. One card had a glittery background. Another had a shiny background that almost provided a 3-D effect. I was amazed at how arty and eye-catching some of these cards are.
I'll admit that I never collected baseball cards as a child. The closest I came was a few years between ages 11-13 when I collected Wacky Packages, which were the same size as baseball cards and came in similar packaging. (Sadly, I still don't have my Wacky Packages collection from my childhood. I foolishly allowed my mother to get rid of them when she was in one of her periodic cleaning frenzies sometime after I started high school.)
During a family visit around 12 or 13 years ago, when my oldest nephew was around 10 or 11, he showed off his collection of sports trading cards (which included not only baseball cards but also cards from other sports like football and—I think but I don't remember for sure—basketball and hockey) and his card collection were basically printed on cardboard with the occasional eye-catching photograph of an athlete in action. I don't remember seeing anything like holograms or glitter in his card collection. (This nephew is currently serving in the Navy and he got married last year. I don't know if he still has his card collection or, if he does have it, if he has added anything to it in recent years.)
As I thumbed through the new Topps cards, I began to kick myself for not buying at least two more packs so I would have more than enough cards to fill the canvas. So I went back to Target and found that the 60th anniversary cards were sold out. I waited a couple of weeks and I looked around Target and other stores and I still couldn't find any new shipments of the 60th anniversary cards. I began to panic because my husband's birthday was arriving in such a short time and I needed to finish my project. In desperation I purchased an economy baseball card pack that consisted of older cards from previous years but had way more cards in them than the new Topps card packs. There were no fancy arty cards but I found plenty of old cards from the likes of ballplayers like Don Mattingly.
Despite all these cards, I still didn't get enough of the players that I was interested in. I also wanted to get some older baseball cards from the 1800's starting with the Honus Wagner card, which is considered The Holy Grail of baseball cards. I had this idea of putting the Honus Wagner card in the center, then surround it with other old cards that were printed prior to 1900, then surround those cards with other cards featuring famous now-retired players (like Cal Ripken), then surround them with cards featuring current players, then surround it with the burned baseball cards. I could've bought a lot of these individual cards that I had in mind from individual dealers for more than what it would cost to purchase an economy baseball card pack but I didn't have unlimited funds. So I did the next best thing: I downloaded a bunch of scans of baseball cards from the Internet and printed them out.
When it came time to decide which baseball cards to burn, I knew about some of the more notorious players who have either admitted to or have been accused of taking steroids (such as Alex Rodriguez and Jose Canseco) but I didn't know all of the names. It wasn't too hard to get a complete list. After doing a quick Google search, I came across this really informative site called Baseball's Steroids Era and it is filled with tons of information. That site includes a master list of players who have been accused of or have admitted to taking either steroids, human growth hormones, or both. Thanks to that site, I was able to decide which cards to burn.
When I presented this piece to my husband, he was pleasantly surprised. He loved it so much that he has decided to take it into his office to display.
As for collecting baseball cards as a hobby, I have to admit that I really liked the shiny arty cards that contains things like glitter and holograms. They are so attractive that they could be considered tiny works of art. I really don't know if the arty cards are Topps' way of reaching out beyond the hardcore baseball card fandom (such as casual baseball fans who are into arty graphic design) or if they are meant to be something special as a way of celebrating the 60th anniversary and the cards will go back to being plain printed cardboard ones next year.
If I started collecting baseball cards, I would be interested only in the pretty cards. I know my husband will groan if he ever reads this and get on my case for not giving a hoot about stuff like the stats that are frequenly on the reverse side of the cards or how talented the featured ballplayer is or isn't. (He used to be heavily involved in a Rotisserie fantasy baseball league at his workplace for many years until that league broke up a few years ago so he's hooked on things like batting averages and stuff like that.) But I can't help it. If given a choice between a plain cardboard Babe Ruth card or a really pretty card featuring a young ballplayer I've never heard of before but that card has a neat hologram background or is very glttery, I would pick the latter. 😉