You are currently browsing the tag archive for the 'toys' tag.
On the Saturday during the Fourth of July holiday weekend, I decided to check out this toy show that was being held at the Maryland State Fairgrounds.
It was such a feast for the eyes as the toys and various other vintage items were displayed at various vendor tables. The whole show took on the air of a flea market with an emphasis on vintage stuff dating anywhere from the 1900s to the 1990s.
Someone had a jukebox for sale, which reminded me of my childhood when many of the local restaurants had them and people could choose songs to play for about a quarter each.
The jukebox played music during the entire event. (Which proved that it definitely still worked.) I couldn't help taking pictures of the songs that were available on the jukebox. The majority of them were hits when I was a kid.
And speaking of music players, here's a vintage 8-track player with an Elvis Presley 8-track tape. I once had a stereo system that included an 8-track player but I never owned one like that. But I could've sworn that one of my friends or maybe one of my cousins had a player just like that but I don't know for sure. (Memory is one of those funny things where you remember something but you don't remember when, where, or how you remember it.)
Late last year I did a series of blog posts with accompanying photos known as A Tabletop Christmas (so-named because I limit my Christmas decorating to just a single tabletop in my living room). Among the items I showed off was a small plastic Santa Claus puppet that I've had since I was a child. I didn't know anything about the origins of this puppet. It wasn't until I went to the toy show when I saw a tiny plastic Santa puppet on sale that's identical to mine.
The only difference between the two is that this Santa still had its label at the base while mine doesn't have any labels at all. (I suspect that whatever label it had must've fallen off a long time ago.) My Santa puppet is currently stored in a box with the other Christmas decorations in the attic but here's a picture of my Santa puppet that I took last December.
At first I thought the animal in the next picture was a stuffed animal until I saw the dog move his eyes around. He laid there the entire time I was at that show.
This show also had examples of how the mighty had fallen. I found this book by disgraced former Fox News talk show host Bill O'Reilly on sale for only $1 at one of the tables. (LOL!)
There was one token of something new that I found. Someone was selling glow-in-the-dark versions of the hottest toy of 2017: Fidget Spinners.
By the way, you can check out a video I shot recently where I unboxed and played with one of those Fidget Spinners for the first time (and, no, the one I bought didn't glow in the dark).
Everywhere there were visual treats, many of which harkened back to my own youth.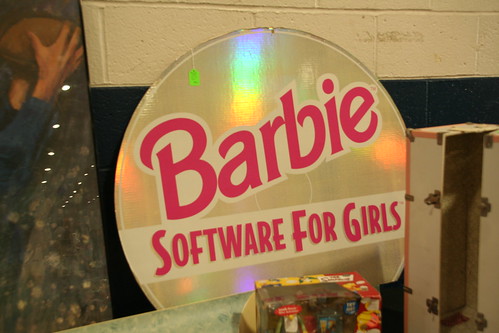 As I was walking back to the light rail stop I shot this photo of The Cow Palace building because it had a nice small garden.
I didn't buy a lot of stuff at that toy show due mainly to tight finances. But I managed to snag a couple of things at bargain rates. I found the second season of The Simpsons DVD set for only $6.
I bought a Monster High doll for only $5. I was attracted to her pretty winter-themed clothes. At first I thought I may have purchased a relative of The Snow Queen until I did an online search and I was able to make a definite identification. Based on this web page, her name is Abbey Bominable and she's described as the 16-year-old daughter of the Yeti.
Here's a closeup of her hair, which looks like it has glittery plastic pellets weaved throughout the strands. It gives a really cool ice/snow effect, especially when the light reflects off of her hair.
Not too long ago I checked out this yard sale that had more of a focus on high-end collectibles than the usual yard sales that go on nearly every weekend in my area from March until winter hits sometime around November. There were some interesting pieces that one could call "kitsch" on display that were available.
It was at that same yard sale where I purchased a few old sheet music for 25 cents each. I was intrigued by the covers but I was curious about the music inside so, using the free open source software MuseScore 2, I was able to hear the songs. I made videos out of those songs and uploaded to YouTube, which I previously embedded here.
Free Tutorials
For artists and crafts people here's an excellent video that provides tips on how to price your work in a simple and straightforward manner.
For crochet ideas here are a bunch of free tutorials called Motif of the Month where each month you learn how to crochet a different motif ranging from peacock feathers to snowflakes to hearts.
Have any old toys lying around the house? You can use them in 16 DIYs You Can Make With Old Toys Because Growing Up is Overrated.
Browse other free tutorials previously mentioned in this blog (along with pictures) right here.
Miscellaneous Links
For those of you who are still shopping for Valentine's Day presents for your sweetheart, here's a list of nine popular chocolate brands that exploit child slaves. The good news is that not all chocolate companies use child slaves so there are plenty of alternatives for your Valentine.
Betty Rowland was a burlesque performer back during its Golden Age (which lasted from the 1920's to around the early 1960's). Rowland, who recently celebrated her 100th birthday, is the last living burlesque star from that era. Thanks to YouTube, you can see Rowland performing in her prime right here.
And while were on the subject of old people, here's an excellent short essay titled Advice from some old people that's definitely worth reading, especially if you're still relatively young (meaning under 60).
As you may know, this month is Black History Month. As part of that observance The New York Times is revealing previously unpublished photographs of notable African American people and moments in African American history each day until February 29, 2016. Start here to see these photographs.
For parents of budding young prodigies, here's an interesting New York Times column that had this headline: How to Raise a Creative Child. Step One: Back Off.
Remember Safyre, the young burn victim who survived a horrendous fire that took the lives of her father and siblings? Last December her only Christmas wish was to receive as many Christmas cards as possible. Her wish came true in such a very big way that she's still opening her cards in February. According to this article, Safyre has received around 1.7 million cards from all over the world.
We've all heard about the recent Iowa Caucus where Bernie Sanders and Hillary Clinton were literally tied. Here's a really well written article that explains how he feels that that recent event is the beginning of the end of establishment politics (which is represented by Clinton and nearly all of her Republican challengers) and could be the start of a major turning point in American history.
Here's a very thoughtful essay on why Black Feminists Don't Owe Hillary Clinton Their Support that's worth reading no matter what race or gender you happened to be.
Here's another thoughtful essay written by Harry Dreyfuss which defended the decision of his famous father, actor Richard Dreyfuss, to attend a Ted Cruz rally. His main thesis is this: Curiosity is not a sin.
I found this at a local Best Buy recently.
No, I had nothing at all to do with this. But it does bring to mind what I did with these two Star Wars plushies—Darth Vader and a Stormtrooper—on Valentine's Day several months ago. LOL!
I decided to go to BronyCon again this year because it's such a kick seeing grown men dressed as their favorite pony from the TV show My Little Pony. Not even the Baltimore Uprising a few months ago in the wake of Freddy Gray's death could stop this convention that's full of positive vibes. The cheerfulness began when I was close to the entrance of the Baltimore Convention Center, where I saw these sidewalk signs.
For years I've been down on people doing upskirt photos or doing bizarre creepy closeups of strangers. I did that thing I've always disdained by doing a closeup shot of a stranger's ass while I was close to the convention center but I had an excuse. This guy had a large Fat Albert patch on his back jeans pocket. Seriously!  
I grew up watching Fat Albert cartoons on TV each Saturday morning. I remember they were mostly morality plays featuring Fat Albert and his circle of friends in an inner city neighborhood and Bill Cosby used to do the live action intro to each episode. It's too bad that Bill Cosby had to give in to his worst impulses when he drug women's drinks then did all kinds of sexual abuse to them. That is the main reason why I haven't been looking for old Fat Albert cartoons in an effort to relive my childhood.
Well, anyway, I ran into a couple of like-minded cosplayers right outside the doors of the convention center.
The previous two years I was able to get in an out of the Registration line in about 15 minutes. This year it was much more crowded and it took me over an hour before I was able to get to the front of the line.
People in lines started tossing balloons to each other. It was cute at first but, as I got closer to the head of the line and I had to encounter balloons in my directions, the novelty wore off for me.
I basically tried to make the time I spent in line more enjoyable by taking photos of the various cosplayers in line, beginning with this guy who brought a very tall Rainbow Dash-themed missile. (I regret not taking a photo with the panoramic setting instead of the two pictures I did take in order to get the whole thing. )
I saw a plushie pony peeping from a backpack.
Here's Elsa from the Disney movie Frozen.
One of the organizers (wearing a purple hat) was instructing people which register to stand in front of, depending on whether they had pre-registered or not and whether they were paying with cash or credit card.
After standing in line for an hour, I finally made it to the front of the line.
Here's the front and back cover of the BronyCon program book.
Here's my pass. I only purchased a one-day pass because of tight finances.
One innovation that was introduced at this year's BronyCon was these special communication cards that con attendees can put on their passes to indicate how socialble they were willing to be with others at any given time. This was done in an attempt to reduce complaints of harassment among con-goers. I think it's a great idea myself because everyone could avoid awkward situations (as long as everyone cooperated with this).
Another innovative idea was to have specially designated Gender-Neutral Bathrooms, which is great for transgender people or people who are questioning their own birth gender. Having tried one of them for the first time, I have to say that it wasn't bad. After all, it's not really that much different from having gender-neutral bathrooms at home. There were still separate men's and women's bathrooms for those who were uncomfortable with this.
There was a non-stop rave featuring lots of dancing to electronic music that went on both day and night in one of the areas of the Baltimore Convention Center.
The next photo shows just two of the many DJ's who kept the music going for people who just wanted to get down and dance the day and/or night away.
I shot a short video that shows just a small portion of that dance party, featuring all kinds of awesome dance moves.
The one thing about going to BronyCon is the vast array of cosplayers with their handmade creations. The creativity behind these costumes is just astounding to me.
There was a vast array of My Little Pony merchandise available in the Marketplace area with prices ranging from $3 (for very small cheap toys) all the way to hundreds of dollars.
The most memorable item that was on sale at BronyCon was this unique handmade My Little Pony-themed diorama that was on sale for $1,600. It was an amazing work of art to behold.
There were a few people who have become quasi-celebrities in the Brony world because they work on My Little Pony and some of them were at BronyCon signing autographs. Among them was My Little Pony artist Andy Price.
I made a brief stop inside the video arcade. There were not only people playing various video games on a variety of different consoles and platforms but there were also various My Little Pony items displayed and I even saw some people playing My Little Pony-themed card games. I liked the Video Arcade sign, which is a really cool mash-up of My Little Pony and Tron.
There were a whole array of video games but I didn't get a chance to try any of them because that room was so crowded. I ended up just watching other people play instead.
Here's the rundown of the swag that I got from BronyCon. One of the vendor tables were trying to entice me by giving me a tiny button for free. But if I wanted more buttons, I would've had to pay. I wasn't really that interested in obtaining any more buttons but the guy was insistent that I choose one button for free so I picked one that was based on Spike, Twilight Sparkle's baby dragon companion. The vendor then turned his head towards another potential customer and I walked away from that booth pretty quick. I have to admit that the button is nice looking.
One of the vendor tables was for the Brony Thank You Fund, a non-profit 501c(3) group that was raising money at BronyCon to benefit groups that are active in fighting cancer. If you make a small donation of at least $1, you received this tiny pin.
For a minimum $12 donation, you got both a pin and a 2016 calendar. I sprang for both because I figured that the calendar will definitely come in handy in five months. The new calendar is movie-themed so there's all kinds of mashups between My Little Pony and various films like The Shining and Cinderella. Here are a few excerpts from that calendar.
If you like that calendar and missed BronyCon (or went to BronyCon but missed getting the calendar), you can order it online right here.I purchased a few things and I managed to use my Brony Thank You Fund button to get discounts on all of them. Despite the discounts, I was still very restrained in my shopping (due to both financial issues and my desire not to clutter the house filled with all kinds of stuff). I picked up a paperback book that has re-printed some issues of the My Little Pony comic book series.
I have a confession to make. I've been reading the My Little Pony comic books ever since I won the first issue of the series in a contest that took place during a session of Dr. Sketchy's Anti-Art School that was held in Washington, DC way back in 2013. (Link is NSFW.) Yep, Dr. Sketchy's hooked me in. (LOL!) Each month I would go to a comic book store and buy the latest My Little Pony issue. But then I started to hit some financial turbulence for a bit and I stopped buying the comic books for several months. When I felt just financially solvent enough to start buying back issues, I saw that the comic book stores either didn't have back issues or they had them but they were missing one or two issues (which screws up the continuity of a storyline). But then I found that the publisher has been reprinting back issues in paperback form so anyone who missed out on them can buy them altogether so one can get the entire story in one purchase instead of waiting for a new single comic book issue to come out. So I was mostly caught up until I found the last paperback book I needed at BronyCon. I'm now caught up in reading the comic book (I think). I found this really cute vinyl figurine based on a minor character in the My Little Pony series named DJ Pon-3. That pony is totally cute.
Well, anyway, that's it for BronyCon. Unlike last year, I ended up not going to any of the workshops or panels because I didn't find any that interested me very much. I basically hung around the Marketplace and Video Arcade. I still had a good time even if the Registration line was way longer than previous years.
Not too long ago I learned about the existence of this locally-owned business that specializes in antique toys known as The Toy Exchange. I finally got around to visiting it myself for the first time when I realized that it was located not too far from my therapist's office so I decided to combine trips by going to that store before my therapy appointment.
That store was packed full of vintage toys, dolls, games, and similar items (some of which dated as far back as the 1950's). Every shelf space was literally so crammed with toys that I could've spent hours just looking over each toy in its inventory (which rapidly changes because they sell online as well).
I took a few photos but, to be honest, this store is better viewed in person. But at least the photos give you an idea of what that store is like.
As I was walking from the store to my parked car (I had gone to the store on my way to my next therapy session) I noticed that, despite the high heat and high humidity that day, it was a very beautiful day complete with blue skies and fluffy white clouds. I couldn't resist taking this last photo of the Wheaton skyline.
Here are some of the Japanese dolls, toys, and trains that were on display at the Sakura Matsuri street festival that was held in Washington, DC as part of the larger National Cherry Blossom Festival on April 9, 2011. The dolls and toys included traditional Japanese dolls in kimonos as well as more modern action figures based on anime female characters that were clearly designed with men in mind. (In other words, many of them wore skimpy clothing and they had very large boobs.)
There was also a model train display that included a model version of Japan's famous bullet train.
Before I went on my recent trip to Western Massachusetts, I alluded to being selected for an upcoming show that will be held from October 30-November 6. Now that the trip is over and I put the last finishing touches on what I will be showing there, I can write more about it.
It's called Ofrenda and it's an art exhibit that has a theme that's based on the Mexican Day of the Dead holiday (which is usually held on November 1). You can learn more about the exhibition itself here. For this entry, I'm going to write about what I actually submitted to the show. Here's my entry.
Oil: Can't Live With It, Can't Live Without It
10 inches x 8 inches (26 cm x 21 cm) unframed
15 inches x 11 inches (38 cm x 28 cm) framed and matted
I was inspired by the BP oil spill in the Gulf of Mexico earlier this year, which has had an adverse impact on both the seafood and tourist industries in that region. It also renewed new public demand for looking for alternatives to oil (such as solar and wind power). However, I'm old enough to remember the energy crisis of the 1970's and there were similar demands for oil alternatives then but President Jimmy Carter's attempt to formulate an alternative energy policy fell by the wayside when Ronald Reagan was elected and he pretty much cancelled such programs. Ever since then there have been incidents that resulted in public cries for a search for alternative energy sources only to be quickly forgotten until another oil-related incident renewed the same cries over again. It's been going on for nearly 40 years.
I began to remember a tour I had taken a few years earlier. During a trip to visit my sister-in-law and her family in Northeastern Pennsylvania, the entire family went over to Easton, where the world headquarters of Crayola is located. Even though the actual factory itself is closed to the general public, Crayola has built a welcome center and store right in downtown Easton, which has smaller versions of the machines used to make Crayola products. During a demonstration of how a typical Crayola crayon is made, the tour guide mentioned how crayons are made from the same petroleum oil that's used to power cars. I was shocked when I learned that fact.
Over the years I began to learn more about how oil has permeated into our day to day lives that goes beyond cars. Crayons are not the only art supplies that are derived from oil. Oil pastels, oil paints, and acrylic paints are derived either from oil or oil byproducts and they are frequently housed in plastic containers that are derived from–you've guessed it–oil byproducts. Many food and drink products are housed in plastic containers. In addition, many toys are made either from plastic or from vinyl–which are both oil byproducts.
So, for this Day of the Dead-themed exhibit, I decided to create this entry based on to the BP oil spill in the Gulf of Mexico. I obtained a few photos of that gulf spill and compiled them into a single background, brought it into Adobe Photoshop and posterized the background. For the foreground, I decided to take a photograph of the items that are all derived either from oil or oil byproducts.
The tall doll is a Volks Dollfie Dream, an Asian ball-jointed doll who can not only strike more realistic poses than–let's say–Barbie, but the doll is also anatomically correct. I posed her in a way that is reminiscent of Renaissance-era art, including exposing a single breast. This doll is made out of vinyl, which is an oil byproduct. Her wig is made out of plastic strands (another oil byproduct). Her face and nipples were painted with acrylic paint–an oil byproduct. Her toga is made from a plastic shopping bag (another oil byproduct). A box of crayons lay at her feet, symbolizing another product made from oil.
Since the Mexican Day of the Dead holiday traditionally uses skeletons and skulls, I had to add them to the picture. All of the skeletons and skulls in this picture are made out of either plastic or vinyl. (Of course the location of the oil spill is also relevant since the Gulf of Mexico runs on Mexico's east coast.)
Rounding out the picture are other items made from plastic or other oil byproducts including acrylic paint tubes, a pill bottle, and a soda bottle.
This particular picture is the centerpiece of my exhibit. Surrounding the picture will be 16 smaller canvases measuring 2.5 inches (6 cm) all around featuring Day of the Dead-inspired skulls. Keeping with the theme of how oil permeates our lives, each canvas has been painted with acrylic paint before I glued a skull made from Shrinky Dinks plastic on top of it with acrylic gel. Starting tomorrow I'll post different skull canvavses to give you an idea of what the exhibit will look like.