You are currently browsing the tag archive for the 'toy trains' tag.
Like I wrote in my previous post, I decided to go to Baltimore on November 25 because I wanted to check out the Christkindlesmarkt at the Zion Lutheran Church. But I got stuck in horrible northbound traffic then I waited a long time for both the light rail and the Metro subway. By the time I arrived at the church I only had 45 minutes left until the event ended for the day. (They would continue it on the next day but that day was Sunday and I wasn't able to make it at all due to commitments I had with my own church that took up most of the day.) I eventually made it to the church, where I saw this statue outside of the church that's dedicated to all of the Baltimore City firefighters both past and future.
Outside of the church were these trees that produced wonderful red colored autumn leaves.
Despite finally making it to the event so late in day before closing, there were still plenty of things to see and do.
There were a lot of stuff I would've loved to buy but I couldn't due to tight finances. I purchased two German-imported Santa Claus chocolates that were more patterned after the original bishop, Saint Nicholas, than after the fat jolly man who hangs around with elves and reindeer. I kept one for myself and I plan on giving the other one to my mother for Christmas.
I also purchased a pack of Haribo gummy candies that were all cherry flavored and they were even shaped like cherries.
I was bummed that I arrived at the Christkindlesmarkt event so late in the day. It was still daylight outside so I decided to just take the Charm City Circulator bus to the Inner Harbor where I checked out the Christmas Village in Baltimore and the Inner Harbor itself.
On the Saturday during the Fourth of July holiday weekend, I decided to check out this toy show that was being held at the Maryland State Fairgrounds.
It was such a feast for the eyes as the toys and various other vintage items were displayed at various vendor tables. The whole show took on the air of a flea market with an emphasis on vintage stuff dating anywhere from the 1900s to the 1990s.
Someone had a jukebox for sale, which reminded me of my childhood when many of the local restaurants had them and people could choose songs to play for about a quarter each.
The jukebox played music during the entire event. (Which proved that it definitely still worked.) I couldn't help taking pictures of the songs that were available on the jukebox. The majority of them were hits when I was a kid.
And speaking of music players, here's a vintage 8-track player with an Elvis Presley 8-track tape. I once had a stereo system that included an 8-track player but I never owned one like that. But I could've sworn that one of my friends or maybe one of my cousins had a player just like that but I don't know for sure. (Memory is one of those funny things where you remember something but you don't remember when, where, or how you remember it.)
Late last year I did a series of blog posts with accompanying photos known as A Tabletop Christmas (so-named because I limit my Christmas decorating to just a single tabletop in my living room). Among the items I showed off was a small plastic Santa Claus puppet that I've had since I was a child. I didn't know anything about the origins of this puppet. It wasn't until I went to the toy show when I saw a tiny plastic Santa puppet on sale that's identical to mine.
The only difference between the two is that this Santa still had its label at the base while mine doesn't have any labels at all. (I suspect that whatever label it had must've fallen off a long time ago.) My Santa puppet is currently stored in a box with the other Christmas decorations in the attic but here's a picture of my Santa puppet that I took last December.
At first I thought the animal in the next picture was a stuffed animal until I saw the dog move his eyes around. He laid there the entire time I was at that show.
This show also had examples of how the mighty had fallen. I found this book by disgraced former Fox News talk show host Bill O'Reilly on sale for only $1 at one of the tables. (LOL!)
There was one token of something new that I found. Someone was selling glow-in-the-dark versions of the hottest toy of 2017: Fidget Spinners.
By the way, you can check out a video I shot recently where I unboxed and played with one of those Fidget Spinners for the first time (and, no, the one I bought didn't glow in the dark).
Everywhere there were visual treats, many of which harkened back to my own youth.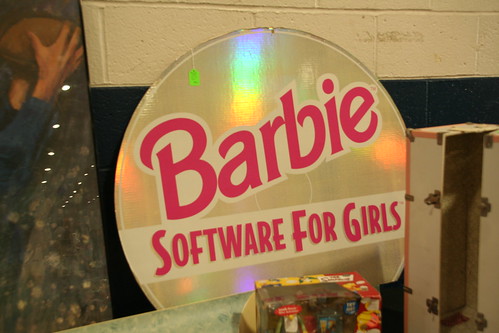 As I was walking back to the light rail stop I shot this photo of The Cow Palace building because it had a nice small garden.
I didn't buy a lot of stuff at that toy show due mainly to tight finances. But I managed to snag a couple of things at bargain rates. I found the second season of The Simpsons DVD set for only $6.
I bought a Monster High doll for only $5. I was attracted to her pretty winter-themed clothes. At first I thought I may have purchased a relative of The Snow Queen until I did an online search and I was able to make a definite identification. Based on this web page, her name is Abbey Bominable and she's described as the 16-year-old daughter of the Yeti.
Here's a closeup of her hair, which looks like it has glittery plastic pellets weaved throughout the strands. It gives a really cool ice/snow effect, especially when the light reflects off of her hair.
Like I wrote in a prior entry, that particular Sunday was a busy day for me. I started off with going to Dr. Sketchy's Anti-Art School (link is definitely NSFW) and I ate an early dinner while I was at the Bier Baron. After the event ended and I finished eating, I decided to get back on the Metro and head to the White House so I could check out the National Christmas Tree.
Even though I've lived my entire life in the Baltimore-Washington, DC area, I've only been to the National Christmas Tree two other times. One of them was when I walked past it one spring or summer day but that was in the off-season when it just looked like a typical pine tree. The other was when I went during the winter holiday season and that was when Bill Clinton occupied the White House.
Yeah, I know it's kind of pathetic that I live in the area and I haven't made more of an effort to actually visit the National Christmas Tree. This year I decided to actually schedule a visit since next year a new Trump Administration will take control of the White House and Trump seems to have gone out of his way to continue with pissing off people on Twitter. I just want to photograph the Washington, DC area as it is now before Trump takes over because I have a feeling that the DC area will never be quite the same as it is right now.
Like I wrote earlier I last went to the National Christmas Tree when Bill Clinton was in office. While the White House has always had a fence around it, there was a time when you could walk close to the fence then cut through this fenced alleyway over to the Ellipse where the National Christmas Tree is located. Thanks to 9/11 the entire downtown area has become more fortified, including the White House. Basically one now has to walk one block away from the White House, turn a corner, then walk another block back towards the Ellipse side of the White House. This new path definitely increases walking time to get to the National Christmas Tree.
It didn't help that on the night I went there were even more cutoffs because of a scheduled motorcade of limousines carrying certain VIPs to and from the White House. Living in the DC area you get used to having streets and sidewalks get periodically blocked off to make way for these special motorcades. Here is what it was like at the intersection of 14th Street and Pennsylvania Avenue, Northwest.
I eventually made my way back towards the White House on the Ellipse side. My feet were sore but all that walking was worth it once I reached the National Christmas Tree.
Surrounding the National Christmas Tree were a variety of toy train layouts resembling small villages and towns with a toy train running through each.
There was a display of smaller trees with each one representing a U.S. state or territory.
The next photo shows the tree that represented my home state of Maryland.
The one other time I went to the National Christmas Tree during the winter holiday season I remember that there was a giant lit Yule log and I could warm myself by the fire. I didn't see any Yule logs or bonfires this time around but I encountered something that I didn't expect. There was a tent sponsored by Google enticing people to do some computer coding in order to get a free cup of hot chocolate.
This exhibit was somehow tied in with the 100th anniversary of the National Parks Service. (Although, for the life of me, I didn't see how doing some computer coding was in any way related to visiting National Parks Service places like the Lincoln Memorial or Mount Rushmore or Yosemite.)
Basically you had to queue up outside and wait until someone opened the tent door and let you inside. Since I went on a Sunday night I didn't have a long wait outside. Once I was inside the tent I had to wait some more until a station with a Chromebook (you can definitely tell that Google sponsored this) opened up.
Once I reached the next available Chromebook I found that it was opened to the Made With Code site. I definitely recognized that webpage because I had previously visited it on World Emoji Day back in July and I created my first personalized Emoji. Using the Blockly programming language (another indication that Google sponsored this) I created this Christmas-themed Emoji.
The next step was to wirelessly send my newly created Emoji to the nearest hot chocolate dispenser.
A screen at the top showed a selection of recently created Emojis. I found the one I created and chose that one.
Here's where the cool part came in. The hot chocolate dispenser poured out the drink while creating special foam at the top that resembled my newly created Emoji.
There were some specially provided tables where you can center the hot chocolate and take a picture of it.
Given that cool looking foam featuring an Emoji that I personally coded myself, it was almost a shame to drink the hot chocolate. I was just glad I had my smartphone with me so I could photograph it for posterity and drink my free hot chocolate without regret. (As for the hot chocolate itself, it was okay but I've tasted better hot chocolate at Starbucks. I can't complain too much about it since I got it for free.)
There was a stall that sold the official 2017 White House ornament. It was nice looking but I didn't buy it since I have a small artificial tree these days and it can't hold too many ornaments.
The last picture I took that night was of a life-sized nativity scene that was placed near the National Christmas Tree.
Not too long ago I learned about the existence of this locally-owned business that specializes in antique toys known as The Toy Exchange. I finally got around to visiting it myself for the first time when I realized that it was located not too far from my therapist's office so I decided to combine trips by going to that store before my therapy appointment.
That store was packed full of vintage toys, dolls, games, and similar items (some of which dated as far back as the 1950's). Every shelf space was literally so crammed with toys that I could've spent hours just looking over each toy in its inventory (which rapidly changes because they sell online as well).
I took a few photos but, to be honest, this store is better viewed in person. But at least the photos give you an idea of what that store is like.
As I was walking from the store to my parked car (I had gone to the store on my way to my next therapy session) I noticed that, despite the high heat and high humidity that day, it was a very beautiful day complete with blue skies and fluffy white clouds. I couldn't resist taking this last photo of the Wheaton skyline.
Last summer, when I checked out the German Festival that was held in Timonium, I picked up quite a few flyers that were all advertising upcoming events that were of interest to the German-American community. While I was doing some tidying up at home, I came across one of those flyers that were advertising a Christkindlemarkt that was being held at Zion Lutheran Church in Baltimore. I was intrigued enough by the brochure that I decided to check it out in person this year.
I parked my car at the North Linthicum Light Rail station and took the light rail train to Lexington Market then walked for a few minutes. The next photo shows the remains of the old Hutzler's department store. One can still see the name and logo etched over what was the main entrance.
While there are the occasional chain stores that one can also find in the suburbs (such as the Rainbow store in the next photograph), the vast majority of stores are locally owned.
Baltimore is such an economic mix, even on the same street. In some areas if you look on one side of the street, you'd see locked up stores that have definitely gone out of business a long time ago. But then you look across the street and you see what looks like a nicer area. It gets pretty surreal at times.
I eventually reached my destination, Zion Lutheran Church. It is a large brick building that's totally rich in history dating all the way back to 1755.
Living in the DC area that has a lot of immigrants from Central America, I have long grown used to hearing people speaking Spanish among each other and seeing bilingual English-Spanish signs. It's just so novel to go to a place where people talk to each other in a different language and seeing bilingual signs and it's not in Spanish but in German.
The church has this library that's filled with wooden shelves and wooden furniture and it's loaded with German language books, many of which are very old. This church has so many old German books that this library can't contain them all. I saw bookcases in other parts of the church where the overflow German books were stored.
Everywhere you went in that church there were all kinds of things relating to German American history and culture. And the architecture of this building was amazing.
According to the Wikipedia, Zion Lutheran Church is the last church in Maryland that still offers weekly Sunday services in German. I would love to sit in on such a service except I live about 30 miles away and the German services are held at 9:15 a.m. on Sunday mornings. If I really wanted to go, I would have to wake up between 6-7 a.m. and be out the door no later than 8 a.m. Since the light rail trains don't start on Sunday mornings until after 10:30, I would have to drive into the city and deal with the hassle of finding parking. Maybe I'll make the effort one Sunday in the future, I just don't know when I would do this.
As for the Christkindlmarkt itself, it was excellent. There were three floors full of things to see, do, and eat. The most crowded room was the one that contained a train garden as many children crowded around watching the toy trains go by. I heard a few tantrums as parents tried to tell their children that it was time to go and the kids didn't want to leave because they were completely mesmerized.
There was an amazing array of German imported crafts that one could buy. The only thing I purchased (besides the lunch that I ate there) was a pound of German coffee as a Christmas present for my mother. When I was buying the coffee, there was a couple near me that were buying a whole box full of German coffee and they ended up paying $70. I guess this couple loved their German coffee so much that they needed to have enough to last them for most of 2015. (LOL!)
Despite the German crafts and food, I found that not even the Christkindlemarkt at Zion Lutheran Church is immune from the onslaught of Anna and Elsa from the Disney movie Frozen. (LOL!)
Zion Lutheran Church is literally located across the street from City Hall.
I walked back to the Lexington Market Light Rail Stop using a slightly different route. I came across this memorial to former Baltimore Mayor Thomas D'Alesandro, Jr., who was also the father of former House Speaker (and current House Minority Leader) Nancy Pelosi.
I ended my visit to Baltimore by walking past these interesting looking Christmas decorations before boarding the light rail back to where my car was parked.