You are currently browsing the tag archive for the 'The SImpsons' tag.
I spent the Fourth of July holiday attending a party at a friend's home whose backyard overlooks Greenbelt Lake. Here is what the view looks like.
It was really cool seeing the fireworks being shot over the lake with the reflection in the water. Unfortunately I wasn't able to get a short of the fireworks. Like I wrote the other day, my smartphone camera is starting to act erratic lately. Sometimes it'll work perfectly while other times I get this dreaded "Camera Error" message along with "Please restart camera." I restart the camera only to get that same error message. I leave my smartphone camera alone for a while and the camera starts to work normally again. That problem has gotten so bad that I now take the older and heavier Canon Digital Rebel EOS DSLR camera with me if I'm going to a place where I really want to take pictures.
That day I left the Canon camera home because I didn't feel like lugging it around and my smartphone acted up after I took my one and only photo on the Fourth of July. While I would've loved to have gotten some fireworks photos, I'm not too bitter because I had previously taken photos of Fourth of July fireworks in Greenbelt Lake in 2013, 2014, and 2016,
Here's a gorgeous sunset photo I took on July 11, 2017.
And last, but not least, I was visiting a friend at his job at the Takoma Park Public Library on July 14, 2017 when I saw this customized Bart Simpson vinyl toy that was on display there.
On the Saturday during the Fourth of July holiday weekend, I decided to check out this toy show that was being held at the Maryland State Fairgrounds.
It was such a feast for the eyes as the toys and various other vintage items were displayed at various vendor tables. The whole show took on the air of a flea market with an emphasis on vintage stuff dating anywhere from the 1900s to the 1990s.
Someone had a jukebox for sale, which reminded me of my childhood when many of the local restaurants had them and people could choose songs to play for about a quarter each.
The jukebox played music during the entire event. (Which proved that it definitely still worked.) I couldn't help taking pictures of the songs that were available on the jukebox. The majority of them were hits when I was a kid.
And speaking of music players, here's a vintage 8-track player with an Elvis Presley 8-track tape. I once had a stereo system that included an 8-track player but I never owned one like that. But I could've sworn that one of my friends or maybe one of my cousins had a player just like that but I don't know for sure. (Memory is one of those funny things where you remember something but you don't remember when, where, or how you remember it.)
Late last year I did a series of blog posts with accompanying photos known as A Tabletop Christmas (so-named because I limit my Christmas decorating to just a single tabletop in my living room). Among the items I showed off was a small plastic Santa Claus puppet that I've had since I was a child. I didn't know anything about the origins of this puppet. It wasn't until I went to the toy show when I saw a tiny plastic Santa puppet on sale that's identical to mine.
The only difference between the two is that this Santa still had its label at the base while mine doesn't have any labels at all. (I suspect that whatever label it had must've fallen off a long time ago.) My Santa puppet is currently stored in a box with the other Christmas decorations in the attic but here's a picture of my Santa puppet that I took last December.
At first I thought the animal in the next picture was a stuffed animal until I saw the dog move his eyes around. He laid there the entire time I was at that show.
This show also had examples of how the mighty had fallen. I found this book by disgraced former Fox News talk show host Bill O'Reilly on sale for only $1 at one of the tables. (LOL!)
There was one token of something new that I found. Someone was selling glow-in-the-dark versions of the hottest toy of 2017: Fidget Spinners.
By the way, you can check out a video I shot recently where I unboxed and played with one of those Fidget Spinners for the first time (and, no, the one I bought didn't glow in the dark).
Everywhere there were visual treats, many of which harkened back to my own youth.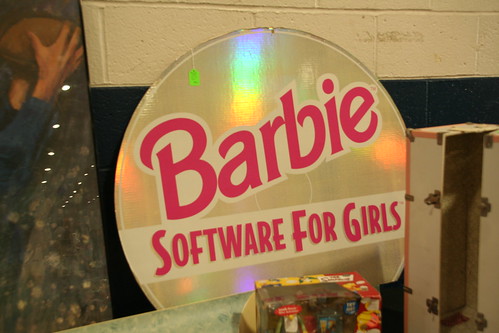 As I was walking back to the light rail stop I shot this photo of The Cow Palace building because it had a nice small garden.
I didn't buy a lot of stuff at that toy show due mainly to tight finances. But I managed to snag a couple of things at bargain rates. I found the second season of The Simpsons DVD set for only $6.
I bought a Monster High doll for only $5. I was attracted to her pretty winter-themed clothes. At first I thought I may have purchased a relative of The Snow Queen until I did an online search and I was able to make a definite identification. Based on this web page, her name is Abbey Bominable and she's described as the 16-year-old daughter of the Yeti.
Here's a closeup of her hair, which looks like it has glittery plastic pellets weaved throughout the strands. It gives a really cool ice/snow effect, especially when the light reflects off of her hair.
I decided to visit Valley View Farms on the day before Christmas Eve. (I guess you could call it Christmas Eve Eve. LOL!) The previous day, when I visited Homestead Gardens, it had been raining with patches of fog. When I went up to Cockeysville, it was alternating between light rain and mist and it was still wet outside. And the traffic was pretty atrocious between both the rain and the fact that Christmas was just two days away. But when I finally arrived and stepped inside, I began to forget about that horrendous commute and just marvel at the total Christmas fantasyland.
There were lots of decorated Christmas trees with each one representing a theme. Some had a theme according to color (such as all white or all gold) while others had a theme according to type of ornaments (such as all snowmen or all toys). It's such a visual treat seeing each unique tree with a theme of its own.
Of course there were a lot of ornaments available that one can buy.
There were other types of decorations on display as well.
There was also a whole section dedicated to the Department 56 cottages.
I liked the message on this cloth dishtowel. (Or I think it's a dishtowel.) As an artist, I'm pretty amused by that cloth. Unfortunately I have no idea if it is a dishtowel or if it's one of those cloth banners that you hang on the wall. In any case I didn't buy it because I have no need for another dishtowel and I don't have space on my walls to hang anything else.
There were a few non-Christmas items on display as well, such as this banner highlighting the years when the Baltimore Orioles were World Series champions. I'll admit that it's frustrating that 1983 was the last time the Orioles won the World Series. The team is definitely overdue for another victory. There are times when I dream of an I-95 World Series between the Baltimore Orioles and the Washington Nationals. (I would face a dilemma on which team to root for if that ever happened. I grew up outside of Baltimore where people loved the Orioles including my family so I was raised as an Orioles fan. Yet I'm currently living closer to Washington, DC where people are definitely into the Nationals. I'm not going to think about it until it actually happens in real life. LOL!)
Before I decided to drive back home, I decided to brave the misting rain and take a photo of the sign in the back.
Despite the numerous pretty ornaments, I managed to stick with buying just one ornament, which can be seen in the last photograph below. It was one that I found for $6. It resembles the Delftware that originated in the Netherlands and it even looks Dutch. However, I saw a "Made in China" sticker, which was why I was able to buy something like this at a very low price. What I really like about this ornament is the flat base so I could place it under the Christmas tree if I end up with having more ornaments than tree space in the future.
A few days before my birthday on December 15 I decided to take the Silver Line Metro to Tyson's Corner Mall in Tyson's Corner, Virginia because I got some birthday money from a relative and I wanted to spend it on myself. I also heard that the mall was having something called a Christmas Market & Winterfest and it's currently being held only on the weekends before Christmas.
This was my second trip on the Silver Line Metro since it opened. When I previously arrived two months ago, the plaza outside the mall greeted Metro commuters with all kinds of interesting stuff like giant sized chessboards. The chessboards and other outdoor stuff were replaced with the tents of the Christmas Market & Winterfest, an ice skating rink, and a large Christmas tree. It's really cool that the mall does special things like this that makes it convenient for people who choose to commute via Metro instead of driving their cars to the parking garages.
The largest tent belonged to a vendor that I recognized from going to the Christmas Village in Baltimore just five days earlier. The next photograph shows the back of Käthe Wohlfahrt, which specializes in selling handcrafted Christmas decorations from Germany.
The next photo shows the front of the Käthe Wohlfahrt tent. As you can see, the front entrance resembles the entrance to the one in Baltimore.
Like the Baltimore location, the one in Tyson's Corner also didn't allow photography but you can see what Käthe Wohlfahrt sells on its website. While I was there, I found this really small yet delicate looking lace moose ornament that I purchased for around $6. Here is what that ornament looked like after I took it home.
I also walked past the ice rink, which was really big. It was opened to the public and I saw plenty of people using it when I was there.
Inside the mall there were people trying out the free Microsoft Xbox demo of the video game Just Dance.
Inside the mall there was a temporary Christmas store that was only opened for the holidays. There were plenty of cute items on sale, such as this Christmas stuffed animal based on the Internet celebrity Boo the World's Cutest Dog.
This next photo shows the ever-popular Elf on the Shelf, which brings to mind my own vintage elf decoration (which I wrote about last year).
This Christmas store had a huge selection of ornaments and decorations for people with all kinds of various interests.
There were even nutcrackers that represented various sports teams.
There were also Department 56 buildings that represented all kinds of structures. There were even a few pieces based on the town of Springfield on The Simpsons.
The next photo shows a temporary display where Nintendo was demonstrating its latest products to the general public.
I finally arrived at the American Girl Place, whose front display had dolls decked out in the latest sparkly Christmas outfits that were on sale.
The next two photos showed its special store exclusive Christmas outfit that were modeled by two different dolls.
Every time I go to that store I always come out with a bunch of photos. I especially love the BeForever line (even if I'm not a fan of the name) because I've always been a history nerd and this line focuses on dolls representing girls who grew up in the past and it features historically accurate clothes and tiny accessories. I'm not quite as big of a fan of either My American Girl or the Girl of the Year (mainly because they represent modern girls wearing modern clothes—if I wanted such a doll, I would simply go to Target and buy an Our Generation doll for a quarter of the price of one American Girl doll) although they look lovely. But I definitely love BeForever. If money and space were no object, I'd buy all of the BeForever dolls along with the clothes and accessories. Since that's not the case for me, I have to make do with these lovely photographs that I took.
I still love those human clothes based on the BeForever dolls. I still wish someone would make these clothes in adult sizes because I definitely would buy something like the outfit in the next photo that's based on Kit Kittredge's Meet outfit.
There was a funky Christmas tree in the store.
The most awesome Christmas item that's currently available for 18-inch dolls is this horse-drawn carriage. It looks incredibly gorgeous in real life. However, this carriage would take up a huge amount of space in my living room so there is no way I could ever buy this even if I wanted to. Besides, this is way out my tight budget. According to the American Girl website, the Pretty City Carriage costs $275 while the horse is sold separately for $98. I have to admit that I'm totally impressed by the attention to detail on the carriage.
Despite the glittery mall with its upscale shops (such as Michael Kors and Coach) I saw at least one store that was having a going out of business sale.