You are currently browsing the tag archive for the 'The Bachelor and The Bad Actress' tag.
I recently attended a new monthly event known as the Campfire Sessions that is held at the New Deal Cafe in Greenbelt, Maryland. The idea is that local musicians play a 15-minute set then answer questions from the audience regarding their music.  This particular event was held on the last day in February, 2018.
The Bachelor from the Bachelor and the Bad Actress prepares his guitar for the upcoming show.
The evening began with a set from Christopher Bronholm and his percussion playing partner.
Here's a video I shot of Christopher Bronholm and his partner performing the song "It Rains in Baltimore."
You can learn more about Christopher Bronholm through another YouTube video that he appeared in (and was shot by someone else).
The next photo shows the second set the was performed by The Bachelor and The Bad Actress.
I shot this video of the duo performing "The Bicycle Song." As part of this song The Bachelor and The Bad Actress handed out bicycle bells for the audience to ring at various parts during the song.
You can learn more about the music of The Bachelor and The Bad Actress through their Bandcamp page.
Last but not least Dar Stellabotta performed a set with her homemade guitar that she built using a cigar box.
After the show she had CDs on sale along with an extra cigar box guitar that she built. (I don't know if anyone purchased that guitar or not. If I wasn't so short on cash these days I would definitely seriously consider buying it. I managed to purchase one of her CDs for $10.)
Here's a video I shot of Dar Stellabotta playing with her cigar box guitar.
You can learn more about Dar Stellabotta through her website.
For the past few weeks I've been complaining about dealing with not one—but two problem cameras. The camera that's in my smartphone has been acting more and more inconsistently since last Christmas. I would frequently get those dreaded "Camera Error Please Restart Camera." I would frequently complain about it in this blog. (You can read the most recent example here.)
That problem got so bad that I went back to using my 15-year-old Canon Digital Rebel EOS DSLR camera. That camera was once a top-of-the-line camera but the newer cameras have more megapixels plus that camera only does still photography. (I'm well aware that the newer DSLR cameras does videos as well as still photographs.) It's also bulky and heavy compared to my smartphone.
For a while I brought the DSLR camera whenever I was going somewhere where I was sure that I would want to take photographs and I didn't want to risk relying on the smartphone alone. But lately the DSLR camera's battery isn't charging (even though I make sure that I charge that battery ahead of whatever event I was taking it to). That came to a head when I made sure to charge it a day or two before the recent solar eclipse only to find that the battery wasn't working at all. I was lucky that my smartphone camera decided to function just like old times so I was able to get a few photos of that eclipse. But then my smartphone camera reverted back to that "Camera Error Please Restart" message when I went to a Meetup event that took place just a few hours later.
I subsequently looked up replacement batteries for my DSLR camera and I saw that it varied widely between $8 to a whopping $60!
Then there was the issue of having to lug a heavy camera plus there are times when I want to shoot video and I would have to hope and pray that my smartphone camera is up to that challenge. I decided to shop around for a relatively cheap point-and-shoot camera that's small enough to be portable (so I can easily carry it in a bag or in my purse), provide as many megapixels as the smartphone cameras, and is capable of shooting video.
After doing some Internet research on various camera prices and reading various online reviews, I decided on a Canon PowerShot ELPH 190IS. I purchased a used camera for only $80 on eBay and it arrived in my home just in time for the Labor Day holiday weekend. I got a camera, a battery, and a battery charger. The one thing missing was an SD card but I already had one on hand so it was no big deal to pop it into the camera. The only other thing missing was the manual but I was able to find a .pdf copy by doing a Google search then downloading it.
By the way, that's the best way of finding a new copy of any missing manual. These days you can find a missing manual for just about anything no matter what the product is or how old a certain product is. (Don't be like this guy and email some random stranger asking to scan a copy of a manual then email it to him for no compensation and to email it ASAP. It's just quicker to do your own Google search and you won't have to irritate random strangers either.)
Since the camera just a couple of days before upcoming Labor Day holiday weekend I decided to give it a real workout at the Greenbelt Labor Day Festival. On the Thursday night before the start of the festival and the holiday weekend I decided to use the video feature to record a friend of mine who was performing at the New Deal Cafe's regular Thursday night Open Mike. He usually performs as one-half of the duo The Bachelor and the Bad Actress and I did that animated music video to the duo's song "Butcher the Hog" not too long ago. (They were also the same couple who held a public outdoor wedding in the middle of a music festival a two years ago and I have the video and a bunch of photos to prove it.)
My friend was doing a solo set that night under the name Joey Campfire. (His wife wasn't at the cafe that night.) He sang two songs and I shot a short video for the last one as a way of testing out my new camera. I have to say that I liked the results, which I uploaded on to YouTube. Here it is below.
I also took a couple of shots of the various carnival rides that people were setting up near the cafe in order to be ready for the festival's opening the following evening. I took a boatload of photos and another short video that holiday weekend. I'm trying to get everything sifted, edited, and uploaded as fast as I can. I'm trying to aim for next week when I'll show off what I took with my new camera.
Late last week I finished my latest animation, which is based on the song "Jack Sprat (aka Butcher the Hog)" by The Bachelor and the Bad Actress. Here is the video. I'll write more about how I made it below.
I'm pretty friendly with a few local musicians. (None of them are major stars and all of them have day jobs since they don't make enough money from being musicians to pay the bills.) A few months ago I did a short animation to Phil Shapiro's song "Open Source is Yours and Mine."
Among my musician friends are a husband and wife duo known as The Bachelor and the Bad Actress. (I even went to their wedding that was held during the Crazy Quilt Festival in Greenbelt, Maryland a couple of years ago.) At one point I was communicating with Joe the Bachelor on Facebook (yes, he's married now but he's still known as The Bachelor because, well, old habits die hard [LOL!]) and I linked to the "Open Source is Yours and Mine" and I joked about offering to trash one of his songs the way I "trashed" the "Open Source" song. He really liked the video and was open to the idea of an animated music video to one of The Bachelor and the Bad Actress' songs.
Meanwhile I've been going to the weekly animation meetup at Makerspace 125 and there is talk about all of us collaborating together on one animation but nothing has happened yet along those lines (as of this writing). When I mentioned this to Joe the Bachelor, he offered to let those of us in that meetup to each take one of their songs and animate it.
I brought it up with the meetup group but it was met with indifference. I decided to do one of their songs on my own and show it to the other meetup attendees just to show that it's possible. I picked "Jack Sprat (aka Butcher the Hog)" because the lyrics were straightforward and I figured that I could do a comedic animation that's reminiscent of the old Warner Brothers Looney Tunes and Merrie Melodies shorts from the 1940's and 1950's.
I used Moho Anime Studio Debut for the bulk of the animation. There were a few times when I had to use Adobe Photoshop for some scenes where using Anime Studio would've been frustrating. (Like most graphics programs, Anime Studio Debut uses layers. Unlike the other graphics programs, you literally cannot control the opacity in those layers. So I switched to Photoshop for those times when I needed to control the opacity of certain layers, exported the graphics as a .jpeg, then imported it into Anime Studio Debut. I'm going to stop here on the technical stuff since not everyone is interested in such details.)
This animation was my first foray into actual lip-synching. Anime Studio Debut recommended this free open source software called Papagayo, which churns out lip movements based on both audio recordings and what you type into the application. If you want to know more about this, I suggest getting it yourself, since it is free to download.
I originally planned on doing the entire thing in Anime Studio Debut while I would use iMovie only to put in the opening title and closing credits. There was a snag when I discovered that Anime Studio Debut can't go any further than 3,000 frames and the song lasts longer than that. I was basically using the app's default at 24 frames per second. If you do the math, you'd know that the maximum run time that the software can handle is 125 seconds or two minutes and five seconds. The song runs for two minutes and 31 seconds.
I found a workaround when I brought the song into Audacity and broke it up in two. Then I created two separate animation files, exported them separately, then brought them into iMovie where I managed to patch everything together into one file.
While I was working on this, I found out that Moby had been releasing animated music videos. The first one is a statement about people being addicted to their smartphones. The second one has become controversial because it makes an unflattering statement about President Donald Trump but that's another story altogether. I was influenced by the end titles in both videos and they were my inspiration for how I created the end title in my own animation where I showed people where they can download or stream The Bachelor and the Bad Actress' music.
Speaking of President Trump, I added some imagery of my own about The Donald along with a quote from George Orwell's book Animal Farm. See if you can spot them while you're watching my video.
I have to admit that this was my most ambitious animation to date and there were times when I was on the verge of burnout. And that's because I was also doing some major job hunting using tips from a book that I had recently gotten a hold of.
I finally decided that doing two big things at once wasn't good for my health. With the Fourth of July holiday coming up, I decided that I would finish the animation first then resume reading the job hunting book after the holiday. (If this book works for me and I end up getting a new day job to pay the bills, I will write another post praising this book and urging all my readers of this blog to buy it.) With another finished animation under my belt, I now have something recent I can show to any potential employer interested in my animation skills.
I'm also toying with starting a Patreon page where I would make short animations (meaning less than five minutes) for anyone willing to give me some money. Working on this animation has shown me what I can realistically do for a potential patron while setting a price that's reasonable for the patron while not pricing myself so low that I end up making $1 or $2 per hour (which is impossible to live on anywhere in the United States of America).
By the way, if you like the song, "Jack Sprat (aka Butcher the Hog),"  you can purchase it or stream it through The Bachelor and the Bad Actress' Bandcamp page.
I attended a benefit concert featuring my friends The Bachelor and the Bad Actress at the New Deal Cafe in Greenbelt, Maryland. It was a fundraiser to help pay off the medical bills of the Bachelor's sister. (Even though she has health insurance, the hospital bills were still very expensive.) Here's a photo of the duo on stage.
Here's a short video I shot of the couple.
Last year at the Crazy Quilt Music Festival there was an actual wedding of a couple who perform together under the name of The Bachelor and the Bad Actress. There was no wedding this year but the same duo was back celebrating their first wedding anniversary on stage. While they were performing this little girl was dancing in front of the stage swinging this stuffed lion over her head.
The CooLots followed The Bachelor and the Bad Actress and that stuffed lion-swinging girl was joined by a few other dancing girls.
I shot some video of these dancing girls that you can check out here.
After The CooLots left the stage I went home for a few hours. I later returned to the festival where I saw this contra line dancing complete with a caller who was saying things like "Do-Si-Do."
Saturday, May 16, 2015 was a pretty exciting day. There was the annual music festival known as The Crazy Quilt Music Festival. (The reason for the name is because of the eclectic nature of the musical acts. There might be a folk act followed by a hip hop performer followed by a rock band specializing in progressive rock followed by a country band and, well, you get the idea.) One of the organizers of that festival also performs with his girlfriend turned fiancee as The Bachelor and The Bad Actress. That duo were not only performing at the festival but they decided to get married at the beginning of their set then follow the wedding ceremony with a live performance.
As far as I knew, nothing like this has ever happened in Greenbelt, Maryland (where the festival was held). In fact, I haven't heard of anything like this anywhere, with maybe the possible exception of Sly Stone's 1974 wedding at Madison Square Garden in New York City in front of 21,000 fans. The Crazy Quilt Music Festival drew at least 300 people, which was a far cry from Stone's wedding. (The festival venue, Roosevelt Center, can't really accommodate Madison Square Garden-sized crowds too well.)
I had a busy day myself. I arrived at the Crazy Quilt Music Festival and took some initial shots while listening to one of the earlier acts. The STEM center, Makerspace 125, is also located at Roosevelt Center and it was running a workshop on making fairy gardens that was being held at the same time as Crazy Quilt. So I went inside and worked a bit on my fairy garden until just a few minutes before the wedding's scheduled 4 p.m. slot when I grabbed my portable folding chair (which I had with me at the time) and set up a suitable spot for myself. I observed the wedding and the concert performance which immediately followed. Then I returned to Makerspace 125 to finish up my fairy garden until it was time for the center to close. By that point the clouds outside became more ominous (there were thunderstorms predicted on that day—luckily the rain held off until after the wedding ended) so I went home.
This wedding was covered in the local media like The Gazette. Apparently this was the first time that a wedding was ever held in Roosevelt Center in recent memory.
I uploaded all of the photos I took that day on Facebook, Twitter, and Instagram. A day or so after my uploads, a blogger with Greenbelt Live, Susan Harris, asked if she could use some of my photos in her blog and I gave her permission. You can see which photos she chose here. In this post I'm uploading all of my pictures as well as a short video I made so you can get a clear picture of what went on.
So much happened on that day that I'm going to put the Makerspace 125 fairy garden workshop in a different post and just focus on the wedding itself here, starting with the original promo flyer for both the festival and the wedding.
And here's an announcement that the festival was stiving to be a Zero Waste Event.
One of the festival's earlier acts perform on stage a few hours before the wedding. The banner is a reference to one of The Bachelor and The Bad Actress' songs called The Church of You and Me.
All of the musicians who performed at that festival essentially performed without pay so they relied on whatever tips the audience provided.
There were some hula hoops provided for festival attendees to borrow if they felt like doing some hula hooping to the music.
I took a few more pre-wedding photos before I headed to the fairy gardens workshop at Makerspace 125.
Some of the food for the reception following the wedding were kept at Makerspace 125, which agreed to keep the food in exchange for a donation from the wedding couple.
There was a community art project that would be delivered to the wedding couple. The idea was that people would paint images signifying their wishes for the couple. I saw that this hands-on project was really popular with the kids, which was why I never got a chance to add my own artistic touches to the painting.
So I went to Makerspace 125 where I started my fairy garden project. I interrupted my work on that project when it was almost time for the wedding to begin and I stepped outside and started taking pictures once again, such as this next photo of a woman cosplaying as a fairy.
Here's Joe the Groom (a.k.a. "The Bachelor" in The Bachelor and the Bad Actress).
The wedding participants took to the stage just before the ceremony began.
I shot a video of the wedding. Unfortunately I didn't shoot a lot of footage because my smartphone camera's video feature kept on shutting off after a minute or so. At the time I had forgotten to download some previous photos on my MacBook so I think it was due to the fact that the hard disk inside my camera was almost full. (I've since downloaded everything on my MacBook and deleted the files from my smartphone so I have disk space once again.) But it showed the beginning when the wedding participants sang the 1950's pop song "Going to the Chapel" as Hillary the Bride (a.k.a. "The Bad Actress") took to the stage wearing a lovely white wedding dress.
I quickly grew frustrated with my smartphone rebelling against shooting video so I stuck to taking still photos for the rest of the day. (The camera part worked fine.)
The woman in the center of the stage dressed in a long sleeved pink blouse and yellow skirt is my friend Amethyst. She had recently gotten certification with the State of Maryland as a wedding officiant affiliated with the Universal Life Church so she performed her first wedding, which was pretty cool.
And here's the moment when the couple were officially proclaimed as husband and wife.
After that first kiss as husband and wife, the couple began to put on a concert performance. There are times when I wonder if they will still be known as The Bachelor and the Bad Actress. While Hillary can keep her Bad Actress title (I don't think she has any plans to take serious acting lessons so her acting won't be dubbed as "bad"), technically Joe is no longer The Bachelor since he's now married.
I really enjoyed myself at the wedding as I socialized with a few people and took pictures. At one point I even saw my ex-husband and that friend of ours he left me for and quickly married. The great news was that they basically hung around the peripheral of the large crowd that were gathered for the wedding so I could only see them at a far distance. I tried aiming my camera so I wouldn't pick up any images of them. I was sort of successful. They were in a few of the crowd scenes but they were so far in the back that the only way I can even see them is if I do a very big enlargement of the background in the image editing program of my choice. But I'm okay with that. At least there weren't any closeup shots of The Backstabbing Couple From Hell. (I guess I'm still a bit bitter but I have a good reason to feel this way.) After hanging around the wedding for a while, someone from Makerspace 125 found me and informed me that the fairy garden workshop leader was going to pack her supplies soon (apparently she had another event that she was going to and she needed to wrap everything up so she could arrive to the next event on time). So I went back to the STEM center so I could finish my fairy garden.
After I finished my fairy garden, I stepped back outside. The wedding guests had moved to one of the back tents for the reception and one of the later acts on the Crazy Quilt Music Festival roster had taken to the stage.
But then I discovered that my timing was perfect. At the moment I had finished taking the above three photographs, the newlywed couple suddenly stepped out to the front of the stage and started their first dance as husband and wife.
If you looked closely at the sky in some of the above photographs, you'd notice that it looked ominous. The weather had threatened rain for most of the day and the air was very humid. Fortunately the rain held off until after the couple finished with their first dance, when it began to drizzle. (There were some heavier storms that took place after dark.)
As part of the wedding festivities the couple had rented a moon bounce house for people of all ages to bounce around in for free. By that point it was starting to drizzle so I didn't feel like going through the hassle of taking off my shoes before going inside to bounce around in. But a couple of kids didn't mind the rain so they took off their shoes, went inside, and bounced around while I took these last photographs.
Last weekend I happened to attend this wedding that took place on public property (namely Roosevelt Center located in Greenbelt, Maryland) of two friends of mine who perform together under the name The Bachelor and the Bad Actress. (Now that they are married, I wonder if that name will be altered in any way. <LOL!>) This wedding took place in the middle of the annual Crazy Quilt Music Festival and they exchanged their vows then performed on stage immediately afterwards. I took a few photos of that event using my smartphone and I uploaded them on my various social media accounts (namely Facebook, Twitter, and Instagram). Susan Harris, who runs the Greenbelt Live blog, asked if she could use some my photos and I gave her permission.
I'll eventually get around with writing my own post in this blog on what it was like to attend such an event like that (while taking part in a Creating Your Own Fairy Gardens workshop at the nearby Makerspace 125 just before the wedding ceremony then returning after the ceremony ended to finish that project). In the meantime you can view my photos online along photos taken by other photographers and Susan Harris' article right here.
Last Friday and Saturday I attended the local Greenbelt Pumpkin Festival. I went on the first night, where there was the Community Carve-Off where people of all ages carved a bunch of pumpkins into jack o'lanterns while local musicians provided the music. Everyone there had a great time as my photos show.
At one point two of my friends who perform as The Bachelor and The Bad Actress took to the stage where they played the closing set for the Community Carve-Off.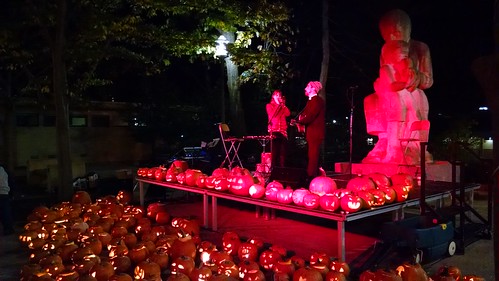 I even shot a short video of all of the newly-carved jack o'lanterns with the music provided by The Bachelor and The Bad Actress.
The following evening was the Greenbelt Pumpkin Walk itself. The path went through a wooded area and people were encouraged to bring flashlights with them. The jack o'lanterns that were carved at the previous night's Community Carve-Off provided the illumination along the path that people had to follow.
At one point the legendary Goatman appeared on the path.
It was a pretty nice night walk on a very clear night.
Last Friday I decided to check out a concert performance by two of my friends who are in a band known as The Bachelor and The Bad Actress. They have recently announced their engagement via Facebook so it's the first time I've seen them in concert since that momentous event. (The soon-to-be-married couple have basically told me that they will still keep the current band name even though the male half of the couple will no longer be technically a bachelor.) The New Deal Cafe was filled like it usually was on Friday nights so I ended up sitting by the bar. I met up with friends and acquaintances who were also there to see the band in concert. I ordered a Corona beer and I was having a good time chatting with people.
When The Bachelor and The Bad Actress took to the stage, I took a photo with my smartphone but I was seated a bit of a distance from the stage.
So I used the zoom feature and I managed to get a better shot of the band even if it was a bit on the grainy side.
So I was sitting back and enjoying the performance. I even shot a few videos but I didn't film the entire concert because I had to hold the camera in my hands and I needed to rest my hands every now and then.
The Bachelor and The Bad Actress was the opening act for another band known as Gramophonic. They did this switch where both acts were on stage together for performing the song "Funeral". Once the song ended, The Bachelor and The Bad Actress left the stage and Gramophonic played its set.
Things were mostly fine with me until about halfway through The Bachelor and The Bad Actress' set when a couple walked in to the back of the New Deal Cafe. They were none other than my ex-husband and my ex-friend whom he married last year just two months after our divorce was final. They looked for seats and my ex-husband looked in my direction. The Corona beer that I was drinking had put a partial damper on my emotions so I didn't freak out or scream but I still was annoyed and pissed that they showed up while my mind began to remember The Fucking Drama From Hell that my husband put me through when he bolted from home just three months after my surgery (and three days after Christmas) with zero notice that he was unhappy while blaming my purchase of a doll for our separation. And then there's my ex-friend, whom I've always tried to be cordial and friendly towards while I felt very sorry for her serious mental health issues and she rewarded me by hooking up with my husband while going along with marrying him while our divorce was still brand-new.
But then something cool happened. That Backstabbing Couple From Hell couldn't find seats while my ex-husband looked in my direction and they left the back room. Hooray for me! I could continue to enjoy the concert while I didn't have to see them.
Towards the end of The Bachelor and The Bad Actress' set, they announced that The Bachelor's sister was in the audience and it was also her birthday that night. Someone had brought out a birthday cake with lit candles.
The birthday girl dished out slices of her cake and I was fortunate enough to get a slice. It was a vanilla cake with vanilla frosting and it had a raspberry filling in the middle. It was excellent.
I stuck around for the first song of Gramophonic's set but I was feeling drained by the evening so I left. I went through the front of the cafe and I found my ex-husband and his second wife sitting at one of the front tables. Their backs were turned to me so I was able to walk out without either one of them noticing me. Ironically one of them could've taken my former seat at the bar but they didn't know that I had left. Ha! Ha! Ha! Serves those assholes right! 🙂