You are currently browsing the tag archive for the 'Superman' tag.
I had a pretty busy day. In the morning I went to one of the trainings and town hall meeting for the Poor People's Campaign in the morning. In the afternoon I decided to go to Third Eye Comics in Annapolis, since that day was also Free Comic Book Day nationwide. (If all that weren't enough, it was also Cinco de Mayo. I ended up eating tacos at home that I made myself using ingredients that I purchased from Aldi. I learned a long time ago that it's total folly to attempt to eat in any kind of Mexican/Hispanic/Latino restaurant on Cinco de Mayo.)
So after checking out the Poor People's Campaign, I drove to Annapolis. I arrived at Third Eye Comics only to find that parking was harder to find than usual. I ended up parking a few blocks away in an office park, which had some nice wall murals.
The next photo shows how crowded that store was. The next photo shows the line to the checkout counter.
I saw these vintage Atari video game cartridges on sale. I remember when Atari originally came out but I never owned one mainly because I was in college at the time and money was a bit tight at the time. It never bothered me that I never owed an Atari because my college (the University of Maryland) had plenty of arcade games on campus and some of the local off-campus fast food places also had arcade games.
I saw a few other interesting things on sale at Third Eye Comics.
I came across a whole aisle full of the ever-popular Funko Pop! statues. I found one new trend: Funko Pops based on real dead rock stars like Lemmy Kilmister of Motörhead and Joey Ramone of The Ramones.
There were plenty of Funko Pops based on comic book and video game characters such as Rocket Raccoon, Mega Man, Superman's alter ego Clark Kent, Wonder Woman, Batman, Batwoman, and Batgirl.
I also found an actual WTF t-shirt and a special edition of the Monopoly game board based on the latest Jurassic Park movie called Jurassic World.
Back in January I shot some photos at a Toys R Us in Annapolis, Maryland. At the time Toys R Us had announced a closure of around 200-300 stores across the United States. I had heard rumors that those closures were going to be the first in a wave of closures that will eventually end Toys R Us as a business. I picked the Annapolis store because I wanted to take photos of a store that wasn't on the list of stores that were closing so I could document what a typical Toys R Us store was like on an average business day. I also wrote about my own memories of shopping at various Toys R Us stores since my own childhood along with the factors that led to Toys R Us to file for bankruptcy then start closing some of its own stores.
I honestly thought that the rest of the stores weren't going to start shutting down until summer at the earliest. Imagine my surprise when Toys R Us announced last month that it was going to just liquidate all of their stores (including its Babies R Us stores).
Like I wrote back in January, Toys R Us originally started in the Adams-Morgan section of Washington, DC in the space that's now inhabited by Madam's Organ Blues Bar. Local station NBC4 recently ran a news story about Toys R Us' DC origins that's definitely worth checking out. There's another page on the Ghosts of DC site that goes even further. It traces the entire history of that same Adams-Morgan building starting from 1907 when that address was listed as the site of a birthday party for twin brothers in The Washington Post's society column.
Toys R Us' original founder, Charles Lazarus, died at 94 soon after the chain announced that it was liquidating. I know that he was at an advanced age but sometimes I wonder if he had died of a broken heart. It must be really tough to see your life's work just metaphorically go up in smoke like that, especially after being in business for 70 years.
I recently started a new day job where I'm doing office work for a therapist who also happens to have financial investments and rental properties on the side while also dealing with his late aunt's estate. He gave me this comic that he clipped out of a newspaper about Toys R Us.
While I'm not denying that the playing habits of children are changing but I learned that there is another factor behind the demise of Toys R Us that I learned about. This video thoroughly explains why Toys R Us are literally closing up shop and it had little to do with other factors frequently cited (such as kids being more into smartphones and tablets than traditional toys, competition from other big box retailers like Walmart, and competition from online retailers like Amazon) and more to do with some disgusting Wall Street shenanigans where the executives at the top are making off like bandits while thousands of their employees are being laid off.
I decided to make to make a return trip to Toys R Us on a Friday afternoon. The day before I had a successful interview that led to the day job that I'm currently working at. Despite my good mood I was still struggling with a head cold when I went. I decided to go anyway despite being tired and sick because I wanted to go to check out the going out of business sale before most of the inventory got sold. I decided to go back to the same Annapolis store that I went to in January just so I could take more photos comparing the store in its beginning death throes with the earlier January photos. (You might want to flip between this post and that post for comparison.)
One man was standing at a corner near the store with a giant sign reminding drivers that Toys R Us is having its going out of business sale.
The signs in the Toys R Us window were cheerfully touting its products, especially with the upcoming Easter holiday.
It sounds strange to see a "Now Hiring" sign when the store was going out of business. I later read that Toys R Us was looking to hire temp workers who would help with winding down the stores.
One of its entrance doors didn't work and it sported a handwritten "Out of Order" sign near the floor. Given the fact that this store will soon close, I don't anticipate that door being repaired anytime soon.
Here is one of the signs announcing that this store was going out of business.
Despite the fact that the store would soon close, I saw a whole array of Easter-related candy, baskets, and toys available for sale.
I saw this sign promoting the Toys R Us mobile app that included a game. I wonder how much longer this app will work once Toys R Us closes its doors for good.
I read articles that said that one should expect empty shelves because a number of vendors had cut ties with the company before the company decided to close down. Sure enough, I saw far more empty and half-empty shelves than I did back in January.
There were a number of Toys R Us exclusives that were still in stock.
There were a number of toys that were still available the day I was there including dolls, action figures, stuffed animals, and more.
Compared with my earlier trip in January, I saw more people in the store this time as employees were busy and shoppers were milling around.
There was a long line at the checkout line. That was due to the fact that there were only two cashiers working the cash registers. They worked fast enough that I was only in line for about 15 minutes.
I made one purchase during that trip to Toys R Us.  It's a Harley Quinn doll.
Here's a photo of the entire long Toys R Us receipt.
Here's a closeup of the top half of the receipt. This one is trying to encourage me to share my feedback about that store in order to have a chance to win a $500 Toys R Us gift card, which is pretty ironic since the entire store chain is in the process of closing. As for the Toys R Us gift card, I had heard that Toys R Us will soon stop honoring gift cards altogether.
Here's the bottom of the receipt. I saw that same Harley Quinn doll at the Target that's located closer to my home for $20.99. I had heard complaints that Toys R Us is more expensive than the other retailers but when I was there I saw that Toys R Us was selling that doll for the regular retail price of $19.99 (which was $1 cheaper than Target). With the going out of business sale, I got 10% off, which meant that I only paid $17.99 for the Harley Quinn doll, which meant that I save $2. Sweet!
When I was at Toys R Us in January I was offered a free frequent rewards card, which I took. I ended up not using that rewards card when I purchased the Harley Quinn doll because it would've been pointless since Toys R Us is closing soon. Here's a photo of that card, which is colorful.
I never got around to completing my member enrollment online mainly because I rarely go to Toys R Us these days. It was just as well since it would've ended up being for naught.
This week Toys R Us put up this notice at its website announcing that it was no longer going to process online purchases and customers should go to the bricks and mortar stores if they want to purchase any remaining toys in stock.
I learned via Facebook that Third Eye Comics was having a Halloween ComicFest right in its store. Not only were there really cool sales but they had some free sample comic books to give away as well. (It's almost like the annual Free Comic Book Day except it's in October instead of May.) So I went down to Annapolis where I took these photos.
The one thing I've noticed is that there seems to be more comic books based on cartoons that I used to watch on television when I was a child.
I laughed at these comic books taking jabs at Donald Trump. I just wasn't in the mood to buy them though because I've had more than my fill of Donald Trump and his constant need for attention. (I feel this way after he's only been in office for 10 months.)
I'd never thought I would ever see Stan Lee action figures. (LOL!)
They have cloth dolls based on The Unbeatable Squirrel Girl comic book series.
I laughed at seeing this set of Batman action figures all patterned after the rainbow flag. I wonder how many of my LGBTQ friends would be interested in that one? (LOL!)
A culinary-minded person can do some superhero-themed cooking.
I took advantage of the sales to purchase the three-volume graphic novel series Batgirl of Burnside. I checked the first and third volumes out of the public library a few months ago and I liked them really well. (My library frequently have this situation where, in the case of book series, it might have some volumes of a certain series but not all of them. Part of the reason is because people check them out but I've never seen the second volume of Batgirl of Burnside in my library ever. I looked for months and I've only seen the first and third volumes. I can only guess that some jerk checked out volume 2 and never returned it.)
I decided to check out the Spirit of Halloween as well. I originally was going to go to the one in Bowie since that was the one place where I knew such as store was operating until I did a quick search on Google Maps. I found that there was another Spirit of Halloween store that was just located one mile away from Third Eye Comics so I decided to go there instead.
The same shopping center had a lighthouse that was located next to a movie theater. The biggest irony is that the nearest body of water was located at least three miles away from where both the lighthouse and shopping center were located.
I arrived at the Spirit of Halloween where I took these photos, starting with the ways in which one could come dressed as either Donald Trump, Melania Trump, or Vladimir Putin.
I know that some of the Disney Moana-themed costumes have been controversial so I'm amazed that any store is still carrying them.
I purchased only one item from that Spirit of Halloween store. It's a small gargoyle where, if you pressed its belly, its eyes light up and it says one of four phrases (such as "You are doomed!"). This gargoyle was perfect for decorating my car trunk for the Trunk or Treat event that took place at my church on the following day.
On the Saturday during the Fourth of July holiday weekend, I decided to check out this toy show that was being held at the Maryland State Fairgrounds.
It was such a feast for the eyes as the toys and various other vintage items were displayed at various vendor tables. The whole show took on the air of a flea market with an emphasis on vintage stuff dating anywhere from the 1900s to the 1990s.
Someone had a jukebox for sale, which reminded me of my childhood when many of the local restaurants had them and people could choose songs to play for about a quarter each.
The jukebox played music during the entire event. (Which proved that it definitely still worked.) I couldn't help taking pictures of the songs that were available on the jukebox. The majority of them were hits when I was a kid.
And speaking of music players, here's a vintage 8-track player with an Elvis Presley 8-track tape. I once had a stereo system that included an 8-track player but I never owned one like that. But I could've sworn that one of my friends or maybe one of my cousins had a player just like that but I don't know for sure. (Memory is one of those funny things where you remember something but you don't remember when, where, or how you remember it.)
Late last year I did a series of blog posts with accompanying photos known as A Tabletop Christmas (so-named because I limit my Christmas decorating to just a single tabletop in my living room). Among the items I showed off was a small plastic Santa Claus puppet that I've had since I was a child. I didn't know anything about the origins of this puppet. It wasn't until I went to the toy show when I saw a tiny plastic Santa puppet on sale that's identical to mine.
The only difference between the two is that this Santa still had its label at the base while mine doesn't have any labels at all. (I suspect that whatever label it had must've fallen off a long time ago.) My Santa puppet is currently stored in a box with the other Christmas decorations in the attic but here's a picture of my Santa puppet that I took last December.
At first I thought the animal in the next picture was a stuffed animal until I saw the dog move his eyes around. He laid there the entire time I was at that show.
This show also had examples of how the mighty had fallen. I found this book by disgraced former Fox News talk show host Bill O'Reilly on sale for only $1 at one of the tables. (LOL!)
There was one token of something new that I found. Someone was selling glow-in-the-dark versions of the hottest toy of 2017: Fidget Spinners.
By the way, you can check out a video I shot recently where I unboxed and played with one of those Fidget Spinners for the first time (and, no, the one I bought didn't glow in the dark).
Everywhere there were visual treats, many of which harkened back to my own youth.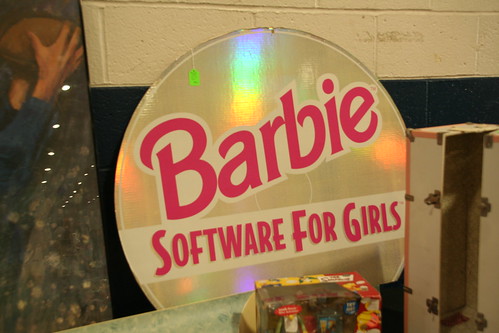 As I was walking back to the light rail stop I shot this photo of The Cow Palace building because it had a nice small garden.
I didn't buy a lot of stuff at that toy show due mainly to tight finances. But I managed to snag a couple of things at bargain rates. I found the second season of The Simpsons DVD set for only $6.
I bought a Monster High doll for only $5. I was attracted to her pretty winter-themed clothes. At first I thought I may have purchased a relative of The Snow Queen until I did an online search and I was able to make a definite identification. Based on this web page, her name is Abbey Bominable and she's described as the 16-year-old daughter of the Yeti.
Here's a closeup of her hair, which looks like it has glittery plastic pellets weaved throughout the strands. It gives a really cool ice/snow effect, especially when the light reflects off of her hair.
Here are some more comic book coasters that I made using my ex-husband's comic book collection, recycled tiles from Community Forklift, cork that I purchased from the local Staples, Modge Podge, and polyurethane varnish. They will be on sale at this Saturday's Greenbelt Mini-Maker Faire.
Here are some more comic book coasters that I made using my ex-husband's comic book collection, recycled tiles from Community Forklift, cork that I purchased from the local Staples, Modge Podge, and polyurethane varnish. They will be on sale at this Saturday's Greenbelt Mini-Maker Faire.

Yesterday I checked out the second annual Awesome Con DC. There are definitely changes from when I attended that event last year. First of all tickets have doubled in price. (Last year I paid $15 for a Saturday-only pass while this year I paid $30 for the same type of pass.) Awesome Con DC has definitely doubled in size from last year and it was definitely more crowded this year. It took me twice as long to get a pass. Even though I purchased a ticket online I still had to stand in this long line just to get a wrist bracelet that said "SATURDAY ONLY" on it.
When I got out of the Metro station I was greeted by this sign, which was a foreshadowing of what I encountered next.

Lines, lines, and more lines of people waiting to get in.

When we got inside there was yet two other lines—one for those who had pre-ordered their tickets online like did and the one for those who didn't. I noticed that the latter line was way longer. But it made for a very crowded experience.

The next photo shows the cover for the official program guide, which I thought looked pretty nice.
The next photo shows inside the program guide, which has a price list for the major media guests, all of which was pretty pricey. I noticed that there were separate pricing for both photo-ops and autographs, which indicated that if you wanted to get both an autograph and a photo-op from Billie Piper (best known for playing Rose Tyler for a few seasons on Doctor Who) it'll cost you a whopping $100.

Billie Piper was giving a Q & A at 1:45 p.m. and I made every effort to get there in time only to get held up by both a Metro ride where the train remained in one station for a long time before it moved on and having to stand in that totally long line. By the time I arrived there was that really long line that stretched down the hallway (similar to the one in the photo below) where the Q & A took place and I gave up out of frustration.
In fact it seems like Awesome Con DC this year is getting to be like Otakon was last year where, unless one stood in a line outside the room at least a half-an-hour before the event, there would be no seats left. This is what one room looked like when I made an ill-fated attempt to go to a Steampunk Show and Tell.
As a result of the crowds I spent most of my time at Awesome Con DC perusing the Dealers Room and Artists Alley while taking photos of various cosplayers. (I saw a lot of women dressed as either Anna or Elsa from the hit Disney movie Frozen.)
Like I wrote earlier, there were a lot of women who were dressed up as either Anna or Elsa from the hit Disney movie Frozen, such as these two who were among the four people trying out the Microsoft XBox Kinect version of the video game Just Dance.
I even shot a short video of this.
There was a local DC organization, called R2DC Builders, that is dedicated to building their own replicas of R2-D2 from the Star Wars movies.
I even shot a short video showing R2-D2 in action.
There was this puppeteer in the Kids' area who performed with a sock puppet.
I even managed to shoot a short video of this performance.
There was a long line of people waiting to get inside a replica of the Tardis from Doctor Who, which was really a photo booth. The resulting photos were shown on the screen outside, which was just as well because I really didn't want to wait in yet another very long line. I later learned online that this Tardis photo booth can be booked for parties and special events.
Another area of the Dealers Room that also drew a large line was this opportunity to get an autograph and a photo taken with actor Ernie Hudson, best known for appearing in the Ghostbusters movie. It cost money to meet him so this photo was the closest I ever got to meeting him. (That's him way in the back—near the Stay-Puft Marshmallow Man—wearing a Ghostbusters t-shirt while shaking the hand of a lucky fan.)
One of the few events that wasn't quite as crowded so I was able to find a seat was at a movie I had seen before a few years ago at the Utopia Film Festival called Every Other Day is Halloween, which is about the career of local legendary DC horror movie host Count Gore De Vol. Here he is signing a DVD that I bought from his booth.

Before I left for the day I spent some time in the Video Game room but that one was also crowded so I just took photos then went on the Metro.
This last photo is of a lovely sunset I saw while I was riding the Metro back home.
I've been attending a lot of local conventions lately and I found another one that seemed interesting to me. I originally considered going to it on Saturday because there would be special sceening of the animated movie Jay and Silent Bob's Super Groovy Cartoon Movie which would include not only the movie but also a live appearance by Kevin Smith and Jason Mewes that will include a Q&A that would be part of a live podcast. The only reason why I didn't go was because of the price. A one-day Saturday pass cost $25. That's not so bad except the Jay and Silent Bob event cost extra. The Saturday pass did not automatically give you an admission to that event yet if you wanted to buy the pass for the separate event, you were required to buy the Saturday Comic-Con pass as well. The regular Jay and Silent Bob pass cost $40, which meant you had to pay a total $65.
But that's not all. There was a "Super Groovy" ticket for the Jay and Silent Bob event that cost $75, which not only netted you an autographed print but it enabled you to enter the event first before those who purchased only the regular $40 pass. Since the "Super Groovy" ticket also required that you purchase a Saturday pass for the rest of the Baltimore Comic-Con, anyone who wanted it had to pay a whopping $100.
I not only wasn't crazy about paying extra fees but I had an issue with the idea of people who paid more for the "Super Groovy" ticket had the right to cut in front of people who could only afford the $40 pass. I was personally more in favor of the usual first-come, first-served policy that usually accompany a movie screening where people who line up early had the right to get good seats over those who arrived later. With this two-tier pricing, one who arrived very early to get in line but paid only the lower $40 price would see later arrivals get into the theater before that patient person simpy because the later arrivals had deeper pockets and could afford the higher ticket price.
On top of it, I was still smarting from having to pay a very high $1,600 health insurance bill. (Here's some background. As a spouse of a federal government employee, I had long enjoyed being covered under my husband's generous health insurance benefits. When my husband succeeded in his quest to divorce me, I filled out a form with the federal government in order to continue being covered under my ex-husband's health insurance since I'm currently seeing a therapist and I also want some kind of insurance in case something unexpected happened to me. The federal government takes up to 90 days to review my request. In the meantime I would remain covered, I assumed that they would continue to deduct some of my ex-husband's pay to keep me covered while the govenment reviewed my case. Imagine my surprise when I got a notice saying that I would continue to be covered but I needed to cough up $1,600 for the 90 days I was covered while the government reviewed my case.) I really didn't feel that I could afford to be extravagant so I decided to skip the whole Jay and Silent Bob event and attend Baltimore Comic-Con on Sunday, when ticket prices cost only $20. Besides, the one panel that I was interested in (besides the Jay and Silent Bob event) was held only on Sunday.
Normally when I attend an event at the Baltimore Convention Center, I usually drive my car to the North Linthicum light rail stop then take the train to the Convention Center stop because it's the cheaper option. However the one panel I was interested in was being held in the morning and the light rail system tends to start later on Sundays and I was afraid of missing that panel. So I ended up driving the car into the city and parked at one of the many parking garages. I arrived early enough to park in this one garage that had a special rate: If you leave before 4 p.m., you only have to pay a $15 parking fee. (The full price is $20 per day.) On top of it, that garage was just a short walk from the convention center, which was great since it ended up being so hot and humid.
I knew I was at Baltimore Comic-Con when I arrived at the Baltimore Convention Center and I saw all kinds of cosplayers waiting outside in line on a bright sunny September day that ended up in the high 80's along with very high humidity. (It felt more like summer than fall that day.)
In the lobby of the convention center was this really awesome life-sized balloon sculpture of Dr. Who and a Dalek that was done by Starkey's Balloons.
Everywhere at the Baltimore Comic-Con there were cosplayers and staffers wearing these interesting looking t-shirts.
I managed to make it to the one panel I wanted to attend. Toy designer Paul Harding and comic artist Mark Buckingham gave a very interesting presentation on the topic "Toy Design: From Paper to Plastic." It was a demonstration on how an original 2-D illustration gets translated into a 3-D statue and action figure. It was a very interesting topic that I enjoyed while I ate the lunch and drank the sodas that I brought with me from home. (I brought my own lunch rather than buy any of the overpriced food and drinks sold in the Baltimore Convention Center.)
They had some real-life models based on the characters Snow White and Bigby Wolf from the comic book Fables.
I spent the rest of my time in the Baltimore Comic-Con in the Artists Alley. The high point was seeing this framed The Amazing Spider-Man comic book that once belonged to actor Nicolas Cage on sale for $250 on one of the vendor tables.
The rest of the area was a whirlwind of vintage comic books, dolls, costumes, t-shirts, vinyl figurines, DVD's, and stuffed animals while various cosplayers were walking around the area and the various comic book artists and writers signed autographs for fans. There were some strange stuff on sale like a Jerry Garcia action figure (I'm old enough to remember when Jerry Garcia was alive and The Grateful Dead used to frequently go on tour) and Stan Lee Cologne (that's right, you now have the opportunity to smell like the famous Marvel Comics comic book writer and editor <LOL!>). There was even a table that gave away free samples of PlowOn Energy Gum. (To be honest, I didn't like the taste that much although it did a great job of keeping me awake since I chewed it at a time when I began to feel physically tired. I managed to keep on visiting every table in that room at least once. But I would rather drink Five-Hour Energy to stay awake than to chew PlowOn Energy Gum.) The next several photos should convey an idea of what the giant Artists Alley room was like.
I finished my day at Baltimore Comic-Con by sitting in on a cosplay costume contest for a few minutes. I didn't stay long because, as you can see in the photo, the room was very crowded.
Thanks to my decision not to skip the Jay and Silent Bob event the day before, I treated myself to a couple of items from the Artists Alley. Believe me, it took a lot of discipline to limit myself to just two items because there were a lot of stuff sold in that room that I felt tempted to buy but I didn't because I didn't want to go further into debt than I already am.
I found this really cute Funko vinyl figure that's based on the character Rainbow Dash from My Little Pony.
I also found this DVD collection of vintage early 1960's black and white episodes of Astro Boy. It's definitely a blast from my childhood. (Astro Boy was definitely one of the first Japanese anime series I ever watched on TV but I was too young to realize that was anime.) Now I can relive my early childhood whenever I want.
September 8, 2013 turned out to be a momentous day for me and it's not just because I attended the second and final day of Baltimore Comic-Con. When I came home I did the usually weekly Sunday cage cleaning of my pet hedgehog Spike. Little did I know at the time that this particular day would be the last day I ever saw Spike alive. When I finished with cleaning his cage, I saw that he went into the pink plastic igloo that he used as his bedroom. I never saw him alive again after that.