You are currently browsing the tag archive for the 'strawberry' tag.
Sometimes I'll go up to the Pennsylvania Dutch Market that's only opened from Wednesday-Saturday in Laurel, Maryland. That market features all kinds of Amish-made goodies that are sold in stalls that are run by the Amish themselves. Here is what the market itself is like along with some of the homemade goods that are sold there.
The next photo shows the parking lot outside of the market. As you can see, it's a very popular place to go food shopping. The parking lot gets so filled with cars that I frequently park in the Home Depot parking lot next door and walk over to the market.
There was a really lovely cloud formation that I saw in the parking lot during one of my trips to that market that I can't resist sharing here.
The last two photo shows some of the food items I've purchased from that market on separate trips.
I'm in the process of turning over a portion of my front lawn that slopes up a hill into a strawberry patch. I'm doing this for the following reasons: 1) I'm so tired of pushing the lawn mower up that hill (which is a bit on the steep side), 2) I want a plant that grows low to the ground compared to grass and weeds so I won't have to worry about mowing it, and 3) I love strawberries and it would be cool to have a strawberry crop. I could not only make all kinds of wonderful dishes with it (like strawberry shortcake) but I could use it as a barter tool where I could get a friend or neighbor help me with some short task in the future in exchange for a bag of strawberries. What's more, I can even freeze strawberries for use in the winter. The only major hassle would be dealing with the birds, squirrels, and other animals who'd want to steal it but, otherwise, it's a win all around for me.
A few weeks ago I got my first strawberry, which I documented for posterity.
I've picked and eaten more strawberries since then. The strawberries are small but they pack way more intense flavor than the big strawberries that are frequently sold in the supermarkets. Which leads to my frequent complaint: Bigger is NOT always better. There are times when smaller is preferable. When it comes to strawberries, smaller is better because the flavor is more intense. I've eaten too many large strawberries at various parties and they always tend to taste bland. I've even eaten really big strawberries that literally had next to no flavor.
The supermarkets, restaurants, and catering places can keep their huge strawberries. I'll just stick with my own tiny berries with the intense flavor.
After all the sweat and tears I went through finishing my doll loveseat couch and after that last-minute conversion of my Zentangle activity from an hour-long workshop to a day-long hands-on activity it was finally time for the first-ever Greenbelt Mini Maker Faire. It was the third Maker Faire of its sort in the Washington, DC area after last fall's Silver Spring event (which I attended) and another event that took place in Northern Virginia just a few weeks ago (which I wasn't able to go to because I'm currently involved in my church's social action project to teach English to recent immigrants and I co-teach a class that takes place at the same time as the Northern Virginia event).
I was so wound up from making lots of last-minute preparations for the event that I didn't get much sleep so I woke up totally sleep deprived. I consumed plenty of Diet Pepsi and Five-Hour Energy drinks just so I can avoid dozing off. Here is what my table looked like.
One half of the table was devoted to the arts and crafts that I had for sale, including some tiny art canvases, thrift shop Barbie dolls that I refurbished and recycled as fairy dolls, and the doll loveseat that I made from a broken Dance Dance Revolution control pad, fabric scraps, and duct tape. I had an American Girl doll, a Makies doll, and a pink teddy sit in the loveseat. They weren't for sale—they were used to demonstrate the loveseat. The pink bear was holding the qr code for my entry on how I cleaned and repaired that bear while Victoria the Makies doll held the qr code that led to the Makies website. (I figured that this qr code would satisfy anyone who was curious about Victoria.)
The other half of my table was devoted to the drop-in Zentangle activity complete with books, pens, pencils, and paper. (I also had a bowl of Easter egg-shaped chocolates to encourage people to visit my table. LOL!) I also had an iMac G5 available for $100 that I was selling on behalf of a friend of mine in exchange for getting a cut of the sale proceeds. I only got one interest in the computer from a person who thought that a friend of hers may be interested but she needed to check with the person first. Otherwise, no one was interested in the computer.
Here's a photo of me standing next to my table that someone else took with my smartphone. I wore the official t-shirt of the Greenbelt Mini Maker Faire but it was cold outside so I ended up wearing a sweatshirt over it. As for the sweatshirt itself, I wore the same My Little Pony Rainbow Dash hoodie that I wore last Halloween. (I have the hood down in the photo below.) I had plenty of people who said that they loved my sweatshirt.
My booth faced the front of the New Deal Cafe, which was a pretty great location because I had a lot of people who stopped by on the way to the cafe.
Whenever I needed to step away from my table, I had my American Girl doll hold this message that I wrote on a small dry erase board.
The day was pretty sunny but very windy. Despite my polymer clay paperweights, there were times when I still had to reconfigure my table because the wind was strong enough to blow things over. I made a few sales on my crafts, which was okay. There were also times when I would walk over to Club 125 just so I could take a warming break from the cold and the wind.
The biggest hassle was trying to convert my Zentangle activity from my originally planned hour-long workshop to a day-long, hands-on, drop-in activity. (When I signed up to give a workshop, I thought I would give an hour-long workshop located either in Club 125 or one of the other interior places in Roosevelt Center. It wasn't until I went to a party for the volunteers on Thursday—two days before the event—that I was really expected to have a drop-in activity for the entire day.) Rather than repeat the same instructions over and over again to different people, I decided that I needed to provide a written instruction sheet. Luckily I didn't have to create one from scratch. I found this document online where I basically printed the first page and used that as the Zentangle instructions sheet.
For all my effort in reconfiguring the Zentangle lesson from an hour-long workshop to a day-long hands-on activity, only four people actually worked on their own Zentangle that day. The weather was in the 50's and it was very windy so I think that affected people being willing to do something artistic outside. Other people who had hands-on activities on outdoor tables also told me that they didn't get many enthusiastic takers. The girl in the photo below was one of the four people who did a Zentangle.
I took frequent breaks to go to the bathroom and I spent some of that time checking out the other tables at the event. The next photo is a table for a new hackerspace/makerspace for women called Spanning Tree, which hopes to find some facilities near a Metro stop.
There was an information table about Club 125, which was largely responsible for the entire event.
Solo the dog helped her owner with running the table that educated the public on using herbs and spices.
There were all kinds of hands-on activities like origami, felting, soldering, and making music.
Someone walked around the Mini Maker Faire dressed in steampunk couture.
There was a table for creating paper airplanes while educating people about the fact that there was once an airport in Greenbelt, Maryland called Schrom Airport.
This woman was busy twisting balloons into various animals, plants, hats, and other shapes.
A small games publisher, Black Oak Games, publicized its two products—Knot Dice (a puzzle where the user creates Celtic knots) and Diner (a diner-themed card game).
A local company called TechShop provided information about upcoming classes in computer and technology-related subjects.
A bunch of kids were having fun playing computer video games inside Club 125 while other kids played with Legos, made chalk drawings on the sidewalk, and had their faces and other body parts painted.
There were demonstrations of using recycled grocery store apple cartons and PVC pipes in vertical gardening.
There was also an exhibit on terrariums.
There were displays and demonstrations on traditional activities like spinning wool, canning, mosaic making, and sewing clothes.
There were some new twists on old traditions like cooking food in a solar oven.
This table sold science and math-themed books for children.
There were a variety of handmade crafts on sale like knitted hats, knitted scarves, hand-painted wood crafts, and even blinking jewelry.
There were electronic devices of all kinds on display.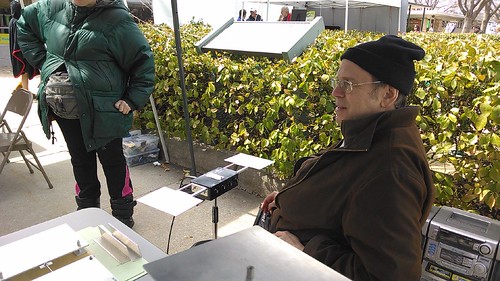 The Greenbelt Mini Maker Faire had all kinds of 3D printers that made jewelry and figurines.
In contrast to last fall's Silver Spring Mini-Maker Faire, the Greenbelt one was committed to being more non-commercial by featuring smaller lesser-known companies. In fact, the biggest name at the Greenbelt event was NASA Goddard Space Flight Center, which had a large booth.
Basically the event provided a nice place for people and animals to socialize in the sun.
I also shot a short video of some of the exhibits and events where just showing still photos wouldn't do them justice. It includes a man who used these noise-emitting electronics to play Patsy Cline's "Crazy" song, a robot that could toss a large ball to people, and a bunch of people playing with hula hoops.
Like I wrote earlier, there were times when I had to struggle with my items getting knocked down by wind gusts. My doll loveseat couch even got knocked over a few times and it's a big item. Here are what my two dolls and one teddy bear looked like at the end of the day before I packed them in my car.
I took a closeup of my American Girl doll's face mainly because she looks either sleepy or stoned or both.
That's it for my photos. If you want to see more photos, check out the official photos that have been posted on Flickr.