You are currently browsing the tag archive for the 'Steiff' tag.
On the Saturday during the Fourth of July holiday weekend, I decided to check out this toy show that was being held at the Maryland State Fairgrounds.
It was such a feast for the eyes as the toys and various other vintage items were displayed at various vendor tables. The whole show took on the air of a flea market with an emphasis on vintage stuff dating anywhere from the 1900s to the 1990s.
Someone had a jukebox for sale, which reminded me of my childhood when many of the local restaurants had them and people could choose songs to play for about a quarter each.
The jukebox played music during the entire event. (Which proved that it definitely still worked.) I couldn't help taking pictures of the songs that were available on the jukebox. The majority of them were hits when I was a kid.
And speaking of music players, here's a vintage 8-track player with an Elvis Presley 8-track tape. I once had a stereo system that included an 8-track player but I never owned one like that. But I could've sworn that one of my friends or maybe one of my cousins had a player just like that but I don't know for sure. (Memory is one of those funny things where you remember something but you don't remember when, where, or how you remember it.)
Late last year I did a series of blog posts with accompanying photos known as A Tabletop Christmas (so-named because I limit my Christmas decorating to just a single tabletop in my living room). Among the items I showed off was a small plastic Santa Claus puppet that I've had since I was a child. I didn't know anything about the origins of this puppet. It wasn't until I went to the toy show when I saw a tiny plastic Santa puppet on sale that's identical to mine.
The only difference between the two is that this Santa still had its label at the base while mine doesn't have any labels at all. (I suspect that whatever label it had must've fallen off a long time ago.) My Santa puppet is currently stored in a box with the other Christmas decorations in the attic but here's a picture of my Santa puppet that I took last December.
At first I thought the animal in the next picture was a stuffed animal until I saw the dog move his eyes around. He laid there the entire time I was at that show.
This show also had examples of how the mighty had fallen. I found this book by disgraced former Fox News talk show host Bill O'Reilly on sale for only $1 at one of the tables. (LOL!)
There was one token of something new that I found. Someone was selling glow-in-the-dark versions of the hottest toy of 2017: Fidget Spinners.
By the way, you can check out a video I shot recently where I unboxed and played with one of those Fidget Spinners for the first time (and, no, the one I bought didn't glow in the dark).
Everywhere there were visual treats, many of which harkened back to my own youth.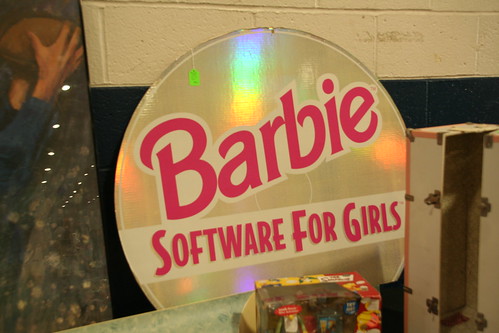 As I was walking back to the light rail stop I shot this photo of The Cow Palace building because it had a nice small garden.
I didn't buy a lot of stuff at that toy show due mainly to tight finances. But I managed to snag a couple of things at bargain rates. I found the second season of The Simpsons DVD set for only $6.
I bought a Monster High doll for only $5. I was attracted to her pretty winter-themed clothes. At first I thought I may have purchased a relative of The Snow Queen until I did an online search and I was able to make a definite identification. Based on this web page, her name is Abbey Bominable and she's described as the 16-year-old daughter of the Yeti.
Here's a closeup of her hair, which looks like it has glittery plastic pellets weaved throughout the strands. It gives a really cool ice/snow effect, especially when the light reflects off of her hair.
Yesterday I was out shopping when, on a whim, I decided to go to Savage Mill, which originally started out as a textile mill but has long since been converted into a shopping area. Savage Mill is unlike a typical American shopping mall in that it's filled with antique stores, artist studios, and locally owned businesses. There aren't any large-scale corporate chain stores anywhere in Savage Mill, which makes shopping there a welcome respite from the usual cookie-cutter suburban shopping mall. Despite my general love for Savage Mill, I hadn't been there in at least three years mainly because of frequent travels regarding my mother-in-law's sudden death, my own hip problems that made walking increasingly difficult, and dealing with my own emotional fallout from my husband's suddenly running away from our home and our marriage.
So I spent a couple of hours walking around Savage Mill until my legs and feet grew tired. While I was there I went into a store called Bearing Gifts, which specializes in high-end stuffed animals such as these two cute yet expensive Steiff hedgehog stuffed animals.
These hedgehogs reminded me of this German language Mecki the Hedgehog stop-motion animation that I previously featured in this blog several months ago.
Bearing Gifts also sold these tiny cute stuffed hedgehogs that literally fit in the palm of your hand and only cost around $5 each.
I ended up buying one of them on impulse. When I got home I took a closer look at the tag and found that this stuffed hedgehog was handmade in Indonesia and distributed by a company called Aurora. The tag also identified this critter as "Herzog." Herzog the Hedgehog? Personally I'm not much on the name "Herzog" but it does provide a nice alliteration with "Hedgehog."
That visit to Savage Mill culminated in a week-long deep freeze which has gripped much of the East Coast of the United States. The nighttime temperature in my area had dipped as low as 18 degree Farenheit and the daytime temperature rarely climbed highter than 25 degrees Farenheit. I live in a townhouse that was originally built as part of an expansion of the neighborhood back in the 1950's. (The neighborhood was first built during the Great Depression.) It was built long before climate change when the winter temperature rarely dipped below 30 degrees Farenheit. This means that in the normal Mid-Atlantic winter the living room is pleasant to stay in. But if it dips below 30 degrees, the living room starts to get cold (but it's still warmer than being completely outside) even with all the heaters going at full blast.
I began to worry about my own pet hedgehog, Spike. Usually hedgehogs tend to hibernate in the winter. The sole reason why Spike isn't hibernating is because I keep his cage in a heated living room and I turn on the infrared heating lamp at night. This doesn't mean that Spike never sleeps. He does go to sleep but he doesn't go into the very deep sleep of hibernation.
As this web page explains, Spike has been raised as a domesticated pet so he hasn't been doing the things that a typical wild hedgehog does in order to prepare for hibernation (such as eating more food than usual in order to stock up on body fat). As a result, if he goes into hibernation, he could possibly die.
It even snowed a few inches this week but I didn't dare take Spike out in the snow. Between the fact that Spike is an African Pgymy Hedgehog, a species that indigenous to a region that's more well known for having jungles and deserts than snow, and his cold-adverse body, I was afraid that even a brief introduction to snow would instantly send Spike into hibernation.
So I began to take steps in order to prevent Spike from hibernating. Usually I turn off his infrafred heating lamp in the daytime because it's generally warmer outside and the electric heaters in the living room do a good enough job at keeping Spike's body warm. When this deep freeze began, I started to keep his infrared heating lamp on 24 hours a day. I even went to PetSmart to buy a replacement infrared bulb because I wanted a spare bulb on hand just in case I needed to replace it so Spike wouldn't have to go without heat for too long. I also took temperature readings of Spike's cage using a digital thermometor to make sure that the temperature inside the cage didn't dip too low.
Despite those precautions I still started to worry about Spike being too cold since the overnight temperatures were dipping as low as 8 degrees Farenheit in some areas. So every night before I went to bed I did this.
I draped half of Spike's cage with a crocheted afghan that I received as a wedding present from one of my parents' friends. (My husband and I received three hand-crocheted afghans as wedding presents from friends and relatives. My husband left them all behind—along with most of the furniture, pots, pans, dishes, and linens—when he abruptly moved out in December, 2011.) I took great care not to get the afghan touching the infrared heating lamp because I was afraid of creating a fire hazard. As a result, half of Spike's cage was draped with the afghan while the other half was undraped but was being heated by the infrared heating lamp. I would remove the afghan in the morning when I woke up because it was usually warmer in the daytime and using the infrared lamp alone was sufficient until my next bedtime.
Today the temperature rose up to a relatively balmy 40 degrees Farenheit and, looking at the latest weather report, it looks like the Arctic chill is leaving our area. I'm happy to say that Spike survived the intense cold without going even close to hibernation. In fact he was busy moving his cage furniture again while I was worrying about his health. Here is what his cage usually looks like after I clean it every Sunday.
Here is how Spike arranged his cage furniture this week.
Spike did something completely different from his usual cage re-decorating. He somehow managed to put his exercise wheel at an angle against the back cage wall while putting his tunnel right up against the exercise wheel. Here is a shot of the exercise wheel and his tunnel as taken from another angle.
Spike spent most of the week sleeping through most of the Artic chill both day and night. He would periodically emerge at night to feed and to stretch out in his tunnel for a while until he decided that he was tired again so he would go to the plastic igloo that he uses as his private bedroom. Here are a couple of photos I took of Spike while he was lounging in his tunnel. The photos have a reddish tint because I had the infrared light on. I also had to use the zoom feature in my smartphone camera because Spike tends to be camera-shy at times and my previous photography efforts had resulted in Spike either turning himself into a ball of spikes or he would bolt for the igloo.