You are currently browsing the tag archive for the 'Star Wars' tag.
Previous in This Series
The Day Before the Greenbelt Labor Day Festival
Greenbelt Labor Day Festival (Day 1)
Greenbelt Labor Day Festival (Day 2)
What a difference a day makes! Like I wrote in my last entry, I briefly attended the second day of the festival due in large part to the rain. The third day of the festival was different. It was sunny outside, the temperature reached into the low 70's, and the humidity was low as well. It was the perfect outdoor weather for the festival!
When I arrived at the festival I saw that the STEM center Makerspace 125 had created a small miniature golf course consisting of handmade decorations that were miniature replicas of various Greenbelt landmarks and the local wildlife.
This mini golf course was especially a big hit with the kids.
Even though the third day fell on a Sunday, I blew off church that morning because I wanted to make sure that I would arrive at the Greenbelt Museum on time for another event I wanted to take part in. This year the Greenbelt Museum was the site for the Retro Town Fair, which was the first time I participated in it since 2014.
I submitted two hand-knitted clothes for dolls. One was the funky "fur" coat for 1/6 dolls, which I had my Blythe doll model mainly because she was the one doll I had who looked best wearing it. The other was the Alice's Tea Party knitted dress for 18-inch dolls. I had my Addy Walker doll model it because she looked like those African American church ladies I frequently see in my area on Sundays walking in public all dressed up in their finest dresses and hats (or a hair accessory).
Basically I had to submit my entries between 11 a.m.-2 p.m. then wait until between 2-4 p.m. before I can see the entire Retro Town Fair. So I submitted my entries then walked back to the main part of the Labor Day Festival where I hung around for a bit while I ordered a giant crab pretzel for lunch from one of the food booths. After lunch I walked back to the Greenbelt Museum while I took these pictures.
I came upon my dolls and I found that I won two white 3rd place ribbons. I was pretty happy with that award even though the organizers had them laying down the entire time. (I guess it was probably easier to display them that way without worrying about them falling down.)
The festival area was full of people once again since Tropical Storm Harvey went away. Here are some pictures I took.
The bingo tables were reopened as well with people eagerly playing bingo.
There was this very long line at the ice cream stand.
There were a couple of pint-sized Stormtroopers from Star Wars.
That day was also the first day of the Craft Fair, where the vendors were blessed with ideal weather for selling their handcrafted wares.
What was really wild is that I got lucky when I met a prominent person whom I've seen on TV a few times (back in the days when I still had cable television). The former head of the NAACP, Ben Jealous, is running for Maryland governor in next year's mid-term elections and he was at the festival talking to the people and asking them for their opinions. Here are a couple of pictures I took of him.
If he gets elected next year, I'll definitely have these photos to show people while telling them "I met Governor Jealous when I was at the Greenbelt Labor Day Festival back in 2017." (LOL!)
Makerspace 125 had a busy day. Not only were the volunteers there running the miniature golf course but they were also putting the final finishing touches on their parade float for the next day. When I was there, they were making giant LEGO blocks.
I even went to the Greenbelt Theater, which was running classic cartoons (Superman, Betty Boop, Popeye, and various Looney Tunes shorts) for free on the big screen.
I walked back to the Greenbelt Museum where I picked up my dolls and my award ribbons then I headed back home feeling exhausted yet happy at all the good things I experienced that day.
Next in This Series
Greenbelt Labor Day Parade
Greenbelt Labor Day Festival (Day 4)
On the Saturday during the Fourth of July holiday weekend, I decided to check out this toy show that was being held at the Maryland State Fairgrounds.
It was such a feast for the eyes as the toys and various other vintage items were displayed at various vendor tables. The whole show took on the air of a flea market with an emphasis on vintage stuff dating anywhere from the 1900s to the 1990s.
Someone had a jukebox for sale, which reminded me of my childhood when many of the local restaurants had them and people could choose songs to play for about a quarter each.
The jukebox played music during the entire event. (Which proved that it definitely still worked.) I couldn't help taking pictures of the songs that were available on the jukebox. The majority of them were hits when I was a kid.
And speaking of music players, here's a vintage 8-track player with an Elvis Presley 8-track tape. I once had a stereo system that included an 8-track player but I never owned one like that. But I could've sworn that one of my friends or maybe one of my cousins had a player just like that but I don't know for sure. (Memory is one of those funny things where you remember something but you don't remember when, where, or how you remember it.)
Late last year I did a series of blog posts with accompanying photos known as A Tabletop Christmas (so-named because I limit my Christmas decorating to just a single tabletop in my living room). Among the items I showed off was a small plastic Santa Claus puppet that I've had since I was a child. I didn't know anything about the origins of this puppet. It wasn't until I went to the toy show when I saw a tiny plastic Santa puppet on sale that's identical to mine.
The only difference between the two is that this Santa still had its label at the base while mine doesn't have any labels at all. (I suspect that whatever label it had must've fallen off a long time ago.) My Santa puppet is currently stored in a box with the other Christmas decorations in the attic but here's a picture of my Santa puppet that I took last December.
At first I thought the animal in the next picture was a stuffed animal until I saw the dog move his eyes around. He laid there the entire time I was at that show.
This show also had examples of how the mighty had fallen. I found this book by disgraced former Fox News talk show host Bill O'Reilly on sale for only $1 at one of the tables. (LOL!)
There was one token of something new that I found. Someone was selling glow-in-the-dark versions of the hottest toy of 2017: Fidget Spinners.
By the way, you can check out a video I shot recently where I unboxed and played with one of those Fidget Spinners for the first time (and, no, the one I bought didn't glow in the dark).
Everywhere there were visual treats, many of which harkened back to my own youth.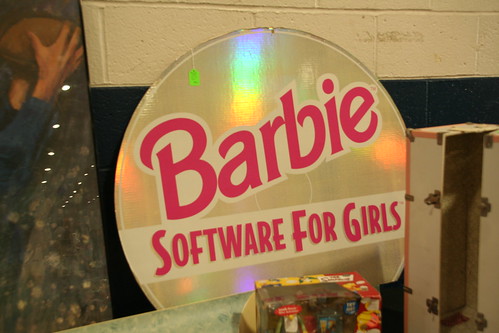 As I was walking back to the light rail stop I shot this photo of The Cow Palace building because it had a nice small garden.
I didn't buy a lot of stuff at that toy show due mainly to tight finances. But I managed to snag a couple of things at bargain rates. I found the second season of The Simpsons DVD set for only $6.
I bought a Monster High doll for only $5. I was attracted to her pretty winter-themed clothes. At first I thought I may have purchased a relative of The Snow Queen until I did an online search and I was able to make a definite identification. Based on this web page, her name is Abbey Bominable and she's described as the 16-year-old daughter of the Yeti.
Here's a closeup of her hair, which looks like it has glittery plastic pellets weaved throughout the strands. It gives a really cool ice/snow effect, especially when the light reflects off of her hair.
It's been two years since I last went to this annual event, which traditionally closes the weeks-long National Cherry Blossom Festival. The last time I was there, the Sakura Matsuri was held on Pennsylvania Avenue right next to the Old Post Office Building (which was then undergoing renovation into the Trump International Hotel—you can see those giant blue TRUMP signs in the background of some of the photos I took during that event).
Since that time the event has been relocated. It is now held at the Navy Yards near Nationals Park. I don't know if Donald Trump have had a hand in that festival's relocation or not but it doesn't matter because I don't have to see those Trump International Hotel signs.
Like previous Sakura Matsuri festivals, this one was a celebration of all aspects of Japanese culture including anime, J-pop, J-rock, kendo, and traditional Japanese crafts. There were also a lot of cosplayers walking around. Here are the photos I took of the Sakura Matsuri.
As I look back on this, I have to admit that I really pushed my body to the max. That was because the night before I went to Light City in Baltimore, where I waited outside in the cold for over two hours waiting for my animation, The March of Liberty, to finally show on the big screen. I was so stiff and sore the following day that I ended up skipping church.
I still pushed myself to check out the first annual Kamecon because I like seeing cosplayers all dressed up, I was attracted by the $3 admission fee, it was held on the campus of my alma mater (the University of Maryland at College Park), and it was held just three miles from my current home.
Compared to other anime conventions like Otakon and Katsucon, Kamecon is relatively small. The entire event was held in one of the ballrooms at the Adele H. Stamp Student Union building. But the participants were pretty enthusiastic as they donned costumes and hung out. Here are some photos I took.
There was a line at the ticket office located next to the Hoff Theater but it wasn't too bad. I think I may have spent about 15 minutes in line at the most.
I decided to bring my Canon Digital Rebel EOS camera with me to this event. Here's a selfie I was able to take thanks to the restroom mirror. (Yes, I was wearing the My Little Pony Rainbow Dash hoodie in order to blend in a little bit with the cosplayers.)
Some people were waiting to have their photo professionally taken.
The entire convention took place in a ballroom, which included an indoor tent/lounge where people could chill.
There was a Jubeat video game that had a cool cube design. I didn't see anyone play it mainly because it was directly imported from Japan and that machine required a 1 yen coin, which doesn't do any good for the vast majority of Americans present.
There were other video games that people played.
I took a few shots of two cosplayers who were dancing alongside one of the dancing video games while it was playing Lady Gaga's hit song "Poker Face."
I even shot a short video of those two dancing cosplayers.
The ballroom was divided, with half of the room being reserved for Artists Alley. There was a photography ban of that area (unless the photographer gets permission from an Artists Alley participant) so I took only one wide shot of the entire area from the other side.
There were board games and card game packs available for attendees to play with.
Here are some more pictures of Kamecon, including cosplayers.
I also took a few pictures of the University of Maryland campus because it was such a lovely warm sunny spring day. But I didn't take too many pictures because I was growing tired from both checking out Kamecon and Light City the night before. Here's a long shot of the Jim Henson Memorial.
The cherry blossom trees on campus were in full bloom.
Here's a shot of the Mall.
One of the terrapin statues that are located on campus.
March is Women's History Month, which ended just two days earlier, but there was still this poster featuring the University of Maryland's famous female alumni including Connie Chung, Dominique Dawes, Gayle King, Sarah Winnemucca, Judith Resnik, Adele H. Stamp, and Carolina Rojas Bahr.
In the wake of the recent presidential elections that resulted in Donald Trump becoming the next President of the United States, there have been concerns about his antics, especially regarding his tweets on Twitter, where he has managed to piss off China and declared that the U.S. will be creating more nuclear missiles and possibly using them. There are concerns about how suitable he really is to occupy the Oval Office.
The Electoral College was scheduled to meet on December 19. Usually they tend to rubber stamp the results of the elections. This time a movement known as the Hamilton Electors sprang up and they were urging the Electoral College to reject Trump in favor of a more moderate Republican like Mitt Romney or John McCain. On December 19 these Hamilton Electors had called for rallies to be held in every state capital in the U.S. urging the Electoral College to reject Trump in favor of someone more moderate and with more experience than Trump. (Donald Trump is the first president-elect in history with no prior military or political experience.)
Since I live in Maryland the rally was being held in Annapolis. I had thought about going there to make a stand against Trump. But then I remembered that Hillary Clinton had swept Maryland in the elections so Maryland's Electoral College delegates had already pledged to vote for her instead of Trump or another Republican. On top of it, it was a cold day and I was less enthusiastic about freezing to make a public stand against Trump when my state's delegates had already committed to Clinton. So I decided to skip the rally altogether and do something fun instead.
My decision turned out to be a good one for two reasons: 1) the Electoral College decided to award the presidency to Trump anyway despite the Hamilton Electors movement and 2) I went to a place that I hadn't been to in two years and it was nice to go there again.
I went to Valley View Farms in Cockeysville. It's a long commute from the DC area but it's so worth it because it has one of the most awesome Christmas shops anywhere in the Baltimore-Washington, DC area. Here are some photos I took to show how awesome it is.
And if you like these photos, check out photos I took of the same place in 2012, 2013, and 2014.
Back in May I took part in the Gateway Arts District Open Studio Tour, where I braved the rainy weather to see some wonderful art made by local artists. There was recently another Open Studio Tour. This time there was no rain but it was pretty cold outside since it took place in December. I managed to cover more ground on this Open Studio Tour than I was able to back in May.
I started at ReCreative Spaces in Mount Rainier, Maryland, where I not only saw a small arts and crafts show on the lower level but I even saw some of the resident artists who were working on their latest masterpieces.
Next I went to the Otis Street Arts Project, where I took these photographs.
I also visited the Washington Glass School, which is located in the same complex as the Otis Street Arts Project. As you can guess from the name, this place specializes in glass art.
After that visit, I got in my car and I drove to nearby Hyattsville. I was only able to briefly check out the Pyramid Atlantic Art Center before the Open Studio Tour officially ended for the day.
I stepped outside the Pyramid Atlantic Art Center just in time to see this moon rising over Route 1 in Hyattsville at twilight.
I ended my day by crossing Route 1 over to Franklins Restaurant, Brewery, and General Store, where I saw their Christmas windows.
I did some browsing in the General Store part of Franklins before I decided to call it a day and head back home.