You are currently browsing the tag archive for the 'Silver Spring' tag.
Yesterday morning I learned about the suicide of Soundgarden and Audioslave lead singer Chris Cornell just before I was on my way to Silver Spring to attend a one-day conference for people of a certain age who are looking for new career opportunities or are looking into becoming entrepreneurs. I took the Metro and walked through the unusually hot and humid weather (it was 90 degrees and it felt more like August than May) to get to the conference.
When the conference ended I had to make my way back to the Metro in the hot and humidity. While I was walking along Colesville Road on my way back to the Metro station, I happened to be walking past the Fillmore when I saw this tribute to Chris Cornell.
On a different subject matter, for the past week or so I started to notice these empty brown cicada shell casings on the ground. These are normally the ones from the Brood X cicadas, which emerge from the ground once every 17 years. Except some of these bugs are waking up four years early, which has vexed a bunch of experts.
When I arrived home from Silver Spring I saw one of those large bugs just resting on one of the concrete steps outside my home. I took a photo of that cicada for posterity.
Last week I had to take my car to a dealer in Silver Spring because there was a recall on the steering wheel. After I had that fixed and picked up that car, I decided to chill out at a nearby Target store in Silver Spring. I normally don't go to this particular store, mainly because there's another Target that's located closer to my home but I decided to go there since it was on the way back from the car dealership.
This particular Target has giant red cement dots outside its doors (which is a feature that the Target that is closer to my home doesn't have). Normally I don't pay attention to those dots but I saw that two of those cement dots have been converted to resemble the heads of Mario and Luigi from Super Mario Bros. and other numerous Nintendo video games.
The heads were there to promote the recently released Nintendo Switch console system.
I stepped inside the store where I noticed that this store is larger compared to the one I usually go to. It also had items on sale that I've never seen at the other Target, such as American Girl's Wellie Wishers dolls.
Those dolls were released last year but it was the first time I had ever seen them in person. That's because it's been a year since I last set foot inside an American Girl Place. The next photo shows the clothes and other accessories that one can buy for a Wellie Wishers doll, which are priced somewhere between $20-25.
The Wellie Wishers are smaller than the other American Girl dolls. From what I've read, these dolls were created for kids who are younger than the larger dolls' target audience of girls between the ages 8-12. These dolls have vinyl bodies (compared to the larger dolls' cloth torsos) and they are depicted as being somewhere between the ages of 4-7 (while the larger dolls are supposed to be around 9 or 10 years old). At $60 per doll, they are definitely cheaper than the larger dolls' $115 price. But these dolls are more expensive than the 18-inch Our Generation dolls that Target sells as its alternative to American Girl. (The Our Generation dolls are generally priced between $20-35 depending on how many accessories are included with a certain doll.) I still find them to be pretty cute and their clothes are very lovely and colorful.
April 22 was not only Earth Day but it was also the day that a massive March for Science took place in downtown Washington, DC to protest the Trump Administration's official denial of climate change while cutting funds for federal research. I thought about going myself because, as someone who was once married to a NASA software engineer, I know the importance of science in everyday life (even if science was never my favorite subject in school).
But then it rained like crazy and I decided to can that idea. I didn't feel guilt over what I did because I had already previously participated in the Women's March on Washington and the Werk for Peace dance protest. The People's Climate March was scheduled to be held in Washington, DC on the following Saturday. In addition, there are more anti-Trump marches on Washington planned for the future which will focus on immigration, LGBTQ rights, and fans of the hip hop group Insane Clown Posse (that one is because, for some weird reason, the federal government has classified the fans of this group as gangs and terrorists).
And I'm sure that the longer Donald Trump stays in office, the more people will hold massive protest marches.
So I ended up going to Silver Spring where I took place in the second annual Creator Con. At least it was held indoors so I didn't have to deal with being rained on. Here are the photos I took during my time there.
There was one thing that blew my mind. There was a band consisting of teenage boys who did covers of classic rock songs like The Animals' "House of the Rising Sun" and The Rolling Stones' "Miss You." I found it interesting that there were kids who did covers of songs that first came out decades before they were even born.
Creator Con was held at Eubie Blake High School, which had these pro-LGBTQ signs on display. I'm old enough to remember a time when a teen openly admitting that he/she was LGBTQ would not only result in all kinds of bullying and harassment but many teachers would've been indifferent to that student's plight. Now there are official signs making a LGBTQ teen feel welcome.
I went to the fourth annual Silver Spring Maker Faire. I've gone to the three previous Maker Faires but all those other years I had to cut my visit short due to a meeting or something similar. This year was the first year where I didn't have anything else scheduled or other things that I needed to do that day so I could just leisurely tour the Maker Faire at my own pace.
Across the street from Veterans Plaza, where the Maker Faire was held, a group of Hare Krishnas were doing their chanting and proselytizing outside of a Chick-fil-A of all places. (It's convenient for the Hare Krishnas that Chick-fil-A is closed on Sundays because, otherwise, the fast food chain's Fundamentalist Christian owners would literally have a cow over this. LOL!)
I eventually dodged the Hare Krishnas and made my way to the Maker Faire, where I took these pictures.
I also shot a short video showing some of the exhibits that were either moving or making sounds.
All in all it was a great event on a very beautiful day in weather that was warm but not too hot and the humidity was low. I enjoyed myself.
I spent a few hours on Memorial Day in downtown Silver Spring but it wasn't all for fun and pleasure. I was meeting with a person at a Panera Bread regarding a potential art-related opportunity that ultimately went nowhere. (I never heard back from the guy I met with on Memorial Day.) As part of the preparations for that meeting I updated my Doll Dreams journal that I started last year but temporarily abandoned because I was following a free online tutorial that was supposed to be a total of ten lessons in this series but the instructor, for whatever reason, gave up on her own tutorial after posting the third lesson online. (I wrote all about that update in my last post.)
Over a week before this meeting my car had suffered a flat tire so it had one of those temporary tires that I really couldn't do too much driving on. I had to wait until I received the next alimony check because I didn't have enough money to get that car looked at by a mechanic. By the time I got that alimony check it was the start of the Memorial Day holiday weekend so I decided to take the Metro instead of risking driving on that temporary tire to Silver Spring. I didn't mind taking Metro because I had long wanted to walk around downtown Silver Spring, which I used to drive past on a regular basis when I used to see a therapist in Chevy Chase following the implosion of my marriage. (I decided to discontinue the therapy sessions back in January because of money issues. Besides, in recent months I didn't have as much to talk about to the therapist as I used to in the first year after my husband literally ran away from home without even telling me that he was unhappy in the marriage. Over time my therapy sessions had gone from how I missed my husband to how I refuse to have anything to do with my husband ever again to how I need to find a day job because people aren't buying my handcrafted items like they used to before the economy really imploded in 2008 and it still hasn't fully recovered enough for people to feel that they could afford such handcrafted luxuries. I basically got tired of spending $40 an hour for the privilege of talking to someone about my struggle to find a decent paying job when I could easily commiserate with my friends on that same topic for free.)
So I arrived in Silver Spring a few hours before my scheduled meeting so I could check out the downtown area, which has undergone a lot of renovations over the past 20 years. I can remember a time back in the late 1980's when the downtown area had a lot of empty storefronts along with plenty of aggressive panhandlers. I once had a guy with a Caribbean accent follow me from the Silver Spring Metro parking garage on a Saturday afternoon until I reached this record store that I wanted to check out. This guy kept on following me while asking me to go out with him and I kept on telling him that I was married and I had a husband but he didn't take "I'm married with a husband" for an answer. He was persistent as all hell. He even waited for me outside that record store until I was done shopping. I ended up walking really quick back to my car while he kept on talking about himself and asking me to go out with him. As I drove off he just stood there totally stunned that I had driven away from him. I couldn't understand why he was so surprised since I kept on telling him repeatedly that I was married to my husband. After that incident it would be several years before I could even work up the nerve to return to that area on my own and it was only after the first of the new stores opened when first of the renovations were done.
I took a few pictures of the area. There weren't a lot of people in that area on Memorial Day so everything was pretty laid back. As I walked from the Metro Station, I passed the Discovery Channel building where I finally got the chance to see this large mural that I had noticed every time I drove past that building on Colesville Road. Seeing it up close while walking on foot is really amazing. I attempted to take a photo of it but I ended up taking a series of panoramic shots because this mural is so long that it's impossible to get it all in just one photograph.
I eventually arrived at the revitalized downtown area.
Georgia Avenue was lined with American flags for Memorial Day.
One highlight of the revitalized area is the American Film Institute's (AFI) Silver Theater, which frequently hosts various different film festivals as well as a repertoire of older films. It has an interesting art deco architecture. I'll admit that I have never seen a film at that theater but I should make an effort to do so at least once before I die sometime in the (hopefully) far distant future.
Right across from the AFI Silver Theater is the Fillmore, which is a concert hall that opened in recent years. I have never attended a single concert there. I remember my then-husband went there one night in late 2011 when some Grateful Dead tribute band played there. (Or at least that is what I remembered he told me when he said that he was going to the Fillmore.) I didn't go with him at that time because I was struggling with hip problems. (This concert may have even occurred after my hip surgery, I don't remember for sure. All I remember is that I really felt too immobile to even attempt attending a concert.) I remember he said that he went with a group of friends we knew from this coffeehouse where we were regulars at. He told me that this barmaid friend of ours who struggled with mental health problems were among the group of friends he said he went to the show with. I believed him at the time because I thought he was telling the truth when he said he was going out with a group of friends and I honestly thought that he had too much integrity to ever contemplate leaving me for a barmaid who was struggling with severe mental health problems that had impacted much of her adult life. That's why I was so shocked when he really left me for that mentally ill friend. Now I question whether he really was telling the truth when he said that he went to that concert at the Fillmore with a group of friends that night or if it was really a secret couples date with the other woman. I'll never know the real truth so I really can't dwell too much on it.
Here are some more photos of the downtown area, which is now filled with shops and all kinds of interesting eye candy.
There were also a few street performers that day as well.
I went to two different events on April 23. First I went to the Greenbelt Mini Maker Faire, which I wrote about in my last blog post. Then I went to Silver Spring where I checked out something called a Creator Con, which I first learned about on Facebook.
The event was held at the James Hubert Blake High School and the admission price was only $8 per person.
There were a couple of food trucks parked outside the school for hungry participants.
There was a Game Truck parked outside that has all kinds of video games for people to play. This Game Truck can be rented for all kinds of events through its website.
Inside of the convention there were plenty of information regarding art and technology schools, hands-on exhibits (including video games), and an Artist Alley full of various kinds of arts and crafts available for sale. There were also a few cosplayers who milled about. Since this event was held in a high school, the vast majority of participants were high school students. Yet many of these teens showed a lot of potential in their art and I wouldn't be surprised if a few of them actually go on to be comic book artists or work in the video game industry.
I was doing some last-minute holiday shopping for various people at this temporary pop-up shop that was set up at the Pyramid Atlantic Art Center in Silver Spring, Maryland. I came across these interesting looking wooden ornaments that can also serve as gift cards.
These wooden ornaments/gift cards entitled the receiver to take up to five hours of any workshops given by Catylator Makerspace, a STEM center located in Silver Spring, Maryland.
I attended the third annual Maker Faire that took place in Silver Spring, Maryland recently. I didn't arrive until late in the day because I had something I needed to help my church with earlier. It was still pretty crowded all the way until the official 5 p.m. closing time. There were robots, jewelry, science exhibits, and all kinds of 3D printouts.
Makerspace 125, the local STEM center located in Greenbelt, Maryland, is currently looking for donations so it could fund a mobile van that would go into neighborhoods where people (especially kids) are unable to travel to Makerspace 125 itself. As you can see in the next few photos, that table was very crowded.
I was able to see many exhibits by other people without having to push through crowds first.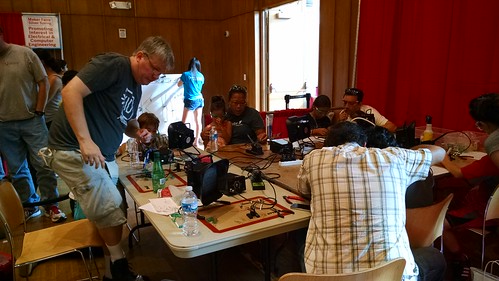 I even ran into the same 3-D printed Edgar Allan Poe as what I saw a few weeks earlier in Baltimore that was done by We The Builders. (And it was also the same project that was publicly announced way back in May when these people were looking for help from people with access to a 3D printer.)
I'll end this post with a short video I shot, which started with a robot doing a few push-ups along with some other funky moves and ended with this clock-like structure that was moving around in a loosely defined circular motion.
Recently I was searching for some Dr. Gordshell's Salve (which has been a Baltimore institution for generations—my grandmother and mother used to use this stuff and I use it myself whenever I can find it on sale) when I found that the Living Well store in Silver Spring, Maryland sold it.
Living Well is both a health food store and a Christian bookstore and it's affiliated with the Seven-Day Adventists. (It's the reason why that store is closed on Saturdays.) It also has this nice statue outside the store showing Jesus getting foot-washed by a follower.
On the way to my scheduled appointment with my therapist, I discovered that I needed to get some gas. So I stopped off at this gas station on Georgia Avenue in Silver Spring, Maryland that had something else parked there as well. It's a vintage circa 1940's-1950's RV camper that has been converted to a food truck that serves fajitas and subs.
I was scheduled to meet up with a friend after my therapy session ended. I had something that belonged to him and I decided to return it while he was working at his job at the public library in nearby Takoma Park. On the way to meet my friend, I saw this gorgeous flowering dogwood tree that I couldn't resist photographing.
The weather was raining on and off throughout the entire day. On the way home I saw a very faint rainbow that was pretty wimpy compared to other rainbows I've seen in the past. I attempted to photograph it but it didn't show up too well. (I tried to darken the picture in Photoshop but it barely showed up.) However I was able to capture this really dramatic cloud formation over the sky.