You are currently browsing the tag archive for the 'Santa Claus' tag.
I went to the German Festival for the first time in three years. I almost missed it until I saw an ad for it on Saturday (which was the first day of the festival). I decided to go on the second and final day on the spur of the moment after I went to church that morning.
The German Festival ran the same weekend as Artscape but I was lured to the former by the fact that it was held indoors in an air conditioned building. (There was a massive heatwave that had been blanketing the area for at least two weeks.) Besides I still have less-than-fond memories of my last attendance at Artscape when I met two people from my childhood in Glen Burnie whom I did not want a reunion with.
I drove to the light rail stop in North Linthicum then took the light rail all the way to the Maryland State Fairgrounds. It started to rain the minute I got off the light rail but I brought an umbrella with me so it was no big deal. (It was another reason why I'm glad I didn't choose to go to Artscape this year.) There were practically no lines so it was no big deal getting inside. It was basically a nice event with many of the same vendors as my last attendance in 2014. I ate sauerbraten with noodles for lunch followed by a slice of black forest cake. Before I left I purchased two freshly baked cinnamon sticks to eat later. I also took a few pictures, which you can see below.
On the Saturday during the Fourth of July holiday weekend, I decided to check out this toy show that was being held at the Maryland State Fairgrounds.
It was such a feast for the eyes as the toys and various other vintage items were displayed at various vendor tables. The whole show took on the air of a flea market with an emphasis on vintage stuff dating anywhere from the 1900s to the 1990s.
Someone had a jukebox for sale, which reminded me of my childhood when many of the local restaurants had them and people could choose songs to play for about a quarter each.
The jukebox played music during the entire event. (Which proved that it definitely still worked.) I couldn't help taking pictures of the songs that were available on the jukebox. The majority of them were hits when I was a kid.
And speaking of music players, here's a vintage 8-track player with an Elvis Presley 8-track tape. I once had a stereo system that included an 8-track player but I never owned one like that. But I could've sworn that one of my friends or maybe one of my cousins had a player just like that but I don't know for sure. (Memory is one of those funny things where you remember something but you don't remember when, where, or how you remember it.)
Late last year I did a series of blog posts with accompanying photos known as A Tabletop Christmas (so-named because I limit my Christmas decorating to just a single tabletop in my living room). Among the items I showed off was a small plastic Santa Claus puppet that I've had since I was a child. I didn't know anything about the origins of this puppet. It wasn't until I went to the toy show when I saw a tiny plastic Santa puppet on sale that's identical to mine.
The only difference between the two is that this Santa still had its label at the base while mine doesn't have any labels at all. (I suspect that whatever label it had must've fallen off a long time ago.) My Santa puppet is currently stored in a box with the other Christmas decorations in the attic but here's a picture of my Santa puppet that I took last December.
At first I thought the animal in the next picture was a stuffed animal until I saw the dog move his eyes around. He laid there the entire time I was at that show.
This show also had examples of how the mighty had fallen. I found this book by disgraced former Fox News talk show host Bill O'Reilly on sale for only $1 at one of the tables. (LOL!)
There was one token of something new that I found. Someone was selling glow-in-the-dark versions of the hottest toy of 2017: Fidget Spinners.
By the way, you can check out a video I shot recently where I unboxed and played with one of those Fidget Spinners for the first time (and, no, the one I bought didn't glow in the dark).
Everywhere there were visual treats, many of which harkened back to my own youth.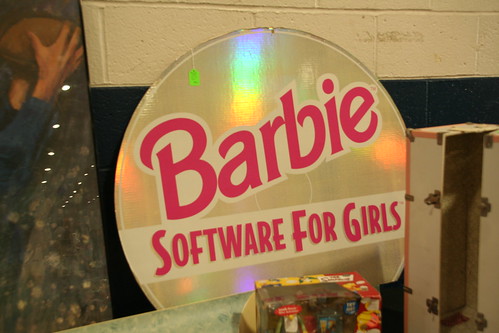 As I was walking back to the light rail stop I shot this photo of The Cow Palace building because it had a nice small garden.
I didn't buy a lot of stuff at that toy show due mainly to tight finances. But I managed to snag a couple of things at bargain rates. I found the second season of The Simpsons DVD set for only $6.
I bought a Monster High doll for only $5. I was attracted to her pretty winter-themed clothes. At first I thought I may have purchased a relative of The Snow Queen until I did an online search and I was able to make a definite identification. Based on this web page, her name is Abbey Bominable and she's described as the 16-year-old daughter of the Yeti.
Here's a closeup of her hair, which looks like it has glittery plastic pellets weaved throughout the strands. It gives a really cool ice/snow effect, especially when the light reflects off of her hair.
Part 1
Part 2
Part 3
Part 4
Part 5
Part 6
Part 7
Part 8
Part 9
Part 10
Part 11
Here is the 12th and final part of my series on how I celebrated a Tabletop Christmas this holiday season. I timed it so it would run concurrent with the traditional 12 days of Christmas, which begins on December 25. As I kept on writing new posts each day, I noticed that the 12th day falls on January 5 despite the fact that the traditional end of Christmas falls on January 6. In the past I would hear January 6 being referred to as "Twelfth Night." I did some research and, thanks to this webpage, I now know that I didn't make any mistakes when I began these posts on December 25 and reached the 12th post on January 5. That's because January 5 have long been observed as the Twelfth Night, not January 6. The Twelfth Night is traditionally observed as "Epiphany Eve," and it used to be a grand occasion for feasting since it was the final night of Christmas before the Feast of the Epiphany on the following day and it marks the official end of Christmas.
Besides, January 6 is also the anniversary of the day I wrote my first post in this blog so I'm not too upset or worried about ending this series on January 5.
This final post in this series focuses on other Christmas decorations besides tree ornaments.
These two cute decorations were originally Avon cologne bottles. I used to frequently get Avon products for birthday and Christmas presents because my mother had a co-worker at her job who sold Avon products on the side and this co-worker made plenty of extra money whenever she brought those Avon catalogues to her day job. Avon used to sell their colognes in various containers shaped like animals and people. I tried looking online to see if Avon still sells their colognes in special containers only to find that nowadays Avon uses the typical cologne bottles that other cologne and perfume manufacturers use. The newer bottles may be pretty but they lack the distinction and novelty of the older Avon cologne bottles.
Both containers once held Sweet Honesty cologne. This brought back memories of when I used to frequently dab Sweet Honesty on myself. I found that Avon still sells Sweet Honesty cologne even if it no longer sells them in the novelty containers.
This next item is a vintage angel doll that I've owned since I was a child. I used to call her "Bernie Angel" because she reminded me of my cousin Bernie. This angel has long black hair, just like my cousin used to wear her hair. (These days she wears her hair very short.) Bernie Angel has survived all kinds of things over the years, especially the time when my parents' dog, Napoleon, swiped her and attempted to use her as a chew toy but we managed to get her away from the dog before he did any major damage. I brought her with me to college when I attended the University of Maryland as my one token Christmas decoration. Naturally she came with me when I got married and she's still with me.
Bernie Angel is a doll with no joints and she's in a permanent kneeling position with her hands folded together in prayer.
I pulled back her hair to show her sweet face. Her eyes are permanently closed. She has rouge on her cheeks, blue eye shadow, and pink lips.
Here's another side of Bernie Angel.
Here's the back.
She has a tag attached but it's stuck together in a permanent folded position and I have a hard time trying to separate the sides, which is why I have two photographs of this tag. The tag actually reads: "© 1996 KAMAR ® MADE IN JAPAN." I tried doing a Google search only to turn up nothing. I have a feeling that Kamar went out of business a long time ago. This doll was made at a time when "Made in Japan" meant cheap imported goods that tended to fall apart. The fact that this cheaply made doll has survived all those years is pretty miraculous.
The next photo shows three Ginger Cottages that I currently own. I first got into them when I purchased the incense burner that's shown on the far right of the next photograph a few years ago. I've since added the other two buildings. I generally prefer Ginger Cottages over the more popular Department 56 villages because they are about half the size of the Department 56 and they fit both my small home and my budget much better. On top of it, Ginger Cottages are made in the U.S. (in fact they are made in central Virginia), which is a definite plus in my book since most consumer items seem to be made overseas in China and other Third World countries.
The one thing I love most about Ginger Cottages is that if you shine a light through a hole in the bottom of each cottage, it'll reveal a surprise, such as the giant nutcracker peering out the second story window.
Yesterday I wrote about how my support group for people who are separated or divorce throws a post-Christmas party each year where people bring a wrapped present for the White Elephant Gift Exchange. In previous years I received two items that I now keep among my Christmas ornaments. The next photo shows a small candy jar that's decorated with peppermint treats.
Here's another White Elephant gift I received. This one is a set of snowmen salt and pepper shakers, which I've only used as decorations. (I've never actually filled them with salt and pepper.)
The next few photographs show various noise-producing Christmas decorations, all of which were given to me as presents. The first picture shows a jack in a box Santa Claus that my parents gave me when I was around seven years old. This toy was made in Japan and I still have him after all these years. It's among the few toys I have from my childhood and he's still in pretty good condition. The white paint is slightly faded in spots but that's noticeable only if you take a very close look at his face. There is silver duct tape holding the box top to the rest of the box because the red cloth-like tape that held the two together had frayed with age. Otherwise, he still works just as well as he did the day I got him. Basically Santa squeaks when he pops out of the box.
The next photograph features a small plastic Santa Claus puppet that I also have from my childhood. Whenever you press a button at the bottom of his yellow base, Santa moves around and his little bell makes a ringing sound. This puppet is still in very good condition and it still works after all these years.
The next photographs show a ceramic music box featuring a pair of doves wearing Santa hats. When the music box is wound up it rotates as it plays "Deck the Halls." This music box was among the last Christmas presents I ever received from my Aunt Linda before she died of breast cancer when she was only 48 years old.
The next few photos feature a Hallmark music box ornament that my late mother-in-law gave to me as a birthday present. (My birthday and Christmas are only 10 days apart.) While there is a loop at the top to hang it from a tree, I have always chosen to put it flat on the table instead. When this ornament winds up, Mickey rocks right and left as the music box plays "We Wish You a Merry Christmas."
I made a short video demonstrating the four noise making decorations that you can see and hear for yourself.
I'm going to end this series with a decoration that is actually the first Christmas decoration I put up each year. It's an Advent calendar and I usually put it up soon after Thanksgiving so I can be ready to start the countdown to Christmas on December 1. I originally purchased this calendar many years ago at the now-defunct Frank's Nursery and Crafts.
The entire calendar is mostly made from felt. The ornaments for this calendar are kept in this attached plaid bag marked "SMALL ACCESSORIES" when the calendar is in storage the rest of the year.
When it's time to take out the calendar, I remove the ornaments from the SMALL ACCESSORIES bag and place them in numbered slots.
Starting on December 1 I remove one ornament from a numbered slot and place it on the tree. (The ornament attaches to the tree with velcro.) I keep it up until December 24 when the entire tree is filled and the numbered slots are empty. I leave this Advent tree up until January 6 when I take it down and put it in storage with the rest of the Christmas decorations.
So that's it for my 12-part Tabletop Christmas series. I'll leave everything up through tomorrow (January 6) then I'll start dismantling everything on January 7 until everything is packed away in boxes and stored in the attic.
My neighborhood has a tradition every Christmas Eve night where a fire truck rides through the neighborhood very slowly with the sirens blaring and the emergency lights flashing. When people step outside to wonder what the commotion is about, they get to see Santa Claus riding on the back of that fire truck as he waves to the people and many people wave back at him. This past Christmas Eve I finally made an effort to get a camera and take a picture of Santa's 2016 journey for posterity.
Part 1
Part 2
Part 3
Part 4
Part 5
Part 6
Part 7
Part 8
For the latest installment on my series about celebrating Christmas on a tabletop, I'm going to devote this entry to the Christmas tree ornaments that I've had since I was a child. All of them were given to me by my parents for either my birthday or Christmas. (Both days are only 10 days apart.)
Here's a brass bell-shaped ornament engraved with my first name.
Here's a bird's nest that includes two birds—one red and one blue—whose beaks are opened as if they are about to burst into song. I still have the remnants of the original blue bow towards the top of the strings but that bow has mostly fallen apart.
Here's a Hallmark ornament that my parents gave me. It's marked "Christmas, 1980" and it has these words:
A Daughter is the sweetest gift a lifetime can provide.
The ball's image has a couple of white cats (which is pretty ironic because I'm allergic to cats) and a bunch of plants including poinsettias, a spider plant, a Norfolk pine tree, and a coleus.
Here's a brass ornament that's shaped like a guitar. I took guitar lessons throughout my teen years and I still play it occasionally.
This next photo shows a Santa Claus whose arms and legs are jointed so one can put him in a few poses (mainly looking like he's running while swinging his arms).
I have a wooden block ornament that has the same picture of Santa Claus on all four sides. The top of the block is mainly red with the letter "A" and the bottom is mainly red with the letter "B."
Last but not least is this white harp-playing cherub angel. I think it might have graced a wrapped package as a decoration (I don't remember off-hand) and I decided to use it as an ornament since it had string attached to it. All I know is that I've had that one since my childhood.
Part 1
Part 2
Part 3
Part 4
Part 5
Part 6
Among my Christmas decorations are a few imported ones that I purchased at a couple of places.
My sister-in-law lives in the Lehigh Valley area of Pennsylvania. Each year the town of Bethlehem has a multi-week arts and crafts festival known as Christkindlmarkt, which features handcrafted items from both local artisans and imported handmade items. I remember she took my then-husband and I to Christkindlmarkt a few times and I really enjoyed it very much. (The only reason why I haven't come back is because of finances.) Among the items I purchased was this German-made nutcracker that's shaped like a park ranger or a naturalist.
There's a pretty funny story behind this one. Throughout my now-kaput marriage, my husband insisted on controlling all of the finances including the checkbook for the main checking account. He didn't always take his checkbook with him because he didn't always want to stuff his pockets with the checkbook and he wouldn't carry a bag or purse or anything like that. That weekend he took the main checkbook with him. When we were going over to the Christkindlmarkt he asked me to hold the checkbook in my purse. When I started perusing some of the vendors, I saw a man who sold German-made nutcrackers and this fellow caught my eye. It turned out that he cost only $50, which is cheap compared to similar nutcrackers I've seen on sale in my area. (I've seen German nutcrackers the same size start at $125.) I didn't have enough cash in my wallet and he didn't take a credit card so I pulled out the main checkbook and wrote a check. At that moment I was writing a check, my husband showed up and caught me in the act. While he was okay with using it to buy the nutcracker, he insisted on taking the checkbook and keeping it with him. Strangely (LOL!) he never asked me to hold the main checkbook again after that incident. (LOL!)
I also purchased this wooden German-imported ornament at Christkindlmarkt. This one is shaped like a cuckoo clock.
Another place where I purchased imported ornaments was from SERRV, which has a store in New Windsor, Maryland but it also sells its items online. SERRV is run by the Church of the Brethren and it hires artisans from Third World countries to make items for its catalogue. SERRV makes an effort to pay these artisans a living wage and it also makes inspections of the places where these artisans work in order to ensure that they aren't sweatshops. SERRV sells a variety of lovely products from all over the world. The next picture shows a wooden nativity ornament that was made in the occupied Palestinian territories.
The next couple of ornaments were made in El Salvador. These artisans work in wood and they paint in bright primary colors. There is such a cheerfulness to their work, such as these ornaments shaped like a llama and Santa Claus.
Most of the El Salvadoran ornaments are two-sided but are painted the same on both sides. The tree ornament in the next two photos was also made in El Salvador but the design is different on both sides.
I also bought this pair of clay doves, which were made in Guatemala.
The doves come packaged with this short paper explaining about the origins of these doves.
A disastrous earthquake in 1976 forced many Guatemalans to be uprooted. The Chanautla area was severely damaged at this time causing a number of residents to move to the northern edge of Guatemala City, a location now known as Nueva Chanautla. When ceramics are handcrafted by these artisans the "white clay" must be brought from the original Chanautla area.

Each fragile dove begins as a lump of clay dug up in Chanautla, a region of Guatemala. Because of each artisan's individual fantasy, head and wing positions differ. Primitive firing is accomplished by covering the delicately formed bird with grass and igniting it. This method causes colors that vary from burnt black to orange to grey and white. Doves are packaged in an attractive basket for a safe flight. Due to the use of unrefined clay, small blemishes and chips sometimes occurs in the firing process.
These doves come in a nice woven basket that I also have on display under the Christmas tree because it is so lovely looking.
In the wake of the recent presidential elections that resulted in Donald Trump becoming the next President of the United States, there have been concerns about his antics, especially regarding his tweets on Twitter, where he has managed to piss off China and declared that the U.S. will be creating more nuclear missiles and possibly using them. There are concerns about how suitable he really is to occupy the Oval Office.
The Electoral College was scheduled to meet on December 19. Usually they tend to rubber stamp the results of the elections. This time a movement known as the Hamilton Electors sprang up and they were urging the Electoral College to reject Trump in favor of a more moderate Republican like Mitt Romney or John McCain. On December 19 these Hamilton Electors had called for rallies to be held in every state capital in the U.S. urging the Electoral College to reject Trump in favor of someone more moderate and with more experience than Trump. (Donald Trump is the first president-elect in history with no prior military or political experience.)
Since I live in Maryland the rally was being held in Annapolis. I had thought about going there to make a stand against Trump. But then I remembered that Hillary Clinton had swept Maryland in the elections so Maryland's Electoral College delegates had already pledged to vote for her instead of Trump or another Republican. On top of it, it was a cold day and I was less enthusiastic about freezing to make a public stand against Trump when my state's delegates had already committed to Clinton. So I decided to skip the rally altogether and do something fun instead.
My decision turned out to be a good one for two reasons: 1) the Electoral College decided to award the presidency to Trump anyway despite the Hamilton Electors movement and 2) I went to a place that I hadn't been to in two years and it was nice to go there again.
I went to Valley View Farms in Cockeysville. It's a long commute from the DC area but it's so worth it because it has one of the most awesome Christmas shops anywhere in the Baltimore-Washington, DC area. Here are some photos I took to show how awesome it is.
And if you like these photos, check out photos I took of the same place in 2012, 2013, and 2014.
Way back in January I wrote a blog post about how last year the opening ceremony for the annual Festival of Lights in Greenbelt, Maryland was moved from the back of City Hall to nearby Roosevelt Center, which resulted in higher attendance since the movie theater, restaurants, and convenience store were all located there. I was there for the opening ceremony in its new location but I didn't bother with taking pictures, which I regretted later. I took pictures of the lights in Roosevelt Center on the last day of the festival, which was on a Sunday night (when most of the businesses tended to close early on Sundays). The entire area was pretty yet deserted when I took those photos.
The opening ceremony was such a huge hit in its new location that the City of Greenbelt decided to do it again this year in Roosevelt Center. This time I took pictures of the festivities.
The festival gave out free hot chocolate. The festival organizers encouraged people to bring their own coffee cups or hot thermoses from home instead of using the free paper cups that were also available in order to get as close to having the festival produce zero waste as possible. I brought this coffee mug that had Stitch from the Disney movie Lilo & Stitch. (It was one a gift I gave to my then-husband but it was among the many items he left behind when he walked out on me back in 2011.) It turned out that that coffee mug was a conversation starter because I had so many kids who literally focused their attention on this mug.
As you can see, this event drew a lot of people of all ages.
There were lights strung everywhere.
A local band played Christmas and Hanukkah music.
The Christmas tree remained darkened until Santa Claus arrived.
Santa Claus arrived on the back of a fire truck.
The lights on the tree were lit after Santa arrived.
The nearby Greenbelt Theater was having a free showing of the original made-for-TV cartoon How the Grinch Stole Christmas just like it did last year. I saw it on the big screen last year and it was such a different experience from simply watching it at home on the TV. I thought about seeing it again but the line at the movie theater was really long this year. (I later heard that every single seat in the theater was filled.) I decided to skip it. It was no big deal since I saw it on the big screen last year plus I have that show on DVD so I can watch it at home anytime I want.
Makerspace 125 decided to schedule an Open House to coincide with the Festival of Lights opening ceremony. Someone decided to decorate a ladder with lights and ornaments instead of a tree.
Makerspace 125 had this one free hands-on activity where people could make fancy paper ornaments.
One person brought her dog, Honey, who totally enjoyed herself at the open house.
Most of the festival attendees basically cleared out after the Greenbelt Theater finished with showing the Grinch. Here are a few more photographs of the lights that are currently up in Roosevelt Center.
The lights will remain up until after New Year.
UPDATE (December 25, 2016): After I attended a special Christmas Day Sunday service at my church I decided to head to the Beijing Restaurant in Roosevelt Center (where I took advantage of its special Sunday buffet). After I left the restaurant I noticed that the Christmas tree from the Festival of Lights looked very glittery. Of course it helped that it was a very bright sunny day. Here are a couple of extra daytime photos.
I recently helped out with the yard sale that was put on as a fundraiser for Changing Focus, my support group for people who are separated or divorced. The yard sale was held on the grounds of the Prince of Peace Presbyterian Church. My role was basically collect people's money as they bought stuff that was donated to the yard sale. Here are just some of the items I managed to photograph with my smartphone.
Someone donated a whole bunch of pink flamingoes along with the metal legs that are supposed to support the plastic birds. The only thing is that most of the metal legs didn't even fit these birds. I remember trying to fit them in the holes and they just wouldn't go in. Other people tried as well but very few of the legs actually fit the flamingoes. As a result we had to lay most of them on the ground. Despite this the pink flamingoes were completely sold out by the end of the yard sale.
These shoes were the ultimate in Christmas kitsch, complete with Santa Claus.
I once had something like this. There was a time when many people owned a VHS rewinder because rewinding the VHS tapes tended to put stress on the VCR motor that would cause that machine to wear out. So basically we used to play the VHS tape in the VCR until we were finished then transfer the VHS tape to the VHS rewinder to rewind the tape back to the beginning. These rewinders became obsolete with the advent of DVDs, online streaming, programs on-demand, etc.
Here's a throwback to the days when America Online was the big name on the Information Superhighway and that corporation would put its logo on all kinds of freebies like this coffee mug.
Conair Hot Sticks, the perfect product for getting your hair in that perfect 1980's hairdo.
While the yard sale went on outside the Prince of Peace Presbyterian Church, inside the church there was a massive used book sale where all the proceeds went to the church itself. I saw this book on sale but I ended up not buying it. I regret it now because the title is pretty hilarious.
Here's an obsolete book from Kodak on how to make good sound movies.
Here's an antique Bible that's written in Swedish.
I scored big time at this book sale. I managed to buy all three Hunger Games books and the first two books in the Vampire Diaries series for under $10. See, there is a benefit to being behind in pop culture. (LOL!)
If that's not enough, there was also the Festival on the Green, which is an arts and crafts show that's held nearby on the grounds of the Crofton Country Club. Here are some photos I took there.
I made just two purchases at the Festival on the Green. Both of them were bars of soap that I purchased from Naturally Silky Soap and Natural Image Botanicals.