You are currently browsing the tag archive for the 'Mecki the Hedgehog' tag.
On the Saturday during the Fourth of July holiday weekend, I decided to check out this toy show that was being held at the Maryland State Fairgrounds.
It was such a feast for the eyes as the toys and various other vintage items were displayed at various vendor tables. The whole show took on the air of a flea market with an emphasis on vintage stuff dating anywhere from the 1900s to the 1990s.
Someone had a jukebox for sale, which reminded me of my childhood when many of the local restaurants had them and people could choose songs to play for about a quarter each.
The jukebox played music during the entire event. (Which proved that it definitely still worked.) I couldn't help taking pictures of the songs that were available on the jukebox. The majority of them were hits when I was a kid.
And speaking of music players, here's a vintage 8-track player with an Elvis Presley 8-track tape. I once had a stereo system that included an 8-track player but I never owned one like that. But I could've sworn that one of my friends or maybe one of my cousins had a player just like that but I don't know for sure. (Memory is one of those funny things where you remember something but you don't remember when, where, or how you remember it.)
Late last year I did a series of blog posts with accompanying photos known as A Tabletop Christmas (so-named because I limit my Christmas decorating to just a single tabletop in my living room). Among the items I showed off was a small plastic Santa Claus puppet that I've had since I was a child. I didn't know anything about the origins of this puppet. It wasn't until I went to the toy show when I saw a tiny plastic Santa puppet on sale that's identical to mine.
The only difference between the two is that this Santa still had its label at the base while mine doesn't have any labels at all. (I suspect that whatever label it had must've fallen off a long time ago.) My Santa puppet is currently stored in a box with the other Christmas decorations in the attic but here's a picture of my Santa puppet that I took last December.
At first I thought the animal in the next picture was a stuffed animal until I saw the dog move his eyes around. He laid there the entire time I was at that show.
This show also had examples of how the mighty had fallen. I found this book by disgraced former Fox News talk show host Bill O'Reilly on sale for only $1 at one of the tables. (LOL!)
There was one token of something new that I found. Someone was selling glow-in-the-dark versions of the hottest toy of 2017: Fidget Spinners.
By the way, you can check out a video I shot recently where I unboxed and played with one of those Fidget Spinners for the first time (and, no, the one I bought didn't glow in the dark).
Everywhere there were visual treats, many of which harkened back to my own youth.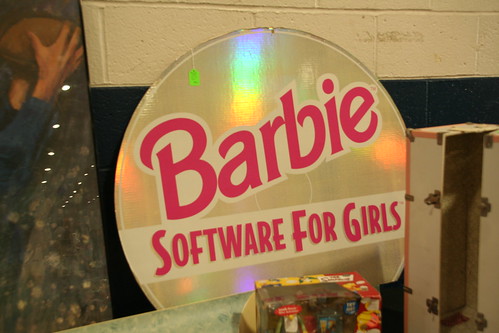 As I was walking back to the light rail stop I shot this photo of The Cow Palace building because it had a nice small garden.
I didn't buy a lot of stuff at that toy show due mainly to tight finances. But I managed to snag a couple of things at bargain rates. I found the second season of The Simpsons DVD set for only $6.
I bought a Monster High doll for only $5. I was attracted to her pretty winter-themed clothes. At first I thought I may have purchased a relative of The Snow Queen until I did an online search and I was able to make a definite identification. Based on this web page, her name is Abbey Bominable and she's described as the 16-year-old daughter of the Yeti.
Here's a closeup of her hair, which looks like it has glittery plastic pellets weaved throughout the strands. It gives a really cool ice/snow effect, especially when the light reflects off of her hair.
Yesterday marked the one-week anniversary of the day that I last saw Spike the Hedgehog alive. It fell on a Sunday, which was a day I usually devoted to the weekly cleaning of Spike's cage and I moved him out of his cage and into his outdoor playpen. Once I finished cleaning his cage, I removed him from his outdoor playpen and put him back in the cage. He overheated earlier because I had left a window open while the outside temperature rose to a high of 85 degrees Farenheit with very high humidity. I closed the window and turned on the air conditioning and once I finished the cage cleaning and the sun went down, Spike seemed okay. He managed to go inside the pink plastic igloo he used as his bedroom so I thought that all was well.
Monday morning I notieced that Spike didn't even touch his mealworms, which were his favorite food. Monday evening Spike didn't emerge from his igloo but it was also very hot and humid outside and I know from past experience that in extremely hot weather Spike tended not to even emerge until well after 11 p.m. So I wasn't that concerned as I changed his food and water yet left the unopened Easter egg where I stored the mealworms. Tuesday morning I saw that Spike still hadn't opened the Easter egg full of mealworms so I thought that something was up. Since hedgehogs are nocturnal, I decided to wait until after dinner before I investigated. By dinner he still hadn't emerged so I went over to his cage and called out his name. He didn't respond with any kind of snuffling sound like he usually did when I talked to him. I bumped the side of his cage and found that he didn't make any of the hissing noises he usually makes whenever I accidentally bumped into his cage or changed his food and water. I then opened his cage, lifted his igloo and found that he was dead.
Earlier on the same day that I last saw my pet hedgehog Spike alive, I visited the Baltimore Comic-Con. Among the various items for sale in the Artists Alley was this table that was full of handcrafted jewels that were made to resemble the Chaos Emeralds from the Sonic the Hedgehog video games. They were a bit on the large side (I thought that the best use for them would be as paperweights because they looked too big to wear in a necklace) but they were visually stunning looking.
I've been slowly doing one final cleaning of Spike's cage. So far I removed his litter and threw it in the trash. (I inspected his litter as I scooped it out and found that, unlike other weeks, I didn't see any hedgehog droppings among the litter clumps. I still threw the clean litter in the trash as a precaution just in case Spike died of some kind of a contagious disease. I don't know what killed Spike and I saw no evidence of blood or oozing pus or any other kind of injury or infection. It's possible that he simply died of old age but since I didn't have anyone do an autopsy on him so I'll never know exactly why Spike died.) I plan to do a thorough cleaning of his cage and furniture using Lysol in order to kill any germs that may or may not have had a hand in Spike's death. Once I finish this special cleaning, I'm going to pack up his cage and furniture and put it all in the attic for the time being.
Right now I'm going to take some time off from being a pet owner while I get over Spike's death. I would like to own another pet sometime in the future but I haven't decided on whether I would get another hedgehog (If I did this, I would make sure that I adopted a baby hedgehog instead of an adult like Spike was when I brought him home to live with me because I hope that, with a baby hedgehog, I would have this pet for longer than I had Spike) or if I would get a dog. When I was a teenager my parents had a half-Labrador Retriever/half-Chesapeake Bay Retriever named Napoleon and, while he was a rambunctious dog, he was basically a sweetheart. When I was in college and I lived in off-campus housing I had a housemate who had a dog named Michelle and I got along really well with Michelle. (My time with Michelle was short-lived. Michelle's owner went out of town for a couple of weeks of following the Grateful Dead's latest tour and the dog was placed in the care of another housemate who was a bit of a flake. This housemate tried taking Michelle for a walk along a very busy highway without a leash and the dog suddenly decided to bolt after some car and she ended up getting hit by one of the cars.)
I also once had a pet parakeet as a teenager named Baby, who managed to coexist beautifully with Napoleon. (Both the parakeet and the dog basically ignored each other.) It's possible that I may decide to get a parakeet or some other kind of bird instead of a dog or hedgehog.
All I know is that cats are out of the question for me because I am allergic to them. Any member of the rodent family (such as rabbits, chinchillas, guinea pigs, hamsters, etc.) is also out of the question for me because I have a couple of electronic rodent devices in my home that emits high-pitched sounds that humans can't hear but they are very offensive to rodents. I had to buy them from the hardware store a few years ago after my home suffered from a sudden invasion of field mice who chewed up rolls of surplus paper towels, chewed through boxes of food in the pantry, and left their droppings everywhere.
In any case, I'm just going to take my time deciding on who will be my next pet. It's highly unlikely that I'll come to any kind of a decision for at least six months.
Yesterday after I attended church, I went to Target to look for a storage box that's big enough to house Spike's cage and furniture while I keep it up in the attic. I found the perfect size storage box (it was the largest box that the store had in stock) then wheeled my car to the checkout line. On the way to the checkout line, I found this new Monster High doll that's totally ironic for me in light of Spike's recent death. Here name is Howleen Wolf, she's the daughter of the Wolf Man and the younger sister of Clawdeen Wolf, Clawd Wolf, and Clawdia Wolf.
Here's the ironic part. Like the other Monster High dolls, Howleen Wolf comes with a pet of her very own. This particular pet happens to be a hedgehog named Cushion.
A doll with a pet hedgehog. That is pretty ironic. If Spike hadn't died, I might have even been tempted to buy Howleen Wolf. This time I left the doll package on the shelf. I just wasn't in the mood of collecting anything that was hedgehog-related other than taking the above two photos with my smartphone.
For the 19 months I had Spike I had gotten into taking smartphone photos of every hedgehog related items I could find on the store shelves as well as collecting Internet graphics of anything with hedgehogs. While hedgehog products weren't as prevalent as—let's say—dogs and cats, there were a sizeable amount of hedgehog products I could've bought if I wanted. (In reality I didn't buy too much hedgehog stuff because of limited space in my home. I'm in the process of doing extensive decluttering of my home and starting a new hobby where I collected a lot of stuff was the last thing I wanted to get into.) It was pretty cool to see the amount of hedgehog there is out there.
First off is the main hero of the Sonic the Hedgehog video games. I confess that I played those games long before I even had the idea of getting a pet hedgehog but I still thought it was fair to give a nod to the character that helped me to be tolerant of hedgehogs.
But Sonic wasn't the only video game character that I encountered. I also downloaded other hedgehog-themed video games for my iPod Touch and iPad including the following:
Ironically I recently found out that there was a video game that was made for the PC years ago called Spike the Hedgehog. I had never heard of that video game before and I only named my pet Spike because he never hesitated to put his spikes up every chance he got. Given that one negative review I saw on Amazon.com, I think there's a reason why this particular game is obscure.
I also remember reading about a hedgehog in literature. Who can ever forget that bizarre croquet game in Alice in Wonderland where the players used a flamingo as a mallet and a hedgehog as a ball?
I later learned that Beatrix Potter, who's best known for the books Peter Rabbit and The Tale of the Squirrel Nutkin, wrote and illustrated a book called The Tale of Mrs. Tiggy-Winkle whose main character is a matronly looking hedgehog who did the laundry.
There were plenty of hedgehog toys, figurines, and a vairety of miscellaneous products that I could've collected if I wanted to (but I mostly didn't due to limited space in my home).
Ty Beanie Ballz Prickles
The Calico Critters Pickleweeds Hedgehog Family
A forest-themed water bottle that includes a hedgehog.
A pair of Kikkerland Hedgehog Dryer Balls.
Some hedgehog plushies I found at Otakon 2012 that was held in Baltimore.
Hedgehog-shaped Christmas ornaments.
Westland Adora Bears Hedgehugs
A plush hedgehog puppet on sale at the 2012 Faerie Con in Hunt Valley, Maryland.
Inner Creatures' Spikey anthro hedgehog ball-jointed doll.
Aurora's Herzog the Hedgehog.
A handcrafted Sonic the Hedgehog quilt on sale at Awesome Con 2013 in Washington, DC.
Craft Play wooden hedgehog kit.
Ganley the Birthday Hedgehog.
Special edition Sonic the Hedgehog statues sold at Katsucon 2013 in National Harbor, Maryland.
Special Sonic the Hedgehog edition of the board game Monopoly sold at Katsucon 2013 in National Harbor, Maryland.
Hedgehog print on sale at Katsucon 2013 in National Harbor, Maryland.
A t-shirt that reads "Hedgehogs: Why Don't They Just Share the Hedge?" that I bought for myself at Katsucon 2013 in National Harbor, Maryland.
A hedgehog birthday card.
A Scentsy Buddy Havi the Hedgehog that was on sale at the 2013 Hon Fest in Baltimore.
eeBoo's Waste-Not hedgehog craft kit.
If the above products weren't enough, there were a variety of hedgehog-shaped toys that I could've purchased for a dog or cat that were sold in the big-box retailers like PetSmart and Petco.
In Europe there is a hedgehog character named Mecki who is very popular there. Below is a 1952 German-language stop-motion animation featuring Mecki. (Unfortunately there are no English subtitles in the one clip I found online.)
Mecki's popularity has led to a variety of spin-offs including postcards and stuffed animals.
Here in the United States there was one animated hedgehog character I was more familiar with. His name is Mr. Pricklepants and he was one of the minor characters in the Disney/Pixar film Toy Story 3.
Despite his small role in that film, I saw this one toy spin-off in one of the stores.
Earlier this year the Animal Planet cable channel broadcasted its annual Puppy Bowl (which is usually shown on the same day as the NFL Super Bowl) that features cute puppies playing with each other in a football field-like room along with the Bissell Kitty Halftime Show (featuring cute kittens swatting at various toys), hamsters broadcasting in the Puppy Bowl blimp, and a cockatiel named Meep the Bird who issued tweets on Twitter (get it?). At this year's Puppy Bowl, Animal Planet featured hedgehog cheerleaders, who were incredibly cute. (I only wished I had known about the hedgehog cheerleaders sooner because I happened to live near the Discovery Channel building in Silver Spring where the Puppy Bowl is shot. I could've enter Spike in the tryouts.)
I saw people dressed in costume as hedgehogs. This one person cosplayed as Shadow the Hedgehog at Otakon 2012 in Baltimore.
Here's a person dressed as Sonic the Hedgehog at Awesome Con 2013 in Washington, DC.
There was even a hedgehog who served as a mascot for a company called Spokeo who had gotten its share of controversy for its business practices. When I checked the URL for the first time in over a year last night, I saw that the cute blue hedgehog mascot had since been replaced by a typical bland corporate logo.
I've had my fun with using my smartphone or Internet searches to document all of the hedgehog-related products that are out there while I had Spike but now that my pet is deceased and I have no immediate plans to replace him with another hedgehog, I'm going to cut back on this activity. If I happened to see a really cute and memorable product I'll snap a photo but, otherwise, I'm no longer going to go out of my way to take these pictures. As you can see in this blog, I already have more than enough hedgehog images to keep me amused so I don't really see the need to continually take more pictures.
Yesterday I was out shopping when, on a whim, I decided to go to Savage Mill, which originally started out as a textile mill but has long since been converted into a shopping area. Savage Mill is unlike a typical American shopping mall in that it's filled with antique stores, artist studios, and locally owned businesses. There aren't any large-scale corporate chain stores anywhere in Savage Mill, which makes shopping there a welcome respite from the usual cookie-cutter suburban shopping mall. Despite my general love for Savage Mill, I hadn't been there in at least three years mainly because of frequent travels regarding my mother-in-law's sudden death, my own hip problems that made walking increasingly difficult, and dealing with my own emotional fallout from my husband's suddenly running away from our home and our marriage.
So I spent a couple of hours walking around Savage Mill until my legs and feet grew tired. While I was there I went into a store called Bearing Gifts, which specializes in high-end stuffed animals such as these two cute yet expensive Steiff hedgehog stuffed animals.
These hedgehogs reminded me of this German language Mecki the Hedgehog stop-motion animation that I previously featured in this blog several months ago.
Bearing Gifts also sold these tiny cute stuffed hedgehogs that literally fit in the palm of your hand and only cost around $5 each.
I ended up buying one of them on impulse. When I got home I took a closer look at the tag and found that this stuffed hedgehog was handmade in Indonesia and distributed by a company called Aurora. The tag also identified this critter as "Herzog." Herzog the Hedgehog? Personally I'm not much on the name "Herzog" but it does provide a nice alliteration with "Hedgehog."
That visit to Savage Mill culminated in a week-long deep freeze which has gripped much of the East Coast of the United States. The nighttime temperature in my area had dipped as low as 18 degree Farenheit and the daytime temperature rarely climbed highter than 25 degrees Farenheit. I live in a townhouse that was originally built as part of an expansion of the neighborhood back in the 1950's. (The neighborhood was first built during the Great Depression.) It was built long before climate change when the winter temperature rarely dipped below 30 degrees Farenheit. This means that in the normal Mid-Atlantic winter the living room is pleasant to stay in. But if it dips below 30 degrees, the living room starts to get cold (but it's still warmer than being completely outside) even with all the heaters going at full blast.
I began to worry about my own pet hedgehog, Spike. Usually hedgehogs tend to hibernate in the winter. The sole reason why Spike isn't hibernating is because I keep his cage in a heated living room and I turn on the infrared heating lamp at night. This doesn't mean that Spike never sleeps. He does go to sleep but he doesn't go into the very deep sleep of hibernation.
As this web page explains, Spike has been raised as a domesticated pet so he hasn't been doing the things that a typical wild hedgehog does in order to prepare for hibernation (such as eating more food than usual in order to stock up on body fat). As a result, if he goes into hibernation, he could possibly die.
It even snowed a few inches this week but I didn't dare take Spike out in the snow. Between the fact that Spike is an African Pgymy Hedgehog, a species that indigenous to a region that's more well known for having jungles and deserts than snow, and his cold-adverse body, I was afraid that even a brief introduction to snow would instantly send Spike into hibernation.
So I began to take steps in order to prevent Spike from hibernating. Usually I turn off his infrafred heating lamp in the daytime because it's generally warmer outside and the electric heaters in the living room do a good enough job at keeping Spike's body warm. When this deep freeze began, I started to keep his infrared heating lamp on 24 hours a day. I even went to PetSmart to buy a replacement infrared bulb because I wanted a spare bulb on hand just in case I needed to replace it so Spike wouldn't have to go without heat for too long. I also took temperature readings of Spike's cage using a digital thermometor to make sure that the temperature inside the cage didn't dip too low.
Despite those precautions I still started to worry about Spike being too cold since the overnight temperatures were dipping as low as 8 degrees Farenheit in some areas. So every night before I went to bed I did this.
I draped half of Spike's cage with a crocheted afghan that I received as a wedding present from one of my parents' friends. (My husband and I received three hand-crocheted afghans as wedding presents from friends and relatives. My husband left them all behind—along with most of the furniture, pots, pans, dishes, and linens—when he abruptly moved out in December, 2011.) I took great care not to get the afghan touching the infrared heating lamp because I was afraid of creating a fire hazard. As a result, half of Spike's cage was draped with the afghan while the other half was undraped but was being heated by the infrared heating lamp. I would remove the afghan in the morning when I woke up because it was usually warmer in the daytime and using the infrared lamp alone was sufficient until my next bedtime.
Today the temperature rose up to a relatively balmy 40 degrees Farenheit and, looking at the latest weather report, it looks like the Arctic chill is leaving our area. I'm happy to say that Spike survived the intense cold without going even close to hibernation. In fact he was busy moving his cage furniture again while I was worrying about his health. Here is what his cage usually looks like after I clean it every Sunday.
Here is how Spike arranged his cage furniture this week.
Spike did something completely different from his usual cage re-decorating. He somehow managed to put his exercise wheel at an angle against the back cage wall while putting his tunnel right up against the exercise wheel. Here is a shot of the exercise wheel and his tunnel as taken from another angle.
Spike spent most of the week sleeping through most of the Artic chill both day and night. He would periodically emerge at night to feed and to stretch out in his tunnel for a while until he decided that he was tired again so he would go to the plastic igloo that he uses as his private bedroom. Here are a couple of photos I took of Spike while he was lounging in his tunnel. The photos have a reddish tint because I had the infrared light on. I also had to use the zoom feature in my smartphone camera because Spike tends to be camera-shy at times and my previous photography efforts had resulted in Spike either turning himself into a ball of spikes or he would bolt for the igloo.
Prior to getting Spike, the only hedgehog I played with was one who existed only in video games. Yes, I'm talking about Sonic the Hedgehog.
I first played with Sonic the Hedgehog back in the 1990's. I found the Sonic games to be very exciting and addictive even though Sonic bears little resemblance to a real hedgehog. Sure he has a few spikes in the back of his head and he can roll up into a ball at times during the game. But a real hedgehog has far more spines than Sonic does plus there is really no such thing as a blue hedgehog.
I also remember reading about a hedgehog in literature. Who can ever forget that bizarre croquet game in Alice in Wonderland where the players used a flamingo as a mallet and a hedgehog as a ball?
After I got Spike, I've noticed more hedgehog related stuff that are available.
Recently I downloaded a new game on my iPod Touch called Crazy Hedgy that is incredibly addicting. The 3-D graphics are excellent and the game has a Looney Tunes sensibility about it. (At times you can get two of Crazy Hedgy's enemies to fight each other instead of going after the hedgehog.) On top of it, Crazy Hedgy looks closer to a real hedgehog than Sonic does and he frequently assumes the ball position as he moves around.
I thought it was cool that there was a new game featuring a hedgehog. But then I started walking around various shops in real life and I found a few more hedgehog-related items on sale. Here's a Beanie Ballz made by Ty (the company responsible for Beanie Babies) of a hedgehog named Prickles.
Then there is the Calico Critters Pickleweeds Hedgehog Family. The entire family is totally cute.
I also found these forest-themed water bottles on sale at Wegman's. A hedgehog is among the forest animals depicted on them.
By the way, I recently found a blog that's devoted to one person's hedgehog collection (no, it doesn't include live hedgehogs) called Houseful of Hedgehogs. It's a great resource on all the kinds of hedgehog-related items that one can purchase.
I've also seen other hedgehog imagery on the Internet, such as this picture of Mecki Hedgehog.
From what I've read online, it looks like Mecki is the German equivalent of Mickey Mouse or Bugs Bunny. Here's a 1952 stop-motion animation featuring Mecki. The dialogue is in German but the animation is still pretty charming.
I learned via the Internet about a book that Beatrix Potter wrote and illustrated called The Tale of Mrs. Tiggy-Winkle, whose main character is a matronly looking hedgehog who did the laundry. While I remembered reading Potter's other books as a child (namely Peter Rabbit and The Tale of The Squirrel Nutkin), for some reason I don't recall this book at all. I either didn't read it at all or I might have read it but have since forgotten that particular story.
I also found an online company called Spokeo, which uses a cute blue hedgehog as part of its logo.
Despite the cute and benign looking logo, the company has recently come under fire for its business practices, which has raised the issue of privacy. For more details about the controversy, here are a few links you can check out.
Did My Rapist Find Me on Spokeo?
Spokeo a Growing Threat to Internet Privacy, Cyber Security Experts Warn
I'll end this entry by showing a recent photo of Spike. He's peering from inside his plastic tunnel, where he's been known to spend many of his waking hours every evening.