You are currently browsing the tag archive for the 'marshmallow' tag.
Since today is Easter, I'd thought I'd share these pictures of Peeps that were available in a variety of different flavors this year.
As a child I received at least one or two small packs of Peeps in my Easter basket each year. At that time Peeps only came out in the spring to coincide with Easter. They were available only in one flavor (the original marshmallow flavor) and one color (yellow). The only choices available were bunnies and chicks. Once Easter season passed, the Peeps would go away from the store shelves and I wouldn't see them again until the following spring.
In recent years Peeps has expanded to other holidays (Valentine's Day, Halloween, and Christmas), come out in other colors (like blue, orange, and green), come out in other shapes (such as snowmen for Christmas and jack o'lanterns for Halloween).
Peeps have even come out in different flavors besides original marshmallow. This year I purchased a few of these different flavored packs. I'll admit that I liked some better than others. (I found the lemon lime Peeps to be way too sweet for my tastes.) Here are the photos of the Peeps flavors that I tried this year.
The sour lemon lime Peeps. Despite the "sour" description, I found that these Peeps tasted way sweeter than the usual Peeps.
The triple chocolate Peeps took chocolate Peeps, filled them with chocolate filling, then dipped their bottoms in even more chocolate.
The bottoms of the vanilla Peeps were dipped in crème flavored fudge. These chicks were flecked with multi-colored sprinkles.
The vanilla caramel brownie ones had vanilla Peeps that were filled with a caramel filling then their bottoms were dipped in milk chocolate.
The chocolate mousse Peeps had bottoms that were dipped in milk chocolate.
Wegman's usually has this cow on display selling Beemster Dutch Cheese. On special occasions the store will have the cow wearing something that's appropriate for the occasion. Here is how the store dressed that cow for St. Patrick's Day.
Each year St. Patrick's Day unleashes its share of green atrocities. I saw these green bagels on sale at a local Giant.
I'm sorry but green bagels for St. Patrick's Day is just not appealing. Plus bagels aren't even Irish to begin with!
I used to eat Lucky Charms cereal a lot as a child. It's been years since I last had a bowl of Lucky Charms. I saw Lucky Charms sold in individual cups on sale at Giant for 99 cents. I bought a couple of Lucky Charm cups for old times' sake. Yes, the leprechaun is still on the package.
They tasted just like how I remembered them. Giant also had other kids' cereals sold in individual cups like Frosted Flakes and Cocoa Puffs. I probably won't be buying these cups too often but they are nice for a once-in-a-while occasion where I find myself wishing I could eat Frosted Flakes but I don't want to buy an entire box of the stuff.
Even though these next two photos aren't Irish, they are green, which is the traditional St. Patrick's Day color so I'm including them here. Sour Lemon Lime Peeps are a thing this year. I found this pack at Five Below. I found that they tasted way sweeter than the usual marshmallow Peeps.
Previous in This Series
Last week I mentioned that I've been going through some old files on my computer hard drive and I found the original rough drafts of my old Artomatic blog posts from previous years. (There was a time when Artomatic gave everyone who participated their own blogging account. For Artomatic this year, I had to step up and volunteer to be a blogger before I received my own blogging account.) It's pretty appropriate to share some of these posts here since Artomatic is going on until next month.
While I visited a few previous Artomatics, the first time I actually participated was in 2007. I enjoyed that experience so much that when Artomatic was announced again in 2008, I jumped at the chance to participate in it again.
2008 was a momentous year for me for reasons other than Artomatic. I was born with a dislocated left hip and, as some old baby photos have documented, I was placed in a body cast for several months. My left hip joints snapped into place, the cast was removed, and I learned how to walk like an average child soon afterwards. I sprained the same left hip in a roller skating accident when I was 12 but I managed to recuperate and I walked like a regular person again. All that changed by late 2007 when I began to walk with a limp. As time went on, I had a harder time walking and by the time of Artomatic 2008, I had to use a cane to get around.
Despite my hip problems, I wanted to participate in Artomatic and I did so. That year I decided to focus mostly on photography, with the exception of this Peep Floyd diorama that I originally did for The Washington Post's annual Peeps diorama contest but it failed to make even Honorable Mention. Here is the original online catalogue that I put up to promote my exhibition space.
Here are just a few selected posts I made in my Artomatic account's blog that year as archived on my hard drive. (That blog has long since been deleted since Artomatic tends to totally revamp its website whenever a new Artomatic event is announced.)
I'm Participating in Artomatic 2008, March 27, 2008

I've finally finished with registration. This year I'm going to emphasize my photography more mainly because I've been more successful at that than doing strictly drawing and painting.

Now my next task is to sift through my vast trove of digital photos to pick out the right ones to display. I am quite a shutterbug. I'm glad for the invention of digital cameras because I still remember the pain of running out of film and I had to choose between shelling out more money for film (then have to shell out more money to get them processed) or quit my picture taking for the day. I have a monumental task ahead of me so I'm going to sign off now.

Latest Stuff About Me, April 18, 2008

Last Saturday I went to the Artomatic orientation where I picked out my site. I'll be located on the 7th floor, NE Quadrant, Area C4. I know it sounds like gobbledygook now but I'm sure it'll become more apparent once the show opens and the maps/brochures are printed. For the time being, I'll just say that my wall space is located right next to the men's restroom on the 7th floor.

My Exhibit for This Year, May 8, 2008

I know that some of you who are familiar with my exhibit at last year's Artomatic will be wondering if I'm doing anything different. Well, the answer is yes. I'm going to describe the difference between this year's exhibit and last year's.

Last year I had a variety of different media ranging from digital photographs to drawings to paintings. I even had a couple of dolls I customized myself that were on display in small glass cases that were mounted on the wall.

This year I'm focusing exclusively on digital photographs. That's mainly because I wanted artwork that was more transportable than my larger art pieces. All of my photographs are either 8″ x 10″ or 5″ x 7″. Keeping the photos at those two sizes made frame shopping really easy for me since those two are standard sizes. On top of that, I've had people tell me that my biggest strength is in photography so I decided to highlight that some more.

The biggest challenge I had was whittling down the hundreds of digital photographs that I have on my hard disk to just 32 photos. (Sixteen of them are 8″ x 10″ while the rest are 5″ x 7″.) Then I had the additional challenge of printing since, as experienced digital photographers and computer graphics artists know, what is seen on the computer screen doesn't mean that the print version will turn out the same. But I managed to get everything done in time for the opening tomorrow night.

I'm also pricing my photos at $10 for the 8″ x 10″ and $6 for the 5″ x 7″. I know my pricing methods may become controversial but there's a method to my madness. If you've been reading a newspaper or watching any of the cable news channel, you'll know that this country is in an economic crisis due to rising gas costs, higher food prices, and the subprime mortgage crisis. I really don't think that people are in the mood to shell out $100 or higher for a piece of art no matter how much they love it because of the economy.

I also had an epiphany around the end of last year's Artomatic. I got someone who wanted to buy one of my drawings but she wanted to know how much it would cost if I would remove it from the frame. Since I didn't have any other serious buyers of my artwork last year, I told her that I would take $25 off my drawing. So I sold it to her and took home an empty frame.

This year I scoured the local big box retailers looking for the lowest frame prices. A.C. Moore had the best prices with many frames being sold for $3 and $4 and with some going for as low as $2. What's more, the frames still looked pretty decent despite the low prices. Then I went to Staples where I bought a pack of satin-finish photographic paper for $35. I calculated each sheet as costing around sixty cents per sheet, which isn't bad.

I even have a catchy ad phrase that I put on a sign in my area: "Affordable Artwork for Uncertain Economic Times".

What's more, since I have my photos on a hard drive, I can easily print multiple copies so if one person buys one of my photos and someone else wants that same photo, I can print and frame another copy and sell it to that other person.

I will have a small table next to my photos where I will have a guestbook for you to sign and a digital frame that will rotate digital photos of some of my other works of art like my drawings, paintings, sculptures, and crafts. I purchased this digital frame at Target and I love it because I can display more of my art than the space that's alloted to me.

I will also have a diorama displayed on that table called Peep Floyd. I originally created this diorama for The Washington Post's second annual Peeps contest but it didn't make the final cut among the judges. I was disappointed but my husband was even more heartbroken than I was. (He felt that I was robbed.) So I decided to give my little diorama a second chance by displaying it with my artwork. I'm even putting it up for sale for only $5 (which is about how much money I spent making it in the first place). What's even amusing is that there will be a display of the winning Peeps dioramas on the 10th floor while my display will be on the 7th floor. So if people decided to start on the first floor and work their way up, chances are that they will see my own diorama first before they see the winners on the 10th floor. Ha! Ha! Ha!

Last year I printed three photo zines that I sold on the honor system where people can put money in a box if they wanted one or more of my zines. I did it mainly as a promotional item, even if it was a pain to print multiple copies for the duration of Artomatic. (The fact that I was using a 10-year-old Epson color printer didn't help matters much.) I thought that I would get some sort of opportunities from the zines after Artomatic in the long run so I toughed out the time spent printing, collating, and stapling the zines. I also gritted my teeth as I spent lots of money on printer ink since those zines did use up tons of ink. Even though the zines sold pretty well (some people did leave money in the box), nothing ever came of those zines after Artomatic ended. No one contacted me saying, "Hey I liked your zines and photos and I want to do some work with you."

Basically it really wasn't worth the time or money spent making and distributing the zines so I'm not going to do any more this year. I know that some of you will be disappointed but that's the way things go.

The biggest change from last year to this year is myself. Yes, I am a year older but my health has gone down a bit. I have an old injury in my left hip that was repaired a long time ago but I've now developed osteoarthritis in it. Last year I was able to walk normally most of the time (although I did limp if I overextended myself by doing too much walking or other physical work). This year I'm walking with a limp and I use a walking stick whenever I have to walk around outside for any great distances. I've consulted an orthopedic specialist and he's recommending that I undergo a hip replacement, especially since my left leg is now a little bit shorter than my right leg, thanks to the osteoarthritis.

But, before I undergo the surgery, I have to lose weight and do exercises to strengthen my hip. As a result, I'm still able to participate in Artomatic since I won't be able to undergo the surgery until July at the earliest.

Having osteoarthritis is a bit of a bummer. I get more physically tired than before, partially because of having to take prescription version of ibuprofen (which has drowsiness as a side effect) and partially because it's just more physically taxing to limp around. My current condition was a major factor in my decision to focus on smaller photographs than my larger canvases since the photos are easier to cart around than a big canvas. Since I decided to eliminate the zines, I will find Artomatic less taxing than last year.

I will be at the opening tomorrow night with my husband. This weekend I will be working as a vendor at the Greenbelt Green Man Festival in Greenbelt, Maryland. I will have a packed schedule.

I'm Doing Pretty Well at Artomatic This Year, May 26, 2008

So far I had someone who wanted six copies of my "Shalom Y'all" photo because she wanted to give them away to her Jewish friends. I also have one other person who may be potentially interested in purchasing something from me but I haven't heard back from him.

So far I took part in a drawing workshop on Opening Night and I've also worked one shift so far. (It happened to be on the same night as the "Meet the Artists Night" so I couldn't be at my area, with the exception of a brief break that I took around 8 p.m.) Right now I'm typing this entry from a hotel room in Charleston, South Carolina but I intend to participate in more Artomatic events once I return.

I happened to be in Charleston at the same time as their annual Piccolo Spoleto Festival—an art-filled festival that includes special exhibitions at area art galleries, special theatre shows, special musical concerts, and a crafts fair. I intend to check out the crafts fair at least. I also intend to visit the City Market, which is filled with stalls of people hawking food items and various types of crafts. It's also where a local African-American group of people known as the Gullahs sell their speciality craft–making baskets, vases, flowers, and other items out of sweetgrass.

Well, anyway, see ya later!

My Artomatic Videos, June 2, 2008

This year I've been doing more at Artomatic than just showing my artwork and attending a few events. I've also been taking photographs and shooting video. I haven't decided what I'll do with the photos yet but I've already edited and uploaded three short video clips on my YouTube account.

All three videos are of the firedancing troupe known as Flights of Fire. I shot this during the second hour of their show on May 16. (I missed the first hour because I was finishing up the last hour of my own volunteer shift during that time.) I was pretty exhausted after working my five-hour volunteer shift so I basically went outside, sat down, and unwind a bit by watching the group perform the rest of their show. I happened to have my videocamera with me so I filmed them as they did their various fire tricks to some lively dance music.

This first clip is a general highlights reel as I focused on the troupe's most spectacular firedancing tricks:

The second clip is a very sexy and erotic routine that is performed in its entirety:

The third clip is the grand finale that is also performed in its entirety. Imagine a bunch of people dancing and swinging flaming torches at the same time and you'll get something like this:

Two More Artomatic Videos For You to View, June 5, 2008

I shot two more videos at Artomatic that I've uploaded to my YouTube account. The first one is the Peeps artist reception that was held on May 31, 2008.

The second one is the first-ever Artomatic 500 cardboard car race, which is just as hilarious as it sounds.

Enjoy!

A Posting From Artomatic, June 13, 2008

I've just finished the third required volunteer shift over an hour ago and I'm waiting for this workshop on "Urban R & D: Developing a Community Research and Design Lab" to begin in a few minutes. Actually volunteering wasn't too bad despite my totally arthritic hip (which has given me a bad limp in recent months and has definitely put a crimp on my mobility) because I was given desk jobs. (I worked the front desk on the first floor the first two times and I worked the fourth floor this final time today.)

Last night I attended the Artists' Social. I met someone whom I had volunteered with on a previous shift and I also met up with other people whom I had met at other Artomatic events. What was cool was that I sold two of my photographs to someone who loved by two robot photos (one of the Toyota Partner Robot and the other of the Honda Asimo—both taken at a Japanese cultural festival at the Kennedy Center a few months ago).

I'm looking forward to attending Artomatic tomorrow night–they are having the first-ever Art in Fashion show, which is supposed to have fire as the theme. From the way this event is being hyped, it sounds like Project Runway on steroids.

Well, anyway, I gotta wrap this entry up and head off to tonight's workshop.

More Artomatic Videos, June 21, 2008

I shot and posted a few more videos at Artomatic before it ended last Sunday but I've only gotten around to blogging about it now.

First is a video of my own exhibit, which was displayed on the 7th floor next to the men's bathroom.

Next is a video of a couple of interactive exhibits that were done by other artists.

I previously videotaped the Peeps artist reception where I spoke with prolific Peeps diorama artist Carl Cordell. At the time he was working on a fourth diorama, "The Day The Earth Stood Peeped", that wasn't ready in time for the reception. I kept on going to the Peeps area for the next few weeks but the diorama didn't make its appearance until last Saturday, the day before the last day of Artomatic. I made a short video highlighting that diorama.

I did a three-part video about the Art in Fashion show, which was the closing event of Artomatic. (It was held the night before Artomatic's final day.) It highlighted fashions created by fashion designers in the Baltimore-Washington, DC area. I had fun attending this because I'm such a fan of Project Runway and I had never seen a fashion show in person before.

After the fashion show ended, there was a big party that included all kinds of activities. I videotaped some of it but I was running out of battery power by that point so I didn't film as much as I wanted to. But it should give you an idea of what it was like. (Some parts of this video are definitely NSFW because it includes scenes of body painting on partially or fully nude bodies.)

Well, anyway, that's it for the Artomatic videos.

Visiting the Artomatic Site for the Last Time, June 21, 2008

I had successfully sold yet another photo to someone and he and I agreed to meet at the Artomatic site today. After the transaction was made and he took his newly-purchased photo with him, I took down my exhibit. I felt wistful as I did it but, as the old saying goes, all good things must come to an end.

Goodbye For Now, June 23, 2008

Now that Artomatic is over and I've picked up my artwork from the site, it's time for me to say goodbye to this blog until the next time I decide to participate in an Artomatic.
Three months after I wrote that last farewell Artomatic post, I underwent a hip replacement followed by physical therapy that lasted until well into 2009. In early 2011 I suffered two falls within a week that knocked my hip replacement out of alignment so I had to undergo hip revision surgery followed by more physical therapy. Right now my hip is doing fine. <knock wood!>
Next in This Series
Yesterday I celebrated Halloween and it was mostly good. It fell on a Saturday this year and it was also the day when Daylight Savings Time formally ended so we had to set our clocks back one hour. Which means that everyone got an extra hour of sleep, which was perfect timing because people could attend Halloween parties on a Saturday night knowing that they can sleep one hour more than usual.
When I was growing up, Halloween decorations were limited mainly to window decals and paper decorations that one can post on the front door. It's just so amazing to me the amount of stuff that one can buy nowadays in order to decorate. Right now I'm starting to think that Halloween will eventually rival Christmas for the most over-the-top decorations that one can purchase for the home. Here are some incredibly decorated Halloween homes that I saw.
The next few photos showed this house in Bethesda, Maryland that was really decorated with these really cool looking lawn decorations. I wasn't able to get any night shots of this house but one can only imagine that it must look just as fabulous (if not more fabulous) as in the daytime when I took these photos.
One night, shortly before Halloween, I was in the process of walking to a meeting at a local church in Greenbelt, Maryland when I came across this lit scene in someone's yard that looks like there's a graveyard.
The headstones all contain amusing puns that reminded me of the ones at the Haunted Mansion ride in Walt Disney World.
There was even a spotlight featuring Halloween images that were shown on a nearby building in the background.
A few days later I revisited that house in the daytime and I found that there were even more details that were better viewed when the sun was up.
There was another house in Greenbelt, Maryland that also had some interesting Halloween decorations on the front lawn.
Then there was this house, also in Greenbelt, Maryland, that had a bunch of Halloween decorations on the front lawn.
The next few photos show this home that belong to some friends of mine who throw a really awesome Halloween party every year and I make an effort to show up. They really go all out for the decorations, as you can see in the next few photos.
I didn't take too many interior shots inside their home mainly because I was busy drinking and socializing. My sole photo was one where I messed around with the Hatsune Miku app on my phone for the first time in many months. I took a photo of the virtual pop superstar in my friends' living room at the party.
As I left the party I noticed that one of my friends' neighbors had these really cool looking carved pumpkins.
Compared to other people, my home is relatively sparse in terms of Halloween decorations. I live alone these days so, for me, it doesn't make sense to do a huge amount of decorating on my front lawn because it can get pretty expensive and some of them can also be big electricity suckers. I did some effects that were low-cost. For example I delayed cutting the dead bunch of black-eyed susans so I had the effect of dead weeds growing in my front yard on Halloween. I've seen decorations that resemble dead weeds on sale but I thought it was cheaper to just delay gardening for a while so I would have some real dead and dried plants.
Last year I didn't bother with carving jack o'lanterns because my oven broke and I didn't have enough money to hire a repair person. On Black Friday of last year I purchased an Oster convection oven at Target for $40, which was a perfect stop-gap for me since I'm only cooking for myself these days. The sole snag is that the convection oven broke a week before Halloween. By that point I had purchased one pumpkin from Clark's Elioak Farm and I really wanted some roasted pumpkin seeds this year. I ended up going to Best Buy where I purchased a Black and Decker convection oven for $75. (Note for self: Never purchase any major appliances with a super cheap sales price on Black Friday from a big box retailer ever again.)
In any case I managed to get my new oven put up and I even purchased a second pumpkin just in time for Halloween. Here are my two carved jack o'lanterns.
Here is what they look like at night. In one of them I put in an electronic light that turns the pumpkins a variety of different colors, which creates a very cool effect.
In the other pumpkin I put in a lit candle.
Otherwise, there was very little difference between how I decorated my home this year and last year. Unlike last year I went back to my usual practice of waiting until the day before Halloween before I put the decorations outside. I still have memories of last year when I decided to put my decorations outside a few weeks before Halloween and someone stole this rubber bat that I've had for many years. (I'll admit that it's not like the bat was very valuable. It was something that I won at an office party when I was employed by one of my former jobs a number of years ago and I've used it as a Halloween decoration for years afterwards. It's annoying that someone decided to steal it.)
I'll leave the decorations up until Tuesday since today and tomorrow is the Day of the Dead holiday in Mexico and, like Halloween, this holiday deals with skeletons, ghosts, and the afterlife.
A temporary Halloween store had opened in the nearest mall in my area. There were a variety of costumes available for sale including sexualized female versions of Spider-Man, Captain America, the Scarecrow from The Wizard of Oz, the Care Bears, and even Alice in Wonderland. There were also all kinds of Halloween decorations that one could buy.
I ended up purchasing this hat that resembled Grumpy Cat for only $10.
I also went to Behnke's Nurseries, which had a bunch of pumpkins, gourds, and other types of Halloween decorations on sale. It was the same store where I purchased my second pumpkin to join the other one I purchased from Clark's Elioak Farm just a few weeks earlier.
Talk about mixing the holidays up! The foreground had Halloween decorations while, if one looked in the background to the left of the Halloween display, you'll see a Christmas angel that has just been erected on one of the store's doors.
This year I decided to go as Grumpy Cat as I wore my new Grumpy Cat hat. As for the rest of the costume, I paired it with this My Little Pony Rainbow Dash hoodie that I purchased a few years ago. I was inspired to do this after seeing my Facebook, Twitter, and Instagram feeds being flooded with images of Grumpy Cat being dressed in a variety of different costumes such as ship captain, jester, pirate, and two Star Wars characters—Yoda and Princess Leia. I printed up three signs based on slogans I've seen on various Grumpy Cat memes. I wore this outfit to a Halloween dance that was held in my church on October 30 and the Halloween party that my two friends threw on Halloween the following night. I had a lot of positive responses to this although there were a few less-Internet savvy friends who didn't understand the joke.
Other years I've seen Halloween Peeps shaped like ghosts, jack o'lanterns, and black cats. This year I saw something that I hadn't seen before—Peeps shaped like cemetery headstones
Since I had planned on attending two parties on two consecutive nights, I decided to bake some cookies using my recently purchased convection oven. I purchased the sugar cookies from Aldi (it was the store's version of the Pillsbury cookies where you horizontally slice a long vertical piece of dough and you get special cookies with pictures on them). I purchased enough to make two batches, one for each party. The cookies were well received in both places. Here is what the cookies looked like.
This year I gave out special mini packages of Snyder's of Hanover pretzels which had a colorful cute monster design on the front package. The only downside that only a total of 10 trick or treaters showed up at my doorstep this year. I was glad that I only purchased one package of the special pretzels so I don't have to deal with too many leftovers. I'm also glad that I didn't buy candy because I would've had to deal with getting rid of it without eating so much of it.
I received so few trick or treaters that I decided to quit giving out treats early and walk over to my friends' home for the Halloween party. I really enjoyed myself even as I drank hard root beer for the first time in my life. (I never knew that there was such a thing as alcoholic root beer.) I then drank hard cider. At one point my head was feeling woozy so I walked past this couple and I started to wonder if they were that Backstabbing Couple From Hell (a.k.a. my ex-husband and the so-called "friend" he left me for and subsequently married soon after the divorce was final). I wasn't 100% sure because everything was dark and there were a lot of people there. I decided to ignore my paranoia and stick around. I was glad I did because I was busy socializing with people.
At one point I was feeling tired and woozy from the alcohol so I decided to go to the bathroom then walk back home. (I was so glad that I decided not to drive this year.) I ran into a guy who recognized me from the support group meetings for people who were separated or divorced. (He's also friends with the people who threw that party.) We met while I was leaving the bathroom and he was waiting in line to use the bathroom. He told me "I can imagine you feeling awkward with your ex-husband there." I turned around and I found that there was my ex in the next room and I realized that I wasn't in some kind of an alcohol-fused hallucination. Those people were actually there. On that note I decided to walk home.
The next day I overslept and missed church. I was feeling a bit hungover so I just went to a nearby coffeehouse and worked on this post. So that's it for Halloween 2015.
I attended the third annual Maker Faire that took place in Silver Spring, Maryland recently. I didn't arrive until late in the day because I had something I needed to help my church with earlier. It was still pretty crowded all the way until the official 5 p.m. closing time. There were robots, jewelry, science exhibits, and all kinds of 3D printouts.
Makerspace 125, the local STEM center located in Greenbelt, Maryland, is currently looking for donations so it could fund a mobile van that would go into neighborhoods where people (especially kids) are unable to travel to Makerspace 125 itself. As you can see in the next few photos, that table was very crowded.
I was able to see many exhibits by other people without having to push through crowds first.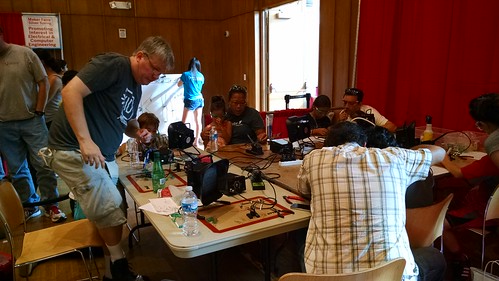 I even ran into the same 3-D printed Edgar Allan Poe as what I saw a few weeks earlier in Baltimore that was done by We The Builders. (And it was also the same project that was publicly announced way back in May when these people were looking for help from people with access to a 3D printer.)
I'll end this post with a short video I shot, which started with a robot doing a few push-ups along with some other funky moves and ended with this clock-like structure that was moving around in a loosely defined circular motion.
I know it's fall and Halloween is coming in a few weeks and Thanksgiving will arrive the following month. That means that candy corn arrives in the stores for people to buy and consume. So I wasn't surprised when I found this during a recent visit to Wegman's.
Sometimes I'll see a variation known as Indian corn. The colors are darker than the usual candy corn but, to me, it tastes the same.
But then I found these candy corn flavors that I had never heard of before like caramel candy corn.
Or blackberry cobbler candy corn.
I thought that having unusual candy corn flavor was Wegman's way of sticking out from the competition until I went to a nearby Five Below store and found these two packages of Brach's candy corn.
Caramel apple candy corn and apple pie candy corn?!? Those flavors are definitely new to me. (LOL!)
This type of candy innovation isn't just limited to candy corn. I also found this at Five Below.
I've never heard of bubble gum flavored marshmallow before. On top of it, there was a time when I only saw the Peeps chicks on sale at Easter. It's unusual for me to see Peeps chicks on sale in the fall.
For the record, I didn't buy any of the photographed candy during that trip. I may or may not sample a few of them at a later time depending on my mood or if I'm into defying my therapist's frequent advice to focus on healthy eating and exercising. (LOL!)