You are currently browsing the tag archive for the 'jukebox' tag.
On the Saturday during the Fourth of July holiday weekend, I decided to check out this toy show that was being held at the Maryland State Fairgrounds.
It was such a feast for the eyes as the toys and various other vintage items were displayed at various vendor tables. The whole show took on the air of a flea market with an emphasis on vintage stuff dating anywhere from the 1900s to the 1990s.
Someone had a jukebox for sale, which reminded me of my childhood when many of the local restaurants had them and people could choose songs to play for about a quarter each.
The jukebox played music during the entire event. (Which proved that it definitely still worked.) I couldn't help taking pictures of the songs that were available on the jukebox. The majority of them were hits when I was a kid.
And speaking of music players, here's a vintage 8-track player with an Elvis Presley 8-track tape. I once had a stereo system that included an 8-track player but I never owned one like that. But I could've sworn that one of my friends or maybe one of my cousins had a player just like that but I don't know for sure. (Memory is one of those funny things where you remember something but you don't remember when, where, or how you remember it.)
Late last year I did a series of blog posts with accompanying photos known as A Tabletop Christmas (so-named because I limit my Christmas decorating to just a single tabletop in my living room). Among the items I showed off was a small plastic Santa Claus puppet that I've had since I was a child. I didn't know anything about the origins of this puppet. It wasn't until I went to the toy show when I saw a tiny plastic Santa puppet on sale that's identical to mine.
The only difference between the two is that this Santa still had its label at the base while mine doesn't have any labels at all. (I suspect that whatever label it had must've fallen off a long time ago.) My Santa puppet is currently stored in a box with the other Christmas decorations in the attic but here's a picture of my Santa puppet that I took last December.
At first I thought the animal in the next picture was a stuffed animal until I saw the dog move his eyes around. He laid there the entire time I was at that show.
This show also had examples of how the mighty had fallen. I found this book by disgraced former Fox News talk show host Bill O'Reilly on sale for only $1 at one of the tables. (LOL!)
There was one token of something new that I found. Someone was selling glow-in-the-dark versions of the hottest toy of 2017: Fidget Spinners.
By the way, you can check out a video I shot recently where I unboxed and played with one of those Fidget Spinners for the first time (and, no, the one I bought didn't glow in the dark).
Everywhere there were visual treats, many of which harkened back to my own youth.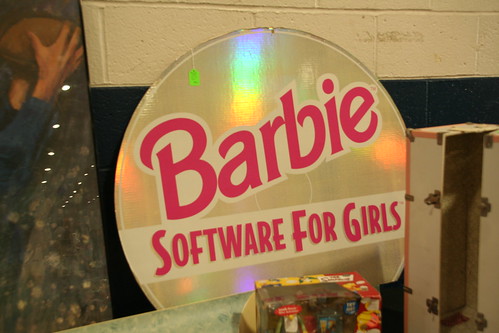 As I was walking back to the light rail stop I shot this photo of The Cow Palace building because it had a nice small garden.
I didn't buy a lot of stuff at that toy show due mainly to tight finances. But I managed to snag a couple of things at bargain rates. I found the second season of The Simpsons DVD set for only $6.
I bought a Monster High doll for only $5. I was attracted to her pretty winter-themed clothes. At first I thought I may have purchased a relative of The Snow Queen until I did an online search and I was able to make a definite identification. Based on this web page, her name is Abbey Bominable and she's described as the 16-year-old daughter of the Yeti.
Here's a closeup of her hair, which looks like it has glittery plastic pellets weaved throughout the strands. It gives a really cool ice/snow effect, especially when the light reflects off of her hair.
Like I wrote in my last entry, this year I attended three out of four days that the 2014 Greenbelt Labor Day Festival took place. There was a good reason why I didn't attend the second day of the festival.
I recently took part in the month-long Station North Arts District Salon Show in Baltimore and it had just closed on August 29. The following day, August 30, was the day that the organizers urged us to come pick up our art and/or any money for any pieces that sold from 12-3 p.m. We were also instructed to pick up our art directly from the venue that housed our pieces. So I went back to the Station North Arts Cafe one last time to pick up my two pieces. (No, they didn't sell.) Unlike a few weeks ago, I ate lunch at home and I basically picked up my pieces from the cafe then left. On the way to and from the cafe I took some more photos of some of the interesting murals and other sights in the area.
At one point I got back in my car and drove just a few blocks further north into Charles Village.
I had learned about something interesting that I first learned about through the Roadside America website. This thing definitely stands out when you are across the street from it.
It's a giant pencil that sticks right through the outside wall where Dawn's Office Supply Company is located.
I was only able to get a glimpse through the front windows because Dawn's Office Supply Company is one of those old-school office supply stores that are opened only on Monday through Friday during regular business hours and I was there on a Saturday afternoon. (Dawn's Office Supply Company does have an online store that people can shop 24 hours a day, 7 days a week.) I know that this may be hard for younger people to believe but there was a time (before the creation of big box office supply retailers like Staples and OfficeMax) when office supply stores kept hours that coincided with average corporate business hours and they were closed on evenings and weekends. I still have memories of the time when I was either in the 12th grade or my freshman year at Anne Arundel Community College when I had to go to the nearby office supply store in Glen Burnie for some reason and I arrived at around 6 p.m. only to find that the store had already closed for the day. It's such a throwback to find an office supply store that still keeps traditional business hours.
Here's a photo of this nice wood dresser that's on sale at Dawn's Office Supply Company.
Directly across the street from Dawn's Office Supply Company is this building that was once a car dealership and this concrete arch still has the Cadillac name inscribed in it.
That former Cadillac dealership location is now a Safeway supermarket.
The next two photos show some of the interesting architecture in the Charles Village area of Baltimore.
Before I went trudging around Charles Village I parked my car near the giant Easter Island statue that I visited previously and wrote about in a previous blog post.  Like the Dawn Office Supply Company's giant pencil, I also learned about this statue through Roadside America. I decided to take a couple of additional photos because I last visited that statue prior to a major rainstorm and the weather was a little bit nicer. (That day it was cloudy with a moderate amount of humidity but the temperature was still low enough that it made walking outside pretty bearable.)
Even the giant wall mural that's located near the statue appears more colorful and with more details in brighter weather.
After my brief jaunt through Charles Village, I got back in my car and decided to drive to my original hometown of Glen Burnie. I took the local roads instead of the highway because I was in the mood for some pleasure scenic driving. At one point I had to go to the bathroom so I stopped at a Guitar Center so I could use the restrooms.  I browsed that store long enough to take a quick photo of this really interesting looking travel guitar that's supposedly small enough to pack in a suitcase yet has the same sound tone as the bigger guitars.
I basically drove to Crabtowne USA, which I had previously visited just a few weeks earlier.
There were two main reasons why I wanted to take advantage of being in the Baltimore area by making a special trip to Crabtowne USA. One was that I wanted to try eating the food there to see what it was like. The other was to check out its massive collection of vintage pinball machines and video arcade games from the 1970's, 1980's, and 1990's—many of which can still be played for the low price of just one quarter.
The first thing I did was order this crab cake sandwich with French fries and a diet soda. That meal tasted very good.
I also noticed that there was a vintage 1970's jukebox that still worked. (I saw customers select the songs.) Most of the music was 1970's era songs.
There was even a sign saying that this jukebox is currently for sale for $595.
I took screenshots of the games that I actually played after dinner. First I played the video game Carnival, which is basically a glorified video shooting gallery.
I was delighted to find this Root Beer Tapper variant, called simply Tapper, which has the Budweiser logo and plays the Budweiser ad jingle at various times throughout the game. The Budweiser themed Tapper was originally meant for bars while the all-ages friendly Root Beer Tapper was meant for shopping mall video arcades and other places where kids are more likely to hang out at. Except, for some strange reason, I remember when I was attending the University of Maryland at College Park and the nearby mall, Beltway Plaza, actually had the Budweiser-laden Tapper variant clustered with a few other video games (like Pac-Man) near the movie theater entrance instead of the Root Beer Tapper version. In fact, I didn't learn that there was a Root Beer Tapper version until years later when I had gotten a Sony Playstation 2 and I had purchased one of those classic arcade game compilation titles called Midway Arcade Treasures and that had the Root Beer Tapper version along with video clips explaining how there were two versions of this game. These days if you want Tapper for your mobile device, your only option is Root Beer Tapper. This is why I was so pleasantly surprised to find the Tapper game with the Budweiser logo.
Crabtowne USA also had a Baby Pac-Man video game. I vaguely remember maybe one or two places near the University of Maryland that had this game but it didn't last long. After playing a few rounds I realized why. This game is a combination of a video game and a pinball machine and you have to play the video game part first before you can even play the pinball machine part. That game was also so hard to play that I never made it out of the video game part and I gave up on it out of frustration. According to the Wikipedia, Baby Pac-Man is the rarest of all the Pac-Man sequels that were ever released in the United States by Bally-Midway.
I also played Arkanow, which is basically a clone of Breakout except that it improved on the original concept by the opportunity of making your paddle longer or being capable of shooting lasers (among the improvements). In a way, I've long preferred Arkanow to Breakout because of these improvements.
I also played Popeye, a Nintendo arcade game that was once popular back in the day but it's one that's harder to find than, let's say, Donkey Kong.
Thanks to Crabetowne USA, I now know that Popeye wasn't just a video game. There was also a Popeye pinball game as well. I found that machine to be pretty cool with the boat shaped wall near the flippers.
I also played this pinball machine that's based on The Simpsons and it had some pinball bumpers shaped like the nuclear power plant where Homer Simpson works.
I also played Eight Ball Deluxe pinball because it brought back some college memories. It was one of the early talking pinball machines where a man's voice would say stuff like "Stop talking and start chalking!" I have this one college memory of a woman whom I knew at the time who was incredibly thin-skinned and could be prone to anger (she told me several times that she was an abused child when she was younger). She played Eight Ball Deluxe and every time she lost she would get angry and kick the machine. Luckily I attended a large university with over 30,000 students so I had no trouble with distancing myself from her after that incident.
I also played Mario Bros. for old time's sake.
I also played Gorf as well. That game was among the most memorable because it combined Space Invaders with a few other games and I also remember that robotic voice very well.
I ended my time at Crabtowne USA by playing Mappy. Even though I have that game on my iPad and on the Playstation 2 video game compilation Namco Museum 50th Anniversary Collection, I found it pretty refreshing to be able to play it in its original arcade console form.
There were other games that I would've loved to play (such as Donkey Kong) but they were among the ones that were currently out of order. That's one thing about having an arcade consisting mostly of machines that are at least 20 years old or more: they tend to break down more often and, when they break down, it can take longer to find the necessary parts or the person who's skilled in repairing such a machine.
I finished my time in Glen Burnie by checking out this new store that had opened in the shopping center that's near the neighborhood I grew up in. It's called Gabe's and I had never heard of that store. I became curious because it moved into a space that was once occupied by Walmart (which moved into Glen Burnie after I permanently left by opening that store, then opening an even bigger store located in the same town about 10 miles away, while finally deciding to close the smaller of the two stores). I walked in and found that it's one of those big discount places similar to Big Lots, T.J. Maxx, Marshall's, or Roses.
I didn't stay in Gabe's very long. After that visit I just got in my car and returned home.