You are currently browsing the tag archive for the 'hedgehog' tag.
On the Saturday during the Fourth of July holiday weekend, I decided to check out this toy show that was being held at the Maryland State Fairgrounds.
It was such a feast for the eyes as the toys and various other vintage items were displayed at various vendor tables. The whole show took on the air of a flea market with an emphasis on vintage stuff dating anywhere from the 1900s to the 1990s.
Someone had a jukebox for sale, which reminded me of my childhood when many of the local restaurants had them and people could choose songs to play for about a quarter each.
The jukebox played music during the entire event. (Which proved that it definitely still worked.) I couldn't help taking pictures of the songs that were available on the jukebox. The majority of them were hits when I was a kid.
And speaking of music players, here's a vintage 8-track player with an Elvis Presley 8-track tape. I once had a stereo system that included an 8-track player but I never owned one like that. But I could've sworn that one of my friends or maybe one of my cousins had a player just like that but I don't know for sure. (Memory is one of those funny things where you remember something but you don't remember when, where, or how you remember it.)
Late last year I did a series of blog posts with accompanying photos known as A Tabletop Christmas (so-named because I limit my Christmas decorating to just a single tabletop in my living room). Among the items I showed off was a small plastic Santa Claus puppet that I've had since I was a child. I didn't know anything about the origins of this puppet. It wasn't until I went to the toy show when I saw a tiny plastic Santa puppet on sale that's identical to mine.
The only difference between the two is that this Santa still had its label at the base while mine doesn't have any labels at all. (I suspect that whatever label it had must've fallen off a long time ago.) My Santa puppet is currently stored in a box with the other Christmas decorations in the attic but here's a picture of my Santa puppet that I took last December.
At first I thought the animal in the next picture was a stuffed animal until I saw the dog move his eyes around. He laid there the entire time I was at that show.
This show also had examples of how the mighty had fallen. I found this book by disgraced former Fox News talk show host Bill O'Reilly on sale for only $1 at one of the tables. (LOL!)
There was one token of something new that I found. Someone was selling glow-in-the-dark versions of the hottest toy of 2017: Fidget Spinners.
By the way, you can check out a video I shot recently where I unboxed and played with one of those Fidget Spinners for the first time (and, no, the one I bought didn't glow in the dark).
Everywhere there were visual treats, many of which harkened back to my own youth.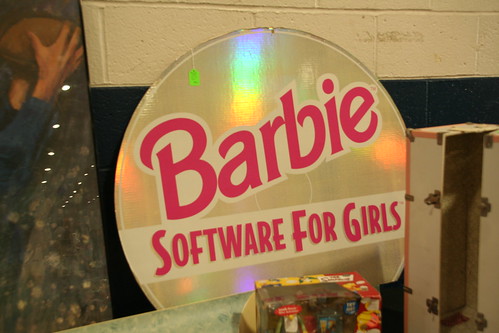 As I was walking back to the light rail stop I shot this photo of The Cow Palace building because it had a nice small garden.
I didn't buy a lot of stuff at that toy show due mainly to tight finances. But I managed to snag a couple of things at bargain rates. I found the second season of The Simpsons DVD set for only $6.
I bought a Monster High doll for only $5. I was attracted to her pretty winter-themed clothes. At first I thought I may have purchased a relative of The Snow Queen until I did an online search and I was able to make a definite identification. Based on this web page, her name is Abbey Bominable and she's described as the 16-year-old daughter of the Yeti.
Here's a closeup of her hair, which looks like it has glittery plastic pellets weaved throughout the strands. It gives a really cool ice/snow effect, especially when the light reflects off of her hair.
I recently checked out the grand opening of a new place in College Park, Maryland called SCETA Japan Center and, as part of the festivities, they held a Little Japan Festival. Okay, I'll admit that it's a far cry from a massive anime convention like Otakon but it was still a pretty nice occasion (and the fact that the weather was pleasantly sunny with low humidity helped). Here are my photos from that event, starting with the building itself.
There were all kinds of Japanese language books on display, including this one on hedgehogs (which brought back memories of the time when I once had a pet hedgehog named Spike).
Here are a few miscellaneous cute items I found throughout the building.
This next photo shows a backdrop that was set up for anyone to take pictures.
Someone saw me take that last picture and told me what it was. She then offered to take my picture with my own smartphone and I obliged despite my one skinned knee (which I obtained the day before when I fell as I was leaving the Hon Fest in Baltimore).
There was also a special Japanese Arts and Crafts Edition of the board game Monopoly that was written in both English and Japanese on display.
The last photo shows the free stickers and buttons I received that that event.
SCETA Japan Center is dedicated to teach Japanese as well as providing information about Japanese culture and tradition. Check out the website for more information.
One Saturday I decided to check out three different festivals that were all being held within a five mile radius on the same day. The weather was very pleasant. (It was sunny in the low 70's with low humidity.) The first festival I decided to check out for the first time is the annual Port Towns Festival that's held in the Bladensburg Waterfront Park in Bladensburg, Maryland. I thought that it would be a relatively small festival only to be pleasantly surprised when I found that it was larger than I anticipated. There were rides and all kinds of vendors that were located right along the banks of the Anacostia River.
Next I drove over to nearby Hyattsville, which was the site of the annual Hyattsville Arts Festival. That festival seems to get bigger each year with more and more people attending. I ended up parking at the parking lot next to Franklin's Restaurant a block away. A portion of the Anacostia Trail runs right next to the parking lot, which had a sign pointing the way to the festival.
Walking along the trail led directly to the area where the festival took place.
There were many vendors selling all kinds of handcrafted goods as well as different music acts.
There was even a place where people were invited to draw icons.The idea was to draw something then hand it in along with your name and e-mail address. Then the organizers of this activity would e-mail an icon based on your own drawing.
I decided to take a stab at this activity, which resulted in this drawing. I drew a hedgehog and it's based on similar drawings I've done in the past (back when I still lived with my late pet hedgehog, Spike).
The organizers of that activity really praised my simple drawing and were talking about how much they loved it. As of this writing I have yet to receive my icon based on that drawing. If and when these people get around to e-mailing my icon, I'll post it in this blog for you to see.
After a while I decided to drive over to the third and last festival of the day. The Greenbelt Blues Festival was in full swing and, as you can guess from the name, it was devoted to a variety of musical acts performing various blues songs. This year's festival was devoted to B.B. King, who passed away a few months ago, so I heard plenty of covers like "The Thrill is Gone." The last few photos show just one of the many musical acts who performed that day.
The week of June 21-26 was a bittersweet one for me because I had to say good-bye to two different women who are exiting from my life physically in two different ways for different reasons.
June 21 was the last Sunday service that our outgoing minister was taking part in before leaving her job with our Unitarian Universalist congregation due to health reasons. (She suffered a stroke on Good Friday of last year. While she managed to survive it, she became paralyzed on her left side. Our congregation tried to fill in with visiting ministers and lecturers through the rest of the spring and summer in the hopes that she would be able to resume her job by September. When her recovery was far slower than we hoped, we decided to hire an interim caretaker minister for one year in the hope that she would be fully recovered by then. But then she reached this plateau in her physical therapy and it became apparent that she would either never make a full recovery or it may take several years for her to make some kind of a recovery. In the meantime the interim caretaker minister had expressed his desire to return to retirement when his one year of service was up. Our minister decided that it would be best for everyone concerned if she would resign so she could continue to recover at her own pace without having to deal with a deadline and our congregation can look for a new minister who could handle the full duties that our outgoing minister was unable to perform because the stroke had left her with chronic fatigue.) I think it's sad that it had to happen but I think it's the best decision for everyone given the circumstances.
A few weeks before her last Sunday service, some members of the congregation decided to organize a memory book where people could write letters, insert drawings or photographs, or any other items that the minister would appreciate. The Sunday before that last service, I did this Zentagle doodle with a short message in the middle.
The message in the middle basically reads as follows.
Lots of memories. Too many to put on a single page. I remember the pleasant chats we had before the stroke. I also remember when I ran into you and Don [the minister's husband] at the Black Lives Matter March in Washington, DC in December, 2014. Best wishes as you recuperate from your stroke and figuring your future career path.
I basically worked on my quick masterpiece during the annual All-Congregational Meeting that was held after Sunday service while listening to the items on the agenda.
The following Sunday I showed up for what would be the minister's last Sunday service before she stepped down. While she did a decent job of doing the readings and the sermon, I understood why she felt the need to leave. Her left side is still paralyzed. When she first suffered the stroke, her entire left side was paralyzed. Thanks to speech therapy she was able to regain the ability to talk but, otherwise, she couldn't move her left arm or leg. When she was at the pulpit I noticed that her left arm was tucked in a black elastic sling and she required the use of a really steady walking cane that had four legs (instead of a normal average walking cane with only one tip at the end of a long stick).
It was a sad occasion that was made more melancholy for me by the fact that my ex-husband had made one of his rare appearances at church. (His church attendance has gotten more sporadic since he left me. Not that I'm complaining because I'd prefer that he doesn't show up because these days I can't stand to be in the same room with him. If he was to start attending church more often, I would seriously consider quitting that congregation altogether.) I only put up with it because it was the minister's last Sunday service because, otherwise, I would've walked out the minute he entered the church building. There was a lunch reception following the Sunday service. I had thought about skipping it because I really didn't want to share the same space with my ex any longer than I had to. It turned out that when the Sunday service ended, he talked with a couple of people for a while then he left before the reception began. I was totally relieved that he left. I still have a lot of recent ugly memories of what he did to me over the last three years and it has seriously colored my attitude towards him because when I look at him, all I can think about is the way he walked out, the e-mails and texts demanding that I adhere to his own separation schedule, and how he decided that he not only had to hook up with a friend who's struggling with severe mental illness but he had to marry her ASAP.
I'm glad my ex-husband left because I got to eat the excellent lunch (they even had enough leftovers that the organizers begged people to take the extras home so I'm able to stretch my food budget a bit further for the next few weeks) followed by cake. There were two cakes in two different flavors.
I had two small pieces of each and I found them to be very tasty.
A few days later I went to another farewell event. The good news was that the person who's leaving is in good health and it was also an event that I didn't have to worry about my ex-husband showing up. This event was for a woman whom I met through my support group for people who are separated or divorced.
This woman was someone who had started to attend meetings long before I did and she eventually wended her way up to volunteer facilitator. (Here's a brief explanation for those who have never been involved in any kind of divorce recovery work. Our group begins each weekly meeting with a trained mental health professional who would lead a short discussion on a different topic dealing with a certain aspect of the separation/divorce experience ranging from dealing with anger to trying to coparent children with an ex to dating after a divorce. After that discussion, the larger group breaks into two or three smaller groups—depending on the attendance that week—where each of the small group meets with a volunteer facilitator where that facilitator reads a prepared question and we discuss that question. A volunteer facilitator is someone who initially started attending the group as a newly separated or divorced person and has decided to use his/her experience to help others. That facilitator receives special training on how to deal with an attendee in a small group session.)
I was grateful that I met that woman as a volunteer facilitator when I first started attending weekly meetings because I was a total nervous wreck. My husband had abruptly walked out on me without ever indicating that he was unhappy and he had previously been caring and loving towards me until the night he left. When I listened to other people's stories, I initially felt like a freak because other people had spoken about how their marriages had gradually broken down over a period of months or even years until one or both of the partners decide that he/she/they has/have had enough and simply break up. In some cases they had separated then reconciled only to separate again because the same problems kept on appearing. In my case, my separation was so abrupt that for a time I thought my husband had cracked under the recent stresses (stemming from his mother's sudden death in 2010, the frequent trips to and from Phoenix so we could deal with her belongings, my hip injury in early 2011, my hip surgery later that year, the stresses of his job, and taking on a volunteer position as Church Treasures that was even more stressful on him). It took me a month before I learned the real reason why he left me and it was another woman whom I thought was a friend of mine.
But then this woman started talking about how her marriage failed and it was nearly identical to what happened to me. I can't really elaborate further on the details of her story because of the group's strict confidentiality rules but she admitted that she was a total nervous wreck when she first started attending the meetings and she was frequently in tears during the meetings. It took her a long time before she started to feel better about life in general and she didn't cry as often.
I began to realize that if that woman can turn her life around from what happened to her, I can too. Thanks to her I knew that it was going to take a long time because of the abrupt way that my marriage ended but eventually I was going to turn my life around like she has.
Recently I learned that the woman, who was already retired from her job, had decided to move to Florida. The organization decided to throw a farewell party at the Greene Turtle Lounge in Columbia. I decided to attend because I really wanted to show my appreciation to her for what she said to me during the early days of my separation when I felt totally hopeless and dejected.
I hadn't been to Columbia in a while so I decided to combine trips and go to other places on the way to and from the farewell party. I went to the Mall in Columbia briefly on the way to the party where I saw some cute items at Sears. There was a Hello Kitty/Baltimore Orioles onesie for babies.
There was also this really cool tye-dye Baltimore Orioles t-shirt as well.
When I arrived at the shopping center where the Greene Turtle Lounge was located, I saw this hamburger place located next door called Cheeburger Cheeburger which kind of surprised me. That's because for those of us who were alive back in the 1970's who watched Saturday Night Live, that name evoked this famous sketch starring the late John Belushi.
I finally arrived at the Greene Turtle Lounge. The area where the farewell party was held was very crowded with both current members and alumni. The next photo shows how crowded that area was.
I briefly said hello to the woman but I couldn't say anything else because there were so many people waiting to say their good-byes to her. I managed to sit at a table (far from the main table where the woman sat) with a few people I knew from the weekly meetings where I was able to partake of some happy hour specials. (I ordered a crab pizza flatbread appetizer and a Corona beer. The appetizer was so big that I didn't need to worry about ordering a main meal.) At one point the woman decided to leave because she had to prepare for her upcoming move. She came by our table briefly where we said out good-byes to her.
I had wanted to tell her about how her story about her own recovery from her sudden unexpected marital breakup had an impact on me because I felt that if she could recover from something traumatic and horrifying, I could too. But there were so many people there that I never got a chance to have any kind of deep conversation with her. The only consolation is that at least a lot of people attended her party so she was able to see for herself how much she meant to a lot of people and how much she will be missed once she moves to Florida.
I stayed for a while after the woman left but then the party began to thin out. While my fellow members decided to eat, drink, and socialize a bit longer, I decided to head out.
On the way home I decided to go to a store that I hadn't been to since the death of my pet hedgehog Spike in 2013. Today's Pet was among the pet stores that I used to regularly go to in order to purchase Spike's hedgehog food and I used to browse at the animals currently available for sale. Today's Pet was located just a couple of miles from the Greene Turtle Lounge so I decided to stop there on the way back for old time's sake and I even took a few brief pictures. Here are a couple of photos of some very colorful birds.
I saw these hairless rats, which looked pretty freaky. They looked like newborn mutant infants with long tails.
There were a bunch of bunnies who were more normal looking.
Then I came across the display of hedgehogs, which brought back memories of when I first took Spike home. While there are times that I still miss Spike, I've decided to put off looking for a new pet for the time being due mainly to financial reasons. Even if I was to get a new pet in the future, I'd think I would go with a different animal other than a hedgehog because I still remember Spike's less-than-friendly personality that was just as prickly as the quills on his body. I still couldn't resist taking this one photo though.
A few weeks ago I mentioned that I had another design in a Spoonflower sponsored contest, which this one focusing on hedgehogs.
My RoboHedgy failed to make it among the Top 10 but I got enough good feedback from my design that I decided to make it available for sale. You can now buy it as fabric, wallpaper, or gift wrap.
I also have another design on sale as well. You may recognize this one from a watercolor workshop that I attended a few weeks ago.
I liked the results of my attempt at watercolor painting that I decided to try selling that design on Spoonflower as well. Like RoboHedgy, Blue Crab is also available in three different product lines: fabric, wallpaper, and gift wrap.
I recently got a notice from Spoonflower that my entry in the recent Hedgehog contest, RoboHedgy, failed to make the Top 10 but it has made another cool list: It's currently listed among the 100 Designs: Recent Trends category and I'm pretty happy about it.

I have entered a design in Spoonflower's Hedgehog contest starting now and running until June 17. Here is my design, called RoboHedgy.
You can read the backstory on how I came up with this design here. Voting has just started and you can vote right here. For those of you who like other hedgehog designs besides RoboHedgy, you can vote for more than one design at a time. However, you can only vote on that site once. So I have this expectation of people willing to stuff the ballot box for RoboHedgy until the contest ends. (But, then again, there's a huge difference between expectations and reality. LOL!) So vote for RoboHedgy right here, right now.
Update (June 16, 2015): I found out that one of my friends, Penney Hughes of Blooming Wylde Iris Designs, is also in the same contest. The good news is that you don't have to choose whether to vote for her design or mine, you can vote for both of us. (Here is what her entry, Forget Me Not Hedgehogs, looks like.) You can also vote for any other hedgehog design that suits your fancy as well. Remember that June 17 is the last day to vote in this contest so if you haven't done so already, vote right here.