You are currently browsing the tag archive for the 'Greenbelt Theatre' tag.
Right now the big scandal is whether President Donald Trump was elected with a little help from his friend, Russian Premiere Vladimir Putin. Then-FBI Director James Comey was investigating the matter until President Trump abruptly fired him.
I could write a long separate blog post about this scandal except for the fact that there have already been so much written about this matter that anything I write here would be redundant. I'll keep this post short by saying that James Comey was subpoenaed to testify before the Senate on his investigation, which began at 10 a.m. on June 8, 2017. I live outside of Washington, DC so naturally this scheduled testimony became the big talk of the town. In fact, some of the local bars decided to open way earlier than usual so people can watch the proceedings live on the TV screens while drinking alcohol. (Only in DC would the bars do something like this for a Senate hearing.)
The Greenbelt Theater decided to get in on the action by opening at 10 a.m. so it can broadcast the proceedings on the big screen. (The big difference is that the theater doesn't serve alcohol.) I wasn't able to get to the theater right at 10 because I was busy getting ready for another job hunting-related event at the state-run Maryland Workforce Exchange that was being held at the Laurel office that afternoon. I managed to arrive around noon. I set the alarm on my smartphone because I could only devote a half-an-hour to watching this because I had to get to Laurel. It turned out that I arrived at the tail end of the proceeding and it ended after I was there for 20 minutes. I managed to take a few token pictures to give you an idea of what it's like to see something like this on the big screen.
In case you've missed it, you can read a summary of Comey's testimony right here.
April 8 was a pretty busy night. The local theater in Greenbelt, Maryland was among the numerous theaters nationwide who held a simultaneous screening of the film 1984. Before the movie began a group of local activists held a reading of Martin Luther King, Jr.'s speech "Beyond Vietnam" in honor of the 50th anniversary of that speech. (Ironically MLK gave that speech exactly one year before his assassination.)
By the way, if you're curious about the speech itself, you can read the text or you can hear Rev. King actually give that speech himself.
Sometimes I like to go to the cafe that's located inside of the Ikea store in College Park, Maryland. The food is reasonably priced and there's also free wifi. The last time I went I purchased this chocolate cupcake that was not only lovely to look at but it tasted good as well.
I saw a free puppet show performance that was held at the Greenbelt Theater that was put on by Beech Tree Puppets. They did a performance of a show called "Rainbow Crow Brings Daylight," which was based on Native American folktales. It was well-done and the puppets were awesome to look at.
Yeah, I know I said that I wasn't going to do anything online for the victims of the Orlando shooting last month because I've seen it all before. I softened my stance somewhat when I dedicated a Throwback Thursday to my memories of the many visits I've made to the Orlando metropolitan area. But that didn't mean I wasn't going to do anything in real life. It turned out that GreenBeLT Pride decided to put on its own local memorial for the victims of that shooting while the Greenbelt Theatre would show a free movie that very evening. Here are some photos I took of that event.
President Obama decreed that the flags all over the U.S. be at half-staff in memorial to those who were brutally killed and the Greenbelt City Hall complied.
The memorial itself was short and very moving as the candles were lit and the names of the victims were read out loud.
Greenbelt Mayor Emmett Jordan made a statement about the Orlando tragedy at that event.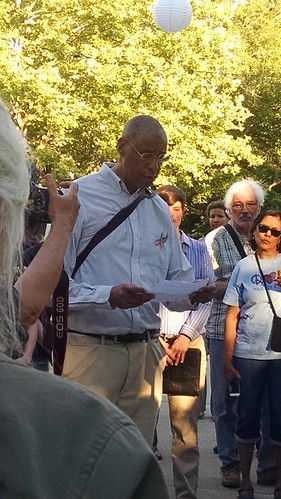 The Greenbelt Theatre had a free showing of the 2014 British film Pride, which was really very excellent. It's based on a true story about how some gay and lesbian activists took on the cause of the miners who were on strike when Margaret Thatcher was the Prime Minister. It was an inspiring film on how it's possible to soften hatred and prejudice against the LGBTQ community.
I attended this year's Greenbelt Mini Maker Faire in Greenbelt, Maryland but I didn't participate as a vendor this time around. It's due mainly to the fact that I got preoccupied by a variety of personal things that I missed the deadline to participate this year. That's okay mainly because I never really made much money at the previous Greenbelt Mini Maker Faires so it was no big deal for me to skip a year. This year it rained in the morning but luckily it stopped by about noon so it didn't affect the festivities very much. I basically enjoyed myself as I walked around taking these photos.
The historic Greenbelt Theatre looked pretty majestic against a bright blue sunny sky as it overlooked Roosevelt Center (where the Greenbelt Mini Maker Faire was held).
The kids enjoyed themselves with building things with Lego bricks outside of Makerspace 125.
There was some serious yarn bombing going on around Roosevelt Center.
All of the outdoor tables were topped with these pretty artificial flowers that looked very festive.
There was all kinds of maker activity that went on inside of Makerspace 125, which was the main organizer of the Greenbelt Mini Maker Faire.
A little memorial was erected to the late Greenbelt resident Eva Gresser, who was an avid knitter, which featured some of her knitting samples.
There was one 3D printer vendor that was present who demonstrated his product inside Makerspace 125.
There were plenty of outside tables in Roosevelt Center itself. Some were vendor tables selling handcrafted items while others were demonstrating various different types of making including arts, crafts, and gardening. Various live bands provided the music throughout the day.
There was a robotics demonstration that involves simulating the movement of a finger on a hand.
I even shot a short video so you can see how it moved. On the surface it may not seem like much but there were a lot of hours of programming that went into making that one finger move.
The last photo shows one of the many attendees at this year's Greenbelt Mini Maker Faire.
The Greenbelt Mini Maker Faire was one of two events that I attended that day. I'll write about the other event I attended in a separate post.
Last year I participated in the annual Greenbelt Labor Day Parade for the first time and I still remembered that it was a very hot and humid day. I did it on behalf of the Greenbelt Cooperative Initiative, which is trying to start a few worker-owned cooperatives. (At the time I was tasked with potentially starting a thrift store. When I had problems with finding affordable space, the group suggested that I try running a flea market instead. I not only found difficulty with finding an open space that people can easily access by car or bike or walking, but I would've had to deal with two layers of bureaucracy–mainly filling out tons of paperwork on both the local and county levels. I was working on my own to begin with and starting a weekly flea market was way too daunting a task to do alone. Plus I'm dealing with other issues in my life so I decided to resign.)
So this year I didn't have any parade-related responsibilities. There were a few groups who invited me to march with them but I ended up declining because the memories of the high heat and high humidity were still too fresh in my mind. So this year I brought a folding chair to the parade route and set it up in a shaded area. It wasn't too bad in the shade at first but, by the end of the parade, the heat had shot up (it ultimately climbed to the high 80's) so I was very happy that I didn't participate this year.
The parade consisted of different types of participants. There's, Solange Hess, who was named as this year's Greenbelt's Outstanding Citizen.
There are the police, firefighters, and military units (including ROTC). Some of them march carrying flags, some march playing musical instruments (like bagpipes), and some ride in the latest vehicles.
Then there were the beauty pageant winners. Not only were there people from the Miss Greenbelt pageant but there were also others from another pageant that took place in nearby College Park.
Then there are the various local businesses and community groups, such as the Greenbelt Elementary School PTA.
Greenbelt chapter of the Toastmasters.
Greenbelt Animal Control.
Local Girl Scouts troop.
Local Cub Scouts troop.
Greenbelt Boys and Girls Club.
The Eleanor Roosevelt Democratic Club.
The Greenbelt Interfaith Leaders Association.
The Mishkan Torah congregation.
Radio Communications.
The New Deal Cafe, which is currently celebrating its 20th anniversary.
The Greenbelt Theater and the Greenbelt Museum marched together.
The Greenbelt Food Bank.
The Greenbelt Arts Center
Wells Ice Rink, located in nearby College Park.
Members of the Greenbelt Climate Action Network (GCAN) and the Chesapeake Education, Arts, and Research Society (CHEARS) dressed up as butterflies and bees in order to raise awareness on the importance of pollinators. Other participants held signs announcing the various programs that GCAN and CHEARS run on a regular basis, such as the Greenbelt Time Bank, the Reel and Meal movie series, and various recycling programs.
There were even a fleet of electric cars in the parade, who were there to demonstrate green transportation.
There was a robot demonstration by members of the Eleanor Roosevelt High School Robotics Club.
Makerspace 125 had a float shaped like a steam engine in order to show its commitment to the STEAM movement.
St. George's Episcopal Church of Glenn Dale, Maryland marched in the parade.
There was an anti-abortion group.
The local anti-poverty activist group RESULTS participated.
The Communication Workers of America made a statement about its ongoing negotiations with Verizon.
The National Park Service participated.
Even the local Sunoco gas station participated.
The local realtors, Town Center Realty & Associates, Inc.
Then there were the various performers who were intent on putting on a good show all along the parade route.
Since next year is an election year, the candidates running for public office were out in full force. There was Donna Edwards, who is running for Senator.
There was Chris Van Hollen, who is also running for Senator.
There was Paul Pinsky's re-election campaign as Maryland State Senator.
There's Brian Frosh, who's running for Maryland State Attorney General.
There's U.S. Congressman Steny Hoyer, who's running for re-election.
There's Congressman Hoyer's rival, Kristin Beck, who hopes to unseat him in the Democratic Primaries next year.
There's Maryland House Delegate Anne Healey, who's running for re-election.
There's Maryland House Delegate Alonzo T. Washington, who's also running for re-election.
There's Sydney J. Harrison, who's running for re-election to the Prince George's County's Clerk of the Circuit Court.
There's Angela Alsobrooks, who's running for re-election as State's Attorney for Prince George's County.
There's Todd M. Turner, who's running for re-election to the Prince George's County Council.
This trio of cars signified the end of the Greenbelt Labor Day Parade.
Once the parade ended at noon, the last day of the Greenbelt Labor Day Festival started. I hung around the festival grounds after the parade ended because I needed to pick up my watercolor that I submitted to the Art Show but I had to wait until that show formally ended at 4 p.m. So I basically ate lunch, did some web surfing with the laptop that I brought with me, and uploaded a bunch of photos on my various social media account. A craft show was held on that final day so I browsed that as well while I took these photos.