You are currently browsing the tag archive for the 'Fidget Spinner' tag.
Recently I decided to take extensive photographs of a typical Toys R Us store mainly because late last year, just before Christmas, Toys R Us had filed for Chapter 11 bankruptcy. This month Toys R Us is closing a large number of its stores throughout the United States. Nearly three years ago I did an extensive post covering the two-month period that the Kmart in Greenbelt, Maryland conducted its going out of business sale. This time I decided to take a photo of a Toys R Us store that is NOT among the stores that are slated for closure because I wanted to provide sort of a time capsule as to what it was like to visit a Toys R Us store on a typical day when it was in normal operations.
The biggest irony about the upcoming store closings is that this year is Toys R Us' 70th anniversary. When I looked up Toys R Us' Wikipedia page I learned one interesting fact—that chain started its first store in the Adams-Morgan section of Washington, DC. That store, which was then-called Children's Supermart, was operating in a space that is now occupied by the iconic nightclub Madam's Organ Blues Bar. A few years later the first store with the Toys R Us name was opened in Rockville, Maryland. Toys R Us went from being a local business to a national (then international) store chain when it was sold to Interstate Department Stores, Inc. in 1966.
In a way it's kind of sad that this is happening to Toys R Us because I grew up watching those commercials on television that featured someone dressed in a Geoffrey Giraffe costume while the ad jingle went "I don't want to grow up, I'm a Toys R Us kid/There's a million of toys at Toys R Us that I can play with."
There was only one Toys R Us store in the town that I grew up in (Glen Burnie, Maryland). Sometimes my mother would buy toys from that store but she also purchased toys from Montgomery Wards and Sears as well. I still have memories of when I used to go to the one in the Glen Burnie Mall and it had a sign that said that children under 16 must be accompanied by an adult. Sometimes I would get permission from my mom to go to either the Record Bar (which sold vinyl records, 8-track tapes, and cassette tapes) or the video arcade (both of which have long since gone out of business) while she and my grandmother went inside of some clothing store. I was somewhere between 12-15 when I did this. (I know that for a fact because I pretty much lost interest in doing this once I reached 16.) I always made an effort to go past the Toys R Us entrance in the mall where I would enter that store without being accompanied by an adult just so I would flout that rule. None of the store employees ever did anything to kick me out for being an unaccompanied minor under 16 but it still filled my juvenile ego to know that I flouted a store rule. I never stayed too long inside Toys R Us because most of the toys were geared towards younger kids and I had pretty much outgrown any interest I had in things like Barbie dolls or Play-Doh. I only went inside because a sign said I couldn't do it and it was an easy way to rebel against authority without getting into any kind of serious trouble. (LOL!)
Ironically that Glen Burnie Toys R Us is still going strong and it's among the stores that is being saved from closure for now. The same can't be said for the rest of the mall and, in fact, that mall had finally closed down for good last year.
When I moved closer to the Washington, DC area as an adult, I was lucky enough to be in an area where there were three different Toys R Us stores all located just a short drive away from my home—in New Carrollton, Laurel, and Langley Park. I used to periodically shop at Toys R Us mainly to purchase presents for my then-husband's nieces and nephews or to buy baby shower gifts for various friends, relatives, and coworkers. There was a time when my church had a Toys for Tots-like program around the winter holiday season where we purchased toys for the children at this non-profit community center in Washington, DC that strived to provide programs for inner city kids from low-income families that would be an alternative to gangs and I used to shop at Toys R Us for that reason as well.
But then Toys R Us encountered its first problem when the dotcom boom happened and it was very slow in getting an online presence.  Amazon, which sold only books at the time, wanted to start selling toys so Toys R Us entered into a ten-year contract with Amazon to allow that online site to be its exclusive online supplier. It might have sounded like a good idea at the time but, in retrospect, that deal was like having Coca-Cola decide to let Pepsi-Cola handle all of its marketing and distribution of Coke products. Amazon soon allowed other third-party retailers to sell toys on its site, which resulted in a lawsuit.
One-by-one, over the next few years, the Toys R Us stores that were located closer to my home started to close. The one in New Carrollton was located in a building with a flat roof. A major blizzard hit the area where two feet of snow accumulated. The flat roof of the New Carrollton Toys R Us had accumulated so much snow that it literally caved in. I still remember seeing local news reports about that roof collapse along with pictures of stuffed animals floating on top of huge puddles that were created by melting snow. The chain decided to permanently close that store rather than rebuild. The building was razed then rebuilt and a CVS Pharmacy now sits in that location.
As for the one in Laurel I remember that the chain decided to do a remodel of that store while remaining open for business during the remodeling. Once that job was done that store looked really nice with a fresh coat of paint and bright lights. A year or two later the chain decided to close the Laurel store, which had me rolling my eyes since that chain had spent time and money remodeling that store only close it soon afterwards.
At that point the one in Langley Park was the closest Toys R Us store to my home. Compared to the Laurel store or even the New Carrollton store, that Langley Park store was a major hot mess. The floors had scruff marks everywhere and the shelves were totally messy and disorganized. It was almost like no one cared about having that store looked its best so it would encourage customers to return. I don't know if the clientele had anything to do with the store deciding not to do much to keep up appearances or not. (Many immigrants, mainly from Central America and the Caribbean, started to settle in Langley Park starting in the 1980's.)
Early one morning the bodies of two men were found in the parking lot of the Langley Park Toys R Us. Each of the men have had their their throats slashed. A third man was also knifed and survived. Naturally this story of three immigrant men being attacked in a Toys R Us parking lot was extensively covered by the local news media. Police found out that these slayings were the result of a drug deal gone bad and a suspect was arrested. That Toys R Us store closed soon after that incident.
As a result of those closures, these days if I want to shop at a Toys R Us, I have to drive at least a half-an-hour in any direction in order to get to a store. As a result, my shopping at Toys R Us has become very rare. These days if I need to buy a toy for whatever reason, I'm more likely to go to the Target store that's located only three miles from my home and it has a pretty decent toy selection.
At this point there are only two Toys R Us left in my county and they require at least (depending on the traffic) a half-an-hour commute. One is a regular Toys R Us store in Clinton and the other is a Toys R Us outlet store at National Harbor. The Clinton store is the one that is among the stores that Toys R Us plan to close soon. Once that happens, my county will only have the outlet store left and no more regular Toys R Us stores.
At one point Toys R Us had opened a giant flagship store at Times Square in New York City. I went there many times whenever my then-husband and I visited his father and step-mother. I used to be awed by the four floors that not only included toys but I remembered there was a giant life-sized version of Barbie's dreamhouse that you could walk through while browsing the selection of Barbie dolls that were displayed on shelves inside of that house, an animatronic t-rex robot, a giant candy section, and large 3D displays that were built from LEGOs.  In addition there was this giant indoor ferris wheel that was as tall as the store itself so one could see all four floors of the store while going on that ride. I never went on that ride myself because I still have memories the one and only time I went on a ferris wheel when I was seven years old and it literally made me feeling so dizzy that I never cared to repeat that experience. On top of it, the lines to that ferris wheel were usually long and I wasn't in the mood to wait in a long line to get on a ride. I last went to New York City in 2011 (just a few months before my hip surgery and my husband's subsequent sudden walkout) and I walked past that store while seeing the ferris wheel through the glass windows from the outside. I've heard that this store is now closed, which is too bad. Here's a video tour of the Times Square store I found on YouTube that was shot shortly before it closed.
As for the chain itself, it has been going through more troubles in recent years. This article said that Toys R Us has an e-commerce site that's very clunky to use compared to Amazon while also mentioning that kids these days are more likely to play with computers, smartphones, and tablets than traditional toys like Barbie dolls and Lego. Another article said that Toys R Us' prices are higher than what Walmart, Amazon, and Target charge for the same toy. There is another factor in Toys R Us' decline and it has less to do with kids' playtime, their parents' shopping habits, or the cost of toys and more with the fact that in 2005 the management decided to sell the company in a leveraged buyout to the real estate investment trust Vornado Realty Trust and the private equity firms KKR and Bain Capital. This trio of companies have focused more on doing a complex financial deal that would leave them richer while drowning Toys R Us in debt. It's the usual Wall Street financial shenanigans that focus more on extracting huge short-term profits for the very wealthy 1%  class and less on operating a viable profitable store chain in the long run.
In a way one could say that karma had finally struck Toys R Us. When that chain first started opening stores throughout the United States in the 1950s, 1960s, and 1970s, a lot of the smaller toy stores that were locally owned were driven out of business because many of them couldn't compete with the wide selection of toys or the low prices that Toys R Us provided. Now it's Toys R Us' turn to eventually get driven out of business through a combination of increased competition (from the likes of Amazon, Walmart, and Target) and being literally milked heavily for profits by a bunch of Wall Streeters.
Of course it's the employees who are suffering the most due to increased workplace stress and losing their jobs.
Which led me to my recent visit to a Toys R Us store in Annapolis, Maryland. I wanted to pick a store that isn't among the stores being closed and I ended up picking the one in Annapolis because I decided to attend the weekly Thursday night meeting of my support group for people who are separated or divorced. The meetings are held in Crofton and Annapolis is just a few miles away on Route 50 so it made sense for me to go to the Annapolis store then head back to Crofton for the meeting.
The next photo shows the outside of the store. Some of the stores in this chain are Toys R Us only while other stores are its Babies R Us subsidiary. (The latter store focuses on items for babies and toddlers such as furniture, formula, and diapers.) This location is a larger store that has both Toys R Us and Babies R Us under the same roof.
Here's what I first saw when I entered the store.
The next photo shows the Fingerlings, robot toys which were THE Hot Toy of 2017. These critters were sold out everywhere just before Christmas and these toys were sold on eBay for several times the original $15 retail price. As of late January I saw a few of these toys on the store shelves at the original retail price.
There was a section devoted to toys that were based on recent movies, such as Coco and Batman vs. Superman.
The store was nearly empty when I visited it. I know that the fact that I visited it on a Thursday in late January was a major factor. But this particular Toys R Us is located across the street from Annapolis Mall and I noticed that the mall was filling up with cars when I was leaving the area yet Toys R Us was mostly empty.
The store had a few Toys R Us exclusive toys, such as this Funko Pop! vinyl set featuring Mickey and Minnie Mouse.
They had some retro video games based on Space Invaders and the old Sega Genesis console system on the shelves yet they kept the games for the newer console systems kept behind locked cases.
Curiously Toys R Us had a bunch of Sharper Image products that it was selling on its store shelves. (The Sharper Image is a separate store chain that specializes in upscale electronic products.) This store sold mainly robot dinosaurs.
Toys R Us had an entire display devoted to last year's hot trend, Fidget Spinners. (Remember them? I certainly do.)
Toys R Us carried a few American Girl dolls but they were all of the 14-inch Wellie Wishers.
This next item was among some of the more unusual toys I found on sale. This one is a Bear Surprise, where each bear is a pregnant female who could carry anywhere between 3-5 cubs. (The person wouldn't know for sure until after he/she purchases a Bear Surprise and take her home.)
The one thing I most remember about Toys R Us is its mascot, Geoffrey Giraffe. I remember when that store used to sell Geoffrey Giraffe stuffed animals where the giraffe wore a sweater with the Toys R Us logo. I didn't see any stuffed Geoffrey Giraffes on sale. In fact, I didn't see much of Geoffrey Giraffe anywhere in this store except for this graphic. It's obvious that they've redesigned him but he looks incredibly lame compared with the Geoffrey Giraffe I knew when I was growing up. It was like someone decided to make Geoffrey into this bland forgettable character that would blend in with a corporate environment. I can't imagine any child being enthusiastic about this Geoffrey Giraffe.
The Journey Girls are 18-inch dolls that are Toys R Us' answer to the ever-popular American Girl doll. They cost around $40, which is cheaper than American Girl's $110 dolls.
Curiously Toys R Us had a section devoted to jewelry from Claire's (which is a separate retail chain that sells jewelry and other accessories).
Here's another Toys R Us exclusive I found, a Zoomer robot unicorn.
Naturally Toys R Us had a line of Star Wars toys.
They had a whole shelf full of Sharper Image drones.
Here are some more toys I found at Toys R Us, which includes Wonder Woman, Gremlins, and even a stuffed Godzilla plush.
I remember when Teddy Ruxpin first came out back in the 1980s and I saw news stories about this teddy bear. I was amazed by the animatronic technology back then even though this product was aimed at young children and I didn't have any young children of my own. Teddy Ruxpin has been re-released and he's compatible with a smartphone app and Bluetooth.
Toys R Us had a section devoted to bikes, small cars that children could ride in, and rollerblades.
Here's another shot of an empty store aisle.
Toys R Us had an arts and crafts section including a shelf dedicated to nothing but Crayola products.
A quarter of the store was devoted to Babies R Us, which had cribs, blankets, and other products geared towards infants and toddlers.
Here's a shot of the hall in the Babies R Us section that has the restrooms.
Toys R Us had a couple of STEM-focused high tech toys that are designed to encourage making and coding but they were pretty small compared to what Target and Best Buy offer.
They had a bunch of shelves devoted to board games. Some were the games I knew from my childhood, such as Rock'Em Sock'Em Robots, while others were definitely ones I hadn't heard of before.
There was an aisle devoted entirely to LEGO products.
This one was another interesting item where you create your own version of a Kinder Surprise Egg.
Toys R Us had toy vacuum cleaners and toy irons for those budding young housewives.
I remember when Zhu Zhu Pets were the big Hot Toy way back in 2009. Like Fingerlings, Zhu Zhu Pets were sold out in stores everywhere just before the holiday season but then they became plentiful once Christmas passed. I haven't seen Zhu Zhu Pets on sale anywhere in my area in a few years so I was surprised when I found them at Toys R Us.
Toys R Us also had Barbie dolls on sale along with newer dolls, such as the DC Super Hero Girls dolls.
I saw one discount bin full of polar bear Christmas ornaments.
I found a few dolls and plush based on Disney's Moana movie and Nintendo's Super Mario Bros. video game series.
I decided to make one purchase. The woman at the cash register offered me a free frequent rewards card. I accepted it even though I rarely shop at Toys R Us these days and I don't know when I'll make another trip to any Toys R Us store in my area. (Like I wrote earlier, most of those stores are located at least a 30-minute trip from my home.) I have to admit that the card is pretty colorful.
Here's the one purchase I made. I bought a $15 Fingerlings monkey for the heck of it. I shot a video of the first time I played with this baby monkey, which I'll write about in my next post.
UPDATE (March 8, 2018): Toys R Us is now seriously considering liquidating all of its stores in the U.S. That chain had recently started doing the same in the U.K. I'm glad I managed to take these photos of the Annapolis store when I did because I now have a time capsule of what a typical Toys R Us store was like when it was in business.
UPDATE (March 14, 2018): It's official! After 70 years in business, Toys R Us will close its remaining 800 stores, including the one in Annapolis where I took the photos in this post.
UPDATE (April 10, 2018): I made a return trip to the Annapolis Toy R Us store where I was able to compare what I saw on that subsequent trip with the photos I took for this blog post.
Previous in This Series
The Day Before the Greenbelt Labor Day Festival
Greenbelt Labor Day Festival (Day 1)
The cooler than usual weather on this holiday weekend not only continued on the second day of the festival but it rained as well. Tropical Storm Harvey, formerly known as Hurricane Harvey, arrived in the area dumping a huge amount of rain. Fortunately it had lost much of its powerful punch that it unleashed on Texas and Louisiana by the time it arrived in the DC area to the worst that happened is that it was totally wet and cold outside. For the first time ever I wore a t-shirt, long pants, and a hooded windbreaker to an outdoor Labor Day festival.
The only major advantage is that parking was relatively easy to find compared to sunny days. I went to the festival despite the bad weather because I wanted to check out my submissions to the Art Show to see if I had won anything. Besides, the Art Show was being held indoors at the Greenbelt Community Center so it was no big deal to go on a rainy day.
As I was walking through the festival grounds on the way to the Art Show I saw that the entertainment had gone on despite the bad weather. As this next picture shows, there were a few hardy souls in the audience who stood there with umbrellas while there were others who decided to sit in the wet bleachers and groove to the band onstage.
The next few photographs show the festival in the rain.
The originally scheduled bingo games were cancelled altogether.
Some of the attractions were also closed, such as this giant slide.
Amazingly there were a few carnival rides that were still opened despite the rain. What's more, there were people willing to ride in the rain. (Most of them were under 18.)
The Greenbelt Elementary PTA's used book sale went on with tarp covering many of the books, VHS tapes, and DVDs.
I arrived at the Art Show. I found that none of my submissions won anything this year. I wasn't too bitter because I've won other years and I wasn't obsessed over winning anything. I took a few pictures of my art on display.
That day was also Community Day when various local groups and businesses have information tables out and they try to engage the general public. These photos show how the rain had affected the attendance at these tables.
After checking out these tables I went to Makerspace 125 because it was indoors and it was sponsoring a special Make and Take event. Basically people could use K'NEX building toys to make their own Fidget Spinners (which is this year's fad toy for all ages).
I gave it a try and here's the Fidget Spinner that I built.
Here is what it looks like when I gave it a spin.
I also took a couple pictures of the official Makerspace 125 parade float that would be used in the Greenbelt Labor Day Parade in two days.
Compared to the day before, I decided to cut my time at the festival short because of the continuing rain. Instead I went to the local movie theater where I saw the film Wonder Woman, which I enjoyed thoroughly. (Yeah, I know I was watching this movie for the first time many weeks after everyone else saw it and made it into a huge summer hit. At least I finally saw it on the big screen).
Next in This Series
Greenbelt Labor Day Festival (Day 3)
Greenbelt Labor Day Parade
Greenbelt Labor Day Festival (Day 4)
On the Saturday during the Fourth of July holiday weekend, I decided to check out this toy show that was being held at the Maryland State Fairgrounds.
It was such a feast for the eyes as the toys and various other vintage items were displayed at various vendor tables. The whole show took on the air of a flea market with an emphasis on vintage stuff dating anywhere from the 1900s to the 1990s.
Someone had a jukebox for sale, which reminded me of my childhood when many of the local restaurants had them and people could choose songs to play for about a quarter each.
The jukebox played music during the entire event. (Which proved that it definitely still worked.) I couldn't help taking pictures of the songs that were available on the jukebox. The majority of them were hits when I was a kid.
And speaking of music players, here's a vintage 8-track player with an Elvis Presley 8-track tape. I once had a stereo system that included an 8-track player but I never owned one like that. But I could've sworn that one of my friends or maybe one of my cousins had a player just like that but I don't know for sure. (Memory is one of those funny things where you remember something but you don't remember when, where, or how you remember it.)
Late last year I did a series of blog posts with accompanying photos known as A Tabletop Christmas (so-named because I limit my Christmas decorating to just a single tabletop in my living room). Among the items I showed off was a small plastic Santa Claus puppet that I've had since I was a child. I didn't know anything about the origins of this puppet. It wasn't until I went to the toy show when I saw a tiny plastic Santa puppet on sale that's identical to mine.
The only difference between the two is that this Santa still had its label at the base while mine doesn't have any labels at all. (I suspect that whatever label it had must've fallen off a long time ago.) My Santa puppet is currently stored in a box with the other Christmas decorations in the attic but here's a picture of my Santa puppet that I took last December.
At first I thought the animal in the next picture was a stuffed animal until I saw the dog move his eyes around. He laid there the entire time I was at that show.
This show also had examples of how the mighty had fallen. I found this book by disgraced former Fox News talk show host Bill O'Reilly on sale for only $1 at one of the tables. (LOL!)
There was one token of something new that I found. Someone was selling glow-in-the-dark versions of the hottest toy of 2017: Fidget Spinners.
By the way, you can check out a video I shot recently where I unboxed and played with one of those Fidget Spinners for the first time (and, no, the one I bought didn't glow in the dark).
Everywhere there were visual treats, many of which harkened back to my own youth.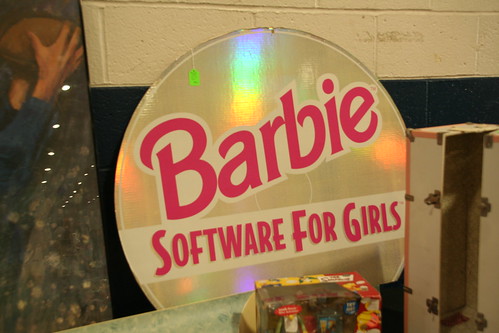 As I was walking back to the light rail stop I shot this photo of The Cow Palace building because it had a nice small garden.
I didn't buy a lot of stuff at that toy show due mainly to tight finances. But I managed to snag a couple of things at bargain rates. I found the second season of The Simpsons DVD set for only $6.
I bought a Monster High doll for only $5. I was attracted to her pretty winter-themed clothes. At first I thought I may have purchased a relative of The Snow Queen until I did an online search and I was able to make a definite identification. Based on this web page, her name is Abbey Bominable and she's described as the 16-year-old daughter of the Yeti.
Here's a closeup of her hair, which looks like it has glittery plastic pellets weaved throughout the strands. It gives a really cool ice/snow effect, especially when the light reflects off of her hair.
I've been hearing plenty on the Internet about this new fad known as Fidget Spinners. I became curious enough that I purchased one when the local Five Below store got a shipment in. The Fidget Spinners were only sold behind the counter and sales were limited to no more than two per person. So I paid $5 for a red one. I shot this short video recording my unboxing of my new purchase and my reaction to playing with a Fidget Spinner for the first time. Have fun with this one!
If you want to learn more about this trend, this link has some information, including the bizarre fact that the popular porn site PornHub revealed that, during a 10-day data sampling in May, there were 2.5 million searches for the term "Fidget Spinner", which made it the top trending term and the fifth most popular search for that month. (Personally I would rather not know the details about how people can use a Fidget Spinner as a sex toy.)