You are currently browsing the tag archive for the 'ferris wheel' tag.
For the third year in a row I went to Light City in Baltimore (which is also the festival's third year). (You can read about my previous visits in 2016 and 2017.) The first year I went I basically just took the Charm City Circulator bus as far as the Shake Shack (which is located across from Harborplace) and I underestimated how big this festival was. The second year I had an animation that was showing at Light City so I took the Charm City Circulator until I got to a stop that was as close to the On Demand area (where my animation was being shown along with other film shorts) and I still have memories of sitting outside for two hours waiting for my animation to show up on screen as the temperature kept on getting colder and colder as time went on.
This year I decided not to submit anything to Light City so I could begin my tour anywhere. I also ended up going on the last night of Light City. I couldn't get there earlier in the month due to scheduling conflicts so the final night was my first and last time that I visited Light City 2018.
I drove my car to Linthicum and stopped at a Royal Farms store so I could pick up a chicken dinner and a diet soda for only $7. (I know from previous years that many of the restaurants, fast food outlets, and food tents tend to draw very long lines during Light City. It was easier to just bring my own food to Light City.) I parked my car at the North Linthicum light rail station and took the train to the Camden Yards station.
I had the idea of taking the Charm City Circulator bus all the way over to the other side of the Inner Harbor near where Little Italy is located. When I arrived I found that this area has been heavily built up. There's a new complex called Harbor East and I took some photos there along with some photos of Little Italy. I took so many photos that day that I decided to break up this year's Light City entry into two. Yesterday I wrote about Little Italy and Harbor East. Today's blog post is about Light City itself.
This year I shot video footage of some of the Light City exhibits. Here is the resulting video showing the highlights of that festival.
Here are the still photos I shot at Light City. When I arrived at the Inner Harbor the first thing I did was to eat the Royal Farms chicken while viewing the Harbor East marina at the beginning of a sunset.
I walked along the Inner Harbor where I saw the beginnings of Light City.
There were Fireflies Pedicabs that provided a service to give people a ride along the eastern end of the Inner Harbor. They were very colorful to look at.
I arrived at the first Light City structure called Pulse Portal by Davis McCarty. Even though it was still light outside when I was there, I managed to have fun shooting the Inner Harbor at sunset through the colored glass of the structure.
When I was there a couple were preparing to get married by that structure.
Mr. Trash Wheel was docked along the Inner Harbor.
The Herd by Kelley Bell consists of a flock of inflatable blue creatures floating in the Inner Harbor.
Octopus by Tim Scofield, Kyle Miller, and Steve Dalnekoff is a giant animatronic octopus whose tentacles were slowly moving while it was changing colors and playing very calming electronic music. I found it pretty mesmerizing to watch in person.
This Coffee Bar tent was one of many tents that served refreshments to the general public at Light City.
I came upon the On Demand area, which brought back memories for me. Last year I had my animation, The March of Liberty, shown in that area. I still have memories of sitting outside freezing in one of those adirondack chairs for over two hours waiting for my animation to be shown. I was so thrilled when it was finally shown that I shot this quick reaction video.
This year I didn't submit anything to this festival. It was partially due to laziness and partially because I still have less-than-thrilling memories of sitting outside in the cold for a very long time. Even though I was ultimately happy when my animation was shown, it didn't really lead to any further opportunities for me. (I had hoped that the showing of my animation at Light City would lead to some kind of a job or career breakthrough for me but it didn't work out that way.) In contrast to last year, I didn't spend much time in the On Demand area. I hung around just long enough to shoot these two pictures.
There were a few giant screens that were placed throughout the Inner Harbor that showed random video clips.
Something in the Water by Post Typography + PI.KL + Figure 53 featured some underwater lights that flashed just below the surface of the harbor.
I came upon the Institute of Marine & Environmental Technology (IMET) where a few of the Labs @ Light City were held. I arrived on the last night of Light City so the building was closed when I was there, which is why I was only able to get a few external shots.
Here's the installation As of a Now by Elissa Blount.
There was another underwater installation called What Lies Beneath by Formstone Castle.
A drummer and a dance troupe performed outside of the Power Plant.
Many people walked through the bridge-like Synesthesia by Surcreative.
There was this line standing outside of the igloo-like The Eighth Art that was so long that I decided to skip it.
There were a few street performers playing for the Light City crowd.
Sun Stomp by the Sun Stomp Collective was this animation that required people to stomp on these nearby metal bleachers. The effect was pretty neat but it provided noise that was so loud that I had to leave quickly before I developed a headache.
This year Light City had something called Mini Light City, which was geared towards families. This elephant balloon graced the entrance to Mini Light City.
There was a tent sponsored by Future Makers where parents and children could make simple projects that involved light. That area was very crowded.
The Mini Light City area had another tent that was easier to get inside. It was sponsored by The PURGG Project and it included hands-on demonstrations using robots and drones.
A WJZ-TV (Channel 13) van parks at Light City.
Light City in Baltimore drew such huge crowds that Harborplace was packed with people. This photo shows why I decided not to buy anything from It's Sugar that night.
There were some psychedelic-like effects at the installation Colour Moves by Rombout Frieling Lab.
There was a small carnival consisting of a ferris wheel ride (known as The Big Wheel) surrounded by concessions stands.
Many people have fun with rotating the giant prisms that made up the installation Prismatica by Raw Design, Atomic3, Jean-François Piché, and Dix au carré/Production: Quartier des Spectacles, Montreal.
Here's the bird-like installation On the Wings of Freedom by Aether and Hemera.
The big HMO giant Kaiser Permanente sponsored something called a Thrive Garden, which, as far as I could tell, was a place where people sat down on benches.
Here is Elantica by Tom Dekyvere.
Some vector animations were shown on the outside of the Maryland Science Center.
Club Light City was an outdoor bar and dance area that was very crowded.
And last, but not least, here is the installation Drone Prix.
This year, for the first time ever, I managed to visit the entire Light City area in the Inner Harbor. The key to my success was that I took the light rail to Camden Yards then I walked to the nearest Charm Circulator bus stop where I took the Orange bus to the Little Italy stop then walked through Harbor East in order to get to the very far eastern end of the Inner Harbor then walked west back towards the Maryland Science Center. While I managed to see most of the Inner Harbor attractions, I didn't see all of Light City. This year the festival expanded to a few outlying neighborhoods such as Fells Point and Federal Hill. I wasn't able to attend any of these other Light City events due to tight finances and scheduling conflicts. Maybe next year I'll make an effort to visit at least one of these neighborhoods hosting their own portion of Light City.
As I left the Inner Harbor to go back to the Camden Yards light rail stop I saw this sign announcing a special Lyft pick-up spot for those who went to Light City and decided to use Lyft's services.
Recently I decided to take extensive photographs of a typical Toys R Us store mainly because late last year, just before Christmas, Toys R Us had filed for Chapter 11 bankruptcy. This month Toys R Us is closing a large number of its stores throughout the United States. Nearly three years ago I did an extensive post covering the two-month period that the Kmart in Greenbelt, Maryland conducted its going out of business sale. This time I decided to take a photo of a Toys R Us store that is NOT among the stores that are slated for closure because I wanted to provide sort of a time capsule as to what it was like to visit a Toys R Us store on a typical day when it was in normal operations.
The biggest irony about the upcoming store closings is that this year is Toys R Us' 70th anniversary. When I looked up Toys R Us' Wikipedia page I learned one interesting fact—that chain started its first store in the Adams-Morgan section of Washington, DC. That store, which was then-called Children's Supermart, was operating in a space that is now occupied by the iconic nightclub Madam's Organ Blues Bar. A few years later the first store with the Toys R Us name was opened in Rockville, Maryland. Toys R Us went from being a local business to a national (then international) store chain when it was sold to Interstate Department Stores, Inc. in 1966.
In a way it's kind of sad that this is happening to Toys R Us because I grew up watching those commercials on television that featured someone dressed in a Geoffrey Giraffe costume while the ad jingle went "I don't want to grow up, I'm a Toys R Us kid/There's a million of toys at Toys R Us that I can play with."
There was only one Toys R Us store in the town that I grew up in (Glen Burnie, Maryland). Sometimes my mother would buy toys from that store but she also purchased toys from Montgomery Wards and Sears as well. I still have memories of when I used to go to the one in the Glen Burnie Mall and it had a sign that said that children under 16 must be accompanied by an adult. Sometimes I would get permission from my mom to go to either the Record Bar (which sold vinyl records, 8-track tapes, and cassette tapes) or the video arcade (both of which have long since gone out of business) while she and my grandmother went inside of some clothing store. I was somewhere between 12-15 when I did this. (I know that for a fact because I pretty much lost interest in doing this once I reached 16.) I always made an effort to go past the Toys R Us entrance in the mall where I would enter that store without being accompanied by an adult just so I would flout that rule. None of the store employees ever did anything to kick me out for being an unaccompanied minor under 16 but it still filled my juvenile ego to know that I flouted a store rule. I never stayed too long inside Toys R Us because most of the toys were geared towards younger kids and I had pretty much outgrown any interest I had in things like Barbie dolls or Play-Doh. I only went inside because a sign said I couldn't do it and it was an easy way to rebel against authority without getting into any kind of serious trouble. (LOL!)
Ironically that Glen Burnie Toys R Us is still going strong and it's among the stores that is being saved from closure for now. The same can't be said for the rest of the mall and, in fact, that mall had finally closed down for good last year.
When I moved closer to the Washington, DC area as an adult, I was lucky enough to be in an area where there were three different Toys R Us stores all located just a short drive away from my home—in New Carrollton, Laurel, and Langley Park. I used to periodically shop at Toys R Us mainly to purchase presents for my then-husband's nieces and nephews or to buy baby shower gifts for various friends, relatives, and coworkers. There was a time when my church had a Toys for Tots-like program around the winter holiday season where we purchased toys for the children at this non-profit community center in Washington, DC that strived to provide programs for inner city kids from low-income families that would be an alternative to gangs and I used to shop at Toys R Us for that reason as well.
But then Toys R Us encountered its first problem when the dotcom boom happened and it was very slow in getting an online presence.  Amazon, which sold only books at the time, wanted to start selling toys so Toys R Us entered into a ten-year contract with Amazon to allow that online site to be its exclusive online supplier. It might have sounded like a good idea at the time but, in retrospect, that deal was like having Coca-Cola decide to let Pepsi-Cola handle all of its marketing and distribution of Coke products. Amazon soon allowed other third-party retailers to sell toys on its site, which resulted in a lawsuit.
One-by-one, over the next few years, the Toys R Us stores that were located closer to my home started to close. The one in New Carrollton was located in a building with a flat roof. A major blizzard hit the area where two feet of snow accumulated. The flat roof of the New Carrollton Toys R Us had accumulated so much snow that it literally caved in. I still remember seeing local news reports about that roof collapse along with pictures of stuffed animals floating on top of huge puddles that were created by melting snow. The chain decided to permanently close that store rather than rebuild. The building was razed then rebuilt and a CVS Pharmacy now sits in that location.
As for the one in Laurel I remember that the chain decided to do a remodel of that store while remaining open for business during the remodeling. Once that job was done that store looked really nice with a fresh coat of paint and bright lights. A year or two later the chain decided to close the Laurel store, which had me rolling my eyes since that chain had spent time and money remodeling that store only close it soon afterwards.
At that point the one in Langley Park was the closest Toys R Us store to my home. Compared to the Laurel store or even the New Carrollton store, that Langley Park store was a major hot mess. The floors had scruff marks everywhere and the shelves were totally messy and disorganized. It was almost like no one cared about having that store looked its best so it would encourage customers to return. I don't know if the clientele had anything to do with the store deciding not to do much to keep up appearances or not. (Many immigrants, mainly from Central America and the Caribbean, started to settle in Langley Park starting in the 1980's.)
Early one morning the bodies of two men were found in the parking lot of the Langley Park Toys R Us. Each of the men have had their their throats slashed. A third man was also knifed and survived. Naturally this story of three immigrant men being attacked in a Toys R Us parking lot was extensively covered by the local news media. Police found out that these slayings were the result of a drug deal gone bad and a suspect was arrested. That Toys R Us store closed soon after that incident.
As a result of those closures, these days if I want to shop at a Toys R Us, I have to drive at least a half-an-hour in any direction in order to get to a store. As a result, my shopping at Toys R Us has become very rare. These days if I need to buy a toy for whatever reason, I'm more likely to go to the Target store that's located only three miles from my home and it has a pretty decent toy selection.
At this point there are only two Toys R Us left in my county and they require at least (depending on the traffic) a half-an-hour commute. One is a regular Toys R Us store in Clinton and the other is a Toys R Us outlet store at National Harbor. The Clinton store is the one that is among the stores that Toys R Us plan to close soon. Once that happens, my county will only have the outlet store left and no more regular Toys R Us stores.
At one point Toys R Us had opened a giant flagship store at Times Square in New York City. I went there many times whenever my then-husband and I visited his father and step-mother. I used to be awed by the four floors that not only included toys but I remembered there was a giant life-sized version of Barbie's dreamhouse that you could walk through while browsing the selection of Barbie dolls that were displayed on shelves inside of that house, an animatronic t-rex robot, a giant candy section, and large 3D displays that were built from LEGOs.  In addition there was this giant indoor ferris wheel that was as tall as the store itself so one could see all four floors of the store while going on that ride. I never went on that ride myself because I still have memories the one and only time I went on a ferris wheel when I was seven years old and it literally made me feeling so dizzy that I never cared to repeat that experience. On top of it, the lines to that ferris wheel were usually long and I wasn't in the mood to wait in a long line to get on a ride. I last went to New York City in 2011 (just a few months before my hip surgery and my husband's subsequent sudden walkout) and I walked past that store while seeing the ferris wheel through the glass windows from the outside. I've heard that this store is now closed, which is too bad. Here's a video tour of the Times Square store I found on YouTube that was shot shortly before it closed.
As for the chain itself, it has been going through more troubles in recent years. This article said that Toys R Us has an e-commerce site that's very clunky to use compared to Amazon while also mentioning that kids these days are more likely to play with computers, smartphones, and tablets than traditional toys like Barbie dolls and Lego. Another article said that Toys R Us' prices are higher than what Walmart, Amazon, and Target charge for the same toy. There is another factor in Toys R Us' decline and it has less to do with kids' playtime, their parents' shopping habits, or the cost of toys and more with the fact that in 2005 the management decided to sell the company in a leveraged buyout to the real estate investment trust Vornado Realty Trust and the private equity firms KKR and Bain Capital. This trio of companies have focused more on doing a complex financial deal that would leave them richer while drowning Toys R Us in debt. It's the usual Wall Street financial shenanigans that focus more on extracting huge short-term profits for the very wealthy 1%  class and less on operating a viable profitable store chain in the long run.
In a way one could say that karma had finally struck Toys R Us. When that chain first started opening stores throughout the United States in the 1950s, 1960s, and 1970s, a lot of the smaller toy stores that were locally owned were driven out of business because many of them couldn't compete with the wide selection of toys or the low prices that Toys R Us provided. Now it's Toys R Us' turn to eventually get driven out of business through a combination of increased competition (from the likes of Amazon, Walmart, and Target) and being literally milked heavily for profits by a bunch of Wall Streeters.
Of course it's the employees who are suffering the most due to increased workplace stress and losing their jobs.
Which led me to my recent visit to a Toys R Us store in Annapolis, Maryland. I wanted to pick a store that isn't among the stores being closed and I ended up picking the one in Annapolis because I decided to attend the weekly Thursday night meeting of my support group for people who are separated or divorced. The meetings are held in Crofton and Annapolis is just a few miles away on Route 50 so it made sense for me to go to the Annapolis store then head back to Crofton for the meeting.
The next photo shows the outside of the store. Some of the stores in this chain are Toys R Us only while other stores are its Babies R Us subsidiary. (The latter store focuses on items for babies and toddlers such as furniture, formula, and diapers.) This location is a larger store that has both Toys R Us and Babies R Us under the same roof.
Here's what I first saw when I entered the store.
The next photo shows the Fingerlings, robot toys which were THE Hot Toy of 2017. These critters were sold out everywhere just before Christmas and these toys were sold on eBay for several times the original $15 retail price. As of late January I saw a few of these toys on the store shelves at the original retail price.
There was a section devoted to toys that were based on recent movies, such as Coco and Batman vs. Superman.
The store was nearly empty when I visited it. I know that the fact that I visited it on a Thursday in late January was a major factor. But this particular Toys R Us is located across the street from Annapolis Mall and I noticed that the mall was filling up with cars when I was leaving the area yet Toys R Us was mostly empty.
The store had a few Toys R Us exclusive toys, such as this Funko Pop! vinyl set featuring Mickey and Minnie Mouse.
They had some retro video games based on Space Invaders and the old Sega Genesis console system on the shelves yet they kept the games for the newer console systems kept behind locked cases.
Curiously Toys R Us had a bunch of Sharper Image products that it was selling on its store shelves. (The Sharper Image is a separate store chain that specializes in upscale electronic products.) This store sold mainly robot dinosaurs.
Toys R Us had an entire display devoted to last year's hot trend, Fidget Spinners. (Remember them? I certainly do.)
Toys R Us carried a few American Girl dolls but they were all of the 14-inch Wellie Wishers.
This next item was among some of the more unusual toys I found on sale. This one is a Bear Surprise, where each bear is a pregnant female who could carry anywhere between 3-5 cubs. (The person wouldn't know for sure until after he/she purchases a Bear Surprise and take her home.)
The one thing I most remember about Toys R Us is its mascot, Geoffrey Giraffe. I remember when that store used to sell Geoffrey Giraffe stuffed animals where the giraffe wore a sweater with the Toys R Us logo. I didn't see any stuffed Geoffrey Giraffes on sale. In fact, I didn't see much of Geoffrey Giraffe anywhere in this store except for this graphic. It's obvious that they've redesigned him but he looks incredibly lame compared with the Geoffrey Giraffe I knew when I was growing up. It was like someone decided to make Geoffrey into this bland forgettable character that would blend in with a corporate environment. I can't imagine any child being enthusiastic about this Geoffrey Giraffe.
The Journey Girls are 18-inch dolls that are Toys R Us' answer to the ever-popular American Girl doll. They cost around $40, which is cheaper than American Girl's $110 dolls.
Curiously Toys R Us had a section devoted to jewelry from Claire's (which is a separate retail chain that sells jewelry and other accessories).
Here's another Toys R Us exclusive I found, a Zoomer robot unicorn.
Naturally Toys R Us had a line of Star Wars toys.
They had a whole shelf full of Sharper Image drones.
Here are some more toys I found at Toys R Us, which includes Wonder Woman, Gremlins, and even a stuffed Godzilla plush.
I remember when Teddy Ruxpin first came out back in the 1980s and I saw news stories about this teddy bear. I was amazed by the animatronic technology back then even though this product was aimed at young children and I didn't have any young children of my own. Teddy Ruxpin has been re-released and he's compatible with a smartphone app and Bluetooth.
Toys R Us had a section devoted to bikes, small cars that children could ride in, and rollerblades.
Here's another shot of an empty store aisle.
Toys R Us had an arts and crafts section including a shelf dedicated to nothing but Crayola products.
A quarter of the store was devoted to Babies R Us, which had cribs, blankets, and other products geared towards infants and toddlers.
Here's a shot of the hall in the Babies R Us section that has the restrooms.
Toys R Us had a couple of STEM-focused high tech toys that are designed to encourage making and coding but they were pretty small compared to what Target and Best Buy offer.
They had a bunch of shelves devoted to board games. Some were the games I knew from my childhood, such as Rock'Em Sock'Em Robots, while others were definitely ones I hadn't heard of before.
There was an aisle devoted entirely to LEGO products.
This one was another interesting item where you create your own version of a Kinder Surprise Egg.
Toys R Us had toy vacuum cleaners and toy irons for those budding young housewives.
I remember when Zhu Zhu Pets were the big Hot Toy way back in 2009. Like Fingerlings, Zhu Zhu Pets were sold out in stores everywhere just before the holiday season but then they became plentiful once Christmas passed. I haven't seen Zhu Zhu Pets on sale anywhere in my area in a few years so I was surprised when I found them at Toys R Us.
Toys R Us also had Barbie dolls on sale along with newer dolls, such as the DC Super Hero Girls dolls.
I saw one discount bin full of polar bear Christmas ornaments.
I found a few dolls and plush based on Disney's Moana movie and Nintendo's Super Mario Bros. video game series.
I decided to make one purchase. The woman at the cash register offered me a free frequent rewards card. I accepted it even though I rarely shop at Toys R Us these days and I don't know when I'll make another trip to any Toys R Us store in my area. (Like I wrote earlier, most of those stores are located at least a 30-minute trip from my home.) I have to admit that the card is pretty colorful.
Here's the one purchase I made. I bought a $15 Fingerlings monkey for the heck of it. I shot a video of the first time I played with this baby monkey, which I'll write about in my next post.
UPDATE (March 8, 2018): Toys R Us is now seriously considering liquidating all of its stores in the U.S. That chain had recently started doing the same in the U.K. I'm glad I managed to take these photos of the Annapolis store when I did because I now have a time capsule of what a typical Toys R Us store was like when it was in business.
UPDATE (March 14, 2018): It's official! After 70 years in business, Toys R Us will close its remaining 800 stores, including the one in Annapolis where I took the photos in this post.
UPDATE (April 10, 2018): I made a return trip to the Annapolis Toy R Us store where I was able to compare what I saw on that subsequent trip with the photos I took for this blog post.
Previous in This Series
The Day Before the Greenbelt Labor Day Festival
I really got into shooting a bunch of photos with my new Canon PowerShot ELPH 190IS camera (which I purchased used on eBay for $80) throughout the entire weekend-long Greenbelt Labor Day Festival. My time began when I submitted my artwork to be shown at the Art Show portion of the festival.
The one thing I noticed about this year's festival was the weather. Usually the weather tends to be on the warm to hot side with some years being in the 70's with low humidity while other years the temperature rises somewhere between 85-95 degrees with high humidity. This year's weather was really unusual in that the temperature was in the 60's and it was so cool outside that I wore long pants for the first night instead of the usual shorts.
On my way to and from submitting my art I shot the very early phases of the festival as it was opening to the general public for the very first time.
The most memorable food booth was this one which not only sold funnel cakes but also fried Oreos, fried Rice Krispies treats, fried cheesecake, and even fried Twinkies.
For the many years that I've appeared at the annual Greenbelt Labor Day Festival, the one thing I have never done before is sit in on the opening ceremony. I decided to finally do this for the first time ever. As I sat in the stands, I took a photo of these nice textured clouds that were floating over our heads.
The opening ceremony included an appearance by the color guard and we all stood as they played the national anthem.
Here's a photo of one of the photographers who was shooting the opening ceremony.
I managed to figure out how to use the zoom button on my new camera so I can take a few close-up shots of the stage, which was just in time for the next part of the opening ceremony. For the first time I actually saw the awarding of the annual Greenbelt Outstanding Citizen. Paul Downs, a local artist and environmental activist, won this year's award. Here he is on the right receiving the award.
Paul is flanked by Greenbelt Mayor Emmett Jordan (second from left) and the members of the Greenbelt City Council.
Paul's friends and family were invited to go on stage so they can have their photograph next to him.
Paul Downs gave a short acceptance speech.
The general public was invited to a reception for Paul at the nearby Greenbelt City Hall, which would begin in about 15 minutes after the opening ceremony ended. I killed some time by taking a few more photos of the various festival attractions at twilight.
I arrived at the reception, which was well attended.
Cake and punch were served at the reception.
Paul Downs can be seen taking to a well-wisher on the right in the next photo.
Greenbelt Mayor Emmett Jordan (on the right) hosted another ceremony to honor Paul Downs.
Paul was awarded a miniature replica of Greenbelt's iconic Mother and Child statue.
Paul Downs posed with some of the winners of the previous years' Greenbelt Outstanding Citizen award.
Here's a closeup shot of Paul with his miniature Mother and Child replica.
Up until this point I had the camera set on the automatic function. By the time I stepped outside again I found that the sun had set. I decided to change the camera settings to night so I could continue to take pictures of the festival.
I spent some time at the bingo table while I played a couple rounds of bingo.
This next photo shows a bingo variant where the winner was required to simply spell the letter "P" on the bingo card. Instructions were handed out on the acceptable way of spelling that letter.
Greenbelt Mayor Emmett Jordan (left) stands next to a couple of Greenbelt police officers.
I purchased two items at the festival that night. Both of them were at the used book table that was run by the Greenbelt Elementary School PTA. One was a DVD set of the first season of Monty Python's Flying Circus, which I only purchased for $4.
The other is this book titled Songs of the Gilded Age. It's a music book full of songs that were written between 1890-2000 that I only purchased for $2. I can't wait to plug some of these tunes into MuseScore, just like what I did with a few vintage sheet music that I purchased for 25 cents each at a yard sale last summer. This book also has some very lovely watercolor illustrations, such as what you see on the front cover.
Next in This Series
Greenbelt Labor Day Festival (Day 2)
Greenbelt Labor Day Festival (Day 3)
Greenbelt Labor Day Parade
Greenbelt Labor Day Festival (Day 4)
On the Saturday during the Fourth of July holiday weekend, I decided to check out this toy show that was being held at the Maryland State Fairgrounds.
It was such a feast for the eyes as the toys and various other vintage items were displayed at various vendor tables. The whole show took on the air of a flea market with an emphasis on vintage stuff dating anywhere from the 1900s to the 1990s.
Someone had a jukebox for sale, which reminded me of my childhood when many of the local restaurants had them and people could choose songs to play for about a quarter each.
The jukebox played music during the entire event. (Which proved that it definitely still worked.) I couldn't help taking pictures of the songs that were available on the jukebox. The majority of them were hits when I was a kid.
And speaking of music players, here's a vintage 8-track player with an Elvis Presley 8-track tape. I once had a stereo system that included an 8-track player but I never owned one like that. But I could've sworn that one of my friends or maybe one of my cousins had a player just like that but I don't know for sure. (Memory is one of those funny things where you remember something but you don't remember when, where, or how you remember it.)
Late last year I did a series of blog posts with accompanying photos known as A Tabletop Christmas (so-named because I limit my Christmas decorating to just a single tabletop in my living room). Among the items I showed off was a small plastic Santa Claus puppet that I've had since I was a child. I didn't know anything about the origins of this puppet. It wasn't until I went to the toy show when I saw a tiny plastic Santa puppet on sale that's identical to mine.
The only difference between the two is that this Santa still had its label at the base while mine doesn't have any labels at all. (I suspect that whatever label it had must've fallen off a long time ago.) My Santa puppet is currently stored in a box with the other Christmas decorations in the attic but here's a picture of my Santa puppet that I took last December.
At first I thought the animal in the next picture was a stuffed animal until I saw the dog move his eyes around. He laid there the entire time I was at that show.
This show also had examples of how the mighty had fallen. I found this book by disgraced former Fox News talk show host Bill O'Reilly on sale for only $1 at one of the tables. (LOL!)
There was one token of something new that I found. Someone was selling glow-in-the-dark versions of the hottest toy of 2017: Fidget Spinners.
By the way, you can check out a video I shot recently where I unboxed and played with one of those Fidget Spinners for the first time (and, no, the one I bought didn't glow in the dark).
Everywhere there were visual treats, many of which harkened back to my own youth.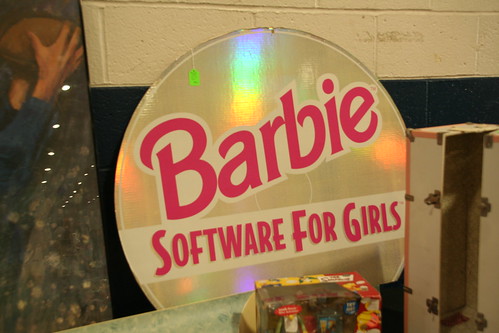 As I was walking back to the light rail stop I shot this photo of The Cow Palace building because it had a nice small garden.
I didn't buy a lot of stuff at that toy show due mainly to tight finances. But I managed to snag a couple of things at bargain rates. I found the second season of The Simpsons DVD set for only $6.
I bought a Monster High doll for only $5. I was attracted to her pretty winter-themed clothes. At first I thought I may have purchased a relative of The Snow Queen until I did an online search and I was able to make a definite identification. Based on this web page, her name is Abbey Bominable and she's described as the 16-year-old daughter of the Yeti.
Here's a closeup of her hair, which looks like it has glittery plastic pellets weaved throughout the strands. It gives a really cool ice/snow effect, especially when the light reflects off of her hair.
Greenbelt Labor Day Festival, September 3, 2016
I started the day by going to Sunday service at my Unitarian Universalist congregation for the first time in several weeks. I was surprised to see two onetime members who had since moved to Florida and they were up in the DC area for a visit. They are a longtime gay couple whom my then-husband and I visited in Florida shortly after I started this blog back in 2010. (You can read the entries about that trip here, here, here, here, here, and here) We chatted for a bit and I learned that they managed to evade Hurricane Hermine, which struck the Tampa-St. Petersburg area where they now live. One of them has a son from a previous marriage to a woman and it turns out that I recognized the son's girlfriend from the fact that we both participated in the yard sale that's put on by my support group for people who are separated or divorced. I also found out that the son had been attending that same support group's meetings at its Columbia chapter while I attend the ones in Crofton. The son met his girlfriend through the Columbia chapter. So it was a cool coincidence.
After church I decided to go to this local art supply shop then move on to the Greenbelt Labor Day Festival. I discovered that I didn't take out enough money at my bank's ATM the day before. So I went to my bank's ATM and tried to take out some more money only to get a slip that said "Access denied." This was reminiscent of what happened Friday in Baltimore! Worse, I wouldn't be able to do anything about it until Tuesday because of the holiday weekend. So I wasn't able to do grocery shopping nor was I able to spend any more money at the festival on things like food.
I had just enough money left in my wallet to go to this local art supply shop to buy a tiny 3-inch canvas and one tube of black acrylic paint because I decided to take part in a local tiny art contest. Basically I worked on that canvas the whole weekend when I wasn't at the Greenbelt Labor Day Festival. Here is what that canvas looked like.
You can read more about the making of this tiny painting right here.
Since I was short on money I ate lunch at home then headed out to the Greenbelt Labor Day Festival. Instead of taking the shuttle bus I decided to park in the parking lot at St. Hughes Catholic Church and just walk the rest of the way to the festival ground. On my way there I checked out the Greenbelt Peace Memorial. I remember when I went to the opening ceremony for that memorial last year (which was held indoors because it rained heavily that day) and I visited it in person for the first time shortly afterwards. Since that visit I noticed that someone had added a pole that says "Peace on Earth" in four different languages.
I eventually made my way to the Greenbelt Labor Day Festival.
The weather was very lovely. It was warm but not too hot and the humidity was very low. It was the perfect day for going to that festival for the second day in a row. I went to the Greenbelt Museum because it was having its free admission day. After that visit I perused the craft tables because it was the first day of the craft show but I didn't buy anything because of a lack of money. I did take a few photographs, starting with these handmade beds that were for American Girl and other 18-inch dolls.
Makerspace 125 had this table outside its doors where anyone can pick up some free fabric.
I went back home after spending some time at the festival. I spent my time eating dinner and working on my tiny canvas for that upcoming contest.
I was pretty content to just spend the bulk of my holiday weekend at the Greenbelt Labor Day Festival while spending my downtime at home working on this tiny art canvas for an upcoming local contest. Monday-Thursday before the holiday were spent visiting my mother in a hospital in Glen Burnie. Thursday turned out to be the day before she was released from the hospital so I put my latest painting in the car, drove to Glen Burnie to visit my mother (while leaving my art in the car during that visit), then go directly from the hospital in Glen Burnie to the Greenbelt Community Center so I could drop off my painting for the Greenbelt Labor Day Art Show since it was the first time period that submissions were being accepted. Friday I drove to Baltimore where I visited the Walters Art Museum then went to the nearby Escape Artists Gallery for a closing show party regarding this exhibition that I took part in. I was invited to take my painting with me when I left because it didn't sell and the show was going to end in two days.
After spending the last five days commuting from the DC area to the Baltimore area I was ready to do less traveling for Labor Day.
I didn't make it to the first night of the Greenbelt Labor Day Festival on Friday because I was in Baltimore at that time. I went on Saturday because I had signed up to serve a shift as a monitor at the art show. (All participants were required to sign up for one volunteer shift during the show.) The day before I had some ATM drama where I tried to use this machine in Baltimore that gave me one of those dreaded "Access Denied" messages. The following morning I went to my own bank's ATM and I got some money with no problem at all. I felt happy and I was all ready to just enjoy the festival.
The weather was incredibly lovely and pleasant. It was warm but not too hot and there was no humidity in the air. In short, it was a perfect day to go to an outdoor festival.
Since parking is atrocious whenever the Labor Day Festival happens I took the shuttle bus over to the festival grounds after I ate lunch at home. I went over to the art show where I served my monitor shift for an hour from 3-4 p.m. Here is the painting that I submitted to this year's Greenbelt Labor Day Art Show.
You can read more about the making of this piece right here.
My monitor shift was peaceful and uneventful. After my shift ended I looked at the rest of the art that were on display in both the art show and photography show. I ate a giant pretzel topped with crabmeat and cheese for dinner then ate an ice cream cone for dessert. I checked the various booths and tables that were there that day. I played a few rounds of Bingo but I didn't win anything. I also shot some photographs.
Since this year is an election year, there were life-sized cardboard figures resembling Hillary Clinton and Barack Obama.
I hung around the festival as the sun started to set and day turned into night.
Basically I took pictures until I grew tired. I decided to take the shuttle bus back to where my car was parked. While I was waiting at the bus stop I saw a couple pass me from behind and I immediately recognized them as my ex-husband and my onetime mentally ill friend whom he married just two months after out divorce was final. By then it was around 8 p.m. and I was leaving the festival while the Backstabbing Couple From Hell were just entering it. At least I didn't have to worry about running into them. (LOL!)
Greenbelt Labor Day Festival, September 4, 2016
Greenbelt Parade and Labor Day Festival, September 5, 2016
This year I not only attended the Greenbelt Labor Day Festival in Greenbelt, Maryland but I also submitted one of my recent watercolors to the Art Show. The one big condition for submitting a work to the Art Show is that all submitters must work a volunteer shift at that show. I signed up for the 1-2 p.m. shift on Saturday (September 5) so I arrived to the festival a little bit early so I can eat lunch (I ended up eating a bratwurst in a thick roll with sauerkraut) and do some browsing before it was time for my shift. Here are a few initial photos I took when I first arrived.
I eventually made it to the Greenbelt Community Center, where the Art Show was located. I found this interesting holiday-themed display as well.
For the first time ever, the Greenbelt Labor Day Festival strived to become something called a "Zero Waste" event where people were encouraged to bring their own water bottles instead of buying bottled water from a store as well as throwing anything that can be composted or recycled into the appropriate bins. This next photo shows one of the free places where people can refill their water bottles.
I arrived just in time to begin serving my one-hour volunteer shift where I basically kept count of the number of people who attended the Art Show and make sure there were no commotions or anything like that. The next photo shows the Butterfly watercolor that I submitted. It didn't win any ribbons this time around but I don't mind. (To learn more about the creation of this piece, read my August 23, 2015 post.)
Once I finished my shift, I did some more walking around at the festival while taking some pictures.
I browsed the annual Used Book Sale that's sponsored by the Greenbelt Elementary School PTA. I found this item that belongs in a museum: a vintage Nintendo Game Boy in its original box. It's the gaming system that had the yucky yellow back screen and 8-bit graphics in only one color—black.
The Used Book Sale also had this cool cardboard cutout.
This particular day was known as "Community Day" where various local organizations and businesses had tables set up where they provided free literature and other types of information to the general public.
A preview of the new Makerspace 125 float that would appear in the Greenbelt Labor Day Parade two days later.
I brought my laptop with me so I spent some downtime alternating between doing some miscellaneous web surfing and uploading the photos I took with my smartphone on to the various social media sites. At one point I looked up from the table I was sitting at on the patio outside Makerspace 125 and I saw my ex-husband lumbering around the festival area at a distance from where I was sitting. I wasn't that inclined to walk over to him and say "Hi." He wasn't in the area very long before he left so it was no big deal. The only downer was that the weather was in the high 80's with high humidity but I found that as long as I stayed in the shade, I was fine for sitting outside.
At one point I had to use the bathroom inside of Makerspace 125 and when I went in, there was a woman who took one look at me and said "Hey, I remember you." It took me several minutes before I realizes who she was. She was someone whom I haven't seen in at least 15 years. I was amazed that she recognized me because I didn't initially recognize her. We didn't chat long because she said that she had to get going. She asked for my email address and I gave it to her. She said that she would email me but, as of this writing, she has yet done so. I foolishly didn't think of asking for her email so I'm not able to send a message saying "Hey, it was great seeing you once again." (At least meeting that person was way more pleasant than the time when I unexpectedly met some people from my childhood whom I would prefer not to have anything to do with at Artscape in Baltimore last summer.)
I ate a crab pretzel for dinner (which was sinfully delicious) then I killed some more time doing some web surfing on my laptop and uploading some recent pictures on to various social media sites. I decided to hang around until past sunset so I could take some night photos.
A few weeks ago there was a carnival that was set up in the back of Beltway Plaza Mall in Greenbelt, Maryland. That's not unusual because throughout the spring and summer traveling carnivals will typically set up in the parking lot of a shopping mall or shopping center for a few weeks then move on. I can remember the fun I had as a child whenever a traveling carnival arrived to the shopping malls in my original hometown.
One night I had to go to the Giant supermarket in Beltway Plaza to pick up a few items and I happened to park my car in the back of the mall near the carnival. Seeing the rides all lit up was totally alluring. I attempted to investigate only to be told that I had to pay a $2 admission fee just to get into the carnival beyond the temporary fence. I found that off-putting because when I used to ride those carnival rides as a child, I remember the admission was free and you only had to pay if you wanted to go on one of the rides or buy food and drinks. With this carnival you had to not only pay $2 to get in but you also had to keep your wallet open for rides and refreshments.
So, instead, I opted to take pictures from beyond the fence. The carnival still looked alluring at night from afar.
I made my second appearance to the 2014 Greenbelt Labor Day Festival on the festival's third day. I showed up on opening day then I spent the next day in Baltimore and Glen Burnie, which is the reason why I made my second appearance at the festival on the festival's third day.
I started my day by going to a friend's home located near the festival grounds. I'm currently involved with a group known as the Greenbelt Cooperative Initiative, which is seeking to bring new green-oriented jobs to the area while would all be worker-owned (as opposed to a traditional corporation). I managed to get myself roped into participating in the annual Greenbelt Labor Day Parade the next day and we were making signs and banners to carry with us in the parade.
I worked on a few of the signs but I had to leave relatively early because I planned on submitting my recently completed crocheted amigurumi dragon to the Retro Town Fair that was being held as part of the Greenbelt Labor Day Festival and I had to make the submission deadline. Both me and my dragon made it to the Retro Town Fair just in time.
The judging and displaying to the general public was going to take up most of the afternoon so I decided to use the ample time to hang around the festival. The hardest part was the weather. For most of the summer the weather had been relatively lovely. Most days it had been in the low   to mid-80's with low humidity. It was completely unlike the usual hot and humid summers that the Baltimore-Washington, DC area is notorious for. In fact, on the first day of the festival, it was still the same lovely summer weather. When I was in the Baltimore area the following day, I noticed that the humidity was a bit higher but the temperature was still low enough so walking around was still okay. Well, all that changed the day of the Retro Town Fair because the notorious hot and humid day finally appeared.
Fortunately Makerspace 125 (formerly known as Club 125) was air conditioned so I spent some time there. There was a whole lot of making going on there. Some people were putting the finishing touches on the parade float that was going to be in the Greenbelt Labor Day Parade the next day while others were playing with Legos, surfing the Internet, and doing all kinds of arts and crafts.
The Craft Fair was being held as part of the Labor Day Festival. I took part in that event last year on a day that was in the upper 90's with high humidity and it was a financial disaster for me. This year I opted not to participate, which turned out to be a wise decision on my part. The first day of the Craft Fair was on the same day as the Retro Town Fair, which meant that the vendors were selling their wares under high heat and humidity while the second day was also just as hot. While I saw some people browsing the table, it was a far cry from other craft shows in the same location that were held in more pleasant weather. There were plenty of nice things available for sale.
This Craft Fair also had a table that gave psychic readings starting at $10. I decided to try it for the heck of it. That incident led to me to finally make this video where I described what happened.
From time to time I braved the hot weather as I took photos of the rides, booths, and people on the festival grounds.
I also went to the Greenbelt Community Center (which was also air conditioned) in order to check out both the Art and Photography Shows. (While I've participated in these events in other years, this year I've opted to submit something only to the Retro Town Fair.) Before I entered the building, I took this arty photo of the reflection of the Ferris wheel in the windows of the Greenbelt Community Center.
I ended the day at the festival by finally checking out the tail end of the Retro Town Fair. The fair starts with the submission period followed by the judges checking everything out (the fair is closed to the public during the judging period). Once the judges finishes with deciding who gets the award ribbons in each of the categories, the fair is opened to the general public.
There are different categories at the Retro Town Fair. The next photo shows the Baked Goods category.
The next photo shows the submissions in the Canned Goods category.
The next two photos show the submissions to the Vegetables category.
The photo below shows the submissions to the Flowers category.
The rest of the photos show the submissions to the category I submitted my dragon to: Needlework. This category consists of sewing, knitting, and crochet. There were a lot of lovely things on display in this category.
Despite the competition, I was happy to learn that my little dragon had won the Third Place ribbon. 🙂
Once the Retro Town Fair officially ended, I gathered up my dragon and my new Third Place ribbon and went back to my air conditioned home.
This year I attended three out of four days of the Greenbelt Labor Day Festival. I went on the first day, which was Friday evening, because this year there were a few new things. For the past 59 years of its existence, the Greenbelt Labor Day Festival had contracted Rosedale Attractions to provide the rides and the Midway sections. All that changed earlier this year when Rosedale Attractions decided to switch to a different fair elsewhere that's happening the same weekend for a reason that Rosedale described as "an economic one." Reading between the lines in the story that I linked to in the last sentence, one could infer that the other event offered more money.
So the news was a big shock. But the good news is that the festival organizers managed to get another company called Sherwood Amusements to provide the rides and Midway so the Greenbelt Labor Day Festival was saved from some kind of doom or whatever.
The change in carnival providers gave me an opportunity to take some new pictures of the attractions from this new carnival provider. I last took photos of the original Rosedale Attractions rides and booths back in 2012 and you can view them here. Here are my photos of Sherwood Amusements' rides and booths.
The biggest difference I noticed was the addition of these clown trashcans where you put your trash right in the clown's mouth. These clown trashcans are either cute or scary—depending on your point of view.
Here are a few of the prizes that one could win in any of the Midway Games booths.
Here are a few of the rides.
During my time at the festival I bought myself an ice cream cone while I enjoyed the nice weather. (The humidity was low and the temperature was in the 70's.) I briefly perused the used book sale and played a couple rounds of Bingo. I ended my time by checking out the STEM technology center Makerspace 125 (formerly known as Club 125). A bunch of people were working diligently on this float that was scheduled to be in the Greenbelt Labor Day Parade a few days later. The theme of this float was called "Turtles in Space."
I basically returned home after a couple of hours.