You are currently browsing the tag archive for the 'dog' tag.
On the Saturday during the Fourth of July holiday weekend, I decided to check out this toy show that was being held at the Maryland State Fairgrounds.
It was such a feast for the eyes as the toys and various other vintage items were displayed at various vendor tables. The whole show took on the air of a flea market with an emphasis on vintage stuff dating anywhere from the 1900s to the 1990s.
Someone had a jukebox for sale, which reminded me of my childhood when many of the local restaurants had them and people could choose songs to play for about a quarter each.
The jukebox played music during the entire event. (Which proved that it definitely still worked.) I couldn't help taking pictures of the songs that were available on the jukebox. The majority of them were hits when I was a kid.
And speaking of music players, here's a vintage 8-track player with an Elvis Presley 8-track tape. I once had a stereo system that included an 8-track player but I never owned one like that. But I could've sworn that one of my friends or maybe one of my cousins had a player just like that but I don't know for sure. (Memory is one of those funny things where you remember something but you don't remember when, where, or how you remember it.)
Late last year I did a series of blog posts with accompanying photos known as A Tabletop Christmas (so-named because I limit my Christmas decorating to just a single tabletop in my living room). Among the items I showed off was a small plastic Santa Claus puppet that I've had since I was a child. I didn't know anything about the origins of this puppet. It wasn't until I went to the toy show when I saw a tiny plastic Santa puppet on sale that's identical to mine.
The only difference between the two is that this Santa still had its label at the base while mine doesn't have any labels at all. (I suspect that whatever label it had must've fallen off a long time ago.) My Santa puppet is currently stored in a box with the other Christmas decorations in the attic but here's a picture of my Santa puppet that I took last December.
At first I thought the animal in the next picture was a stuffed animal until I saw the dog move his eyes around. He laid there the entire time I was at that show.
This show also had examples of how the mighty had fallen. I found this book by disgraced former Fox News talk show host Bill O'Reilly on sale for only $1 at one of the tables. (LOL!)
There was one token of something new that I found. Someone was selling glow-in-the-dark versions of the hottest toy of 2017: Fidget Spinners.
By the way, you can check out a video I shot recently where I unboxed and played with one of those Fidget Spinners for the first time (and, no, the one I bought didn't glow in the dark).
Everywhere there were visual treats, many of which harkened back to my own youth.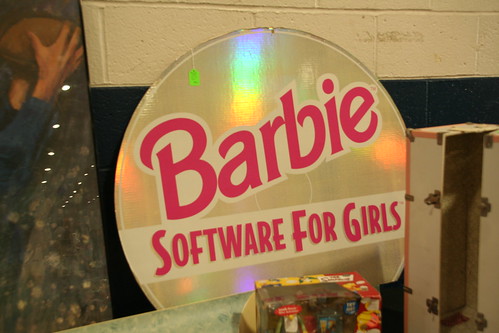 As I was walking back to the light rail stop I shot this photo of The Cow Palace building because it had a nice small garden.
I didn't buy a lot of stuff at that toy show due mainly to tight finances. But I managed to snag a couple of things at bargain rates. I found the second season of The Simpsons DVD set for only $6.
I bought a Monster High doll for only $5. I was attracted to her pretty winter-themed clothes. At first I thought I may have purchased a relative of The Snow Queen until I did an online search and I was able to make a definite identification. Based on this web page, her name is Abbey Bominable and she's described as the 16-year-old daughter of the Yeti.
Here's a closeup of her hair, which looks like it has glittery plastic pellets weaved throughout the strands. It gives a really cool ice/snow effect, especially when the light reflects off of her hair.
Since today is Groundhog Day, I'd thought I'd post some photos I took at last weekend's World of Pets Expo that took place at the Maryland State Fairgrounds in Timonium, Maryland. I last went there in 2014 when I was battling a nasty chest cold. This year I was in much better health so I was able to enjoy myself at the expo even more. There were all kinds of vendor booths for both pets and their owners. There were various competitions for dogs including running through an obstacle course and jumping into a pool. I even went into a stall in the women's restroom that had two toilets in the same stall.
There were all kinds of animals on display including llamas. Here are the pictures I took at that expo.
A long time ago I learned that going downtown on Christmas Eve is the best place to be on Christmas Eve because everything is relatively empty. That's because so many people tend to pack into the suburban shopping malls doing last-minute shopping while the stores in the city are empty. I've spent previous Christmas Eves in both Baltimore and DC and it's the same situation.
I thought about a lot of places I could go to on Christmas Eve. In Baltimore I could go to the Walters Art Museum, Fells Point, or the Ripleys Believe It or Not! Odditorium. In Washington, DC I could go to any of the Smithsonian museums, Chinatown, or Georgetown.
But then it rained on Christmas Eve, which put a damper on a lot of things I would've loved to have done (especially going to places where I would be spending a good bit of time outside) and I was not in the mood to do a lot of driving in such lousy weather. I ultimately decided to go to Union Station and the Smithsonian National Postal Museum mainly because both places were located next to each other so I could take the Red Line Metro to the Union Station stop. I exited on to the lower level, where I found that it wasn't very crowded at all.
I hadn't been to Union Station in a long time. I was looking forward to eating sushi for lunch at the Hibachi stand followed by going to Vaccaro's Italian Pastry for dessert. Except when I arrived I found that half of the lower level where all of the fast food type places are located had been blocked off. While there are still places where one can get a quick bite to eat, there are far fewer choices than before. (That's not to mention that both Hibachi and Vaccaro's are both gone.) I ended up going to a Chinese food stand where I ordered orange chicken with two side dishes. But I ordered my lunch around the same time that they changed employees and I told the replacement employee that I had told the other one that wanted the orange chicken. She had me try the tofu and led me to believe that it was one of the side dishes. So I ordered the tofu as a side dish and told her that the orange chicken would be the main dish. Except when I got my meal and went to one of tables I found that this employee had given me the tofu as the main dish. The tofu was okay but I would've preferred the orange chicken. On top of it, the green beans side dish was undercooked. I made a mental note of never ordering anything from that place again.
After lunch I did some more walking around. I found out that the reason why the lower level had been cut in half was because Walgreen's had moved in and opened this giant store.
There was one large aisle dedicated to purchasing every kind of Washington, DC souvenir that you could think of.
I've been to various Walgreen's stores over the years but this is the first one I've ever been in that actually has a sushi bar that makes fresh sushi on the premises.
If it hadn't been for that less-than-thrilling Chinese lunch I had already eaten, I would've tried the Walgreen's sushi for the hell of it.
I made my way to the upper level where the upscale shops are located and I found that they were not crowded at all.
Since my last visit to Union Station I saw that the DC Lottery had opened its own store where anyone can buy—what else?—lottery tickets.
I decided to eat some dessert. Since Vaccarro's Italian Pastry was gone, I thought about going to the Corner Bakery instead since I've eaten their desserts in the past and I found them quite good. But I found out that it was replaced by a French pastry place known as Le Pain Quotidien. I found their Christmas-themed dessert display to be quite charming.
I ordered the sea salted chocolate and caramel tart and it was wrapped up in this nice looking box. The tart was excellent.
I saw the Christmas tree that was a gift from the Norwegian Embassy.
There was also a special exhibition documenting the joint U.S.-Norwegian explorations of the Polar Regions.
There was a large toy train layout that I found to be quite lovely.
On my way to one of the exit doors I saw this pigeon who somehow may its way inside Union Station. It was walking around among the various people on the floor like it was going shopping or rushing to take the next Amtrak train. I thought it was quite a hilarious scene.
Outside of Union Station is this futuristic looking dome where one can rent a bike.
Right next door to Union Station is the Smithsonian National Postal Museum. It's one of the newer Smithsonian museums that had opened in recent years but I never got around to stepping foot inside until Christmas Eve.
I don't even know what took me so long to visit this place (especially since I'm a local resident). I'm glad I finally did because the interiors are absolutely breathtaking.
As you can guess by the name, this museum is dedicated to the history of the U.S. Postal Service and postage stamps. Naturally stamp collectors will get the biggest kick out of this museum but there are plenty of things on display to wow those who aren't into stamp collecting.
This museum features Owney, a homeless dog who became the mascot of the U.S. Postal Service for a time until his death over 100 years ago. Here's a bronze statue of the dog.
And here's the real Owney, as preserved by a taxidermist.
Owney was the Grumpy Cat of his day—a beloved animal celebrity who received attention and presents (in the form of special tags indicating where he travelled to) everywhere he went. The next photo shows the many tags he received and are currently on display draping his stuffed carcass.
The gift shop also has a smaller stuffed animal version of Owney for sale.
I didn't buy that stuffed animal but I did buy a short book on the dog's life for only $4.
Since I arrived at the museum on Christmas Eve, I got a chance to see the museum's Christmas tree with surrounding poinsettias.
The one exhibit that excited me the most was the one on PostSecret: The Power of a Postcard. That's because, through my past involvements with Artomatic, I know that PostSecret originally started as an Artomatic exhibit that was put on by the writer Frank Warren. That exhibit was such a phenomenal success that it overshadowed the other Artomatic exhibits that were on display that year. That exhibit was eventually turned into a series of books and I remember the times when he held book signings at various Artomatic events mainly as Frank Warren's way of showing appreciation for the event that started it all. (You can read about those book signings here and here.)
Now PostSecret has turned into a Smithsonian exhibit, which is pretty cool. The next photo shows just a small portion of the postcards that Frank Warren has received over the years.
Here's something that was actually sent on a coconut.
I'm still amazed that something I'm familiar with from my involvement with Artomatic has become a Smithsonian exhibit.
The photos I took are just a small sample of what's currently on display at that exhibit.
There was an area that was especially made for stamp collectors. One can view the various stamps currently on file in a special room. The stamps are in a case that one can pull out and they are organized by nation, year, and type of stamp. I can imagine a hardcore stamp collector spending at least two days in that area alone just looking at all of the stamps on file.
That area also had the world's first postage stamp on display. It was a British stamp known as the Penny Black and it was released in 1840.
There was a hands-on exhibit where one can design a stamp on a touch screen computer. Here is the stamp I designed.
There was even an area that's designed for anyone who's thinking about starting his/her own stamp collection and one can get the first stamps for free. First you get an envelope like this.
Then you go through this bin picking out stamps you'd like to put in your envelope.
I have a confession to make. The rules of picking out free stamps basically said that each person was limited to six stamps in order to make the free stamps available for everyone. There were so few people in the museum the day that I was there that I actually broke the rules and picked out seven stamps. I wasn't caught (mainly because there were so few people there) and I got away with it. I'm not saying that what I did was right or correct and if there had been a ton of people in the museum that day I would've obeyed the rules. But I fell into temptation because there were so few people and, besides, I only took one extra stamp and not like—let's say—30 extra stamps.
Here are the stamps I picked out. I'll admit that I was inspired by the recent elections and the incoming President Donald J. Trump Administration along with all the doubts swirling around him as to whether he will even follow the Constitution. So I chose this stamp commemorating the 175th anniversary of the U.S. Bill of Rights.
As a former Journalism major in college and current blogger, this next stamp really appealed to me. It features a quill and ink along with the words "The Ability to Write-A Root of Democracy."
I picked out this stamp featuring George Washington since he was not only one of the Founding Fathers but he was also the first President of the United States and he set the tone for how the succeeding presidents should always follow the Constitution.
I picked out this stamp featuring Martha Washington because she was not only the first First Lady but I'm sure she went through her own trials and tribulations while supporting her husband first as a hero of the American Revolution then as President of the United States. It's like the old saying goes: "Behind every man is a woman."
I picked out Thomas Jefferson because he was also a hero of the American Revolution, a Founding Father of this nation, and he was instrumental in including many rights that we Americans take for granted (such as the freedom of the press) and could possibly be threatened under Donald Trump's presidency.
I picked out Benjamin Franklin, another Founding Father who was the first Postmaster General. Plus I'm currently running the weekly Benjamin Franklin Fridays in this blog where I include quotations from his Poor Richard's Almanack book.
I chose Susan B. Anthony because she was a suffragette who fought hard to win the women's right to vote.
I chose one foreign stamp. This one is from France and it features Marianne, the French symbol of freedom who provided the inspiration for the Statue of Liberty.
I basically hung around the museum until it was closing time. By that time the rain had stopped but it was still cloudy outside and the ground was wet. I was treated to a nice Christmas Eve sunset as I took the Metro back home.
Continuing with this series on having a tabletop Christmas, here are some more ornaments that I currently have on my small tabletop tree.
I've been into animation since I was a child so it's quite logical that I would have a lot of Christmas ornaments to reflect my interest in animation. Some of these ornaments were ones that I purchased while others were given as gifts from various relatives over the years. I used to have a lot of animation-themed ornaments back when my husband and I used to put up a six-foot tree. Since my husband left I've done some serious downsizing. While I still have a few animation-themed ornaments left, my collection of Christmas animation ornaments is a far cry from what I had five years ago (when my husband left just three days after Christmas with no indication that he was the slightest bit unhappy).
The ornaments shaped like Disney characters tend to predominate my collection the most. Okay, so I like Disney animation, especially Mickey Mouse. Here's a caroling Mickey Mouse next to a ceramic ornament featuring a pink mouse in a stocking that I was given as a child by my parents and I still have it.
Here's a wooden Mickey Mouse clock. (No, it's not a real functioning clock.)
This was an ornament that I purchased during one of my many trips to Walt Disney World over the years. My husband and I arrived shortly after the 1st Disneyana Convention was held so the resort was selling these ornaments at a clearance sale for half-price.
I also have a Mickey Mouse stocking hanger. I still have the same stocking that my parents originally purchased for me when I was an infant. It hasn't been filled with anything since my husband left. These days I just hang my stocking as a decoration since it's really not worth the effort for me to fill my own stocking. (Filling one's own stocking kills the element of surprise right there.)
I have a small Santa Mickey snow globe decoration that I received when I attended the annual post-Christmas white elephant gift exchange that my support group for people who are separated or divorced puts on each year. The snow globe has the year 2013 written on it.
I also have other Disney characters besides Mickey Mouse in my Christmas tree, such as Winnie the Pooh.
Flit is a hummingbird from the animated Disney movie Pocahontas.
The next photo has two Disney ornaments. The raccoon is Meeko from the Pocahontas movie. The other figure is Stitch from Lilo in Stitch and he's dressed like Elvis Presley.
I have another Stitch ornament. This one is a small plush ornament and he's wearing ear muffs, mittens, and a red sweater that says "NAUGHTY" on it. Next to Stitch is Eeyore from Winnie the Pooh and he's sliding downhill on a sled.
These next two photographs show a double-sided ornament. On one side is Belle and the Beast from the film Beauty and the Beast.
The other side shows the Beast after he's been transformed back into his original human self.
Rounding out the Disney decorations are two dolls resembling the two princesses Anna and Elsa from the movie Frozen. I originally bought the dolls thinking that I would display them at Christmas then put them away in the attic after the holidays. Except when it came time to take down everything, I couldn't bear to put these dolls away. These days I keep them with my doll collection upstairs and I bring them downstairs to join the other Christmas decorations.
I have other animated-themed ornaments that are based on non-Disney characters as well, such as this one featuring Sylvester and Tweety from the Warner Brothers Looney Tunes cartoon shorts.
My parents gave me this ornament based on Dr. Seuss' classic Christmas book How the Grinch Stole Christmas (which was later turned into a made-for-television animation special then it was remade into a live action theatrical feature film starring Jim Carrey). This one features the scene after the Grinch had finished making a Santa outfit for himself and placed reindeer antlers on his dog Max and they are both standing in front of a mirror (which is actually a real mirror).
I know that technically the ornament in the next picture is really based on a video game but Sonic the Hedgehog was turned into a cartoon series in the 1990's so I'm going to include it here on a technicality. I bought this ornament back in the days when I owned a Sega Game Gear and I was really into playing Sonic the Hedgehog. Basically the ornament is shaped like a Game Gear (including a Christmas scene featuring Sonic) while Sonic is running on top of the Game Gear bearing Christmas presents. I've long since sold my Game Gear but I still have the ornament nonetheless.
Way back in January I wrote a blog post about how last year the opening ceremony for the annual Festival of Lights in Greenbelt, Maryland was moved from the back of City Hall to nearby Roosevelt Center, which resulted in higher attendance since the movie theater, restaurants, and convenience store were all located there. I was there for the opening ceremony in its new location but I didn't bother with taking pictures, which I regretted later. I took pictures of the lights in Roosevelt Center on the last day of the festival, which was on a Sunday night (when most of the businesses tended to close early on Sundays). The entire area was pretty yet deserted when I took those photos.
The opening ceremony was such a huge hit in its new location that the City of Greenbelt decided to do it again this year in Roosevelt Center. This time I took pictures of the festivities.
The festival gave out free hot chocolate. The festival organizers encouraged people to bring their own coffee cups or hot thermoses from home instead of using the free paper cups that were also available in order to get as close to having the festival produce zero waste as possible. I brought this coffee mug that had Stitch from the Disney movie Lilo & Stitch. (It was one a gift I gave to my then-husband but it was among the many items he left behind when he walked out on me back in 2011.) It turned out that that coffee mug was a conversation starter because I had so many kids who literally focused their attention on this mug.
As you can see, this event drew a lot of people of all ages.
There were lights strung everywhere.
A local band played Christmas and Hanukkah music.
The Christmas tree remained darkened until Santa Claus arrived.
Santa Claus arrived on the back of a fire truck.
The lights on the tree were lit after Santa arrived.
The nearby Greenbelt Theater was having a free showing of the original made-for-TV cartoon How the Grinch Stole Christmas just like it did last year. I saw it on the big screen last year and it was such a different experience from simply watching it at home on the TV. I thought about seeing it again but the line at the movie theater was really long this year. (I later heard that every single seat in the theater was filled.) I decided to skip it. It was no big deal since I saw it on the big screen last year plus I have that show on DVD so I can watch it at home anytime I want.
Makerspace 125 decided to schedule an Open House to coincide with the Festival of Lights opening ceremony. Someone decided to decorate a ladder with lights and ornaments instead of a tree.
Makerspace 125 had this one free hands-on activity where people could make fancy paper ornaments.
One person brought her dog, Honey, who totally enjoyed herself at the open house.
Most of the festival attendees basically cleared out after the Greenbelt Theater finished with showing the Grinch. Here are a few more photographs of the lights that are currently up in Roosevelt Center.
The lights will remain up until after New Year.
UPDATE (December 25, 2016): After I attended a special Christmas Day Sunday service at my church I decided to head to the Beijing Restaurant in Roosevelt Center (where I took advantage of its special Sunday buffet). After I left the restaurant I noticed that the Christmas tree from the Festival of Lights looked very glittery. Of course it helped that it was a very bright sunny day. Here are a couple of extra daytime photos.
I spent Small Business Saturday just cruising around two towns that are located squarely in the Gateway Arts District of Prince George's County. First I headed to Mount Rainier where I checked out ReCreative Spaces.
During my time there I created this Christmas ornament using green cardboard, ribbon, and pom-poms.
I also got this free recyclable shopping bag, which was pretty cool.
After my time at ReCreative Spaces I headed over to Hyattsville. The first place I stopped at was at the Pyramid Atlantic Art Center, where I took these pictures.
Then I stepped outside where I caught this cool lighting effect of the late afternoon sun on the American flag against a dark cloudy
I stopped by the Three Little Birds Sewing Company, where I took these pictures.
Next door to the Three Little Birds Sewing Company is a temporary pop-up shop that's being run by Tanglewood Works in addition to its original location in nearby Edmonston.
I walked around outside where I took a few twilight photos (including some gorgeous sunsets).
The last place I stopped in while I was in Hyattsville was at Franklins Restaurant, Brewery, and General Store.
One day after the most decisive election in recent memory has been held, I feel that posting these photos of a very cute dog will serve as a perfect palate cleanser to the all of the outrageous vitriol that has been spewed for all these months.
Last month I went to a board games meetup that was held in someone's home located in my neighborhood. I had a good time as I met new people and played some board games I've never played before, including one whose gameplay was contingent on downloading this smartphone app. (I'll admit that playing board games with an associated smartphone app is a new one for me. I grew up playing technology-free board games like Candyland, Uncle Wiggly, Scrabble, Monopoly, Yahtzee, and The Game of Life.)
The event hostess had a small dog who was very cute and very friendly. At one point this dog wanted me to hold her in my lap. Here are a few pictures I shot of this dog while she was sitting in my lap.
After sitting in my lap for a while the dog indicated that she wanted down so I put her down. At the end of the evening, when I was getting my purse that I left on a sofa, the dog was lying next to my purse. She took one look at me and she rolled over on her back exposing her belly and indicated that she wanted a belly rub from me. That's a sign that this dog trusted me enough to roll over on her back in the first place.