You are currently browsing the tag archive for the 'Darth Vader' tag.
On the Saturday during the Fourth of July holiday weekend, I decided to check out this toy show that was being held at the Maryland State Fairgrounds.
It was such a feast for the eyes as the toys and various other vintage items were displayed at various vendor tables. The whole show took on the air of a flea market with an emphasis on vintage stuff dating anywhere from the 1900s to the 1990s.
Someone had a jukebox for sale, which reminded me of my childhood when many of the local restaurants had them and people could choose songs to play for about a quarter each.
The jukebox played music during the entire event. (Which proved that it definitely still worked.) I couldn't help taking pictures of the songs that were available on the jukebox. The majority of them were hits when I was a kid.
And speaking of music players, here's a vintage 8-track player with an Elvis Presley 8-track tape. I once had a stereo system that included an 8-track player but I never owned one like that. But I could've sworn that one of my friends or maybe one of my cousins had a player just like that but I don't know for sure. (Memory is one of those funny things where you remember something but you don't remember when, where, or how you remember it.)
Late last year I did a series of blog posts with accompanying photos known as A Tabletop Christmas (so-named because I limit my Christmas decorating to just a single tabletop in my living room). Among the items I showed off was a small plastic Santa Claus puppet that I've had since I was a child. I didn't know anything about the origins of this puppet. It wasn't until I went to the toy show when I saw a tiny plastic Santa puppet on sale that's identical to mine.
The only difference between the two is that this Santa still had its label at the base while mine doesn't have any labels at all. (I suspect that whatever label it had must've fallen off a long time ago.) My Santa puppet is currently stored in a box with the other Christmas decorations in the attic but here's a picture of my Santa puppet that I took last December.
At first I thought the animal in the next picture was a stuffed animal until I saw the dog move his eyes around. He laid there the entire time I was at that show.
This show also had examples of how the mighty had fallen. I found this book by disgraced former Fox News talk show host Bill O'Reilly on sale for only $1 at one of the tables. (LOL!)
There was one token of something new that I found. Someone was selling glow-in-the-dark versions of the hottest toy of 2017: Fidget Spinners.
By the way, you can check out a video I shot recently where I unboxed and played with one of those Fidget Spinners for the first time (and, no, the one I bought didn't glow in the dark).
Everywhere there were visual treats, many of which harkened back to my own youth.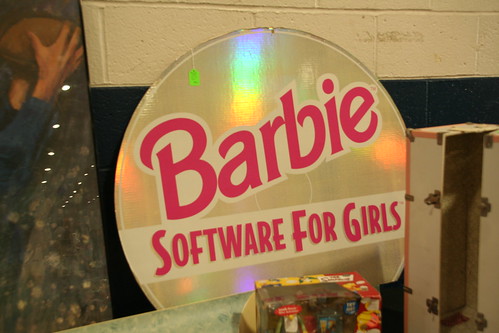 As I was walking back to the light rail stop I shot this photo of The Cow Palace building because it had a nice small garden.
I didn't buy a lot of stuff at that toy show due mainly to tight finances. But I managed to snag a couple of things at bargain rates. I found the second season of The Simpsons DVD set for only $6.
I bought a Monster High doll for only $5. I was attracted to her pretty winter-themed clothes. At first I thought I may have purchased a relative of The Snow Queen until I did an online search and I was able to make a definite identification. Based on this web page, her name is Abbey Bominable and she's described as the 16-year-old daughter of the Yeti.
Here's a closeup of her hair, which looks like it has glittery plastic pellets weaved throughout the strands. It gives a really cool ice/snow effect, especially when the light reflects off of her hair.
As I look back on this, I have to admit that I really pushed my body to the max. That was because the night before I went to Light City in Baltimore, where I waited outside in the cold for over two hours waiting for my animation, The March of Liberty, to finally show on the big screen. I was so stiff and sore the following day that I ended up skipping church.
I still pushed myself to check out the first annual Kamecon because I like seeing cosplayers all dressed up, I was attracted by the $3 admission fee, it was held on the campus of my alma mater (the University of Maryland at College Park), and it was held just three miles from my current home.
Compared to other anime conventions like Otakon and Katsucon, Kamecon is relatively small. The entire event was held in one of the ballrooms at the Adele H. Stamp Student Union building. But the participants were pretty enthusiastic as they donned costumes and hung out. Here are some photos I took.
There was a line at the ticket office located next to the Hoff Theater but it wasn't too bad. I think I may have spent about 15 minutes in line at the most.
I decided to bring my Canon Digital Rebel EOS camera with me to this event. Here's a selfie I was able to take thanks to the restroom mirror. (Yes, I was wearing the My Little Pony Rainbow Dash hoodie in order to blend in a little bit with the cosplayers.)
Some people were waiting to have their photo professionally taken.
The entire convention took place in a ballroom, which included an indoor tent/lounge where people could chill.
There was a Jubeat video game that had a cool cube design. I didn't see anyone play it mainly because it was directly imported from Japan and that machine required a 1 yen coin, which doesn't do any good for the vast majority of Americans present.
There were other video games that people played.
I took a few shots of two cosplayers who were dancing alongside one of the dancing video games while it was playing Lady Gaga's hit song "Poker Face."
I even shot a short video of those two dancing cosplayers.
The ballroom was divided, with half of the room being reserved for Artists Alley. There was a photography ban of that area (unless the photographer gets permission from an Artists Alley participant) so I took only one wide shot of the entire area from the other side.
There were board games and card game packs available for attendees to play with.
Here are some more pictures of Kamecon, including cosplayers.
I also took a few pictures of the University of Maryland campus because it was such a lovely warm sunny spring day. But I didn't take too many pictures because I was growing tired from both checking out Kamecon and Light City the night before. Here's a long shot of the Jim Henson Memorial.
The cherry blossom trees on campus were in full bloom.
Here's a shot of the Mall.
One of the terrapin statues that are located on campus.
March is Women's History Month, which ended just two days earlier, but there was still this poster featuring the University of Maryland's famous female alumni including Connie Chung, Dominique Dawes, Gayle King, Sarah Winnemucca, Judith Resnik, Adele H. Stamp, and Carolina Rojas Bahr.
In the wake of the recent presidential elections that resulted in Donald Trump becoming the next President of the United States, there have been concerns about his antics, especially regarding his tweets on Twitter, where he has managed to piss off China and declared that the U.S. will be creating more nuclear missiles and possibly using them. There are concerns about how suitable he really is to occupy the Oval Office.
The Electoral College was scheduled to meet on December 19. Usually they tend to rubber stamp the results of the elections. This time a movement known as the Hamilton Electors sprang up and they were urging the Electoral College to reject Trump in favor of a more moderate Republican like Mitt Romney or John McCain. On December 19 these Hamilton Electors had called for rallies to be held in every state capital in the U.S. urging the Electoral College to reject Trump in favor of someone more moderate and with more experience than Trump. (Donald Trump is the first president-elect in history with no prior military or political experience.)
Since I live in Maryland the rally was being held in Annapolis. I had thought about going there to make a stand against Trump. But then I remembered that Hillary Clinton had swept Maryland in the elections so Maryland's Electoral College delegates had already pledged to vote for her instead of Trump or another Republican. On top of it, it was a cold day and I was less enthusiastic about freezing to make a public stand against Trump when my state's delegates had already committed to Clinton. So I decided to skip the rally altogether and do something fun instead.
My decision turned out to be a good one for two reasons: 1) the Electoral College decided to award the presidency to Trump anyway despite the Hamilton Electors movement and 2) I went to a place that I hadn't been to in two years and it was nice to go there again.
I went to Valley View Farms in Cockeysville. It's a long commute from the DC area but it's so worth it because it has one of the most awesome Christmas shops anywhere in the Baltimore-Washington, DC area. Here are some photos I took to show how awesome it is.
And if you like these photos, check out photos I took of the same place in 2012, 2013, and 2014.
Whether you're celebrating Christmas or Hanukkah or both today, I hope you're enjoying yourself. Today is the perfect day for me to share this link that I came across last month.
Ever wonder what a Nativity set would look like if Jesus had been born this year? Well, thanks to ModernNativity.com, you don't have to wonder anymore. For only US$129.99 you'll get a set that includes a stable with solar panels on the rooftop. Jesus is wrapped in swaddling clothes lying in a manger while wearing a knitted white beanie. Joseph wears a man bun with a denim shirt and khaki pants while taking a selfie with Jesus and his wife. Mary, who's all decked out in skinny jeans and a loose sweater, poses for the photo by showing off her duck face as she's clutching a Starbucks coffee cup in one hand while flashing a peace sign with the other. A shepherd dressed in jeans is using his mobile device to snap pictures and post them on social media. A white lamb wears a red sweater, which is a nod to this trend of people posting photos of sheep wearing sweaters on Tumblr. A cow, who has been branded as "100% organic," feeds from a manger that is marked "gluten-free feed." Rounding out this Nativity set are three modern-day wise men dressed in hipster outfits who arrive to the scene on Segways while bearing gifts that they ordered from Amazon.com.
Here's a video showing this Nativity set.
The first time I saw this I laughed out loud. If I didn't have money issues, I definitely would've bought this. You can check out photos and another video of this Nativity set right here.
Here are a couple of Christmas sweaters I saw on sale at Target. This one was obviously aimed at men.
This sweater is the saying "He thinks he's God's gift to women" come to life.
Then there's a sweater with Darth Vader's image on it. The perfect way to wish people a Merry Christmas. (LOL!)

I'll end this post with this video featuring Stephen Colbert singing "Another Christmas Song."
Ever since my husband left me just three days after Christmas in 2011, I've been celebrating my birthdays by going out to all-you-can-eat Asian buffet places. While they were okay, I was ready for something a little bit different. I got a combination birthday/Christmas check from my mother so I could indulge myself a little bit. I originally planned on going to the Christmas Village that's temporarily located in Baltimore where I would indulge in German food and do some shopping. But then I looked at operating hours and I found that the Christmas Village is closed on certain Tuesdays—including December 15.
Okay so that plan fell by the wayside. Then I decided on Plan B. I went to Tyson's Corner Mall instead.
Here are the first few images of the plaza area where Metro riders arrive at the mall.
Käthe Wohlfahrt had a heated tent set up outside.
The next shot is one of the two giant wooden soldiers that guard the entrance to the tent. There was a photography ban inside the tent but you can just go on the website to see the variety of German-made Christmas decorations that are currently for sale.
Once again the mall has erected an ice skating rink on the plaza. It was empty mainly because I came on a Tuesday night.
I saw that Jon Wye now has a kiosk in the mall. I can remember when Jon Wye was a regular fixture in many of the local indie craft shows (such as Crafty Bastards). One year I purchased this t-shirt for my then-husband, which he really loved. (My husband loved to cook, although in the later years of our marriage I did more of the cooking because he would come home from work totally exhausted.)
I ended up eating my birthday dinner at Wasabi. It's cool they deliver food on a conveyor belt plus the food is excellent.
After dinner I walked around the mall some more. I saw these cute Christmas villages made from Legos at the Lego Store.
A few months ago I wrote a rant on Why Kim Kardashian and Her Family Need to Just Go Away. I was exasperated over the fact that the entire family seem to have a knack at calling media attention to themselves even though most of them have no discernible talent. Even though I go through great lengths to avoid having anything remotely to do with Kim Kardashian and family, even I can't avoid them completely. One example is this poster in a store window touting a fashion collection that's promoted by two of Kim Kardashian's younger half-sisters, Kendall and Kylie Jenner.
Nintendo set up this temporary display in the middle of the mall. People had the opportunity to actually try some of the latest Nintendo games that are currently on sale for both their 3DS and Wii U systems.
I saw these cute dolls made by the German company Götz in a Pottery Barn Kids store. Here's a fun fact: Götz was the manufacturer of many of the early American Girl dolls, which ended when Mattel purchased American Girl and, in a cost-cutting measure, shifted all production to China. These days Götz makes its own 18-inch dolls that are sold in Pottery Barn Kids stores.
I also saw this Star Wars display in the Pottery Barn Kids store right across from where the Götz dolls were displayed.
In the middle of the mall was something called Those Animals, which were motorized stuffed animals that one could ride through the mall. Each animal is billed to carry a person up to 500 pounds. I thought about renting one briefly to try it out but I didn't because I wasn't sure if I would be considered too old to ride one. I later saw a group of teens riding those animals so maybe it would be okay for adults to ride as well. Maybe I'll consider it again if Those Animals are still around the next time I go to Tyson's Corner Mall.
I went to the American Girl Place. I focused mainly on the Christmas related stuff this time around because I've already taken so many pictures of that store in the past. There was this store exclusive dress that was displayed on different dolls.
There were also other types of holiday outfits for dolls available as well.
They also brought back the horse carriage that I photographed extensively last year at the same store.
Earlier this year I wrote extensively and posted a bunch of photos on Samantha Parkington's gazebo. It was adorned with Christmas decorations when I saw that gazebo this time.
Their Bistro area was all decked out in holiday ornaments. The doll on the counter is Kit Kittredge, who's the BeForever historical doll representing America during the Great Depression.
There were a variety of winter holiday decorations strewn throughout the store.
I took one more token photo of the 2015 Girl of the Year, Grace Thomas, because by the time I make a return visit to the American Girl Place, she'll be long replaced by the 2016 Girl of the Year.
I took a few more photos of various store windows and displays throughout the mall.
I saw the ultimately geeky Christmas ornament: Darth Vader wearing a Santa hat and one of those ugly Christmas sweaters featuring all kinds of Star Wars-related motifs. I didn't buy it at the time because I didn't have enough money on me (after eating at Wasabi). When I attempted to go to a Hallmark store located closer to me, I found that all of the Darth Vader ornaments had been sold out except for the display model.
I finished with a visit to the Nestle Toll House Cafe. Instead of getting a birthday cake for myself, I opted to purchase a cookies and cream brownie. Boy, was it good!
I purchased only one thing during my trip to the mall. I found this $9.99 miniature gumball machine that had the images of Anna and Elsa on it from the Disney movie Frozen.
There is a coin slot but one can get the gumball just by twisting the handle. However, if you opt to pay with a coin, there is a lid at the bottom where you can retrieve your coins. (In other words, it functions as a bank as well as a candy dispenser.)
As I went back out on the plaza in the direction of the Metro station (so I could return home), I saw an employee spraying the surface of the ice skating rink with water.
I also saw some people sit on the outdoor couches by the tables with lit flames, such as this family in the next photo.
During a recent visit to Target I found a few curious items, starting with this Star Wars spatula with a handle shaped like a lightsaber.
Here is a whole line of nutcrackers based on characters from Frozen and Star Wars, including even a Darth Vader nutcracker.
And, last but not least, here is a chance to do a special DIY project where you can customize your own ugly Christmas sweater.
I found this at a local Best Buy recently.
No, I had nothing at all to do with this. But it does bring to mind what I did with these two Star Wars plushies—Darth Vader and a Stormtrooper—on Valentine's Day several months ago. LOL!
Commuting to Dupont Circle on a Sunday afternoon was way more pleasant than it was at the last DC Dr. Sktechy's event back in July (where it was very hot and very humid). For this time around, I was able to walk around more outside because it was a very pleasant day. Even though it was a bit on the cloudy side, it was still one of those perfect weather days where it wasn't too hot or too cold. As a result, I was able to do some leisurely walking around outside while I took a few photos.
While I was waiting for the subway train at the Greenbelt Metro Station, I saw a woman wear this outfit. I took a photo of her and I posted it on Facebook. One of my Facebook friends told me that she was probably either going to or from Baltimore Comic-Con, which was being held that weekend. (I've been to Baltimore Comic-Con other years but the last time I went was two years ago. I skipped last year because of tight finances. I skipped this year because, well, I basically forgot about it until it was too late because I had already made other plans that weekend. Well, there's always next year. LOL!)
Here is the fountain in the middle of Dupont Circle.
Here's a wheat pasted sign announcing Pope Francis' visit to Washington, DC just a few days earlier. I didn't take the opportunity to see the Pope during his time in DC because I knew that it was going to be crowded as all hell and I just didn't want to deal with it. (One of my friends from my church happened to be in DC during the time when the Pope was traveling on the streets and he got a clear shot of Pope Francis, which he then uploaded on to Facebook. He was lucky that day. LOL!)
I arrived to Dupont Circle a little early because I wanted to check out yet another nearby landmark that's mentioned on Roadside America.com's website. It's located outside a restaurant known as the Russia House.
The main reason why this place is mentioned on Roadside America is because of this interesting bust of Andrei Sakharov, a nuclear physicist who was known as the father of the Soviet nuclear program but he later became a Soviet dissident who was a human rights activist against nuclear proliferation. He won the Nobel Peace Prize for his activities.
He looks like he is either under a lot of stress or he has a major migraine coming on and he's rubbing his temples with his fingers for relief.
The bust stands on top of this tall pole that's planted in the ground that's below street-level.
Here's a shot of Sakharov looking out over Connecticut Avenue, N.W. (or if he would be looking at that street if his eyes weren't sculpted shut).
Located a few doors down from the Russia House is something that's not even listed on Roadside America but I think it's worth noting anyway since it involves another bust of a famous figure that's roughly the same dimensions as the Sakharov bust. Near the Russia House is the Argentinian Embassy.
Near the entrance to that embassy is a gold bust of General Manuel Belgrano, who was one of the heroes of the Argentine Wars of Independence from Spain and who also created the Argentine flag.
I took a few general photos of the Dupont Circle area going to and from the Russia House.
I took a slightly different route to the Bier Baron, where I came upon another memorial statue that wasn't mentioned on the Roadside America site. This one was dedicated to Tomáš Garrigue Masaryk, who was the first President of Czechoslovakia from 1918-1935.
I'll admit that this memorial resonated personally with me because one of my ancestors, Anton Znamonascek, immigrated to the United States from Prague, which was located in the Czech state of Bohemia and was part of the Austro-Hungarian Empire. After that empire was dissolved following World War I, Bohemia was merged with another Czech state, Moravia, and the Slavic state of Slovakia to form the nation of Czechoslovakia. After Masaryk's death, Czechoslovakia would subsequently become invaded by the Nazis followed by being part of the Iron Curtain under the domination of the Soviet Union. When the Cold War ended, Czechoslovakia became independent once again only to fragment further into two separate countries—the Czech Republic and Slovakia. Masaryk is still revered in both nations as a symbol of democracy.
I eventually made it to the Bier Baron, where the first thing I did was take a photo of the stage before the event began.
After that photograph, I switched to pencil and paper since Dr. Sketchy's is supposed to be a life-drawing session. The model for this session was burlesque performer Maria Bella of Gilded Lily Burlesque so most of the drawings in this post are definitely not safe for work or school.
After a short break, Maria Bella changed into this costume where she resembled legendary Guns N' Roses guitarist Slash.
The one contest I participated in was one where we had to somehow incorporate the 1980's. The prize was something that was a tie-in with the upcoming latest movie in the Star Wars franchise that's scheduled to be released at the end of the year. Here's my entry.
I decided to include Nancy Reagan wearing her signature red dress with her catchphrase "Just Say No" written on it. I was inspired by that illustration of Nancy Reagan I saw on this vintage Cyclone pinball machine the last time I visited Crabtowne USA.
Since the prize involved Star Wars, I decided to add Darth Vader (especially since the last two movies in the original trilogy were released in the 1980's). I ended up winning that Star Wars prize. Here's what I won from that contest.
It's a Hot Wheels version of the Millennial Falcon from the Star Wars movies.
I have to admit that the tiny details are pretty amazing.
According to the packaging, the Millennial Falcon comes with a stand that one can either use to display on a flat surface or wear on a finger like a ring. (Or an oversized ring since the Millennial Falcon weighs pretty heavy on the hand compared to a regular ring.)
The only finger I can fit the stand on is my pinky. I think it's because Hot Wheels are made for children and children's fingers tend to be smaller than an adult's. In any case, it's still a pretty neat prize to have won.
After winning that contest, I did two more drawings of Maria Bella (wearing a different outfit) before the event ended.
It was a pretty fun event. In addition, the couple who runs the Baltimore Dr. Sketchy's events arrived at the Bier Baron with their baby daughter, who's totally adorable. (I didn't get any pictures of the child so you'll just have to take my word for it.) It was a pretty good day for me. 🙂
At long last here's a post that I've been working on for two months, which documents the closing of a local Kmart.
I'm not surprised that the Kmart that was located in Greenbelt, Maryland at the Cipriano Square shopping center (across the street from NASA Goddard Space Flight Center) has just closed its doors for good recently—one of hundreds of stores that were doomed to go out of business throughout the United States. Both Kmart and its parent company Sears have been suffering financially for a number of years. The main problem is that both companies are presided over by a CEO named Eddie Lampert who has been applying principles he derived from reading Ayn Rand novels to running his business enterprise with disastrous results. Here's a quote from this article.
Plagued by the realities threatening many retail stores, Sears also faces a unique problem: Lampert. Many of its troubles can be traced to an organizational model the chairman implemented five years ago, an idea he has said will save the company. Lampert runs Sears like a hedge fund portfolio, with dozens of autonomous businesses competing for his attention and money. An outspoken advocate of free-market economics and fan of the novelist Ayn Rand, he created the model because he expected the invisible hand of the market to drive better results. If the company's leaders were told to act selfishly, he argued, they would run their divisions in a rational manner, boosting overall performance.

Instead, the divisions turned against each other—and Sears and Kmart, the overarching brands, suffered. Interviews with more than 40 former executives, many of whom sat at the highest levels of the company, paint a picture of a business that's ravaged by infighting as its divisions battle over fewer resources. (Many declined to go on the record for a variety of reasons, including fear of angering Lampert.) Shaunak Dave, a former executive who left in 2012 and is now at sports marketing agency Revolution, says the model created a "warring tribes" culture. "If you were in a different business unit, we were in two competing companies," he says. "Cooperation and collaboration aren't there."
All of which proves that Ayn Rand is a poor role model when it comes to applying her principles that she espoused in her novels to real life. This worship of Ayn Rand is a reason why Eddie Lampert has shown up on a number of "Worst CEOs" lists like this one.
It sucks that things are going bad for both Sears and Kmart since both stores have been around since my childhood. I still have memories of the times my mother took me to Sears to buy clothes for me. I remember my father had a few Craftsman tools that he would use for things like yard work.
And then there's the other store that began with the letter K. When I was growing up, there was a Kresge's at the local Harundale Mall in Glen Burnie, Maryland (which is notable in the Wikipedia for being the enclosed shopping mall to open on the East Coast). Kresge's was an independently-owned five and dime store and it was located just a few feet away from another five and dime—Murphy's. I can remember the times I purchased cheap toys with my allowance money from both stores and the years when my mother would buy me one of those cheap plastic Ben Cooper Halloween costumes that were sold in both stores instead of sewing me one with her sewing machine.
Murphy's eventually went out of business while Kresge's started to open larger stores and, in the process, changed its name to Kmart. When I first moved to the area where I live now, there was a Bradlees that was the main anchor of Cipriano Square. Bradlees was a big box discount store that had nice things for pretty decent prices and I used to shop for clothes there a lot. A few years later Bradlees closed down and it was replaced by Jamesway, another large discount store that also had nice things at pretty decent prices. Jamesway closed down after a couple of years and Kmart moved in its place, where it had stayed until recently.
I bought a lot of things from Kmart over the years. I'll admit that the checkout lines were always crowded mainly because the store always put too few employees at the cash registers (mainly to save money) so I always had to wait in line for at least 15 minutes. No matter what time of the day, there were always more buyers than cashiers. Yet Kmart had some nice things (especially in women's clothes—I bought a lot of professional looking clothes for the office jobs I worked at) so I still shopped there despite the crappy service. I learned early on that Kmart was not the store to shop in if you had limited time and you needed to be somewhere else by a certain exact time. Basically if I needed to buy something, I went to Kmart on days when I had nothing else that I had to do so I could endure the very slow checkout lines.
Even Kmart's purchase by Sears didn't improve the checkout lines very much although it was convenient that I could get Kenmore and Craftsman products at a store that was located closer to my home than the nearest Sears.
Basically shopping at Kmart was something that was endured but the hassle turned out to be worthwhile in the long run because I obtained useful stuff, some of which I still use (such as a Martha Stewart laundry basket that I bought years ago and it's still in very good shape).
When I learned via one of the Facebook groups that I belonged to about Kmart's imminent demise in my area, I knew that I needed to take advantage of the going out of business sale because there were a few items that I needed to buy and it was an opportunity to get them at even lower prices than before. I also decided to take pictures to document the store's decline. I made a few trips to that store before it finally closed for good this month. Here is what I saw during those trips.
February 13, 2015
It was very fitting that I made my first trip to Kmart after I heard the news on a Friday the 13th. The outside of the store didn't give any indication that it was closing down soon.
But once I entered I saw the signs announcing a massive sale where everything in the store was between 10-30% off the regular price. The signs said "Huge Inventory Blowout!," which would lead one to believe that Kmart was just having the usual end-of-season clearance sale in order to make way for new inventory for the spring and summer months. If I hadn't seen that Facebook message that someone in one of my groups posted online, I would've made a similar conclusion as well.
Since Valentine's Day was the next day, it was natural to see a rack full of Valentine cards near the store entrance.
There were all kinds of merchandise that had the discount prices on them.
Even though the going out of business sale was in its early days, some of the shelves were already starting to become empty.
And the Refreshments area near the cash registers had already closed down for good.
There were some merchandise that were haphazardly thrown into bins. Some of the stuff looked like leftover Halloween costumes while others looked like leftover Christmas decorations. I wasn't about to go through those bins to get a closer look because they looked so messy that they seemed intimidating to me.
I found a My Little Pony Equestria Girls Rainbow Rocks doll set that's a Kmart exclusive.
Among the normal items on sale, there were a bunch of things that I thought were pretty odd. There is this toy shaped like a Kenmore vacuum cleaner that's supposed to teach little girls the joys of doing vacuuming while subtly instilling brand loyalty to Kenmore products at an early age. (If my parents had given me a toy like that when I was a kid, I would've thrown a fit. I was into dolls, stuffed animals, and craft kits. Anything that resembled household appliances were considered boring to me.) It's pretty ironic since Kenmore was originally created as a Sears store brand and I've read that Sears is among the list of companies most likely to go out of business permanently in 2015. Unless Sears sells its Kenmore line to someone else, any little girl getting a My First Kenmore Vacuum Cleaner would consider this one as My Last Kenmore Vacuum Cleaner.
This kid's t-shirt had me going WTF?!? at seeing Ariel from The Little Mermaid wearing glasses. I hate to say it but glasses are totally not practical for mermaids or any other creature who spends the majority of time underwater.
Then there is this really bizarre game that's being marketed for girls called Freaky Becky. Judging from the box, it looks like each girl player has to do something with the enclosed zombie doll known as Freaky Becky and that zombie parts will frequently fly all over the place as part of the fun. I can imagine parents getting exasperated over having zombie doll parts fly everywhere and maybe even get lost in between the sofa cushions or on a rug where someone steps on it later.
There are similar games made by the same company for boys as well: Johnny the Skull and Zed the Zombie.
There were a few strange items for adults as well. Remember the Snuggie? Well Kmart was selling sleeved blankets where one can choose from Minnie Mouse or Elvis Presley.
I needed to buy a few new items but it wasn't until after I arrived in the store that I realized that I didn't have as much money on me as I thought so I bought fewer items than I wanted. Since the sales only ranged between 10-30%, I decided to focus on buying only those items that I really needed to buy (as opposed to items I'd like to buy but I really don't need). I bought one Playtex bra to replace at least one of the old bras that I've owned for years that have been getting increasingly ratty and stretched out. I also saw this exercise DVD that was originally marked at $10 but the price was lowered to $8 called Lesley Samsone Walk Away the Pounds. Lately I've been making an effort to walk a minimum of one mile a day, six days a week and I've been wearing a pedometer to make sure that I make at least the minimum goal. Some nights I'm short of my minimum goal so I've been taking short night walks around my neighborhood in order to push my pedometer beyond the 1 mile mark. The DVD comes in handy for those nights when I can't go outside because it's raining or snowing.
February 14, 2015
I'll admit that I was annoyed with myself for coming to Kmart's going out of business sale with not enough cash the day before. There were some items that I absolutely needed to replace (because they were literally falling apart) and I figured that it was a  rare opportunity to replace these items at a discount.
I've been to enough of these going out of business sales over the years to know that they tend to be multiple phase plans. During the early phase, the discounts tend to go no lower than 30% with many items only being offered for 10% off the retail price. But it's also during that phase when you're more likely to get the items that you want. By the time steeper discounts are offered, chances are that many items you want will have already been sold and much of the merchandise left are literally the dregs.
So I decided to take an organized approach to Kmart's going out of business sale. During the initial 10-30% off phase, I decided to focus only on the items I really needed to buy while putting off other items that I would like to have but I really don't need immediately for later in the going out of business sale process.
Since I stupidly didn't bring enough money the day before, I decided to go back on the following day, even though it was Valentine's Day. I didn't mind shopping on Valentine's Day because it's not like I have a significant other to spend the day with or anything like that. I got a chance to take photos of a few more items that are a bit on the kitsch side, such as these pillows based on Star Wars and Frozen.
I browsed a bit around the beauty aisles where I found this cologne that's marked with the 007 logo from the James Bond movies.
It's been a long time since I last bought myself a bottle of perfume or cologne. There seems to be an excess in perfume/cologne with a celebrity's name attached to it, such as Rihanna, Lady Gaga, and Katy Perry. I just don't remember ever seeing such products named after celebrities like that. I just remember names like Chanel No. 5 and Jean Naté, which weren't named after celebrities who are currently fixtures in the tabloid media.
Paris Hilton has a whole section dedicated to different brands of her perfume/cologne. Talk about a total inventory glut!
Here are some bath-related products for 20% off.
There was a large cardboard bin that had just books that were 80% off the retail price. I looked in the bin but I didn't find a book that interested me enough to buy one. It's too bad because it was about the only place that had the steepest discount.
There was a large pile of Easy Bake Ovens that were placed right in the middle of an aisle.
There was a section of brightly decorated bras from Joe Boxer. While I loved the designs on the bras, I felt that they were impractical because the designs would ultimately be covered with a shirt. If the shirt was on the sheer side, there's a chance that the bra's designs would show through, which would be okay if a woman was at a party or something like that but would be embarrassing if she was working in an office.
Between the fact that it was Valentine's Day (with people doing their last minute holiday shopping) and it was a going out of business sale, there were plenty of people in the checkout lane. I saw people literally fill their shopping carts with merchandise. It took me a while to actually check out with my items.
Here's what I bought that day. I purchased another bra to replace one of my older bras that have gotten ratty and is literally falling apart. My new bra is a pretty light pink color, which I like.
I purchased a can opener mainly because the last can opener I owned had a blade that was getting increasingly dull and I had a harder time opening metal cans. This new can opener works really well and I can open cans much faster than before.
Here's the back of the package, which has the name of Kmart's store brand (Essential Home). The can opener was really easy to remove from the package.
Here's a close up of the back package, which features the Kmart logo.
I purchased two bath mats mainly because one of my current bath mats was really falling to pieces (I ended up throwing that one away after buying my new mats) and the other one is just starting to fall apart. These new bath mats have worked out really well for me.
This last item was an impulse buy. It's a liquid soap dispenser that's shaped like the Eiffel Tower. I thought it looked really nice and it was on sale for only $12. I got rid of a soap dispenser last year after it broke apart and I bought a new one at Target soon afterwards. With this new soap dispenser, I now have a total of three dispensers. This Eiffel Tower looks really nice in my bathroom.
February 17, 2015
Three days after my Valentine's Day shopping trip, I made yet another shopping trip to Kmart. By that time the store had finally decided to put up an outside banner along with several signs in the windows and in the entrance foyer admitting that, yes, it really is going out of business.
There were all kinds of items with discount signs.
They were even selling this necklace and earring set with one of the stones missing from the necklace.
Then there was a whole row of Grumpy Cats.
There was the same large stack of Easy Bake Ovens that I saw just a few days ago, except the pile had gotten smaller.
There were sales everywhere.
The checkout lines were very busy with shoppers taking advantage of the sale.
The photo below shows my haul from that trip.
I bought another Playtex bra, this one in a tan color. I also bought a pack of Hanes underwear because I recently had to throw away a couple of panties because they had developed large holes (I had them for a few years). It's always useful to buy underwear in bulk even if you can't currently use all of the new panties at once because you never know when you'll need to throw away a pair of old panties that developed holes big enough to shove three fingers through them.
The next photo shows my biggest ticket item I've purchased from Kmart to date. It's a Blue Line stereo that has built-in speakers, AM/FM radio, a CD player, an alarm clock, and an outlet to plug in a laptop, tablet, smartphone, or MP3 player so one can listen to digital music in stereo. The price was originally listed at $69.99 but I got it for $50. I had wanted to purchase a smaller stereo that I could fit on a tabletop ever since I got rid of that huge stereo that was taking up a massive amount of space in my living room but I wasn't able to do so until recently because money was very tight. So far it works really well and it has a great sound.
My cash receipt included this notice expressing regret that they had to close the Kmart in my area but I could call or go online to Kmart.com to find other Kmart stores. It also included this incredibly dumb-sounding slogan: "We're Open. You're Saving!" Whatever.
March 18, 2015
I grew tired of going back to Kmart for the last three shopping trips so I decided to take some time off from going there, figuring that the prices would eventually go even lower the closer the actual going out of business date arrives. I ended up waiting a whole month before I went back. By the time I made my return trip, I noticed that there were more empty areas inside of the store.
By that point the discounts had increased to as much as 40% off. I was intrigued by these MiP robots when I first started seeing them in other stores last year but I didn't go for one because of the $99 price tag for a small robot. These MiP robots were now 40% off but I decided to wait a bit longer to see if they go any lower.
There was a shelf full of piñatas, which is great for parents of more than two kids because they could stock up on them for future birthday parties.
With more items being sold out, it seems like there are a greater number of merchandise that I would consider odd, strange, or off-beat like these weird fish-like stuffed animals.
Then there is the sleeved blanket for kids featuring Olaf the Snowman from the Disney movie Frozen.
For the adult collector who is really into clocks, there were various anniversary clocks on sale featuring I Love Lucy, Elvis Presley, The Wizard of Oz, and Marilyn Monroe.
For your next party or family get-together, how about playing a game where you do nothing but guess which logo belongs to which corporation. Sounds fun, no?
Then there are these creepy looking Lalaloopey Babies, which look like they could've been the offsprings of the Other Mother and the Other Father from the movie Coraline.
Then there is this Ketchup Kritter where you replace the cap of your ketchup bottle with this demon head and you get to see him vomit ketchup over your hamburger or french fries.
As to the weirdest item I found at Kmart during that time, I have to say that it's a tossup between the Ketchup Kritter and this resin deer statue that functions as a toilet paper holder. That deer is a great example of how sometimes the jokes just write themselves.
I didn't buy anything on this trip because I had already purchased everything that I needed to buy and I want to see the prices to go down just a little bit lower before I buy anything else.
March 26, 2015
A few days earlier I woke up with a scratchy throat that quickly segued into all of my sinuses being stuffed up and feeling tired all of the time. Yes, I came down with a cold. After staying completely indoors the previous day, I still felt so tired that I took an afternoon nap. After dinner I decided to skip my weekly support group meeting for people who are separated or divorced and just do a short outing. I ended up going back to Kmart to see the progress on its going out of business sale.
The first thing I noticed was the section near the front door. In better days Kmart used to display outdoor items for sale depending on the season (such as artificial Christmas trees or gardening supplies). That area always used to be well stocked with items that people could pick up before even entering the store. On this day the only things I saw on sale were bags of potting soil.
I managed to show up to the store after dinner. I discovered that these days this Kmart tends to close by 8 p.m., which is way earlier than normal. (In contrast, the Kmart in Hyattsville, which is not currently slated for going out of business, closes at 11 p.m. every night.) By this point more items were priced at least 30% off with many of them starting to be marked with the 50% off sale.
I also saw quite a few odd items. First there are these oversized neon-colored alarm clocks that were a bit on the gaudy side.
Until I made this trip to Kmart, I never knew that one could have the option of buying a hybrid lava lamp/table lamp.
I also never associated Kmart with beer making kits.
There were shelves full of Valentine's Day cards for anyone who wanted to get a head start on preparing for Valentine's Day, 2016.
There was this women's shirt that was a midriff-baring tank top that had a scientific drawing of a T-Rex. Okay, whatever.
There was a clothing line with Selena Gomez's name on it, although I'm more familiar with her name through the various celebrity gossip sites than with her clothing line.
There's one of those giant musical step-on keyboards (such as the one that was featured in the Tom Hanks movie Big) that has the logo of Rolling Stone magazine on it.
Then there were a display of these giant action figures based on Star Wars and the Mighty Morphin Power Rangers that were at least 2 feet tall.
There were sections of the store that had rows upon rows of empty shelves. There were some areas where the shelves had already been dismantled.
I only bought two items during this Kmart trip. One was a box of acid reducer over-the-counter medicine. With the Easter holiday coming up and with the stress over filing my income taxes, I really want to prevent any kind of acid reflux as a result of eating foods that I normally don't eat or stress. I got 50% off the listed price, which was nice.
And then I purchased this doll for 50% off. She is an Ever After High doll, a line of Mattel dolls that are similar to the Monster High dolls except that all of the students who attend Ever After High are children of famous fairy tale characters. I purchased Madeline Hatter, who's the daughter of the Mad Hatter from Alice in Wonderland.
She carries a teapot-shaped purse.
She wears a teacup-shaped hat, which is incredibly cute.
The front of her hat has some gold designs that one would find on a fancy teacup. She wears earrings shaped like spoons and she has long curly hair that's primarily purple with light blue streaks.
Even the heels of her shoes suggest a teapot handle.
All in all it's an incredibly cute doll and I'm fortunate that I got her for around $11.
March 27, 2015
I came back to Kmart the next day because I made the same mistake as a month earlier: I didn't arrive with enough money so I had to curtail what I wanted to buy. This day I made sure I had more than enough money before I arrived in the store. I still took more pictures because it looked like the store was rapidly clearing out with each passing day.
Many of the items were now sporting 50% off discounts, such as this line of 18-inch What a Doll!, which looked like it was Kmart's answer to the ever popular American Girl line.
I saw these cloth Mooshka dolls on sale, which I thought were incredibly cute looking.
For those who missed out on last year's Holiday Barbie doll, there was a second chance to buy that doll and one could buy it at a steep discount.
Going back even further, anyone who missed out on a chance to buy a special 30th anniversary Cabbage Patch Kids doll a few years ago also got a second chance to buy one at a major discount.
There were still plenty of cometics to go around, such as this perfume endorsed by Britney Spears.
I admit that there are two reasons why I had ever heard of One Direction in the first place: 1) I've seen various products bearing the band's name such as the One Direction eye shadow in the next two photos and 2) I have a One Direction song on one of my Just Dance video games. (To be honest, I literally can't recall the name of the song or what it sounded like. I could do a Google search but I'm too lazy to do so.) One Direction recently made major news when one of the members of that group, Zayn Malik, announced that he was leaving the band and it caused a lot of their teenaged fans to go into total hysterics.
The idea behind the One Direction eye shadow is to choose the package based on your favorite One Direction member. I looked closely at the photos of the enclosed makeup and it looks like all of the eye shadows are identical. The only difference is which photo of the One Direction band member is featured on the box.
There was perfume endorsed by the rock band KISS.
First there were the Monster High dolls, now there's Monster High cosmetics. This is strange when you consider that Monster High was originally aimed at elementary school aged girls and the Monster High makeup I saw is definitely inappropriate for young girls. My parents wouldn't let me wear makeup of any kind until I was in middle school.
A few weeks ago I found Ketchup Kritter, a device where you put a red devil head on a bottle of ketchup and watch him vomit ketchup on your food. On this trip I found his buddy, Mustard Monster, where you get to put him on a bottle of mustard and watch him vomit mustard on your food.
Then there is this device where you can mold bacon strips into an edible bowl. It might work with some foods but I can't imagine trying it with ice cream or cereal.
There weren't many books left on the shelves.
Here's a sample of the books that one can choose from.
There's nothing wrong with a dollhouse that one could assemble for a doll lover. It's just that this dollhouse is designed to fit an 18-inch doll (instead of the usual 1/12 scale dolls that measures between 3-6 inches), which means that this dollhouse would take up a huge amount of space in anyone's home.
No, the next photo isn't upside down. That was how I found these Homer Simpson slippers hanging on the racks. These slippers are totally bizarre for this reason: you generally put your foot inside of Homer's mouth so it would look like Homer is either eating (or choking to death) on your foot.
There were watches based on a band one of whose members has recently quit and a one-time teen idol who is now more famous for his frequent brushes with the law than for his music.
I was glad that I purchased my underwear pack when I did because the lingerie department was full of slim pickings. There is no way in hell I would ever wear THIS on my crotch.
And then there is this children's loft bed with a sliding board. That poor kid would have a hard time deciding on whether it's playtime or nap time.
A flameless candle?!?
Over in the school supplies section, there were Duck Dynasty folders available for students. Maybe I could see teenagers using this but I can't imagine parents being willing to buy a folder for younger kids based on a TV show featuring a person who has gotten into controversy for making outrageous statements like this one featuring a hypothetical situation about an atheist family, rape, and decapitation.
You can have your lips smell and taste like soda pop.
I get the idea of something for a cold night like a matching mug and blanket set. But do you know how hard it would be to balance a mug full of hot liquid while keeping a warm blanket wrapped around you and hoping that you don't spill the mug or the blanket falling off of you?
There were cheap shelves for items that ranged from $1-3. But the merchandise in them were pretty messy and disorganized.
And then there is this thing. It's a hooded jacket but it has no sleeves. Or maybe it's a vest but it has a hood and it looks awfully thick for a vest.
That camouflage hooded sleeveless coat or vest looked tasteful compared to this shocking pink variation.
I found this in the Plus Size Women's department. This shirt was in at least a size 20 and it had thin horizontal stripes, which would make a 300 pound woman look like she is wider than normal and weighs at least 500 pounds.
And then there is this line of Selena Gomez flannel checkered shirts. On the surface there's nothing wrong with them until you look closer at the shoulders.
Yes, those are studs at the shoulders.
There were the same shirts in other colors and they all had the same pattern with shoulder studs.
Okay, I'm not a fashion designer but I've done enough sewing to know that you don't embellish anything that already has a pattern because the embellishments will either disappear among the pattern or make the pattern so busy that the outfit is ugly. If you've ever seen a gown or a cowboy shirt embellished with bling, you'd see that the designer typically uses a plain solid fabric as the base to embellish, not something that already has a busy pattern.
That fox welcome sign is pretty cute. It's too bad that you can see the large area of chipped paint one of the fox's ears on the left side.
I had considered buying myself a bag of socks until I found that all of the sock bags had been opened. Many of the bags also looked like one or more pairs of socks had been removed from each bag.
I even saw a loose individual sock that was just hanging on a rack. Even though the bags of socks were at 50% off, there was no way I was going to buy an opened bag like that because I have a feeling that I wouldn't get all of the socks that the bag label said I would get.
On this trip I purchased two items. First is this box of Life cereal. Yeah, I know it sounds lame but I was running low on cereal and I saw a shelf full of Life cereal that was on sale for 30% off so I went for it.
Then there is this other item that I had my eye on for quite some time. The MiP robot was originally priced at $99.99. This robot's discount had finally sunk to 50% off and there weren't a lot of MiP robots left on the shelves so I decided to buy it. The price was $50 and I got an extra $2 off because I was using my Kmart Shop Your Way Reward Card and I had received enough points to get that discount. Sweet!
I chose the black robot. It looks pretty nice and very attractive and it definitely warrants its own entry that I may get around to writing at a later date. The box of Life cereal and the MiP robot turned out to be the last items I've ever purchased at Kmart's Greenbelt, Maryland location.
April 1, 2015
Yes, I made a trip to Kmart on April Fool's Day but the going out of business sale was no laughing matter.
The bags of soil that were the only outdoor items that I saw for sale on a previous trip were sold out. Only the two soda machines remained.
I checked both machines to see if I could purchase a soda like I used to do sometimes before entering Kmart in better days. I took a closer look and found that the LED lights weren't working. I tried inserting a dollar in the bill slot in one of the machines and that machine just wasn't working at all. It looked like someone had disconnected those two machines for good.
Inside the store I saw a new sign saying that the going out of business sale was now in its final two weeks.
There were even steeper discounts than before.
However there were more empty areas than before as well. There were floor marks indicating where stock shelves used to be located.
There were also areas of the store that were roped off with yellow police tape where collapsed shelves, signs, and various fixtures were stored.
Plus there were rows upon rows of empty shelves.
One part of the store looked like a portion of the drywall was stripped away. There were instructions spray-painted in this neon red paint color. There were other instructions that were written in ink. I have no idea if these instructions were written recently or if they were originally written when remodeling was originally done on the space when the former Bradlees turned into Jamesway then, again, the former Jamesway turned into Kmart.
Despite the increase in empty areas, there were still plenty of items that were available for sale at steeper discounts than ever before. The items ranged from pretty nice (sadly the clothes that I personally liked didn't fit me because they were in sizes that were either too big or too small for me) to totally bizarre.
Even though Easter was just a few days away, there weren't a lot of holiday items aside from these greeting cards.
In fact, there were far more Christmas items than items for any other holiday (including Easter). At least it provided an opportunity for anyone wanting to get a head start on this coming Christmas in just over eight months while paying far less than they would've just four months ago.
I didn't buy anything on this trip. Like I wrote earlier, the clothes that I was interested in were either several sizes too big or too small for me. I began to have a feeling that the window of opportunity for me to buy the choice items at a discount has closed for me and I'm just seeing the dregs now.
April 5, 2015
Easter Sunday fell on April 5 this year and it was also Passover as well. After attending church, I decided to go to Kmart because I was curious about whether it would close on this holiday like many other area stores did. When I arrived, I got my answer as I saw plenty of cars parked outside. At first I thought it was a shame that employees were made to work on Easter/Passover until I realized that once Kmart closes for good, they were going to have all the time off they could financially withstand so they might as well work through a holiday.
When I first entered I noticed a new sign that was literally the final countdown of the number of days left until Kmart closes its doors forever.
There were plenty of shoppers on that Easter Sunday as they were looking for bargains that were starting to hit rock bottom prices.
There were more and more empty and partially empty shelves on that day.
The back of the store was mostly blocked off with yellow police tape. I noticed that the ceilings had these pulleys with yellow rope dangling that weren't there before. I saw that more and more dismantled signs and shelves were behind that roped off area.
The one area in the back that weren't roped off was the aisle leading to the Layaway section and the public restrooms. I decided to go down that aisle to check it out.
When I first approached the Layaway desk, I noticed that no one was working there and the lights were off. When I stepped closer to the desk to investigate, the lights automatically turned on. It was a pretty surreal experience to say the least.
The public restrooms were across from the Layaway desk. I decided to check out the women's bathroom.
One toilet still had the seat cover on it but, otherwise, the women's bathroom was just as clean as I found it on previous trips before Kmart's going out of business sale.
Down the hallway from the restrooms was this opened door that looks like it leads to the warehouse where inventory was kept before being put on store shelves.
Also near the restrooms was another opened door that looks like it leads to an Employee's Lounge. (I didn't investigate either doors because I think those areas were for employees only.)
The leftover inventory was getting slimmer and slimmer. Most of the items left were ones that I photographed on previous trips. There were a few new items I took pictures of for posterity.
I couldn't help but notice a One Direction board game, especially since the Internet went in a total uproar a few weeks earlier when one of its members decided to quit the band. I guess this board game is a collector's item now (assuming that anyone will even care about buying One Direction collector's items 10-20 years from now).
I found one oddity on this trip. It's a CD called Music for Vampires. I have to admit that the title sounded intriguing and it was on sale for $6.
Until I turned the CD on the other side and I found that it was basically a compilation of mostly New Wave and Modern Rock songs from the 1980's and 1990's that only used the word "Vampires" in the title in an attempt to get Twilight fans to buy this. I would've bought it myself but I didn't because I already have most of the songs either on other CD's or as MP3 files.
April 9, 2015
With Kmart closing soon, I decided to make another trip to see how things were going. The countdown sign located by the front door was updated to reflect the fact that shoppers had only four more days until the final closure.
The discounts have gone very steep with some items reaching the 85% off mark.
There were plenty of shoppers when I was there who were searching for something—anything—they could buy very cheaply.
There were more bare shelves and more empty areas when I was there. If I had to guess, I'd say that about 25% of inventory was left.
The stuff I found on the shelves were literally the dregs, such as this candy that was supposed to look and feel like boogers. The Elf on the Shelf was back on the store shelves along with various leftover Christmas items. There was literally nothing that tempted me. Nothing.
I found this Ashlee Simpson CD that was a Kmart exclusive. It was originally $5.99 but it was now on sale for $2.99.
April 17, 2015
I intended to go to Kmart on the final day of its existence. It would've been interesting to see what was left on the shelves. It also would've been interesting to observe both employees and customers to see if anyone would get misty-eyed over Kmart closing for good. Or if the employees would just stop giving a damn about anything since they were going to be unemployed the next day.
But then a few things happened that distracted me. First there were the taxes. Yeah, that sucked but the alternative to not bother filing would've been worse so I gritted my teeth and made every effort to get them done by the April 15 deadline.
Then there were the cherry blossom trees, which bloomed later than usual this year. On top of it, after a long cold winter, the weather had gotten warmer at last and the snow was becoming a distant memory of me. I fell into temptation from both the weather and the cherry blossoms and basically enjoyed the beautiful scenery instead of going to a dying big box retailer like Kmart.
By the time I returned to Kmart the store had already closed for good. But I noticed a few interesting things that I photographed.
The giant Kmart letters that once graced the outside of the building were gone. There were faint outlines that showed where the letters used to be placed.
Curiously the soda machines were still located near the entrance. Not that it really mattered since they weren't even working.
The front door had a few signs posted.
One of the signs announced that Kmart was officially closed while the other sign announced that a fixture sale was going on and the store was opened from 12-5. Unfortunately I got there after the store had closed for the day. However, I noticed the dates and tomorrow was going to be the last day of the fixture sale. So I had another chance to go inside that store and take a few last photos of an empty store. The only problem was that the Greenbelt Mini-Maker Faire was also happening that same day and I was selling my wares there. Since the event was ending at 4 p.m., I had a chance to show up for the last hour of that fixture sale so I made a mental note to return the next day.
I looked through the door and saw that the store was empty of inventory. Basically it was an opportunity to purchase shelves or maybe a shopping cart.
I walked around to the side where Kmart once had its Garden Center. Instead of plants, potting soil, and other seasonal items, the entire area was mostly bare. Although I saw that the Kmart letters were there on one side of the empty space so I found out where the giant Kmart letters went.
The parking lot outside Kmart was empty except for a few shopping carts that were left behind. It was kind of eery seeing these shopping carts in an empty parking lot waiting for someone—anyone—to use them once again.
April 18, 2015
Thanks to the fixtures sale, I thought I had another opportunity to take more pictures of an empty Kmart. However April 18 was the last day of that sale and it would only be held from 12-5 p.m. On top of it, I had to work the Greenbelt Mini-Maker Faire, which was going on at the same time. Since that event ended at 4 p.m. I thought I would have some time left to check out the tail end of that fixtures sale. Once the 4 p.m. end time came, I quickly packed up my tables, chair, and inventory so I could go to Kmart for one last visit.
I arrived in the parking lot around 4:40, which would give me 20 minutes until the official end of that fixtures sale. Except when I came to the door I found that it was locked.
I also saw some glue or tape residue where the green since the sign announcing the hours for the fixtures sale was once placed.
It looked like the store closed before the official 5 p.m. closing time. I guess things like remaining open during the official posted time doesn't really matter since the store is officially gone for good. It's not like keeping customers satisfied really matters anymore. I looked through the locked doors one more time and I noticed that there were still fixtures in that store. I guess they'll eventually be put in storage somewhere or get shipped to the remaining Kmarts that are still in business as of this writing.
The only thing different I noticed from the day before is that the abandoned shopping carts in the parking lot were gone. I don't know if someone connected with Kmart took them or if someone simply stole them. All I know is that the parking lot near Kmart is now completely empty. The only odd thing that remained were the two soda machines near the front doors that aren't even working.
Even though I hated the crappy customer service (due mainly to understaffing the cashier area so the checkout lines were always long no matter what time of day or even what time of year), I'll still miss the nice things I used to purchase for reasonable prices. There is another Kmart in Hyattsville that I could go to. There's also one in Crofton that I could go to on my way to my weekly support group meeting for people who are separated or divorced. But how much longer the surviving Kmarts will last is up in the air since both Kmart and its parent company Sears are predicted to completely go out of business. Right now it looks like Sears is more focused on dismantling itself and Kmart by closing a lot of stores across the United States than on doing anything radical to save both stores. Sears and Kmart are currently in a downward spiral where they close some stores, which results in lost revenue, which leads to closing even more stores, resulting in even more lost revenue, and so on.  In a way it's sad since I've known both stores since I was a child. Oh well.