You are currently browsing the tag archive for the 'Darth Vader' tag.
The day after St. Patrick's Day I helped a friend of mine with his booth at the annual Maker Faire NoVa that was held at George Mason University in Fairfax, Virginia. I had attended previous STEM Maker events in Greenbelt, Silver Spring, and Washington, DC but it's the first time I ever checked the Northern Virginia one. I have to admit that this event was the largest event of its kind that I had ever attended. To give you an idea as to how big it was, here's a video I shot of this event.
And now it's time for the still photos. I knew I had come to the right place when I saw this statue of George Mason (whom the university is named after) all dressed up for the occasion.
These signs were further giveaways that I was at the right place.
The reason why I was there was that I was helping a friend of mine with his table. His name is Phil Shapiro and he frequently hangs out on YouTube and Twitter. He wanted to demonstrate Inkscape, which is the free open source alternative to Adobe Illustrator. He brought a couple of Linux laptops that he made available for people to use. At the last minute he decided to have one of those laptops run Tux Paint, which is a free open source graphics program that is made for kids under 7, which turned out to be a good move because a lot of visitors were kids. The kids seemed to really like Tux Paint so it was all good. In any case, here is what the sign looked like.
Here are a few shots of the table that I took before Maker Faire NoVa opened to the general public.
Here's Phil Shapiro at one of the laptops setting everything up before the show began.
And here's Phil showing off the two laptops with Inkscape and Tux Paint to the general public.
One of the many kids tried his hand at drawing with Tux Paint.
Near our table was one that was manned by Bob Coggeshall, who's famous in the Unix world for inventing the Unix command sudo.
There were all kinds of projects that were run off of Raspberry Pi, such as this vintage teletype.
There were also all kinds of 3D printed projects that looked amazing.
There was a refurbished gumball machine that dispensed 3D printed charms for only 50 cents.
It was at that gumball machine where I made my one and only purchase from Maker Faire NoVa: A tiny 1-inch printed 3D printed Darth Vader who's seated like a Buddha. I only paid 50 cents for this cool item.
There were also some vintage bikes that the public can ride.
It was at Maker Faire NoVa where I got my first-ever real life glimpse of a Bitcoin mining machine.
It was also at Maker Faire NoVa where I got my first glimpse of American Girl's 2018 Girl of the Year doll. Her name is Luciana Vega, she's into STEM and her big ambition is to be the first person to explore Mars.
This boy was showing his work in progress on his latest project. He was in the process of building his own BB-8 robot from the Star Wars movies.
There was just a variety of things I saw at Maker Faire NoVa that were simply astounding.
George Mason University's Fairfax campus is pretty big. In fact, I think it may be as big as my own alma mater (University of Maryland at College Park). I briefly went through the campus Barnes & Noble store, which had copies of Michael Wolff's controversial bestseller about Donald Trump's first year in the White House called Fire & Fury.
I really had a blast at Maker Faire NoVa. It helped that the weather was in the 50's that day so I was able to wear a light jacket instead of my heavy winter coat for a change. I even saw my first robin of the year while I was walking around outside going from building to building while checking out the event. (The entire event was spread over four buildings.) Sadly that warm weather was a short-lived thing because the weather turned really cold and rainy the next day followed by a snowstorm.
The only downside about that event is that for about a couple of days before that event I started to have stuffed sinuses. By the time of that event my throat felt more scratchy as I talked more and more with the general public while I worked at Phil's booth. My legs had grown stiff and sore by the end of the day due to the huge amount of walking and standing I did throughout the day. The following day I felt extremely tired and sick. I ended up spending most of the next week sleeping (with the exception of the couple of times I went out in the snow where I did some shoveling two days after Maker Faire NoVa). I even ended up skipping the big March for Our Lives on the following Saturday due to being sick. But the video, photos, and fond memories from Maker Faire NoVa made it all worthwhile.
On that day the local weather forecast was not only calling for snow but the temperature had plummeted to below freezing. In the Baltimore-Washington area such forecasts usually result in people cramming into the grocery stores and buying everything in stock because they are so afraid of being somehow snowed in for months. (It turned out that the snowstorm didn't begin until sometime after midnight on early Saturday morning.)
I needed some tissues but there was no way I was going to get into the crowded mess complete with long lines at the checkout counter just so I can purchase a couple boxes. Instead I went to CVS where I was able to buy those two boxes while waiting no more than five minutes in line. While I was there I saw the Christmas stuff they had on sale, which I took pictures of.
I also noticed a different line of Christmas plush on sale at CVS that I didn't photograph on that day. However, when I returned to CVS just a couple of days before Christmas I saw that the prices of this plush were marked off 30% and each plush was on sale for just under $5. So I decided to buy it on impulse. Here is my newest Christmas decoration.
It's the plush version of the famous Internet celebrity Grumpy Cat. I liked the fact that this cat is wearing a black Santa hat with the sarcastic words "HO HO NO." Here's a last shot of my new Grumpy Cat plush sitting pretty on my coffee table along with my other Christmas decorations.
On the Saturday during the Fourth of July holiday weekend, I decided to check out this toy show that was being held at the Maryland State Fairgrounds.
It was such a feast for the eyes as the toys and various other vintage items were displayed at various vendor tables. The whole show took on the air of a flea market with an emphasis on vintage stuff dating anywhere from the 1900s to the 1990s.
Someone had a jukebox for sale, which reminded me of my childhood when many of the local restaurants had them and people could choose songs to play for about a quarter each.
The jukebox played music during the entire event. (Which proved that it definitely still worked.) I couldn't help taking pictures of the songs that were available on the jukebox. The majority of them were hits when I was a kid.
And speaking of music players, here's a vintage 8-track player with an Elvis Presley 8-track tape. I once had a stereo system that included an 8-track player but I never owned one like that. But I could've sworn that one of my friends or maybe one of my cousins had a player just like that but I don't know for sure. (Memory is one of those funny things where you remember something but you don't remember when, where, or how you remember it.)
Late last year I did a series of blog posts with accompanying photos known as A Tabletop Christmas (so-named because I limit my Christmas decorating to just a single tabletop in my living room). Among the items I showed off was a small plastic Santa Claus puppet that I've had since I was a child. I didn't know anything about the origins of this puppet. It wasn't until I went to the toy show when I saw a tiny plastic Santa puppet on sale that's identical to mine.
The only difference between the two is that this Santa still had its label at the base while mine doesn't have any labels at all. (I suspect that whatever label it had must've fallen off a long time ago.) My Santa puppet is currently stored in a box with the other Christmas decorations in the attic but here's a picture of my Santa puppet that I took last December.
At first I thought the animal in the next picture was a stuffed animal until I saw the dog move his eyes around. He laid there the entire time I was at that show.
This show also had examples of how the mighty had fallen. I found this book by disgraced former Fox News talk show host Bill O'Reilly on sale for only $1 at one of the tables. (LOL!)
There was one token of something new that I found. Someone was selling glow-in-the-dark versions of the hottest toy of 2017: Fidget Spinners.
By the way, you can check out a video I shot recently where I unboxed and played with one of those Fidget Spinners for the first time (and, no, the one I bought didn't glow in the dark).
Everywhere there were visual treats, many of which harkened back to my own youth.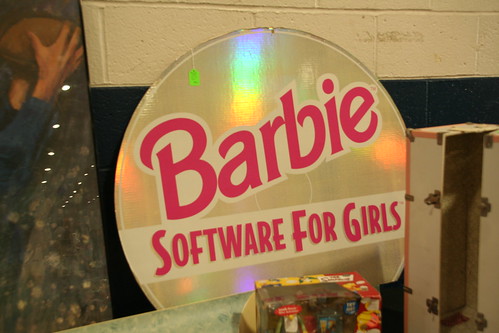 As I was walking back to the light rail stop I shot this photo of The Cow Palace building because it had a nice small garden.
I didn't buy a lot of stuff at that toy show due mainly to tight finances. But I managed to snag a couple of things at bargain rates. I found the second season of The Simpsons DVD set for only $6.
I bought a Monster High doll for only $5. I was attracted to her pretty winter-themed clothes. At first I thought I may have purchased a relative of The Snow Queen until I did an online search and I was able to make a definite identification. Based on this web page, her name is Abbey Bominable and she's described as the 16-year-old daughter of the Yeti.
Here's a closeup of her hair, which looks like it has glittery plastic pellets weaved throughout the strands. It gives a really cool ice/snow effect, especially when the light reflects off of her hair.
As I look back on this, I have to admit that I really pushed my body to the max. That was because the night before I went to Light City in Baltimore, where I waited outside in the cold for over two hours waiting for my animation, The March of Liberty, to finally show on the big screen. I was so stiff and sore the following day that I ended up skipping church.
I still pushed myself to check out the first annual Kamecon because I like seeing cosplayers all dressed up, I was attracted by the $3 admission fee, it was held on the campus of my alma mater (the University of Maryland at College Park), and it was held just three miles from my current home.
Compared to other anime conventions like Otakon and Katsucon, Kamecon is relatively small. The entire event was held in one of the ballrooms at the Adele H. Stamp Student Union building. But the participants were pretty enthusiastic as they donned costumes and hung out. Here are some photos I took.
There was a line at the ticket office located next to the Hoff Theater but it wasn't too bad. I think I may have spent about 15 minutes in line at the most.
I decided to bring my Canon Digital Rebel EOS camera with me to this event. Here's a selfie I was able to take thanks to the restroom mirror. (Yes, I was wearing the My Little Pony Rainbow Dash hoodie in order to blend in a little bit with the cosplayers.)
Some people were waiting to have their photo professionally taken.
The entire convention took place in a ballroom, which included an indoor tent/lounge where people could chill.
There was a Jubeat video game that had a cool cube design. I didn't see anyone play it mainly because it was directly imported from Japan and that machine required a 1 yen coin, which doesn't do any good for the vast majority of Americans present.
There were other video games that people played.
I took a few shots of two cosplayers who were dancing alongside one of the dancing video games while it was playing Lady Gaga's hit song "Poker Face."
I even shot a short video of those two dancing cosplayers.
The ballroom was divided, with half of the room being reserved for Artists Alley. There was a photography ban of that area (unless the photographer gets permission from an Artists Alley participant) so I took only one wide shot of the entire area from the other side.
There were board games and card game packs available for attendees to play with.
Here are some more pictures of Kamecon, including cosplayers.
I also took a few pictures of the University of Maryland campus because it was such a lovely warm sunny spring day. But I didn't take too many pictures because I was growing tired from both checking out Kamecon and Light City the night before. Here's a long shot of the Jim Henson Memorial.
The cherry blossom trees on campus were in full bloom.
Here's a shot of the Mall.
One of the terrapin statues that are located on campus.
March is Women's History Month, which ended just two days earlier, but there was still this poster featuring the University of Maryland's famous female alumni including Connie Chung, Dominique Dawes, Gayle King, Sarah Winnemucca, Judith Resnik, Adele H. Stamp, and Carolina Rojas Bahr.
In the wake of the recent presidential elections that resulted in Donald Trump becoming the next President of the United States, there have been concerns about his antics, especially regarding his tweets on Twitter, where he has managed to piss off China and declared that the U.S. will be creating more nuclear missiles and possibly using them. There are concerns about how suitable he really is to occupy the Oval Office.
The Electoral College was scheduled to meet on December 19. Usually they tend to rubber stamp the results of the elections. This time a movement known as the Hamilton Electors sprang up and they were urging the Electoral College to reject Trump in favor of a more moderate Republican like Mitt Romney or John McCain. On December 19 these Hamilton Electors had called for rallies to be held in every state capital in the U.S. urging the Electoral College to reject Trump in favor of someone more moderate and with more experience than Trump. (Donald Trump is the first president-elect in history with no prior military or political experience.)
Since I live in Maryland the rally was being held in Annapolis. I had thought about going there to make a stand against Trump. But then I remembered that Hillary Clinton had swept Maryland in the elections so Maryland's Electoral College delegates had already pledged to vote for her instead of Trump or another Republican. On top of it, it was a cold day and I was less enthusiastic about freezing to make a public stand against Trump when my state's delegates had already committed to Clinton. So I decided to skip the rally altogether and do something fun instead.
My decision turned out to be a good one for two reasons: 1) the Electoral College decided to award the presidency to Trump anyway despite the Hamilton Electors movement and 2) I went to a place that I hadn't been to in two years and it was nice to go there again.
I went to Valley View Farms in Cockeysville. It's a long commute from the DC area but it's so worth it because it has one of the most awesome Christmas shops anywhere in the Baltimore-Washington, DC area. Here are some photos I took to show how awesome it is.
And if you like these photos, check out photos I took of the same place in 2012, 2013, and 2014.
Whether you're celebrating Christmas or Hanukkah or both today, I hope you're enjoying yourself. Today is the perfect day for me to share this link that I came across last month.
Ever wonder what a Nativity set would look like if Jesus had been born this year? Well, thanks to ModernNativity.com, you don't have to wonder anymore. For only US$129.99 you'll get a set that includes a stable with solar panels on the rooftop. Jesus is wrapped in swaddling clothes lying in a manger while wearing a knitted white beanie. Joseph wears a man bun with a denim shirt and khaki pants while taking a selfie with Jesus and his wife. Mary, who's all decked out in skinny jeans and a loose sweater, poses for the photo by showing off her duck face as she's clutching a Starbucks coffee cup in one hand while flashing a peace sign with the other. A shepherd dressed in jeans is using his mobile device to snap pictures and post them on social media. A white lamb wears a red sweater, which is a nod to this trend of people posting photos of sheep wearing sweaters on Tumblr. A cow, who has been branded as "100% organic," feeds from a manger that is marked "gluten-free feed." Rounding out this Nativity set are three modern-day wise men dressed in hipster outfits who arrive to the scene on Segways while bearing gifts that they ordered from Amazon.com.
Here's a video showing this Nativity set.
The first time I saw this I laughed out loud. If I didn't have money issues, I definitely would've bought this. You can check out photos and another video of this Nativity set right here.
Here are a couple of Christmas sweaters I saw on sale at Target. This one was obviously aimed at men.
This sweater is the saying "He thinks he's God's gift to women" come to life.
Then there's a sweater with Darth Vader's image on it. The perfect way to wish people a Merry Christmas. (LOL!)

I'll end this post with this video featuring Stephen Colbert singing "Another Christmas Song."
Ever since my husband left me just three days after Christmas in 2011, I've been celebrating my birthdays by going out to all-you-can-eat Asian buffet places. While they were okay, I was ready for something a little bit different. I got a combination birthday/Christmas check from my mother so I could indulge myself a little bit. I originally planned on going to the Christmas Village that's temporarily located in Baltimore where I would indulge in German food and do some shopping. But then I looked at operating hours and I found that the Christmas Village is closed on certain Tuesdays—including December 15.
Okay so that plan fell by the wayside. Then I decided on Plan B. I went to Tyson's Corner Mall instead.
Here are the first few images of the plaza area where Metro riders arrive at the mall.
Käthe Wohlfahrt had a heated tent set up outside.
The next shot is one of the two giant wooden soldiers that guard the entrance to the tent. There was a photography ban inside the tent but you can just go on the website to see the variety of German-made Christmas decorations that are currently for sale.
Once again the mall has erected an ice skating rink on the plaza. It was empty mainly because I came on a Tuesday night.
I saw that Jon Wye now has a kiosk in the mall. I can remember when Jon Wye was a regular fixture in many of the local indie craft shows (such as Crafty Bastards). One year I purchased this t-shirt for my then-husband, which he really loved. (My husband loved to cook, although in the later years of our marriage I did more of the cooking because he would come home from work totally exhausted.)
I ended up eating my birthday dinner at Wasabi. It's cool they deliver food on a conveyor belt plus the food is excellent.
After dinner I walked around the mall some more. I saw these cute Christmas villages made from Legos at the Lego Store.
A few months ago I wrote a rant on Why Kim Kardashian and Her Family Need to Just Go Away. I was exasperated over the fact that the entire family seem to have a knack at calling media attention to themselves even though most of them have no discernible talent. Even though I go through great lengths to avoid having anything remotely to do with Kim Kardashian and family, even I can't avoid them completely. One example is this poster in a store window touting a fashion collection that's promoted by two of Kim Kardashian's younger half-sisters, Kendall and Kylie Jenner.
Nintendo set up this temporary display in the middle of the mall. People had the opportunity to actually try some of the latest Nintendo games that are currently on sale for both their 3DS and Wii U systems.
I saw these cute dolls made by the German company Götz in a Pottery Barn Kids store. Here's a fun fact: Götz was the manufacturer of many of the early American Girl dolls, which ended when Mattel purchased American Girl and, in a cost-cutting measure, shifted all production to China. These days Götz makes its own 18-inch dolls that are sold in Pottery Barn Kids stores.
I also saw this Star Wars display in the Pottery Barn Kids store right across from where the Götz dolls were displayed.
In the middle of the mall was something called Those Animals, which were motorized stuffed animals that one could ride through the mall. Each animal is billed to carry a person up to 500 pounds. I thought about renting one briefly to try it out but I didn't because I wasn't sure if I would be considered too old to ride one. I later saw a group of teens riding those animals so maybe it would be okay for adults to ride as well. Maybe I'll consider it again if Those Animals are still around the next time I go to Tyson's Corner Mall.
I went to the American Girl Place. I focused mainly on the Christmas related stuff this time around because I've already taken so many pictures of that store in the past. There was this store exclusive dress that was displayed on different dolls.
There were also other types of holiday outfits for dolls available as well.
They also brought back the horse carriage that I photographed extensively last year at the same store.
Earlier this year I wrote extensively and posted a bunch of photos on Samantha Parkington's gazebo. It was adorned with Christmas decorations when I saw that gazebo this time.
Their Bistro area was all decked out in holiday ornaments. The doll on the counter is Kit Kittredge, who's the BeForever historical doll representing America during the Great Depression.
There were a variety of winter holiday decorations strewn throughout the store.
I took one more token photo of the 2015 Girl of the Year, Grace Thomas, because by the time I make a return visit to the American Girl Place, she'll be long replaced by the 2016 Girl of the Year.
I took a few more photos of various store windows and displays throughout the mall.
I saw the ultimately geeky Christmas ornament: Darth Vader wearing a Santa hat and one of those ugly Christmas sweaters featuring all kinds of Star Wars-related motifs. I didn't buy it at the time because I didn't have enough money on me (after eating at Wasabi). When I attempted to go to a Hallmark store located closer to me, I found that all of the Darth Vader ornaments had been sold out except for the display model.
I finished with a visit to the Nestle Toll House Cafe. Instead of getting a birthday cake for myself, I opted to purchase a cookies and cream brownie. Boy, was it good!
I purchased only one thing during my trip to the mall. I found this $9.99 miniature gumball machine that had the images of Anna and Elsa on it from the Disney movie Frozen.
There is a coin slot but one can get the gumball just by twisting the handle. However, if you opt to pay with a coin, there is a lid at the bottom where you can retrieve your coins. (In other words, it functions as a bank as well as a candy dispenser.)
As I went back out on the plaza in the direction of the Metro station (so I could return home), I saw an employee spraying the surface of the ice skating rink with water.
I also saw some people sit on the outdoor couches by the tables with lit flames, such as this family in the next photo.
During a recent visit to Target I found a few curious items, starting with this Star Wars spatula with a handle shaped like a lightsaber.
Here is a whole line of nutcrackers based on characters from Frozen and Star Wars, including even a Darth Vader nutcracker.
And, last but not least, here is a chance to do a special DIY project where you can customize your own ugly Christmas sweater.
I found this at a local Best Buy recently.
No, I had nothing at all to do with this. But it does bring to mind what I did with these two Star Wars plushies—Darth Vader and a Stormtrooper—on Valentine's Day several months ago. LOL!