You are currently browsing the tag archive for the 'crazy' tag.
I'm hoping that the craziness of the last two weeks will end as of today but in life there are no guarantees. This latest round of stress started when I signed up for an interview for this potential job that was located in Jessup yet the employment agency responsible for the hiring was holding interviews in its Glen Burnie offices. The night before my scheduled job interview I got word that my mother was in the hospital in Glen Burnie. I already wrote at length about that episode here and here so I'm not going to repeat it in this post.
Instead I'm going to pick up on the Thursday before the start of the Labor Day holiday weekend. It was the last day I visited my mother before she was released the following day. I brought along one of my paintings, which was my fan art tribute to My Little Pony, and left it in the car while I visited my mother. After that visit I drove straight to the Greenbelt Community Center where I entered it in the upcoming Labor Day Art Show. I wanted to enter it on the first day that entries were being accepted because I was scheduled to head up to Baltimore the following day.
So on Friday my mother was released from the hospital. I was invited to this closing party at the Escape Artists Gallery in Baltimore where I was participating in a show that was benefitting those who were affected by the recent flood in Ellicott City. The closing party wasn't announced until just two days before the event but I decided to go any way and endure yet another commute from the DC area to the Baltimore area for the fifth day in a row.
I decided to go up to Baltimore a bit early on Friday to check out the Walters Art Museum that was located just a few blocks from the Escape Artists Gallery. I hadn't been there since I was a teenager and it had free admission so I went for it. I spent at least two hours there until it was close to closing time but I found that one really needs to spend a full day there in order to see everything that the museum has to offer. I may make a return trip there when it gets closer to the Christmas holiday season since the mall parking lots will be filled with cars by then but it really depends on my schedule.
After the museum closed I was outside where I was enjoying the wonderful weather. There was this horrible heat wave where the temperature was in the 90's with high humidity as well. I endured that heat wave as I commuted to and from Glen Burnie to visit my mom in the hospital. But then Hurricane Hermine made its way to the U.S. While it affected the waves at all of the beaches along the East Coast so swimming was strongly discouraged, the hurricane never went inland. As a result the outer edges of the hurricane blew away the heat wave and it was replaced by nice sunny weather in the 80's with low humidity. It arrived just in time for Labor Day weekend.
I decided to take advantage of the longer days and nice weather by sitting in a chair near the Washington Monument so I could rest from trekking around the Walters Art Museum. I was starting to feel hungry so I looked around for places where I could eat dinner. There was a Subway that was located under the Escape Artists Gallery and there was a nearby local pizzeria that was slightly more expensive than Subway but it was still within my price range. I had enough money for Subway but I found that I needed to hit the ATM if I wanted to eat at the pizzeria. So I attempted to use the pizzeria's ATM only to find out that I got an "Access Denied" message on the receipt. Never mind the fact that I had recently deposited my ex-husband's latest alimony check just a few days earlier.
I ended up eating at the Subway then waited until the party began at the gallery that was located upstairs. When I came in I found that I was the first person who arrived. So I ended up talking with one of the people who ran the gallery where I learned that it had sold only half of the art currently in the show and the bulk of the sales happened on opening night. Since then the gallery had sold only one or two additional art pieces but, as a fundraiser, it was a bust. I also learned that my own art piece had remained unsold despite the fact that I chose it because it was 9 inches x 12 inches (23 cm x 30 cm) and it depicted a very accessible family-friendly subject matter (a begging dog flashing very sad eyes because he wanted to have a bite of that chocolate chip cookie that was also in the painting).
A few more people showed up to the party but it drew no more than around six people including myself. The gallery owner admitted that she had waited too long to announce that party and it was also scheduled for the Friday before Labor Day weekend. I spent some time checking out the other pieces on display in that show since I hadn't been there before. (I wasn't able to make it to the opening night reception a few weeks earlier.) But the party was a bit of a letdown so I decided to leave a half-an-hour before it was scheduled to end. As I was saying good-bye to one of the gallery owners whom I talked with earlier, she suggested that I take my painting with me since the show would close in just two days and it would save me another trip to the gallery. I took her up on that suggestion because, to be honest, I hadn't been looking forward to taking yet another trip from the DC area to the Baltimore area for a sixth day out of the last seven days. Taking that painting kind of messed up that post that went live just a few hours earlier announcing that my painting would be in the show until Sunday, September 4 but I didn't bother with updating it because I figured that there were plenty of other unsold art that would still be there and it was all going to a good cause. It's too bad that my painting wasn't sold.
The next day was Saturday. I went to the ATM machine at my bank I was able to withdraw some cash, which was great because I was scheduled to go to the Greenbelt Labor Day Festival. I arrived in the afternoon where I walked around enjoying the sights and sounds. Then I reported for volunteer guard duty at the art show (which is the one condition of submitting a work of art for the show) for an hour. After I finished that obligation I checked out the rest of the art show along with the photo show. I also checked out various tables from local groups because the first day was "Community Day" while talking with a few friends whom I ran into. I grabbed a cheese crab pretzel for my dinner then played a few rounds of Bingo as the sun set on yet another wonderful weather day with full sun and low humidity. I hung around after sunset for a bit while I took pictures of the carnival rides after dark until I grew tired then I sat at the bus stop waiting for a shuttle to take me back to my car so I could go home. While I was waiting at the bus stop I saw a couple pass me from behind and I immediately recognized them as my ex-husband and my onetime mentally ill friend whom he married just two months after out divorce was final. By then it was around 8 p.m. and I was leaving the festival while the Backstabbing Couple From Hell were just entering it. At least I didn't have to worry about running into them. (LOL!)
The following day I decided to go to Sunday service at my Unitarian Universalist congregation for the first time in several weeks. I was surprised to see two onetime members who had since moved to Florida and they were up in the DC area for a visit. They are a longtime gay couple whom my then-husband and I visited in Florida shortly after I started this blog back in 2010. We chatted for a bit and I learned that they managed to evade Hurricane Hermine, which struck the Tampa-St. Petersburg area where they now live. One of them has a son from a previous marriage to a woman and it turns out that I recognized the son's girlfriend from the fact that we both participated in the yard sale that's put on by my support group for people who are separated or divorced. I also found out that the son had been attending that same support group's meetings at its Columbia chapter while I attend the ones in Crofton. The son met his girlfriend through the Columbia chapter. So it was a cool coincidence.
After church I found that I hadn't taken out enough money the day before so I decided to go to the ATM machine that was affiliated with one of the branches of my bank to take out just a few more bucks only to get a slip that said "Access denied." This was reminiscent of what happened Friday in Baltimore! Worse, I wouldn't be able to do anything about it until Tuesday because of the holiday weekend. So I wasn't able to do grocery shopping nor was I able to spend any more money at the festival on things like food. I had just enough money to go to this local art supply shop to buy a tiny 3-inch canvas and one tube of black acrylic paint because I decided to take part in a local tiny art contest that I'll write more about in a future post and I needed to get this piece done by the September 13 deadline.
I went to the Greenbelt Museum because it was having its free admission day. I briefly perused the craft tables because it was the first day of the craft show but I didn't buy anything because of a lack of money.
Ultimately I went home where I started work on my latest project for the upcoming tiny art contest: an acrylic painting on a tiny 3-inch canvas based on one of my photographs I had taken at the Greenbelt Labor Day Festival the night before.
The following day was Labor Day itself. I went to the Greenbelt Labor Day Parade then I went back home to eat lunch. Afterwards I went over to the Labor Day Festival because the Greenbelt Theater was having a free showing of the movie Briggadoon. The story was kind of hokey but I loved the music and dancing in that film. I ran into a friend after the movie and I socialized for a bit with her. I perused the craft tables and hung around the used book sale (which was giving away its inventory on the last day of the festival) while enjoying the continuing wonderful sunny with low humidity weather until 4 p.m., when I could retrieve my artwork from the art show. Afterwards I headed home where I ate dinner and worked some more on that tiny art canvas.
The following day I decided to confront my bank over the ATM situation. I went to the drive-through ATM first to see if the problem had somehow corrected itself. I still saw that "Access Denied" printed on the slip. I grew angry and I was all ready to park my car and go inside that bank branch to do some major confrontation.
But then something happened that I can't explain. The ATM card was no longer in my hand. I assumed I had dropped it on the floor of my car. I looked there and I didn't see it. I looked through my wallet and it wasn't there either. I walked back over to the lane where the ATM was located and I didn't see my ATM card anywhere. I went inside the branch and asked if anyone had turned in an ATM card but no one did.
I tried continuing my search outside. By that point the wonderful holiday weekend weather was gone and it was replaced by yet another heatwave where the temperature shot up to the upper 90's along with high humidity so doing an extensive search around my car became intolerable. So I couldn't confront the bank about my ATM card because I had somehow dropped it and I couldn't find it plus the increasing temperature had made it impossible for me to continue my search either in the car or outdoors. So I had no choice but to return home.
I continued to work some more on my tiny art canvas while I did a thorough search of both my wallet and my purse in an air conditioned living room. I couldn't find my ATM card. I searched through my wallet and purse several times and it was the same result. I waited until after dinner when the heat was slightly less oppressive and I did a thorough search of my car while I did some major decluttering. My car was cleaner but I still didn't find my ATM card.
The following day I returned to the bank branch where I searched among the bushes outside and I even did a closer look around the drive-through ATM lane. I didn't find my card. I went inside to inquire and found that no one had found my ATM card and turned it in.
The only silver lining is that it was the same card that kept on giving me the "Access Denied" message so anyone who found it and tried to use it as a debit card would have problems with accessing my account. But it was still annoying that I had somehow lost it while I went through a flash of anger over the whole "Access Denied" SNAFU in the first place.
Yesterday I went back to the same bank branch and did some more searching around the general area but I knew it was hopeless. Thanks to my flash of anger, I was very careless about my ATM and I dropped it in a place where I couldn't find it and the further the situation went on, the less likely my ATM card will ever be found. So I broke down and ordered a new ATM card, which won't arrive for the next five to seven days. I also wrote a check for "Cash" so I could have some dollar bills on hand. (I'm old enough to remember that in the days before ATMs became so widespread, writing a check payable to "Cash" was the only way one could access money in the checking account. Of course, one had to do this during banking hours.)
I was totally stressed out over the whole ATM situation so I went to the weekly Thursday night meeting of my support group for people who are separated or divorced just so I could vent. Luckily the topic that evening was the challenges of being divorced so I could explain my sob story about the ATM situation and the times when I miss having another person in the home whom I could confide in about various issues. I felt better after that meeting and I managed to get a good night's sleep for the first time in a few days.
So I'm now hoping that the worst times are over but in this life nothing is guaranteed. I'm just looking forward to the upcoming tiny art contest that I'll write about in a future post while hoping that no more major calamities strike me because I really need some time to get over the last two weeks.
I'm old enough to remember back in the 1990's when the World Wide Web was starting to gain mainstream acceptance among all kinds of computer users besides hardcore geeks. At that time there was a debate on whether one should ever post photographs of children online. The big fear is that someone may innocently post a photo of her child or niece/nephew or friend's child on her personal homepage, some pedophile will see that photo and begin to develop such a strong attraction to that child that he will go to great lengths to travel to that child's hometown and abduct that child for his own sexual gratification.
I can remember when I used to have a fan site devoted to Furby, I had a personal journal that I manually coded on one of the HTML pages (I started that site before the first blogging platform went online). I wrote about my then-husband's 10-year-old nephew's reactions to my Furby but when I wrote about him, I only referred to him by his first and middle name because of the controversy about posting any kind of information about children online. I remember posting only two photos of the nephew on that site—one was a photo taken from behind as he was playing video games on his Nintendo so only the back of his head was visible and the other was a full-frontal photo but I digitally superimposed the face of one of my Furbys over my nephew's face. I didn't dare post any photos of his actual face nor did I ever divulge what town he really lived in. (I was vague to the point where I would only say that he lived in Northern Virginia.)
I know that over the years I've seen many of my friends and relatives who are parents post photos of their children on Facebook. These same parents also enacted strict privacy controls where only people who are actually on their Friends list can see their children's photos.
Despite more and more parents posting photos of their kids on social media in recent years, I happened to see this two-part episode of Dr. Phil on TV while I was in the hospital visiting with my mom this week that highlighted the risks in being too open with posting such pictures online. Here's the basic gist: a couple had twin daughters in 2012. The mother was so thrilled and overwhelmed with having twins that she created a fake Facebook page so she could join various online support groups for parents of multiples where she could freely discuss such issues as breastfeeding under a pseudonym. She also used that fake page to frequently upload photos of her twins to those same groups.
In time the mother started sewing headbands and clothes for her twins and she parlayed those sewing skills into a part-time business known as SVET Chique Bowtique while using her twins as models for her handcrafted creations. She posted those photos on that page as well as posting them in those other Facebook groups. In 2013 someone posted on the mom's fake Facebook page alerting the mother to the fact that another woman had downloaded the photos of her twins and had started a blog where this woman claimed the twins as being hers and she had even gone through the effort of giving the twins different names. The mother hired a private detective and managed to get that blog shut down.
The mother continued to post new photos of her twins after that fake blog got shut down but her problems didn't end. She later learned that the same person behind that fake blog had started a Facebook page where she posted the same photos of those twins and claimed that the twins were her own. Her story was that after she gave birth to them in 2012 she surrendered custody to her mother-in-law because she was sent to prison and she hadn't been able to regain custody since her release.
What's more, this faux mom started posting photos of items from her home that she wanted to sell online to various online yard sales. The twins' real mom was alerted to those online yard sales because the person who alerted the mom had recognized the framed photos in the background as being identical to the photos that the real mom had posted online. Apparently the faux mom had been printing out photos of those twins she downloaded from the Internet and she put them in picture frames to display all over her home. To say that this is creepy would definitely be an understatement.
Ultimately the twins'  real parents and that faux mom, Ashley, ended up as guests on The Dr. Phil Show and you can click here to read the gist of the two-part episode along with watching video excerpts from those two shows. Having seen both episodes, I can say that it's obvious that Ashley has serious mental health issues and I have no idea if she actually accepted the show's offer of undergoing therapy or, if she did, if she stuck with it. (The two-part episode was a repeat that originally aired in May. There were no updates as to whether Ashley actually went into the free therapy that The Dr. Phil Show provided.)
I know that Dr. Phil can be a bit of a self-righteous blowhard and I question why he felt the need to spread out this story over two episodes because it wasn't a very complicated and detailed story. (It could've been easily told in full in one episode.) But I still think parents should check those two episodes online here and here as a cautionary tale against oversharing photos and details about their children's lives on social media, especially among the general public.
Last weekend there was an uproar over what happened in the Fells Point area of Baltimore. Here's a video that compiles two other videos of the same incident as shot from different angles.
It's a shame that something like this happened in Fells Point. That area probably ranks up there as among my favorite area in Baltimore, despite the fact that I last set foot in that area back in 2013 on the same day that I appeared in divorce court with my husband. (I can be lame at times. LOL!)
The good news is that they caught the driver of that van. The bad news is that this guy had mowed over a woman twice during his driving rampage from hell. The woman's family has set up a GoFundMe page in order to help pay for her medical expenses.
The event known alternatively as the Baltimore Riots or the Baltimore Uprising (depending on your point of view) that started in the wake of Freddie Gray's death have opened all kinds of old memories for me. That's because I was born at Bon Secours Hospital in Baltimore and I lived on Yale Avenue in West Baltimore for the first five years of my life. Then my family moved south to nearby Glen Burnie, where I lived until I was 19 when I transferred to the University of Maryland at College Park. After I finished college at 22, I moved back to Glen Burnie where I lived with my parents for 10 months until I got married at 23 and moved closer to Washington, DC.
I wrote the other day about how I wasn't surprised that the recent violence in Baltimore. In that same entry I wrote about how I'm half expecting something similar to happen in Glen Burnie because, for a white female like me, that place was a bigger hellhole than Baltimore was. That's because I never had an African American resident of Baltimore call me "retarded" or threaten to beat me up on a regular basis. I've walked around and driven through some really awful areas of Baltimore without encountering the kind of shit that I used to encounter in Glen Burnie.
My early memories of Baltimore were kind of idyllic. I remember my grandmother (who lived with us) used to walk with me to this nearby drug store, which had a soda fountain and lunch counter. I remember my grandmother used to sometimes buy me a soda or ice cream or some other dessert. Other times my grandmother and I used to walk to a nearby playground.
Things changed once we moved to Glen Burnie. There were no playgrounds in my new neighborhood when we first arrived because our development was brand new. (I wouldn't see playgrounds for another few years and, even then, I had to walk at least 15 minutes in order to get to the nearest one.) Everything was not within close walking distance and one needed a car to do even simple things like buying groceries because the stores and restaurants were spread far apart from each other.
Then there were the other kids in my neighborhood. For some reason I got a reputation as the "retarded kid" and I frequently heard "you're retarded" or "mentally retarded" all the way through high school. I grew up in a majority white area and I'm white myself. I'm living proof that if white kids can't find minorities to harrass and beat up, they'll get creative and turn to other white kids who they think are somehow "inferior" for whatever reason (no matter how minor).
I previously wrote about my encounters with these other kids here and here so I don't need to go into details that I already posted about.
I had plenty of encounters with bullies growing up. But there was one bully in particular who was the most memorable because she was so incredibly brazen in what she did that she seemed borderline crazy and psycho to me. I met her in the eighth grade, when we both attended Old Mill Middle School-North, a public school in Anne Arundel County that has gotten mixed reviews online ranging from one star to two stars to four stars.
The bullying started early in the school year and didn't let up. She would say that she didn't like the way I looked at her or the way I dressed or some other trivial bullshit excuse. She never missed an opportunity to hit me. I'll never forget the time when I had to go to the bathroom in between classes and she followed me. She proceeded to punch the hell out of me and she didn't let up until I managed to run out the door.
It had gotten so bad that a good day for me was one where she would be absent. There were days throughout the school year when she didn't show up so I would have these enjoyable mini vacations from her bullying.
We were both suspended from school after a teacher saw her trying to beat me up in the hallway yet again and I tried to defend myself. I got a lesser suspension than she did because there were witnesses who said that the other girl started it. After being home for three days I returned to school where classmates told me that they actually saw that girl on the perimeter of the school property a few times looking for me (even though she was suspended just like I was) while calling my name and asking students if they had seen me. Sure enough the next day, when I was walking to school and I was close to the perimeter of the school property, she was standing across the street from me yelling threats at me.
I've seen other kids get suspended before and they usually made themselves scarce at school during the suspension time by staying home while doing things like watching TV or reading books or doing various stuff around the house. This girl decided to spend her suspension time going close to the school perimeter property border looking for me like a total psycho.
Then there's the end of the school year. We had all gotten our yearbooks and we were having our classmates and teachers autograph them. Here is what my eighth grade yearbook looked like.
So during some downtime in one of my classes I handed my yearbook off to a classmate whom I liked so she could sign it. This bullying bitch, who happened to be near the classmate who was signing my yearbook then grabs it out of her hands, announces to me "I'm signing your yearbook!", signs it, then tossed it my way. Here is what that page of autographs looked like.
And here is her signature, up close and personal, complete with her name and everything.
This is the only time I ever had a bully put it down in writing what she did to me and sign her name. Notice how she seemed to blame me for her obsession with beating me up. I never once intentionally said or did anything to provoke her. She did it on her own. Since she was stupid enough to sign my yearbook where she basically confessed everything, I can reveal her name in this post. Her name was Cindy Moog.
I tried looking for a photo of her in that yearbook but I think she was absent on picture day because I didn't see one. I found a ninth grade photo that was published in the high school yearbook the following year.
She never got punished for writing that message in my yearbook for this reason: This incident happened about a few days before the school year ended. Cindy and I were among the eighth graders who would be transferred to high school the following fall so it would've been difficult for the middle school to punish her. So she got away with it for a number of years—until now.
It's only too bad that the World Wide Web as we know it didn't exist back then because I probably would've waited until I was in my senior year of high school and posted these scans online so any potential college or trade school would've Googled her name and found what she did. I don't know if posting these scans will even do anything to affect her reputation now but I feel like I've gotten a load off of my chest doing this.
After eighth grade we both moved on to high school and the ninth grade. The next year we ended up not having any classes in common so, miraculously, the beatings stopped since she didn't know my schedule. There were times when I would spot her from afar in the hallways during class changing times but she never looked my way and I did my best to avoid her. It was also when she had further trouble. The previous year Cindy Moog had a boyfriend (who was also in the eighth grade but they were in different classes) and there were times when the boyfriend joined in on the teasing and beating as well (although he didn't do them as frequent as Cindy did). They continued being a romantic couple in the ninth grade until something happened just a few months into the school year. According to rumors I heard at the time, Cindy decided to drop her boyfriend for some reason that I still don't know to this day. Her boyfriend became so despondent that he attempted suicide by shooting himself in the stomach. While he survived that attempt, word got around school about what happened.
I remember he briefly went back to school for a while after his wounds healed but then he left and I never saw him again. I also remember that Cindy had disappeared soon after that incident and I never saw her again either. I looked in subsequent high school yearbooks and she wasn't in any of them. She probably transferred to a different school or maybe even dropped out altogether. I recently tried a Google search on her name but I came up empty, which indicates one of three scenarios: 1) she got married and changed her last name, 2) she's currently in prison, or 3) she's dead.
My reputation at school had never quite recovered from what Cindy Moog and the other bullies had done to me. All throughout high school and my freshman year at community college there were my fellow classmates who continued to talk down to me as if I was some inferior lowlife and it persisted. I knew that had I remained in Glen Burnie my future as a well-adjusted adult would've been in jeopardy and it could've affect my ability to get married or even get a job (especially if a former classmate who felt I was inferior was the one doing the hiring for a company). I don't regret leaving Glen Burnie and I'm far happier where I'm living now.
Some of you reading this may note that there are bullies everywhere and it's not a particular Glen Burnie phenomenon. Here's the thing, I'm not the only person who has experienced the worst of Glen Burnie first-hand. In one of my previous posts mentioned that I wouldn't be surprised if an incident involving a white cop and a young African American man happened in Glen Burnie. It's not hyperbole either. That town is full of white racist rednecks who have no problem with making racist and homophobic remarks and they are also eager to pick on fellow whites whom they somehow deem as "different." A few years ago, when I participated in the Sex. Art. Rock N Roll. event in Baltimore, I had a brief conversation with the MC for that evening, Misty Barfly, who lived in Glen Burnie. When I mentioned that I grew up there, she called that town a "hellhole" and I agreed with her.
Despite the Glen Burnie intolerance, there is a person named Britney Girl Dale who walks around Route 2/Ritchie Highway (which is one of the main drags through Glen Burnie) wearing sparkly clothes and dancing to dance pop songs by the likes of Madonna and Britney Spears. He has recently become the subject of a short 20-minute documentary where he faces people who have made homophobic remarks. Yet he continues on in his quest to be himself in a hostile town.
The hostility expressed in that documentary is just a small sample of what Britney Girl Dale and filmmaker Dan Bell encountered while making the documentary. In an interview with 98 Rock, Dan Bell speaks in detail about the hostile things that the locals in both Brooklyn and Glen Burnie have hurled at them simply because Dale Crites likes to dress as a female and dance in public.
Here's an excerpt from another story about when a man made a trip to Glen Burnie back in 1989.
In 1989 I was on break from college and driving through my hometown of Glen Burnie, Maryland. Can't remember what my intentions were or where I was going, but I noticed a group of about twelve protesters, all white, with signs standing at a busy intersection. I slowed down to see what their signs said and couldn't believe my eyes.

"I ain't afraid of no spook"
"Hey yo—is yo black and a criminal—call NAACP 1-800-NIGGERS"

The protests were triggered by the NAACP looking into possible police misconduct in a case where a black man was alleged to have killed two white kids. When the police found him, he was allegedly brandishing a knife, so they shot him dead on the street.

But another sign showed they were also upset that Nelson Mandela had been released from prison.

I parked my car and walked over to the group. I asked them what it was all about. "You're ridiculous," I said.

"Fuck you," a skinhead teenager replied.

So I rooted around in my car and found a large piece of cardboard. I walked to the nearby movie theater and asked the kids working there (mostly black) if they had a marker I could borrow. When I told them what was happening they were as incensed as I was, and they all said they would be making signs and showing up as soon as their shift ended. They found a large black marker for me and I made my sign—with the straightforward message "RACISTS OUT."

I walked down to the protest. Two Anne Arundel County cops were standing nearby, looking rather bored behind their mirrored sunglasses. I also noticed a reporter talking to one of the younger protesters.

I stood next to the group and when they saw my sign they started hassling me.

"Racists out? What are you, a nigger lover?"

"Faggot" got thrown at me, along with other taunts. I noticed people were honking and giving them thumbs-up. What century am I living in, I wondered? It felt utterly surreal.

An old man—who it became obvious was the leader of the group—approached me. "What's your name?" he asked. I told him. "Mike Hughes," he said. "I'll remember that. Do you live around here? Why don't you come to my house and we'll talk about this sometime?" He grinned.

At that point a young kid—maybe eight-years-old at most—started kicking me. "Nigger lover!" he repeated over and over.

– See more at: http://michaelmhughes.com/there-was-no-problem-until-you-got-here-more-on-race-and-policing/#sthash.QfBPCo1c.dpuf
This is why I think Glen Burnie is a powder keg that could potentially go off just as bad as what happened in Baltimore. I'm only glad that I got out of there when I did. Despite my hip problems and my divorce, my adult life is still a vast improvement over my childhood in Glen Burnie.
After all the sweat and tears I went through finishing my doll loveseat couch and after that last-minute conversion of my Zentangle activity from an hour-long workshop to a day-long hands-on activity it was finally time for the first-ever Greenbelt Mini Maker Faire. It was the third Maker Faire of its sort in the Washington, DC area after last fall's Silver Spring event (which I attended) and another event that took place in Northern Virginia just a few weeks ago (which I wasn't able to go to because I'm currently involved in my church's social action project to teach English to recent immigrants and I co-teach a class that takes place at the same time as the Northern Virginia event).
I was so wound up from making lots of last-minute preparations for the event that I didn't get much sleep so I woke up totally sleep deprived. I consumed plenty of Diet Pepsi and Five-Hour Energy drinks just so I can avoid dozing off. Here is what my table looked like.
One half of the table was devoted to the arts and crafts that I had for sale, including some tiny art canvases, thrift shop Barbie dolls that I refurbished and recycled as fairy dolls, and the doll loveseat that I made from a broken Dance Dance Revolution control pad, fabric scraps, and duct tape. I had an American Girl doll, a Makies doll, and a pink teddy sit in the loveseat. They weren't for sale—they were used to demonstrate the loveseat. The pink bear was holding the qr code for my entry on how I cleaned and repaired that bear while Victoria the Makies doll held the qr code that led to the Makies website. (I figured that this qr code would satisfy anyone who was curious about Victoria.)
The other half of my table was devoted to the drop-in Zentangle activity complete with books, pens, pencils, and paper. (I also had a bowl of Easter egg-shaped chocolates to encourage people to visit my table. LOL!) I also had an iMac G5 available for $100 that I was selling on behalf of a friend of mine in exchange for getting a cut of the sale proceeds. I only got one interest in the computer from a person who thought that a friend of hers may be interested but she needed to check with the person first. Otherwise, no one was interested in the computer.
Here's a photo of me standing next to my table that someone else took with my smartphone. I wore the official t-shirt of the Greenbelt Mini Maker Faire but it was cold outside so I ended up wearing a sweatshirt over it. As for the sweatshirt itself, I wore the same My Little Pony Rainbow Dash hoodie that I wore last Halloween. (I have the hood down in the photo below.) I had plenty of people who said that they loved my sweatshirt.
My booth faced the front of the New Deal Cafe, which was a pretty great location because I had a lot of people who stopped by on the way to the cafe.
Whenever I needed to step away from my table, I had my American Girl doll hold this message that I wrote on a small dry erase board.
The day was pretty sunny but very windy. Despite my polymer clay paperweights, there were times when I still had to reconfigure my table because the wind was strong enough to blow things over. I made a few sales on my crafts, which was okay. There were also times when I would walk over to Club 125 just so I could take a warming break from the cold and the wind.
The biggest hassle was trying to convert my Zentangle activity from my originally planned hour-long workshop to a day-long, hands-on, drop-in activity. (When I signed up to give a workshop, I thought I would give an hour-long workshop located either in Club 125 or one of the other interior places in Roosevelt Center. It wasn't until I went to a party for the volunteers on Thursday—two days before the event—that I was really expected to have a drop-in activity for the entire day.) Rather than repeat the same instructions over and over again to different people, I decided that I needed to provide a written instruction sheet. Luckily I didn't have to create one from scratch. I found this document online where I basically printed the first page and used that as the Zentangle instructions sheet.
For all my effort in reconfiguring the Zentangle lesson from an hour-long workshop to a day-long hands-on activity, only four people actually worked on their own Zentangle that day. The weather was in the 50's and it was very windy so I think that affected people being willing to do something artistic outside. Other people who had hands-on activities on outdoor tables also told me that they didn't get many enthusiastic takers. The girl in the photo below was one of the four people who did a Zentangle.
I took frequent breaks to go to the bathroom and I spent some of that time checking out the other tables at the event. The next photo is a table for a new hackerspace/makerspace for women called Spanning Tree, which hopes to find some facilities near a Metro stop.
There was an information table about Club 125, which was largely responsible for the entire event.
Solo the dog helped her owner with running the table that educated the public on using herbs and spices.
There were all kinds of hands-on activities like origami, felting, soldering, and making music.
Someone walked around the Mini Maker Faire dressed in steampunk couture.
There was a table for creating paper airplanes while educating people about the fact that there was once an airport in Greenbelt, Maryland called Schrom Airport.
This woman was busy twisting balloons into various animals, plants, hats, and other shapes.
A small games publisher, Black Oak Games, publicized its two products—Knot Dice (a puzzle where the user creates Celtic knots) and Diner (a diner-themed card game).
A local company called TechShop provided information about upcoming classes in computer and technology-related subjects.
A bunch of kids were having fun playing computer video games inside Club 125 while other kids played with Legos, made chalk drawings on the sidewalk, and had their faces and other body parts painted.
There were demonstrations of using recycled grocery store apple cartons and PVC pipes in vertical gardening.
There was also an exhibit on terrariums.
There were displays and demonstrations on traditional activities like spinning wool, canning, mosaic making, and sewing clothes.
There were some new twists on old traditions like cooking food in a solar oven.
This table sold science and math-themed books for children.
There were a variety of handmade crafts on sale like knitted hats, knitted scarves, hand-painted wood crafts, and even blinking jewelry.
There were electronic devices of all kinds on display.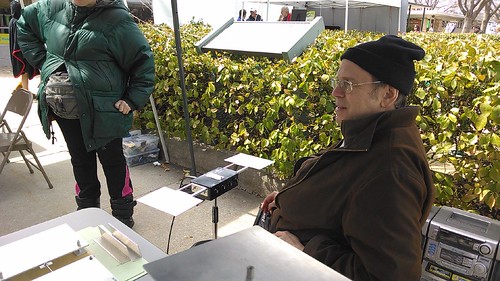 The Greenbelt Mini Maker Faire had all kinds of 3D printers that made jewelry and figurines.
In contrast to last fall's Silver Spring Mini-Maker Faire, the Greenbelt one was committed to being more non-commercial by featuring smaller lesser-known companies. In fact, the biggest name at the Greenbelt event was NASA Goddard Space Flight Center, which had a large booth.
Basically the event provided a nice place for people and animals to socialize in the sun.
I also shot a short video of some of the exhibits and events where just showing still photos wouldn't do them justice. It includes a man who used these noise-emitting electronics to play Patsy Cline's "Crazy" song, a robot that could toss a large ball to people, and a bunch of people playing with hula hoops.
Like I wrote earlier, there were times when I had to struggle with my items getting knocked down by wind gusts. My doll loveseat couch even got knocked over a few times and it's a big item. Here are what my two dolls and one teddy bear looked like at the end of the day before I packed them in my car.
I took a closeup of my American Girl doll's face mainly because she looks either sleepy or stoned or both.
That's it for my photos. If you want to see more photos, check out the official photos that have been posted on Flickr.
I happened to wander over to Regretsy.com, which usually documents crafts sold on Etsy.com that people deem to be butt-ugly. Well, this latest entry has the screenshot of a posting made by an Etsy seller that has me going "WTF?!?"
http://www.regretsy.com/2010/03/06/a-store-announcment-from-bellas-beauty-and-more/#comments
There's more to the story but if you don't have time to peruse through it all, someone has created a new blog that has documented this person's alleged activities. (Call it the Reader's Digest version of this person's story.)
http://www.bellabooispsychotoo.com/
I have to admit that the copyright notice on the bottom of this blog is pretty amusing.
Web site and all contents © Copyright Some Asshole 2010, All rights reserved.
I don't know what to make of this. The links to her appearance on The Dr. Phil Show are real and she had proved herself to have some major issues on that show. I hope that she is currently getting professional help for her problems before they start to impact her life. I also hope that the Regretsy people are correct in their allegations against Bella Boo and they aren't engaging in a campaign to ruin an innocent person's reputation.