You are currently browsing the tag archive for the 'clown' tag.
Previous in This Series
A Shot of a Ferris Wheel on the Day Before the Greenbelt Labor Day Festival, August 30, 2018
2018 Greenbelt Labor Day Festival, September 1, 2018
2018 Greenbelt Labor Day Festival, September 2, 2018
2018 Greenbelt Labor Day Parade, September 3, 2018
2018 Greenbelt Labor Day Festival, September 3, 2018
The day after the Greenbelt Labor Day Festival ended I went to the Greenbelt Library in an effort to get back into the swing of things after the holiday weekend. (I had a project that I was currently working on for a client that needed to get done because she was in the process of planning her webinar.) Once I got to the library I couldn't focus on the project at all. In fact I felt sleepy. I realized that all that time I spent outdoors in the high heat and high humidity throughout most of the weekend had caught up with me.
Instead of working on my current project, I decided to sort through the photos I took over the weekend since that didn't require too much thinking on my part. I also watched a few YouTube videos. At one point I decided to walk to a nearby convenience store in Roosevelt Center so I could get a soda. Early that morning it was still hot and humid just like most of the past weekend. But when I stepped outside to go to the convenience store, I found that the weather was cloudy. While the humidity was still high, the clouds kept the heat down to around the mid-80's instead of 90 degrees.
I walked towards Roosevelt Center and I found that the booths and rides had been taken down overnight and there was ample parking once again. (The reason why parking is so tight during the festival is that many of the spaces were taken up by the booths and the carnival midway.) I also saw that there were a few dismantled rides hitched to the back of tractor trailers waiting for their next destination.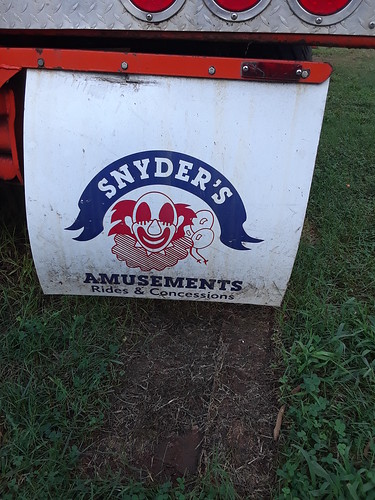 I returned to the library where I spent some more time chilling out until it was close to dinner time. As I drove towards home, I drove past the area where the dismantled rides and the trucks were located and I saw that nearly all of them except one were gone. By the next day when I drove past the area, all of the trucks and rides were gone, which was a further reminder of the fact that the 2018 Greenbelt Labor Day Festival was now history.
Previous in This Series
A Shot of a Ferris Wheel on the Day Before the Greenbelt Labor Day Festival, August 30, 2018
2018 Greenbelt Labor Day Festival, September 1, 2018
I decided to blow off church that morning because I wanted to enter some of my work to the Retro Town Fair, which was held at the Greenbelt Museum as part of the Greenbelt Labor Day Festival. I decided to focus on my crochet amigurumi creatures. I submitted my Sagittarius Dolly amigurumi who is now serving as this blog's mascot.
You can read more about the making of this amigurumi (including the materials I used) right here.
I originally decided to submit just the Sagittarius Dolly amigurumi but, at the last minute, I decided to enter this amigurumi bunny I had made a few months ago.
You can learn more about the making of this bunny rabbit right here.
The night before I had an acid reflux attack in the middle of the night stemming from the fact that I was walking around in horrible heat prior to yesterday's rainstorm that produced this lovely rainbow and that large cheese crab pretzel I ate for dinner didn't help. So I didn't get a good night's sleep but I forced myself to consume diet soda so I could get enough caffeine to function despite the lack of sleep.
The Retro Town Fair accepted entries between 10-11 a.m. with the show running from 11 a.m.-4 p.m. I found that the free shuttle service going to and from the festival wasn't starting until noon, which would've been too late to submit anything so I took the car down to the festival area early in the morning, where I had no problem with finding parking. (Mainly because I arrived before the festival started.) The weather was humid but it was in the low 80's so it was barely tolerable for walking to the Greenbelt Museum. I shot these two photos on my way to the museum.
For lunch I ate this Lebanese Mountain Bread with cheese that was from the booth of a new Lebanese restaurant that will be opening in Greenbelt soon called Cedars of Lebanon. It tasted delicious. It also agreed with my digestion system better than that cheese crab pretzel I ate for dinner the day before. I ate it at one of the tables outside the Greenbelt Makerspace.
After lunch I walked around. That day was the first day of the craft show where local artisans sold their wares.
The weather had also gotten worse. It went up to the high 90's with very high humidity. Walking around the craft show in high heat reminded me of what happened five years ago when I participated in the Greenbelt Labor Day Festival craft show and it was the same kind of weather. It was such as disaster for me on a financial level that I vowed that I would never work that show again. Here is what this year's craft show was like. Note the lack of shoppers.
I can understand what these vendors went through because I once had a similar experience myself.
Walking around the carnival midway area was like walking through Hades. I took one photo of this ride in action because it was just too hot to take extensive outdoor photos.
I attempted to play a round of Bingo since all of the picnic tables were moved to either underneath a large tree or there were portable folding shade tents erected around the tables. But even in the shade I couldn't stand to play more than one round because the heat really got to me.
I felt so overheated that I decided to sit in the Greenbelt Library, which is usually open on Sundays. Except I saw a sign on the door saying that the library was closed on Sunday and Monday. So I walked next door to the Greenbelt Community Center where I just sat on a bench surfing the Internet with my smartphone. At least it was air conditioned. I was also totally exhausted. Normally I can walk around the festival with no problem at all. Thanks to the lack of sleep, the high heat, and high humidity, I felt like I had ran an marathon and I was feeling stiff all over.
I decided to walk over to the Greenbelt Museum a bit early so I can check out the Retro Town Fair and take advantage of the fact that it was free admission day. (The admission is usually $5 but I couldn't resist the temptation of free admission.) So I arrived at the Retro Town Fair, which was held outside of the museum.
I came upon my own entries in the Retro Town Fair.
I found that both of my amigurumi pieces won a third place ribbon in the Needlework category, which was pretty awesome.
After I toured the Retro Town Fair, I had time to kill so I decided to tour the Greenbelt Museum. I last toured the Greenbelt Museum back in 2012. It turned out to be an awkward experience because my husband had walked out on me late in 2011 (three days after Christmas and three months after I underwent hip surgery). I decided to tour that museum because I had lived in this area for many years and I had never visited that museum even though I live close to it. Plus it was offering free admission so I decided to go for it. I saw the initial introductory movie and the volunteer who was going to serve as my tour guide was coordinating with other volunteers regarding giving me the tour. One of them told my tour guide that a previous couple were almost done with touring the museum and they were going to leave in a couple of minutes.
As I documented in this blog post, at the moment when the tour guide and I arrived at the entrance to the door where the tour would begin, the door opened and it was none other than my husband and the woman he left me for holding hands. They saw me, said "Hi," and walked past me quickly. I was shaken to the core and I remained shaken as the volunteer guide gave me a tour of the house. I couldn't focus on the tour at all because of seeing my husband and that woman just nine months after he left me for her.
Last year a water main broke inside of the museum, which caused flooding. The flooring had to be replaced and some of the furniture had to be repaired. The museum was reopened just a few months ago. I decided to tour the museum again in order to see what the renovations were like plus I wanted to duck inside of the air conditioning for a bit while I waited for the Retro Town Fair to end so I could pick up my amigurumi pieces and my new third place ribbon.
This time I had joined a small tour group. We went inside and the volunteer tour guide initially led us inside of the living room but then she herded us inside of the adjacent kitchen because another group had just finished its tour and they were about ready to leave and they needed enough space for them to exit through the living room.
While the tour guide was showing us around the kitchen, I heard a familiar voice. At first I thought, "There's no way that my ex-husband could be on a tour right before mine for the second time at the same museum." I looked out the kitchen door and I saw my ex-husband and that other woman (whom he married just two months after our divorce was final in 2013) walk out the door. This time they didn't see me because I was in the adjacent kitchen and they were walking fast.
I couldn't believe that both times I took advantage of the free admission during the Greenbelt Labor Day Festival, I saw my ex-husband. I'm definitely going to re-think the idea of visiting during free admission, because I really don't want to keep on encountering my ex-husband nor his wife. Saving on the $5 admission fee isn't really worth it if I have to continue seeing the Backstabbing Couple From Hell every single time.
Well, anyway, I wasn't quite as shaken to the core this time as I was back in 2012. I know it's because I had to get used to the fact that I'm now divorced and I'll never reconcile with my ex-husband. (To be honest, I wouldn't want to reconcile with him now that he has a proven track record of sexually preying on mentally ill women like the the woman who is now his second wife. If we were to somehow reunite, it would only take another mentally ill woman to move into our area before my ex would leave me for her and the whole drama would start all over again.)
During the tour I took some photos with my smartphone since there was all kinds of vintage furniture, magazines, and other vintage stuff. (This home has been made up to reconstruct what a 1930s home was like at the time that Greenbelt was founded as a planned community providing housing for low-income families at the height of the Great Depression.)
The museum had this Eleanor Roosevelt cloth doll on sale in its gift shop.
Once the tour ended I hung around in the adjacent townhouse that the museum had recently acquired and it is currently in the process of turning into a new place for the gift shop as well as a place where workshops could be held. I socialized with one of the volunteers for a bit while I waited for the 4 p.m. closing of the Retro Town Fair so I could pick up my crocheted creatures.
The time finally came for the event to end so I picked up my crocheted creatures along with the third place ribbon and made the hot trek back to my car. It was a totally miserable walk with the sun bearing down on me along with the high heat and high humidity. I left the festival as soon as I could because I was so overheated and I was also stiff and sore. The heat made walking way more difficult than usual.
I made only one non-food purchase the entire weekend I was at the Greenbelt Labor Day Festival. I purchased a bar of soap at the craft show from a vendor known as Uncle Rick's Natural Soap.
Next in This Series
2018 Greenbelt Labor Day Parade, September 3, 2018
2018 Greenbelt Labor Day Festival, September 3, 2018
The Day After the End of the Greenbelt Labor Day Festival, September 4, 2018
Previous in This Series
A Shot of a Ferris Wheel on the Day Before the Greenbelt Labor Day Festival, August 30, 2018
Last year I attended the opening night of the Greenbelt Labor Day Festival for the first time in my life. While I've attended previous festivals, I generally tended to blow off opening night and show up on the first full day of the festival.
This year I wasn't able to attend opening night, mainly because I was helping out with a special project in Takoma Park where we were aiding a man who was required to do a job interview via a smartphone app. (I wrote a post about it because it was the first time I had ever heard of a job interview being conducted in this way. I have a feeling that doing a job interview via smartphone app is a harbinger of things to come for job seekers in the future.) So I reverted to previous years where I didn't attend the Greenbelt Labor Day Festival for the first time until Saturday.
This time last year the weather was not only cooler than usual but it rained as well. For the first time ever I wore a hooded sweatshirt and long pants to the festival. This year it was completely the opposite, especially in the morning and early afternoon. The weather was cloudy, in the high 80's, and the humidity was very thick. Just walking around the festival was a miserable experience and I grew tired pretty quickly.
I took the free shuttle over to the festival grounds where I saw that the Greenbelt City Hall had lowered its flags to half-staff to honor the recent passing of Senator John McCain.
One new thing I noticed this year was the concrete barriers that had chalk art on them.
The Greenbelt Elementary School PTA had its used book sale, which was very popular as people shopped for bargains.
Saturday was Community Day where various local groups and businesses had their information booths where they gave out flyers, brochures, and sometimes free goodies like candy, pens, and pencils.
I shot the Chick-fil-A cow mascot.
The Old Greenbelt Theater had a poster for the movie that it was currently showing, Spike Lee's BlacKkKlansman.
The Greenbelt Makerspace had its open house where it displayed its computers, robots, and various types of electronics and maker tools.
The carnival midway was lively as people ate food, went on the rides, and played some of the midway games.
After a while the heat and humidity got to me so I ducked inside of the Greenbelt Community Center so I could cool off in the air conditioning. There is an art exhibition highlighting three local artists that's currently going on until October. I really liked the art on display in that room so much that I took a few pictures. I especially liked the ones by Jim Doran because I found his skeleton and skull art so interesting and whimsical to look at.
The main reason why I was at the festival on Saturday was because I had entered this mixed-media piece in the Greenbelt Labor Day Art show called Robot in the Park.
I wrote a blog post about this piece a few months ago so I suggest clicking on this link if you want to learn about the story and the creative process behind this piece.
I submitted my work to the Greenbelt Labor Day Art Show early on Thursday evening before the festival began. One of the conditions of participating in this show is that I had to sign up for a one-hour volunteer shift sometime during the weekend. I signed up to work on Saturday from 2-3 p.m. so I had plenty of time to eat an early lunch, take the free shuttle to the festival grounds, and walk around a bit. I was even able to view the Greenbelt Labor Day Photography Show and the art show itself before my shift began. I found out that my piece had won a second place ribbon in the mixed-media category, which thrilled me. That ribbon meant that I could attend the award ceremony that was scheduled on Labor Day itself where I would collect my prize and receive public recognition.
So I served my one-hour shift then I decided to walk around the festival some more. I found that the weather had cooled off a little bit so it made walking a bit more pleasant even though the humidity still remained high. I decided to sit at one of the tables outside the Greenbelt Makerspace where I sorted through the photos I had taken so far. At one point an old friend whom I hadn't seen in a while stopped by and we chatted a bit. At that point the weather turned darker and I saw lightning flashes. It eventually started to rain. Fortunately I was underneath an awning so I could watch the rain while staying dry. At one point the sun came out so there was that unusual phenomenon of raining while it's sunny at the same time. (When I was a kid, I used to be told that such weather meant that the devil was beating his wife.) When the rain started to taper off into a drizzle, a rainbow suddenly appeared.
By the time the rainbow appeared I was hungry so I walked over to one of the food vendors where I ordered a large cheese crab pretzel. The weather had cooled off considerably and it was pleasant walking outside. The only downside was that it was wet everywhere from the rain so I walked back to the tables under the Greenbelt Makerspace awning and consumed my dinner there. I resumed sorting through the photos I had taken that day until night fell. I walked over to another food booth where I ordered a vanilla ice cream cone with a chocolate dip top and ate that. I also took a few night photos of the festival.
I didn't stay long because my body had grown tired from walking around the festival in high humidity earlier and it was hard finding a dry place to sit due to the rain. I decided to pick up the next free shuttle bus and head home.
Next in This Series
2018 Greenbelt Labor Day Festival, September 2, 2018
2018 Greenbelt Labor Day Parade, September 3, 2018
2018 Greenbelt Labor Day Festival, September 3, 2018
The Day After the End of the Greenbelt Labor Day Festival, September 4, 2018
Every now and then I include some blog posts about some artwork I did when I was a child. Recently I did some more heavy decluttering around my townhouse where I found a couple of more art pieces that I did as a child. I found a bag that I hadn't even taken the time to go through even though it was among the stuff that my then-husband and I rescued from my old childhood home around the time that my mother decided to put the house up for sale.
First up is this crayon masterpiece I did. The top of the page has "Nov. 1968" that looks like it was written in my mother's handwriting. The figure on the left looks like a cross between a clown and a stick figure. I can't make out the figure on the right. It looks like a stick figure with a gun head. Based on what my mother wrote at the top of the page, it looks like I was six years old when I did this drawing.
What I wrote on the back is an even bigger mystery. It says "TO KIM FROM SMOKEY THE BEAR." Obviously I must have written this but I don't even remember why I would pretend that I was Smokey the Bear giving this drawing to myself.
I also found this other drawing I did. It's an ink drawing where I did a red elephant being surrounded by a bunch of stick figures. I wrote at the top "TO MOM FROM KIM." I don't remember when I did this drawing or how old I was when I did it. I remember when I was a child some teacher in either my regular elementary school or my Sunday morning CCD class read the famous Indian fable about the blind men and an elephant. Seeing the stick figures feeling the elephant from different angles, I have a feeling that I was inspired by this particular story. Unfortunately I no longer remember the day I did this drawing.
I'm finally towards the end of the backlog of Halloween pictures I've been meaning to share online. Last month I got diverted by Inktober, where I was one of many artists who created one new ink drawing every day from October 1-31 then uploaded that drawing on social media and other online places. At first I thought it was fun but, by the end of the month, I began to totally burn out on this. It's amazing how much time a daily project like this takes out of your day. (Which is why I've declined to take part in either NaNoWriMo or Makevember, which are both taking place this month.)
While I was finishing the last drawings for Inktober, I took part in a few weekend events. Friday I went on the First Friday Art Walk in Hyattsville then went to the tail end of the Greenbelt Pumpkin Festival. I ended up filming The Mojo Priests' performance at the nearby New Deal Cafe after the director of this documentary that I've been helping out with contacted me at the last minute because he decided that he wanted footage of not only The Mojo Priests but also another band that would perform at the same venue the following night. Saturday afternoon I decided to check out some Halloween-related things that were going on in Annapolis. Saturday evening I went on the Greenbelt Pumpkin Walk then I headed back to the New Deal Cafe where I filmed some footage of The Wild Anacostias. Sunday morning was the Halloween/Samhain service at my church followed by the Trunk or Treat event followed by helping with teaching an English class that my church is offering to recent immigrants.
So I got to Monday, October 30, the day before Halloween. I thought I would have a day to rest only to realize that last week I signed up for this twilight networking event that would be held from 5:30 p.m.-7 p.m. at the Maryland Workforce Exchange in Laurel. By that point I was reluctant to go, especially since I had attended previous twilight networking events since January and the best I was able to get as a result was to snag a gig as an extra for a PBS television special hosted by finance guru Ric Edelman. (I found it to be an interesting experience but I really needed something a bit more permanent with a steady paycheck.) I decided to go because I felt that if I didn't go, it would be the one networking event where there was a genuine opportunity and I would miss out on it.
I arrived in Laurel a few hours early in order to beat the rush hour traffic. Usually I would eat an early dinner at Harris Teeter at 4 p.m. so I wouldn't go networking with strangers on an empty stomach. When I arrived, I began to feel mildly queasy, which I wrote off as nerves. (In hindsight I think it was the beginning of that stomach flu that had totally derailed me the next day on Halloween itself.) I found that there was a temporary Halloween store next to Harris Teeter known as Halloween City.
Sure I felt a little bit queasy but I felt that doing a detour in this store would calm my nerves (this was when I thought that it was stress-related instead of the beginnings of that stomach flu). I felt okay as I focused more on what I saw on sale and less on my very mild queasiness. Halloween City is like the Spirit of Halloween in that it's a temporary store that sets up shop in an empty storefront until Halloween and it sells a variety of decorations, costumes, makeup, and masks.
I found a few Native American costumes that I'm not sure if Native American groups would approve of. In recent years various ethnic groups, including Native Americans, have complained about certain costumes based on their culture while deriving them as cultural appropriation.
The rest of the store featured more benign costumes such as witches, ghosts, superheroes, grim reapers, and more.
There was a special Day of the Dead rack where people can purchase costumes for that traditional Mexican holiday (which falls on November 1-2).
There was this incredibly creepy looking Vladimir Putin mask.
It was a brief visit and I didn't buy anything in that store. After that visit I went to Harris Teeter where I ate my early dinner. My queasiness had totally subsided after I finished eating so that was why I thought it was nerves rather than the stomach flu. I managed to go through the twilight networking event with no major problems. There were a couple of promising leads so I was glad I went. However, I ended up not following up on them until the next week due to what came the next day.
After the event ended I went to Giant where I found this pumpkin that was on sale so I bought it. I drove to another grocery store also in Laurel where I found even cheaper pumpkins so I bought that one as well. So I had two additional pumpkins that would join the pumpkin I purchased earlier at Clark's Elioak Farm. I spent the rest of the evening carving faces into my three pumpkins in preparation for Halloween the next day until it was bedtime.
When I woke up the next morning I really felt horrible. The mild queasy feeling I felt the day before had intensified and I spent Halloween day alternating between diarrhea and vomiting (except I was doing more dry heaves than actually throwing anything up). I felt so horrible that I was barely able to give out the Halloween pretzel treats to the trick or treaters who came to my door. I was invited to a party at a friend's house that would begin once the official trick or treating time ended at 8 p.m. but I ended up going to Giant instead because I was running low on toilet paper and medication. I went to bed early when I returned home.
The worst part of the stomach flu was gone by the next day but I was extremely tired and weak. I spent the rest of that week just resting.
I think what happened is that I had done so much in the days leading up to Halloween that it made my body more susceptible to catching whatever germs were going around and I happened to end up with the stomach flu on Halloween. I've had other friends getting sick with something similar so I think there's something that's going around and I was unlucky enough to catch it just in time for Halloween.
I've learned that I'm going to have to be more picky as to what holiday events I'll go to and stop trying to attend as many as possible, even if they are all located within a few miles of each other. That's a valuable lesson since Thanksgiving and the winter holidays are coming up in the near future.
I decided to check out this night networking event that was held at the UMBC Training Center in Columbia, Maryland. I decided to beat the rush hour traffic and head up to Columbia a few hours early. I hung around the Mall in Columbia for a bit since I haven't been there in a very long time. Here's a photo of the indoor carousel that's located on the upper level of that mall.
I saw this incredibly colorful clown sculpture that was made from balloons.
This year is the 50th anniversary of the Mall in Columbia, which is why there was a 50th birthday cake floating in the fountain. The cake was made from balloons so it wasn't edible anyway.
The Disney Store had this huge display because it had recently released the live action remake of its 1990's animated film Beauty and the Beast.
The next photo shows the official doll that was widely mocked on the Internet as being ugly and looking like Justin Bieber. The doll was supposed to resemble actress Emma Watson, who played Belle in the movie, but I personally thought that the results were less-than-thrilling. I agreed with the critics who said that the doll looked more like Justin Bieber wearing a long brown wig than Emma Watson. (By the way a doll artist named Noel Cruz took one of the dolls and did a total repaint job. The results resembled Emma Watson way better than the original doll faceup.)
The Disney Store sold a larger doll that was based on the 1990's animated version. I thought that doll looked way better than the other one.
The Disney Store also sold this Moana doll that looked gorgeous. I'll admit that I haven't gotten around to see the movie yet but I totally adored that doll so much that I would've bought it if it weren't for the fact that I'm still dealing with tight finances.
I ate an early dinner at the Mall in Columbia because I wasn't sure about the food situation. I was glad I did because this event had mostly snacks. After dinner I drove straight to the UMBC Training Center where the Coaches' Corner event took place. It was basically an event where we received free counseling in small groups from various career coaches coupled with networking and it ended with a panel discussion from all of the participating career coaches. The day before the event I received an email asking participants to take photos of the evening, upload them on social media, and give them various hashtags. Here are my two photos from the event. The next photo shows the networking that took place before the panel discussion.
The last photo shows the panel discussion from the career coaches.
I only took two pictures because I was more focused on getting advice on finding jobs than taking pictures. I got some pretty good advice from the career coaches, especially on using LinkedIn.
A few weeks ago I took part in the fall yard sale which benefitted Changing Focus, whose support group meetings I have been attending since my husband suddenly walked out on me in late 2011. This yard sale was held in conjunction with the larger Festival on the Green that's held in Crofton, Maryland. I didn't have as much to donate as previous yard sales because I'm finally starting to make a dent in my own pile of excess clutter (much of which was stuff that my ex-husband had left behind and didn't show any interest in picking it up). I volunteered to help with the sorting the day before the yard sale and to also help out with the yard sale itself.
The big challenge for me was that I caught a really bad cold right before that yard sale. For both days I took some Emergen-C just so I could get through everything without wanting to fall asleep. It was cloudy both days but fortunately the rain held off and it attracted a lot of frugal shoppers.
Like the previous yard sales I was involved in, this one had a bunch of interesting items. There is this old overhead projector I remember used to be used frequently in classrooms from elementary school all the way to college. This is the really old-fashioned kind that doesn't hook up to a computer and it uses sheets of plastic that were either printed on with a printer or written on with a marker prior to use. This one brought back a whole lot of memories for me while I also began to think that maybe this one is ready to be donated to a museum of some sort.
And then there's this JVC micro cassette recorder that uses actual micro cassette tapes.
And a few blank 5.25-inch computer floppy disks.
You also learn something new at yard sales. For example, I never knew that there was a jigsaw puzzle based on marshmallow Peeps.
Then there were the dolls, such as these creepy looking ones in the next few photos. The boxes said that they were "Swinging Hobo" dolls but they looked more like clowns to me.
I found Raggedy Ann and Raggedy Andy. I once had both rag dolls as a child. These dolls still sport the embroidery heart underneath their clothes that says "I Love You".
I saw this very cute porcelain tea set that's doll-sized and would be perfect for a tea party. (I was briefly tempted to buy it but I ended not doing so because I'm kind of adverse to add new clutter to the household these days.)
Then there were some items that I didn't even know what the hell they were.
There were all kinds of stuff available for sale.
I was one of the volunteers to was in charge of taking money from people who wanted to buy something from the yard sale. I bought my lunch from one of the food vendors at the Festival on the Green. During one of my breaks, I walked over to the Festival on the Green's craft show that was held at the country club that was located next to the church where the yard sale took place.
Today was one of those rarities in the Baltimore-Washington area: a St. Patrick's Day parade that actually took place on St. Patrick's Day. Normally such parades (which are usually held in Baltimore, Washington, and Alexandria) tend to take place either before or after the holiday itself mainly because many of the participating bands tend to spend the actual holiday performing at the larger parades in New York or Boston.
There was only one other time in my life that I actually attended a St. Patrick's parade on St. Patrick's Day. I was 16 years old and serving on the high school newspaper when the staff decided to attend this convention geared towards high school newspapers that was held at Columbia University. We happened to be in New York City on St. Patrick's Day so we attempted to go to the parade only to find out that the streets were so crowded that we could only see the flags and banners. We saw people wearing green on their clothes, their faces, and even their hair. We saw people getting very drunk on green beer (which I remembered as looking kind of gross). We decided to check out Sak's Fifth Avenue. While perusing the merchandise (which none of us bought because they carried very high prices), we heard a glass shatter in the middle of the store. Some drunk had dropped or thrown a beer bottle right in the middle of the store.
The biggest memory came when we saw a group of drunken men wearing green makeup, green afro wigs, and green clothes. A pidgeon landed in front of the men. One of them yelled "Let's eat him!" and they descended on the poor pidgeon, who promptly flew away as soon as he realized what was happening. The men then crashed on top of each other laughing and screaming.
To say that St. Patrick's Day in New York City is rowdy is a bit of an understatement.
I learned that there was going to be a St. Patrick's Day parade in Gaithersburg on St. Patrick's Day, which happened to fall on a Saturday this year. I was in a mood to attend a parade on the holiday itself this year so I grabbed my camera and made the trek up there just in time for the start of the parade at 10 a.m.
Unlike New York City, Gaithersburg is a suburban town. The parade itself was held in the middle of an outdoor shopping mall. I also noticed that this parade drew more of a family crowd than New York and I didn't see anyone get visibly drunk.
It wouldn't be a St. Patrick's Day parade without kilt-wearing people playing bagpipes.
It also wouldn't be a St. Patrick's Day parade without police on horseback.
A troupe of Irish step dancers
You can tell that this year is an election year since many politicians and political campaigns took part in this parade.
A troupe of Bolivian dancers take part in the quintessential Irish holiday parade.
This year is the 100th anniversary of the founding of the Girl Scouts of America. As a former Girl Scout myself, I can say that I am very proud that the organization has made it this far.
Mother Goose made an appearance in the parade.
Here are some more bagpipers in kilts.
That is one funky looking fire engine.
This year also happens to be the Civil War Sesquicentennial so a contingent of the Maryland Sons of Confederate Veterans marched in the parade complete with a kilt-wearing bagpiper playing "Dixie." (You really can't make this stuff up!)
Here is another troupe of Bolivian dancers at the St. Patrick's Day parade.
Here is a group of Hari Krishnas.
Here is the mascot of the minor league Frederick Keys baseball team.
Here is yet another troupe of Bolivian dancers. I never knew there were so many Bolivians living in this area.
And here's the signal of the end of the parade.
All in all this parade basically lasted just one hour, which was a little bit of a letdown. (I remembered the New York parade lasting several hours followed by people partying in the streets while getting drunk.) After the parade ended people crowded into the stores and restaurants. I decided to just get back in my car and drive home.
I spent the afternoon home mainly because I'm currently battling a cold. For this special St. Patrick's evening, I'm going to take the advice that I heard during one of the meetings of my separated and divorced support group: Treat yourself to a homecooked soup that you make for yourself. I decided to make the Beef Stew With Guinness and Prunes that I used to make each St. Patrick's Day for my husband and myself. As a side dish, I have some Irish soda bread that I purchased at Wegman's a couple of days ago. At least I won't have to battle the crowds at the Irish restaurants and pubs tonight. (My husband and I tried going to Irish pubs and restaurants on St. Patrick's Day in previous years only to go home or to a non-Irish restaurant because of the crowds. That's why we've given up on going to any Irish place on St. Patrick's Day years ago because it just wasn't worth the aggravation.) Plus it'll be cheaper than eating out and I'll have plenty of leftovers to freeze. Yum!
As you may have heard, some Evangelical Christian preacher and radio show host has been claiming that today is supposed to be the day of the Rapture as foretold in the Book of Revelations. Usually most people would lump him in with those street preachers you see in many major cities who carry signs that says "The End is Near!" Except the media had actually took this clown seriously just because this guy has a media company and it began to report on this guy like it's a serious news story.
The guy became fodder for a lot of comedians. There's even a hilarious Taiwanese computer animation about this.
It looks like Lawrence O'Donnell was correct about this guy when he made this rant on his MSNBC show. I expect that he'll say "I told you so!" on his next show this Monday night because the world didn't end today.
What was more disgusting than the media attention on this kook was the fact that there were people in the United States who took his message seriously enough to sell all of their possessions. This is yet another illustration of the famous H.L. Mencken quote "No one ever went broke underestimating the intelligence of the American people."
We need to stop giving that crazy preacher the media attention he clearly craves and focus on more important issues (like reducing the unemployment rate in the United States).
UPDATE (September 8, 2017): Since I wrote this rant that preacher, Harold Camping, died on my birthday without ever seeing the end of the world. As this 2014 Vice article puts it:
On December 15, 2013, after roughly 13 failed predictions, the end finally came for the 92-year-old Camping. He died in his Alameda home due to complications from a fall.
That same article also mentions how Camping victimized his own followers by fleecing them of their life savings after he convinced them that the end was really near. Harold Camping would probably be miffed that the world is still around and it's still full of all kinds of living people, plants, and animals.