You are currently browsing the tag archive for the 'childhood memories' tag.
Not too long ago I decided to do some miscellaneous Facebook surfing by lurking on a group that has been set up for alumni of my old high school. Part of the reason was to keep my mind off my continuing job hunt and the latest political news. (I remember that was the night when new White House communications direction Anthony Scaramucci went off the profanity-laden deep end. Scaramucci was fired soon after that incident—after he had spent only 10 days working at his new job.)
While I was lurking on that high school alumni group on Facebook and scrolling through old posts that one recent night, I learned that my former music teacher, Tim Landers, had died last year of complications stemming from a liver transplant. He was either 63 or 64 (I was only able to figure out his age because he wrote this Facebook post on October 14, 2013 where he said that he was 61 so I did the math and, no, I don't know the date of his birthday so I have no idea if he managed to celebrate his latest birthday before his death or not). In the comments section someone posted a video of a song that he wrote and sang about Ocean City, Maryland. I watched the video and I kind of liked the laid-back vibe of the song. It's the quintessential summer song that's perfect to listen to if you're on a beach anywhere in the world. Here's the video below, titled "It's a Shore Thing."
If you like "It's a Shore Thing," you can download it for 99 cents from CDBaby, Amazon, Google Play, or iTunes.
I also found another video he did as part of a trio known as The Landers and Heinz Project. It was a live performance of another song he wrote as he and his partners were playing on a local radio station in Ocean City. The song is called "Scotch and Soda" and it is just as laid-back as the other song. (Tim Landers is the guy in the glasses and mustache playing his guitar and singing.)
If you like "Scotch and Soda,"  you can download it for 99 cents from CDBaby or iTunes.
Anyone who has been reading this blog on a regular basis would know that I don't have too many fond memories of my old high school. In fact, last summer I went back to my old school for the first time in many years just so I could photograph my hand giving the middle finger to that school. I was on my way to the latest Dr. Sketchy's Anti-Art School event in Baltimore (link is NSFW) when I did this. Yes, I took advantage of the longer days so I could check out my old school quickly before driving on to Baltimore.
While I was mostly miserable in the five years I attended that huge school complex known as the Old Mill Educational Complex (one year in Old Mill Middle School-North and four years in Old Mill Senior High), there were a few teachers there who provided a few bright spots in what was otherwise a miserable existence. Like I wrote in last year's post where I included that picture of my hand giving the finger:
Why was this school so bad? While there were plenty of teachers at the school complex who were dedicated at their jobs, it was the attitude of the administration that considered athletics more important than academics.
Among those teachers who were dedicated at their jobs was Tim Landers, who taught music (mainly guitar). I took four semesters of guitar class with him until I had exhausted all of the guitar classes that my high school offered. The one thing I never realized about him until after I learned about his death and I started reading his Facebook postings is that he was only 9 or 10 years older than me. (I know it sounds kind of strange but it wasn't that unusual to have a teacher who was close in age to the students he/she taught in my high school. When I was a senior I had an English teacher who had only received her teaching degree the year before and she was just five years older than me.) Mr. Landers bore a slight resemblance to Mr. Van Driessen from the Beavis and Butt-Head cartoon series, more in terms of temperament than his looks. (He didn't have a beard and he wore his long hair in the feathered style that was very popular back in the 1970s.) Here's a photo of him I scanned from my sophomore high school yearbook.
Looking at his personal Facebook page, I found that he was a spiritual person like Mr. Van Driessen with the big difference being that he expressed himself as a devout Christian while Mr. Van Driessen was more into New Age spirituality. But he definitely shared Mr. Van Driessen's hippie vibe in terms of his outlook on life and the funky clothes he wore to school. The main difference was that Mr. Landers was far less of a pushover than Mr. Van Driessen. He was the kind of person who was willing to help you unless you crossed him. If you did anything to push his buttons, he would not hesitate to send you to the principal's office or to even fail you for not doing the required coursework.
Here's one example of Mr. Landers not being a stereotypical pushover hippie. I remember it was the end of the semester when we not only took our final exams but we also were given an evaluation form where we could write about what we liked or didn't liked about the class. Unlike the final exams, we were not required to write our names. The idea was that we could freely give our opinions without repercussions.
So we turned in our exams and the evaluation forms then returned to our seats while waiting for the bell that would signal the end of the class. Mr. Landers happened to glance through some of the exams and evaluations at his desk until he came upon an evaluation form where, according to Mr. Landers, someone had written "Mr. Landers can do something to himself." (Given the fact that I saw that Mr. Landers was visibly angry at the time, I suspected that the wording was stronger than what he indicated—somewhere along the lines of "Mr. Landers can go fuck himself.") By that point it was almost the end of the class but Mr. Landers was determined to get to the bottom of who wrote that evaluation form. He said that he would read what we wrote on the evaluation forms out loud and if he came upon something that one of us recognized that he/she wrote, that person was to go up to the class and pick up that form then bring it back to his/her seat. Mr. Landers eventually came upon my form (where I basically wrote that I wished he hadn't done so many classical guitar songs because I prefer rock guitar) so I picked mine up. It wasn't until Mr. Landers came to the last of the evaluation forms that a boy in the class confessed that it was he who wrote that nasty message on the evaluation form.
At that point the bell rang, we returned our evaluation forms to the teacher's desk before we headed to the next class, and Mr. Landers escorted that boy to the principal's office. (I've long since forgotten who the boy was or even what he looked like—other than he was a thin white kid with dark hair—mainly because I wasn't friends with him.)
Fortunately I got along pretty well with Mr. Landers and I enjoyed his classes. I think he had a high opinion of me as a student. I managed to get him to sign my yearbook only once, which was during my sophomore year (the same yearbook where I posted that photo of him).  His signed it "Kim, Take care of yourself and be good. I'm sure you will. Love, Tim Landers."
I remember that Mr. Landers' real ambition was to be a rock musician and he only got into teaching to pay the bills. He turned out to be one of the many talented musicians who never quite made it to the big time and it was not due to a lack of trying. He would spend evenings, weekends, and school breaks writing new music and recording demos that he would try to shop around to various agents and record companies. (I remember the times when he would occasionally play one of his demo songs in class.) I remember that he was a big Beatles fan and he used to drop tidbits about the band and their music because he was such a fan. In fact I remember one of the first songs he taught the class in Guitar I was "Let It Be."
I loved his wacky sense of humor and his vast knowledge of famous guitarists like Jimi Hendrix. I still remember the time when it was the last class before Thanksgiving break and he played Arlo Guthrie's classic "Alice's Restaurant" song and we laughed at some of the humor. (It was the first time I had ever heard that song. Up until that time the only Arlo Guthrie song I knew was "The City of New Orleans" and that was because it was a hit on the radio and my father had purchased that song on a 45 r.p.m. record.) He also introduced us to the original soundtrack to the Broadway show Grease as he brought the album to class one day and he played it for us. (This was about a year before the movie version came out with John Travolta and Olivia Newton-John.)
I still remember the year when Frank Zappa came out with his disco parody hit "Dancin' Fool," which was played quite a bit at the major rock stations in my area. Mr. Landers brought in a couple of Zappa records where he not only showed us what a gifted guitar player Zappa was but he introduced us to an another disco parody that Zappa did just a few years before "Dancin' Fool," which was called "Disco Boy." The lyrics to that one was even more hilarious than the "Dancin' Fool" lyrics.
At one point he mentioned in one of his classes that he was trying to get the school to approve his idea of a new semester-long music class that he would teach. It would be called "The History of Rock and Roll" and it would take a look at rock's beginnings in the 1950s all the way to the present (which would've been the late 1970s at the time). He talked about how it would involve listening to various records as well as watching movies like Jailhouse Rock, which starred Elvis Presley. I was really eager to take such a class but, for whatever reason, he wasn't able to get the school to consider his idea so I never had the opportunity to take it. I don't know whether that class ever happened after I graduated from high school or if it was something that the school administration refused to ever consider offering.
The most memorable thing he demonstrated was the time he went to the piano to demonstrate how classical music influences pop culture. I don't remember the context in which he did this but I vividly remembered what he did to this day. He started to play the song "Chopsticks," which is the one song that nearly all beginning piano students are taught as their first song. He then started to hum the tune to the theme song from the TV show My Three Sons while he was playing "Chopsticks." We all laughed and chortled at his contention that this theme was based on "Chopsticks." Soon afterwards I was home when I was changing the channels on the TV set when I happened to catch the beginning of My Three Sons rerun right at the moment the theme music was playing and I began to notice the underlying "Chopsticks" melody and I realized that Mr. Landers was right. Here's the link to the full version of the My Three Sons theme song where you can clearly hear "Chopsticks" as the melody.
Despite the fact that he loved The Beatles and other rock bands of the 1960's, he was a traditional music teacher in many ways. He was adamant that we learned how to read music, which was a skill that many of his favorite 1960s bands, including his beloved Beatles, didn't have. Thanks to him, I learned the mnemonic method of music reading where I learned the lines of EGBDF as Every Good Boy Deserves Fudge while the spaces between the lines spelled out the word FACE.
He was also adamant that we learned how to do chord building, which I quickly learned was not my strongest suit. Chord building involved learning the music notes that make up a certain chord and it involved a lot of memorization (which we later had to regurgitate on the final exam). The only reason why I still know that a D chord is made up of the notes D, F#, and A is because I made up my own mnemonic sentence that went "Dick Fucks Sharp Asses." (I didn't dare share that secret with Mr. Landers.)
During the time that I was taking those guitar lessons from Mr. Landers, Led Zeppelin's "Stairway to Heaven" was frequently played on the local rock radio station for many years after it was first released back in 1971 and it would go on to become one of the biggest rock hits of the 1970s. Many people were turned on by Jimmy Page's exquisite guitar playing throughout that song. Naturally many of Mr. Landers' guitar students, myself included, wanted to learn how to play that song. Mr. Landers was frequently inundated with numerous requests that he teach us this song. Some kids wanted to go from a relatively easy song like "Let It Be" straight into "Stairway to Heaven" while they were in the first few weeks of Guitar I.
Eventually Mr. Landers relented sometime around Guitar III or Guitar IV and he handed out mimeographed copies of "Stairway to Heaven." That was when we got a dose of reality about how complex that song really is as we struggled with the various chord formations. From that time on the students in the advanced guitar classes stopped wanting to learn how to play "Stairway to Heaven," while I'm sure that the students in Guitar I were probably still begging Mr. Landers to teach them how to play that song while they were learning how to play their first chords.
There was only one time I felt Mr. Landers was wrong about something. It was when punk rock became a huge such deal in the UK that the US media started doing stories about this new phenomenon. I was intrigued by the music I heard in snippets while watching news stories about this new punk rock phenomenon so I purchased The Sex Pistols' debut album. I found that record to be a revelation in that it was so unlike the heavy metal and disco music that was prevalent on the radio at that time. A few weeks after I purchased Never Mind the Bollocks Here's The Sex Pistols, Mr. Landers openly disdained punk rock in class and he felt that all of the punk bands consisted of untalented musicians who were destined to not last very long. A few other students piped up talking about how they disliked punk rock as well. I disagreed with Mr. Landers' low opinion of punk but I kept my mouth shut because he was one of those people whom you could never provide a contrary opinion once he made up his mind strongly about something because he never attempted to listen to the other side. (In addition, I was having a hard enough time constantly trying to avoid being someone's bully target and I didn't want other kids to pick on me because I owned a Sex Pistols album. It was bad enough that there were kids who called me "retarded." I pretty much listened to my punk rock records on the down low in the privacy of my bedroom at home until college when finally I met other punk rock fans and I felt comfortable enough to admit that I liked punk as well.)
Okay, Mr. Landers was right about The Sex Pistols being a short-lived phenomenon because they disbanded soon after they hit the big time but he was wrong about punk rock's longevity because there were other punk bands (such as The Clash and The Ramones) who had longer careers and who released albums that are now considered rock classics right alongside albums like Sgt. Pepper's Lonely Hearts Club Band. What's more, The Sex Pistols, The Clash, The Ramones, and other punk bands have been inducted into The Rock and Roll Hall of Fame, which definitely proves how wrong Mr. Landers was about his assessment of punk rock.
Mr. Landers also formed the school's official folk rock group known only as the Old Mill Folk Rock Band. (Yeah, I know it sounds original. LOL!) The group performed at school assemblies. Each year they would go into a local recording studio to make an EP record, which consisted of four songs (which were all covers of the big hits of that era). Once the record was printed, the members would sell copies of that record among the student body. I wanted to join that band as a guitarist but competition was intense. (I had a few friends who were in that band.) While I was an okay guitarist, there were other students who were far more talented than me and, to be honest, I was too intimidated to every try out.
I didn't know much about his personal life aside from a few times that he mentioned that he had a wife when I took my first guitar class with him. By the time I took my second or third guitar class he briefly mentioned that he was separated from his wife a couple of times. Then he briefly mentioned that he was divorced once or twice by the time I took my last guitar class with him. (He never mentioned why he got a divorce nor did he ever say anything nasty about his ex-wife during any of classes I took with him. He also never mentioned having any children from that marriage.) When I saw his Facebook page for the first time and he listed his marital status as "single," I thought that my memories were wrong. But then I read an interview he gave with a local newspaper (which I'll get to in the next two paragraphs) and he briefly mentioned "my wife at that time." I guess he must've gotten married sometime in his early 20's and it only lasted just a few years until the two of them decided to go their separate ways. It's very likely that, by the time he created his own Facebook page, he probably felt that he had been divorced for so many years that he might as well list his marital status as "single."
I looked on his personal Facebook page and searched his name on Google after I learned about his death and I found that he later transferred to a different high school as a music teacher before leaving the teaching field entirely in order to work as a full-time musician and songwriter. (Of course all this happened years after I graduated from high school and moved out of Glen Burnie.) He had a professional Facebook page focusing on his music career but it hadn't been updated since 2013. At one point he had his own website, which basically had a short biography and dates of upcoming performances, which I was able to access thanks to the Internet Archive. (The last update was done after his death, which announced that he was deceased.) He even wrote a Christian musical called Walk With God, whose official website can only now be accessed through the Internet Archive.
I saw on his personal Facebook page that he had adopted a Golden Retriever puppy just a couple of years before his death. He frequently posted pictures of that dog and it was obvious that he loved his dog. I only hope that this dog found a new loving forever home after his owner died.
Recently I came across this extensive interview Mr. Landers did with a local Ocean City publication called The Coconut Times in 2014 where I was not only able to catch up on whatever became of him after I left school but I even learned about his early life before he became my music teacher. This interview is so extensive that it's divided into Part 1, Part 2, and Part 3. It's really quite a fascinating read that I would highly recommend to anyone regardless of whether you actually knew him personally (like I did) or not. I learned that he grew up in Baltimore (in the same neighborhood where the since-demolished Memorial Stadium was located) in a very large extended family that included numerous aunts, uncles, and cousins. Many of his relatives were singers and musicians and he even had a cousin who was a singer whose main rival was Patsy Cline. He landed his first job at 12 helping out in a local music store where he met professional musicians who played with the big acts like Buddy Holly.
Mr. Landers totally opened up about his life in that interview, including admitting that he was diagnosed with Hepatitis C in the 1990's due to a tainted blood transfusion he received in the early 1970's. (Which probably explains why he underwent a liver transplant in the first place.) He also mentioned that, when he was 21, his father took him to a bar so he could have his first legal alcoholic beverage while engaging in some father and son talk. His father would suddenly die of a heart attack just nine months later. (Reading that interview and seeing his old Facebook posts, it seems like longevity wasn't exactly a family trait. Not only did his father pass away at 45, he had a brother who died in a car accident at 52, and a cousin who also died an untimely death as a result of being exposed to Agent Orange while serving in the Vietnam War. And that's not to mention Mr. Landers' own death while he was in his early 60's.)
Amid the bad times there were plenty of good memories as well. He mentioned in the interview that he had recently ate lunch with a member of Pink Floyd whom he did not identify. (I can safely say that it wasn't with Syd Barrett or Rick Wright since they were both dead by 2014, when the interview took place.) He also mentioned meeting many famous musicians, such as the band Danny and the Juniors, who is best known for the big 1950's hit "At the Hop."
As I read that extensive interview, I realized that Mr. Landers lived a very interesting and fascinating life and I found myself wishing he had written a book or even started a blog about his memories. That 2014 interview is about as close as we'll ever get to an autobiography and I'm glad that it exists. (You can read Part 1, Part 2, and Part 3.)
As I look over that three-part interview and those Facebook posts, I have to admit that the saddest thing about his death is that it seemed like Mr. Landers was at a point in his life where he was basically content with the things that was going on in his life over the last two or three years before he died. He had a thriving music career despite never becoming a major recording artist who sells millions of copies of his music. He was spending his summers in Ocean City where he was doing gigs at various bars and nightclubs throughout the Delmarva region. The rest of the year he was in Nashville where he was recording music and meeting people in the music industry. He had even contributed a song to this independent movie called Patapsco Valley that, as far as I can tell, only exists as a location camera test on Vimeo. (That is his song, "The River," playing in the background of that video.) He had a dog whom he seemed to have loved very much. He achieved a point in his life where he was basically happy and content then he dies while he was in his early 60s. Yet there are a lot of loathsome people who are still alive and kicking and many of them are older than he was when he died. (I don't want to elaborate on this any further or else this post will veer into something that would be as inappropriate as President Trump's recent notorious speech at the Boy Scout Jamboree.)
I had pretty much cut myself off from most of the people I knew back in high school mainly because I wanted to protect myself from reliving any painful memories. (I went to my five-year reunion and that was enough for me.) I have to admit that Mr. Landers is one of the few people from my old high school I wished I had a chance to re-connect with before he died. I would've loved to have visited him in Ocean City (where, in his remaining years, he had spent his summers while living in Nashville the rest of the year) and I definitely would've brought my guitar with me so we could've done a jam session or two.
Ironically I used to go to Ocean City with my then-husband, his sister, her son, and an invited guest (some years it was a friend of my nephew's while other years it was a friend of my sister-in-law's) for a week-long family vacation every year until 2011 (just a few months before my husband left me). If I had known that Tim Landers was also there as a performer, I definitely would've made the time to at least spend one evening attending one of his shows. (My then-husband and sister-in-law could've either come with me or stay behind in our rented condo.) It would've been really cool if I had brought my guitar with me and we could've gotten into a jam session. If only I had actually taken the time to thoroughly read those various free publications that used to list various events that went on in Ocean City, I would probably have come across his name and gone to one of his shows to see if he was actually my high school teacher. Oh well. It's my loss and I have to deal with it.
I still have those mimeographed ditto sheets of guitar chords and song lyrics that Mr. Landers handed out in class stashed away in folders. They have survived various moves over the years. Writing this post has inspired me to pull out those old ditto sheets, take a look at them, pull out my guitar, and start playing it using those old sheets from years ago.
R.I.P. Mr. Landers.
It has been the usual summer in the Washington, DC area with high heat and high humidity followed by storms that temporarily blast the humidity away and make things pleasant outside until the high heat and high humidity reasserts its dominance over the area. The one consequence of this weather has been a few white mushrooms growing in the grass.
Not too long ago I saw this vintage yellow vintage Volkswagen bus parked in a parking lot. I can remember when my late aunt and uncle owned a Volkswagen bus for a few years which they used to drive to my parents' home when I was a kid. (My aunt and uncle had four daughters, which was why they even owned the Volkswagen bus in the first place.) It has literally been years since I've seen a Volkswagen bus anywhere on the streets so it was a bit of a surprise to see a yellow bus with a large peace sign in the front.
Not too long ago I attended a Saturday morning networking event that was held at McLean Bible Church, which is located in Northern Virginia. I was hoping to find contacts who could help me land a new day job in order to pay the bills as well as getting any possible new tips on how to refine my search. Plus it gave me the opportunity to actually step foot inside one of those non-denominational Christian megachurches that have been springing up all over the U.S. since the late 1980s.
Before I go any further I want to explain my own religious background so you'll understand why this post has a "stranger in a strange land" feel. I was raised in the Roman Catholic church. The parish where I attended mass from the time I was a child until I was in college had anywhere from 1,000-2,000 members. The church held mass four times a week (one on early Saturday evening around 6 or 7 p.m. and the other three on Sunday at 9 a.m., 10:15 a.m., and noon). While some people knew who I was growing up, there were times when I felt like I was just a face in the crowd of Catholics. I don't recall too many efforts to have social events for the parishioners so they could get to know each other. Basically people attended mass then headed out the door the moment the last hymn ended.
I left the Catholic church when I was in college and I spent my college years identifying myself as a "secular Christian" (or a gentile equivalent of a secular Jew). When I was in my senior year of college I saw an ad in the Sunday Washington Post for Unitarian Universalism which read "Instead of having to fit in with a church, I found a church that fit me." There was something about that ad that resonated with me in a positive way and it was a contrast to all those fundamentalist Christian groups on campus (such as the Campus Crusades for Christ) who were constantly trying to recruit converts among the student body so often that I began to loathe them because they became such a nuisance. I showed the ad to my boyfriend and he was impressed by it as well. I found out that there were no campus UU groups at the time, the nearest UU church was at least three miles away and I had no car plus the Metrobuses tend to run erratic hours on Sundays. So I forgot about the ad and still considered myself to be a secular Christian who was happily unchurched.
My boyfriend and I were engaged soon after I graduated from college and we began to plan our wedding. My fiancee began to express a preference for a religious wedding out of the blue. (I was always surprised by his preference. He told me that his family was basically nonreligious when he was growing up, with the exception of a few years when his family attended a Quaker congregation only to leave it when that congregation went through a nasty congregational split that disgusted his parents so much that they quit.) He remembered that Washington Post ad I showed him and suggested that we try attending a Unitarian Universalist Sunday service. So we went to our first service and we were really impressed by the format of the Sunday service. We were further impressed when they actually served coffee after the Sunday service ended and we found the congregation to be very friendly and upbeat (which was a welcome contrast to my memories of dealing with the members of my old Catholic parish). We learned that the minister who spoke at that service was only a visiting minister and the regular minister would be speaking the following Sunday. So we attended the following Sunday and we were impressed with that minister and the other members were very friendly towards us during the coffee hour.
Basically we kept on attending because we liked the church and its members and we eventually joined that congregation. A few months later, we were married by the UU minister and we remained active members for many years. I continued to attend Sunday services at that UU church after my marriage fell apart. (It helps that my ex-husband only sporadically attends these days.) Compared to my 1,000-2,000 Roman Catholic parish I attended as a child, the UU church I attend has a room where Sunday services are held that can seat a maximum of 500 people. Despite that, we rarely had to deal with the room overflowing on Sunday mornings. Right now my congregation has around 150 members. I know that it's small but, as an adult, I find that I prefer a smaller congregation. I find it easier to make new friends among the congregation and it's really a good feeling to go to Sunday services at a place where most people know your name.
I know that there are downsides to having a small congregation, mainly when it comes to what programs we can actually offer to fellow members and the wider community. We don't have enough people to offer services that larger churches offer, such as a soup kitchen for the homeless or computer lessons to underprivileged persons. But the feeling I get that I'm not being lost in the shuffle (which is how I felt at times in my old Roman Catholic parish) makes up for it.
For years I had heard of people joining megachurches but it seemed like my then-husband and I bucked the trend by joining a small church instead. There were times when I wondered what a megachurch is like but I wasn't that curious enough to consider visiting a megachurch on a Sunday morning because I really didn't want to deal with people pressuring me to convert to their church. When I found out about this networking event at McLean Bible Church, I found the perfect opportunity to see what this megachurch is like without feeling pressured into converting. I brought a camera with me so I could take pictures.
According to the Wikipedia, McLean Bible Church is spread out over five separate campuses, which draws a total attendance of 13,000 people each week. I went to the church's main campus in Vienna. I parked my car in the church's two-story parking garage (which is definitely the largest parking lot I've ever seen for a house of worship). Seeing that building from the outside for the first time was an eye-opener.
I entered the church on the lower level and I felt like I was in the corridor of a very large hotel or a convention center.
The next photo shows the sanctuary where Sunday services are held. Unfortunately the doors were locked when I was there so I was only able to get a quick shot of the doorway windows giving you a glimpse as to how big this church is.
The networking event was held in a lower-level conference room which is about as big as the room in my UU congregation's Meetinghouse where our Sunday services are held.
Around the corner from that conference room is a full-service coffee bar called Journeys, which was closed when I was there. I got a look at the menu, which offers as many varieties of different coffees as Starbucks. I noticed that Journeys prices its beverages around the same as Starbucks does. This is a far cry from what my congregation serves each Sunday. (We basically offer regular coffee, decaf coffee, and hot water for those who want tea or hot chocolate. It is entirely self-service and we only ask a small donation if you can afford it. It is all wheeled out on a cart after Sunday service ends. I don't see my congregation ever installing its own full-service coffee bar like McLean Bible Church has.)
The women's restroom was also an eye-opener as well. When you enter the restroom, you encounter a rack full of brochures that people can take.
Each stall had a Bible quote hanging on the inside door so you get to read something inspirational while you're doing your personal business.
But that's not all. The women's bathroom has a large room off to the side. It is a lounge that has comfortable seats and a large-screen TV. I've seen the restrooms in some of the really fancy hotels have something like this but this was the first time I ever seen something like this in a church.
After the morning networking event ended, I stuck around a bit longer because I was really curious about this church. I went up to the second floor where I found this giant lobby area.
There are long desks outside the entrance doors to the second floor of the sanctuary where Sunday services are held. (Those doors were locked just like the lower entrances.) To me the area looks more like a hotel or convention center than a church.
The next photo shows a display table publicizing the church's latest project: sending cards to members of the U.S. military who are stationed overseas.
The next two photos show one of two or three tables full of American flags encouraging people to send cards to the U.S. troops.
One of the side lobby had literature promoting the various smaller affinity groups that McLean Bible Church has, such as men-only and women-only spirituality groups and an affinity group that is devoted to people who have recently moved to the area.
The last picture I took was a view from a second story window.
Unfortunately the battery on my camera died after I took that last shot. I found a mall-style fast food eatery where people can order meals and eat them at one of the many provided tables. (That fast food place was closed when I was there. I have a feeling that this place, like the coffee bar, is open only on Sundays.) I've been to a few larger churches that have kitchens with dining areas but these churches only use them for special occasions (such as this one in a Catholic church, which I went to when that church had an Oktoberfest event that was opened to the general public a few years ago). McLean Bible Church's facility definitely had the look of a fast food place that's opened on a regular basis because I saw trays stacked in one area where people grab before getting in line. I saw a full-service menu with prices that were on par with what a typical fast food place charges.
I saw a sign touting a gift shop but I didn't make much of an effort to search for it because of the dead camera battery and the feeling that the gift shop is probably closed on Saturdays as well.
I have to admit that the church is impressive in terms of the amenities it provides but I still prefer my small 150-member church. It means a lot to me to have a place where people recognize me and know my name and it would be harder for me to adjust to a megachurch. So what if my church doesn't offer espressos or other types of fancy coffees like the McLean Bible's coffee stand does. There is a Starbucks located just a short drive away for anyone at my church who feels the urge for a Coconutmilk Moca Macciato.  If you're looking for something to eat, there are a couple of shopping centers located close by where you can have your choice of various restaurants ranging from fast food to a regular full-service restaurant.
I don't mean to offend anyone reading this who has long attended a megachurch. I understand that you may find my preference for smaller churches to be off-putting. Just understand that I was not raised in a megachurch (even my childhood Roman Catholic parish would be considered small compared to McLean Bible Church) and I've grown used to attending a small church as an adult. If you like your megachurch, I'm not going to tell you to switch to a smaller church. I just personally prefer a smaller church for myself. That's all.
My support group for people who are separated or divorced was having a pre-Fourth of July get-together at this park in Catonsville which also included a free concert by a local band. I originally intended to go to that event but I got diverted by attending the weekly meetup of this animation group that I've been involved with since last year.
I left as soon as the meetup ended and I decided to check out downtown Catonsville first before going to that park. I remember going to that town on a Saturday every few months when I was growing up because my grandmother's doctor had his offices there. My mother used to drive her there and I would tag along as well. I hadn't been to Catonsville in a very long time so I thought it would be nice to reacquaint myself with the area before I headed off to the park.
I vaguely remembered Catonsville having a lot of shops but we never shopped there. We only went there for my grandmother's doctor and that was it. I wanted to know if I remembered this correctly and, sure enough, I was correct.
The entire downtown area is totally charming to walk around.
I found a sign mentioning the fact that this part of Catonsville is a historic district.
Here's one of the street signs celebrating the upcoming Fourth of July holiday.
I found this gigantic store known as Bill's Music. If it weren't for the fact that I was in Catonsville on a late Sunday afternoon (when many of the stores tend to close early) and I was planning on joining my friends in the park, I would've gone inside that store and checked it out. The next time I'm in Catonsville I definitely plan on going inside, especially since I've been playing the guitar off and on since I was a teenager.
In addition there is another guitar store that's located right across the street from Bill's Music.
I just walked around for a bit taking various pictures. It looks like all of the businesses on this street are locally-owned. (Or at least I didn't see anything resembling a chain store on this street.) It was too bad I wasn't able to go inside any of the stores. The next time I find myself in Catonsville for any reason, I will definitely go inside at least one or two stores while I'm there. (I'll probably wait until the fall before I do this because the area is currently undergoing the usual hot and humid heatwave that always plague this area in July and August and I prefer to walk in more pleasant weather.)
I ended up not going to that park after all. When I arrived I saw huge throngs of people entering the park (and, no, they weren't all from my support group either) and I had a hard time finding parking. I finally found a spot several blocks away but I lost my enthusiasm for going to that park because I would have a hard time finding where my friends from the support group were located due to the huge throng of people who were going to that park for a free concert. (It's not like the band was this nationally recognized recording stars. Not only had I never heard of this band before, I've since forgotten that band's name.) Plus it was hot that day because it was the usual hot and humid day in July.
I ended up driving back home. I still don't regret seeing Catonsville again for the first time as an adult since I now know that I was missing out on such a nice area.
On the Saturday during the Fourth of July holiday weekend, I decided to check out this toy show that was being held at the Maryland State Fairgrounds.
It was such a feast for the eyes as the toys and various other vintage items were displayed at various vendor tables. The whole show took on the air of a flea market with an emphasis on vintage stuff dating anywhere from the 1900s to the 1990s.
Someone had a jukebox for sale, which reminded me of my childhood when many of the local restaurants had them and people could choose songs to play for about a quarter each.
The jukebox played music during the entire event. (Which proved that it definitely still worked.) I couldn't help taking pictures of the songs that were available on the jukebox. The majority of them were hits when I was a kid.
And speaking of music players, here's a vintage 8-track player with an Elvis Presley 8-track tape. I once had a stereo system that included an 8-track player but I never owned one like that. But I could've sworn that one of my friends or maybe one of my cousins had a player just like that but I don't know for sure. (Memory is one of those funny things where you remember something but you don't remember when, where, or how you remember it.)
Late last year I did a series of blog posts with accompanying photos known as A Tabletop Christmas (so-named because I limit my Christmas decorating to just a single tabletop in my living room). Among the items I showed off was a small plastic Santa Claus puppet that I've had since I was a child. I didn't know anything about the origins of this puppet. It wasn't until I went to the toy show when I saw a tiny plastic Santa puppet on sale that's identical to mine.
The only difference between the two is that this Santa still had its label at the base while mine doesn't have any labels at all. (I suspect that whatever label it had must've fallen off a long time ago.) My Santa puppet is currently stored in a box with the other Christmas decorations in the attic but here's a picture of my Santa puppet that I took last December.
At first I thought the animal in the next picture was a stuffed animal until I saw the dog move his eyes around. He laid there the entire time I was at that show.
This show also had examples of how the mighty had fallen. I found this book by disgraced former Fox News talk show host Bill O'Reilly on sale for only $1 at one of the tables. (LOL!)
There was one token of something new that I found. Someone was selling glow-in-the-dark versions of the hottest toy of 2017: Fidget Spinners.
By the way, you can check out a video I shot recently where I unboxed and played with one of those Fidget Spinners for the first time (and, no, the one I bought didn't glow in the dark).
Everywhere there were visual treats, many of which harkened back to my own youth.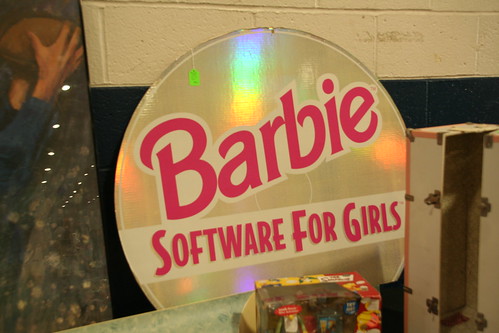 As I was walking back to the light rail stop I shot this photo of The Cow Palace building because it had a nice small garden.
I didn't buy a lot of stuff at that toy show due mainly to tight finances. But I managed to snag a couple of things at bargain rates. I found the second season of The Simpsons DVD set for only $6.
I bought a Monster High doll for only $5. I was attracted to her pretty winter-themed clothes. At first I thought I may have purchased a relative of The Snow Queen until I did an online search and I was able to make a definite identification. Based on this web page, her name is Abbey Bominable and she's described as the 16-year-old daughter of the Yeti.
Here's a closeup of her hair, which looks like it has glittery plastic pellets weaved throughout the strands. It gives a really cool ice/snow effect, especially when the light reflects off of her hair.
I'm devoting this Throwback Thursday post to my wedding day mainly because today is not only what would've been my wedding anniversary had my husband not left me for someone else but June 8 falls on a Thursday this year. June is the month that many couples in the U.S. traditionally get married. On top of it this month is LGBTQ Pride Month and I have a wedding-related story that definitely fits with that theme.
A couple of months ago on March 31 I saw a bunch of stories suddenly crop up on my Facebook feed about people speaking openly about either being transgender themselves or having a friend or loved one who is transgender. I didn't know that the transgender community have been having an International Transgender Day of Visibility on March 31 since 2009. This year it really took off with all of the testimonials about transgender people and issues. I only wished someone had given me advanced notice because I would've told my own particular story then. So I decided to wait until Pride Month to tell my own story.
I grew up being completely ignorant about transgender people. I was raised Roman Catholic and the topic of being transgender was simply never brought up in church. The local public school system never mentioned that topic either in all the years I was a student there. The first person I recalled who actually had sex-reassignment surgery was a British man named James Morris, who became known as Jan Morris after having the surgery. I was a kid then and I thought it was pretty mind-blowing that one could change genders like that. I remember Jan Morris got tons of publicity and it ignited all kinds of debate about transsexuals (which is what transgender people were referred as at the time).
A few years later a tennis player named Renée Richards attempted to compete in the U.S Open as a female athlete. She became controversial when it was revealed that she was originally born a man and she, too, had a sex change operation. There were female tennis players who protested the idea of her being included in their tournaments.
When I was in college I picked up a copy of Gloria Steinem's book Outrageous Acts and Everyday Rebellions, which was a compilation of articles that she wrote in the 1960's and 1970's. Among those articles was a 1977 essay about the Renée Richards controversy called "Transsexualism." Her hypothesis was that people opted for sex change operations because of the rigid gender roles that were proscribed in society, which dictates that boys don't cry and girls don't play sports. She basically said that if society were to loosen gender roles then men won't feel the need to have sex change operations so they can express emotions more easily and women could play sports without having sex change operations to become men. Her closing words were "But the question remains: If the shoe doesn't fit, must we change the foot?"
In the years since Gloria Steinem wrote her "Transsexualism" essay, there have been major changes in terms of gender roles. More men are opting to become stay-at-home dads while their wives work full-time. There are now male nurses, female doctors, male flight attendants, and female postal workers. The WNBA is a professional women's basketball team and there is the FIFA Women's World Cup Soccer. Women's basketball, women's hockey, and women's soccer are all Olympic sports. Yet, despite these advances in gender equality, more and more people are coming out as transgender because they feel that they have literally been born in the wrong body, with the most prominent being Caitlyn Jenner, who once won an Olympic gold medal as Bruce Jenner.
During my college years at the University of Maryland at College Park, I met a couple of gay and lesbian students but my first-hand experience with transgender people was limited to going to a midnight screening of a certain cult film that has this musical number:
After college my fiancee and I decided to get married and it was my fiancee who, out of the blue, said that he wanted a church wedding. (I was always surprised by his preference. He told me that his family was basically nonreligious when he was growing up, with the exception of a few years when his family attended a Quaker congregation only to leave it when that congregation went through a nasty congregational split that disgusted his parents so much that they quit.) I had stopped going to mass and I would've been content with a civil marriage by a justice of the peace. I told him that we would've had to go to marriage classes if we were to be married in the Roman Catholic church while he would have to promise that any future children we had would be raised Catholic. He remembered an ad I had shown him that was published in The Washington Post a year earlier that was for Unitarian Universalism that said "Instead of having to fit in with a church, I found a church that fits me" while telling him that I was impressed with it. (I remember when I found that ad while I was going through the Sunday paper. There were no Unitarian Universalist groups on campus and the nearest congregation was only available by car, which I didn't have at the time, so I never followed up on that ad and I soon forgot about it.) He even found a local UU congregation that he said we could try. (He also lined up a few other denominations we could try as well—namely Quaker and the United Church of Christ—in case the UU church didn't work out for either of us.)
So we went to our first UU service and we were impressed with the minister. We found out after the service that the woman was a visiting minister and the regular minister would be speaking the following week. We were still impressed with the fact that the church had a weekly coffee hour where people stuck around and socialized after Sunday service. (In contrast, my old Roman Catholic parish had something similar called "Hospitality Sunday" that was only held once a month. Otherwise, people basically spilled into the parking lot and drove home once mass ended.) We were also impressed with how friendly the people there were. We went back the following week to check out the regular minister and we were impressed with him as well. We started going every week and, after a few months, we signed the membership book. We even managed to get the minister to officiate at our wedding so my husband got his way on having a religious wedding.
So we were married by a UU minister. During the reception I threw my wedding bouquet and one of the single ladies caught it. Then my new husband removed the garter from my leg and one of his single friends caught it. Then the bouquet catcher and garter catcher posed for a photo with me and my newly wedded husband.
The guy who caught my garter was named Dave Norris. Dave's mother and my husband's mother were friends and there were times when Dave hung around with my husband and his neighborhood friends in Long Island even though Dave was a few years younger than my husband.
Traditionally there is this old wives' tale that says that people who catch the bouquet and garter are the ones who will be married next. That doesn't usually happen in real life but Dave was the rare exception because he got married the following year while my husband was the best man at his wedding. It was a short-lived marriage that happened soon after his girlfriend found out that she was pregnant. The bride was six months pregnant at the wedding. Three months later she had the baby. Three months after the birth, Dave and his new wife separated and they were soon divorced.
My husband and I saw Dave in person a few more times after the quick wedding/separation/divorce. The last time we saw Dave was when he traveled to Maryland with his then-latest girlfriend because he was going to a conference in Washington, DC. The four of us ate at a local restaurant. After that we lost touch with Dave for a few years.
Meanwhile my husband and I became more involved in our new UU congregation where we made new friends. About a year or two later my husband and I ended up as co-chairs of the church's Social Action Committee. During that time AIDS was starting to ravish the nation. At the same time there was a big March on Washington for LGBTQ people that was announced. A long-time member came to us about doing a lay service about AIDS. We knew that he was previously married to a woman and he had two children (one of whom would tragically die in a car accident when she was only in her early 20's). It was during that time he came out to us as gay. A short time later he came out as gay to the rest of the congregation. I have to admit that the congregation was shocked but ultimately accepted him because he had been an active member. (If he had been a member of my old religion, he would've been driven away no matter how long he had been a member.)
I've already written plenty about that longtime member coming out as gay in this blog so I suggest reading this post if you want to learn more about Ed Kobee and his spouse, Al Usack. After Ed managed to rally his fellow congregation members (including my husband and I) to actually attend the March on Washington for LGBTQ rights, he and Al became activists within both our congregation, the Joseph Priestley District, and in the greater UUA for that faith to become more welcoming to LGBTQ people (which resulted in the UUA's Welcoming Congregation program). Due to those efforts we started to seeing people who were openly gay, lesbian, and bisexual attending our Sunday services. Some became members for years while others attended for a short while then moved on.
I met my first openly transgender person through my UU congregation. One of the newer members was an open bisexual who had joined with her then-husband, who was also bisexual. (They gave a forum at my congregation on bisexuality where they said they had extramarital dalliances with same-sex partners.) That marriage subsequently ended and her husband left the church. She started a new relationship with a person who was born a man but he underwent a sex change operation and was now living as a woman. Yet she was still sexually attracted to women. I attended a forum on transgender at my church and this person spoke openly about how she felt like she was born in the wrong body yet she was still attracted to women. That was how I learned that gender identity and sexual orientation are two completely different things. This person was born in a male body and was sexually attracted to females so society designated him as a heterosexual. After the surgery this person was a woman yet was still sexually attracted to females so society designated her as a lesbian.
Basically the bisexual woman and the transgender woman started a relationship and stayed together for many years until the transgender woman died a few years ago. Over the years we've had other transgender people attend our Sunday services. I really can't elaborate further on these other people because it's really not my story to tell. On top of it, even though these people are openly transgender to my congregation, they aren't quite as open to the general public outside of church. That's because there have been too many cases of transgender discrimination on the job and in housing. And that's not to mention the fact that there have been Republican lawmakers who are trying to pass those bathroom bills that only exist to make a transgender person's live much harder. If that weren't enough, there's the fact that transgender folks are frequently targets of beatings, sexual assaults, and other acts of violence perpetrated against them by transphobic criminals.
Getting back to my husband's friend who caught my garter at our wedding, we basically didn't hear from Dave Norris for a number of years. One day, out of the blue, Dave called our house. My husband and Dave had an enjoyable conversation on the phone. Dave told my husband that he had started his own consulting firm and he gave my husband the URL to his new website.
My husband visited the website and saw the page that had the list of the small staff that the consulting firm had along with headshots. He saw the name "Denise Norris" on the list. At first he assumed that Dave had gotten remarried and his wife was helping out in the new venture. But then he took a closer look at that photo and saw that it looked like Dave dressing in drag. My husband soon called his old friend back and asked point blank if this person now a woman. His friend admitted it.
I remember that night my husband decided to take me out to dinner and he relayed that story about his friend is now living as a woman while we were in the car. We had the car radio on at the time while my husband was telling me this and this song suddenly came on the air.
Talk about serendipity! My husband and I got a good laugh out of it.
I have to admit that accepting my husband's friend as a woman was slightly more challenging for this reason. The other transgender people I met through my UU congregation had already made the change so I never knew them in their previous gender. On the other hand, both my husband and I knew this person when he was a guy. (And my husband knew this person longer than I did since my husband hung around with this person while they were growing up on Long Island.)
A month or so later Denise was in the DC area attending a conference so we decided to get together for dinner at a local restaurant. It was awkward at first but then we hit it off, especially when my husband and Denise started talking about the old days when they were growing up and they would get into some escapades together.
We also learned that basically Denise had long felt like she was a female even though she was born a boy but she had kept those feelings to herself while she was growing up. I can understand why she felt she had to do this. There have been too many cases of transgender children being rejected by their parents and being targeted by bullies in school. It was only after she reached adulthood that her feelings became stronger and it reached the point where she felt that she had to have the surgery. I also remember that her mother was dead by then. (I don't know if Denise ever came out to her mother before her death or not.) I'm only paraphrasing here because I don't have an exact transcript of our conversation from that night and I'm just relying on my less-than-perfect memories here.
I have to credit Unitarian Universalism for my husband and I quickly adjusting to the fact that Dave Norris was now living as a woman named Denise Norris. If we hadn't met other transgender people before seeing Denise, I think it would've taken both of us longer to accept Denise as she is now.
We would see Denise in person a few more times after that. I think the last time we met in person was sometime before 2008 (the year I had my hip replacement).
As for the woman who caught my bouquet at my wedding who is also in that photo I posted a few paragraphs ago, her name is Trisha and she's my godfather's daughter. I last saw her in person when my father died in 2000 and she stopped by the funeral home one evening during the viewing period. My husband and I told her what happened to the guy who caught the garter at the wedding and how he is now living as a woman. I remember Trisha smiling and deadpanning, "I have that effect on men sometimes." (LOL!)
Denise Norris now works at Accenture and she is also a transgender activist whose speciality is getting corporations to not only end job discrimination among transgender people but also offer benefits to them (such as health insurance that's broad enough to afford such expenses as hormone therapy and sex change surgery). She frequently gives media interviews on the topic, such as this recent example. I follow her on Facebook where I read her posts on transgender issues and fellow transgender people like Caitlyn Jenner. (Like many in the transgender community, Denise basically has a dim view of Caitlyn mainly because Caitlyn continues to support the same Republican Party that has been coming out with those notorious bathroom bills in recent years.) I haven't directly communicated with her in years, especially since I am now divorced and Denise had been more of a friend of my ex-husband's than mine. On top of it, our paths simply haven't crossed in real life. There are times I wonder if Denise still has my old wedding garter and, if so, had she ever worn it. (LOL!)
As for my UU congregation there are still LGBTQ members who are active. The most recent transgender member is a person who originally joined my congregation as a man a few years ago. He was open about admitting that he was suffering from gender dysphoria and he was seeing a therapist about that. Last year this person decided to undergo medical treatment and she is now living as a woman. She is also in a relationship with a cis woman who's a lesbian. This member now looks happier than before the change.
That's it for my story.
Since today is Easter, I'd thought I'd share these pictures of Peeps that were available in a variety of different flavors this year.
As a child I received at least one or two small packs of Peeps in my Easter basket each year. At that time Peeps only came out in the spring to coincide with Easter. They were available only in one flavor (the original marshmallow flavor) and one color (yellow). The only choices available were bunnies and chicks. Once Easter season passed, the Peeps would go away from the store shelves and I wouldn't see them again until the following spring.
In recent years Peeps has expanded to other holidays (Valentine's Day, Halloween, and Christmas), come out in other colors (like blue, orange, and green), come out in other shapes (such as snowmen for Christmas and jack o'lanterns for Halloween).
Peeps have even come out in different flavors besides original marshmallow. This year I purchased a few of these different flavored packs. I'll admit that I liked some better than others. (I found the lemon lime Peeps to be way too sweet for my tastes.) Here are the photos of the Peeps flavors that I tried this year.
The sour lemon lime Peeps. Despite the "sour" description, I found that these Peeps tasted way sweeter than the usual Peeps.
The triple chocolate Peeps took chocolate Peeps, filled them with chocolate filling, then dipped their bottoms in even more chocolate.
The bottoms of the vanilla Peeps were dipped in crème flavored fudge. These chicks were flecked with multi-colored sprinkles.
The vanilla caramel brownie ones had vanilla Peeps that were filled with a caramel filling then their bottoms were dipped in milk chocolate.
The chocolate mousse Peeps had bottoms that were dipped in milk chocolate.
Glen Burnie Mall used to be one of my favorite places to hang out as a teenager. It had this awesome video arcade place where I played many of the popular pinball machines and video games of the era (i.e. Pac-Man, Space Invaders, Joust, Ms. Pac-Man, etc.). I loved the Record Bar, which was this large glass kiosk that was placed in the middle of the mall where people could buy albums, 8-tracks, and cassette tapes. Plus there were the Chess King and Merry-Go-Round stores, both of which sold trendy clothes for the teens and young adults of a certain era. One of the mall's big anchors was Montgomery Ward's, where my mother used to occasionally find clothes for me. (She bought the bulk of my clothes from Hutzler's and Hochschild-Kohn's, two now-defunct department stores.) The other big anchor was—and currently still is—Toys 'R' Us.
In the years since I left Glen Burnie that mall had undergone major changes, especially after Montgomery Ward's closed when the entire department store chain went belly-up back in 2001. For a time it seemed like the mall was thriving because it had managed to lure Target, Dick's Sporting Goods, and a few chain restaurants. The mall even changed its name to The Centre at Glen Burnie.
It wasn't until I visited that mall in person in 2014 when I discovered the real story. Despite the arrival of these newer stores and restaurants, they were not only built as separate structures around the mall but whoever designed these newer structures failed to provide a back opening that went into the mall itself. So if a shopper goes to—let's say—Target and that shopper decides that he/she wants to visit the rest of the mall while he/she is there anyway, that person needs to exit Target then walk some distance outside until that person finds a door that directly leads into the mall. From what I saw, it looked like Toys 'R' Us is the only major store that still has a mall entrance and that's because it is located in a store space that originally was built with the rest of the mall back in the early 1960's.
As a result of that stupid building plan that didn't provide mall entrances to the newer stores and restaurants, the mall itself started going on this downward spiral where fewer people actually went inside the mall, which led to more and more stores gradually closing. Here is what the mall looked like when I was there in 2014.
That entire mall was a shadow of its former self, which made me feel sad since it was once a popular mall to shop at in Glen Burnie.
I didn't return to The Centre at Glen Burnie until last year, when I had to make frequent trips to Glen Burnie because my mother was staying at a hospital there. I tried making the most of a stressful situation by checking out some of my old haunts before and after my visits, among them was The Centre at Glen Burnie. I rued my decision to visit that mall again because it had deteriorated further than my last visit because more stores were closed. Here are the photos I took during that visit.
Today I was checking out the I remember Harundale when there was a Mall… group on Facebook and someone posted a recent photo. According to that poster, all of the stores inside the mall are now closed. A security guard is seated in the middle of the mall and, according to that poster, his job is to discourage people from taking pictures inside of the mall. (It's obvious that this person managed to sneak in one photograph since he posted it.)
It's sad that this mall from my childhood is now pretty much gone. The whole demise could have been prevented had the newer stores and restaurants been built with back entrances into the mall so people would be encouraged to shop at the other stores located inside of the mall. Sheesh! At least I still have the memories of that mall's glory days. 😦