You are currently browsing the tag archive for the 'Bill O'Reilly' tag.
On the Saturday during the Fourth of July holiday weekend, I decided to check out this toy show that was being held at the Maryland State Fairgrounds.
It was such a feast for the eyes as the toys and various other vintage items were displayed at various vendor tables. The whole show took on the air of a flea market with an emphasis on vintage stuff dating anywhere from the 1900s to the 1990s.
Someone had a jukebox for sale, which reminded me of my childhood when many of the local restaurants had them and people could choose songs to play for about a quarter each.
The jukebox played music during the entire event. (Which proved that it definitely still worked.) I couldn't help taking pictures of the songs that were available on the jukebox. The majority of them were hits when I was a kid.
And speaking of music players, here's a vintage 8-track player with an Elvis Presley 8-track tape. I once had a stereo system that included an 8-track player but I never owned one like that. But I could've sworn that one of my friends or maybe one of my cousins had a player just like that but I don't know for sure. (Memory is one of those funny things where you remember something but you don't remember when, where, or how you remember it.)
Late last year I did a series of blog posts with accompanying photos known as A Tabletop Christmas (so-named because I limit my Christmas decorating to just a single tabletop in my living room). Among the items I showed off was a small plastic Santa Claus puppet that I've had since I was a child. I didn't know anything about the origins of this puppet. It wasn't until I went to the toy show when I saw a tiny plastic Santa puppet on sale that's identical to mine.
The only difference between the two is that this Santa still had its label at the base while mine doesn't have any labels at all. (I suspect that whatever label it had must've fallen off a long time ago.) My Santa puppet is currently stored in a box with the other Christmas decorations in the attic but here's a picture of my Santa puppet that I took last December.
At first I thought the animal in the next picture was a stuffed animal until I saw the dog move his eyes around. He laid there the entire time I was at that show.
This show also had examples of how the mighty had fallen. I found this book by disgraced former Fox News talk show host Bill O'Reilly on sale for only $1 at one of the tables. (LOL!)
There was one token of something new that I found. Someone was selling glow-in-the-dark versions of the hottest toy of 2017: Fidget Spinners.
By the way, you can check out a video I shot recently where I unboxed and played with one of those Fidget Spinners for the first time (and, no, the one I bought didn't glow in the dark).
Everywhere there were visual treats, many of which harkened back to my own youth.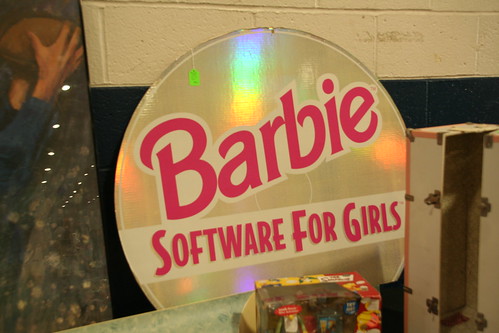 As I was walking back to the light rail stop I shot this photo of The Cow Palace building because it had a nice small garden.
I didn't buy a lot of stuff at that toy show due mainly to tight finances. But I managed to snag a couple of things at bargain rates. I found the second season of The Simpsons DVD set for only $6.
I bought a Monster High doll for only $5. I was attracted to her pretty winter-themed clothes. At first I thought I may have purchased a relative of The Snow Queen until I did an online search and I was able to make a definite identification. Based on this web page, her name is Abbey Bominable and she's described as the 16-year-old daughter of the Yeti.
Here's a closeup of her hair, which looks like it has glittery plastic pellets weaved throughout the strands. It gives a really cool ice/snow effect, especially when the light reflects off of her hair.
I'm feeling schadenfreude over the firing of Fox News personality Bill O'Reilly. For the past few years I had been growing tired of going to the local Target store and seeing new books with his byline being released every few months that have titles like Killing Lincoln, Killing Kennedy, Killing Jesus, Killing the Rising Sun, Killing Patton, and a whole bunch of other historical books with the name Killing in the title.
One of the reasons why I'm enjoying his downfall is that this piece of shit once threatened one of my friends with assault.
The friend in question works for an organization that's concerned with issues regarding the separation of church and state. From time to time he has appeared on various cable news talk shows where he has discussed these issues. Bill O'Reilly's show is among the shows that he has made more than one appearance. My friend has plenty of stories about Bill O'Reilly, including what went down the last time he appeared on that show.
Since my friend lives and works in the Washington, DC area, whenever he was invited to appear on any Fox News show as a guest, he usually went to the studio of the local Fox affiliate in downtown DC where he made his appearance via satellite. That notorious night he appeared on Bill O'Reilly's show was no different. He appeared via satellite and debated Bill O'Reilly about a certain hot issue at the time. When his segment ended and the show went to commercial break, Bill O'Reilly was still able to communicate with him via satellite, even though their exchange wasn't being aired live at the moment. Bill O'Reilly told my friend if he ever sees him in person he was going to beat him up.
Since that incident wasn't filmed, there is no evidence that Bill O'Reilly has threatened my friend with violence. But I have no problem with believing my friend's account because Bill O'Reilly has a history of less-than-respectable behavior. His daughter has alleged that she saw her father choke her mother and drag her down a flight of stairs by her neck. Of course that marriage ended in divorce but that didn't stop Bill O'Reilly from suing his ex-wife for $10 million last year on the grounds that she had fraudulently misled him into signing a separation agreement while having an extramarital affair.
And then there is this classic video that comes from his pre-Fox News days when Bill O'Reilly was an on-air presenter for the TV show Inside Edition.
It took a bunch of women accusing Bill O'Reilly of sexual harassment to finally get Fox News to cancel his show once and for all.
I'm happy that he's off the air. If he has any common sense, he should keep a low profile. (Of course that's assuming Bill O'Reilly ever had any common sense to begin with.) Maybe he can take advantage of his free time by writing a new book: Killing My Fox News Career.
UPDATE (April 21, 2017): If you think Bill O'Reilly's assault threat against my friend after appearing on his show was an aberration, think again. This link has a couple of paragraphs about how Bill O'Reilly issued a similar assault threat against one of his guests, the son of a 9/11 victim named Jeremy Glick. Why? Because Glick had opposed the Bush Administration's invasion of Afghanistan. That's right, Bill O'Reilly had simply disagreed with Glick's opinion on a certain topic. On top of it, O'Reilly spent months demonizing Glick as a "traitor" on his program. (In contrast, my friend got off relatively easy with just a single assault threat.)
Which proves my point that American discourse will be better off in the long run if Bill O'Reilly simply takes that $25 million severance pay that Fox News gave him and retire in obscurity. I don't ever want to hear about him again until his death.
Since late September I've been spending each Tuesday waking up at the crack of dawn so I could drive around the notoriously slow and clogged Capital Beltway so I could arrive at Bethesda by 8:15 a.m. I was working a part-time temp job that lasted only one hour per week. December 8 was the last day that I had to show up for the job. Without going into too many details, I'm just going to say that it was the kind of job where I basically liked it because it actually utilized my knowledge of digital photography and I also liked my co-worker. The downside is that there was so much behind-the-scenes drama involving the organization we both contracted for that we really weren't able to do as an effective job as we could've done. On top of it, I didn't get my first paycheck from the organization until after we were working for 8 weeks and the breakdown was that I got paid for little more than $5.93 per hour. That crappy paycheck was the last straw for me (the gas money alone ate up the majority of my paycheck) and I've decided not to accept any further work from that organization. (If I hadn't foolishly signed a contract on my first day at that job requiring me to stay in the job until it officially ended on December 8 or I got fired—whichever came first—I would've quit long before my job officially ended.)
Since it was a warm and pleasant December day I decided to have a little fun after my job officially ended forever. I looked up the Roadside America website and I decided to check out a couple of off-beat places that were located in nearby Rockville since I was in the area anyway.
First I checked out something called the Museum of Outdated Technology, which is located inside the MCHS Thrift Store, which is a fundraiser for the Montgomery County Humane Society.
It took me a while to find the Museum of Outdated Technology. It's basically located in the very back of the store along a few walls. It was definitely worth the effort because the museum consisted of several shelves full of pop culture kitsch that was released between circa 1950-1990.
The only thing about the museum is that much of it is obstructed by boxes and counters (such as in the next picture) so it's difficult to get a close look at much of the items on display. I'm sure it's done in order to deter people from touching (or even stealing) the items. I wish there was a better way of organizing where the items could be protected while giving people a chance to have a close-up view of them. Putting them behind locked glass cabinets might be a solution.
Aside from the Museum of Outdated Technology, the MCHS Thrift Store is your typical thrift store where one can purchase a variety of used items—ranging from books to clothes to toys—for a very low price. Plus the proceeds from the thrift shop goes to the Montgomery County Humane Society. Since I went to that store in December, the store had a variety of Christmas decorations for sale like the ones in the picture below.
There were a variety of items, such as this Chinese language version of the soundtrack from Pinocchio.
Then there's this book, which had me thinking what was the publisher thinking when it decided that Fox News commentator Bill O'Reilly would make a swell children's book author.
Once I left that store, I decided to check out Saint Mary's Catholic Church, which is the oldest Catholic church in Rockville that's still in use.
Outside the entrance to the church's graveyard was a nativity scene (which was appropriate given the fact that I was at that church in December).
Here's a closeup of that nativity scene. The interesting thing is the absence of the baby Jesus lying in a manger. I have a feeling that the church doesn't include that infant until the days closest to Christmas. It's similar to what my mother used to do when she used to put up the nativity scene in our home when I was a child. She wouldn't put out the three wise men until January 6 since, according to tradition, that was when the three kings would finally arrive to the stable to give the baby gifts of gold, frankincense, and myrrh. Although she did put out the baby Jesus in the manger while she put up the nativity scene. While the church's nativity scene didn't have the baby Jesus but it had the three wise men. Go figure.
The graveyard lies in the back of the church and one can tell that the church was once a little country church because the office buildings seem to clash with the historic tombstones.
The graveyard is most famous for being the final resting place of the writer F. Scott Fitzgerald, his wife Zelda, and their only child, nicknamed Scottie (but she's buried under her full name of Frances Scott Fitzgerald Smith). I previously visited those graves back in 2012. Here is what those graves look like when I took this shot with my Canon DSLR Digital Rebel camera.
And here are those same graves taken three years later with the camera that's in my Droid Ultra smartphone.
You can read the back tombstone much easier in the recent photo than in the earlier photo. This goes to show the great strides that digital photography (especially in smartphones) have taken in recent years. I took some more photos of the Fitzgerald family gravesite, especially since some people left some interesting gifts behind recently.
The three Fitzgeralds are buried alongside other relatives of F. Scott's.