You are currently browsing the tag archive for the 'beer' tag.
So on the Saturday after Thanksgiving I decided to go to Baltimore in order to check out the Christkindlesmarkt at the Zion Lutheran Church. I made every effort to get out of the door soon after I finished eating lunch. But then there were a lot of hassles. First I hit this awful traffic jam going northbound on the highway. I made it to the North Linthicum light rail station only to encounter a bit of a wait for the next light rail train.
I got off at Lexington Market in order to transfer to the Metro subway. But I encountered a long wait for the next subway train. I boarded it and made my way to the Shot Tower Metro station. I walked around the Shot Tower area in order to find the church. By the time I arrived at the church, I only had 45 minutes to check out the Christkindlesmarkt until the event closed for the day. So I was kind of disappointed over not having as much time to spend at that event as I wanted so I decided to hop on the next Charm City Circulator bus over to the Christmas Village in Baltimore where I ate dinner and looked around the area. At least I could more leisurely look everywhere compared to what happened at the other event since the Christmas Village was opened until well into the evening.
After I got my fill of the Christmas Village, I decided to briefly walk around the Inner Harbor where I took these spectacular photos of Baltimore Harbor itself both at twilight and after dark.
I noticed that Baltimore now has a bike sharing program of its own. (The DC area has had such a program for the past few years.)
Here's a closeup of the wheel cover of one of these bikes that shows an illustration of the Baltimore skyline.
Here is one of the lights that were on display near the Inner Harbor.
I went to Harborplace mainly because I needed to use the restroom before getting back on the light rail. The only store I visited there was It's Sugar because that store is always such a hoot to visit, such as these Christmas and Hanukkah Emojis lollipops that were on sale.
The store sometimes sells items that really reflect the politics of the day, such as the orange-flavored gummy Donald Trump candy.
Of course that store had a variety of Christmas and Hanukkah candy available for sale.
The weirdest thing I saw there was these dinosaur chopsticks where the dinosaur's mouth moved every time you open and close the chopsticks.
They also had sushi made from candy (instead of fish). They would be appropriate with the dinosaur chopsticks.
They had beer-flavored gummy bears in these beer glasses. What's more, they had white-colored gummy bears at the top so it would resemble beer foam and amber colored bears resembling beer.
I didn't buy anything at It's Sugar this time around since I had already spent enough money elsewhere. As I was walking back to the Camden Yards light rail station so I could take the next train out of the city, I walked past the historic Old Otterbein United Methodist Church. Here's a shot of the church steeple as it was lit against the night sky.
The church sign had a pretty interesting message for the Thanksgiving holiday weekend.
So that's it for my huge trip to Baltimore on the Saturday after Thanksgiving Day.
Instead of spending Black Friday in some mall or big box retailer where I wake up at 3 a.m. and fight hordes of people for some cheap electronic item that will break three months from now, I decided to check out some of the local festivities from locally owned businesses, starting with Community Forklift, which I wrote about in my last post.
After I left Community Forklift I headed over to Riverdale Park. I stopped by Robert Harper Books, which is a bookstore specializing in used books. Unfortunately that store will be closing by the end of the month because the owner has had a hard time of keeping a brick and mortar shop open. (He mentioned on his Facebook page that he has done better online than through his shop.) It's a shame in a way. Here are a few photos I took inside of that store.
Located near Robert Harper Books is Town Center Market, which sells all kinds of beer and wine along with snacks.
Finally I checked out the windows in the Archie Edwards Blues Heritage Foundation building.
After my visit to Riverdale Park, I ended my Black Friday with going to Hyattsville, which I'll write about in my next post.
I finally got around to attending a DC Drink and Draw event for the first time since I went to one previous event in 2015. It gave me a rare chance to go to Adams-Morgan, which is one of my favorite neighborhoods in DC. I took the Metro to Dupont Circle and walked north where I took photos of some lovely sights.
The Embassy of Zimbabwe has a couple of interesting sculptures on its front lawn.
The next photo shows the embassy and flag of what is widely rumored to be President Trump's favorite foreign country—Russia.
The Swann Condominiums, located at 1801-1803 Swann St., N.W., has an interesting false door with swan-themed art.
I took a few more pictures of some local businesses.
That small Eiffel Tower on top of the building led me to take a picture of L'Enfant Cafe and Bar. When I took a closer look at the place, I found out that it has recently gone out of business. It's too bad I didn't get a chance to check the place out sooner. (That's what I get for not going to Adams-Morgan too often.) At least I got a chance to take a picture of the small Eiffel Tower since it's probably very likely that it will be removed once a new business takes over the space.
The next photo show some political humor in the window featuring Donald Trump and Russia. (LOL!)
The next photo shows the restaurant Johnny Pistolas, where the DC Drink and Draw event was held. One of the main reasons why that event was held is because Johnny Pistolas has Taco Tuesday where all tacos costs $2 each while certain beers were also on sale for $2 and $3, depending on the brand. (As you can guess, this event took place on a Tuesday night.
Here is what I drew at the DC Drink and Draw event that night. While I was waiting for my own tacos to arrive, I did a drawing of a plate of tacos that two women sitting next to me received.
The only beer I purchased was a can of Tecate beer because it was on sale for $3. I made two drawings of the beer can from two different sides.
And, last but not least, I drew a glass of water that had a lime slice floating in it.
On the Saturday during the Fourth of July holiday weekend, I decided to check out this toy show that was being held at the Maryland State Fairgrounds.
It was such a feast for the eyes as the toys and various other vintage items were displayed at various vendor tables. The whole show took on the air of a flea market with an emphasis on vintage stuff dating anywhere from the 1900s to the 1990s.
Someone had a jukebox for sale, which reminded me of my childhood when many of the local restaurants had them and people could choose songs to play for about a quarter each.
The jukebox played music during the entire event. (Which proved that it definitely still worked.) I couldn't help taking pictures of the songs that were available on the jukebox. The majority of them were hits when I was a kid.
And speaking of music players, here's a vintage 8-track player with an Elvis Presley 8-track tape. I once had a stereo system that included an 8-track player but I never owned one like that. But I could've sworn that one of my friends or maybe one of my cousins had a player just like that but I don't know for sure. (Memory is one of those funny things where you remember something but you don't remember when, where, or how you remember it.)
Late last year I did a series of blog posts with accompanying photos known as A Tabletop Christmas (so-named because I limit my Christmas decorating to just a single tabletop in my living room). Among the items I showed off was a small plastic Santa Claus puppet that I've had since I was a child. I didn't know anything about the origins of this puppet. It wasn't until I went to the toy show when I saw a tiny plastic Santa puppet on sale that's identical to mine.
The only difference between the two is that this Santa still had its label at the base while mine doesn't have any labels at all. (I suspect that whatever label it had must've fallen off a long time ago.) My Santa puppet is currently stored in a box with the other Christmas decorations in the attic but here's a picture of my Santa puppet that I took last December.
At first I thought the animal in the next picture was a stuffed animal until I saw the dog move his eyes around. He laid there the entire time I was at that show.
This show also had examples of how the mighty had fallen. I found this book by disgraced former Fox News talk show host Bill O'Reilly on sale for only $1 at one of the tables. (LOL!)
There was one token of something new that I found. Someone was selling glow-in-the-dark versions of the hottest toy of 2017: Fidget Spinners.
By the way, you can check out a video I shot recently where I unboxed and played with one of those Fidget Spinners for the first time (and, no, the one I bought didn't glow in the dark).
Everywhere there were visual treats, many of which harkened back to my own youth.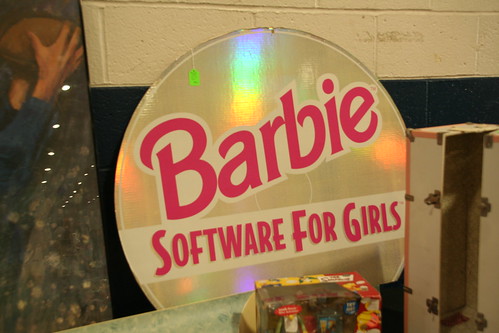 As I was walking back to the light rail stop I shot this photo of The Cow Palace building because it had a nice small garden.
I didn't buy a lot of stuff at that toy show due mainly to tight finances. But I managed to snag a couple of things at bargain rates. I found the second season of The Simpsons DVD set for only $6.
I bought a Monster High doll for only $5. I was attracted to her pretty winter-themed clothes. At first I thought I may have purchased a relative of The Snow Queen until I did an online search and I was able to make a definite identification. Based on this web page, her name is Abbey Bominable and she's described as the 16-year-old daughter of the Yeti.
Here's a closeup of her hair, which looks like it has glittery plastic pellets weaved throughout the strands. It gives a really cool ice/snow effect, especially when the light reflects off of her hair.
Recently a friend of mine decided to purchase a bushel of apples that were on sale at the local farmers market because they had been picked a few days before so they were priced to move. He made this huge purchase despite the fact that he is single and he lives in a house with two other housemates. When I ran into him he offered me some from his bushel because he knew that he had purchased way more than everyone living in his home can possibly eat.
I took him up on his kind offer only to realize when I carried those apples to the car that there were way more apples than I could possibly eat. Sure I could bake apple pies but I would need to bake two or three pies, which would be way too much for me since I live alone.
So I went online and looked for recipes for meals that use apples. I found this recipe for Beer Brined Pork Chops With Roasted Apples on Betty Crocker's site. I already had the necessary spices at home so I went to Aldi where I found boneless pork chops on sale. Then I went to the liquor store where I went to the refrigerator where they keep the individually priced beer bottles. I purchased the cheapest beer in that refrigerator for only $1.25 mainly because I was only going to use it to marinade the pork overnight then discard it. (A lot of times you don't need to buy expensive beer if you're only going to use it as an ingredient in a meal.)
So I followed the recipe and the results were excellent. I could definitely taste the beer in the pork chop yet the brown sugar did off-set the beer taste. And the apples had the consistency of chunky mashed potatoes but there were very tasty. I have enough leftovers to freeze for the next few weeks and I was able to use up some of the surplus apples that my friend gave me. So all was well.
With spring being here and with more and more farmers markets opening up all over the place, this recipe will definitely come in handy if you end up with more apples than you can possibly use.
I decided to visit Valley View Farms on the day before Christmas Eve. (I guess you could call it Christmas Eve Eve. LOL!) The previous day, when I visited Homestead Gardens, it had been raining with patches of fog. When I went up to Cockeysville, it was alternating between light rain and mist and it was still wet outside. And the traffic was pretty atrocious between both the rain and the fact that Christmas was just two days away. But when I finally arrived and stepped inside, I began to forget about that horrendous commute and just marvel at the total Christmas fantasyland.
There were lots of decorated Christmas trees with each one representing a theme. Some had a theme according to color (such as all white or all gold) while others had a theme according to type of ornaments (such as all snowmen or all toys). It's such a visual treat seeing each unique tree with a theme of its own.
Of course there were a lot of ornaments available that one can buy.
There were other types of decorations on display as well.
There was also a whole section dedicated to the Department 56 cottages.
I liked the message on this cloth dishtowel. (Or I think it's a dishtowel.) As an artist, I'm pretty amused by that cloth. Unfortunately I have no idea if it is a dishtowel or if it's one of those cloth banners that you hang on the wall. In any case I didn't buy it because I have no need for another dishtowel and I don't have space on my walls to hang anything else.
There were a few non-Christmas items on display as well, such as this banner highlighting the years when the Baltimore Orioles were World Series champions. I'll admit that it's frustrating that 1983 was the last time the Orioles won the World Series. The team is definitely overdue for another victory. There are times when I dream of an I-95 World Series between the Baltimore Orioles and the Washington Nationals. (I would face a dilemma on which team to root for if that ever happened. I grew up outside of Baltimore where people loved the Orioles including my family so I was raised as an Orioles fan. Yet I'm currently living closer to Washington, DC where people are definitely into the Nationals. I'm not going to think about it until it actually happens in real life. LOL!)
Before I decided to drive back home, I decided to brave the misting rain and take a photo of the sign in the back.
Despite the numerous pretty ornaments, I managed to stick with buying just one ornament, which can be seen in the last photograph below. It was one that I found for $6. It resembles the Delftware that originated in the Netherlands and it even looks Dutch. However, I saw a "Made in China" sticker, which was why I was able to buy something like this at a very low price. What I really like about this ornament is the flat base so I could place it under the Christmas tree if I end up with having more ornaments than tree space in the future.

Last Saturday I wanted to do something fun after I went through a bunch of CD's to determine which ones I wanted to keep and which ones I should get rid of after ripping the songs that I really like to my MacBook. The weather was warm but not too hot while the humidity wasn't too bad either so I decided to go to Artscape in Baltimore. (The fact that the festival was free was definitely a plus for me.) I walked around for a few hours and I mostly had a good time. I also took a whole boatload of photos and I uploaded three videos on to YouTube. So, anyway, here it goes!
Everywhere you went at Artscape there were lots of live music and vendors selling their arts and crafts.
I took the next few photos of this booth because some of the t-shirts said things like "Poly Girl Rock" and "Run Poly" (the latter is a parody of the famous Run-DMC logo) because one of my friends from my Unitarian Universalist congregation came out publicly as a polyamory person (along with her principal partner whom I also met through my church—I have never met any of their other paramours) and she has given media interviews about polyamory while also leading an organization called Practical Polyamory. I later uploaded these photos to Facebook while I tagged her name.
There were all kinds of trucks. Some of them sold food and beverages while others provided services like providing free testing for STDs and HIV/AIDS.
There were also interesting people to photograph on the street as well.
Someone made a statue of a sea turtle using recycled plastic shopping bags.
I'd never thought I'd ever see the National Bohemian beer (a.k.a. Natty Boh) mascot rendered in real life.
There was an area dedicated to building the World's Largest Art Park where, for a $5 donation, people could paint bricks that will ultimately be used to create such a park. I regretted not doing this myself but money was so tight for me that I had to literally hang on to all the cash that I had on me at the time. I would love to see the entire park when it's finished.
There was this merry-go-round carousel which rotated and it had sculptures of a chicken drumstick, and ear of corn, and a crab claw.
There was a protest/community art project where people could write on Post-It Notes what they would prefer the Baltimore City Public Schools to spend its money on other than standardized tests.
It was around the time that I took the previous picture that I happened to run into some people I knew from my childhood growing up in Glen Burnie, Maryland who recognized me while I didn't recognize them until they gave their names. I already wrote at length about that encounter so I'll just say here that I was less than thrilled with seeing those two women again and I was glad when they left after speaking with me for a couple of minutes. (Too bad I didn't run into anyone from my college years at the University of Maryland at College Park. I would've been way happier and delighted because, to be honest, I prefer my college friends over my childhood friends.)
After they left I faced a dilemma. I had reached the north end at Artspace on Mt. Royal Avenue and there was still more to see on Charles Street. Normally I would walk back down Mt. Royal Avenue towards the Mt. Royal Light Rail Station then walk up Charles Street but I really didn't want to risk encountering those women from my past again. (My previous post has all the details why I didn't feel warm and fuzzy about seeing them again.) I looked on the map on my smartphone and found that I was not only close to North Street but I was also close to The Wind-Up Space, where I go to attend the Baltimore chapter of Dr. Sketchy's Anti-Art School. I found that I could walk along North Street towards The Wind-Up Space and turn right on Charles Street and I could pick up the rest of the festival at the other end. So I did just that and I didn't have any further encounters with those two women from my old neighborhood (nor anyone else from my Glen Burnie days, for that matter). I also took some more photos along the way to North Street.
As I was walking along North Avenue, I came upon Red Emma's, a worker-owned cooperative that's a coffeehouse, vegan restaurant, and bookstore. I usually walk past Red Emma's whenever I go to Dr. Sketchy's at The Wind-Up Space but I had never been inside because Dr. Sketchy's is usually held on a Monday night while Red Emma's is closed on Mondays. I found that Red Emma's was opened so I took advantage of a rare opportunity to see what this place was like on the inside.
I found that Red Emma's is really nice looking and I was impressed with their book selection. The lines were too crowded for me to try the food (actually the lines were crowded at practically every single restaurant, fast food place, and food truck that I encountered during Artscape) and I was too broke to buy a book. I wouldn't mind returning at a later date when I have more time and more money.
So I turned right on Charles Street and I was able to rejoin the festival.
There was a fashion area where would-be fashion designers sold their wares from booths, the backs of parked trucks, and even a funky-painted bus.
I came upon this cool looking booth for a hardware store called The Loading Dock that recycles materials from construction sites. It's similar to what Community Forklift close to my home does.
I came across something called Magfest, which I can best describe as a festival within a festival.
This mini-festival is devoted to video gaming.
Basically there were video games (some were on computers while others were video arcade games) that people played while a live band played on a nearby stage. There was also a display of video game-inspired art.
I even shot a short video to give people an idea of what Magfest was like.
There was another mini-festival within a festival called The Alternative Art Fair that had all kinds of interesting art that was held on the lower level of a parking garage.
I came across some neat examples of urban gardening.
I found a couple of tents that had a dance demonstration by Arthur Murray, which is legendary in my family. As a teenager, my late aunt had taken dance classes through Arthur Murray and I was told that she was an excellent student. She even did a newspaper ad for Arthur Murray that included her photo and it ran in The Baltimore Sun. Sadly she had to give up those lessons when my grandfather died and money became tight as a result. (If you happened to come across a vintage 1950s Baltimore Sun newspaper and see an Arthur Murray ad featuring a photo of an attractive short-haired brunette named Linda Banahan, that was my late aunt.)
I eventually came up to the art cars that Artscape is well known for.
The car in the next photo was covered in pennies.
This car was covered in doodles.
This is the same Star Wars themed car that I saw parked outside of a baseball stadium the night that I attended a Bowie Baysox game on Star Wars night last month.
The Star Wars car also sold science fiction earrings.
Yes, it's a cockroach car.
This vehicle was covered in bottle caps.
This art car also had art for sale.
I came across a puppeteer that had a marionette with a big butt and he was making the puppet do some twerking.
I even shot a short video of the twerking puppet.
I took more photos of various performers and other things.
I found a Midway-style carnival games that were all with twists. There was a duck game where the ducks floated around in a pool that resembled the U.S.S. Torsk that's permanently docked in the Inner Harbor.
Believe it or not, this next photo is a ring toss.
Then there was a ball toss game called "Political Punk Rock" where people can throw balls at targets that resembled people like Hilliary Clinton, Kim Jong Un, John Boehner, Bill Clinton, Sarah Palin, and more!
The next photo shows this giant game that was a cross between pinball and a foosball table.
There was a pizza variation on the classic game Twister.
There was a performer named Gregory Morgan who was literally a one-man band. He was quite good at playing all the instruments by himself.
I even shot a short video of Gregory Morgan to give you an idea of what he was like.
I took the last few photos before I took the next light rail back to North Linthicum (where my car was parked). I was totally tired by the end.
Over the past few months my estranged husband was coming to the home, letting himself in, and taking boxes of stuff while I was attending my regular weekly support group meeting for people who are separated or divorced. He recently sent the boxes back that contained my stuff that had been co-mingled with his stuff. Among the returned boxes were the ones that contained our Christmas decorations and ornaments. Recently I've engaged in my own downsizing of my own holiday tradition. While we were together we amassed around five boxes of decorations and ornaments. Some of them were ones that we've owned since we were children or were ones that had been in our families for decades. Others were ones that were given to us as Christmas presents by others. Then there were the ones that were impulse buys on my part or the ones that various local businesses gave away. (I once had two small ornaments that CVS gave away to its customers for two years back in the 1990's.)
For the past several years my husband and I struggled with putting up Christmas ornaments because we had more ornaments than tree space. Typically we decorated until the branches become overburdened with ornaments and we grew tired so we just put the extra ornaments away in storage. As I looked through the returned boxes I found that I only noticed three missing items that my husband probably took. One was a stocking with his name that my husband's grandmother knitted for him when he was born. Another was a painted white wood reindeer ornament personalized with his name. (I don't remember if his mother or my parents gave that one to him as a present.) The third was a bunch of these really pretty ceramic bells that once belonged to my husband's mother and they made a delicate twinkling sound when shaken.
There may have been others he took as well but we had so many ornaments that I didn't notice any others missing besides the three that I noticed. In any case, my husband left me with the lion's share of the ornaments and decorations. I decided that I would take advantage of the current chaos in my personal life by downsizing my Christmas decorations. First, I went to Target where I purchased a four-foot artificial tree with tiny LED lights already installed for only $25. I was able to erect that tree on my living room coffee table in about 15 minutes or less. Then I went through the five boxes ornaments and made the hard decision of what I wanted to keep and what I wanted to unload. It took awhile but I managed to go down from five boxes of ornaments to one box. I donated the excess ornaments and decorations to the American Rescue Workers truck that comes around my neighborhood twice a month.
After I downsized my ornament collection, I felt much less burdened. My only regret is that my husband and I didn't set down to do this years ago. Thanks to my decluttering efforts, I was able to decorate the home (mainly the living room coffee table) in under two hours. I have only a wooden Mickey Mouse dressed as Santa Claus hanging on the front door to signal to the general public that I'm celebrating Christmas this year. My family were never into doing extensive outdoor lights (aside from having a few electric candles in the windows) and my husband and I weren't into doing such outdoor displays either so it was no big deal for me to have only one token outdoor decoration. At least my electrical bill in January will be lower than those in my neighborhood who insist on having extensive outdoor light displays. (LOL!)
After I purchased the tree I noticed that the purple spire tree topper that we had used in previous years looked out of scale and very top heavy on the new small tree. I decided to donate that spire and shop for a new tree topper. As a child my family had used stars and angels as tree toppers. My husband used to tell me that his family (especially on his mother's side) had always used a spire to top the Christmas tree. I purchased the purple spire a few years ago because I thought it was pretty and I thought my husband would be pleased with it. My husband didn't take that spire so it was up to me to get rid of it. I decided to get a small tree topper and I thought that an angel would be nice.
So I made the trek to Homestead Gardens, a family-owned nursery in Davidsonville, Maryland that has an incredibly fancy Christmas shop that even includes a model train layout. I took some photos to show how fancy this Christmas shop really is.
Naturally this shop had all kinds of ornaments available. These beer-themed ornaments are the kind of ones that I would've been tempted to buy for my husband as a surprise Christmas present had he not walked out on me three days after last Christmas.
I've always loved looking at Department 56 buildings. I've never purchased one for myself partly because they are a bit on the pricey side and partly because I don't have the space in my home to do a really awesome miniature village layout. But I like looking at them on display in the stores.
The next two photos show these ornaments that I've never seen before. They are painted glass ornaments with actual doll-like hair.
Homestead Gardens had a wide array of these Christmas caroling dolls.
This next ornament is one that only a dentist will love.
This next photo shows the most elaborate nativity scene I've seen in recent years. It not only reconstructs the stable on the night that Jesus was born but also the greater town of Bethelehem, including local market stalls and villagers going about their personal businesses. Anyone with enough money can purchase this set and erect it in his/her own home.
As its name implies, Homestead Gardens is a nursery. I saw plenty of pointsettias and Christmas cacti in a variety of colors on sale.
Homestead Gardens had these cute ivy-covered topiary shaped like animals that were the size of houseplants.
This next photo shows a cabbage that was covered in paint and glitter. Even though it looked pretty, I still felt that it seemed wrong and unnatural.
The major high point of Homestead Gardens' annual Christmas shop is this giant train layout featuring several Lionel model trains going past villages consisting of Department 56 buildings. One employee responsible for making sure that the model trains ran properly was dressed as a railroad engineer. This layout was so big that one photo really can't caputre the entire thing. For real model train enthusiasts who want to their own train layouts, Homestead Gardens sells Lionel train sets and related accessories.
I saw this interesting light display in the cashiers area. (LOL!)
While I was heading out to my car, I saw this really interesting twilight scene that included some interesting cloud effects.
I saw this really cool sunset as I was driving along Route 50 on the way home.
I found the perfect tree topper at Homestead Gardens. It was an angel who has a very delicate doll-like face.
Here is what she looks like when lit.
This angel may be small but she is perfectly scaled in size with my new small Christmas tree.