You are currently browsing the tag archive for the 'beer' tag.
Last month I attended my first Dr. Sketchy's Anti-Art School session of 2018. There have been other Dr. Sketchy's events in Baltimore and Washington since the New Year but, for a variety of reasons, I wasn't able to make one until last month.
Even though it was April and the cherry blossom trees in the entire metropolitan area were starting to bloom, winter was still holding on. I remember it was around 40 degrees Fahrenheit so I wore my winter coat while going to downtown DC. When I arrived at the Greenbelt Metro station I saw a group of cosplayers in winter coats who were obviously going to the Tidal Basin (where many of the cherry blossom trees are located and it gets a huge share of the tourists this time of the year).
One of them had this clear backpack that had all kinds of Donald Duck charms, buttons, and pins.
I arrived at Dupont Circle where I noticed that the fountain had been turned on with the water coming in at at a trickle.
A pair of ducks were swimming in the fountain despite the winter-like cold weather.
I saw a group of people near the fountain who took off their coats and started swing dancing in public. I have no idea if they were a flash mob or if they were heavy swing dance enthusiasts. I shot a short video of these people in action.
I shot a few more photos of Dupont Circle.
Like I wrote earlier, many of the cherry blossom trees are further downtown at the Tidal Basin. However, I saw a couple of blooming cherry blossoms planted outside of a building at the intersection of Dupont Circle and New Hampshire Ave., NW so I was able to take a few cherry blossom pictures.
I went to Kramerbooks & Afterwords where I browsed through a few books while noticing all of the Donald Trump-related books that are now available for sale, many of which are less-than-flattering towards The Donald.
As I was walking down P Street, NW, I noticed something I hadn't noticed before on previous trips. There is a restaurant called Tiki Taco, which serves a fusion of Mexican and Polynesian food. (Seriously!) If I wasn't financially struggling I might have tried eating there. (I had just started a new day job and, at that point, I was only working around 15 hours per week.)
I made a brief stop at Fantom Comics where I took pictures of the various posters and wall murals.
I noticed this Batgirl costume on display, which reminded me of the costume that Batgirl wore in this graphic novel that I checked out of the library last year called Batgirl of Burnside (which I enjoyed, by the way). One of the employees told me that the Batgirl costume was on display because one of the writers of Batgirl of Burnside had stopped by the store the day before signing autographs. There were plenty of signed graphic novels that the person had written that were still available for sale that not only included Batgirl of Burnside but also other books he wrote, such as Black Canary and Gotham Academy. (I also checked out one of the Gotham Academy books out of the public library recently. I hadn't read Black Canary mainly because it has yet to arrive at the library.) They were all laid out on the table. I felt tempted but if I had purchased one of those signed books, I would not have been able to afford to go to Dr. Sketchy's, which was the main reason why I even commuted to Dupont Circle on a cold April Sunday afternoon. So I had to just content myself with taking a picture of the Batgirl costume.
I finally arrived at The Bier Baron, where I took a couple of colorful beer signs on display.
Here's a shot of the stage where the model posed.
The model for this event was Sally Cinch, who is a sideshow performer and dancer. Since she's not a burlesque performer, all of the drawings in this post are definitely safe to view unless you are someone who gets offended at seeing a bare midriff.
Sally Cinch's big talent is the ability to squeeze herself into tight spaces. She did a brief performance where she squeezed herself into a couple of hangers, which inspired this contest: Incorporate Joan Crawford into that drawing. I remember when I read that notorious book Mommie Dearest as a teenager and I even saw the movie featuring Fay Dunaway as Joan Crawford.
As it turned out, I was one of only two people who actually took part in the contest. I think it was because the majority of the people who were there were either not born or were too young to remember Mommy Dearest. The two of us were declared the winners and our prize was a drink of our choice from the bar. (I chose a hard cider that I really liked. I'm sorry I didn't write down the name of what I drank.)
I did another sketch of Sally showing why her last name is Cinch using a belt that was pulled very tight around her waist.
I drew one last sketch of Sally before the event ended.
The event was cut relatively short compared to previous Dr. Sketchy's events because of some kind of a scheduling snafu with a comedy show that was following Dr. Sketchy's. I managed to talk briefly with Sally Cinch and the emcee, Reverend Valentine. I found out that Sally Cinch has performed in my neck of the woods. Not only did she once performed at The New Deal Cafe in Greenbelt, Maryland but she's also friends with two friends of mine, which was ironic and it goes to show that it's a small world after all.
So on the Saturday after Thanksgiving I decided to go to Baltimore in order to check out the Christkindlesmarkt at the Zion Lutheran Church. I made every effort to get out of the door soon after I finished eating lunch. But then there were a lot of hassles. First I hit this awful traffic jam going northbound on the highway. I made it to the North Linthicum light rail station only to encounter a bit of a wait for the next light rail train.
I got off at Lexington Market in order to transfer to the Metro subway. But I encountered a long wait for the next subway train. I boarded it and made my way to the Shot Tower Metro station. I walked around the Shot Tower area in order to find the church. By the time I arrived at the church, I only had 45 minutes to check out the Christkindlesmarkt until the event closed for the day. So I was kind of disappointed over not having as much time to spend at that event as I wanted so I decided to hop on the next Charm City Circulator bus over to the Christmas Village in Baltimore where I ate dinner and looked around the area. At least I could more leisurely look everywhere compared to what happened at the other event since the Christmas Village was opened until well into the evening.
After I got my fill of the Christmas Village, I decided to briefly walk around the Inner Harbor where I took these spectacular photos of Baltimore Harbor itself both at twilight and after dark.
I noticed that Baltimore now has a bike sharing program of its own. (The DC area has had such a program for the past few years.)
Here's a closeup of the wheel cover of one of these bikes that shows an illustration of the Baltimore skyline.
Here is one of the lights that were on display near the Inner Harbor.
I went to Harborplace mainly because I needed to use the restroom before getting back on the light rail. The only store I visited there was It's Sugar because that store is always such a hoot to visit, such as these Christmas and Hanukkah Emojis lollipops that were on sale.
The store sometimes sells items that really reflect the politics of the day, such as the orange-flavored gummy Donald Trump candy.
Of course that store had a variety of Christmas and Hanukkah candy available for sale.
The weirdest thing I saw there was these dinosaur chopsticks where the dinosaur's mouth moved every time you open and close the chopsticks.
They also had sushi made from candy (instead of fish). They would be appropriate with the dinosaur chopsticks.
They had beer-flavored gummy bears in these beer glasses. What's more, they had white-colored gummy bears at the top so it would resemble beer foam and amber colored bears resembling beer.
I didn't buy anything at It's Sugar this time around since I had already spent enough money elsewhere. As I was walking back to the Camden Yards light rail station so I could take the next train out of the city, I walked past the historic Old Otterbein United Methodist Church. Here's a shot of the church steeple as it was lit against the night sky.
The church sign had a pretty interesting message for the Thanksgiving holiday weekend.
So that's it for my huge trip to Baltimore on the Saturday after Thanksgiving Day.
Instead of spending Black Friday in some mall or big box retailer where I wake up at 3 a.m. and fight hordes of people for some cheap electronic item that will break three months from now, I decided to check out some of the local festivities from locally owned businesses, starting with Community Forklift, which I wrote about in my last post.
After I left Community Forklift I headed over to Riverdale Park. I stopped by Robert Harper Books, which is a bookstore specializing in used books. Unfortunately that store will be closing by the end of the month because the owner has had a hard time of keeping a brick and mortar shop open. (He mentioned on his Facebook page that he has done better online than through his shop.) It's a shame in a way. Here are a few photos I took inside of that store.
Located near Robert Harper Books is Town Center Market, which sells all kinds of beer and wine along with snacks.
Finally I checked out the windows in the Archie Edwards Blues Heritage Foundation building.
After my visit to Riverdale Park, I ended my Black Friday with going to Hyattsville, which I'll write about in my next post.
I finally got around to attending a DC Drink and Draw event for the first time since I went to one previous event in 2015. It gave me a rare chance to go to Adams-Morgan, which is one of my favorite neighborhoods in DC. I took the Metro to Dupont Circle and walked north where I took photos of some lovely sights.
The Embassy of Zimbabwe has a couple of interesting sculptures on its front lawn.
The next photo shows the embassy and flag of what is widely rumored to be President Trump's favorite foreign country—Russia.
The Swann Condominiums, located at 1801-1803 Swann St., N.W., has an interesting false door with swan-themed art.
I took a few more pictures of some local businesses.
That small Eiffel Tower on top of the building led me to take a picture of L'Enfant Cafe and Bar. When I took a closer look at the place, I found out that it has recently gone out of business. It's too bad I didn't get a chance to check the place out sooner. (That's what I get for not going to Adams-Morgan too often.) At least I got a chance to take a picture of the small Eiffel Tower since it's probably very likely that it will be removed once a new business takes over the space.
The next photo show some political humor in the window featuring Donald Trump and Russia. (LOL!)
The next photo shows the restaurant Johnny Pistolas, where the DC Drink and Draw event was held. One of the main reasons why that event was held is because Johnny Pistolas has Taco Tuesday where all tacos costs $2 each while certain beers were also on sale for $2 and $3, depending on the brand. (As you can guess, this event took place on a Tuesday night.
Here is what I drew at the DC Drink and Draw event that night. While I was waiting for my own tacos to arrive, I did a drawing of a plate of tacos that two women sitting next to me received.
The only beer I purchased was a can of Tecate beer because it was on sale for $3. I made two drawings of the beer can from two different sides.
And, last but not least, I drew a glass of water that had a lime slice floating in it.
On the Saturday during the Fourth of July holiday weekend, I decided to check out this toy show that was being held at the Maryland State Fairgrounds.
It was such a feast for the eyes as the toys and various other vintage items were displayed at various vendor tables. The whole show took on the air of a flea market with an emphasis on vintage stuff dating anywhere from the 1900s to the 1990s.
Someone had a jukebox for sale, which reminded me of my childhood when many of the local restaurants had them and people could choose songs to play for about a quarter each.
The jukebox played music during the entire event. (Which proved that it definitely still worked.) I couldn't help taking pictures of the songs that were available on the jukebox. The majority of them were hits when I was a kid.
And speaking of music players, here's a vintage 8-track player with an Elvis Presley 8-track tape. I once had a stereo system that included an 8-track player but I never owned one like that. But I could've sworn that one of my friends or maybe one of my cousins had a player just like that but I don't know for sure. (Memory is one of those funny things where you remember something but you don't remember when, where, or how you remember it.)
Late last year I did a series of blog posts with accompanying photos known as A Tabletop Christmas (so-named because I limit my Christmas decorating to just a single tabletop in my living room). Among the items I showed off was a small plastic Santa Claus puppet that I've had since I was a child. I didn't know anything about the origins of this puppet. It wasn't until I went to the toy show when I saw a tiny plastic Santa puppet on sale that's identical to mine.
The only difference between the two is that this Santa still had its label at the base while mine doesn't have any labels at all. (I suspect that whatever label it had must've fallen off a long time ago.) My Santa puppet is currently stored in a box with the other Christmas decorations in the attic but here's a picture of my Santa puppet that I took last December.
At first I thought the animal in the next picture was a stuffed animal until I saw the dog move his eyes around. He laid there the entire time I was at that show.
This show also had examples of how the mighty had fallen. I found this book by disgraced former Fox News talk show host Bill O'Reilly on sale for only $1 at one of the tables. (LOL!)
There was one token of something new that I found. Someone was selling glow-in-the-dark versions of the hottest toy of 2017: Fidget Spinners.
By the way, you can check out a video I shot recently where I unboxed and played with one of those Fidget Spinners for the first time (and, no, the one I bought didn't glow in the dark).
Everywhere there were visual treats, many of which harkened back to my own youth.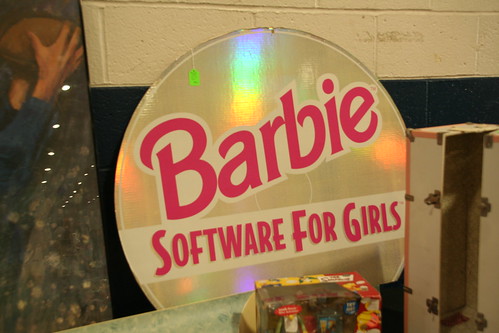 As I was walking back to the light rail stop I shot this photo of The Cow Palace building because it had a nice small garden.
I didn't buy a lot of stuff at that toy show due mainly to tight finances. But I managed to snag a couple of things at bargain rates. I found the second season of The Simpsons DVD set for only $6.
I bought a Monster High doll for only $5. I was attracted to her pretty winter-themed clothes. At first I thought I may have purchased a relative of The Snow Queen until I did an online search and I was able to make a definite identification. Based on this web page, her name is Abbey Bominable and she's described as the 16-year-old daughter of the Yeti.
Here's a closeup of her hair, which looks like it has glittery plastic pellets weaved throughout the strands. It gives a really cool ice/snow effect, especially when the light reflects off of her hair.
Recently a friend of mine decided to purchase a bushel of apples that were on sale at the local farmers market because they had been picked a few days before so they were priced to move. He made this huge purchase despite the fact that he is single and he lives in a house with two other housemates. When I ran into him he offered me some from his bushel because he knew that he had purchased way more than everyone living in his home can possibly eat.
I took him up on his kind offer only to realize when I carried those apples to the car that there were way more apples than I could possibly eat. Sure I could bake apple pies but I would need to bake two or three pies, which would be way too much for me since I live alone.
So I went online and looked for recipes for meals that use apples. I found this recipe for Beer Brined Pork Chops With Roasted Apples on Betty Crocker's site. I already had the necessary spices at home so I went to Aldi where I found boneless pork chops on sale. Then I went to the liquor store where I went to the refrigerator where they keep the individually priced beer bottles. I purchased the cheapest beer in that refrigerator for only $1.25 mainly because I was only going to use it to marinade the pork overnight then discard it. (A lot of times you don't need to buy expensive beer if you're only going to use it as an ingredient in a meal.)
So I followed the recipe and the results were excellent. I could definitely taste the beer in the pork chop yet the brown sugar did off-set the beer taste. And the apples had the consistency of chunky mashed potatoes but there were very tasty. I have enough leftovers to freeze for the next few weeks and I was able to use up some of the surplus apples that my friend gave me. So all was well.
With spring being here and with more and more farmers markets opening up all over the place, this recipe will definitely come in handy if you end up with more apples than you can possibly use.
I decided to visit Valley View Farms on the day before Christmas Eve. (I guess you could call it Christmas Eve Eve. LOL!) The previous day, when I visited Homestead Gardens, it had been raining with patches of fog. When I went up to Cockeysville, it was alternating between light rain and mist and it was still wet outside. And the traffic was pretty atrocious between both the rain and the fact that Christmas was just two days away. But when I finally arrived and stepped inside, I began to forget about that horrendous commute and just marvel at the total Christmas fantasyland.
There were lots of decorated Christmas trees with each one representing a theme. Some had a theme according to color (such as all white or all gold) while others had a theme according to type of ornaments (such as all snowmen or all toys). It's such a visual treat seeing each unique tree with a theme of its own.
Of course there were a lot of ornaments available that one can buy.
There were other types of decorations on display as well.
There was also a whole section dedicated to the Department 56 cottages.
I liked the message on this cloth dishtowel. (Or I think it's a dishtowel.) As an artist, I'm pretty amused by that cloth. Unfortunately I have no idea if it is a dishtowel or if it's one of those cloth banners that you hang on the wall. In any case I didn't buy it because I have no need for another dishtowel and I don't have space on my walls to hang anything else.
There were a few non-Christmas items on display as well, such as this banner highlighting the years when the Baltimore Orioles were World Series champions. I'll admit that it's frustrating that 1983 was the last time the Orioles won the World Series. The team is definitely overdue for another victory. There are times when I dream of an I-95 World Series between the Baltimore Orioles and the Washington Nationals. (I would face a dilemma on which team to root for if that ever happened. I grew up outside of Baltimore where people loved the Orioles including my family so I was raised as an Orioles fan. Yet I'm currently living closer to Washington, DC where people are definitely into the Nationals. I'm not going to think about it until it actually happens in real life. LOL!)
Before I decided to drive back home, I decided to brave the misting rain and take a photo of the sign in the back.
Despite the numerous pretty ornaments, I managed to stick with buying just one ornament, which can be seen in the last photograph below. It was one that I found for $6. It resembles the Delftware that originated in the Netherlands and it even looks Dutch. However, I saw a "Made in China" sticker, which was why I was able to buy something like this at a very low price. What I really like about this ornament is the flat base so I could place it under the Christmas tree if I end up with having more ornaments than tree space in the future.