You are currently browsing the category archive for the 'Zentangle' category.
I attended a reception for a new art exhibit that's currently being held at ReCreative Spaces in Mount Rainier, Maryland. It's called Resist and it features art that was inspired by the new Trump Administration. The parking lot in the back of ReCreative Spaces features this really impressive mural that says "Deport Trump."
I returned to that mural a couple of days later to photograph it in daylight.
Here are some more art pieces from that same show that are currently being displayed indoors.
The opening festivities included a coloring event where we could color this page with three raised fists.
The person who ran that activity had posted examples of how we could color our pages by drawing patterns that looked like what I've seen in Zentangle. So I decided to follow suit by drawing patterns in my coloring page. I used TanglePatterns.net for pattern ideas. Here is my colored page.
The week of June 21-26 was a bittersweet one for me because I had to say good-bye to two different women who are exiting from my life physically in two different ways for different reasons.
June 21 was the last Sunday service that our outgoing minister was taking part in before leaving her job with our Unitarian Universalist congregation due to health reasons. (She suffered a stroke on Good Friday of last year. While she managed to survive it, she became paralyzed on her left side. Our congregation tried to fill in with visiting ministers and lecturers through the rest of the spring and summer in the hopes that she would be able to resume her job by September. When her recovery was far slower than we hoped, we decided to hire an interim caretaker minister for one year in the hope that she would be fully recovered by then. But then she reached this plateau in her physical therapy and it became apparent that she would either never make a full recovery or it may take several years for her to make some kind of a recovery. In the meantime the interim caretaker minister had expressed his desire to return to retirement when his one year of service was up. Our minister decided that it would be best for everyone concerned if she would resign so she could continue to recover at her own pace without having to deal with a deadline and our congregation can look for a new minister who could handle the full duties that our outgoing minister was unable to perform because the stroke had left her with chronic fatigue.) I think it's sad that it had to happen but I think it's the best decision for everyone given the circumstances.
A few weeks before her last Sunday service, some members of the congregation decided to organize a memory book where people could write letters, insert drawings or photographs, or any other items that the minister would appreciate. The Sunday before that last service, I did this Zentagle doodle with a short message in the middle.
The message in the middle basically reads as follows.
Lots of memories. Too many to put on a single page. I remember the pleasant chats we had before the stroke. I also remember when I ran into you and Don [the minister's husband] at the Black Lives Matter March in Washington, DC in December, 2014. Best wishes as you recuperate from your stroke and figuring your future career path.
I basically worked on my quick masterpiece during the annual All-Congregational Meeting that was held after Sunday service while listening to the items on the agenda.
The following Sunday I showed up for what would be the minister's last Sunday service before she stepped down. While she did a decent job of doing the readings and the sermon, I understood why she felt the need to leave. Her left side is still paralyzed. When she first suffered the stroke, her entire left side was paralyzed. Thanks to speech therapy she was able to regain the ability to talk but, otherwise, she couldn't move her left arm or leg. When she was at the pulpit I noticed that her left arm was tucked in a black elastic sling and she required the use of a really steady walking cane that had four legs (instead of a normal average walking cane with only one tip at the end of a long stick).
It was a sad occasion that was made more melancholy for me by the fact that my ex-husband had made one of his rare appearances at church. (His church attendance has gotten more sporadic since he left me. Not that I'm complaining because I'd prefer that he doesn't show up because these days I can't stand to be in the same room with him. If he was to start attending church more often, I would seriously consider quitting that congregation altogether.) I only put up with it because it was the minister's last Sunday service because, otherwise, I would've walked out the minute he entered the church building. There was a lunch reception following the Sunday service. I had thought about skipping it because I really didn't want to share the same space with my ex any longer than I had to. It turned out that when the Sunday service ended, he talked with a couple of people for a while then he left before the reception began. I was totally relieved that he left. I still have a lot of recent ugly memories of what he did to me over the last three years and it has seriously colored my attitude towards him because when I look at him, all I can think about is the way he walked out, the e-mails and texts demanding that I adhere to his own separation schedule, and how he decided that he not only had to hook up with a friend who's struggling with severe mental illness but he had to marry her ASAP.
I'm glad my ex-husband left because I got to eat the excellent lunch (they even had enough leftovers that the organizers begged people to take the extras home so I'm able to stretch my food budget a bit further for the next few weeks) followed by cake. There were two cakes in two different flavors.
I had two small pieces of each and I found them to be very tasty.
A few days later I went to another farewell event. The good news was that the person who's leaving is in good health and it was also an event that I didn't have to worry about my ex-husband showing up. This event was for a woman whom I met through my support group for people who are separated or divorced.
This woman was someone who had started to attend meetings long before I did and she eventually wended her way up to volunteer facilitator. (Here's a brief explanation for those who have never been involved in any kind of divorce recovery work. Our group begins each weekly meeting with a trained mental health professional who would lead a short discussion on a different topic dealing with a certain aspect of the separation/divorce experience ranging from dealing with anger to trying to coparent children with an ex to dating after a divorce. After that discussion, the larger group breaks into two or three smaller groups—depending on the attendance that week—where each of the small group meets with a volunteer facilitator where that facilitator reads a prepared question and we discuss that question. A volunteer facilitator is someone who initially started attending the group as a newly separated or divorced person and has decided to use his/her experience to help others. That facilitator receives special training on how to deal with an attendee in a small group session.)
I was grateful that I met that woman as a volunteer facilitator when I first started attending weekly meetings because I was a total nervous wreck. My husband had abruptly walked out on me without ever indicating that he was unhappy and he had previously been caring and loving towards me until the night he left. When I listened to other people's stories, I initially felt like a freak because other people had spoken about how their marriages had gradually broken down over a period of months or even years until one or both of the partners decide that he/she/they has/have had enough and simply break up. In some cases they had separated then reconciled only to separate again because the same problems kept on appearing. In my case, my separation was so abrupt that for a time I thought my husband had cracked under the recent stresses (stemming from his mother's sudden death in 2010, the frequent trips to and from Phoenix so we could deal with her belongings, my hip injury in early 2011, my hip surgery later that year, the stresses of his job, and taking on a volunteer position as Church Treasures that was even more stressful on him). It took me a month before I learned the real reason why he left me and it was another woman whom I thought was a friend of mine.
But then this woman started talking about how her marriage failed and it was nearly identical to what happened to me. I can't really elaborate further on the details of her story because of the group's strict confidentiality rules but she admitted that she was a total nervous wreck when she first started attending the meetings and she was frequently in tears during the meetings. It took her a long time before she started to feel better about life in general and she didn't cry as often.
I began to realize that if that woman can turn her life around from what happened to her, I can too. Thanks to her I knew that it was going to take a long time because of the abrupt way that my marriage ended but eventually I was going to turn my life around like she has.
Recently I learned that the woman, who was already retired from her job, had decided to move to Florida. The organization decided to throw a farewell party at the Greene Turtle Lounge in Columbia. I decided to attend because I really wanted to show my appreciation to her for what she said to me during the early days of my separation when I felt totally hopeless and dejected.
I hadn't been to Columbia in a while so I decided to combine trips and go to other places on the way to and from the farewell party. I went to the Mall in Columbia briefly on the way to the party where I saw some cute items at Sears. There was a Hello Kitty/Baltimore Orioles onesie for babies.
There was also this really cool tye-dye Baltimore Orioles t-shirt as well.
When I arrived at the shopping center where the Greene Turtle Lounge was located, I saw this hamburger place located next door called Cheeburger Cheeburger which kind of surprised me. That's because for those of us who were alive back in the 1970's who watched Saturday Night Live, that name evoked this famous sketch starring the late John Belushi.
I finally arrived at the Greene Turtle Lounge. The area where the farewell party was held was very crowded with both current members and alumni. The next photo shows how crowded that area was.
I briefly said hello to the woman but I couldn't say anything else because there were so many people waiting to say their good-byes to her. I managed to sit at a table (far from the main table where the woman sat) with a few people I knew from the weekly meetings where I was able to partake of some happy hour specials. (I ordered a crab pizza flatbread appetizer and a Corona beer. The appetizer was so big that I didn't need to worry about ordering a main meal.) At one point the woman decided to leave because she had to prepare for her upcoming move. She came by our table briefly where we said out good-byes to her.
I had wanted to tell her about how her story about her own recovery from her sudden unexpected marital breakup had an impact on me because I felt that if she could recover from something traumatic and horrifying, I could too. But there were so many people there that I never got a chance to have any kind of deep conversation with her. The only consolation is that at least a lot of people attended her party so she was able to see for herself how much she meant to a lot of people and how much she will be missed once she moves to Florida.
I stayed for a while after the woman left but then the party began to thin out. While my fellow members decided to eat, drink, and socialize a bit longer, I decided to head out.
On the way home I decided to go to a store that I hadn't been to since the death of my pet hedgehog Spike in 2013. Today's Pet was among the pet stores that I used to regularly go to in order to purchase Spike's hedgehog food and I used to browse at the animals currently available for sale. Today's Pet was located just a couple of miles from the Greene Turtle Lounge so I decided to stop there on the way back for old time's sake and I even took a few brief pictures. Here are a couple of photos of some very colorful birds.
I saw these hairless rats, which looked pretty freaky. They looked like newborn mutant infants with long tails.
There were a bunch of bunnies who were more normal looking.
Then I came across the display of hedgehogs, which brought back memories of when I first took Spike home. While there are times that I still miss Spike, I've decided to put off looking for a new pet for the time being due mainly to financial reasons. Even if I was to get a new pet in the future, I'd think I would go with a different animal other than a hedgehog because I still remember Spike's less-than-friendly personality that was just as prickly as the quills on his body. I still couldn't resist taking this one photo though.
I'm currently spending my Sunday afternoons volunteering as an English teacher to recent immigrants through this outreach program that my Unitarian Universalist congregation is running. After class ended for the day, I decided to do something on impulse mainly because it was a very pleasant warm sunny day and the days are starting to get longer these days. I checked the Roadside America site and I found that there is the world's only surviving wrought iron bridge located just north of my church in Savage. I thought it was interesting because I've been to Savage Mill numerous times but I don't recall ever seeing that bridge.
It turned out that the bridge is located next to Savage Mill on a side where I usually don't park my car. The Bollman Truss Railroad Bridge is now located along a nature trail that runs along one side of Savage Mill.
One side of the bridge still has the old railroad tracks that this bridge was originally built to accommodate (which is blocked off to the general public) while the other side has a wooden boardwalk for pedestrians and bikers.
If you look down on the walking path on a sunny day, you can see some really neat shadow effects.
If you walk across the bridge and look to one side, you'll get some spectacular views of the Little Patuxent River.
It's pretty cool that the bridge is next to Savage Mill because it has long been among my favorite places to visit.
I haven't been to Savage Mill in a while. I was pleasantly surprised to find these statues of children engaged in a variety of activities that children usually engage in. I don't recall ever seeing them before.
There is this one statue of this Chinese warrior on horseback that seems out of place compared to the statues depicting children at play.
For those interested in architecture, Savage Mill is such a visual treat to the eyes.
Outside of one of Savage Mill's main entrances is Terrapin Adventures, which features an outdoor aerial course that's definitely not for the faint of heart.
Savage Mill originally started as a cotton mill but is now home to a variety of locally-owned shops and artist studios. There is all kinds of interesting things available for sale.
Today is not only Christmas but it's also falls on a Throwback Thursday this year. I know I haven't done a Throwback Thursday in a few weeks mainly because I was focused on selling things online and preparing for the holiday season in general. So, as a special treat, here is an entry focused on my own decorations that I previously highlighted in this blog.
Ever since my husband left me for that mentally ill friend of ours, I've done some massive downsizing of Christmas decorations. I gave away 3/4 of them to the American Rescue Workers. I even purchased a small tabletop artificial tree with lights already installed on them. I took this photo back in 2012 but this year's setup is pretty similar.
Next up is this Hippie Merman ornament that I previously wrote about on December 21, 2010. I made a short video consisting mainly of slideshows with some music I composed by combining a bunch of loops together in GarageBand. I still have this ornament and he is currently gracing my small tabletop Christmas tree as of this writing.
Here's a cottage-shaped decoration that also functions as an incense burner. It's made in the U.S. by a company called Ginger Cottages.
I also currently have two very small nativity scenes underneath my small Christmas tree. One just features Mary, Joseph, and Baby Jesus.
The other was made in Peru and it features an entire nativity scene (featuring a sheep and llama) inside of a cow-shaped structure.
I previously wrote about all three on December 17, 2012.
I have two hedgehog ornaments that I originally purchased when I still owned Spike the Hedgehog and I wrote about them on December 13, 2012. Spike has been dead for over a year but I still have these two ornaments hanging in my tree.
Topping my Christmas tree is this doll-like angel that I originally wrote about on December 11, 2012.
I've owned this vintage elf long before The Elf on the Shelf became this huge marketing juggernaut. I wrote about this guy and his modern counterpart on December 29, 2013.
Here are a few more ornaments that I purchased last year and I wrote about on December 24, 2013.
Here is a robot nutcracker that I purchased last year because it looked unusual and funky. I wrote about this one on December 23, 2013.
Here's a fused glass gingerbread man ornament that I created in a workshop that was given by a friend of mine last year. I wrote about this one on December 18, 2013 and he's hanging in my Christmas tree this year.
I have my Mickey's Clock Shop, which I purchased years ago. It was considered to be a state-of-the-art animatronic decoration at the time (although there have been more technologically advanced Christmas decorations released since then that makes this one seem quaint by comparison). I have it up this year and it still works. Here is a video I shot for a post that I wrote on January 6, 2014.
Here's a reindeer that I customized from a Rose Art Color Blank by doing mainly Zentagles that I first wrote about on December 14, 2011.
Here's a steampunk snowman that I customized from a Rose Art Color Blank and I first wrote about on December 22, 2012.
Here's a lace moose ornament that I purchased earlier this month and wrote about on December 19, 2014.
Here's an owl ornament that's made from a tiny gourd that I also purchased earlier this month. I wrote about this one on December 10, 2014.
Well, anyway, that's pretty much it for past photos and videos of my Christmas decorations. The one big advantage with downsizing is that all of my Christmas decorations fit neatly into one box. There are separate boxes for the Christmas tree and Mickey's Clock Shop but that's no big deal compared to the old days when I used to have three boxes filled with just Christmas ornaments along with two smaller boxes for Christmas plushes and Beanie Babies. I've gotten rid of all of the Christmas plushes/Beanie Babies and two of the Christmas ornament boxes after my husband left. Thanks to my downsizing, I can have everything up and decorated in two or three hours and I can take them down really fast in about an hour or so. I'm really happy about that. I have people in my local area who really go overboard with the Christmas decorating (especially on their front property) so if I really want to see a lot of Christmas glitz, all I have to do is get in my car and make a few short trips.

As the Sagittarius Dolly blog inches closer to its fifth anniversary on January 6, 2015, I thought I'd provide a look back at some of my creations that I've previously featured in this blog.

Originally profiled on December 14, 2011.

Even though today is Thanksgiving Day, there has been a trend among the big box retailers to open their doors on the actual holiday itself. This is definitely a change from the old days when most businesses were closed and even the few that were opened on the holiday (such as supermarkets) would close their doors by 4 p.m. so their employees can spend the holiday with their families.
Now the big box retailers are not only forcing their employees to either spend less time at home or skip Thanksgiving entirely but they are also trying to entice their customers to give up more and more of their holiday time by having hot doorbuster deals on certain consumer items.
You can spend less time with your loved ones or eat Thanksgiving dinner unusually early so you can put on your coats and step out in the usual cold November weather while fighting other like-minded shoppers to grab some consumer items.
Or you can do the alternative. You can stay in your warm home surfing the Internet and go holiday shopping in my online Etsy shop. You don't have to worry getting into the car and the online shopping experience is so quick and convenient that you can just order something quickly then go back to preparing for Thanksgiving dinner. Here's a sample item that I'm currently selling online now that you can buy while you're wearing your pajamas or casual clothes.
This is a customized one-of-a-kind tote bag that I painted by hand. To learn more about how I created this bag, you can read the post I originally wrote on February 14, 2013. If you're looking for unique holiday gifts, you can order right here.
After all the sweat and tears I went through finishing my doll loveseat couch and after that last-minute conversion of my Zentangle activity from an hour-long workshop to a day-long hands-on activity it was finally time for the first-ever Greenbelt Mini Maker Faire. It was the third Maker Faire of its sort in the Washington, DC area after last fall's Silver Spring event (which I attended) and another event that took place in Northern Virginia just a few weeks ago (which I wasn't able to go to because I'm currently involved in my church's social action project to teach English to recent immigrants and I co-teach a class that takes place at the same time as the Northern Virginia event).
I was so wound up from making lots of last-minute preparations for the event that I didn't get much sleep so I woke up totally sleep deprived. I consumed plenty of Diet Pepsi and Five-Hour Energy drinks just so I can avoid dozing off. Here is what my table looked like.
One half of the table was devoted to the arts and crafts that I had for sale, including some tiny art canvases, thrift shop Barbie dolls that I refurbished and recycled as fairy dolls, and the doll loveseat that I made from a broken Dance Dance Revolution control pad, fabric scraps, and duct tape. I had an American Girl doll, a Makies doll, and a pink teddy sit in the loveseat. They weren't for sale—they were used to demonstrate the loveseat. The pink bear was holding the qr code for my entry on how I cleaned and repaired that bear while Victoria the Makies doll held the qr code that led to the Makies website. (I figured that this qr code would satisfy anyone who was curious about Victoria.)
The other half of my table was devoted to the drop-in Zentangle activity complete with books, pens, pencils, and paper. (I also had a bowl of Easter egg-shaped chocolates to encourage people to visit my table. LOL!) I also had an iMac G5 available for $100 that I was selling on behalf of a friend of mine in exchange for getting a cut of the sale proceeds. I only got one interest in the computer from a person who thought that a friend of hers may be interested but she needed to check with the person first. Otherwise, no one was interested in the computer.
Here's a photo of me standing next to my table that someone else took with my smartphone. I wore the official t-shirt of the Greenbelt Mini Maker Faire but it was cold outside so I ended up wearing a sweatshirt over it. As for the sweatshirt itself, I wore the same My Little Pony Rainbow Dash hoodie that I wore last Halloween. (I have the hood down in the photo below.) I had plenty of people who said that they loved my sweatshirt.
My booth faced the front of the New Deal Cafe, which was a pretty great location because I had a lot of people who stopped by on the way to the cafe.
Whenever I needed to step away from my table, I had my American Girl doll hold this message that I wrote on a small dry erase board.
The day was pretty sunny but very windy. Despite my polymer clay paperweights, there were times when I still had to reconfigure my table because the wind was strong enough to blow things over. I made a few sales on my crafts, which was okay. There were also times when I would walk over to Club 125 just so I could take a warming break from the cold and the wind.
The biggest hassle was trying to convert my Zentangle activity from my originally planned hour-long workshop to a day-long, hands-on, drop-in activity. (When I signed up to give a workshop, I thought I would give an hour-long workshop located either in Club 125 or one of the other interior places in Roosevelt Center. It wasn't until I went to a party for the volunteers on Thursday—two days before the event—that I was really expected to have a drop-in activity for the entire day.) Rather than repeat the same instructions over and over again to different people, I decided that I needed to provide a written instruction sheet. Luckily I didn't have to create one from scratch. I found this document online where I basically printed the first page and used that as the Zentangle instructions sheet.
For all my effort in reconfiguring the Zentangle lesson from an hour-long workshop to a day-long hands-on activity, only four people actually worked on their own Zentangle that day. The weather was in the 50's and it was very windy so I think that affected people being willing to do something artistic outside. Other people who had hands-on activities on outdoor tables also told me that they didn't get many enthusiastic takers. The girl in the photo below was one of the four people who did a Zentangle.
I took frequent breaks to go to the bathroom and I spent some of that time checking out the other tables at the event. The next photo is a table for a new hackerspace/makerspace for women called Spanning Tree, which hopes to find some facilities near a Metro stop.
There was an information table about Club 125, which was largely responsible for the entire event.
Solo the dog helped her owner with running the table that educated the public on using herbs and spices.
There were all kinds of hands-on activities like origami, felting, soldering, and making music.
Someone walked around the Mini Maker Faire dressed in steampunk couture.
There was a table for creating paper airplanes while educating people about the fact that there was once an airport in Greenbelt, Maryland called Schrom Airport.
This woman was busy twisting balloons into various animals, plants, hats, and other shapes.
A small games publisher, Black Oak Games, publicized its two products—Knot Dice (a puzzle where the user creates Celtic knots) and Diner (a diner-themed card game).
A local company called TechShop provided information about upcoming classes in computer and technology-related subjects.
A bunch of kids were having fun playing computer video games inside Club 125 while other kids played with Legos, made chalk drawings on the sidewalk, and had their faces and other body parts painted.
There were demonstrations of using recycled grocery store apple cartons and PVC pipes in vertical gardening.
There was also an exhibit on terrariums.
There were displays and demonstrations on traditional activities like spinning wool, canning, mosaic making, and sewing clothes.
There were some new twists on old traditions like cooking food in a solar oven.
This table sold science and math-themed books for children.
There were a variety of handmade crafts on sale like knitted hats, knitted scarves, hand-painted wood crafts, and even blinking jewelry.
There were electronic devices of all kinds on display.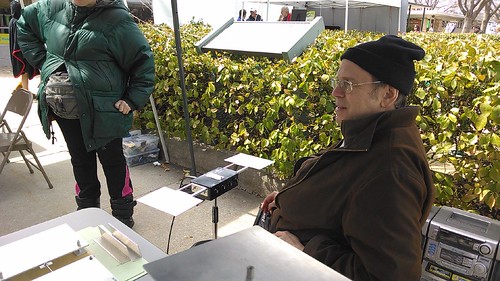 The Greenbelt Mini Maker Faire had all kinds of 3D printers that made jewelry and figurines.
In contrast to last fall's Silver Spring Mini-Maker Faire, the Greenbelt one was committed to being more non-commercial by featuring smaller lesser-known companies. In fact, the biggest name at the Greenbelt event was NASA Goddard Space Flight Center, which had a large booth.
Basically the event provided a nice place for people and animals to socialize in the sun.
I also shot a short video of some of the exhibits and events where just showing still photos wouldn't do them justice. It includes a man who used these noise-emitting electronics to play Patsy Cline's "Crazy" song, a robot that could toss a large ball to people, and a bunch of people playing with hula hoops.
Like I wrote earlier, there were times when I had to struggle with my items getting knocked down by wind gusts. My doll loveseat couch even got knocked over a few times and it's a big item. Here are what my two dolls and one teddy bear looked like at the end of the day before I packed them in my car.
I took a closeup of my American Girl doll's face mainly because she looks either sleepy or stoned or both.
That's it for my photos. If you want to see more photos, check out the official photos that have been posted on Flickr.
I'll admit that the Greenbelt Mini-Maker Faire was a bit on the disorganized side. That's because the people behind it had never put on such an event before (while they did attend previous Maker Faires like the one in Silver Spring last fall, there's a big difference between going to an event and planning an event). I signed up as a vendor and as someone who could teach a workshop a couple of months ago and, while I got one of those e-mails acknowledging that they got my application, I didn't hear any further.
I learned via Facebook that there was going to be a little party held at Club 125 for volunteers of the Mini-Maker Faire two days before the event so I went because I wanted to get some details on what I should do on Saturday as well as meet new people and socialize with old friends.
When I arrived I found the floor plan of the Greenbelt Mini-Maker Faire, which was done with a dry erase board and Post-It Notes. I found where my table would be located two days later.
The party was pretty well attended. I met all kinds of people that night.
These filmmakers were at the party because they are currently working on a documentary on the Maker movement in general and Maker Faires in specific.
Here was the cake that was served that night. In some ways it was a shame that the cake had to be cut up since it ruined the nice design but it was a very delicious chocolate cake so I think it was just as well that it ultimately went under the knife.
There were people who were doing things at Club 125 other than socializing, eating, or making a documentary. This young knitter was hard at work on her scarf.
These t-shirts were passed out to all the volunteers. They were dark green with a logo of the Greenbelt Mini-Maker Faire in the front and some writing on the back in large white letters.
I enjoyed myself at the party despite experiencing something that I hadn't anticipated. I had signed up to conduct a workshop on creating Zentangles. I thought it would be the kind of workshop similar to the ones held at other anime/geek conventions I've been to where a workshop would be held in a separate room for one hour. I've seen those who work the Artists Alley who were also workshop leaders leave a sign at their booths saying that they were giving a workshop with the topic name and which room it would be held in.
So I spent some time creating an hour-long workshop. I envisioned that I would give a 15-minute lecture (long enough to explain what a Zentangle is and how to create one) with the rest of the time being devoted to people drawing Zentangles.
I thought that Club 125 would be reserved for workshops. Imagine my surprise when I looked on the site map and found that there would be vendors and information/activity tables in Club 125 and I also learned that my "Zentangle workshop" was being configured as a day-long hands-on activity that would be held at my booth. That meant that I had to totally reconfigure my Zentangle activity from a formal hour-long workshop to something that people can do on a drop-in basis for the entire day.
In addition, I still had to put the finishing touches on my doll-sized loveseat couch made from a broken Dance Dance Revolution control pad as well as finish some of my handmade jigsaw puzzles and other crafts that I would be selling. I knew that Friday was going to be a total crunch time for me.
I will have a table at tomorrow's Greenbelt Mini-Maker Faire where I'll have a variety of arts and crafts on sale. The big cornerstone of my exhibit is a project that is about 90 percent done: I took a broken Dance Dance Revolution controller pad, cut it up, and used it as fabric to create a doll-sized loveseat that can fit 14-18 inch dolls (such as Mini Super Dollife, American Girl, Ellowyne Wilde, Tonner, etc.). If I have time I'll write a separate blog post about it before tomorrow's show (otherwise it'll have to wait).
As for my workshop on creating Zentangles, there are going to be some changes. I thought I would be doing the kind of workshops that I've seen done at various conventions like Otakon or Interventioncon where I would put up a sign at my vendor booth saying that I was teaching a workshop in a separate room, the workshop would last an hour, and I would return to sell my stuff once the workshop was over. I assumed that the Club 125 clubhouse would be used to hold the workshop.
Last night, when I attended a get-together for volunteers and I saw the large site map that was drawn on a dry erase board, I found that the facility was being used for other vendor tables, display tables, and demonstration tables. I learned that I'm supposed to have a day-long hands-on Zentangle activity at my vendor booth instead of a formal hour-long workshop in a different location from my vendor booth.
Right now I'm reconfiguring the Zentangle thing as I move away from a formal hour-long workshop to an informal day-long drop-in activity. I'm going to leave a section at my booth blank so people would have room to draw Zentangles. try to have written instructions on how to draw your own Zentangles so people can try it on their own with little formal instruction from me. (I originally intended my workshop to begin with a short 10-15 minute lecture on what is a Zentangle and how to draw one with the rest of the workshop time devoted to drawing Zentangles while I leave my Zentangle books around for people to copy patterns from.)
If I can pull this off, I think it could be a big hit. Right now I have to end this blog entry and prepare for tomorrow. In any case, if you'd like to see me in person tomorrow, my booth will be located right in Roosevelt Center across from the entrance to the New Deal Cafe.
I'm sorry for the late notice but I'm pretty disorganized at the moment between the upcoming holidays and getting used to my new Droid Ultra cell phone and my new MacBook. I'm going to be out there in public in two different art-related events. Here's the schedule.
Sunday, December 15: I will be selling my arts and crafts at the annual Holiday Craft Show at Paint Branch Unitarian Universalist Church in Adelphi, Maryland starting at 11:30 a.m. or when the weekly Sunday service ends (whichever comes first). I will be selling until sometime after 1 p.m. (If I get a large crowd, I may stay a bit later.) For directions, visit PBUUC's website.
Monday, December 16: I will be leading a workshop on creating Zentangles at Club 125 in Greenbelt, Maryland from 11 a.m.-2 p.m. as part of a larger holiday craft making event. It will be an all-ages workshop and you don't need to have art experience to participate. For information about Zentangles in general, see this page on Zentangle.com. For directions to this workshop, visit Club 125's website. This event was cancelled at the last minute due to circumstances beyond my control. I'll let you know if it does get rescheduled.