You are currently browsing the category archive for the 'Robots' category.
On the Saturday during the Fourth of July holiday weekend, I decided to check out this toy show that was being held at the Maryland State Fairgrounds.
It was such a feast for the eyes as the toys and various other vintage items were displayed at various vendor tables. The whole show took on the air of a flea market with an emphasis on vintage stuff dating anywhere from the 1900s to the 1990s.
Someone had a jukebox for sale, which reminded me of my childhood when many of the local restaurants had them and people could choose songs to play for about a quarter each.
The jukebox played music during the entire event. (Which proved that it definitely still worked.) I couldn't help taking pictures of the songs that were available on the jukebox. The majority of them were hits when I was a kid.
And speaking of music players, here's a vintage 8-track player with an Elvis Presley 8-track tape. I once had a stereo system that included an 8-track player but I never owned one like that. But I could've sworn that one of my friends or maybe one of my cousins had a player just like that but I don't know for sure. (Memory is one of those funny things where you remember something but you don't remember when, where, or how you remember it.)
Late last year I did a series of blog posts with accompanying photos known as A Tabletop Christmas (so-named because I limit my Christmas decorating to just a single tabletop in my living room). Among the items I showed off was a small plastic Santa Claus puppet that I've had since I was a child. I didn't know anything about the origins of this puppet. It wasn't until I went to the toy show when I saw a tiny plastic Santa puppet on sale that's identical to mine.
The only difference between the two is that this Santa still had its label at the base while mine doesn't have any labels at all. (I suspect that whatever label it had must've fallen off a long time ago.) My Santa puppet is currently stored in a box with the other Christmas decorations in the attic but here's a picture of my Santa puppet that I took last December.
At first I thought the animal in the next picture was a stuffed animal until I saw the dog move his eyes around. He laid there the entire time I was at that show.
This show also had examples of how the mighty had fallen. I found this book by disgraced former Fox News talk show host Bill O'Reilly on sale for only $1 at one of the tables. (LOL!)
There was one token of something new that I found. Someone was selling glow-in-the-dark versions of the hottest toy of 2017: Fidget Spinners.
By the way, you can check out a video I shot recently where I unboxed and played with one of those Fidget Spinners for the first time (and, no, the one I bought didn't glow in the dark).
Everywhere there were visual treats, many of which harkened back to my own youth.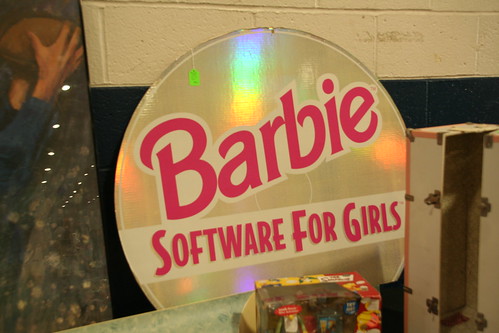 As I was walking back to the light rail stop I shot this photo of The Cow Palace building because it had a nice small garden.
I didn't buy a lot of stuff at that toy show due mainly to tight finances. But I managed to snag a couple of things at bargain rates. I found the second season of The Simpsons DVD set for only $6.
I bought a Monster High doll for only $5. I was attracted to her pretty winter-themed clothes. At first I thought I may have purchased a relative of The Snow Queen until I did an online search and I was able to make a definite identification. Based on this web page, her name is Abbey Bominable and she's described as the 16-year-old daughter of the Yeti.
Here's a closeup of her hair, which looks like it has glittery plastic pellets weaved throughout the strands. It gives a really cool ice/snow effect, especially when the light reflects off of her hair.
This is the fourth year that a maker event took place in Greenbelt, Maryland. (It used to be known as the Greenbelt Mini-Maker Faire until this year, when the organizers decided against renewing the license with Make magazine, which holds the rights to the name "Maker Faire". One of the reasons I heard is that the organizers of this event has always insisted on it being a non-commercial, non-profit community event which is the opposite of most Maker Faire events, which tend to have all kinds of corporate sponsorships.) After sitting out last year, I decided to return as a participating vendor with my own table.
Makerspace 125 is the main spearheader of this event. This is what it looked like on that day all decked out in balloons and hoops wrapped with yarn.
Someone draped the nearby Mother and Child statue with long strings of beads.
Here is my vending area at this year's event.
A few days earlier I created a video slideshow of my sketchbook drawings I made over the years (I only admitted the ones that depicted partial or full nudity because this festival is an all-ages family-friendly event). I made a little brochure explaining about myself. I also offered free Oreo cookies.
This section shows the comic book coasters I made by cutting up the comic book collection that my ex-husband left behind. (I attempted to sell them but comic books are worth squat these days, especially if they were published after 1985.) I first debuted them at the 2015 Greenbelt Mini-Maker Faire and I still had a few left mainly because I haven't worked as many art shows and craft fairs in recent years as before the economic meltdown of 2008.
Last, but not least, here is my Barbie doll section.
The one in the front is the Barbie that I customized into the Unbeatable Squirrel Girl (which I also documented in my four-part DIY video series).
The three other dolls in the back are ones I originally found in thrift stores and I converted them into fairy dolls.
Since this event took place the day before Easter Sunday, there were plenty of eggs on display this year.
Here are my photos of the rest of the festival. The day started off cloudy and cool but then the sun came out and it got progressively hotter until I took off my hooded sweatshirt and just walked around in a t-shirt instead. The cream in the middle of the Oreo cookies I was giving away started to ooze from the middle of each cookie. (I ultimately had to put the entire pack in the refrigerator when I returned home.)
Even though the weather was ideal, the event drew a smaller crowd this year than in previous years. I have a feeling that the fact that this event was scheduled on the day before Easter had something to do with it. I only made a total of $25 in sales throughout the entire six-hour event. I was sort of disappointed because I really wanted to get rid of some excess crafts that have been stored in my home for the past few years while earning extra money. Oh well. At least I got to see a lot of my friends at this event so that's something.
I also shot a short video of some parts of the festival, which you can view below.