You are currently browsing the category archive for the 'Robots' category.
Since the winter holiday shopping season has officially started three days ago, I'd thought I'd post pictures of stuff I've seen lately on the store shelves. I took these photos mainly to show some of my friends on social media who would be especially interested in these products.
First, here are some photos I shot at Target over the past month or so. Target is selling the 3Doodler along with the DoodleBlock Kit.
Target has a LEGO aisle filled with all kinds of LEGO kits for all ages.
Last year American Girl came out with a line of multiracial 14 inch dolls known as Wellie Wishers, which cost $60 each. Target is now selling a line of multiracial 14 inch dolls known as Glitter Girls for $20 each.
Target also sells a line of 3-foot tall dolls based on various Disney characters.
You know Christmas is coming soon when you start seeing special gingerbread spice cereal like this.
Target has been selling a line of STEM toys, kits, and games for makers of all ages. You can now make a variety of things including LEGO stop-motion animation, piñatas, video games, drones, Raspberry Pi computers, and more. Below are just a few of them.
This is probably the most unique and off-beat product I found at Target: A Funko Pop! vinyl toy based on the late painter and television show host Bob Ross.
I also found some Hot Wheels toy cars that seemed to be made with Baby Boomers in mind. How else can you explain cars based on The Beatles' film A Hard Day's Night and Mad magazine.
Recently a new Guitar Center store opened up in Laurel, Maryland so I decided to check it out.
I saw these special edition Cordoba acoustic guitars for adults and children that are tie-in products to the Disney/Pixar movie Coco, which was recently released. (I haven't seen it yet. All I know that it's based on the Mexican El Día de los Muertos/Day of the Dead holiday, which happened earlier this month, and which also explains the skull motif on these guitars.)
Last, but not least, are a few of the photos I took when I made my last trip to a local Five Below store.
Previous in This Series
The Day Before the Greenbelt Labor Day Festival
Greenbelt Labor Day Festival (Day 1)
Greenbelt Labor Day Festival (Day 2)
Greenbelt Labor Day Festival (Day 3)
Doing constant walking during the holiday weekend began to take a toll on me by Labor Day itself. I woke up feeling totally stiff and sore and I was facing a day that included the annual Labor Day Parade in the morning then the afternoon would be the fourth and final day of the Labor Day Festival itself.
I briefly thought about blowing off the parade until I remembered that some of my friends were marching in it and I really wanted to see them strut their stuff on the parade route. So I forced myself out of bed and ate a quick breakfast. I decided to drive my car as close to the parade route as possible. I figured that I would have better luck if I parked towards the early part of the route instead of Roosevelt Center, where the parade ends and it is also where the festival fairgrounds are located so it draws a larger crowd. I was proven correct and I really lucked out when I found a parking spot located just around the corner from the parade route.
I found the temperature to be quite reasonable. It was in the low 70s with low humidity and it was bright and sunny outside. I set up my folding chair, pulled out my new Canon camera (which I bought off eBay for $80 and it arrived just a few days before the holiday weekend), and waited for the parade to begin. I started taking pictures when the marchers arrived.
Paul Downs, who won the Greenbelt's Outstanding Citizen Award just three days ago, was in the first car in that parade.
A colonial-style fife and drum corp marched behind the car carrying Paul Downs.
Mayor Emmett Jordan and the Greenbelt City Council rode in this vintage red fire truck.
U.S. Senator Chris Van Hollen took part in the parade.
The parade continued with more marchers, some of whom were on horseback.
There was this ominous looking military vehicle in the parade. There were no signs indicating who this vehicle was aligned with or anything like that.
The next two photos show robots that were created by a group of students known as The Irrational Engineers.
It was the unions who helped to create Labor Day to begin with so a few local unions took part in this parade.
Some local political groups and politicians took part in this parade.
Maryland State Senator Paul Pinsky worked the crowds as he marched in the parade.
Maryland House of Delegates member Anne Healey preferred to ride instead.
There were a contingent calling for affordable health care available for all U.S. citizens.
This one politician, David Grogan, managed to get Spider-Man (or someone dressed like him) on his side.
Here's one of my friends, Patty Daukantas, who was riding in the Toastmasters parade float.
Makerspace 125 finally showed off its completed parade float, which I saw being constructed during the last few days.
Some more of my friends were marching with the New Deal Cafe. This group won the Best in Parade award and they were awarded $400. Here are a few still photos I shot.
I also shot a short video of this group in action. They took a festive New Orleans Mardi Gras jazz approach, which probably explains why they won.
Here's the rest of the parade that I photographed.
Finally here is the Mission BBQ truck which ended the parade.
After the parade ended I went back home where I ate lunch (mainly because it was cheaper than eating yet another meal at the festival).
Next in This Series
On the Saturday during the Fourth of July holiday weekend, I decided to check out this toy show that was being held at the Maryland State Fairgrounds.
It was such a feast for the eyes as the toys and various other vintage items were displayed at various vendor tables. The whole show took on the air of a flea market with an emphasis on vintage stuff dating anywhere from the 1900s to the 1990s.
Someone had a jukebox for sale, which reminded me of my childhood when many of the local restaurants had them and people could choose songs to play for about a quarter each.
The jukebox played music during the entire event. (Which proved that it definitely still worked.) I couldn't help taking pictures of the songs that were available on the jukebox. The majority of them were hits when I was a kid.
And speaking of music players, here's a vintage 8-track player with an Elvis Presley 8-track tape. I once had a stereo system that included an 8-track player but I never owned one like that. But I could've sworn that one of my friends or maybe one of my cousins had a player just like that but I don't know for sure. (Memory is one of those funny things where you remember something but you don't remember when, where, or how you remember it.)
Late last year I did a series of blog posts with accompanying photos known as A Tabletop Christmas (so-named because I limit my Christmas decorating to just a single tabletop in my living room). Among the items I showed off was a small plastic Santa Claus puppet that I've had since I was a child. I didn't know anything about the origins of this puppet. It wasn't until I went to the toy show when I saw a tiny plastic Santa puppet on sale that's identical to mine.
The only difference between the two is that this Santa still had its label at the base while mine doesn't have any labels at all. (I suspect that whatever label it had must've fallen off a long time ago.) My Santa puppet is currently stored in a box with the other Christmas decorations in the attic but here's a picture of my Santa puppet that I took last December.
At first I thought the animal in the next picture was a stuffed animal until I saw the dog move his eyes around. He laid there the entire time I was at that show.
This show also had examples of how the mighty had fallen. I found this book by disgraced former Fox News talk show host Bill O'Reilly on sale for only $1 at one of the tables. (LOL!)
There was one token of something new that I found. Someone was selling glow-in-the-dark versions of the hottest toy of 2017: Fidget Spinners.
By the way, you can check out a video I shot recently where I unboxed and played with one of those Fidget Spinners for the first time (and, no, the one I bought didn't glow in the dark).
Everywhere there were visual treats, many of which harkened back to my own youth.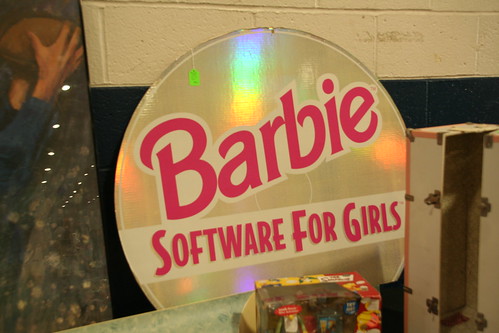 As I was walking back to the light rail stop I shot this photo of The Cow Palace building because it had a nice small garden.
I didn't buy a lot of stuff at that toy show due mainly to tight finances. But I managed to snag a couple of things at bargain rates. I found the second season of The Simpsons DVD set for only $6.
I bought a Monster High doll for only $5. I was attracted to her pretty winter-themed clothes. At first I thought I may have purchased a relative of The Snow Queen until I did an online search and I was able to make a definite identification. Based on this web page, her name is Abbey Bominable and she's described as the 16-year-old daughter of the Yeti.
Here's a closeup of her hair, which looks like it has glittery plastic pellets weaved throughout the strands. It gives a really cool ice/snow effect, especially when the light reflects off of her hair.