You are currently browsing the category archive for the 'Barbie and Ken' category.
On the Saturday during the Fourth of July holiday weekend, I decided to check out this toy show that was being held at the Maryland State Fairgrounds.
It was such a feast for the eyes as the toys and various other vintage items were displayed at various vendor tables. The whole show took on the air of a flea market with an emphasis on vintage stuff dating anywhere from the 1900s to the 1990s.
Someone had a jukebox for sale, which reminded me of my childhood when many of the local restaurants had them and people could choose songs to play for about a quarter each.
The jukebox played music during the entire event. (Which proved that it definitely still worked.) I couldn't help taking pictures of the songs that were available on the jukebox. The majority of them were hits when I was a kid.
And speaking of music players, here's a vintage 8-track player with an Elvis Presley 8-track tape. I once had a stereo system that included an 8-track player but I never owned one like that. But I could've sworn that one of my friends or maybe one of my cousins had a player just like that but I don't know for sure. (Memory is one of those funny things where you remember something but you don't remember when, where, or how you remember it.)
Late last year I did a series of blog posts with accompanying photos known as A Tabletop Christmas (so-named because I limit my Christmas decorating to just a single tabletop in my living room). Among the items I showed off was a small plastic Santa Claus puppet that I've had since I was a child. I didn't know anything about the origins of this puppet. It wasn't until I went to the toy show when I saw a tiny plastic Santa puppet on sale that's identical to mine.
The only difference between the two is that this Santa still had its label at the base while mine doesn't have any labels at all. (I suspect that whatever label it had must've fallen off a long time ago.) My Santa puppet is currently stored in a box with the other Christmas decorations in the attic but here's a picture of my Santa puppet that I took last December.
At first I thought the animal in the next picture was a stuffed animal until I saw the dog move his eyes around. He laid there the entire time I was at that show.
This show also had examples of how the mighty had fallen. I found this book by disgraced former Fox News talk show host Bill O'Reilly on sale for only $1 at one of the tables. (LOL!)
There was one token of something new that I found. Someone was selling glow-in-the-dark versions of the hottest toy of 2017: Fidget Spinners.
By the way, you can check out a video I shot recently where I unboxed and played with one of those Fidget Spinners for the first time (and, no, the one I bought didn't glow in the dark).
Everywhere there were visual treats, many of which harkened back to my own youth.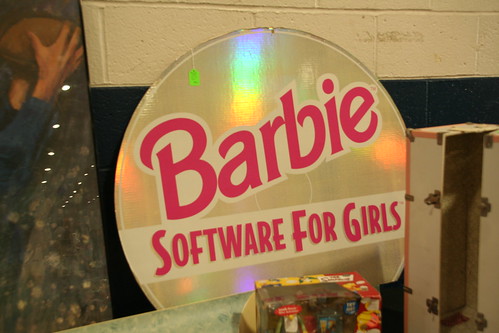 As I was walking back to the light rail stop I shot this photo of The Cow Palace building because it had a nice small garden.
I didn't buy a lot of stuff at that toy show due mainly to tight finances. But I managed to snag a couple of things at bargain rates. I found the second season of The Simpsons DVD set for only $6.
I bought a Monster High doll for only $5. I was attracted to her pretty winter-themed clothes. At first I thought I may have purchased a relative of The Snow Queen until I did an online search and I was able to make a definite identification. Based on this web page, her name is Abbey Bominable and she's described as the 16-year-old daughter of the Yeti.
Here's a closeup of her hair, which looks like it has glittery plastic pellets weaved throughout the strands. It gives a really cool ice/snow effect, especially when the light reflects off of her hair.
This is the fourth year that a maker event took place in Greenbelt, Maryland. (It used to be known as the Greenbelt Mini-Maker Faire until this year, when the organizers decided against renewing the license with Make magazine, which holds the rights to the name "Maker Faire". One of the reasons I heard is that the organizers of this event has always insisted on it being a non-commercial, non-profit community event which is the opposite of most Maker Faire events, which tend to have all kinds of corporate sponsorships.) After sitting out last year, I decided to return as a participating vendor with my own table.
Makerspace 125 is the main spearheader of this event. This is what it looked like on that day all decked out in balloons and hoops wrapped with yarn.
Someone draped the nearby Mother and Child statue with long strings of beads.
Here is my vending area at this year's event.
A few days earlier I created a video slideshow of my sketchbook drawings I made over the years (I only admitted the ones that depicted partial or full nudity because this festival is an all-ages family-friendly event). I made a little brochure explaining about myself. I also offered free Oreo cookies.
This section shows the comic book coasters I made by cutting up the comic book collection that my ex-husband left behind. (I attempted to sell them but comic books are worth squat these days, especially if they were published after 1985.) I first debuted them at the 2015 Greenbelt Mini-Maker Faire and I still had a few left mainly because I haven't worked as many art shows and craft fairs in recent years as before the economic meltdown of 2008.
Last, but not least, here is my Barbie doll section.
The one in the front is the Barbie that I customized into the Unbeatable Squirrel Girl (which I also documented in my four-part DIY video series).
The three other dolls in the back are ones I originally found in thrift stores and I converted them into fairy dolls.
Since this event took place the day before Easter Sunday, there were plenty of eggs on display this year.
Here are my photos of the rest of the festival. The day started off cloudy and cool but then the sun came out and it got progressively hotter until I took off my hooded sweatshirt and just walked around in a t-shirt instead. The cream in the middle of the Oreo cookies I was giving away started to ooze from the middle of each cookie. (I ultimately had to put the entire pack in the refrigerator when I returned home.)
Even though the weather was ideal, the event drew a smaller crowd this year than in previous years. I have a feeling that the fact that this event was scheduled on the day before Easter had something to do with it. I only made a total of $25 in sales throughout the entire six-hour event. I was sort of disappointed because I really wanted to get rid of some excess crafts that have been stored in my home for the past few years while earning extra money. Oh well. At least I got to see a lot of my friends at this event so that's something.
I also shot a short video of some parts of the festival, which you can view below.
It's that time of the year where people are crowding the shopping malls in an effort to buy gifts for Christmas, Hanukkah, or Kwanzaa. Instead of fighting surly drivers for a parking space, how about staying home and buying some unique things from me? Here is what I'm highlighting for sale this holiday season.
Do you like adult coloring books? Looking for something different from the usual ones that are currently on the market? For some NSFW fun, try my adult coloring book, Burlesque Beauties, which definitely puts the "adult" in adult coloring book.
Purchase Burlesque Beauties right here.
When I originally created my first (and, so far, only) item for my new RedBubble shop, President Trump, I honestly thought that it would be something that was going to be hot for a limited time until Election Day then it would be obsolete. Thanks to the outcome of those elections, it looks like my President Trump line will be hip and relevant for at least the next four years (unless he somehow gets impeached or killed).
You can buy this design on a variety of products ranging from leggings to bedcovers to cases and skins for your favorite electronic device. Check it all out right here.
I also currently have the following items available for auction on eBay through December 29 or until someone makes the highest bid (whichever comes first). There are no hidden reserve prices or anything like that and I have set relatively low minimum bids on these products.
Doll Couch Made From Recycled Dance Dance Revolution Pad
This is the same couch that I displayed at the 2014 Greenbelt Mini-Maker Faire and the 2014 DC Mini-Maker Faire. While this couch came from a pattern that was made for American Girl dolls, I found that it can also fit Mini Super Dollies and Ellowyne Wilde dolls as well. Bid on this couch right here.
Barbie Doll Customized as an Unbeatable Squirrel Girl Action Figure
I recently made a series of DIY videos on how to customize a Barbie doll (especially the Made to Move Barbie) into Marvel Comics' off-beat superhero known as the Unbeatable Squirrel Girl. I decided to sell the doll that was featured in that video series. I figured that anyone who is looking for a Squirrel Girl doll/action figure to give to someone else (especially a child) but doesn't have the time to customize a doll would want to buy her. I'm basically taking advantage of the fact that, as of this writing, there are no officially licensed dolls or action figures based on this character by making my own customized version available for sale. You can bid on my customized creation right here.
Knitted Fur Coat Made Especially For Barbie, Blythe, Pullip, and Other 1/6 Scale Dolls
I wrote about the making of this one a few days ago. I decided to put it up for sale. Keep in mind that this piece is hand-knitted (by me) using fur yarn so it's definitely not some cheaply made Third World sweatshop crap. I sewed hooks in the front so you can close it and keep it closed. It's perfect for people who are itching to dress their doll in something appropriate for this time of the year. Bid on this doll coat right here.
Knitted Outfit for American Girl Dolls and Other 18-Inch Dolls
Like the smaller knitted coat, I also wrote about this outfit in this blog recently. I decided to sell this one as well. This is a one of a kind outfit that was hand-knitted by me. I sewed snaps in the back instead of using velcro, which is convenient because you won't have to deal with the hassle of getting your doll's hair stuck every time you change into this outfit. (Even though most of the official American Girl outfits cost around $30, they still use velcro just like the manufacturers of cheaper doll outfits. If I was going to spend that much for doll clothes, I would expect something nicer than velcro.) Bid on this outfit right here.
In addition to my handcrafted stuff, I will also have a couple of other items available on eBay. I didn't make either one but I decided to list them here along with everything else.
Talking Donald Trump Action Figure
This is the same action figure which I gave as a gag gift for my then-husband sometime during the first or second season of The Apprentice, long before Donald Trump's foray into politics. I used this one in the video for my "Trump" poem back in 2011. Now that he's the president-elect, I'm going to see how much of a collector's item this doll really is. (If some hardcore Donald Trump fan wants to offer me a huge amount of money for it, I'm willing to accept the offer.) So if you're shopping for gift to give to someone who voted for Trump and is a true believer, here's your chance to surprise that person with an action figure that not only has realistic articulated joints but can also say phrases using The Donald's own voice. I made a video demonstrating the action figure's talking and posing capabilities.
Bid on the Talking Donald Trump Action Figure right here.
Card Set Featuring Reproductions of Vintage Betty Page Pinup Photos
The cards in this set are about the size of baseball trading cards. They all feature vintage photographs of 1950's pinup model Betty Page, who inexplicably underwent a popular revival in the 1980's (while many of her other 1950's female pinup contemporaries still remain in obscurity to this day) and she still remains a cult figure today with plenty of male admirers. I purchased this card set from a catalogue as a Christmas gift for my then-husband because I figured he would like it since he used to purchase the Sports Illustrated swimsuit issue each year. It turned out that I was wrong. He told me that Betty Page didn't really excite him all that much compared to Cindy Crawford or Paulina Porizkova. I think he only went through that card pack once or twice then left it alone. Of course he left it behind when he walked out on me five years ago this month. I tried donating it to the yard sale that was run by my support group for people who are separated or divorced by the organizers told me that I would be better off selling it on eBay because it might be a collector's item. So I'm selling it for very low minimum bid mainly because I just want to get rid of it. You can view a few sample pictures from this set and make your bids right here.
That's it for the auctions. I've set each one up so it'll be relisted two more times if I don't get any bids the first week. But the entire auction will end on December 29 regardless of whether I sell anything or not so don't delay and bid today!
In 2008 I underwent a hip replacement. Shortly before surgery I ordered a book from Amazon.com that was written by Nicky Epstein called Knits for Barbie Doll. When the book arrived I saw this pattern for a Funky "Fur" Coat that required using novelty fur yarn. I was especially intrigued by the photograph.
I went to Jo-Ann's Fabrics & Crafts where I purchased some blue fur yarn. Then I underwent the surgery. During the long months of recovery I spent a lot of time knitting that coat since it was the one thing that didn't require standing up or walking or any other kind of leg movement. I finished knitting the coat then I put it aside for a few years while I moved on to other things.
I would come across it every now and then. The coat was mostly done. All I needed to do was to sew on some hooks so the coat would close but I didn't get around to buying the hooks. Finally this past week I decided that, once and for all, I would finish that coat. I purchased the hooks and sewed them on the coat.
I took a few dolls outside to shoot pictures while each doll took a turn modeling this coat, starting with Barbie (which is fitting since the pattern was made with her in mind).
Here's my 1/6 scale Asian ball-jointed doll, a Soom Mini-Gem Uyoo, wearing the same coat.
The original coat pattern also had a separate pattern to knit a matching hat. I didn't make a hat because I wanted this coat to be worn by as many different kinds of dolls as possible and many of them have different sized heads. One such case is this Pullip doll, whose oversized hear could never have worn a Barbie-sized hat even though her body can fit into some Barbie outfits.
Last, but not least, here's my Blythe doll modeling the same coat.
I'm so glad that I finally finished that coat eight years after I started working on it. I even made a short promo video about it.
Previous in This Series
The First Video
The Second Video
The Third Video
The Fourth Video
Last week I uploaded the fourth and final video in my tutorial series on how to customize a Barbie doll (especially the Made to Move Barbie) into the Unbeatable Squirrel Girl, Marvel Comics' fun-loving superhero who has gotten a sizable following (especially among young girls). I'm only writing this post to let you know that I've made a YouTube playlist of all of the videos in that series. This is especially for those of you who prefer getting all of the videos in one sitting instead of gradually watching each separate video at different times. (The total run time of all four videos in this playlist is 30 minutes and 49 seconds.) Have fun with this one! 🙂
Previous in This Series
The First Video
The Second Video
The Third Video
For the past few weeks I've been uploading DIY tutorial videos showing how one can take a Barbie doll (especially the Made to Move Barbie) and customize her into the Unbeatable Squirrel Girl, Marvel Comics' fun-loving superhero who has gotten a sizable following (especially among young girls).
The first three videos focused on selecting the doll, changing her hairstyle, and sewing her clothes. By the end of the third video I had the doll about 80% finished. This last video goes into the steps that needed in order to finish this project. I made her felt boots from a pattern but I had to totally wing it when it came to the headband and squirrel tail since there were no such patterns available (especially for 1/6 scale dolls like Barbie).
The video shows how I did it while also going into how I managed to find a tiny squirrel as a stand-in for Squirrel Girl's closest squirrel companion, Tippy-Toe.
Here's the video. I'll provide links to the relevant sites below it.
ChellyWood.com's free felt boot pattern and instructions.
Like I wrote earlier, this video is the last one of the series. I'll end this post with a few photos of my new Unbeatable Squirrel Girl doll and her sidekick, Tippy-Toe.
Previous in This Series
The First Video
The Second Video
This is the third part of a four-part series on how to customize a Barbie doll (especially the Made to Move Barbies) into the Unbeatable Squirrel Girl, Marvel Comics' off-beat superhero who has gained a sizable following. The first video dealt with finding the right Barbie doll to customize into Squirrel Girl while the second dealt with changing her hairstyle in order to resemble Squirrel Girl's very short light red/strawberry blonde hair. This video gets into the real heart of this tutorial as it focuses on how to make the clothes. Here is a drawing of Squirrel Girl in her superhero costume.
I basically did a lot of searching for patterns and fabrics that would be appropriate for replicating that costume.  You can watch the video here. (I will put direct links to websites where you can get the patterns under the video.)
McCall's Pattern 8552 (This pattern isn't free but you can shop around both online and in brick and mortar stores to find the best bargain.)
By the time this video ended, I finished about 80% of the work needed to convert Barbie into Squirrel Girl.
I still had more work to do but I was starting to make real progress with this doll while I was making the video.
That's it for now. The next and final video will go into making her boots, making her headband, adding her tail, and even adding her squirrel companion, Tippy-Toe, so watch this blog.
Next in This Series
Previous in This Series
A few days ago I mentioned that I was working on a new series of DIY tutorials on how one can customize a Barbie doll (especially the Made to Move Barbies) into the Unbeatable Squirrel Girl, Marvel Comics' off-beat superhero who has gained a sizable following. I've just uploaded the second video in this series, which focuses on the hair. First here are a few words about the making of this video.
While most modern caucasian Barbies tend to have long blonde hair, the Unbeatable Squirrel Girl tends to wear a short boyish haircut that's light red or strawberry blonde, as shown on one of her comic book covers below.
I'll admit that it was a challenge but I took it on anyway. I managed to come up with two methods of altering Barbie's hairstyle—the wig method and the DIY method. I initially tried the DIY method, which involves cutting Barbie's hair then dyeing it red using a combination of acrylic paint and water. It's based on an old tutorial that I found online years ago. (I wrote a post about that tutorial back in 2011 and it still remains among my most frequently read posts to this very day.) When I learned that the website which housed that tutorial went off-line, I found an archived version on the Internet Archive and provided a link to that tutorial. Recently another doll customizer known as Oak23 has taken it upon himself to repost the original tutorial on his Doll Junk Tumblr blog so those who don't like dealing with the Internet Archive can go there instead.
I was hoping to save a few bucks by cutting Barbie's hair by doing the DIY method. I initially had to wash Barbie's hair before I could do anything because it felt stiff to the touch, like someone had put hair gel or some other stiffening substance in her hair back at the Chinese factory where this doll was made before she was packaged and shipped to the U.S. I had to wash her hair using liquid dishwashing detergent then let it dry before I could even begin to cut it. At least her washed hair felt softer but her hair was relatively thin compared to other Barbies I've worked with in the past. I began to cut her hair very short.
I tried dyeing her hair using the aforementioned process I found in an online tutorial. I have to admit that the results looked good on her. If I was just doing a generic redhead doll with a short haircut, she would've been very passable.
Unfortunately I was trying to get her to resemble the Unbeatable Squirrel Girl and that person is frequently depicted with bangs, such as this comic book cover below.
I tried creating bangs in this doll but, no matter how hard I tried, I literally couldn't make the short front ends of her hair hang in the front like bangs. I think it's due to how the doll's hair was initially rooted in the factory. I could've looked into trying to force the hair to go into bangs but I would've had to purchase something like hair gel, which would have her hair go back to having this icky feeling to the touch that her hair was initially when I first opened her package.
I decided to just scrap my DIY attempt and cut all of her hair off.
Then I ordered this wig from The Doll Peddlar, which not only fitted her perfectly but she looks incredibly cute as well.
Here is my video below where I not only demonstrate the hair dyeing method but I also mention how to find out what wig size your doll wears as well as the various online places where you can shop around for the best prices on doll wigs.
That's it for now. Next time I'll go into making the clothes for this doll so watch this blog.
Next in This Series