You are currently browsing the category archive for the '1/6 Scale Articulated Dolls' category.
Today is the day after Halloween and the first day of the two-day Mexican holiday known as El Día De Los Muertos (Day of the Dead). In addition, Inktober officially ended right on Halloween yesterday. I succeeded in drawing and uploading 31 ink drawings in 31 days from October 1-31. I finished Inktober at the same time as I ended up getting sick with this stomach flu where I constantly felt nauseous and I alternated between going through dry heaves and diarrhea. The fact that it also happened on the same day as Halloween totally sucks. I barely managed to get myself together enough to give out treats to the trick or treaters. Instead of going to a Halloween night party at a friend's house, I had to make an emergency run to Giant after the official trick or treat time ended just so I could pick up some medication and toilet paper.
Today I feel better in that the dry heaves and diarrhea has subsided and I feel mostly tired. I took a nap today and I'll probably go to bed early tonight so I can rest some more.
As I go over the drawings I did during the month, I realized that I could easily put them into certain categories (with many of those drawings falling under more than one category).
Animals: Penguin, panda bear, black cat, dinosaur, swan, pig, two former ride cars from the now-defunct Enchanted Forest amusement park shaped like a duckling and a swan, Willie the Whale, goat, and Zombie Dog.
Based on Dolls I Currently Own: Volks Dollfie Dream, Batgirl and Wonder Woman (with Donald Trump and by themselves).
Building: Crooked House.
Clark's Elioak Farm: Two former ride cars from the now-defunct Enchanted Forest shaped like a duckling and a swan, the Crooked House, Willie the Whale, goat.
Death Penalty: Guillotine.
Friday the 13th: Black cat.
Halloween/Day of the Dead: The Wicked Witch of the West from The Wizard of Oz, Goat Man, Zombie Dog, Day of the Dead skeleton, Frankenstein, Jack O'Lantern.
Hollywood Scandal: Harvey Weinstein.
My Own 100% Original Character: Zombie Dog.
Native American (For Indigenous Peoples Day a.k.a. Columbus Day): Wolf kachina.
Real People: Donald Trump with Jesus Christ, Donald Trump again (with Wonder Woman and Batgirl), Donald Trump yet again, Donald Trump one more time, Tom Petty, burlesque performer Reverend Valentine, Harvey Weinstein, my father-in-law, my mother (which also includes Elvis Presley), Madonna Girl Dale.
Religious-Related Drawings: Jesus Christ (with Donald Trump), Unitarian Universalist flaming chalice, wolf kachina.
People Who Celebrated a Birthday During Inktober: My mother.
People Who Died During Inktober: Tom Petty and my father-in-law.
Politics: Donald Trump with Jesus Christ, Donald Trump again (with Wonder Woman and Batgirl), Donald Trump yet again, Donald Trump one more time.
Relatives: My father-in-law and mother.
Superheroes: Batgirl and Wonder Woman together with Donald Trump and by themselves.
Supernatural Book/Movie Characters: The Wicked Witch of the West from The Wizard of Oz and Frankenstein.
Virtual Models from Figurosity.com: Woman running with a gun, woman dressed in psychedelic tye-dye outfit holding a gun.
The biggest challenge for me is that working on a new drawing a day then uploading it online to this blog and various social media sites took a portion of my time that I could've spent doing other things (such as doing house cleaning, putting up Halloween decorations, sending out a few more resumes). That was the main reason why I had quit a previous effort to do one new drawing per day starting on January 1, 2016 (which was a New Year's resolution). I think the reason why I was more successful at Inktober than my previous daily drawing effort last year was because I knew it was only for 31 days that I had to worry about doing a new drawing each day. After that I could draw as much or as little as I wanted.
Even though there was an official Inktober prompt list of one word for each different day, I was more interested in doing my own thing since this is the first year I participated in this. (Inktober has been going on since 2009.) I only used the official prompt list if I was stumped for inspiration. Now that I got my desire to draw whatever I wanted for Inktober out of my system, I'm thinking that if I was to do this again next year, I would discipline myself by sticking strictly with the prompt list. It would be a way to challenge myself, especially since I'm sure that there will be a word or two that will have me totally stumped at first.
The biggest benefit I got from Inktober is that I was able to learn which social media sites gave me the best exposure in terms of publicizing myself and my work. I uploaded my drawings to the current popular social media accounts (Facebook, Instagram, and Twitter) as well as other social media sites I haven't posted anything in a while. These sites used to be relatively popular until they were overshadowed by Facebook/Instagram/Twitter. I decided to upload to them because I wanted to see if I should still bother with them. I found that the absolute worst were Flickr and Google+ because I only got one "Like" on both platforms and that was it. Tumblr was hit or miss in that I got maybe one or two Notes (which is Tumblr's version of "Like") for some of my drawings but there were others that got zero Notes. (The one drawing that got the most attention was the one I did of Tom Petty and that one only got four Notes.) Minds, the open source alternative social media site, was just as hit or miss as Tumblr in that I got maybe one or two "Likes" on some drawings but others were totally ignored.
By far the best response I got was on this blog and Instagram. In fact I got new followers on both platforms because of Inktober. Twitter came in at a close second in that I also got new followers as well as retweets. Facebook was surprisingly more of a mixed-bag. While I got a better response than Flickr, Google+, Tumblr, and Minds combined, the response rate was lower than this blog, Instagram, and Twitter.
The one major social media site that I didn't use was LinkedIn because that one is more of a professional social media site and some of my drawings were either too political (such as the ones featuring Donald Trump) or the subject matter was one where I just didn't feel comfortable in posting there (such as the one about the Harvey Weinstein action figure). I've seen people get chewed out on LinkedIn for posting anything that was even remotely controversial (especially one that's political) and I'd rather avoid it since it's common knowledge that would-be employers tend to look you up on LinkedIn to see if you're someone they would even want to hire. I don't want to lose out on any potential opportunity because of some post I made there.
It was time consuming to upload the same drawing on so many different social media sites per day but at least I gained knowledge on which ones are worth investing my time in promoting myself in the future so it was worth it in the end.
I also learned that there is certain value in practicing drawing only for yourself because you'll never know when one of those drawings you've done have struck inspiration to do a regular art project based on what you've drawn. I'm thinking about doing a watercolor version of that swan I drew during Inktober because I really liked the results.
Another positive result of Inktober is that I discovered Figurosity.com and that site was valuable in providing virtual models for me to practice my drawing with. I plan to use that site for my drawing more often.
I also looked at other people's Inktober drawings on social media and I was amazed by the amount of creativity I saw there. There were a few people who did some really ambitious things for Inktober. I saw some people do two or more drawings per day, which I personally admired since I found it a challenge to do even one new drawing in a small sketchbook every single day. I saw one guy who was working on a graphic novel and he decided to use Inktober to draw and ink one new page per day. There was another person who decided to use Inktober do a large complex drawing where the person inked just one section of that drawing each day with the goal being that the large complex drawing would be completed on October 31.
The biggest challenge with Inktober is to maintain my enthusiasm for continuing with drawing one new drawing per day then uploading it online. The first few days I was very eager and enthusiastic. But then I came down with this nasty cold but I continued to work through that cold even though my body wanted to get more sleep so it can knock off those cold germs. After I got rid of that cold I began to gradually view the daily Inktober sketches more and more as some time-consuming daily chore instead of something that I was excited and enthusiastic about. Even though I tried to keep the designs relatively simple and I used a small sketchpad, I still found myself burning out towards the end. This was especially true when I wanted to put up Halloween decorations or go to some Halloween-related local event only to remind myself that I needed to make time for my daily Inktober drawings.
By the last week I went to Clark's Elioak Farm because I wanted to draw enough pencil sketches so I could just ink over them on the allotted day for the next few days. Then I spent one additional evening filling up my sketchbook with enough Halloween-themed pencil sketches to last me until the very end of the month.
But then I began to just burn out on even doing the ink over the pencil outlines, especially during that last weekend before Halloween. I started to partially-ink over more than one pencil sketch a day or two before the allotted date while leaving each one intentionally unfinished until the allotted date, when I would finish it so I could technically say that I did work on one new drawing per day each day during Inktober. One evening, about two nights before the end of Inktober, I used my free time to do the bulk of the inking on my scheduled drawings of the last two days while leaving just a small area of each drawing unfinished so I could spend less than 15 minutes completing each drawing on the allotted day.
I did it this way because I grew tired of spending anywhere from a half-an-hour to a full hour working on each new drawing then spending additional time photographing my drawing then uploading it on my various social media accounts. You may think that I was cheating but I don't care. If I hadn't done something like this, I would've grown so tired of spending a chunk of time on my Inktober sketch that I would've quit just days before October 31.
Right now I'm typing this in the early days of NaNoWriMo, which is something similar to Inktober where you spend every day in November writing your novel. I've read about people who are doing NaNoWriMo but I'm definitely not taking part in this. Spending time each day doing Inktober was enough for me without having to go from doing daily Inktober drawings in October to writing daily NaNoWriMo prose in November.
Now that Inktober is over, I'm going to take some time off from drawing on a daily basis because I have other things in my life that I need to focus on (such as the upcoming winter holidays in December). Ultimately I'm going to try doing a new drawing in my sketchbook at least once a month. I would do this by just working on that drawing in blocks of 15 minutes on a given day (and that would be only if I had extra time available for me to do such a drawing). I would keep on working on the same drawing, 15 minutes at a time and one day at a time, until I'm finished. Basically I want to practice my drawing but on a more leisurely schedule where I can balance that with other activities that require my attention at the same time.
Of course only time will tell whether I actually achieve this. (LOL!) But I'm willing to at least give it a try.
Here are a few things I would advise a person who's thinking about doing either Inktober next year or simply wants to devote a different month to doing one drawing per day (such as December or March or June):
1. Don't obsess too much about drawing supplies. I know the official Inktober site has a list of recommended supplies but some of these supplies (such as Micron pens) can be pretty expensive to those on a tight budget. If you can't afford the recommended Inktober supplies, don't fret. Just go with cheaper supplies instead. I did my Inktober drawings using a cheap pack of multicolored Paper Mate InkJoy pens that I purchased at Target for only $10. And I wasn't the only one who didn't use the best supplies either. I saw quite a few Inktober drawings that were done only with the cheap disposable blue ink Bic ballpoint pens and I found them to be just as interesting and well-done as the ones that were used with the more expensive pens. As for drawing paper, I would recommend shopping around because sometimes you can find the best bargains. Here's one example: I've seen 9" x 12" (23 cm x 30 cm) sketchbook drawing pads on sale at my local Five Below store for only $5.
2. Use a small sketchbook that's no bigger than 9" x 12" (23 cm x 30 cm). Not only will you fill up the page faster than with a larger sketchbook but a smaller sketchbook is more portable. I did my Inktober drawings using a 4" x 6" (10 cm x 15 cm) sketchbook. When I decided to travel to Clark's Elioak Farm to do some more Inktober drawings, all I had to do was to put my sketchbook (along with my pens and pencils) in my purse and I was good to go. Heck, I saw some Inktober sketches online that were drawn on Post-It Notes.
3. If you can, try setting aside a certain time each day to work on your Inktober sketch. It could be when you wake up the first thing in the morning or after dinner or whenever. If you can't commit to the same time every day, then just take advantage of whatever free time suddenly materializes to do your drawings. I've seen people admit that they did their Inktober sketches while riding public transportation on the way to or from their day jobs. I've even seen people admit that they did their drawings on the sly while being forced to sit in on a boring lecture at school or they took advantage of some downtime at work. Just do whatever works for you.
4. The one thing about Inktober I learned is that you can do some advance drawings in pencil as long as you wait until the designated day to do the final inking. In fact, I learned that this year's official Inktober prompt list was put online two weeks before the month began so one could have the luxury to decide what he/she wanted to draw on the designated day and even do a rough sketch in pencil. I took advantage of this policy towards the end of the month when I began to burn out on doing a new drawing every day and I was in danger of quitting before the month was over. What I did was to go to Clark's Elioak Farm, where I finished one new drawing in ink but I did other unfinished drawings in pencil that I could finish in ink over the next few days. By the time I finished that series, it was close to Halloween so I spent one evening just doing a pencil drawing of Madonna Girl Dale (who usually wears a costume in public all year round) followed by pencil drawings of traditional Halloween and Day of the Dead figures until the 31st drawing of the month. So I spent the last week of Inktober just coloring in one previously made pencil drawing in ink per day until I reached the last drawing on Halloween.
5. If you hit a rough patch where you really can't focus on doing any complicated detailed drawings or you don't have a lot of time to do anything too complex, just do a simple drawing that you can easily finish in 30 minutes or less. I experienced this challenge earlier this month when I came down with this horrible cold that literally left me feeling very weak and tired all the time. For those days I decided to do simple drawings of a penguin and a panda bear because those animals were relatively easy for me to draw quickly before I felt tired enough to take another nap. As an added bonus, those two drawings were basically black and white drawings so I didn't have to do much thinking while I drew them. I also didn't bother with drawing backgrounds because that would've been more time-consuming and I didn't feel wide awake enough to draw something that would've been more complex.
6. Don't be a perfectionist about your drawing. The whole purpose of Inktober is to practice your drawing, not focusing on being the next Rembrandt or Keith Haring. The idea is to do a quick drawing that can be done in a small part of your day.
7. Don't be afraid of posting your drawings online, even if you personally feel less than enthusiastic about your latest drawing. I found that people tended to be really nice towards those who posted their Inktober drawings and many of them gave positive feedback. I personally didn't encounter any cyberbullying in the month that I posted my Inktober drawings online. Just post your drawing online even if you personally don't like it because there will be people who will like it better than you do.
Well, that's it for Inktober 2017. I'll end this post with a couple of embedded things in case you've missed some or all of the Inktober drawings I've been uploading over the past month. One is a YouTube video that includes some catchy background music.
If you prefer to view the pictures at your own pace without background music, you can view my Flickr album instead.
On the Saturday during the Fourth of July holiday weekend, I decided to check out this toy show that was being held at the Maryland State Fairgrounds.
It was such a feast for the eyes as the toys and various other vintage items were displayed at various vendor tables. The whole show took on the air of a flea market with an emphasis on vintage stuff dating anywhere from the 1900s to the 1990s.
Someone had a jukebox for sale, which reminded me of my childhood when many of the local restaurants had them and people could choose songs to play for about a quarter each.
The jukebox played music during the entire event. (Which proved that it definitely still worked.) I couldn't help taking pictures of the songs that were available on the jukebox. The majority of them were hits when I was a kid.
And speaking of music players, here's a vintage 8-track player with an Elvis Presley 8-track tape. I once had a stereo system that included an 8-track player but I never owned one like that. But I could've sworn that one of my friends or maybe one of my cousins had a player just like that but I don't know for sure. (Memory is one of those funny things where you remember something but you don't remember when, where, or how you remember it.)
Late last year I did a series of blog posts with accompanying photos known as A Tabletop Christmas (so-named because I limit my Christmas decorating to just a single tabletop in my living room). Among the items I showed off was a small plastic Santa Claus puppet that I've had since I was a child. I didn't know anything about the origins of this puppet. It wasn't until I went to the toy show when I saw a tiny plastic Santa puppet on sale that's identical to mine.
The only difference between the two is that this Santa still had its label at the base while mine doesn't have any labels at all. (I suspect that whatever label it had must've fallen off a long time ago.) My Santa puppet is currently stored in a box with the other Christmas decorations in the attic but here's a picture of my Santa puppet that I took last December.
At first I thought the animal in the next picture was a stuffed animal until I saw the dog move his eyes around. He laid there the entire time I was at that show.
This show also had examples of how the mighty had fallen. I found this book by disgraced former Fox News talk show host Bill O'Reilly on sale for only $1 at one of the tables. (LOL!)
There was one token of something new that I found. Someone was selling glow-in-the-dark versions of the hottest toy of 2017: Fidget Spinners.
By the way, you can check out a video I shot recently where I unboxed and played with one of those Fidget Spinners for the first time (and, no, the one I bought didn't glow in the dark).
Everywhere there were visual treats, many of which harkened back to my own youth.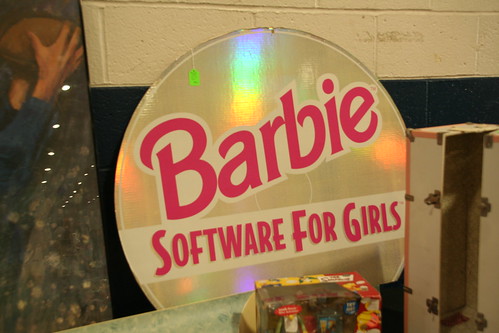 As I was walking back to the light rail stop I shot this photo of The Cow Palace building because it had a nice small garden.
I didn't buy a lot of stuff at that toy show due mainly to tight finances. But I managed to snag a couple of things at bargain rates. I found the second season of The Simpsons DVD set for only $6.
I bought a Monster High doll for only $5. I was attracted to her pretty winter-themed clothes. At first I thought I may have purchased a relative of The Snow Queen until I did an online search and I was able to make a definite identification. Based on this web page, her name is Abbey Bominable and she's described as the 16-year-old daughter of the Yeti.
Here's a closeup of her hair, which looks like it has glittery plastic pellets weaved throughout the strands. It gives a really cool ice/snow effect, especially when the light reflects off of her hair.
As everybody knows, today is Inauguration Day where Donald Trump gets officially sworn in as the 45th President of the United States. Rather than focus on that event, I'd rather talk about dolls instead.
First of all, I want to announce that I no longer own the Talking Donald Trump Action Figure.
I sold it last month on eBay. When I first purchased it years ago (which was sometime during either the first or second season of The Apprentice), I bought it as a gag gift for my then-husband. We both became hooked on that show because it was so hilarious and campy to watch. (This was a guy who was giving business advice on that show despite the fact that he had gone through multiple bankruptcies.) I figured that it was no big deal to buy a doll/action figure based on someone who was basically a buffoon but was essentially harmless as far as I was concerned. (Granted he wasn't harmless to anyone who actually did business with him but to everyone else who had nothing to do with that guy, he was harmless.)
When my husband left me, he left the doll behind. It was no big deal because he was only 12 inches tall so I kept him among the other small dolls I own (such as Barbie, Volks Dollie Plus, Monster High and, Ever After High).
But then there was the initial flirtation of running for president back in 2011 and he did so by catering to the birthers who were questioning President Obama's U.S. citizenship and contending that he was really born in Kenya. I felt that what he did was so reprehensible that I no longer could stand to watch his reality show after he decided against running and just continue with his reality TV career. I also began to ignore the doll. I would press the button in his back to hear him speak every now and then but I basically didn't bother with it much.
When Trump decided to really run in the 2016 elections while saying horrible things that were racist, sexist, and anti-Islamic, I began to rue the day I actually bought that action figure as a gag gift. I finally decided to sell the doll on eBay because I just didn't want it around my house anymore. I like dolls that make me feel happy and put me in a good mood and that Donald Trump action figure made me feel the opposite. I didn't get a lot of money for the doll (I only had one bidder who was willing to pay the $20 minimum bid and I didn't get that bid until the third and final week that I ran the auction) but I felt relieved to finally get it out of my house.
At least I'll have these two videos to remember the doll by. The first is my "Trump" poem that I wrote for a local poetry reading event in 2011 and I later made a video featuring the Donald Trump doll. The other is my demonstration video of the Donald Trump doll that I made when I was preparing to sell it on eBay.
Now I'm going to switch gears a bit and talk some more about some other dolls that I have.
I recently came across this campaign on Instagram, known as #westandwithalldolls, where American Girl doll owners were urged to post pictures of their dolls (especially dolls of color) in solidarity with all women and minorities who are currently being maligned and even attacked by Donald Trump and his supporters. I chipped in with the cause by uploading pictures of my three American Girl dolls.
First, here's Addy Walker holding a sign this quote from Martin Luther King.
"Again we have deluded ourselves into believing the myth that capitalism grew and prospered out of the Protestant ethic of hard work and sacrifice. The fact is that capitalism was built on the exploitation and suffering of black slaves and continues to thrive on the exploitation of the poor, both black and white, both here and abroad."
Here's Ivy Ling holding a sign with this quote from Confucius.
"To put the world right in order, we must put the nation in order; to put the nation in order, we must first put the family in order; to put the family in order, we must first cultivate our personal life; we must first set our hearts right."
Even though the #westandwithalldolls campaign specifically requested that everyone post pictures of dolls of color, I decided to use my one white American Girl doll, Julie Albright, because I found this one quote from the late Frank Zappa that pretty much says it all about race relations, especially among whites who aren't bigoted towards people of color or anyone else who's different from them.
"Hey, you know something people? I'm not black. But there's a whole lots of times I wish I could say I'm not white."
I got that quote from the lyrics to the song "Trouble Every Day," whose video you can watch below.
Here's one group photo of all three of my dolls with their signs.
If you want to contribute to that Instagram campaign, or see all the photos that have been uploaded so far, check out the hashtag #westandwithalldolls.

Every day I hear news about Donald Trump and they become more horrifying by the day. From his cabinet choices (such as appointing Rick Perry head of an agency that he once called for its abolishment) to Trump's refusal to read the daily intelligence briefings on the grounds that "I'm, like, a smart person", it is so obvious that he is the one person who had no business of ever running for president in the first place—let alone finding people who were willing to vote for him. Donald Trump is the first president-elect in history who has no prior political or military experience. If all that weren't enough, there are already divisions within Trump's organization and the man hasn't even taken office yet.
Donald Trump can't take the time to read the daily intelligence briefings yet he can find the time to meet with people like Kanye West and Anna Wintour. He also finds the time to complain on Twitter about Alec Baldwin impersonating him on Saturday Night Live.
There have long been accusations of Trump being too cozy with Russian leader Vladimir Putin. Now there are accusations that Russian hackers may have somehow thrown the election to Donald Trump. These allegations are so serious that members of the Electoral College are demanding to see the evidence before they go to their scheduled meeting on December 19 to give the final vote on who will become the next President of the United States.
I don't even know what to think anymore, other than the fact that I agree with the headline of this article that appeared in Teen Vogue (of all places): Donald Trump Is Gaslighting America. I am especially worried because I live pretty close to Washington, DC so I have a bird's eye view of whatever fuckery will come down. Donald Trump is making me feel nostalgic for George W. Bush—and I thought Dubya was the worst president ever. If Donald Trump actually makes it to the White House (and that's a big "IF"), I don't know if the United States of America as I've known it all my life will survive. I'm especially not heartened by Trump's history of multiple bankruptcies and his numerous failed companies.
By the way, I read this interesting article on Politico.com on how Hillary Clinton's campaign totally blew the election by ignoring working class areas like Michigan. I still maintain that if the Democratic National Committee hadn't gone out of its way to deny Bernie Sanders the nomination, Donald Trump would be going back to being a full-time celebrity pretending to be a real estate developer working in Trump Tower.
Thanks for nothing, DNC!
It's that time of the year where people are crowding the shopping malls in an effort to buy gifts for Christmas, Hanukkah, or Kwanzaa. Instead of fighting surly drivers for a parking space, how about staying home and buying some unique things from me? Here is what I'm highlighting for sale this holiday season.
Do you like adult coloring books? Looking for something different from the usual ones that are currently on the market? For some NSFW fun, try my adult coloring book, Burlesque Beauties, which definitely puts the "adult" in adult coloring book.
Purchase Burlesque Beauties right here.
When I originally created my first (and, so far, only) item for my new RedBubble shop, President Trump, I honestly thought that it would be something that was going to be hot for a limited time until Election Day then it would be obsolete. Thanks to the outcome of those elections, it looks like my President Trump line will be hip and relevant for at least the next four years (unless he somehow gets impeached or killed).
You can buy this design on a variety of products ranging from leggings to bedcovers to cases and skins for your favorite electronic device. Check it all out right here.
I also currently have the following items available for auction on eBay through December 29 or until someone makes the highest bid (whichever comes first). There are no hidden reserve prices or anything like that and I have set relatively low minimum bids on these products.
Doll Couch Made From Recycled Dance Dance Revolution Pad
This is the same couch that I displayed at the 2014 Greenbelt Mini-Maker Faire and the 2014 DC Mini-Maker Faire. While this couch came from a pattern that was made for American Girl dolls, I found that it can also fit Mini Super Dollies and Ellowyne Wilde dolls as well. Bid on this couch right here.
Barbie Doll Customized as an Unbeatable Squirrel Girl Action Figure
I recently made a series of DIY videos on how to customize a Barbie doll (especially the Made to Move Barbie) into Marvel Comics' off-beat superhero known as the Unbeatable Squirrel Girl. I decided to sell the doll that was featured in that video series. I figured that anyone who is looking for a Squirrel Girl doll/action figure to give to someone else (especially a child) but doesn't have the time to customize a doll would want to buy her. I'm basically taking advantage of the fact that, as of this writing, there are no officially licensed dolls or action figures based on this character by making my own customized version available for sale. You can bid on my customized creation right here.
Knitted Fur Coat Made Especially For Barbie, Blythe, Pullip, and Other 1/6 Scale Dolls
I wrote about the making of this one a few days ago. I decided to put it up for sale. Keep in mind that this piece is hand-knitted (by me) using fur yarn so it's definitely not some cheaply made Third World sweatshop crap. I sewed hooks in the front so you can close it and keep it closed. It's perfect for people who are itching to dress their doll in something appropriate for this time of the year. Bid on this doll coat right here.
Knitted Outfit for American Girl Dolls and Other 18-Inch Dolls
Like the smaller knitted coat, I also wrote about this outfit in this blog recently. I decided to sell this one as well. This is a one of a kind outfit that was hand-knitted by me. I sewed snaps in the back instead of using velcro, which is convenient because you won't have to deal with the hassle of getting your doll's hair stuck every time you change into this outfit. (Even though most of the official American Girl outfits cost around $30, they still use velcro just like the manufacturers of cheaper doll outfits. If I was going to spend that much for doll clothes, I would expect something nicer than velcro.) Bid on this outfit right here.
In addition to my handcrafted stuff, I will also have a couple of other items available on eBay. I didn't make either one but I decided to list them here along with everything else.
Talking Donald Trump Action Figure
This is the same action figure which I gave as a gag gift for my then-husband sometime during the first or second season of The Apprentice, long before Donald Trump's foray into politics. I used this one in the video for my "Trump" poem back in 2011. Now that he's the president-elect, I'm going to see how much of a collector's item this doll really is. (If some hardcore Donald Trump fan wants to offer me a huge amount of money for it, I'm willing to accept the offer.) So if you're shopping for gift to give to someone who voted for Trump and is a true believer, here's your chance to surprise that person with an action figure that not only has realistic articulated joints but can also say phrases using The Donald's own voice. I made a video demonstrating the action figure's talking and posing capabilities.
Bid on the Talking Donald Trump Action Figure right here.
Card Set Featuring Reproductions of Vintage Betty Page Pinup Photos
The cards in this set are about the size of baseball trading cards. They all feature vintage photographs of 1950's pinup model Betty Page, who inexplicably underwent a popular revival in the 1980's (while many of her other 1950's female pinup contemporaries still remain in obscurity to this day) and she still remains a cult figure today with plenty of male admirers. I purchased this card set from a catalogue as a Christmas gift for my then-husband because I figured he would like it since he used to purchase the Sports Illustrated swimsuit issue each year. It turned out that I was wrong. He told me that Betty Page didn't really excite him all that much compared to Cindy Crawford or Paulina Porizkova. I think he only went through that card pack once or twice then left it alone. Of course he left it behind when he walked out on me five years ago this month. I tried donating it to the yard sale that was run by my support group for people who are separated or divorced by the organizers told me that I would be better off selling it on eBay because it might be a collector's item. So I'm selling it for very low minimum bid mainly because I just want to get rid of it. You can view a few sample pictures from this set and make your bids right here.
That's it for the auctions. I've set each one up so it'll be relisted two more times if I don't get any bids the first week. But the entire auction will end on December 29 regardless of whether I sell anything or not so don't delay and bid today!
I found this action figure in a local Staples of all places several years ago. I purchased it as a gag gift for my then-husband sometime during the first or second season of The Apprentice (which would've been around 2004 or 2005). I had no idea that one day he would actually run for president, much less even fathom the idea that one day he would really become the president-elect. (If only I had a time machine, I would've gone back to my past self and tell myself to either keep the doll in the box or purchase a second doll and leave that one in the box. I would go to great lengths to tell my past self that having a boxed doll will be really valuable one day even if my past self would probably laugh at the absurd-sounding idea of Donald Trump actually being elected President of the United States.)
My husband and I took him out of the box and we discarded the box. We both laughed as we pushed the button on the back and listened to him say stuff like "You're fired!" and "Have an ego. There's nothing wrong with ego."
A few years later I wrote a poem called "Trump." This was back in 2011 when Donald Trump was hinting that he would run for president. I performed it live on Poetry Night a few times at a local cafe and it got a lot of laughs each time I did this. Later that year I did a video version of it where I used that talking Donald Trump action figure.
When my husband left me in late 2011, he left the action figure behind. A few days ago I finally got around to making a video that demonstrates both his talking abilities and his articulated joints. (He is able to achieve relatively realistic poses because he has joints at the neck, shoulders, arms, wrists, leg, knees, and ankles.) Here's the video below. Have fun with this one!
Yes I've written in the past about how I decided to cast my vote for Jill Stein of the Green Party. I had no illusion that she would win. I was hoping that she would get at least 5% of the votes so the Greens could get federal funding and actually build a real political party complete with Green candidates running for state and local elections. I was hoping that, further down the road, there would eventually be a real political alternative to both Democrats and Republicans. The main reason why I decided on Stein is that I really disliked both Hillary Clinton and Donald Trump and I felt that the Green Party platform was the one that best resonated with me and my personal values.
Ever since Election Day I've been reading messages on social media where people are blaming Jill Stein's supporters for Clinton's defeat. The argument is that Jill Stein had siphoned voters away from Hillary Clinton and Clinton would've won had Stein not continued with her campaign all the way to Election Day.
The only thing wrong with that argument is that it's false. Pointing the blame finger at Jill Stein voters like myself is the wrong thing to do, especially since Stein ended up getting only 1% of the vote, which means that the Green Party won't get federal funds after all. You are barking up the wrong tree when you blame Jill Stein voters for President Donald Trump.
So don't you DARE blame Jill Stein voters for the Tuesday night debacle. If you need to blame someone, blame the fact that the Democratic National Committee decided to ignore polls that consistently said that Bernie Sanders was the one candidate who could defeat Donald Trump and went to great lengths—both legal and illegal—to make sure that their chosen one, Hillary Clinton, got the nomination instead. I wrote at length about this yesterday so I'm not going to elaborate any further but I highly recommend reading this article, which fully documents the extent of the corruption within the DNC.
Blame the fact that Hillary Clinton has long been considered to be one of the most detested politicians for reasons that have less to do with sexism and more for the fact that she and her husband Bill have been involved in one scandal after another. It's no wonder voters decided that they would rather take their chances on a celebrity who has never held public office before than someone with a long history of corruption.
Blame the fact that Hillary Clinton was a lackluster campaigner (which I also wrote about yesterday) who felt that she could just coast on name recognition and the fact that she's a woman to get women voters to automatically vote for her because she would be the first female president. This morning I read this Guardian article about how many Donald Trump voters were women who voted for him despite his infamous "grab them by the pussy" comment and the numerous sexual assault allegations against him because they simply did not like Clinton.
Blame the fact that Hillary Clinton got more of the popular vote than Donald Trump but, thanks to the outdated Electoral College that was put in place by the original Founding Fathers to prevent rule by popular vote, Donald Trump got more of the electoral votes so he reached that mythical 270 electoral votes that he needed to win. (Personally I think the Electoral College needs to go the way of the dodo bird in favor of a straight popular vote but that's another rant altogether.)
Blame the fact that Donald Trump (along with Bernie Sanders) was among the few candidates who actually talked about jobs leaving the United States and being shipped to Third World countries and he even said that he was against the proposed TPP. That resonated among workers who are still angry that Hillary's husband and former President Bill Clinton had signed NAFTA, which accelerated these jobs being shipped overseas, and the fact that Hillary had selected as her vice president, Tim Kaine, who is pro-TPP (which as been described as "NAFTA on Steroids").
Blame the fact that, sadly, there are still plenty of white racists whom Donald Trump catered to by talking about Mexican rapists, the threat of taco trucks being parked on every street corner, and Islamic terrorists. These white racists are willing to blame non-white immigrants for the bad economy instead of corporations outsourcing jobs overseas and Wall Street people tanking the economy back in 2008 and they were willing to vote for a man with a history of multiple bankruptcies because he literally spoke their language.
Blame the fact that people are weary of political nepotism after recent memories of suffering through eight years of George W. Bush (the son of President George H.W. Bush) and they simply did not wish to vote for the wife of a former president.
Blame the fact that 46% of eligible voters didn't even bother to vote this year.
Blame the corporate-owned mainstream media, which did shenanigans like the Associated Press declaring that Hillary Clinton was already the Democratic nominee just hours before the primary polls opened in California and the rest of the media widely circulated that AP story, which literally discouraged would-be Sanders voters from even bothering with voting. If that weren't enough, the corporate-owned mainstream media was so dazzled by Donald Trump that they literally gave him more free air time than all of the other candidates combined (including Republicans, Democrats, and third parties) while not questioning some of the more problematic parts of his campaign pledges (such as building a wall along the border with Mexico and forcing Mexico to pay for it). The media treated Donald Trump's campaign like it was some kind of extra-special extended episode of The Apprentice at the expense of actually providing serious coverage (including a deep discussion of the issues) so voters would be informed enough to vote for a candidate based on the issues instead of being a big celebrity. Jeff Jarvis discusses the media's complicity in elevating Donald Trump from fringe candidate to president in this article, which I recommend reading.
You can blame any or all of the above for the election of President Donald Trump. But don't you DARE blame Jill Stein voters for Hillary Clinton's defeat.
A few days ago I made what I thought was a funny video where I had a Talking Donald Trump Action Figure (which I originally gave my then-husband as a gag gift years ago during either the first or second season of The Apprentice) stand in front of the mirror. I activated his talking button a few times while I filmed it with a smartphone. Then I brought it into iMovie where I edited it to make it look like the action figure was talking to his reflection as he said stuff like "I have no choice but to tell you 'You're fired!'", "You really think you're a good leader. I don't!", and "I should fire myself just for having you around. This one's easy for me: You're fired!"
I was inspired to make it because I read polls that said that it would be a close race but Hillary Clinton would ultimately emerge as a victor. It didn't take long to make and I edited the video down to less than a minute. My original plan for Election Night after the polls closed was to go to the local movie theater with my laptop, which was providing free admission to its PBS broadcast of the election results on the big screen around 9 p.m., watch the proceedings for about an hour or so, wait until Hillary was so far ahead in the electoral results that there was no way that The Donald could ever win, then run outside to the STEM center located next door (which would've been closed for the day but it offers free wifi 24 hours a day), sit at one of the outdoor tables, brave the dark November cold as I upload that video on YouTube, Facebook, and Instagram, then head home.
As I watched the proceedings and saw that Trump was ahead and stayed ahead, I knew that there was no way that I could upload that video last night. I would've risked having that video being the modern-day online equivalent of the infamous "Dewey Defeats Truman" photo and I would've ended up being a total laughingstock online. (And that's not to mention that I probably would've been attacked online by pro-Trump trolls that would be way similar to the Gamergate incident.) I just sat there in the theater and watched as Trump raced ahead only to have Clinton make some gains but they weren't enough to pass him. It was so surreal to see. I remember the audience laughed when one of the PBS anchors announced that a website set up by the Canadian government on how to legally emigrate to Canada had crashed.
Unfortunately there were a few states that were still up in the air when the theater cut off the broadcast around midnight and announced that they were closing.
So I went straight home after midnight. I was finishing doing the last bit of laundry when I made the mistake of getting on Facebook and I read all kinds of posts from people who were expressing all kinds of drama stemming from the election results. As a result of reading all those posts, I didn't get to bed until it was nearly 1:30 in the morning.
As I went to sleep I still had hope that Hillary Clinton would've barely won and I could still upload that video. But then I turned on my smartphone and saw all of those push notifications that we now have a President Trump and I knew right then that there is no way that video I made could ever see the light of day. My only consolation is that I didn't put too much work into it, I made it pretty quickly, and it was a short 59-second video. I ended up deleting that video.
I've been reading Facebook and Twitter and I've seen all sorts of finger-pointing being made. I'm going to briefly give my opinions as to why I feel that Hillary Clinton deserved to lose and the Democratic National Committee brought this upon themselves.
1. Every single poll that was made during the primaries said that Bernie Sanders was the one candidate who had the best chance of defeating Donald Trump. Despite that, the DNC, under Debbie Wasserman Schultz's leadership, was determined to make Hillary Clinton the nominee against the will of the voters. Debbie Wasserman Schultz did all sorts of things like cutting the number of debates and scheduling them at odd times (such as one that took place just days before Christmas). There were reports of voter irregularities in a number of state primaries as well as the hiring of professional trolls who wrote pro-Hillary comments on social media and picked fights with anyone who disagreed with Hillary for any reason. The DNC went through great lengths to make Hillary Clinton the nominee and shove her down the voters' throats only to have it blow up in their faces. If Debbie Wasserman Schultz was the coach of a professional sports team who kept on fielding the weakest player in a game instead of the best player and, as a result, the team kept on losing game after game, she would've been fired by the higher-ups.
2. Hillary Clinton was a lackluster campaigner. After she got the nomination she kept on saying that people should vote for her because she's not Trump. During the first debate that I saw, she kept on saying that people should go online and view her website for details about her policy positions. I can't even recall an instance where she said what she would do for the American people if she got elected in terms of what programs she would like to implement or how she would help marginalized groups. Consider this: a presidential debate is basically like a job interview on steroids. You have to sell yourself on what you can do for the company that's hiring and how they can benefit from your experience and expertise. Except the "company" in question is the United States of America and the people doing the "hiring" are the voters. If I was in a job interview where I only told the interviewer that he/she should go online to look at this blog (which you're currently viewing) if he/she wants to learn more about me and I deserve to get the job because I'm not like the other candidates who are also vying for that same job, I would've been eliminated immediately.
3. Hillary Clinton's past came back to not only haunt her but to also bite her in her pantsuited ass. It wasn't just Benghazi or Whitewater or overlooking her husband's affair with a White House intern named Monica Lewinsky. It was also her past comments like how people of color needed to be "brought to heel" that she never explained, repudiated, or even apologized for—thus alienating her from potential voters.
4. Hillary Clinton ignored the plight of working class voters who saw their jobs getting shipped to Mexico, China, and other Third World countries as a result of her husband's pro-NAFTA policies. I saw the pro-Hillary people say on social media that it's not fair to bring up her husband's policies while he was president because he wasn't running for office in 2016. Granted that's true but it's also true that Hillary Clinton was married to Bill Clinton while he signed NAFTA and not once did she say anything on the campaign trail where she indicated that she now regrets what her husband did or even if she would pursue any policies that would bring well-paying jobs back to the U.S. and/or provide training or funding that would lead to the creation of new industries that would provide new jobs for the working class. Donald Trump reached out to those disaffected working class voters and that's why they voted for him.
5. Hillary Clinton remains one of the most detested politicians in the U.S. The late political blogger Steve Gilliard said this back in 2007 and it remains true today. She seemed to either have no realization that people really dislike her so much or she refused to face that fact. Nor did she do anything to address what she could do to reach out to those voters who are turned off by her. Her supporters say that it's due to sexism and I know that it's true to a certain extent. But she is disliked in ways that other female Democratic politicians simply aren't (such as Tulsi Gabbard and Tammy Duckworth) and a lot of it is due to the numerous scandals that have swirled constantly around her and Bill for decades.
6. Hillary Clinton lost the 2008 primaries to Barack Obama but she was undeterred by that loss because she was so determined to become the first woman president at all costs. She got her friend Debbie Wasserman Schultz to use her DNC chair job to do whatever it took to give her the nomination. If those persistent rumors that Bill Clinton had asked his friend Donald Trump to run as a Republican in an effort to throw the election to Hillary are true, then she deserved to lose. (While those rumors can't be 100% confirmed, this leaked email confirmed that the Clintons were hoping to cultivate so-called "Pied Piper candidates" who would run as Republicans, inflict damage to the Republican Party while encouraging voters to choose Hillary Clinton instead. The only silver lining to yesterday's election is that this "Pied Piper" strategy literally blew up in Hillary Clinton's face.)
7. There were the really expensive fundraising dinners held at the homes of rich people, such as the one that was held by George and Amal Clooney at the home of venture capitalist Sherwin Pishevar, that she attended that only further alienated the less deep-pocketed 99% and led them to believe that they matter less to her because they aren't rich.
8. She could've reached out to dissatisfied Bernie Sanders voters by giving the vice president slot to either Sanders or Elizabeth Warren. Instead she gave that slot to Tim Kaine, who is pro-TPP, which has not only alienated Sanders supporters but also working class people whose jobs have been lost due to NAFTA and the TPP promises to deliver more of the same. (The TPP has been described as "NAFTA on steroids".)
9. There are her close ties to Wall Street, including those who tanked the economy in 2008. I remember during one of the Democratic debates against Bernie Sanders, while Sanders said that he would actively prosecute those Wall Streeters who were instrumental in tanking the economy, Hillary Clinton only said that she would simply tell them to "cut it out." The fact that she had refused to make her paid speeches to Goldman-Sachs public made a lot of people wonder if she had something to hide.
10. Then there is the issue of nepotism. Last year I wrote about why the media's clamoring for a rematch of the 1992 Bush vs. Clinton election was bad for American democracy because it favored only people who were related to a former president, cuts out a lot of other very capable people who would've made good presidents because they aren't related to a former or current president, and it's bad overall for democracy. The American people had already gone through dealing with the son of a former president (George W. Bush) who was a major disaster in many ways and they were asked to elect the wife of a former president (Bill Clinton) who has a history of scandals. It's no wonder why so many Americans said "Thanks, but no thanks" and decided that they'd rather take their chances on a rich celebrity with a history of multiple bankruptcies who has never held public office before and who is not related to a president.
In a nutshell, the DNC and Hillary Clinton had no one to blame but themselves for this debacle. It's the main reason why I don't regret joining the #DEMEXIT movement and I'm now registered as an independent.
The stock markets all over the world are going down because of the election of President Donald Trump. (Oh, man, I have to get used to saying it. Ugh!) The weather outside is raining as I'm typing this the day after Election Day. Sometimes it feels like they are tears from heaven over what happened. Tonight my Unitarian Universalist congregation is holding a special meeting for people to express what the hell happened last night and how we as a community could respond to it. I'm going to go mainly because I feel this need to commiserate with other people right now.
Yesterday I decided to check out a new hotel that has Donald Trump's name on it the day before Election Day. I'll admit that I was curious as to what it looked like. I've been to the Trump Tower building in New York City and I remember it was incredibly over the top. The lobby had this large waterfall that was cascading down a tall wall of pink marble. Plus there were these huge chandeliers and gold fixtures. I've always thought that it was tacky.
The new hotel is located in the historic Old Post Office Building. I used to go there a lot back in the day when the historic building was originally converted to a shopping mall and food court known as the Old Post Office Pavilion. I would go there a few times a year. I remember the stores were a bit pricey but I could usually find something affordable to eat in the food court. I remember there was a stand that had nothing but wind-up toys and there were always kids trying out those toys. I also remember a store that sold Russian matryoshka nesting dolls. Plus there were clothing stores selling expensive upscale clothes. Most of all I remember the lovely architecture and it was such a treat to take it all in while sipping a soda in the food court.
The Old Post Office Building had a tower, which was run by the National Park Service, that you could go up to the top in an elevator. I took the elevator up to the top once and I was treated to a lovely bird's eye view of Washington, DC. Many guidebooks mention that this tower is one that tourists frequently overlook because they tend to crowd into the more popular Washington Monument in order to see the city from up high.
I remember I last went inside that building in 2001. The only reason why I remember the year is because the following year I had gone to the annual Sakura Matsuri street festival that was held outside the Old Post Office Building. It was a few months after the 9/11 terrorist attacks. I wanted to get something to drink but all of the food stands were crowded. I initially decided to go to the food court in the Old Post Office Building only to encounter this newly-erected airport-style security system where you not only had to go through metal detectors but also have to put your bags through a conveyor belt that went through an x-ray machine. I found it totally off-putting to say the least. I just wasn't into putting up with this much security just so I could go into what had been a glorified shopping mall and getting a soda. I ended up going to the nearby CVS and buying a bottle of soda there instead.
I wasn't the only one who never returned to the Old Post Office again. The shopping mall eventually failed and all the stores closed. The GSA decided to turn the Old Post Office into a luxury hotel and they awarded the contract to Donald Trump, a decision that has created controversy. I remember these pictures I took at the Justice For All March back in December, 2014.
A brief moment after I took that last photo, this guy jumped in front of me (and next to the Anonymous guy) wanting his picture taken. So I obliged him.
Then his friend also jumped in and I took a picture of both of them as well.
After I took that last picture, they were noticing that they were getting attention from people along with the Anonymous man. I mentioned that they were underneath that giant Trump sign. They looked up and said "Donald Trump? Fuck him too!" I got a laugh out of that.
That march took place six months before Donald Trump formally announced his presidential campaign.
Lately I've been hearing that not too many people have chosen to book at that hotel since it opened. I'm not surprised. In the past year-and-a-half since he announced that he was running he has insulted nearly everyone except for white Christian heterosexual men with no disabilities who have never been POWs during wartime. If I had extra money and I was in the mood to treat myself to a weekend stay at a luxury hotel in downtown DC, I could choose to stay at the Trump International Hotel while overlooking the fact that Donald Trump has denigrated women like me as people whom he feels entitled to forcibly kiss while boasting that he has to "grab them by the pussy." Or I could choose to stay at the Willard InterContinental Hotel, located just a few blocks away from the Trump International Hotel, whose building is not only just as historic as the Old Post Office but it's notable for the fact that Julia Ward Howe wrote the lyrics to "The Battle Hymn of the Republic" while staying at the hotel in 1861 and Dr. Martin Luther King, Jr., wrote his famous "I Have a Dream" speech in his hotel room at the Willard just days before the 1963 March on Washington. On top of it, the people currently running the Willard haven't been publicly saying outrageously offensive stuff and they have pretty much focused on running the hotel.
Well, DUH! The Willard InterContinental Hotel would get my business. I'm willing to bet that other people would choose the same.
I have a feeling that the new Trump International Hotel will eventually end up going the way of the Trump Taj Mahal, the Trump International Hotel & Tower Toronto, the Trump Plaza, the Trump Castle, Trump Hollywood, Trump Ocean Resort Baja Mexico, Trump Tower Tampa, the Trump Shuttle airline, Trump Mortgage, Trump Vodka, Trump Steaks, and Trump University—bankrupt. Yesterday, the day before Election Day, I decided to check out the hotel and take a few pictures for posterity.
I took the Metro to Federal Triangle (the closest stop to the Trump International Hotel). I initially went out the exit that led to the Ronald Reagan Building and International Trade Center, where I took these pictures.
Next to the Ronald Reagan Building and International Trade Center is the William Jefferson Clinton Federal Building, which houses the Environmental Protection Agency and the U.S. Post Office. As you can guess, this building is named for ex-President Bill Clinton, who is also the husband of one of the candidates running against Donald Trump. It's also pretty ironic that the building is named for Bill Clinton when you consider that it's located next to…the Trump International Hotel
.
A statue of Benjamin Franklin still stands outside the Old Post Office Building. (Among his many accomplishments, he was the first Postmaster General.) Although I seriously doubt that he would've wanted his statue to have any kind of connection with Donald Trump no matter how slight or tenuous.
I noticed that there's a Starbucks at this new hotel, which is ironic because I remember when Trump called for a boycott against Starbucks last year over that idiotic hoopla that broke out over the design of Starbucks' coffee cup for the winter holidays.
I had thought about going up the clock tower again just for old times' sake. I was looking forward to taking pictures of the amazing vistas of the city with my smartphone. But I discovered that, unlike the old days when you can enter the Old Post Office Building then go to the tower from the inside, the clock tower can now only be accessed from a door in the back. Worse, that entrance is currently closed, which is a bummer. I have no idea if it's a temporary thing and it will be reopened in the future or if the clock tower is no longer opened to the general public.
The only consolation is that I peeked through the windows and saw this amazing marble floor.
In the old days one could enter the Old Post Office Building using any of the doors in the front, back, and sides. After the 9/11 attacks people were allowed to enter only from the back where they had to stand in line and put up with the airport-style security. Even though the Trump name is over all of the entrances, there is only one way to enter that building and it's definitely not through any of the side entrances.
I thought that the front entrance would be the way to get inside the hotel but no. There are signs with a map posted of the fact that one can only enter this hotel using the 11th Street entrance on the side.
Next to the front entrance is a side door leading to something called the Trump Townhouse. I rolled my eyes at that sign thinking, "God, there are no limits to that man's ego!"
I finally made my way to the 11th Street entrance.
I'll admit that I was bracing myself for something totally gaudy and tacky a la the Trump Tower in New York City. But when I went in I was pleasantly surprised. The lobby of the hotel was tastefully decorated.
Most of the couches and chairs are royal blue and all of them are very elegant looking.
The skylight provides a lot of natural light during the daytime.
The carpeting is nice looking and it is incredibly comfortable to walk on.
The food carts are made from wood.
This hotel has the tallest bar I've ever seen complete with rows of shelves full of various bottles of alcohol and four large screens that are each tuned to a different channel.
I had to use the bathroom and I saw that even the bathroom is tastefully elegant.
I saw only one store during my time there. It is called Brioni and it specializes in men's suits.
Everything about this building had an air of being very tastefully elegant, which is a welcome contrast to the more overblown Trump Tower in New York City.
This next picture shows the skylight with a view of the now-closed clock tower.
I have to admit that this hotel is quite lovely. Yes, it's obvious that it's a luxury hotel but the interior design is understated yet elegant. I later read that Donald Trump's eldest daughter, Ivanka, was the one who worked most closely with the DC hotel and she was in charge of the hotel's design. It's pretty obvious that she doesn't share her father's garish tastes in making everything gold (such as his penthouse at the Trump Tower in New York City).
If it weren't for the now-poisonous Trump name, I'm sure people with deep pockets would be staying there because it is a nice looking hotel. But, thanks to The Donald's antics, that hotel has been the target of protests and vandalism. At one point an employee asked me if there was anything he could help me with. I mentioned that I was just checking out the hotel because I used to go to the Old Post Office Building back when it still had the shopping mall there. The employee smiled and said, "Oh, yeah. That's where they had the food court." He let me go on my merry way. Even though he was probably expected to offer help to anyone in the hotel, I have a feeling that he was also probably told to be on the lookout for any protesters or vandals who are trying to attack the hotel from the inside while offering help to people.
I brought along my Talking Donald Trump Action Figure (which I gave to my then-husband as a gag gift a few years earlier sometime during either the first or second seasons of The Apprentice and it was among the many items he left behind when he left me) and posed him next to one of the Trump International Hotel signs.
Near the hotel is this little piece of sidewalk graffiti courtesy of Anonymous.
After my jaunt around the Trump International Hotel, I walked around a bit. I ended up at Ford's Theatre, which is a centuries-old theater that's still thriving despite its historical notoriety. The next photo shows its modern-day facade.
Next to the modern building is the older building. That's the same building where Abraham Lincoln and his wife, Mary, decided to check out a local production at Ford's Theatre when John Wilkes Booth assassinated the president in front of his wife.
There is a museum inside the old section but I would've had to purchase a ticket and I'm still dealing with money crunch issues so I really didn't feel that I could splurge on something like this. I managed to visit the gift shop, which is loaded with all kinds of Lincoln books and other souvenir items.
After John Wilkes Booth shot Abraham Lincoln, Booth managed to escape by jumping from the balcony where the Lincolns sat directly to the stage in the middle of a performance. Booth broke his leg but he managed to hobble off the stage and escape. Meanwhile people brought Lincoln's dying body over to a townhouse located across the street from the theater. Lincoln died in that house soon afterwards. Today that townhouse, known as the House Where Lincoln Died, is also a tourist attraction. I didn't go in because it also required a ticket that one had to get at Ford's Theatre.
This particular area of DC has long taken a notoriously tragic event like the Lincoln assassination and used it as a tourist attraction while local businesses have also tried to hype that notoriety as well, such as this building featuring Honest Abe's Souvenirs and the Lincoln House Restaurant. Yeah, I know it's tacky to use a sad event to attract tourists but it could've been worse. I've been to Salem, Massachusetts—site of the notorious Salem Witch Trials—and there are literally witch motifs everywhere from the sides of police cars to the Salem Witch Museum (with its tag line "Stop by for a spell") to local stores carrying various witch products to even seeing a witch on the logo of the YMCA.
I found this campaign sign where someone named Russell Hirshon is running for President of the United States. I've never heard of the guy, although I have to admit that I like his "Make America Sane Again" slogan.
I took this picture of some people setting up one of the windows at the H&M store.
This shared entrance to the Forever 21 store and the Metro Center station has this really interesting colored trim that I liked.
Previous Entry in This Series
Part 1
Part 2
Part 3
Part 4
Part 5
Part 6
Part 7
Part 8
Part 9
Last summer I attempted to work of a special book that was based on a series of free tutorials that artist Ady Almanza was posting on her YouTube channel. The gist was that each week she would put up a new tutorial and viewers would follow along. All we needed to do was to get one of those baby board books and various materials. I was eager to do it in an effort to learn something new. There were challenges early on because I realized that the board book I used had more pages than the one that Ady Almanza used in her videos. So I compensated by having two-page spreads.
There were supposed to be ten lessons in this series. Well, anyway, I watched the intro video to learn what materials I needed for the project. The following week I followed along with the first lesson as I painted the entire book cover. Then I spent the next two weeks following along with lessons two and three.
On week four I looked online and I found that she hadn't added any new lessons. I assumed that she was taking a week off for some reason. Since I had more pages than the book she was using, I decided to improvise by just making two-page spreads. The next week there was still no new lessons but I saw on her Facebook page that she was on vacation so I wasn't too worried. I made another two-page spread. The following week there were still no new videos so I did another two-page spread. Another week came and went with no new videos. Finally I posted a notice on her Facebook page asking if she was going to post any new tutorials soon since she said that she was doing a ten-part series. She responded the next day saying that she had been on vacation for a few weeks but now that she's back she'll post new videos online soon. So I waited another week with no new videos and I decided to do another two-page spread.
So it got to be a cycle where, each week, I would look on Ady Almanza's Facebook page and YouTube channel only to find no new tutorials so I would end up doing another two-page spread where I winged it with my latest art page. Eventually it got to the point where I had only one extra page left to fill in then I would have exactly the same number of blank pages that Ady Almanza had left in the book that she was using in her video tutorial series. So I did one last mixed-media work in August, 2015 and I decided to put that project on hiatus until Ady Almanza resumed her tutorial series.
Except she never resumed her tutorial series. I see her post new work on her Facebook page all of the time. (She's a very prolific artist. She seems to churn out one new work either every day or every other day.) But she has yet to post any new tutorials in her ten-part series and I have a feeling that she abandoned it for whatever reason.
So my own project was left uncompleted for the next eight months. A few days before the Memorial Day holiday weekend I scheduled an appointment to speak with someone regarding a potential art-related opportunity that I originally found on Craigslist. I responded to the ad and the person immediately emailed me back because he really liked the samples of my work that I submitted to the email address that was listed in the ad. We agreed to meet on Memorial Day itself at a Panera Bread in Silver Spring to go over the details about this potential opportunity, which ultimately fell through when I never heard back from the guy I met with despite the fact that he seemed to like my work when we met together in person. Anyway before that meeting I decided to bring smaller samples of my art that I could carry in a bag because I was traveling via Metro. (I wasn't able to drive to Silver Spring because, at the time, I had a flat tire that needed either to be fixed or replaced and my car had one of those temporary tires that I was not supposed to drive on too much.) I found a couple of smaller paintings to bring then I found my incomplete Doll Dreams book from last summer.
I decided to bring it despite the unfinished pages in the back until I came across the last completed work I did that was based on my Pinkie Cooper anthro doll. I saw that it was a one-page work and it was facing a page that was covered in white gesso and it was completely blank. Here is what the page looked like before I covered it in gesso last year.
For some reason I thought that showing someone a book with a completed page facing a blank white gesso page was even more embarrassing than having a few blank pages in the back so I decided to rectify the situation by quickly covering that blank facing page with more art.
Since Pinkie Cooper is an anthro who's supposed to be a mix of a human and dog, I thought doing an anthro feline would be the perfect compliment to the previous facing page. And I happened to have the proper doll that I could use as a model for that page. I have a Monster High doll known as Toralei Stripe, who's a werecat. So I did this page using only acrylic paint.
I showed this book to my contact at Panera Bread on Memorial Day and he liked it but then I never heard from him again after that meeting. As for the rest of the book, I'm definitely going to fill in the rest of the blank pages because it would be a shame to leave this book unfinished. I haven't yet decided whether I'm going to re-do the three tutorials that Ady Almanza posted online before abandoning this project altogether or if I'm going to use free art tutorials made by other people or if I'm going to simply improvise. I'll probably do one or two pages a month until I fill in the book.
Subsequent Entries in This Series