You are currently browsing the category archive for the '1/6 Scale Articulated Dolls' category.
Today's prompt word for Inktober is "cruel." I decided to use it to actually do some fan art that I had thought about drawing for quite some time but I was too lazy to do it sooner. I did a mash-up of Harley Quinn taking on Donald Trump and defeating him with her giant mallet while he's clutching at his crotch in pain with his tiny hands. Yes, I referred to that infamous Access Hollywood recording and the fact that he's sensitive about people referring to his hand size. My latest Inktober drawing is more timely than ever before given the fact that Donald Trump spoke at a rally where he literally mocked a woman who accused a newly-seated Supreme Court justice nominee of raping her. Here is my drawing.
I have a DC Super Hero Girls doll (which I purchased during Toys R Us' going out of business sale a few months ago) that I used as a model while I was drawing. A few months ago I checked out a couple of graphic novel reprints of the Harley Quinn comic book series from the library and they are definitely hilarious and full of dark humor, especially since she can have a cruel streak at times (which nicely dovetails with today's prompt word). By the way, I saw two of the people behind that comic book, Amanda Conner and Jimmy Palmiotti, at a Batman forum held at the 2017 Baltimore Comic-Con.
Here are some photos of the couple after a fan had given them Batman and Harley Quinn masks that he had obtained for free from a comic book store that he stopped at on his way to Baltimore Comic-Con. (It was Batman Day in many comic book stores and this forum was also held on that same day.)
As of today, I'm now one-third of the way through Inktober. I have many more drawings to do until the end of the month.
Today's official prompt word for Inktober is "flowing." I'll admit that I struggled a bit with that prompt until I remembered the Scottish princess Merida and her long, flowing, curly red hair from the Disney/Pixar movie Brave. So I drew her.
I have a Merida doll that I purchased from the Disney Store a few years ago so I decided to use it as a model. I had laid the doll down flat on her back while I was gathering my pencil, eraser, and sketchbook and I noticed that the way that her hair was spread out looked pretty cool. So I shot a picture of the doll with my smartphone and I did my drawing based on that photograph.
Back in January I shot some photos at a Toys R Us in Annapolis, Maryland. At the time Toys R Us had announced a closure of around 200-300 stores across the United States. I had heard rumors that those closures were going to be the first in a wave of closures that will eventually end Toys R Us as a business. I picked the Annapolis store because I wanted to take photos of a store that wasn't on the list of stores that were closing so I could document what a typical Toys R Us store was like on an average business day. I also wrote about my own memories of shopping at various Toys R Us stores since my own childhood along with the factors that led to Toys R Us to file for bankruptcy then start closing some of its own stores.
I honestly thought that the rest of the stores weren't going to start shutting down until summer at the earliest. Imagine my surprise when Toys R Us announced last month that it was going to just liquidate all of their stores (including its Babies R Us stores).
Like I wrote back in January, Toys R Us originally started in the Adams-Morgan section of Washington, DC in the space that's now inhabited by Madam's Organ Blues Bar. Local station NBC4 recently ran a news story about Toys R Us' DC origins that's definitely worth checking out. There's another page on the Ghosts of DC site that goes even further. It traces the entire history of that same Adams-Morgan building starting from 1907 when that address was listed as the site of a birthday party for twin brothers in The Washington Post's society column.
Toys R Us' original founder, Charles Lazarus, died at 94 soon after the chain announced that it was liquidating. I know that he was at an advanced age but sometimes I wonder if he had died of a broken heart. It must be really tough to see your life's work just metaphorically go up in smoke like that, especially after being in business for 70 years.
I recently started a new day job where I'm doing office work for a therapist who also happens to have financial investments and rental properties on the side while also dealing with his late aunt's estate. He gave me this comic that he clipped out of a newspaper about Toys R Us.
While I'm not denying that the playing habits of children are changing but I learned that there is another factor behind the demise of Toys R Us. This video thoroughly explains why Toys R Us are literally closing up shop and it had little to do with other factors frequently cited (such as kids being more into smartphones and tablets than traditional toys, competition from other big box retailers like Walmart, and competition from online retailers like Amazon) and more to do with some disgusting Wall Street shenanigans where the executives at the top are making off like bandits while thousands of their employees are being laid off.
I decided to make to make a return trip to Toys R Us on a Friday afternoon. The day before I had a successful interview that led to the day job that I'm currently working at. Despite my good mood I was still struggling with a head cold when I went. I decided to go anyway despite being tired and sick because I wanted to go to check out the going out of business sale before most of the inventory got sold. I decided to go back to the same Annapolis store that I went to in January just so I could take more photos comparing the store in its beginning death throes with the earlier January photos. (You might want to flip between this post and that post for comparison.)
One man was standing at a corner near the store with a giant sign reminding drivers that Toys R Us is having its going out of business sale.
The signs in the Toys R Us window were cheerfully touting its products, especially with the upcoming Easter holiday.
It sounds strange to see a "Now Hiring" sign when the store was going out of business. I later read that Toys R Us was looking to hire temp workers who would help with winding down the stores.
One of its entrance doors didn't work and it sported a handwritten "Out of Order" sign near the floor. Given the fact that this store will soon close, I don't anticipate that door being repaired anytime soon.
Here is one of the signs announcing that this store was going out of business.
Despite the fact that the store would soon close, I saw a whole array of Easter-related candy, baskets, and toys available for sale.
I saw this sign promoting the Toys R Us mobile app that included a game. I wonder how much longer this app will work once Toys R Us closes its doors for good.
I read articles that said that one should expect empty shelves because a number of vendors had cut ties with the company before the company decided to close down. Sure enough, I saw far more empty and half-empty shelves than I did back in January.
There were a number of Toys R Us exclusives that were still in stock.
There were a number of toys that were still available the day I was there including dolls, action figures, stuffed animals, and more.
Compared with my earlier trip in January, I saw more people in the store this time as employees were busy and shoppers were milling around.
There was a long line at the checkout line. That was due to the fact that there were only two cashiers working the cash registers. They worked fast enough that I was only in line for about 15 minutes.
I made one purchase during that trip to Toys R Us.  It's a Harley Quinn doll.
Here's a photo of the entire long Toys R Us receipt.
Here's a closeup of the top half of the receipt. This one is trying to encourage me to share my feedback about that store in order to have a chance to win a $500 Toys R Us gift card, which is pretty ironic since the entire store chain is in the process of closing. As for the Toys R Us gift card, I had heard that Toys R Us will soon stop honoring gift cards altogether.
Here's the bottom of the receipt. I saw that same Harley Quinn doll at the Target that's located closer to my home for $20.99. I had heard complaints that Toys R Us is more expensive than the other retailers but when I was there I saw that Toys R Us was selling that doll for the regular retail price of $19.99 (which was $1 cheaper than Target). With the going out of business sale, I got 10% off, which meant that I only paid $17.99 for the Harley Quinn doll, which meant that I save $2. Sweet!
When I was at Toys R Us in January I was offered a free frequent rewards card, which I took. I ended up not using that rewards card when I purchased the Harley Quinn doll because it would've been pointless since Toys R Us is closing soon. Here's a photo of that card, which is colorful.
I never got around to completing my member enrollment online mainly because I rarely go to Toys R Us these days. It was just as well since it would've ended up being for naught.
This week Toys R Us put up this notice at its website announcing that it was no longer going to process online purchases and customers should go to the bricks and mortar stores if they want to purchase any remaining toys in stock.
Even though spring had officially arrived it seemed like winter just refused to go away. How else can you explain this snowstorm that struck my area the day after the Spring Equinox?
Ironically the weather was getting warmer just a few days earlier and there were even flowers that were in bloom. It was such a contrast between the spring flowers and winter snow.
But it was mostly a winter wonderland on that day. Three to four inches of snow came down that day, which shut down the federal government, schools, and several businesses. I was still suffering from a head cold and the crappy weather didn't help much. I managed to take brief walks around the neighborhood where I made these shots.
I even took a few shots featuring one of my dolls, Elsa from Disney's Frozen movie.
On the Friday before the Presidents' Day holiday weekend I had to go shopping for food and underwear (which wasn't totally exciting) so I went to a local shopping mall. Between shopping for what I really needed I went to Five Below where I noticed that the store started to sell Fingerlings products.
These Fingerlings are the stuffed clip-on versions that have no electronics inside of them. Their eyes do open and close depending on whether you are holding them horizontally or vertically.
I happened to have my own electronic Fingerling in my bag (I've been showing it off to various friends since I purchased it at Toys R Us last month and I left it in that bag) so I pulled it out for comparison with these clip-on Fingerlings. As you can see, my electronic Fingerling is larger than the clip-on versions.
These clip-ons may not be able to move or make sounds but they cost only $5 each (versus $15 for the electronic versions).
While I was shopping in Target I noticed that, at long last, that store finally got a shipment of the electronic Fingerlings. None of the local stores in my area had these in stock until recently. (Which was why I ended up buying my Fingerlings at the Toys R Us store in Annapolis.)
I noticed that these Fingerlings monkeys have glitter on them (while my own Fingerling is glitter-free).
Target also happened to have baby sloths available. If it weren't for the fact that I had to purchase more important items, I might have bought a sloth to see what it was like.
Nearby I noticed that there were new dolls in the ever-popular Monster High line. I really liked the butterfly-style wings on this Draculaura doll.
There were also new dolls in the DC Super Hero Girls line as well. Here's a shot of Harley Quinn.
Today is the day after Halloween and the first day of the two-day Mexican holiday known as El Día De Los Muertos (Day of the Dead). In addition, Inktober officially ended right on Halloween yesterday. I succeeded in drawing and uploading 31 ink drawings in 31 days from October 1-31. I finished Inktober at the same time as I ended up getting sick with this stomach flu where I constantly felt nauseous and I alternated between going through dry heaves and diarrhea. The fact that it also happened on the same day as Halloween totally sucks. I barely managed to get myself together enough to give out treats to the trick or treaters. Instead of going to a Halloween night party at a friend's house, I had to make an emergency run to Giant after the official trick or treat time ended just so I could pick up some medication and toilet paper.
Today I feel better in that the dry heaves and diarrhea has subsided and I feel mostly tired. I took a nap today and I'll probably go to bed early tonight so I can rest some more.
As I go over the drawings I did during the month, I realized that I could easily put them into certain categories (with many of those drawings falling under more than one category).
Animals: Penguin, panda bear, black cat, dinosaur, swan, pig, two former ride cars from the now-defunct Enchanted Forest amusement park shaped like a duckling and a swan, Willie the Whale, goat, and Zombie Dog.
Based on Dolls I Currently Own: Volks Dollfie Dream, Batgirl and Wonder Woman (with Donald Trump and by themselves).
Building: Crooked House.
Clark's Elioak Farm: Two former ride cars from the now-defunct Enchanted Forest shaped like a duckling and a swan, the Crooked House, Willie the Whale, goat.
Death Penalty: Guillotine.
Friday the 13th: Black cat.
Halloween/Day of the Dead: The Wicked Witch of the West from The Wizard of Oz, Goat Man, Zombie Dog, Day of the Dead skeleton, Frankenstein, Jack O'Lantern.
Hollywood Scandal: Harvey Weinstein.
My Own 100% Original Character: Zombie Dog.
Native American (For Indigenous Peoples Day a.k.a. Columbus Day): Wolf kachina.
Real People: Donald Trump with Jesus Christ, Donald Trump again (with Wonder Woman and Batgirl), Donald Trump yet again, Donald Trump one more time, Tom Petty, burlesque performer Reverend Valentine, Harvey Weinstein, my father-in-law, my mother (which also includes Elvis Presley), Madonna Girl Dale.
Religious-Related Drawings: Jesus Christ (with Donald Trump), Unitarian Universalist flaming chalice, wolf kachina.
People Who Celebrated a Birthday During Inktober: My mother.
People Who Died During Inktober: Tom Petty and my father-in-law.
Politics: Donald Trump with Jesus Christ, Donald Trump again (with Wonder Woman and Batgirl), Donald Trump yet again, Donald Trump one more time.
Relatives: My father-in-law and mother.
Superheroes: Batgirl and Wonder Woman together with Donald Trump and by themselves.
Supernatural Book/Movie Characters: The Wicked Witch of the West from The Wizard of Oz and Frankenstein.
Virtual Models from Figurosity.com: Woman running with a gun, woman dressed in psychedelic tye-dye outfit holding a gun.
The biggest challenge for me is that working on a new drawing a day then uploading it online to this blog and various social media sites took a portion of my time that I could've spent doing other things (such as doing house cleaning, putting up Halloween decorations, sending out a few more resumes). That was the main reason why I had quit a previous effort to do one new drawing per day starting on January 1, 2016 (which was a New Year's resolution). I think the reason why I was more successful at Inktober than my previous daily drawing effort last year was because I knew it was only for 31 days that I had to worry about doing a new drawing each day. After that I could draw as much or as little as I wanted.
Even though there was an official Inktober prompt list of one word for each different day, I was more interested in doing my own thing since this is the first year I participated in this. (Inktober has been going on since 2009.) I only used the official prompt list if I was stumped for inspiration. Now that I got my desire to draw whatever I wanted for Inktober out of my system, I'm thinking that if I was to do this again next year, I would discipline myself by sticking strictly with the prompt list. It would be a way to challenge myself, especially since I'm sure that there will be a word or two that will have me totally stumped at first.
The biggest benefit I got from Inktober is that I was able to learn which social media sites gave me the best exposure in terms of publicizing myself and my work. I uploaded my drawings to the current popular social media accounts (Facebook, Instagram, and Twitter) as well as other social media sites I haven't posted anything in a while. These sites used to be relatively popular until they were overshadowed by Facebook/Instagram/Twitter. I decided to upload to them because I wanted to see if I should still bother with them. I found that the absolute worst were Flickr and Google+ because I only got one "Like" on both platforms and that was it. Tumblr was hit or miss in that I got maybe one or two Notes (which is Tumblr's version of "Like") for some of my drawings but there were others that got zero Notes. (The one drawing that got the most attention was the one I did of Tom Petty and that one only got four Notes.) Minds, the open source alternative social media site, was just as hit or miss as Tumblr in that I got maybe one or two "Likes" on some drawings but others were totally ignored.
By far the best response I got was on this blog and Instagram. In fact I got new followers on both platforms because of Inktober. Twitter came in at a close second in that I also got new followers as well as retweets. Facebook was surprisingly more of a mixed-bag. While I got a better response than Flickr, Google+, Tumblr, and Minds combined, the response rate was lower than this blog, Instagram, and Twitter.
The one major social media site that I didn't use was LinkedIn because that one is more of a professional social media site and some of my drawings were either too political (such as the ones featuring Donald Trump) or the subject matter was one where I just didn't feel comfortable in posting there (such as the one about the Harvey Weinstein action figure). I've seen people get chewed out on LinkedIn for posting anything that was even remotely controversial (especially one that's political) and I'd rather avoid it since it's common knowledge that would-be employers tend to look you up on LinkedIn to see if you're someone they would even want to hire. I don't want to lose out on any potential opportunity because of some post I made there.
It was time consuming to upload the same drawing on so many different social media sites per day but at least I gained knowledge on which ones are worth investing my time in promoting myself in the future so it was worth it in the end.
I also learned that there is certain value in practicing drawing only for yourself because you'll never know when one of those drawings you've done have struck inspiration to do a regular art project based on what you've drawn. I'm thinking about doing a watercolor version of that swan I drew during Inktober because I really liked the results.
Another positive result of Inktober is that I discovered Figurosity.com and that site was valuable in providing virtual models for me to practice my drawing with. I plan to use that site for my drawing more often.
I also looked at other people's Inktober drawings on social media and I was amazed by the amount of creativity I saw there. There were a few people who did some really ambitious things for Inktober. I saw some people do two or more drawings per day, which I personally admired since I found it a challenge to do even one new drawing in a small sketchbook every single day. I saw one guy who was working on a graphic novel and he decided to use Inktober to draw and ink one new page per day. There was another person who decided to use Inktober do a large complex drawing where the person inked just one section of that drawing each day with the goal being that the large complex drawing would be completed on October 31.
The biggest challenge with Inktober is to maintain my enthusiasm for continuing with drawing one new drawing per day then uploading it online. The first few days I was very eager and enthusiastic. But then I came down with this nasty cold but I continued to work through that cold even though my body wanted to get more sleep so it can knock off those cold germs. After I got rid of that cold I began to gradually view the daily Inktober sketches more and more as some time-consuming daily chore instead of something that I was excited and enthusiastic about. Even though I tried to keep the designs relatively simple and I used a small sketchpad, I still found myself burning out towards the end. This was especially true when I wanted to put up Halloween decorations or go to some Halloween-related local event only to remind myself that I needed to make time for my daily Inktober drawings.
By the last week I went to Clark's Elioak Farm because I wanted to draw enough pencil sketches so I could just ink over them on the allotted day for the next few days. Then I spent one additional evening filling up my sketchbook with enough Halloween-themed pencil sketches to last me until the very end of the month.
But then I began to just burn out on even doing the ink over the pencil outlines, especially during that last weekend before Halloween. I started to partially-ink over more than one pencil sketch a day or two before the allotted date while leaving each one intentionally unfinished until the allotted date, when I would finish it so I could technically say that I did work on one new drawing per day each day during Inktober. One evening, about two nights before the end of Inktober, I used my free time to do the bulk of the inking on my scheduled drawings of the last two days while leaving just a small area of each drawing unfinished so I could spend less than 15 minutes completing each drawing on the allotted day.
I did it this way because I grew tired of spending anywhere from a half-an-hour to a full hour working on each new drawing then spending additional time photographing my drawing then uploading it on my various social media accounts. You may think that I was cheating but I don't care. If I hadn't done something like this, I would've grown so tired of spending a chunk of time on my Inktober sketch that I would've quit just days before October 31.
Right now I'm typing this in the early days of NaNoWriMo, which is something similar to Inktober where you spend every day in November writing your novel. I've read about people who are doing NaNoWriMo but I'm definitely not taking part in this. Spending time each day doing Inktober was enough for me without having to go from doing daily Inktober drawings in October to writing daily NaNoWriMo prose in November.
Now that Inktober is over, I'm going to take some time off from drawing on a daily basis because I have other things in my life that I need to focus on (such as the upcoming winter holidays in December). Ultimately I'm going to try doing a new drawing in my sketchbook at least once a month. I would do this by just working on that drawing in blocks of 15 minutes on a given day (and that would be only if I had extra time available for me to do such a drawing). I would keep on working on the same drawing, 15 minutes at a time and one day at a time, until I'm finished. Basically I want to practice my drawing but on a more leisurely schedule where I can balance that with other activities that require my attention at the same time.
Of course only time will tell whether I actually achieve this. (LOL!) But I'm willing to at least give it a try.
Here are a few things I would advise a person who's thinking about doing either Inktober next year or simply wants to devote a different month to doing one drawing per day (such as December or March or June):
1. Don't obsess too much about drawing supplies. I know the official Inktober site has a list of recommended supplies but some of these supplies (such as Micron pens) can be pretty expensive to those on a tight budget. If you can't afford the recommended Inktober supplies, don't fret. Just go with cheaper supplies instead. I did my Inktober drawings using a cheap pack of multicolored Paper Mate InkJoy pens that I purchased at Target for only $10. And I wasn't the only one who didn't use the best supplies either. I saw quite a few Inktober drawings that were done only with the cheap disposable blue ink Bic ballpoint pens and I found them to be just as interesting and well-done as the ones that were used with the more expensive pens. As for drawing paper, I would recommend shopping around because sometimes you can find the best bargains. Here's one example: I've seen 9" x 12" (23 cm x 30 cm) sketchbook drawing pads on sale at my local Five Below store for only $5.
2. Use a small sketchbook that's no bigger than 9" x 12" (23 cm x 30 cm). Not only will you fill up the page faster than with a larger sketchbook but a smaller sketchbook is more portable. I did my Inktober drawings using a 4" x 6" (10 cm x 15 cm) sketchbook. When I decided to travel to Clark's Elioak Farm to do some more Inktober drawings, all I had to do was to put my sketchbook (along with my pens and pencils) in my purse and I was good to go. Heck, I saw some Inktober sketches online that were drawn on Post-It Notes.
3. If you can, try setting aside a certain time each day to work on your Inktober sketch. It could be when you wake up the first thing in the morning or after dinner or whenever. If you can't commit to the same time every day, then just take advantage of whatever free time suddenly materializes to do your drawings. I've seen people admit that they did their Inktober sketches while riding public transportation on the way to or from their day jobs. I've even seen people admit that they did their drawings on the sly while being forced to sit in on a boring lecture at school or they took advantage of some downtime at work. Just do whatever works for you.
4. The one thing about Inktober I learned is that you can do some advance drawings in pencil as long as you wait until the designated day to do the final inking. In fact, I learned that this year's official Inktober prompt list was put online two weeks before the month began so one could have the luxury to decide what he/she wanted to draw on the designated day and even do a rough sketch in pencil. I took advantage of this policy towards the end of the month when I began to burn out on doing a new drawing every day and I was in danger of quitting before the month was over. What I did was to go to Clark's Elioak Farm, where I finished one new drawing in ink but I did other unfinished drawings in pencil that I could finish in ink over the next few days. By the time I finished that series, it was close to Halloween so I spent one evening just doing a pencil drawing of Madonna Girl Dale (who usually wears a costume in public all year round) followed by pencil drawings of traditional Halloween and Day of the Dead figures until the 31st drawing of the month. So I spent the last week of Inktober just coloring in one previously made pencil drawing in ink per day until I reached the last drawing on Halloween.
5. If you hit a rough patch where you really can't focus on doing any complicated detailed drawings or you don't have a lot of time to do anything too complex, just do a simple drawing that you can easily finish in 30 minutes or less. I experienced this challenge earlier this month when I came down with this horrible cold that literally left me feeling very weak and tired all the time. For those days I decided to do simple drawings of a penguin and a panda bear because those animals were relatively easy for me to draw quickly before I felt tired enough to take another nap. As an added bonus, those two drawings were basically black and white drawings so I didn't have to do much thinking while I drew them. I also didn't bother with drawing backgrounds because that would've been more time-consuming and I didn't feel wide awake enough to draw something that would've been more complex.
6. Don't be a perfectionist about your drawing. The whole purpose of Inktober is to practice your drawing, not focusing on being the next Rembrandt or Keith Haring. The idea is to do a quick drawing that can be done in a small part of your day.
7. Don't be afraid of posting your drawings online, even if you personally feel less than enthusiastic about your latest drawing. I found that people tended to be really nice towards those who posted their Inktober drawings and many of them gave positive feedback. I personally didn't encounter any cyberbullying in the month that I posted my Inktober drawings online. Just post your drawing online even if you personally don't like it because there will be people who will like it better than you do.
Well, that's it for Inktober 2017. I'll end this post with a couple of embedded things in case you've missed some or all of the Inktober drawings I've been uploading over the past month. One is a YouTube video that includes some catchy background music.
If you prefer to view the pictures at your own pace without background music, you can view my Flickr album instead.
On the Saturday during the Fourth of July holiday weekend, I decided to check out this toy show that was being held at the Maryland State Fairgrounds.
It was such a feast for the eyes as the toys and various other vintage items were displayed at various vendor tables. The whole show took on the air of a flea market with an emphasis on vintage stuff dating anywhere from the 1900s to the 1990s.
Someone had a jukebox for sale, which reminded me of my childhood when many of the local restaurants had them and people could choose songs to play for about a quarter each.
The jukebox played music during the entire event. (Which proved that it definitely still worked.) I couldn't help taking pictures of the songs that were available on the jukebox. The majority of them were hits when I was a kid.
And speaking of music players, here's a vintage 8-track player with an Elvis Presley 8-track tape. I once had a stereo system that included an 8-track player but I never owned one like that. But I could've sworn that one of my friends or maybe one of my cousins had a player just like that but I don't know for sure. (Memory is one of those funny things where you remember something but you don't remember when, where, or how you remember it.)
Late last year I did a series of blog posts with accompanying photos known as A Tabletop Christmas (so-named because I limit my Christmas decorating to just a single tabletop in my living room). Among the items I showed off was a small plastic Santa Claus puppet that I've had since I was a child. I didn't know anything about the origins of this puppet. It wasn't until I went to the toy show when I saw a tiny plastic Santa puppet on sale that's identical to mine.
The only difference between the two is that this Santa still had its label at the base while mine doesn't have any labels at all. (I suspect that whatever label it had must've fallen off a long time ago.) My Santa puppet is currently stored in a box with the other Christmas decorations in the attic but here's a picture of my Santa puppet that I took last December.
At first I thought the animal in the next picture was a stuffed animal until I saw the dog move his eyes around. He laid there the entire time I was at that show.
This show also had examples of how the mighty had fallen. I found this book by disgraced former Fox News talk show host Bill O'Reilly on sale for only $1 at one of the tables. (LOL!)
There was one token of something new that I found. Someone was selling glow-in-the-dark versions of the hottest toy of 2017: Fidget Spinners.
By the way, you can check out a video I shot recently where I unboxed and played with one of those Fidget Spinners for the first time (and, no, the one I bought didn't glow in the dark).
Everywhere there were visual treats, many of which harkened back to my own youth.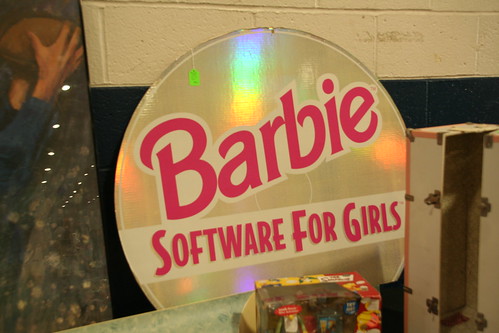 As I was walking back to the light rail stop I shot this photo of The Cow Palace building because it had a nice small garden.
I didn't buy a lot of stuff at that toy show due mainly to tight finances. But I managed to snag a couple of things at bargain rates. I found the second season of The Simpsons DVD set for only $6.
I bought a Monster High doll for only $5. I was attracted to her pretty winter-themed clothes. At first I thought I may have purchased a relative of The Snow Queen until I did an online search and I was able to make a definite identification. Based on this web page, her name is Abbey Bominable and she's described as the 16-year-old daughter of the Yeti.
Here's a closeup of her hair, which looks like it has glittery plastic pellets weaved throughout the strands. It gives a really cool ice/snow effect, especially when the light reflects off of her hair.
As everybody knows, today is Inauguration Day where Donald Trump gets officially sworn in as the 45th President of the United States. Rather than focus on that event, I'd rather talk about dolls instead.
First of all, I want to announce that I no longer own the Talking Donald Trump Action Figure.
I sold it last month on eBay. When I first purchased it years ago (which was sometime during either the first or second season of The Apprentice), I bought it as a gag gift for my then-husband. We both became hooked on that show because it was so hilarious and campy to watch. (This was a guy who was giving business advice on that show despite the fact that he had gone through multiple bankruptcies.) I figured that it was no big deal to buy a doll/action figure based on someone who was basically a buffoon but was essentially harmless as far as I was concerned. (Granted he wasn't harmless to anyone who actually did business with him but to everyone else who had nothing to do with that guy, he was harmless.)
When my husband left me, he left the doll behind. It was no big deal because he was only 12 inches tall so I kept him among the other small dolls I own (such as Barbie, Volks Dollie Plus, Monster High and, Ever After High).
But then there was the initial flirtation of running for president back in 2011 and he did so by catering to the birthers who were questioning President Obama's U.S. citizenship and contending that he was really born in Kenya. I felt that what he did was so reprehensible that I no longer could stand to watch his reality show after he decided against running and just continue with his reality TV career. I also began to ignore the doll. I would press the button in his back to hear him speak every now and then but I basically didn't bother with it much.
When Trump decided to really run in the 2016 elections while saying horrible things that were racist, sexist, and anti-Islamic, I began to rue the day I actually bought that action figure as a gag gift. I finally decided to sell the doll on eBay because I just didn't want it around my house anymore. I like dolls that make me feel happy and put me in a good mood and that Donald Trump action figure made me feel the opposite. I didn't get a lot of money for the doll (I only had one bidder who was willing to pay the $20 minimum bid and I didn't get that bid until the third and final week that I ran the auction) but I felt relieved to finally get it out of my house.
At least I'll have these two videos to remember the doll by. The first is my "Trump" poem that I wrote for a local poetry reading event in 2011 and I later made a video featuring the Donald Trump doll. The other is my demonstration video of the Donald Trump doll that I made when I was preparing to sell it on eBay.
Now I'm going to switch gears a bit and talk some more about some other dolls that I have.
I recently came across this campaign on Instagram, known as #westandwithalldolls, where American Girl doll owners were urged to post pictures of their dolls (especially dolls of color) in solidarity with all women and minorities who are currently being maligned and even attacked by Donald Trump and his supporters. I chipped in with the cause by uploading pictures of my three American Girl dolls.
First, here's Addy Walker holding a sign this quote from Martin Luther King.
"Again we have deluded ourselves into believing the myth that capitalism grew and prospered out of the Protestant ethic of hard work and sacrifice. The fact is that capitalism was built on the exploitation and suffering of black slaves and continues to thrive on the exploitation of the poor, both black and white, both here and abroad."
Here's Ivy Ling holding a sign with this quote from Confucius.
"To put the world right in order, we must put the nation in order; to put the nation in order, we must first put the family in order; to put the family in order, we must first cultivate our personal life; we must first set our hearts right."
Even though the #westandwithalldolls campaign specifically requested that everyone post pictures of dolls of color, I decided to use my one white American Girl doll, Julie Albright, because I found this one quote from the late Frank Zappa that pretty much says it all about race relations, especially among whites who aren't bigoted towards people of color or anyone else who's different from them.
"Hey, you know something people? I'm not black. But there's a whole lots of times I wish I could say I'm not white."
I got that quote from the lyrics to the song "Trouble Every Day," whose video you can watch below.
Here's one group photo of all three of my dolls with their signs.
If you want to contribute to that Instagram campaign, or see all the photos that have been uploaded so far, check out the hashtag #westandwithalldolls.

Every day I hear news about Donald Trump and they become more horrifying by the day. From his cabinet choices (such as appointing Rick Perry head of an agency that he once called for its abolishment) to Trump's refusal to read the daily intelligence briefings on the grounds that "I'm, like, a smart person", it is so obvious that he is the one person who had no business of ever running for president in the first place—let alone finding people who were willing to vote for him. Donald Trump is the first president-elect in history who has no prior political or military experience. If all that weren't enough, there are already divisions within Trump's organization and the man hasn't even taken office yet.
Donald Trump can't take the time to read the daily intelligence briefings yet he can find the time to meet with people like Kanye West and Anna Wintour. He also finds the time to complain on Twitter about Alec Baldwin impersonating him on Saturday Night Live.
There have long been accusations of Trump being too cozy with Russian leader Vladimir Putin. Now there are accusations that Russian hackers may have somehow thrown the election to Donald Trump. These allegations are so serious that members of the Electoral College are demanding to see the evidence before they go to their scheduled meeting on December 19 to give the final vote on who will become the next President of the United States.
I don't even know what to think anymore, other than the fact that I agree with the headline of this article that appeared in Teen Vogue (of all places): Donald Trump Is Gaslighting America. I am especially worried because I live pretty close to Washington, DC so I have a bird's eye view of whatever fuckery will come down. Donald Trump is making me feel nostalgic for George W. Bush—and I thought Dubya was the worst president ever. If Donald Trump actually makes it to the White House (and that's a big "IF"), I don't know if the United States of America as I've known it all my life will survive. I'm especially not heartened by Trump's history of multiple bankruptcies and his numerous failed companies.
By the way, I read this interesting article on Politico.com on how Hillary Clinton's campaign totally blew the election by ignoring working class areas like Michigan. I still maintain that if the Democratic National Committee hadn't gone out of its way to deny Bernie Sanders the nomination, Donald Trump would be going back to being a full-time celebrity pretending to be a real estate developer working in Trump Tower.
Thanks for nothing, DNC!
It's that time of the year where people are crowding the shopping malls in an effort to buy gifts for Christmas, Hanukkah, or Kwanzaa. Instead of fighting surly drivers for a parking space, how about staying home and buying some unique things from me? Here is what I'm highlighting for sale this holiday season.
Do you like adult coloring books? Looking for something different from the usual ones that are currently on the market? For some NSFW fun, try my adult coloring book, Burlesque Beauties, which definitely puts the "adult" in adult coloring book.
Purchase Burlesque Beauties right here.
When I originally created my first (and, so far, only) item for my new RedBubble shop, President Trump, I honestly thought that it would be something that was going to be hot for a limited time until Election Day then it would be obsolete. Thanks to the outcome of those elections, it looks like my President Trump line will be hip and relevant for at least the next four years (unless he somehow gets impeached or killed).
You can buy this design on a variety of products ranging from leggings to bedcovers to cases and skins for your favorite electronic device. Check it all out right here.
I also currently have the following items available for auction on eBay through December 29 or until someone makes the highest bid (whichever comes first). There are no hidden reserve prices or anything like that and I have set relatively low minimum bids on these products.
Doll Couch Made From Recycled Dance Dance Revolution Pad
This is the same couch that I displayed at the 2014 Greenbelt Mini-Maker Faire and the 2014 DC Mini-Maker Faire. While this couch came from a pattern that was made for American Girl dolls, I found that it can also fit Mini Super Dollies and Ellowyne Wilde dolls as well. Bid on this couch right here.
Barbie Doll Customized as an Unbeatable Squirrel Girl Action Figure
I recently made a series of DIY videos on how to customize a Barbie doll (especially the Made to Move Barbie) into Marvel Comics' off-beat superhero known as the Unbeatable Squirrel Girl. I decided to sell the doll that was featured in that video series. I figured that anyone who is looking for a Squirrel Girl doll/action figure to give to someone else (especially a child) but doesn't have the time to customize a doll would want to buy her. I'm basically taking advantage of the fact that, as of this writing, there are no officially licensed dolls or action figures based on this character by making my own customized version available for sale. You can bid on my customized creation right here.
Knitted Fur Coat Made Especially For Barbie, Blythe, Pullip, and Other 1/6 Scale Dolls
I wrote about the making of this one a few days ago. I decided to put it up for sale. Keep in mind that this piece is hand-knitted (by me) using fur yarn so it's definitely not some cheaply made Third World sweatshop crap. I sewed hooks in the front so you can close it and keep it closed. It's perfect for people who are itching to dress their doll in something appropriate for this time of the year. Bid on this doll coat right here.
Knitted Outfit for American Girl Dolls and Other 18-Inch Dolls
Like the smaller knitted coat, I also wrote about this outfit in this blog recently. I decided to sell this one as well. This is a one of a kind outfit that was hand-knitted by me. I sewed snaps in the back instead of using velcro, which is convenient because you won't have to deal with the hassle of getting your doll's hair stuck every time you change into this outfit. (Even though most of the official American Girl outfits cost around $30, they still use velcro just like the manufacturers of cheaper doll outfits. If I was going to spend that much for doll clothes, I would expect something nicer than velcro.) Bid on this outfit right here.
In addition to my handcrafted stuff, I will also have a couple of other items available on eBay. I didn't make either one but I decided to list them here along with everything else.
Talking Donald Trump Action Figure
This is the same action figure which I gave as a gag gift for my then-husband sometime during the first or second season of The Apprentice, long before Donald Trump's foray into politics. I used this one in the video for my "Trump" poem back in 2011. Now that he's the president-elect, I'm going to see how much of a collector's item this doll really is. (If some hardcore Donald Trump fan wants to offer me a huge amount of money for it, I'm willing to accept the offer.) So if you're shopping for gift to give to someone who voted for Trump and is a true believer, here's your chance to surprise that person with an action figure that not only has realistic articulated joints but can also say phrases using The Donald's own voice. I made a video demonstrating the action figure's talking and posing capabilities.
Bid on the Talking Donald Trump Action Figure right here.
Card Set Featuring Reproductions of Vintage Betty Page Pinup Photos
The cards in this set are about the size of baseball trading cards. They all feature vintage photographs of 1950's pinup model Betty Page, who inexplicably underwent a popular revival in the 1980's (while many of her other 1950's female pinup contemporaries still remain in obscurity to this day) and she still remains a cult figure today with plenty of male admirers. I purchased this card set from a catalogue as a Christmas gift for my then-husband because I figured he would like it since he used to purchase the Sports Illustrated swimsuit issue each year. It turned out that I was wrong. He told me that Betty Page didn't really excite him all that much compared to Cindy Crawford or Paulina Porizkova. I think he only went through that card pack once or twice then left it alone. Of course he left it behind when he walked out on me five years ago this month. I tried donating it to the yard sale that was run by my support group for people who are separated or divorced by the organizers told me that I would be better off selling it on eBay because it might be a collector's item. So I'm selling it for very low minimum bid mainly because I just want to get rid of it. You can view a few sample pictures from this set and make your bids right here.
That's it for the auctions. I've set each one up so it'll be relisted two more times if I don't get any bids the first week. But the entire auction will end on December 29 regardless of whether I sell anything or not so don't delay and bid today!