Yeah, I know I said that I wasn't going to do anything online for the victims of the Orlando shooting last month because I've seen it all before. I softened my stance somewhat when I dedicated a Throwback Thursday to my memories of the many visits I've made to the Orlando metropolitan area. But that didn't mean I wasn't going to do anything in real life. It turned out that GreenBeLT Pride decided to put on its own local memorial for the victims of that shooting while the Greenbelt Theatre would show a free movie that very evening. Here are some photos I took of that event.
President Obama decreed that the flags all over the U.S. be at half-staff in memorial to those who were brutally killed and the Greenbelt City Hall complied.
The memorial itself was short and very moving as the candles were lit and the names of the victims were read out loud.
Greenbelt Mayor Emmett Jordan made a statement about the Orlando tragedy at that event.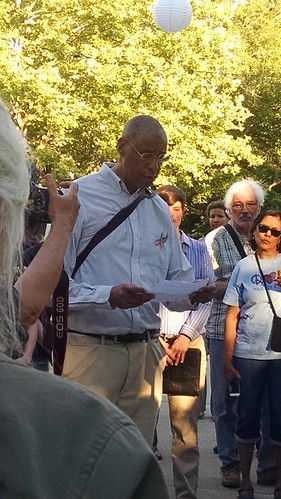 The Greenbelt Theatre had a free showing of the 2014 British film Pride, which was really very excellent. It's based on a true story about how some gay and lesbian activists took on the cause of the miners who were on strike when Margaret Thatcher was the Prime Minister. It was an inspiring film on how it's possible to soften hatred and prejudice against the LGBTQ community.