I attended the third annual Maker Faire that took place in Silver Spring, Maryland recently. I didn't arrive until late in the day because I had something I needed to help my church with earlier. It was still pretty crowded all the way until the official 5 p.m. closing time. There were robots, jewelry, science exhibits, and all kinds of 3D printouts.
Makerspace 125, the local STEM center located in Greenbelt, Maryland, is currently looking for donations so it could fund a mobile van that would go into neighborhoods where people (especially kids) are unable to travel to Makerspace 125 itself. As you can see in the next few photos, that table was very crowded.
I was able to see many exhibits by other people without having to push through crowds first.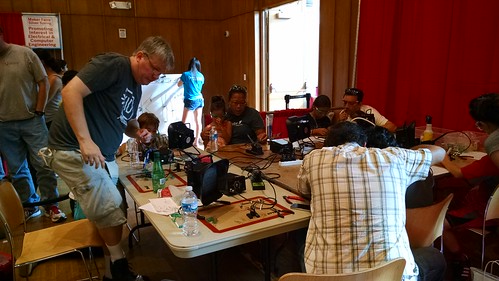 I even ran into the same 3-D printed Edgar Allan Poe as what I saw a few weeks earlier in Baltimore that was done by We The Builders. (And it was also the same project that was publicly announced way back in May when these people were looking for help from people with access to a 3D printer.)
I'll end this post with a short video I shot, which started with a robot doing a few push-ups along with some other funky moves and ended with this clock-like structure that was moving around in a loosely defined circular motion.