Last Friday and Saturday I attended the local Greenbelt Pumpkin Festival. I went on the first night, where there was the Community Carve-Off where people of all ages carved a bunch of pumpkins into jack o'lanterns while local musicians provided the music. Everyone there had a great time as my photos show.
At one point two of my friends who perform as The Bachelor and The Bad Actress took to the stage where they played the closing set for the Community Carve-Off.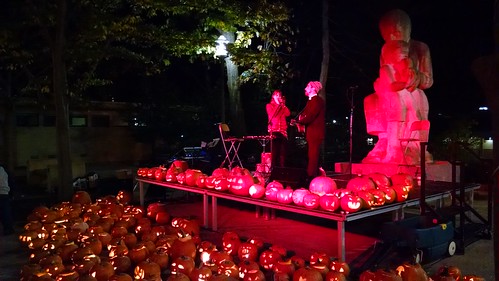 I even shot a short video of all of the newly-carved jack o'lanterns with the music provided by The Bachelor and The Bad Actress.
The following evening was the Greenbelt Pumpkin Walk itself. The path went through a wooded area and people were encouraged to bring flashlights with them. The jack o'lanterns that were carved at the previous night's Community Carve-Off provided the illumination along the path that people had to follow.
At one point the legendary Goatman appeared on the path.
It was a pretty nice night walk on a very clear night.