You are currently browsing the category archive for the 'Zentangle' category.

As the Sagittarius Dolly blog inches closer to its fifth anniversary on January 6, 2015, I thought I'd provide a look back at some of my creations that I've previously featured in this blog.

Originally profiled on December 14, 2011.

Even though today is Thanksgiving Day, there has been a trend among the big box retailers to open their doors on the actual holiday itself. This is definitely a change from the old days when most businesses were closed and even the few that were opened on the holiday (such as supermarkets) would close their doors by 4 p.m. so their employees can spend the holiday with their families.
Now the big box retailers are not only forcing their employees to either spend less time at home or skip Thanksgiving entirely but they are also trying to entice their customers to give up more and more of their holiday time by having hot doorbuster deals on certain consumer items.
You can spend less time with your loved ones or eat Thanksgiving dinner unusually early so you can put on your coats and step out in the usual cold November weather while fighting other like-minded shoppers to grab some consumer items.
Or you can do the alternative. You can stay in your warm home surfing the Internet and go holiday shopping in my online Etsy shop. You don't have to worry getting into the car and the online shopping experience is so quick and convenient that you can just order something quickly then go back to preparing for Thanksgiving dinner. Here's a sample item that I'm currently selling online now that you can buy while you're wearing your pajamas or casual clothes.
This is a customized one-of-a-kind tote bag that I painted by hand. To learn more about how I created this bag, you can read the post I originally wrote on February 14, 2013. If you're looking for unique holiday gifts, you can order right here.
After all the sweat and tears I went through finishing my doll loveseat couch and after that last-minute conversion of my Zentangle activity from an hour-long workshop to a day-long hands-on activity it was finally time for the first-ever Greenbelt Mini Maker Faire. It was the third Maker Faire of its sort in the Washington, DC area after last fall's Silver Spring event (which I attended) and another event that took place in Northern Virginia just a few weeks ago (which I wasn't able to go to because I'm currently involved in my church's social action project to teach English to recent immigrants and I co-teach a class that takes place at the same time as the Northern Virginia event).
I was so wound up from making lots of last-minute preparations for the event that I didn't get much sleep so I woke up totally sleep deprived. I consumed plenty of Diet Pepsi and Five-Hour Energy drinks just so I can avoid dozing off. Here is what my table looked like.
One half of the table was devoted to the arts and crafts that I had for sale, including some tiny art canvases, thrift shop Barbie dolls that I refurbished and recycled as fairy dolls, and the doll loveseat that I made from a broken Dance Dance Revolution control pad, fabric scraps, and duct tape. I had an American Girl doll, a Makies doll, and a pink teddy sit in the loveseat. They weren't for sale—they were used to demonstrate the loveseat. The pink bear was holding the qr code for my entry on how I cleaned and repaired that bear while Victoria the Makies doll held the qr code that led to the Makies website. (I figured that this qr code would satisfy anyone who was curious about Victoria.)
The other half of my table was devoted to the drop-in Zentangle activity complete with books, pens, pencils, and paper. (I also had a bowl of Easter egg-shaped chocolates to encourage people to visit my table. LOL!) I also had an iMac G5 available for $100 that I was selling on behalf of a friend of mine in exchange for getting a cut of the sale proceeds. I only got one interest in the computer from a person who thought that a friend of hers may be interested but she needed to check with the person first. Otherwise, no one was interested in the computer.
Here's a photo of me standing next to my table that someone else took with my smartphone. I wore the official t-shirt of the Greenbelt Mini Maker Faire but it was cold outside so I ended up wearing a sweatshirt over it. As for the sweatshirt itself, I wore the same My Little Pony Rainbow Dash hoodie that I wore last Halloween. (I have the hood down in the photo below.) I had plenty of people who said that they loved my sweatshirt.
My booth faced the front of the New Deal Cafe, which was a pretty great location because I had a lot of people who stopped by on the way to the cafe.
Whenever I needed to step away from my table, I had my American Girl doll hold this message that I wrote on a small dry erase board.
The day was pretty sunny but very windy. Despite my polymer clay paperweights, there were times when I still had to reconfigure my table because the wind was strong enough to blow things over. I made a few sales on my crafts, which was okay. There were also times when I would walk over to Club 125 just so I could take a warming break from the cold and the wind.
The biggest hassle was trying to convert my Zentangle activity from my originally planned hour-long workshop to a day-long, hands-on, drop-in activity. (When I signed up to give a workshop, I thought I would give an hour-long workshop located either in Club 125 or one of the other interior places in Roosevelt Center. It wasn't until I went to a party for the volunteers on Thursday—two days before the event—that I was really expected to have a drop-in activity for the entire day.) Rather than repeat the same instructions over and over again to different people, I decided that I needed to provide a written instruction sheet. Luckily I didn't have to create one from scratch. I found this document online where I basically printed the first page and used that as the Zentangle instructions sheet.
For all my effort in reconfiguring the Zentangle lesson from an hour-long workshop to a day-long hands-on activity, only four people actually worked on their own Zentangle that day. The weather was in the 50's and it was very windy so I think that affected people being willing to do something artistic outside. Other people who had hands-on activities on outdoor tables also told me that they didn't get many enthusiastic takers. The girl in the photo below was one of the four people who did a Zentangle.
I took frequent breaks to go to the bathroom and I spent some of that time checking out the other tables at the event. The next photo is a table for a new hackerspace/makerspace for women called Spanning Tree, which hopes to find some facilities near a Metro stop.
There was an information table about Club 125, which was largely responsible for the entire event.
Solo the dog helped her owner with running the table that educated the public on using herbs and spices.
There were all kinds of hands-on activities like origami, felting, soldering, and making music.
Someone walked around the Mini Maker Faire dressed in steampunk couture.
There was a table for creating paper airplanes while educating people about the fact that there was once an airport in Greenbelt, Maryland called Schrom Airport.
This woman was busy twisting balloons into various animals, plants, hats, and other shapes.
A small games publisher, Black Oak Games, publicized its two products—Knot Dice (a puzzle where the user creates Celtic knots) and Diner (a diner-themed card game).
A local company called TechShop provided information about upcoming classes in computer and technology-related subjects.
A bunch of kids were having fun playing computer video games inside Club 125 while other kids played with Legos, made chalk drawings on the sidewalk, and had their faces and other body parts painted.
There were demonstrations of using recycled grocery store apple cartons and PVC pipes in vertical gardening.
There was also an exhibit on terrariums.
There were displays and demonstrations on traditional activities like spinning wool, canning, mosaic making, and sewing clothes.
There were some new twists on old traditions like cooking food in a solar oven.
This table sold science and math-themed books for children.
There were a variety of handmade crafts on sale like knitted hats, knitted scarves, hand-painted wood crafts, and even blinking jewelry.
There were electronic devices of all kinds on display.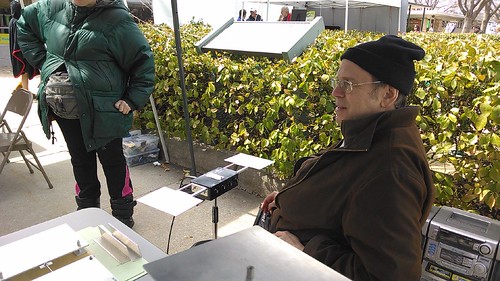 The Greenbelt Mini Maker Faire had all kinds of 3D printers that made jewelry and figurines.
In contrast to last fall's Silver Spring Mini-Maker Faire, the Greenbelt one was committed to being more non-commercial by featuring smaller lesser-known companies. In fact, the biggest name at the Greenbelt event was NASA Goddard Space Flight Center, which had a large booth.
Basically the event provided a nice place for people and animals to socialize in the sun.
I also shot a short video of some of the exhibits and events where just showing still photos wouldn't do them justice. It includes a man who used these noise-emitting electronics to play Patsy Cline's "Crazy" song, a robot that could toss a large ball to people, and a bunch of people playing with hula hoops.
Like I wrote earlier, there were times when I had to struggle with my items getting knocked down by wind gusts. My doll loveseat couch even got knocked over a few times and it's a big item. Here are what my two dolls and one teddy bear looked like at the end of the day before I packed them in my car.
I took a closeup of my American Girl doll's face mainly because she looks either sleepy or stoned or both.
That's it for my photos. If you want to see more photos, check out the official photos that have been posted on Flickr.
I'll admit that the Greenbelt Mini-Maker Faire was a bit on the disorganized side. That's because the people behind it had never put on such an event before (while they did attend previous Maker Faires like the one in Silver Spring last fall, there's a big difference between going to an event and planning an event). I signed up as a vendor and as someone who could teach a workshop a couple of months ago and, while I got one of those e-mails acknowledging that they got my application, I didn't hear any further.
I learned via Facebook that there was going to be a little party held at Club 125 for volunteers of the Mini-Maker Faire two days before the event so I went because I wanted to get some details on what I should do on Saturday as well as meet new people and socialize with old friends.
When I arrived I found the floor plan of the Greenbelt Mini-Maker Faire, which was done with a dry erase board and Post-It Notes. I found where my table would be located two days later.
The party was pretty well attended. I met all kinds of people that night.
These filmmakers were at the party because they are currently working on a documentary on the Maker movement in general and Maker Faires in specific.
Here was the cake that was served that night. In some ways it was a shame that the cake had to be cut up since it ruined the nice design but it was a very delicious chocolate cake so I think it was just as well that it ultimately went under the knife.
There were people who were doing things at Club 125 other than socializing, eating, or making a documentary. This young knitter was hard at work on her scarf.
These t-shirts were passed out to all the volunteers. They were dark green with a logo of the Greenbelt Mini-Maker Faire in the front and some writing on the back in large white letters.
I enjoyed myself at the party despite experiencing something that I hadn't anticipated. I had signed up to conduct a workshop on creating Zentangles. I thought it would be the kind of workshop similar to the ones held at other anime/geek conventions I've been to where a workshop would be held in a separate room for one hour. I've seen those who work the Artists Alley who were also workshop leaders leave a sign at their booths saying that they were giving a workshop with the topic name and which room it would be held in.
So I spent some time creating an hour-long workshop. I envisioned that I would give a 15-minute lecture (long enough to explain what a Zentangle is and how to create one) with the rest of the time being devoted to people drawing Zentangles.
I thought that Club 125 would be reserved for workshops. Imagine my surprise when I looked on the site map and found that there would be vendors and information/activity tables in Club 125 and I also learned that my "Zentangle workshop" was being configured as a day-long hands-on activity that would be held at my booth. That meant that I had to totally reconfigure my Zentangle activity from a formal hour-long workshop to something that people can do on a drop-in basis for the entire day.
In addition, I still had to put the finishing touches on my doll-sized loveseat couch made from a broken Dance Dance Revolution control pad as well as finish some of my handmade jigsaw puzzles and other crafts that I would be selling. I knew that Friday was going to be a total crunch time for me.
I will have a table at tomorrow's Greenbelt Mini-Maker Faire where I'll have a variety of arts and crafts on sale. The big cornerstone of my exhibit is a project that is about 90 percent done: I took a broken Dance Dance Revolution controller pad, cut it up, and used it as fabric to create a doll-sized loveseat that can fit 14-18 inch dolls (such as Mini Super Dollife, American Girl, Ellowyne Wilde, Tonner, etc.). If I have time I'll write a separate blog post about it before tomorrow's show (otherwise it'll have to wait).
As for my workshop on creating Zentangles, there are going to be some changes. I thought I would be doing the kind of workshops that I've seen done at various conventions like Otakon or Interventioncon where I would put up a sign at my vendor booth saying that I was teaching a workshop in a separate room, the workshop would last an hour, and I would return to sell my stuff once the workshop was over. I assumed that the Club 125 clubhouse would be used to hold the workshop.
Last night, when I attended a get-together for volunteers and I saw the large site map that was drawn on a dry erase board, I found that the facility was being used for other vendor tables, display tables, and demonstration tables. I learned that I'm supposed to have a day-long hands-on Zentangle activity at my vendor booth instead of a formal hour-long workshop in a different location from my vendor booth.
Right now I'm reconfiguring the Zentangle thing as I move away from a formal hour-long workshop to an informal day-long drop-in activity. I'm going to leave a section at my booth blank so people would have room to draw Zentangles. try to have written instructions on how to draw your own Zentangles so people can try it on their own with little formal instruction from me. (I originally intended my workshop to begin with a short 10-15 minute lecture on what is a Zentangle and how to draw one with the rest of the workshop time devoted to drawing Zentangles while I leave my Zentangle books around for people to copy patterns from.)
If I can pull this off, I think it could be a big hit. Right now I have to end this blog entry and prepare for tomorrow. In any case, if you'd like to see me in person tomorrow, my booth will be located right in Roosevelt Center across from the entrance to the New Deal Cafe.
I'm sorry for the late notice but I'm pretty disorganized at the moment between the upcoming holidays and getting used to my new Droid Ultra cell phone and my new MacBook. I'm going to be out there in public in two different art-related events. Here's the schedule.
Sunday, December 15: I will be selling my arts and crafts at the annual Holiday Craft Show at Paint Branch Unitarian Universalist Church in Adelphi, Maryland starting at 11:30 a.m. or when the weekly Sunday service ends (whichever comes first). I will be selling until sometime after 1 p.m. (If I get a large crowd, I may stay a bit later.) For directions, visit PBUUC's website.
Monday, December 16: I will be leading a workshop on creating Zentangles at Club 125 in Greenbelt, Maryland from 11 a.m.-2 p.m. as part of a larger holiday craft making event. It will be an all-ages workshop and you don't need to have art experience to participate. For information about Zentangles in general, see this page on Zentangle.com. For directions to this workshop, visit Club 125's website. This event was cancelled at the last minute due to circumstances beyond my control. I'll let you know if it does get rescheduled.

A few months ago I made my first foray into customizing a blank tote bag that I purchased at one of those big box arts and crafts stores then donating it to my Unitarian Universalist congregation's annual auction. The tote bag I customized received rave reviews from my friends in that congregation and someone bought it at the auction that night.
I felt really good about the reception to that tote bag that I decided to do it again. This time I'm going to attempt to sell it outside my UU congregation at an event where I won't know most of the participants. I'm going to put the tote bag in a special display frame that I got on sale at Michaels Arts & Crafts and offer it for sale at the Art Show that will be among the events that will happen at this weekend's Katsucon at National Harbor, Maryland.
I'm just doing a little experiment to see whether I have any kind of future creating customized tote bags/shopping bags as a side venture (or maybe even as a full-time venture if reception is totally overwhelming). I figured that trying a bunch of strangers is a good way to find out.
If it fails to sell, I'll have a customized bag that I can carry around in public. If people ask me where I got this bag, I can hand out copies of my business card and hopefully get some opportunities.
Either way, it's a win-win situation for me! :-)
Painting the bag also helped me to take my mind off my current troubles (such as my mother's ongoing struggles with MS and my husband sending me divorce papers).
Here are a few words about this latest tote bag. Since Katsucon is dedicated to anime from Japan, I decided to do a Japanese anime-themed fan art design this time. I featured two characters from the manga and anime series called Rozen Maiden, which is one of the few anime or manga series that I have even paid attention to. (There are so many anime/manga series out there that I have a hard time deciding which ones I want to try.) I originally heard about this series through postings on the Asian ball-jointed doll forum Den of Angels because this series features living, talking ball-jointed dolls as the main characters. When Tokyopop came out with an English translation of the manga series, I bought the books in order to find out what the hype was about. I also saw the first four episodes of the anime version when it was screened at the annual Otakon in Baltimore but I never purchased any of the anime DVDs mainly because the DVD version is way more expensive than the manga books. (Each manga book volume costs $10 while each anime DVD costs $25.)
Basically Rozen Maiden is a surreal fantasy series featuring walking, talking ball-jointed dolls wearing gorgeous clothes that also have a lot of Alice in Wonderland overtones. (There is a character in the series called Laplace's Demon who looks like a thinner, more sinister version of the White Rabbit. Each of the dolls are expected to battle each other in a match known as the Alice Game. The last doll to survive the Alice Game gets to claim the grand prize, which is to become Alice, who is defined in the series as the embodiment of the perfect girl.)
Since I'm going to hype this tote bag as a recyclable shopping bag, I thought it would be appropriate to feature two of the dolls who are known as the "Gardener Twins" in Rozen Maiden since gardening is a green activity and so is using a recyclable shopping bag instead of getting a new plastic bag everytime you shop. Below is an original still from the anime featuring the twins.
The girl wearing an ultra-feminine dress with white cap that has lace trim is Suiseiseki, whose name translate as "Jade Star", which is appropriate since she wears a green dress. She is frequently seen carrying a watering can. Her twin sister, Souseiseki, has a name that translates as "Lapis Lazuli Star", which is appropriate since she wears blue-colored clothes. She is frequently seen carrying a pair of gardening shears. Her clothes and haircut show her as a tomboy so I initially thought of her as just an androgynous tomboy until I read online that, in the original Japanese, Souseiseki frequently uses the masculine pronoun to refer to herself—which I didn't see in the English translation. (Hmmmm, I wonder if Tokyopop omitted this on purpose because it wanted to avoid controversy as to whether Souseiseki is really more than just a tomboy doll? If what I read online is correct, the Japanese language original seemed to imply that she could be a female-to-male transgendered doll.) Both twins have one green eye and one red eye. Suiseiseki's left eye is green while her right eye is red. With Souseiseki, the eye colors are reversed. While I was painting the tote bag, I constantly had a colored printout of both their faces next to me in order to get the eye color placement correct on each twin.
When it came time for designing the bag, I breifly thought about doing a Zentangle background like I did with the last bag I did. But I still felt pretty burned out from the hours I did doing the Zentangles over a large area so when I happened to find a floral stencil on sale at Michaels Arts & Crafts for only $5, I decided that using a stencil would be a better idea than drawing Zentangles. That stencil was definitely a time-saver for me and the results were pretty nice to look at.
When I was shopping for paints I could use in this project (other than the paints I already own), I found this acrylic paint color called "aqua green", which is a blue-green color. I thought it would be appropriate since it is a combination of the two colors that represent both Souseiseki and Suiseiseki.
Here are the close-up photos of each side of the tote bag along with a description of how I customized each site.
For this side (pictured below this paragraph) I initially painted the entire side in aqua green. Then I used the floral stencil and created a plant background using light blue paint on one side and light green paint on the other. I downloaded a graphic that depicted a close-up of Souseiseki and Suiseiseki from the Internet. I traced the graphic on tracing paper then I took what I drew on the tracing paper and I traced it again on the bag using graphite paper. I painted the twins in acrylic paint then sealed the entire job with varnish.
For the other side (pictured below) I initially divided the entire side into two sections. I painted one section light blue and the other section light green. Then I used the floral stencil and added plants in aqua green over the lower two-thirds of the side. I downloaded a graphic that showed a faraway shot of the twins. Not only did it show the full outfits the twins wear but also showed them brandishing their gardening tools (Suiseseki's watering can and Souseiseki's gardening shears). I traced the graphic on tracing paper then I took what I drew on the tracing paper and I traced it again on the bag using graphite paper. I painted the twins in acrylic paint then sealed the entire job with varnish.
I'm going to submit it to the Art Show at Katsucon tomorrow. I purchased a special display frame to protect the tote bag while it's being on display.
I found a Rose Art Color Blank that was shaped like a snowman while I happened to be in a local Safeway when the grocery store got in a shipment of toys and Christmas decorations a couple of months ago. (It's something that Safeway does every year with the idea being that shoppers can buy some of their Christmas-related items while shopping for food.) It was on sale for $6.99 so I bought it on impulse, figuring that it would make a nice Christmas companion to my Rudolph the Red-Nosed Tangled Reindeer.
I thought about drawing Zentangles on this snowman like I did with Rudolph but I was still feeling burned out on doing Zentangles after I spent a huge amount of time on the UU Chalice Bag for my church's annual auction. When I was browsing through Michaels Arts & Crafts on Thanksgiving Day after I visited my mother when she was still in rehab, I found a new shipment of steampunk-themed jewelry designs that one can use in jewelry making. I knew that steampunk is becoming increasingly popular, especially since I found an bunch of people wearing all kinds of steampunk outfits at Faerie Con last month. So I decided to try my hand at customizing my new Rose Art Color Blank into a Steampunk Snowman.
I covered his head, arms, and body with clear glitter acrylic paint.
For his face I painted the nose and mouth in gold acrylic paint. For the eyes I used a hole punch to cut tiny eyes out of a thin sheet of metal then glued them on his face. I painted his hat black then covered it with a layer of dark glitter acrylic paint.
I painted his legs/feet green to simulate boots then covered it with a layer of green glitter acrylic paint.
Sometimes a snowman can be seen holding a broom or shovel. For this steampunk version, I decided to have him hold a large key that was originally a pendant charm that I found at Michaels.
Prior to gluing on the gear, key pendant, and metal, I painted a layer of varnish over the entire snowman to seal the acrylic paint.
I made a metal scarf from a chain I found at Michaels and I embellished it with one of the tiny gears I found in the same store. I took one tiny gear, cut it in half with a metal cutter, and used each half to embellish the boots. I painted the buttons in gold paint then added a layer of gold glitter paint.
I created a hat band out of the same piece of metal that I used for the eyes. I placed a bolt that I found in my toolbox in the front of his hat while I glued tiny gears that I found at Michaels Arts & Crafts on the side of his hat.
Here are my two Christmas Rose Art Color Blanks that I customized myself.
For the past month or so I've spent a lot of time working on this bag. It will be up for bids at my Unitarian Universalist congregation's annual auction this Saturday, November 10, starting at 4 p.m. Bidding will be done in person only—there will be no online or phone auctions. If you're interested in buying this bag and you live in the Baltimore-Washington, DC area, click here for directions on how to get to the church.
Here's some background information about the origins of this bag. In the first couple of weeks after I underwent my hip surgery last September, my husband initially drove me to and from physical therapy. But when his leave time was up and he had to return to work, I still needed to be driven to and from physical therapy because I hadn't been cleared by the doctor to resume driving. Members of my UU congregation volunteered to take me to and from physical therapy, which was really awesome. (There was only one friend who wasn't a member of my congregation who spent one day driving me because there weren't any members available who could take me that day. This friend is now dating my husband. Yes, my life has gotten that weird.)
Ever since my husband suddenly walked out on me with no advanced warning three days after Christmas last year, members of my UU congregation have reached out to me and helped me out. One day I even had congregation members help me with some of the heavy yard work and doing the internal housework and decluttering.
I really wanted to show my appreciation to my congregation but my finances are a bit too tight these days for me to leave a very generous donation. When the annual fundraising auction was coming up, I decided to do the next best thing: Design a bag to be sold at the auction. One hundred percent of the proceeds raised will go to the congregation to help it pay bills so it could remain in operation.
Here is how I decided on customizing a reusable shopping bag. Our faith has seven principles with one of them being "Respect for the interdependent web of all existence of which we are a part." For many years my congregation has long been in tune with nature and the original founding members of the congregation picked our current location by looking for the most wooded property that they could afford to purchase. Our congregation started to recycle paper and plastic but then it began to move beyond this simple act. For church dinners our congregation uses china and silverware instead of disposable paper plates and plastic forks/knives/spoons. For the post-Sunday service social time, our congregation has switched from disposable styrofoam cups to regular coffee mugs. When one of our buildings caught fire due to faulty wiring and we had to rebuild the damaged inside, one member was so insistent that a geothermal system gets included in rebuilding the interior that she actually took the initiative to contact a local geothermal contractor. When the UUA announced its new environmentally-themed certification program for its member congregations called the Green Sanctuary, our congregation formed a Green Team who spent a lot of time doing activities so our congregation would get that certification. More recently our congregation is currently striving to rid the property of invasive non-native plants that have taken root there because non-native plants have this ability to drive out native plants. Not only is our congregation committed on this green path, there are many members who, in their private lives, are striving to consume as little as possible to the extent where they will even bring their own reusable bags to the store when they go shopping so they won't have to use plastic bags.
Against this backdrop, I figured that customizing a reusable shopping bag customized with UU symbols against a Zentangle background would be a big hit at this Saturday's auction. I had previously customized bags in the months before my hip surgery last September (click here, here, and here) so I know I could do it again.
I started my project by going to Michaels Arts & Crafts and buying a large sized blank canvas bag. Then I searched through my collection of UU chalice clip art that I downloaded for free from the UUA's website until I found one that I liked. I enlarged the clip art in Adobe Photoshop until it was large enough to be visible on the bag then printed it out. Using a pencil and graphite paper, I transferred the chalice design to the canvas bag. Afterwards I drew the Zentangle strings (a Zentangle term for borders) on both sides then I gathered my pencil and acrylic paints and began my project.
I hadn't customized a bag in nearly a year so I had forgotten how time consuming drawing and painting Zentangles over a large area of the canvas can be. The biggest mistake I made was in time management. If I had to do this again, I would've purchased the bag in June or July and worked on it an hour or two a week so I could balance my work on this project with other things going on in my life. Unfortunately I dawdled and I didn't get around to buying the bag until late September or early October and, as I worked on this bag, I realized that I had to devote a huge chunk of my free time if I wanted to finish this projet on time. As a result I'm currently going through back issues of newspapers that I had let piled up because I was so busy working on this bag. I started to burn out on working on this bag so much. I had spent so much time on this bag that I would wake up exhausted the next morning after working on it up until I was tired enough to go to bed. At least I finally finished it just six days before Auction Night.
I mixed the acrylic paint on both sides with a fluid medium in order to thin the paint prior to painting it on the bag. It made the surface of the bag much smoother with fewer lumps. After I finished painting, I covered both sides with four coats of clear varnish to both seal the paint job and to protect it against the outdoor elements (especially since it's going to be used as a shopping bag or tote bag). During the painting process I found that working on each side of the bag had its own challenges that I didn't forsee in advance so it increased the stress that I was under to finish the bag on time.
For this side I had envisioned a flaming chalice (symbol of the Unitarian Universalist faith) against a Zentangle background that would be done using the seven rainbow colors plus brown (since I had drawn a radial string that divided the background into eight sections). I did the chalice itself in black in order to distinguish it from the background. I carefully placed the lighter background colors towards the bottom area so they wouldn't blend in with the flame. I did the circle in gold so it would stand out against the background. Once I finished with underpainting the entire flaming chalice symbol, I added a layer of glitter paint on top so the foreground elements would further stand out.
I didn't add glitter paint to the background because I wanted to provide a contrast with the foreground. When it came time to selecting the colors, I made sure to select a yellow paint color that wouldn't blend in with the gold circle in the foreground and wouldn't blend in with the original canvas color of the bag. So I ended up with using dark yellow.
The only major challenge came with red and brown. I originally used a dark red paint and found that if you viewed the bag from a distance, it looked like the dark red was blending in with the brown next to it so it looked like I had painted one large area the same color. I ended up repainting the red area using crimson paint, which produces a brighter red color. Repainting one area was a bit of a hassle but that was nothing compared with the challenges I faced on the other side.
I originally had the idea of writing all seven UU principles against a Zentangle background. I saw some examples in the Zentangle books I have of letters combined with Zentangle backgrounds and I thought they looked neat. When I found that the other side was very time consuming, I altered the design by having the seven principles superimposed over another flaming chalice that would exist as negative space and would, in turn, be superimposed over the Zentangle background. I figured that having a negative space flaming chalice would save time on painting.
While the other side had the foreground elements covered in basic colors (black chalice base, gold circle, and yellow and orange flame) painted over with glitter paint against a multi-colored Zentangle background, for this side I thought of something different. I used the seven rainbow colors plus brown for the lettering, which was then painted over with glittered paint. The negative space flaming chalice would be kept blank (which is why it's called "negative space".) The Zentangle background would be done in black paint with no glitter in order to disinguish it from the foreground letters.
So I typed and formatted the seven UU principles in Adobe Photoshop and enlarged it until it was the right size for a large bag. I printed it out and transferred it to the canvas bag using a pencil and graphite paper. I reused the enlarged chalice clip art from the other side and drew that on the bag with pencil and graphite paper. Then I drew the Zentangle strings with a pencil, which divided the background of the bag into different sections and began to paint.
As I kept on painting, I found, to my horror, that the multi-colored lettering seemed to blend in with the Zentangle patterns. I took another look in my Zentangle books at the examples of having letters against a Zentangle background and I found that the larger letters were the ones that were used in such a situation. In the examples I saw where smaller letters were used, there was frequently a white space where the small letters went and the white space was surrounded by a Zentangle background. No Zentangle pattern touched small letters. I now understand why that is so.
So I fixed the situation by taking a tube of parchment colored paint that I happened to have among my collection of paints (the parchment colored paint is among the more unusual paint colors I have) and painting around the small letters so it'll look like the sayings were painted on tiny slips of paper that were superimposed over a negative space chalice and Zentangle background. That seemed to fix the problem.
There was one snag in using the parchment colored paint. The light blue I used for the one of the UU principles seemed to blend in with the parchment background. So I fixed it by painting the whole principle over again with a darker shade of blue then re-painted the glitter paint on top.
As for the Zentangle patterns on both sides, I basically used the patterns that were in my Zentangle books and posted on the TanglePatterns website, which has literally hundreds of patterns to choose from and new ones are being uploaded all the time.
If you've read this far and don't feel like scrolling back to the beginning to learn how you can own this bag, I'll repost the information right here. It will be up for bids at my Unitarian Universalist congregation's annual auction this Saturday, November 10, starting at 4 p.m. Bidding will be done in person only—there will be no online or phone auctions. If you're interested in buying this bag and you live in the Baltimore-Washington, DC area, click here for directions on how to get to the church.